If you're new here and want to explore online dating apps in Japan, then here's your guide to let you know if it's worth your time or not!
Online dating apps in Japan are an amazing way to know people. You might either find a perfect Japanese man and end up spending your life together or at least find a friend you can hang around with. Both ways, it's going to be a fun experience.
Let's get real! Most foreign women want a serious relationship here and need to put in more efforts to go out with men. This is because of shyness, language and cultural differences plus the global pandemic just add up to be another reason.
Luckily, where everything is happening online- even dating and relationships. A quick web search and you'll find a bunch of deai-kei (出会い系 online dating) apps. But, one has to know what and who you're looking for, right?
I myself and many of my friends have been on several online dating apps in Japan so we decided to do a quick poll internationally on which online dating apps in Japan has worked the best.
15 international women residing in Japan gave the original rankings out of 5 stars. These women have been on the apps for a long time and have gone out a lot with online dating apps in Japan. So now, it's up to you to decide, if you'll swipe left or right? *wink*
Online Dating Apps in Japan
Tinder
Tinder doesn't really need an introduction because it is globally known as the most famous online dating app. While most of the people here are "just looking", if you keep trying actively, you'll meet a lot of people.
Through Tinder, you'll not only meet people to date but also new friends, networking, drinking buddies, activity mates etc. I have found a whole group of people with whom I'm going to the summer festival. So, Tinder isn't just for hanky panky or dating.
Recently, in the light of the global pandemic, Tinder also started global passport, normally a paid service but it was free for a while. It enabled a huge benefit for so many women users for better connection and communication.
Language: English, Japanese
Fees: Free, special features require monthly subscriptions
Ranking: 5 stars
Related: Going to Japan? Stay in a love hotel for an amazing experience!
Bumble
Bumble is a woman-centric app. Women have to make the first move while texting on the app after you're done swiping them right. If they don't text within 24 hours the match seems to disappear.
Bumble relies on Facebook logins for authentication which has made it a little slow in Japan but still it's gaining good popularity because of the "woman get to choose" option.
One of the women (who is dating a Japanese man through Bumble) said during the survey, "There are so many guys on this app and you won't find many fake profiles because of its authentication system. I love how I get to control who gets to talk to me. It's been amazing using this app especially because I found my one from Bumble."
The fun part is, this app has 3 faces, one is for dating, second is for bff (friendship) and the last one is for business. This has helped a lot of people to build strong networking relationships even in the time of the pandemic.
Language: English, Japanese
Fees: Free, special features require monthly subscriptions
Ranking: 4½ stars
Related: Visiting Tokyo for a 3-day trip? Check this out to play your tour!
OkCupid Japan
Ok Cupid is often called "the best dating site on Earth". Ok Cupid in Japan is extremely detailed and certainly better than Tinder and Bumble. The average time to fill out your profile rounds up to 45 mins.
Of course, you can always opt-out to fill al the information but your profile will be left empty. Based on a few experiences shared with me, it is recommended to fill out all the blanks because there's a high chance to go unnoticed otherwise.
"Ok Cupid has a lot of serious daters and you might miss out on your chance to go out if you have less of details filled in your profile," says a woman using Ok Cupid since a year.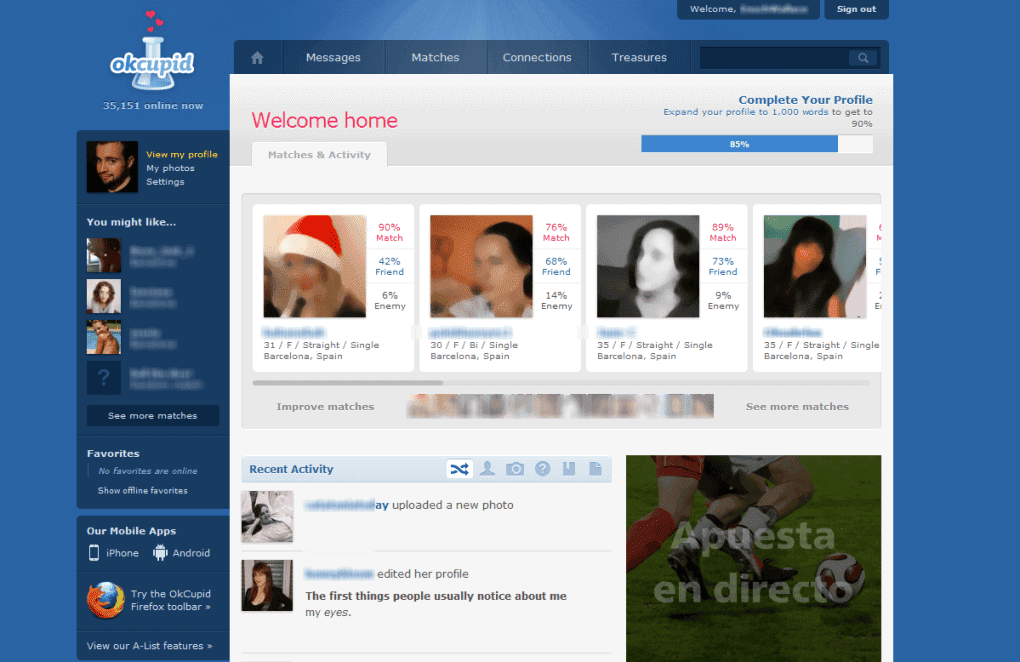 In the current dating scenario, Ok Cupid is a staple but there's a lot of fake profiles out there. It's also a task just to sign up on this app. But, if you're seriously looking for something, Ok Cupid should be your go-to online dating apps in Japan.
Language: English, Japanese, and others
Fees: Free, special features require monthly subscriptions
Ranking: 3 stars
Related: Here's how you can buy a SIM card in Tokyo and stay connected always. Check it out
Japan Cupid
Not to confuse with Ok Cupid, Japan Cupid is another online dating app and is a part of the Cupid Media Group, a niche-based online dating site group. It connects people around the world rather than the immediate area.
This app is not really appealing to Japanese people and is rather for those who are in Japan for a short stay. It is also for those men who are looking to get married as there are more Japanese women in this app than men.
Since this app is global, it has a lot of fake profile where people claim to be other people who are famous. "Claiming to be Korean popstar when you're a 40-year-old Japanese man? Not cool"
Language: English, Japanese, and others
Fees: Free, special features require monthly subscriptions
Original Ranking: 3 stars
Related: Relax in the onsens in Hakone. Here's everything you need to know
Omaiai
The largest online dating app in Japan is Omaiai that relies on Facebook, Apple ID or phone number for authentication and to search an ideal match for you. Omaiai is another Konkatsu service app so if you're using this app make sure you're seriously looking for something. Otherwise, this might not be the place for you.
There are around 24 filters you can use to streamline your searches. It includes nationality and income level, some users pointed out it makes it more for the sugar daddies than anything else. But otherwise, there is no serious complaint from the users.
With a great need for people to keep up with Japanese skills, Omaiai has rebranded itself with a new fashion of Tinder and Instagram friendly. It also strictly focused on how it's a relationship/marriage app.
If you're seriously looking for a partner, this is probably one of the best online dating apps in Japan that will be worth your time.
Language: Japanese
Fees: Free for women, ¥1,950 per month (for the annual plan) for men
Original Ranking: 4 stars
Related: Watch a Sumo match in Tokyo. Here's where you can get the tournament dates and a guide to get the tickets!
Tapple
Tapple is an online dating app in which instead of filling out your own profile, you fill out qualifier for what type of a man you are looking forward to. You join different groups based on your hobbies. Then, you're shown a group of men who match the criteria where you can decide if whether to like or skip.
I had a positive experience in Tapple but some people are quite hesitant to meet offline on this app. A person I met, just wanted to talk online and there were other foreigners who weren't ready to meet. So, it might disappoint you if you're looking for something serious.
Tapple now has tinder-like services with Tv and online commercials. People who want to take things slowly can try Tapple.
Language: Japanese
Fees: Free for women, monthly subscription fee for men varies.
Ranking: 4 stars
Related: Here are the best spots to experience the mesmerising Wisteria in Japan. Check it ou
Pairs
Pairs is one of the most popular online dating apps in Japan. It has a lot of TV and online commercials in recent days. This site and its related apps also require a Facebook login but it allows you to hide your name from the display.
Their target audience is comparatively the younger people who are in college or in their late 20s. "There are a lot of guys you can choose from but most of them look for non-native Japanese speakers. You can find a young crowd here." a user said according to his experience.
Language: Japanese
Fees: Free for females, monthly subscriptions fee for males
Ranking: 3 stars
Related: Here are fun things for you to do in Kochi, Japan. Check it out!
Zexy Koimushubi
Zexy Koimushubi is one of the popular online dating apps in Japan which is a part of a popular wedding service. This app works on the same principle of matching based on common interest. This app also needs a Facebook authentication to complete the profile. Zexy Koimushubi has a great success rate otherwise.
Since the purpose of this app is pretty clear, it leads to marriage and serious relationships. I also have a friend who is getting married to someone they found on this app. "I met the love of my life on Zexy Koimushubi and we are getting married through the same services, it's amazing and I'd recommend it to everyone!"
Language: Japanese
Fees: one time ¥108 fee for women (for ID check purposes), monthly fee for men
Ranking: 4½ stars
Related: Click here to know all about Japanese Nenjago cards, they're so cute!
Happy Mail
Happy Mail began in 2001 but wasn't among the major online dating apps in Japan for a long time. But the consistent efforts of people on this app makes them one of the largest number of members on an online dating platform.
With over 2.5 million people, you can look for pen pals or serious relationships, it's all up to you.
It's quite similar to Pairs but on the matching and other stuff, it is related more to tinder. This app is one of the very good online dating apps in Japan that has worked well for people.
Language: Japanese
Fees: Free for women, points/pay as you go fees for men
Ranking: 4 stars
Related:Are you looking for a job in Japan? Here's your guide!
Which are the best online dating apps in Japan?
Tinder is the most popular and one of the best online dating apps in Japan. It is available on app stores or play stores. There are a lot of different kinds of people you'll meet on Tinder, you just need to swipe right! Other fun dating apps are Happy Mail, Omaiai, Pairs etc.
Swipe Online for Fun!
Even if you're not looking for anything romantic on dating apps, you should try it out because of the networking and other types of connections you can build from these apps. These online dating apps in Japan can help you build a community of your own where you can have all the fun together. Good luck lads and ladies!
Also Read: