If you're new here and want to explore online dating apps in Japan, then here's your guide to let you know if it's worth your time or not!
Online dating apps in Japan are an amazing way to know people. You might either find a perfect Japanese man and end up spending your life together or at least find a friend you can hang around with. Both ways, it's going to be a fun experience.
Let's get real! Most foreign women want a serious relationship here and need to put in more efforts to go out with men as they are shy and take time to ask out women. Even if that's not a problem, language might be a barrier.
In today's world everything is digital- even relationships and dating. A quick web search and you'll find a bunch of deai-kei (出会い系 online dating) apps. All you need to do in these apps is register and get started with swiping!
I myself and many of my friends have been on several online dating apps in Japan so we decided to do a quick poll of which online dating app in Japan works the best.
20 foreign women residing in Japan gave the original rankings out of 5 stars. These women have been on the apps for a long time and have gone out a lot with online dating apps in Japan. So now, it's up to you to decide, if you'll swipe left or right? *wink*
Related: How to make multilingual relationships work in Japan
Which Is The Best Online Dating App For Foreigners In Japan?
Tinder is the most popular and one of the best online dating apps in Japan. It is available on app stores or play stores. There are a lot of different kinds of people you'll meet on Tinder, you just need to swipe right! Other fun dating apps are Happy Mail, Omaiai, Pairs, etc.
Dine
Many foreign singles living in Japan are looking for potential partners and want to make the most of the opportunity of living and working in the country.
Fortunately, they can take advantage of various to platforms to get their dating lives in gear – and one of them is the increasingly popular dating app, Dine.
The concept of Dine is what truly sets it apart from other dating apps – it uses food as the ultimate ice breaker. With Dine, singles can look for potential matches and learn face-to-face if they truly have a connection.
The app offers a unique and fun way of getting to know someone, while incorporating a crucial component to relationships: food. 
At the same time, Dine ensures that users get high-quality potential matches daily. It is known to be more selective than other dating apps available in Japan such as Tinder and Tapple and it's user base is considerably smaller.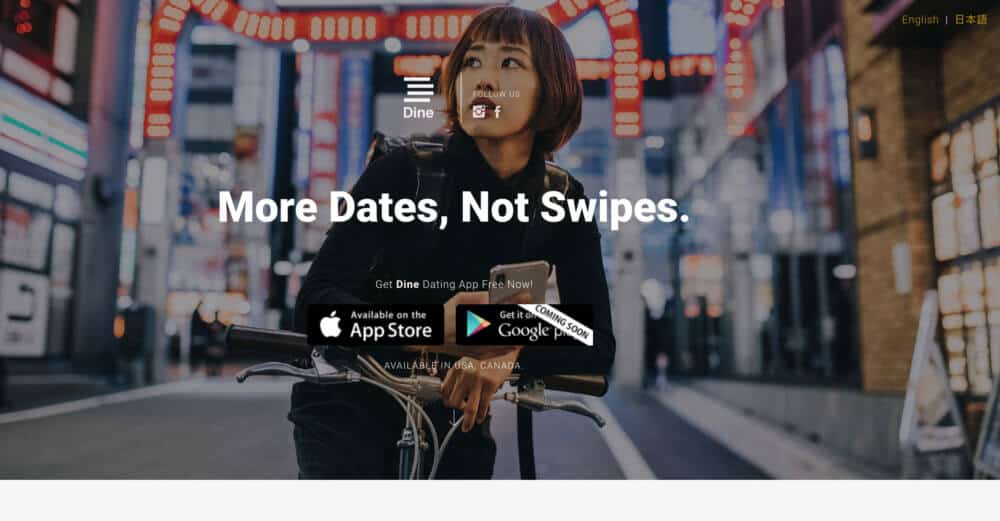 This means that the members of Dine are looking for something more than just hooking up; they value quality over quantity.
Singles who use Dine have access to great features to help them stand out from the competition.
A standout feature of the app is that it allows users to request for a dinner date – to actually get to know each other in real life, as Dine believes that relationships should be based on real connections rather than only a few swipes on a screen.
This way, singles have the chance to make a real physical connection with a person, which is important to build a successful relationship.
Overall, Dine is a great option for Japanese singles and foreign singles alike who are looking for genuine connections and something more than the typical hookup culture.
With quality matches and features that allow singles to dating in a safe, comfortable way, Dine is likely to become increasingly popular in Japan.
With
With online dating apps becoming increasingly popular amongst younger age groups around the world, it is unsurprising that Japan has recently seen a surge of interest, too.
This is especially the case with around 3.2 million users of such dating apps, with more than half of its users in the student category, making them extremely popular amongst the age groups.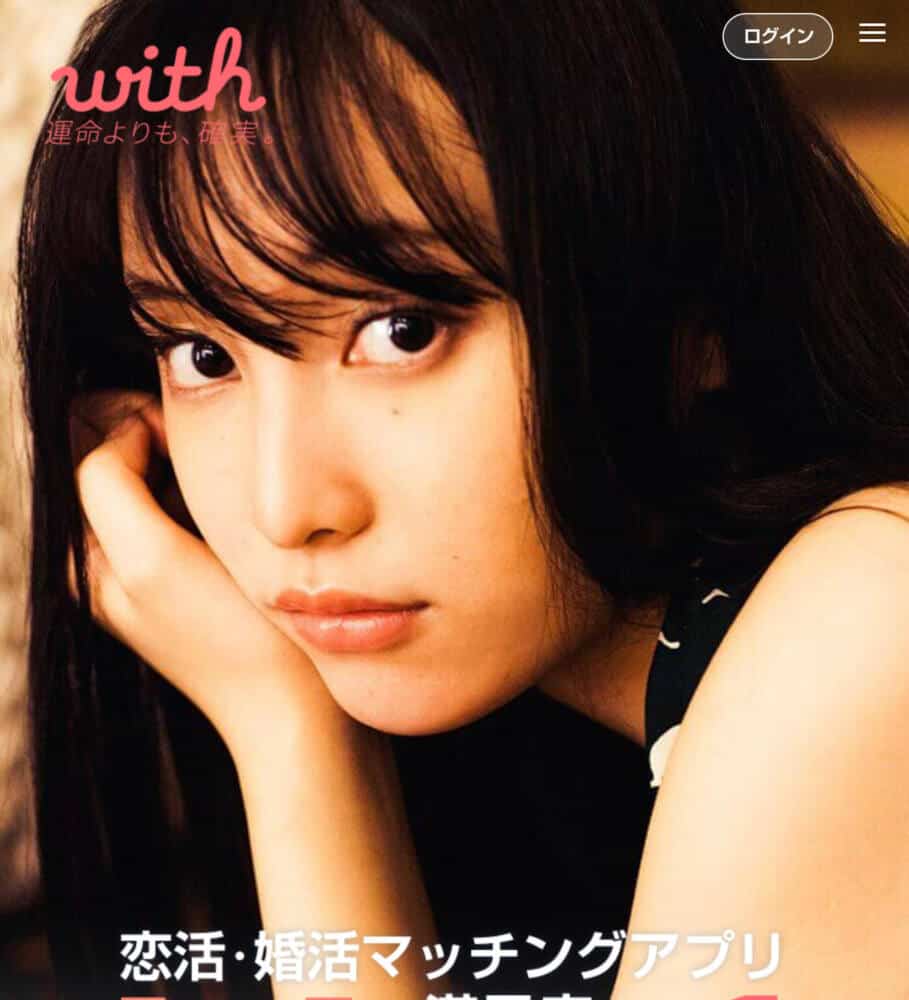 But what makes online dating apps in Japan so appealing? Firstly, and most importantly, most users on these apps are not looking for a spouse – instead, the users are generally seeking casual dating and conversation.
For male users, there is a slight downside, however. This type of app generally requires that males purchase a premium membership to enable them to receive and send messages – meaning that a membership cost is needed.
However, the bright side of this is that female users can use the app for free.
So, what are the costs of such a membership? Usually, the cost of a monthly membership is 3600 yen, while an annual membership comes in at an attractive 22,000 yen.
In addition to this, there are plenty of price options to choose from, with a one-week, 3 months, or 6 monthly membership also available.
Therefore, it is no surprise that more and more young people are turning to such apps for casual conversations, short-lived fun, or even lasting connections.
With the sheer variety of price options and the knowledge that most users are seeking the same kind of connection, the appeal of online dating in Japan is virtually irresistible.
Tinder
Tinder , well everyone knows what it is because it is so famous. While most of the people here are "just looking for something casual", if you keep trying actively, you'll meet a lot of people.
Through Tinder, you'll not only meet people to date but also new friends, networking, drinking buddies, activity mates etc. I have found a whole group of people with whom I celebrated Christmas last year and had an amazing time.
Recently, in the light of the global pandemic, Tinder also started a global passport, normally a paid service but it was free for a month It enabled a huge benefit for so many users for better connection and communication. This also gave the app a huge traffic.
Language: English, Japanese
Fees: Free, special features require monthly subscriptions
Ranking: 5 stars
Related: Going to Japan? Stay in a love hotel for an amazing experience!
Bumble
Bumble is a woman-centric app. Women have to make the first move while texting on the app after you're done swiping them right. If they don't text within 24 hours the match seems to disappear.
Bumble relies on Facebook logins for authentication which has made it a little slow in Japan but still it's gaining good popularity because of the "woman" swiping and texting the first option. It is great because it's not important for men to make the first move alway!
One of the women (who is dating a Japanese man through this app) said during the survey, "There is a lot of fake profile but you can spot them easily, so don't worry!"
The fun part is, this app has 3 faces, one is for dating, second is for bff (friendship) and the last one is for business. This has helped a lot of people to build strong networking relationships even in the time of the pandemic.
Language: English, Japanese
Fees: Free, special features require monthly subscriptions
Ranking: 4½ stars
Related: Visiting Tokyo for a 3-day trip? Check this out to play your tour!
Japan Cupid
Not to confuse with Ok Cupid, Japan Cupid is another online dating app and is a part of the Cupid Media Group, a niche-based online dating site group.
It connects people around the world rather than the immediate area which is great if you're looking to see international people. Japan Cupid has a lot of profiles from abroad so good luck with that.
This app is good if you're here for a vacation in Japan otherwise it doesn't make much sense. It is also for those men who want to get married to Japanese women because there are a lot of Japanse women on this app.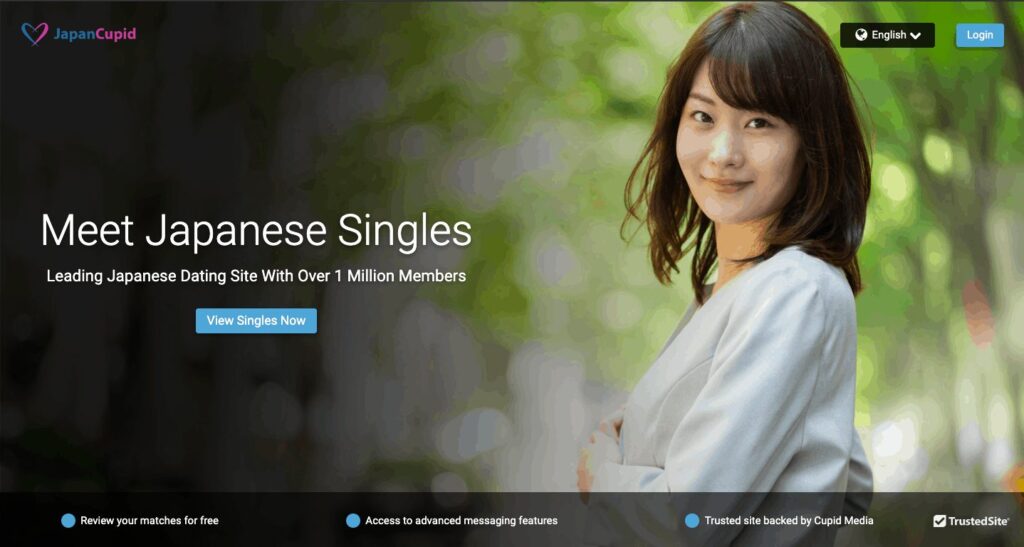 Since this app works in the entire world, it has a lot of fake profile where users claim to be other people who are famous and entitled. "Claiming to be a cute 20 Youtuber when you're a 40-year-old Japanese man? Not cool"
Language: English, Japanese, and others
Fees: Free, special features require monthly subscriptions
Original Ranking: 3 stars
Related: Relax in the onsens in Hakone. Here's everything you need to know
OkCupid Japan
Ok Cupid is often called "the best dating site on Earth". Ok Cupid in Japan is extremely detailed and certainly better than Tinder and Bumble. The average time to fill out your profile rounds up to 45 mins but don't worry it's worth it once its done.
Of course, you can always opt-out to fill in all the information but your profile will be left empty and this might not bring a lot of attention to your profile. Ok Cupid is fun to use and the matches are also good!
"Ok Cupid has a lot of serious daters and if you're looking for something exclusive, do register," says a woman using Ok Cupid for 2 years now.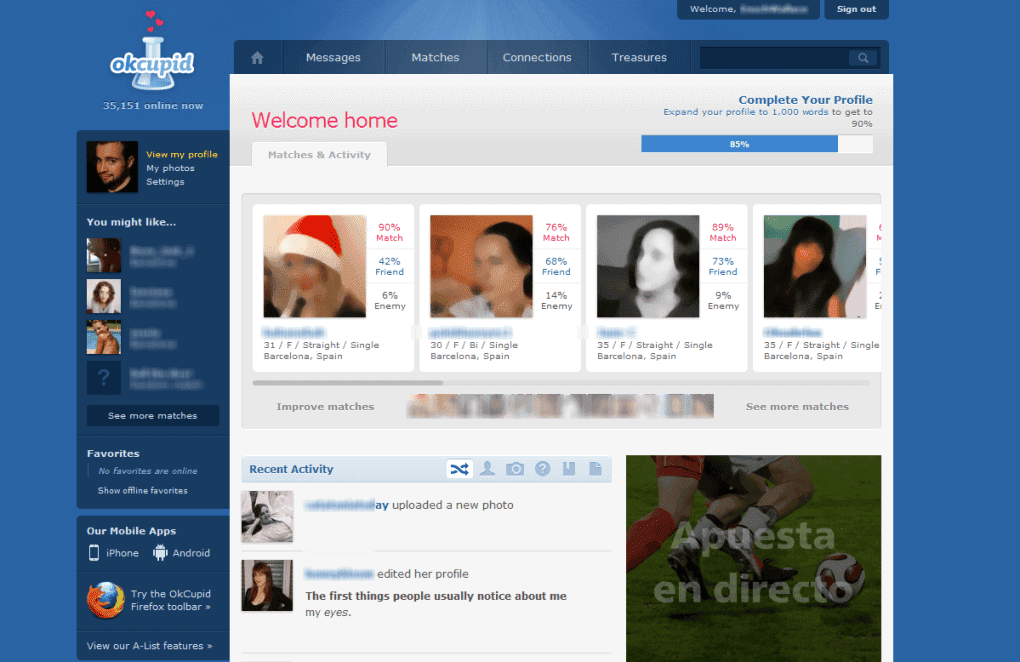 Ok Cupid has lot of fake profiles and also its a great task just to sign up on this app. But, if you're seriously looking for something, Ok Cupid should be your go-to online dating apps in Japan.
Language: English, Japanese, and others
Fees: Free, special features require monthly subscriptions
Ranking: 3 stars
Related: Here's how you can buy a SIM card in Tokyo and stay connected always. Check it out
Omaiai
The largest online dating app in Japan is Omaiai that has authentications from Facebook, Apple ID and also numbers at times.
Omaiai is another Konkatsu (matchmaking) service app so if you're using this app make sure you're seriously looking for something. Otherwise, this might not be the place for you and you'd rather find it creepy.
There are around 24 filters you can use to streamline your searches based on a variety of things like nationality, income etc.
There is no serious complaint from the users even after being a konkatsu service so its pretty safe for the users.
Omaiai has rebranded itself with a new fashion of Tinder and Instagram friendly ideas. It also strictly focused on how it's a relationship/marriage app so its pretty clear on what people look for on this app.
If you're seriously looking for a partner, this is probably one of the best online dating apps in Japan that will be worth your time.
Language: Japanese
Fees: Free for women, ¥1,950 per month (for the annual plan) for men
Original Ranking: 4 stars
Related: Watch a Sumo match in Tokyo. Here's where you can get the tournament dates and a guide to get the tickets!
Tapple
I had a positive experience in Tapple but some people are quite hesitant to meet offline for a date or even a casual hangout.
A person I met, just wanted to talk online and there were other foreigners who weren't ready to meet which I still have no reason to justify their behaviour. So, it might disappoint you if you're looking for something serious or even hangout for that matter.
Tapple is an online dating app in which instead of filling out your own profile, you fill out qualifier for what type of a man you are looking forward to so it gets kinda fun as you get to choose what kind of man you exactly want.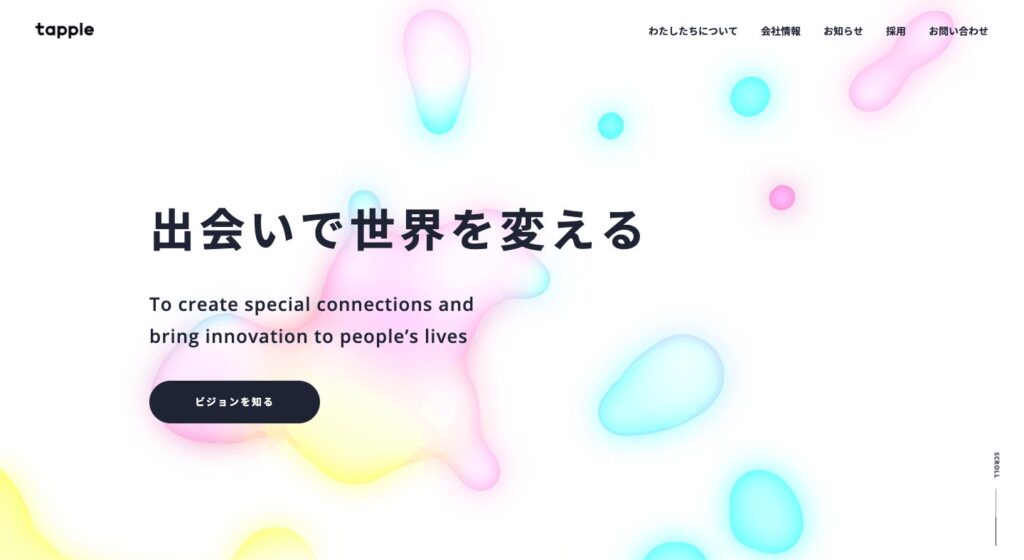 Tapple now has tinder-like services with Tv and online commercials and advertisements. People who want to take things slowly can try Tapple but make sure your signals are clear.
Language: Japanese
Fees: Free for women, monthly subscription fee for men varies.
Ranking: 4 stars
Related: Here are the best spots to experience the mesmerising Wisteria in Japan. Check it ou
Pairs
Pairs is one of the most popular online dating apps in Japan. It has a lot of TV and online commercials in recent days and claims to be no.1. This site and its related apps also require to sign in through Facebook but you can hide your name if you want to be a little secretive.
Their target audience is comparatively the younger people who are in college or in their late 20s. " You can find a young crowd here mostly non-natives but its always fun knowing someone who is different from you." a user said according to his experience.
Language: Japanese
Fees: Free for females, monthly subscriptions fee for males
Ranking: 3 stars
Related: Here are fun things for you to do in Kochi, Japan. Check it out!
Zexy Koimushubi
Zexy Koimushubi is one of the popular online dating apps in Japan which is a part of a popular wedding service. This app works on matching based on common interest of two people.
Zexy also needs a Facebook authentication to complete the profile and has a great success in making other people meet or date.
Since the purpose of this app is pretty clear, it leads to marriage and serious relationships. I also have a friend who is getting married to someone they found on this app. "I met the love of my life on Zexy Koimushubi and we are getting married through the same services, it's amazing and I'd recommend it to everyone!"
Language: Japanese
Fees: one time ¥108 fee for women (for ID check purposes), monthly fee for men
Ranking: 4½ stars
Related: Click here to know all about Japanese Nenjago cards, they're so cute!
Happy Mail
Happy Mail began in 2001 but wasn't among the major online dating apps in Japan for a long time but there has been a great effort put into making this app one of the top most dating sites.
With over 2.5 million people registered on this app, you can find all you're looking for whether its a serious relationship or something casual, that's up to you!
It's quite similar to Pairs but on the matching and other stuff, it is more like tinder when you talk to people. This app is one of the very good online dating apps in Japan that has worked well for people.
Language: Japanese
Fees: Free for women, points/pay as you go fees for men
Ranking: 4 stars
Related:Are you looking for a job in Japan? Here's your guide!
Swipe Online for Fun!
Even if you're not looking for anything romantic on dating apps, you should try it out because of the networking and other types of connections you can build from these apps. These online dating apps in Japan can help you build a community of your own where you can have all the fun together. Good luck lads and ladies!
Also Read: