Looking for a peaceful getaway in Japan? Check out these best onsens in Hakone for a relaxing weekend as you enjoy the hot springs in Hakone!
There are many ways to keep yourself warm during the winter months, but nothing is more enticing than a traditional Japanese onsen.
Onsen, or hot spring, is a unique method that not only helps warm you up during the cold months, but it also relaxes and rejuvenates you.
Hakone is one of the foremost places to enjoy a relaxing onsen in Japan. In fact, when people think of Hakone, they automatically think of hot spring baths.
The diversity and variety of hot springs make Hakone a paradise for onsen lovers.
The hot spring water relaxes you, helps you rejuvenate, and is said to be an elixir for your skin. The hot water also helps soothe sore muscles.
Top Onsens in Hakone
There are several benefits that make visiting the onsens in Hakone worth every penny. It is one of the best ways to relax, rejuvenate, and soothe the mind and body.
The water in the hot springs is said to be good for the skin. It has healing properties that take care of your skin's concerns.
If you have aching muscles, cuts, or burns, the water here will help heal those.
Tempted to plan a visit to Hakone soon? Then why not check out these best onsens in Hakone for that trip.
Read on to find the best onsens in Hakone:
Kappa Tengoku
Best Onsen in Hakone for Budget Travellers
Kappa Tengoku is situated just behind Hakone-Yumoto Station. It's the best onsen for travellers who want a quick soak before or after their train rides. This onsen is a no-frill onsens in Hakone and offers basic facilities.
I've been to Kappa Tengoku a lot of times and I really enjoy how calming the bath there is. The water really has some kind of magic that works so well to just relax your body. I had knee pain that was cured after a dip in Kappa Tengoku.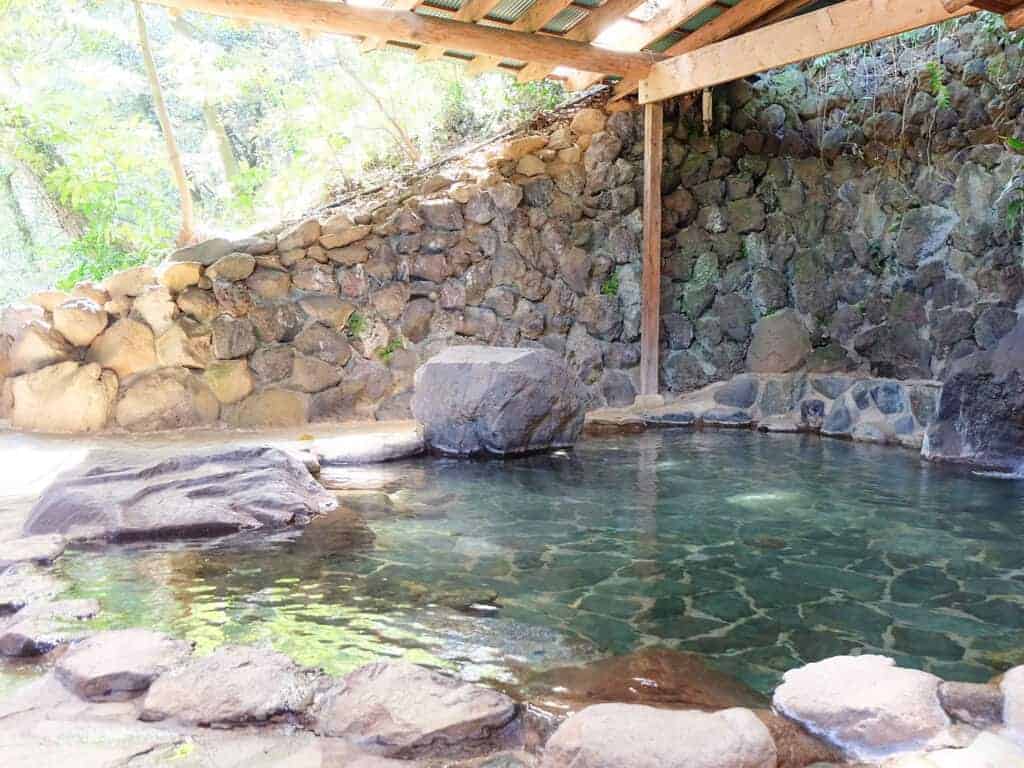 This is the cheapest, most affordable onsen in Hakone so it's a great option for travellers on a budget. You can enjoy the amenities at this onsen for a fee of 800yen. If you're uncomfortable getting naked in front of strangers then you can also dip your feet in the foot bath for 200yen.
You can soothe your tired feet in this foot bath that sources its water from the open-air bath. This is a great option for you if you've been travelling around Hakone and want to give your feet some comfort.
Ashinoko Hanaori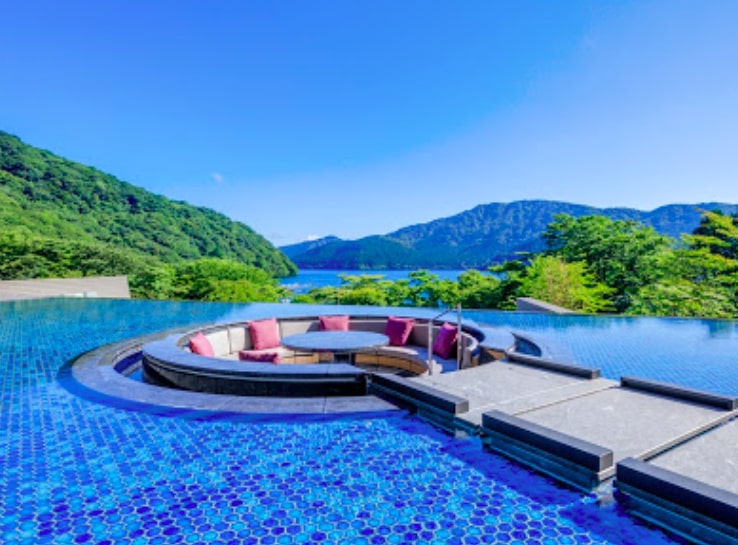 Ashinoko Hanaori was innaugrated in 2017 and has a modern onsen with a view of Lake Asahi. It's located next to Togendai Station and is easily accessible. I recently visited this place in 2021 summers and I loved the ambiance and aura of the place. It's extremely peaceful and luxurious.
It's a great option for budget travelers who are also looking for a little luxury. You can also enjoy a nice buffet breakfast at the hotel. Ashinoko Hanaori Onsen Hotel has a lounge bar as well as a gym.
The water in this hot spring has a calming and relaxing effect. You'll find a lot of foreigners around while you're in the onsen. The view from the onsen is spectacular and I'd recommend going for a morning dip for the same.
Ryuu Palace or Dragon Palace
Best Onsen in Hakone With Mt Fuji View
The first thing that catches your eye about this hot spring is the breathtaking view. You can see the magnificent Ashinoko lake and if the weather gods favor you, Mt Fuji as well!
During the autumn season, the leaves turn a golden yellow, offering a different landscape. The inn itself has a rich history and justifiably has been deemed a historical landmark. I recently ticked this place off my bucket list. I loved the view by the onsen and also felt relaxed after the dip.
If you're searching for peace and quiet, this is the perfect getaway for you. Definitely one of the best onsens in Hakone!
Yunosato Okada
Best Onsen In Hakone With Private Open-air Bath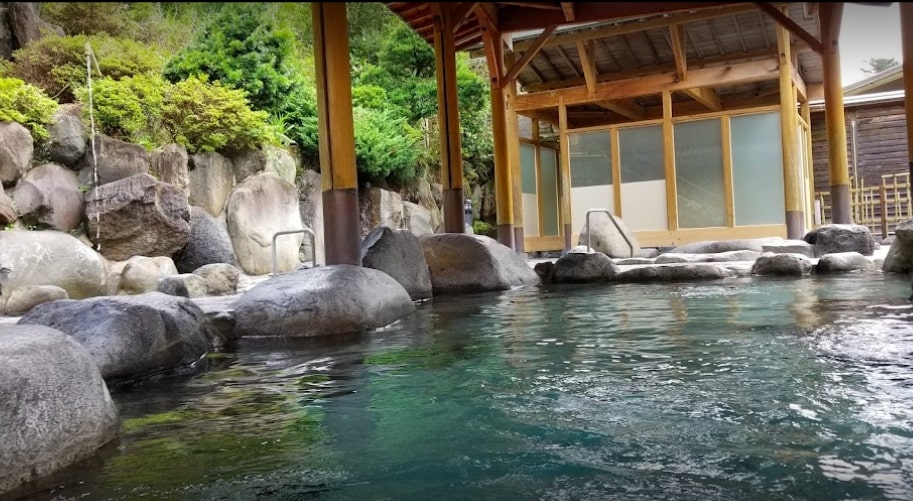 There are a variety of hot springs in Yunosota Okada that are diverse; you can take a bubble bath, a rock bath, a jet water bath and more.
The best part? You can enjoy these baths in complete solitude. Check out this best onsens in Hakone below!
Hotel Green Plaza, Hakone
Best Onsen In Hakone For Women
The hot spring in Green Plaza is open-air, with a clear view of Mt. Fuji.
What makes it different is that Fuji Sake is provided in the women's open-air bath so it's a great way to unwind.
They also serve a sumptuous buffet with an all you can eat crab counter! Hands down one of the best onsens in Hakone for women!
Hakone Yumoto Onsen Tenseien Garden
Best Onsen Experience In Japan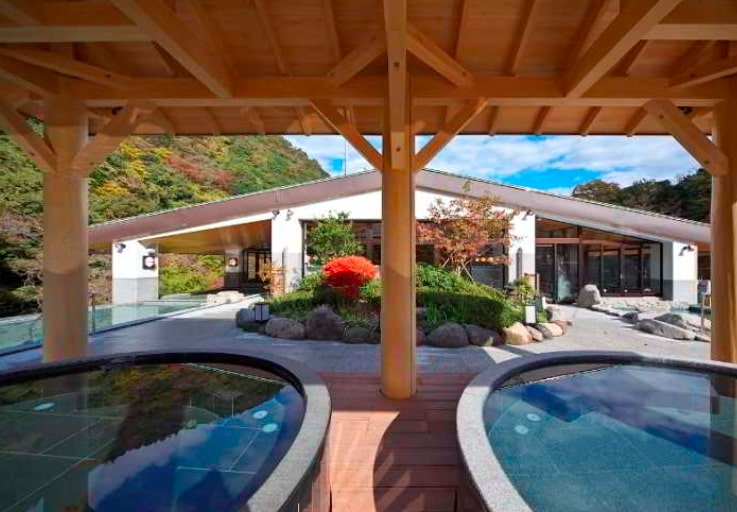 The next best onsens in Hakone is the Tenseien Garden. This hot bath is open 23 hours a day, perfect for getting some much-needed relaxation time post work.
The open-air sky bath allows you to take in uninterrupted views of the entire area while soaking in the hot bath, with many coming at night to gaze at the stars.
Hakone Suimeisou
Best Onsen hotel in Hakone with views of the Haya River
Hakone Suimeisou is one of the best onsens in Hakone you can choose to relax and unwind. It is located in a beautiful location and is the perfect option for families.
The onsens (hot spring baths) at Hakone Suimeisou are in variety, and you can choose from them. Available at a reasonable price, you should definitely check this place out.
Tsukino Yado Sara
Tsukino Yado Sara opened up in the winter of 2015, intending to provide new, healing therapy to its guests. It offers a modern Japanese taste that is loved by everyone.
The onsen inn is inspired by Japanese design and offers open-air thermal baths in all the rooms.
You will enjoy the healing experience at this onsen amidst the Japanese ambiance and western comfort.
This best onsens in Hakone has a delightful fusion of modern atmosphere and traditional Yosegizaiku art – the art of wooden mosaic and the moon.
Yoshiike Ryokan
Hakone Ryokan Private Onsen
Yoshiike Ryokan has onsens that come straight from the source. It is an epitome of luxury that pampers while allowing you to rejuvenate and rewind.
The best part about Yoshiike Ryokan is that it's set amidst greenery, which is a source of freshness in itself. Check out the best onsens in Hakone below!
Yunessun
Best Place To Stay In Hakone For One Night With Onsen
Yunessun provides you with a unique onsen experience. It is not a traditional onsen, rather it is a hot spring theme park that has different varieties of onsen – which makes it one of the best onsens in Hakone.
You will find unconventional hot spring baths such as a wine bath, coffee bath, and even a green tea bath. Each of the hot spring baths has its own benefits.
You can also decide to stay at one of their four hotels nearby. Furthermore, there are both traditional no-clothes zones as well as a spa zone, where you can wear your swim clothes.
Yunessun also has a special fish spa. The fishes nibble away dead skin from your feet to give you a unique manicure experience.
Tenzan
Best Onsens in Hakone with a traditional style located deep within the mountains
Tenzan is one of the most popular onsens of Hakone and is located only 10 minutes from the Hakone Yumoto Station. Tenzan has several onsen baths, with them having several specialties.
There is a bath that is too big, another one that goes into a cave, one multi-level bath, and there is also one bath, which has water that is said to be good for your skin.
That's not all. There is much more you can do here than just enjoy the onsens. There is a souvenir shop, a restaurant, a cafe, and rest areas with tatami.
Hakone Kamon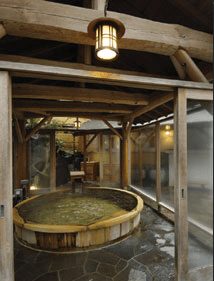 Hakone Kamon is a luxurious onsen that has 20 indoor and outdoor baths. The experience you get here is beyond anything you will ever get anywhere else.
The onsen here is complete with a sauna, indoor relaxation areas, and tea that is served after the bath.
Hakone Kamon provides you with unbeatable service and unique experience if you're willing to spend out a little more.
Hakone Yuryo
Hakone Yuryo is a resort that provides large communal baths as well as smaller private baths.
And the hot bath is not the only attraction that is there. There are several other attractions that can add to the good time you have here.
You can check out the souvenir shop, food shop, resting area, and a beautiful Japanese courtyard.
You can also opt for relaxing massages at an additional fee. It is simply ecstatic!
The pleasure of letting the water of the onsen wash away all your pain and worries, and topping it off with a relaxing massage – the combination is out of the world! It is a haven for people who need some peaceful moments.
Tonosawa Onsen In Hakone
Tonosawa Onsen is situated in a beautiful location, right between the Yusakayama and Tonomine mountains.
The best thing about this onsen is that the Hayakawa river flows all around the onsen, enhancing your experience.
Depending on the season, you can enjoy several phases of nature, from luscious floral beauty to fiery shades of Fall. It is brilliant, and no matter when you decide to come here, you will be rewarded with nothing but beauty, calm, and peace.
The water in the hot spring is gentle on the skin and is believed to have skincare properties. You can feel your body and mind relaxing right when you step into the water.
And when you get out, you will feel like a new person born from the healing waters – a person who is relaxed and calm.
Ohiradai Onsen in Hakone
As compared to the other onsens of Hakone, Ohiradai is relatively new. It's loved for its water that is kind and moisturizing on the skin.
It helps improve circulation providing relaxation and helping you rejuvenate.
The feature that sets this onsen apart from the rest is the temperature of its water. At 43-degrees Celsius to 44-degrees Celsius, the water here is hot!
Rules to Enter Onsen Hakone
Onsens require you to follow some guidelines before entering. Here are a few things to keep in mind:
Clean yourself before entering the onsen. Consider taking a quick shower and cleaning your private parts well.
Sandals and swimsuits aren't allowed. It's advisable to go naked. If you're hesitant, there are private onsens too.
Don't go to the onsen drunk. Running and swimming are also not appreciated.
Wipe your body well before entering the locker room to keep the floor away from dirt and mess.
Speak quietly or not at all inside the onsen as it's a relaxing and calming place.
If you have tattoos, check with the staff, if you're allowed to enter the public onsens.
Best Onsens in Hakone: FAQ
What is Hakone famous for?
Hakone is famous for its hot springs and greenery. It's one place away from the hustle and bustle of Tokyo, where you can simply get into an onsen and relax. It's also famous for viewing Mt Fuji. Hakone is a popular tourist destination both among the Japanese locals as well as international tourists!
Is Hakone worth visiting?
Hakone is definitely worth visiting. If for nothing else, you have to visit one of the onsens in Hakone during your Japan trip. It's a rejuvenating and culturally-rich experience that you must indulge in!
Where is the best onsen in Japan?
Some of the best onens in Japan can be found in Hakone. In fact, Hakone, Japan is world-famous for its onsens.
Are there private onsens in Japan?
You can find plenty private onsens in Japan in Hakone. Two of the best prpvate onsens in Hakone are: Yunosato Okada onsen and Yoshiike Ryokan.
How many hot springs are in Hakone?
There are around 20-24 hot springs in Hakone. Some of them are public which you can enter with a bathing suit. Other than public hot springs, there are hotels that have hot springs inside where you can soak without a bathing suit.
The most famous hot springs in Hakone are Hakone Kowakien Yunessun and Hakone Kowakien Yunessun Grand Hotel.
How much is onsen in Hakone?
There are several onsen resorts and public onsen in the Hakone region. Onsen resort costs from JPY 5,000 to JPY 8,000 per person per night. There are also public onsens where you can bath for JPY 500 to JPY 1,000.
The Perfect Hakone Onsen Day Trip!
Hakone, though only about 100 km from Tokyo, is a completely different haven. You will feel like you have entered a surreal world that's beautiful, pristine, and relaxing.
It's a slow-paced place that takes you away from the regular hustle and bustle of your busy lives. In Hakone, feel the time stop and wash away all your worries.
The onsens in this article make sure that you relax and rewind completely. Enjoy the subtle atmosphere while letting the water work its magic on your mind, body, and soul.
Hakone is a popular destination, thanks to these wonderful onsens.
In these onsens, you can let go of everything. Simply dip your souls, unwind in the water, appreciate the beauty of nature, and simply relax!
Are you ready to plan your trip to Hakone? Do not forget these onsens on your trip! You are going to have a surreal experience.