If you love watching the Cherry Blossoms in full bloom you'll definitely want to see Wisteria in Japan. Read on to find out where to see Wisteria in Japan.
If "Japan" brings on images of Kimonos, gorgeous Cherry Blossoms and delicious Sushi, there is another popular sight that you cannot miss – The pretty and vibrant Wisteria! ola
Native to Japan, China and a few parts of Eastern America, this flowering plant can take your breath away in shades of blue and purple, interspersed with pink, white and sometimes even yellow. This once a year miracle is one of those things you must put on your bucket list (probably right on top).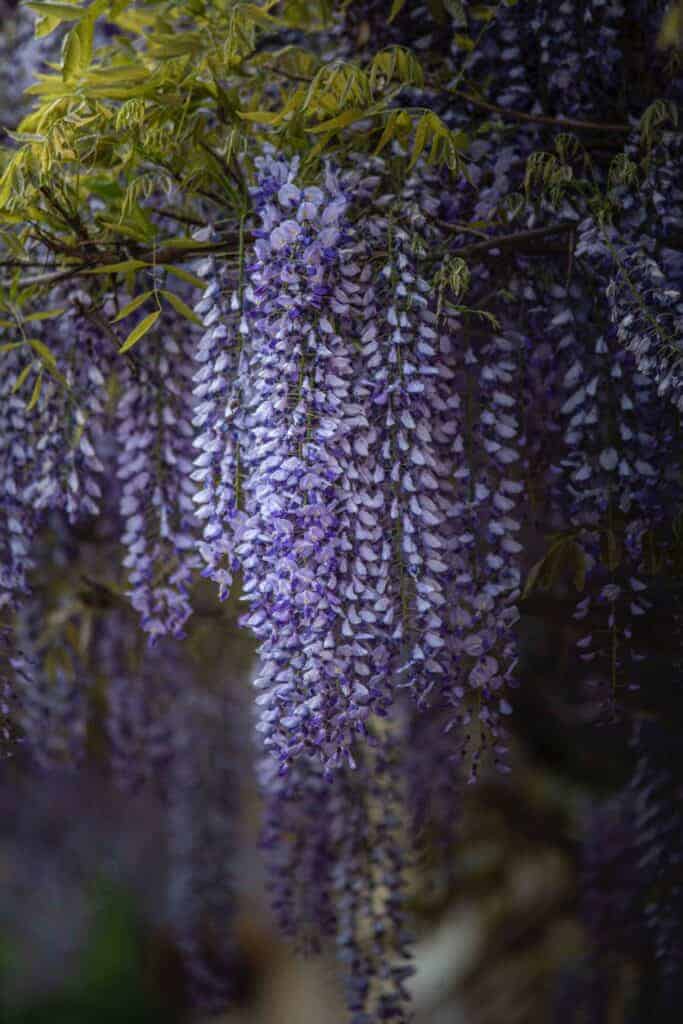 Viewing the Wisteria and walking through the gardens can be a magical experience, something you must absolutely not miss, especially if you are visiting in April and May.
A word of advice: The Wisteria is known to be poisonous to animals, so take care if you are taking a pet along.
Read on to check out all the spots you can see the Wisteria in Japan:
Where To See Wisteria In Japan
Kaimeido-Tenjin Shrine (Tokyo)
Did you know that the Wisteria symbolises immortality and long life? This flower that blooms in the spring can live upto a 100 years. Like many Japanese symbols, the Wisteria also represents our consciousness that we keep expanding.
Tokyo is a city you are probably going to definitely visit on your trip to Japan, and it has one of the most visited Wisteria gardens in the country. If you are in Tokyo, walk through the Wisteria gardens at the Kaimeido-Tenjin Shrine.
As you step into the gardens and make your way on the Three Moon Bridges that lead to the main shrine, the Wisterias flanked by pink and red Azaleas make the perfect space to reflect on your past, present and future – something that the bridges represent.
These Wisterias bloom towards the end of April and are at their best during the month of May.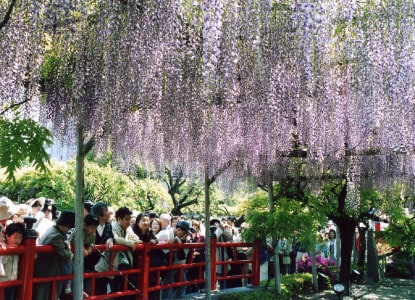 The 15th century Kaimeido-Tenjin Shrine is known to be a place where Japan's students pray for academic success, so if you have a big exam or test coming up, you know where to go!
Location: 3 Chome-6-1 Kameido, Koto City, Tokyo 136-0071, Japan
Related: Visiting Kochi Japan? Here are some fun things to do!
Fujii-dera Temple (Osaka)
If you are visiting Osaka sometime mid April, check out the Wisteria in full bloom, in the Fujii-dera Temple. This is one of the temples on the Kansai Saigoku Kannon Pilgrimage that many Japanese take in their lifetime.
During the Wisteria season, the Fujii-dera temple also showcases a sculpture, the famous Thousand-Armed Kannon. As this sculpture is placed for visitor viewing, the entire temple is donned by the purple Wisteria flowers, a perfect backdrop for this national treasure.
Enjoy the warm summer sun's rays touch your skin and body as it makes its way through the lovely purple flowers as you walk under the Wisteria trees.
It's considered good luck if you get tossed some o-mochi rice by the priests standing on top of a wooden tower during this celebration, so make sure you pay your respects and wish for something special!
Location: 1 Chome-16-21 Fujiidera, Osaka 583-0024, Japan
Related: Visit this paradise on Earth in Japan!
Kawachi Fujien (Fukuoka)
The quick growing Wisteria is a long vining plant, and makes a very pretty arch to walk under. Many honeymooning couples make their instagram family go green with envy with romantic pictures snapped under these lovely purple and white flowers.
You can also join the group that is envied by visiting the popular botanical garden, Kawachi Fujien in Fukuoka, during the Spring months of April and May.
While the garden itself is not very big, I promise, you will spend at least an hour just looking around and taking in the mystical beauty of these flowers.
The huge tunnels that are formed by the flowers is where you will be transported to another world, and one where you will click a 100 photographs and have trouble settling on just one good angle.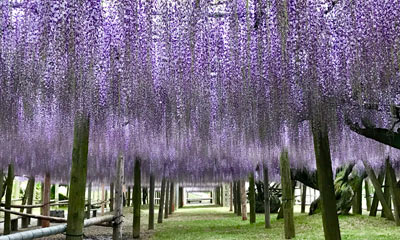 The Kawachi Fujien Wisteria Gardens are very well known amongst tourists, so it might get pretty busy during the Spring, so make sure you book your tickets in advance and visit during the early hours when there might be fewer visitors.
Location: 805-0045 Fukuoka, Kitakyushu, Yahatahigashi Ward, Japan
Related: When in Tokyo you cannot miss the SUMO Match. Here's how to get the tickets!
Mandaraji Temple (Aichi)
Aichi is a prefecture that is about 260 km from Tokyo, and a wonderful place to visit if you want to see the Wisteria. One of the places where you can experience this once a year wonder is in the Mandaraji Temple.
This Buddist temple is one many visit right through the year to let go of their worldly stresses and embrace the awe-inspiring beauty of nature. The well-maintained lawns and gardens have the Wisteria blooming as their crowning beauty once a year, during the last week of April, right until the second week of May.
Like everything unique to this temple, the Wisteria also blossoms in the rare green colours that you don't get to normally see in most other parts of Japan.
It is believed that these trellises were laid almost 7 centuries ago, and every year and annual Wisteria festival is held by the temple, which attracts millions from across the world. The blend of this green with the purple and white flowers set in the serene temple ambiance makes this a heady experience.
Location: 202 Maehibocho Teramachi, Konan, Aichi Prefecture 483-8336, Japan
Related: Drive Mario Kart on Tokyo streets! Here's everything you need to know!
Manyo Botanical Gardens (Nara)
Nara is a prefecture in Japan, and a quick drive from Osaka. It's a beautiful place to get away from the hustle and bustle of the big cities and a perfect day trip. While Nara is popular for one of the oldest shrines in Japan, it is also home to a garden of Wisteria.
For all the botanists and plant lovers, the Manyo Botanical Gardens is worth spending time in. With over 250 species of plants, you will go back with loads of knowledge.
Manyo has the Wisteria blooming from mid April until mid May, with the purple ones blooming first, followed by the white ones. Entry to the botanical garden is charged, and it's a good idea to visit during a weekday when you will have lesser crowds and more time to let the spectacular sights sink in.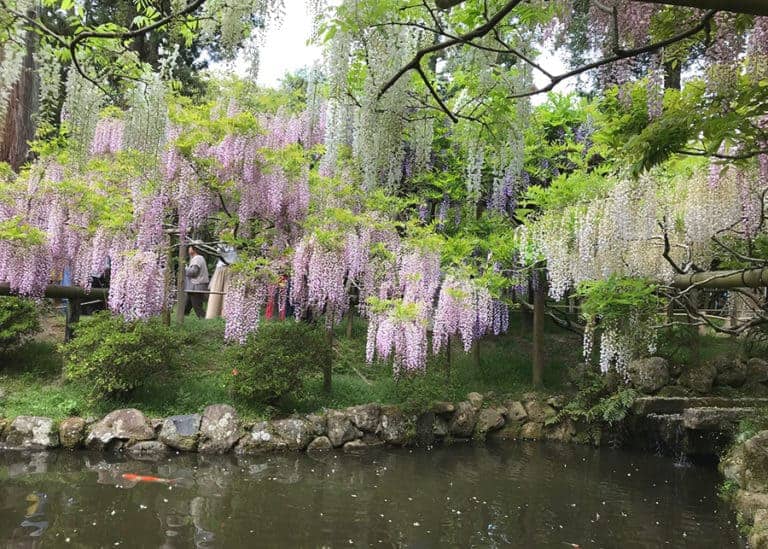 Location: 160 Kasuganocho, Kasuga Grand Shrine, Nara 630-8212, Nara Prefecture
Related: Visit an onsen in Hakone for a relaxing experience. Check it out!
Kasukabe Fujihana Garden (Saitama)
Kasukabe is a city in the prefecture of Saitama and home to the 1200 year old Wisteria tree. If you are specifically making a trip to see the Wisteria, the historical Ushijima Wisteria is what is recommended, both for its history as well as its stunning beauty.
The Wisteria of Ushijima is very large, with the flower clusters measuring upto 2 metres long, making it seem like you are walking through a fairyland. These are draped over trellises and as you walk through them you can feel the softness of the flowers caress your cheeks.
Every year there is an annual Kasukabe Wisteria festival that is held, with the main Wisteria attraction flanked by street performers, food stalls and musicians. This is usually held during the last week of April, and one of the best times to be in Japan.
Location: 344-0004 764-2, Ushijima, Kasukabe-shi, Saitama Fujihana garden
Myofukuji Temple (Chiba)
If you are looking for a day trip out of Tokyo, Chiba is an interesting city to visit. About 40 km to the east of downtown Tokyo, Chiba has a small population and very fertile land.
This is evident in the Wisteria plants that were planted nearly 700 years ago in the Myofukuji Temple, that blooms beginning of May every year. This Buddhist temple is a vision of purity and Zen, and the Wisteria adds a lot of colour and vibrancy to it.
While most Wisteria around the country dies down by Mid May, the ones in Myofukuji temple go strong until the end of May. If you are visiting a bit late during the Spring, head here to not miss out.
Like many Wisteria gardens, this temple also has its maximum visitors during this season, so try and visit during the early hours of the morning or during a weekday.
Location: 1465 Myokencho, Choshi City, Chiba
Tennogawa Park (Aichi)
Aichi has another most visited Wisteria garden, the Tennogawa Park. Imagine stepping into paradise – that is the kind of jaw-dropping vision you will have when you step into this park.
The pergola stretches to 275 metres and is covered by the stunningly pretty purple and white Wisteria, dropping delicately along the sides. The flowers bloom between mid April and until the beginning of May.
The night view will have your heart skip a beat as the pond under the trellis reflects the lights in it like a million tiny stars, and the colours of the flowers over it.
This is also the time when the city gets really crowded with everyone wanting a piece of heaven, but it is well worth getting in. There are around 12 different varieties of Wisteria flowers housed in this park and over a 100 trees, making up the garden.
The Tennogawa Park is also a sought out venue for many events and festivals, and has witnessed quite a few wedding ceremonies in its lifetime.
Location: 496-0853 1, Miyagawa-cho, Tsushima-City, Aichi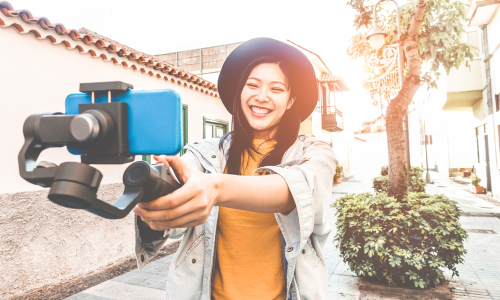 Hiya! I'm the main author of Japan Truly. I love everything Japan and love testing out Japanese products, be it skincare and makeup or gadgets! You'll find reviews of some of the best selling Japanese products (tried and tested) right here!