Planning a quick getaway to Tokyo, Japan? Well, here's the ultimate Tokyo 3 Day Itinerary For Winter so you can squeeze in the best places to go to in Tokyo during your short trip!
I absolutely love all of Japan but Tokyo is my favorite place to be! It's full of life and it's a city that just has about endless things to do!
Always bustling with people and areas like Shinjuku, Shibuya and Asakusa are places that simply never go to sleep – and at any point in the day (or night), you'll always find something fun to do!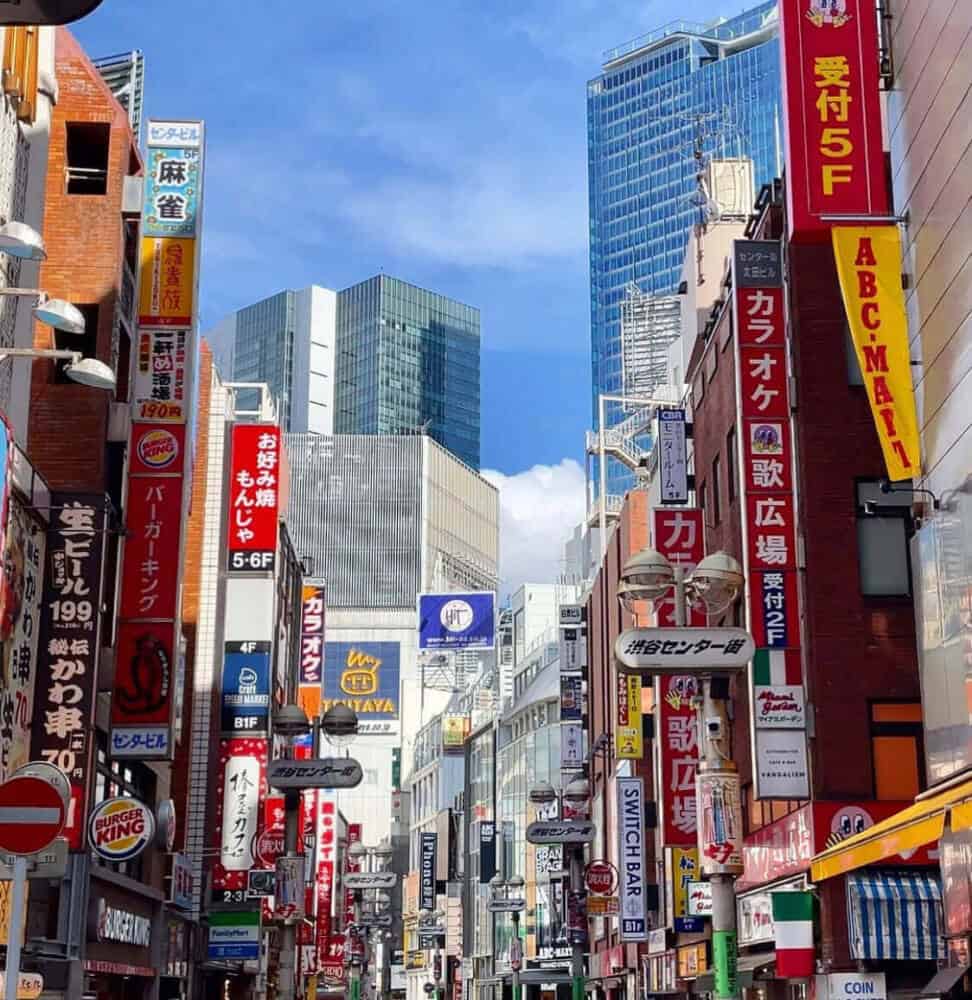 So, now that you're preparing your itinerary for your Tokyo trip – consider me your virtual tour guide who will recommend the best places to visit in Tokyo!
And since it's only a 3-days-in-Tokyo itinerary for winter, we'll have to squeeze in quite a bit so hold on to your seats because this train to Tokyo is going ahead in full steam! **choo choo**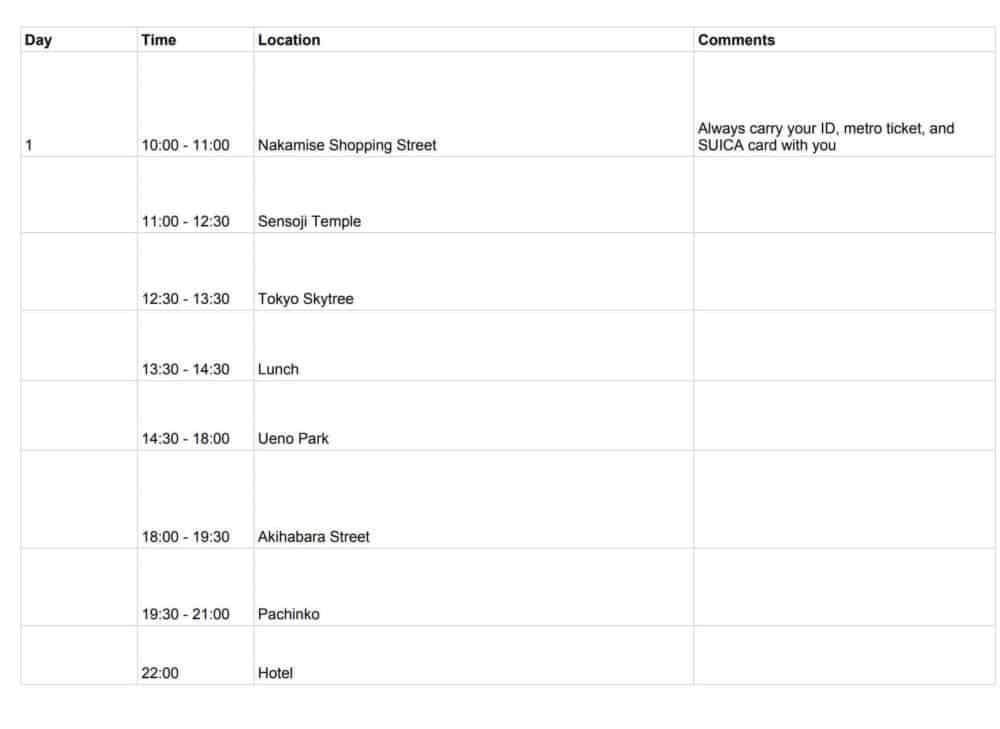 Scroll down to the bottom to find a downloadable PDF of 3 days Tokyo itinerary now!
Now let's crack open this Tokyo 3 days itinerary in winter!
Check out this itinerary below and start planning your Tokyo trip now!
Tokyo 3 Day Itinerary For Winter
Winter Weather In Tokyo
If you love the winter season then Japan is a great destination for your winter vacation. With temperatures around 10 °C, the weather is dry and cold with very little snow and rain. Which is simply perfect because this means you won't end up getting stuck home (or worse, somewhere random in Tokyo) because of snow or rain.
And whenever it snows in Tokyo, it's pretty mild and rather pleasant unlike up north. So you need to worry about snow only if you're traveling to the north side of Japan for activities like skiing. 
What To Pack And Wear in Winter In Tokyo?
During winter in Tokyo, even though it doesn't rain or snow too much – it's still pretty cold outside. So make sure that you always layer up when you go out in Tokyo. Pack jackets and sweaters that you can easily slip in and out of. I suggest this because though it might feel cold outside on the streets, you might feel hot with the jacket on inside a crowded store or restaurant.
Make sure that you pack sweaters, jackets, and hoodies. Other than this, you can also carry a shawl, scarfs that can keep you warm.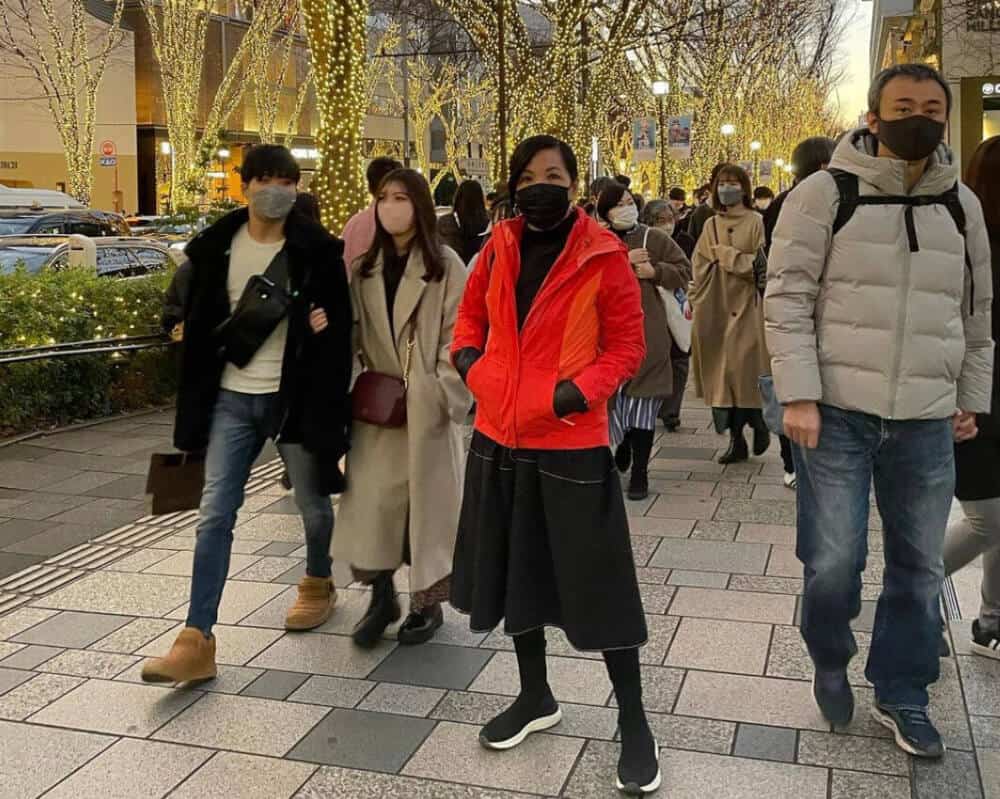 If you plan to go sightseeing a lot then make sure that you pack a pair of boots that can keep your feet warm. Also, pack thick socks that you can further help you keep warm. And carrying a couple of pairs of gloves is also a good idea. Carrying a beanie is also a good idea to keep yourself warm.
Packing winter clothes can take a lot of your luggage space. So you can always come to Tokyo and shop for some great winter clothes in stores like UNIQLO that have a a great collection of winter wear for Tokyo's winter weather!
How to spend 72 hours in Tokyo in Winter?
Alright, alright, now I know we're all excited to go to Tokyo and we can't wait to get to that beautiful itinerary but first a couple of tips on traveling within Tokyo.
One thing about Tokyo that I absolutely love is the public transportation system. I mean, there's almost no area within Tokyo that's not accessible by taking a train or the subway.
Since you're in Tokyo for only 3 days, your best bet is to pick up 72-hour Tokyo metro tickets. You can buy these tickets at the Tokyo airport, metro station in Tokyo, foreign information tourist offices, or BIC camera shops. Many hotels in Tokyo also offer these tourist metro tickets.
Check out Tokyo's official metro website for more information on that!
| | | |
| --- | --- | --- |
| Ticket Type | Passenger Type | Price (JPY) |
| 72-hour Tokyo Metro Ticket | Child | 750 |
| | Adult | 1,500 |
Another tip I have for you is to get the SUICA smart card so you can have a seamless experience in Tokyo.
SUICA cards are like these prepaid cards that are used in Japan to basically pay for everything – metro, convenience stores, vending machines, restaurants, and more.
Now, where can you find these SUICA cards? – you can purchase a SUICA smart card at any major JR EAST stations like Narita Airport Terminal 2/3 Station, Narita Airport Terminal 1 Station, Tokyo Station, Haneda Airport International Terminal Station, Hamamatsucho Station, Ikebukuro Station, Shinjuku Station, and Ueno Station.
Click here for more information on where and how to get a SUICA card in Tokyo!
SUICA cards for adults and children range from JPY 1,000 – JPY 10,000, this includes a JPY 500 deposit. The difference between an adult and child SUICA card is the amount being deducted per train ride.
| | | |
| --- | --- | --- |
| Card | For Adults (incl deposit) | For Children (incl deposit) |
| SUICA Smart Card | 1,000 | 1,000 |
| | 2,000 | 2,000 |
| | 3,000 | 3,000 |
| | 4,000 | 4,000 |
| | 5,000 | 5,000 |
| | 10,000 | 10,000 |
So with your travelling around Tokyo sorted, let's finally get to that Tokyo itinerary.
Now, you can choose to take inspiration from this 3-day Tokyo itinerary and come up with your own Tokyo trip ideas or just follow this Tokyo itinerary 3 day to the 'T' so all you have to do is have fun!
Day 1 – Asakusa and Akihabara
So for your first day in Tokyo, we'll visit both the traditional and western side of Tokyo. Beware, there's quite a bit of walking involved – so I'd suggest saving those red heels for a Tokyo night-out later and put on some walking shoes so you don't have to cry about your hurting toe all the way through your first day in Tokyo!
Morning – Tokyo Trip Day 1
Hit The Nakamise Shopping Street
but don't forget to eat a good Japanese style breakfast before you begin!
Have some traditional Japanese breakfast to begin your day
Like I already mentioned, you're going to have quite a day ahead and you'll need lots of energy. So for breakfast, find a Japanese restaurant near your hotel (or order in) and have some traditional Japanese breakfast.
If you're wondering what the Japanese have for breakfast, here's the breakdown of a typical, traditional Japanese breakfast – Miso soup (super yummy!), rice, fermented soy beans aka natto, grilled fish, and pickled veggies! **already drooling**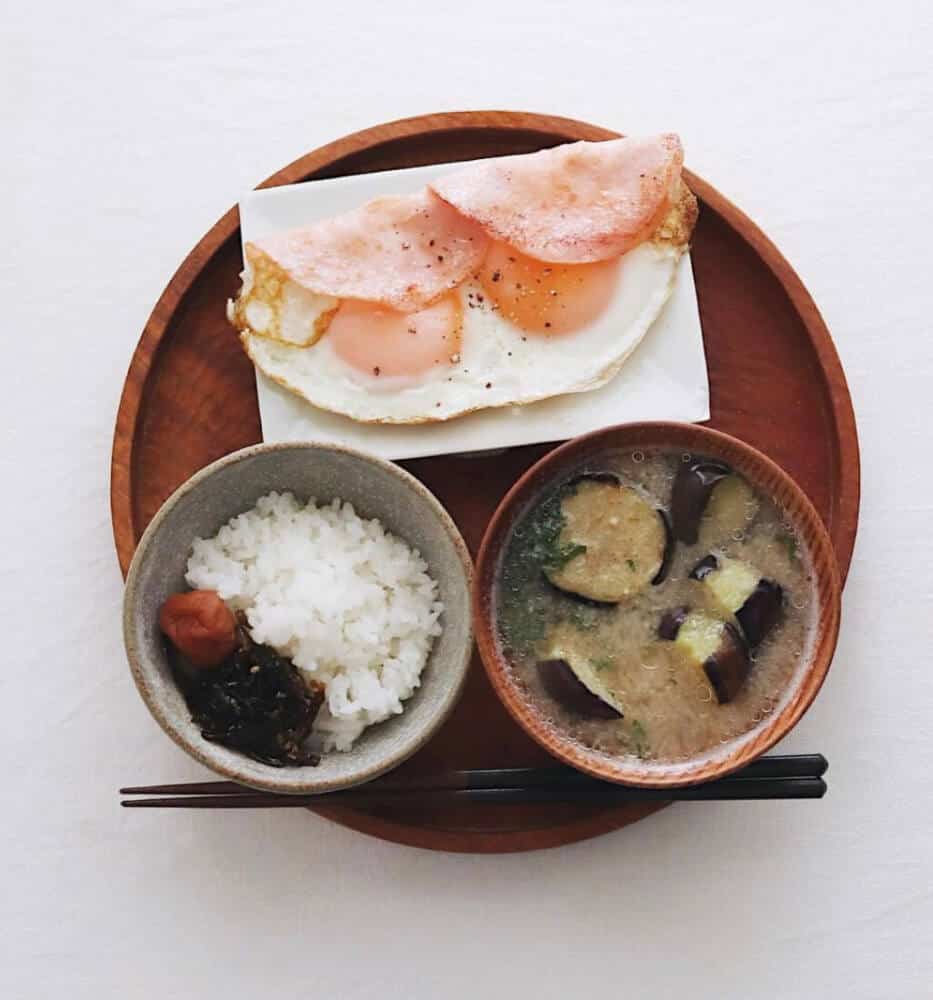 After which, you can have a cup of some soothing green tea to settle everything down.
Make sure you start your day a little early and finish your breakfast before 10 AM, so you can make most of your first day in Tokyo!
Related: If you're visiting Japan, check out the best things to do in Kochi!
#1 — Nakamise Shopping Street
We'll begin our 3-day Tokyo trip at Asakusa. So, head to the nearest station and jump on the metro to get off at Asakusa station. (Don't forget your 72-hour metro ticket and SUICA smart card!).
Once you get off at the station, you can check the tourist information centre, if you want to have a look around.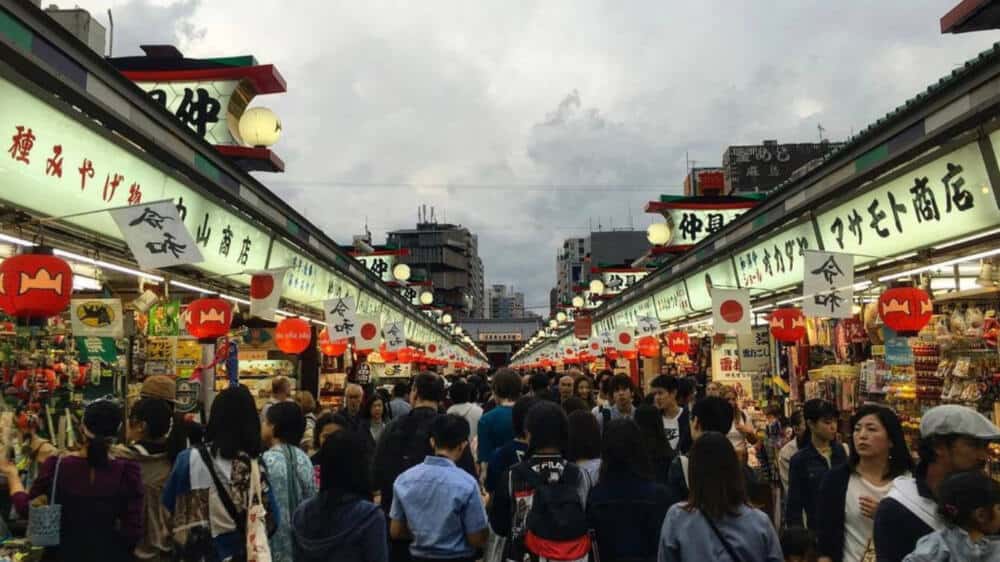 BONUS: Climb up to the 8th floor for a splendid (and free, yay baby!) view!
From Asakusa Station, head towards Kaminarimon-dori street. From there, if you walk a little ahead you'll see the famous Kaminarimon Gate aka thunder gate.
With two guardians on its either side and a huge lantern in the center, this gate is one of the most popular tourist attractions in Tokyo – so go ahead and click a picture for the gram!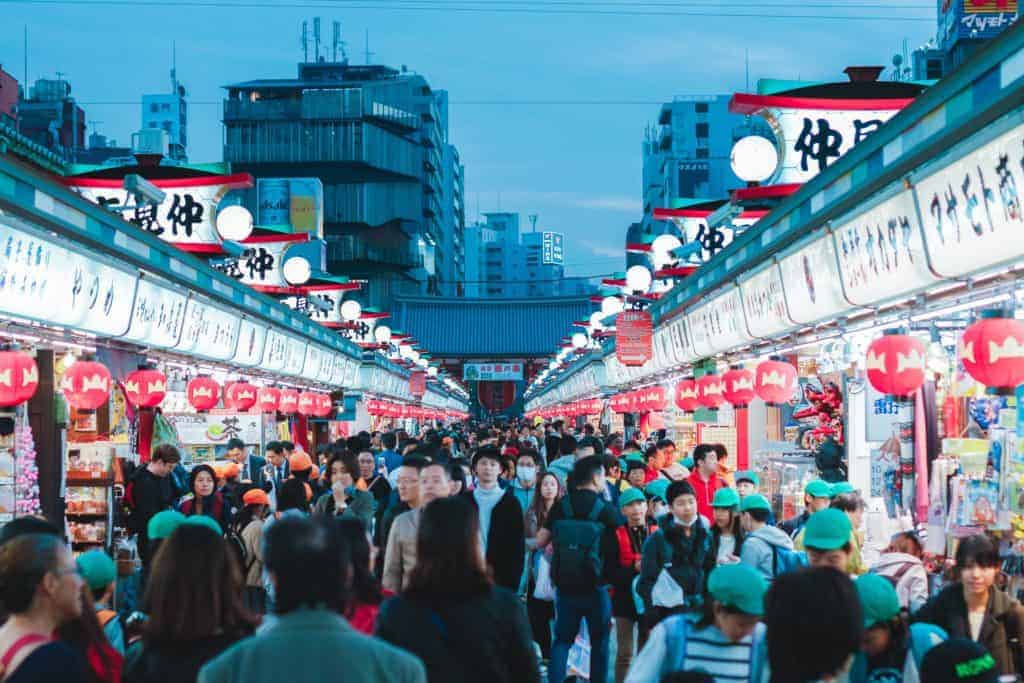 From there, head to the Nakamise shopping street, which is only a 1-2 minute walk. You'll find small shops and kiosks on both sides of this street and bustling with people!
Take a quick walk through the streets, and check out some souvenirs, kimonos, traditional Japanese snacks and food.
Pay Your respects At The Sensoji Temple Next
Believe me, it's easy to lose track of time at Nakamise shopping street but you have to make sure to move on if you want to cover most of the best things to do in Tokyo in 3 days!
To get to the Sensoji temple, just keep walking towards the end of the shopping street. And you'll find the mighty Sensoji temple.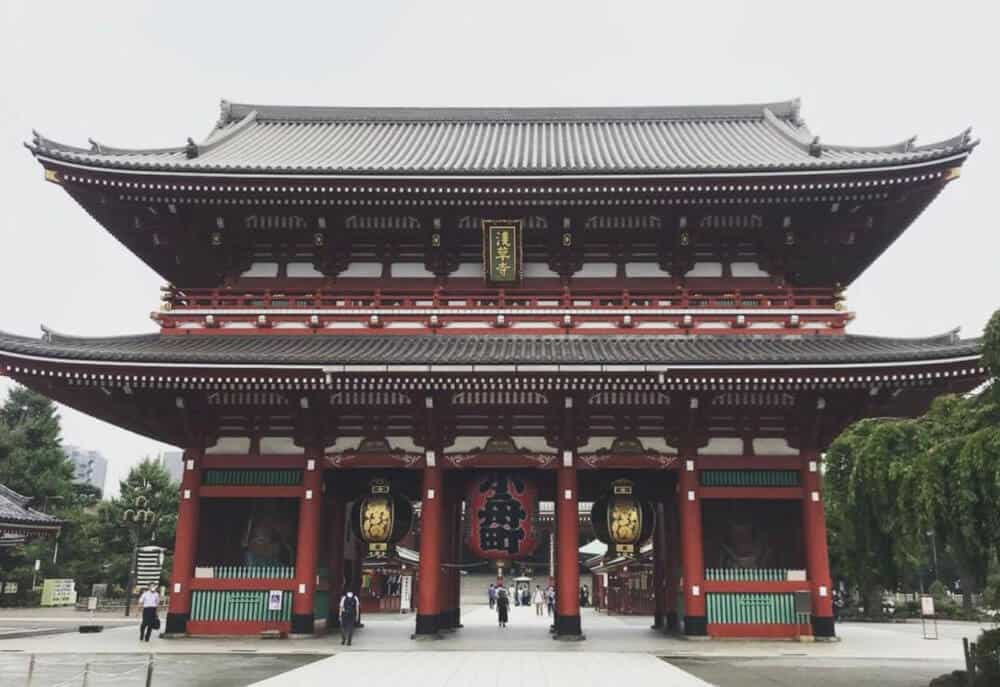 Sensoji Temple in Tokyo is one of the top things to see in Tokyo which is why it's in this Tokyo itinerary 3 days!
Walk around a bit, check out the temple, pay your respects – but don't linger too long 'cause we've got only 3 days in Tokyo and a lot of fun to have!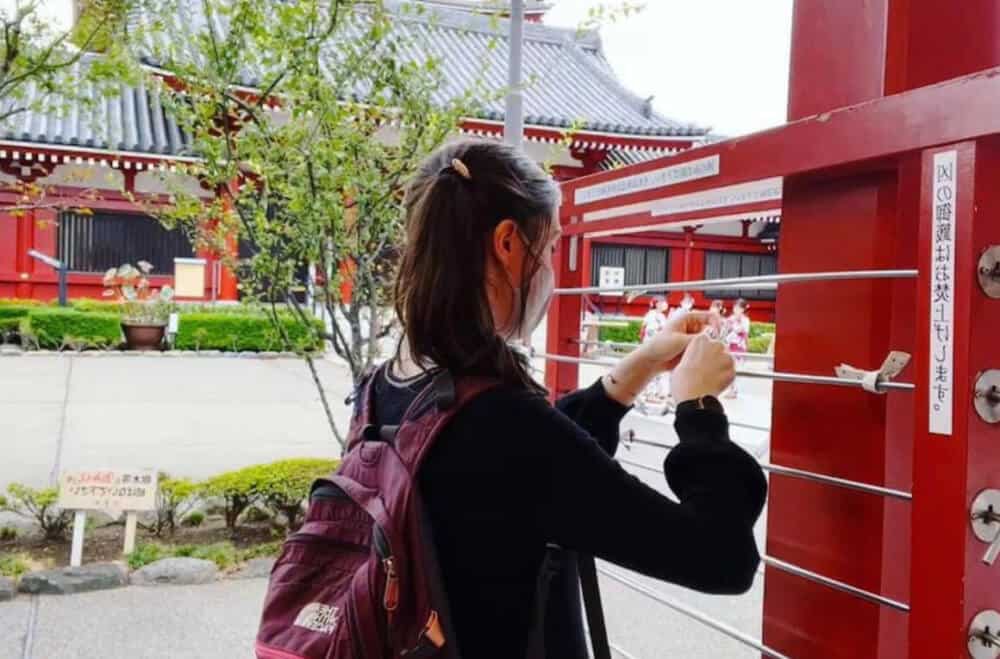 Be Mesmerised With The View At The Tokyo Skytree Next!
Ah, so beautiful! The view from the top of the Tokyo skytree will leave you mesmerized. Standing up there, it almost looks like you can conquer the city in 3 days.
The Tokyo Skytree is about a kilometer and a half from the Sensoji temple. You can take a rickshaw to get there – this way you'll also get a short tour of Asakusa!

The Tokyo sky tree is open everyday of the week from 8:00 AM to 9:00 PM. There's a special ticket for international visitors called the Fast Skytree ticket.
You can skip the long lines for the regular tickets and head to the 350th floor and then move up ahead to the 450th floor! Can you imagine the view? It's absolutely breathtaking!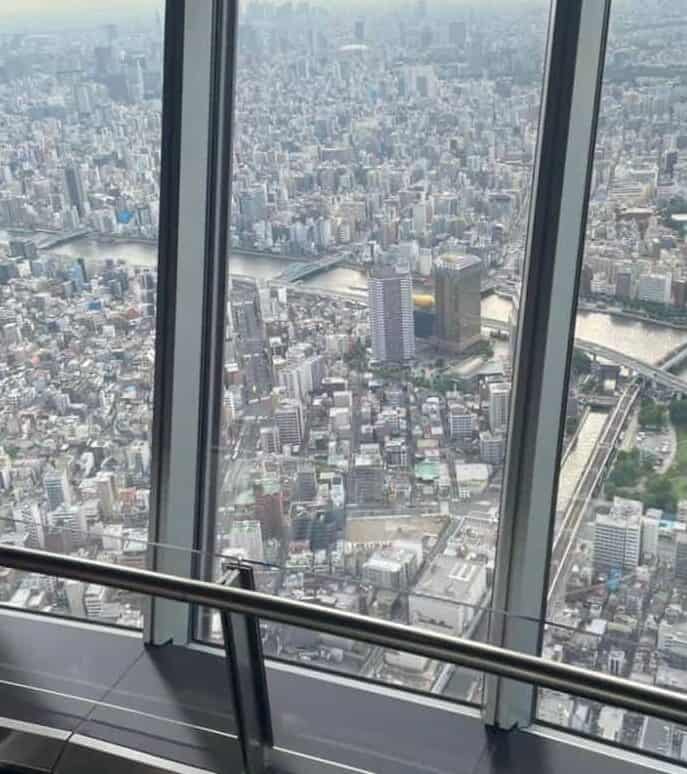 However, it may get foggy during the winters in Tokyo and you may not get to see the magnificent view from the skytree. So check the weather before you book your tickets and make sure it's going to be a clear day!
How much are the Tokyo Skytree Tickets?
TOKYO SKYTREE
Ticket Type
Day
6 – 11 years old
12 – 17 years old
18 years oldand over
Fast Skytree Ticket
Combo ticket
Floor 350 + 450
Weekdays
1,450 JPY
2,350 JPY
3,100 JPY
Holidays
1,550 JPY
2,550 JPY
3,400 JPY
Regular Tickets
Tembo Deck
Floor 350
Weekdays
950 JPY
1,550 JPY
2,100 JPY
Holidays
1,000 JPY
1,650 JPY
2,300 JPY
Tembo Galleria
Floor 450
Weekdays
500 JPY
800 JPY
1,000 JPY
Holidays
550 JPY
900 JPY
1,100 JPY
Click here for more information on Tokyo Skytree tickets and prices!
Related: Check out best things to do in an isolated Island called Ishigaki Islands in Japan!
Break For Lunch!
By now I'm sure you've forgotten about that very-filling Japanese traditional breakfast and you cannot wait to soothe your rumbling stomach! Also, you can't have fun when you're hungry so get some lunch at any of the best restaurants near Tokyo Skytree. Here are some suggestions:
Sekai Cafe Oshiage: Best restaurant for vegetarians and Muslim customers. Offers halal food and also has plenty of vegetarian options!
Higashi-Mukojima Coffee-ten: This cafe is famous for it's no-bake cheesecake – so make sure you try it if you step in here!
Restaurant Azuma: Here, you can try some authentic, traditional Japanese comfort food. Fried rice, wrapped in an omelette, and your choice of sauce – nothing more satisfying than that!
Afternoon – Tokyo Trip Day 1
So now that you're full, satisfied and energised (have some coffee after your lunch, if you need to), let's get on with this Tokyo itinerary 3 days! For your next stop – hop on the tube and get off at Ueno station.
Visit the Ueno Park
You cannot miss Ueno Park during your 3 days in Tokyo. It's one of my favorite places to be in Tokyo, especially when the weather outside is nice! And visiting the Ueno park is definitely considered one of the best things to do in Tokyo during your trip there.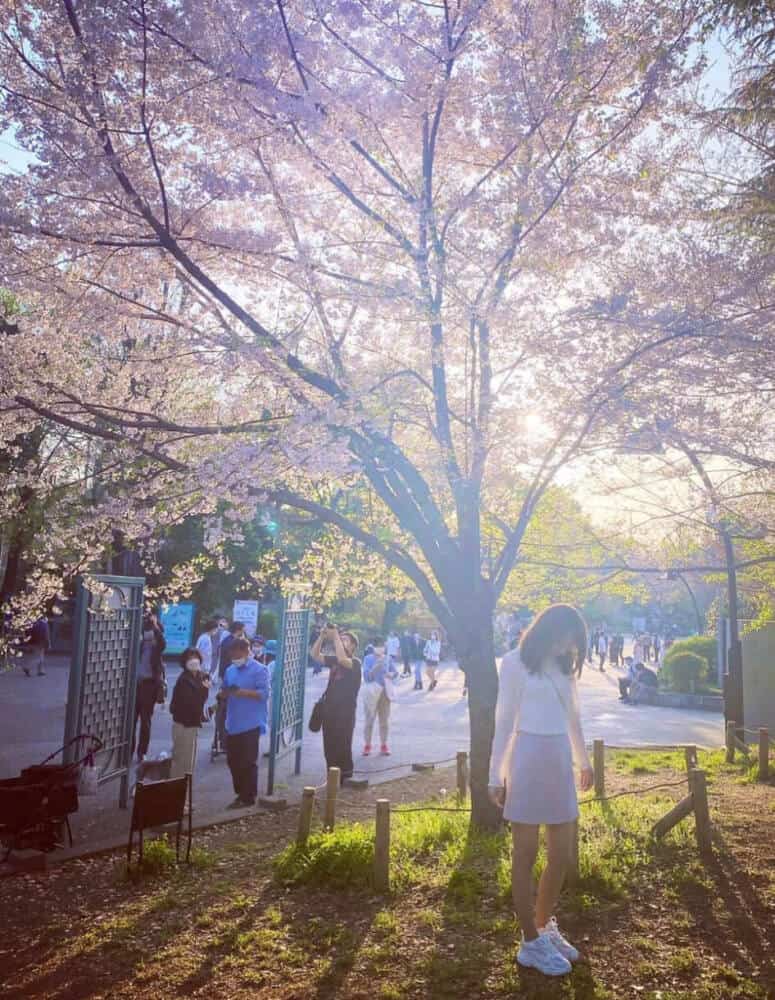 And if you happen to be there during the Cherry Blossom season – it is a sight to see! Everything around you is beautiful and you'll instantly fall in love with Tokyo!
There are many activities you can do within Ueno park alone. But here are two of my suggestions:
Option #1 — Visit the Tokyo National Museum: It's one of the oldest museums in Japan and definitely one of the top things to see in Tokyo. It'll cost you about 620 JPY to enter the museum.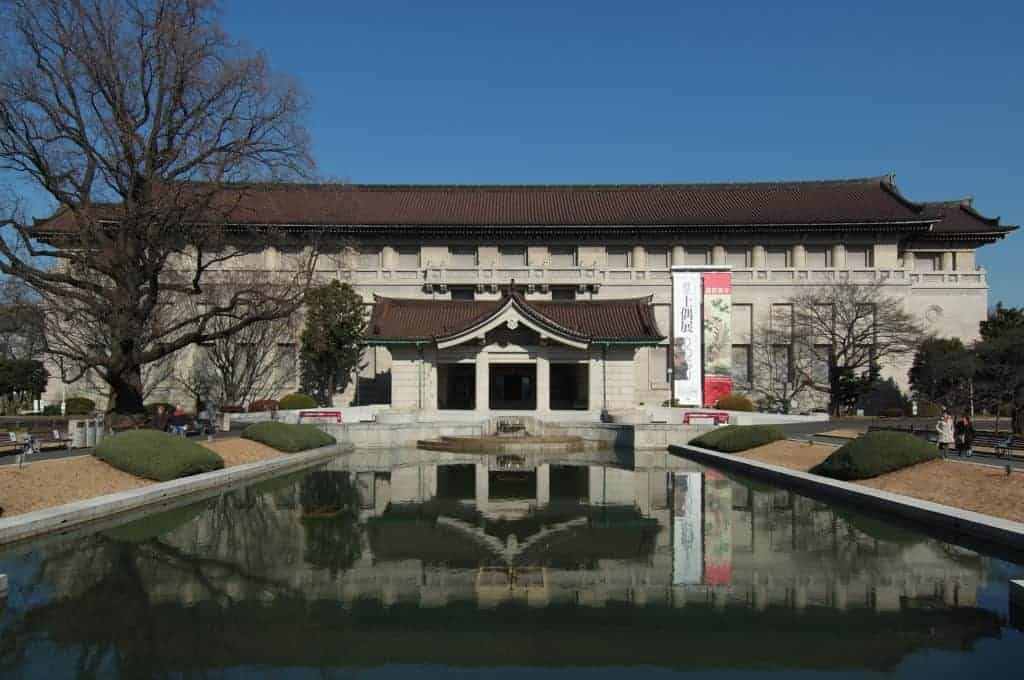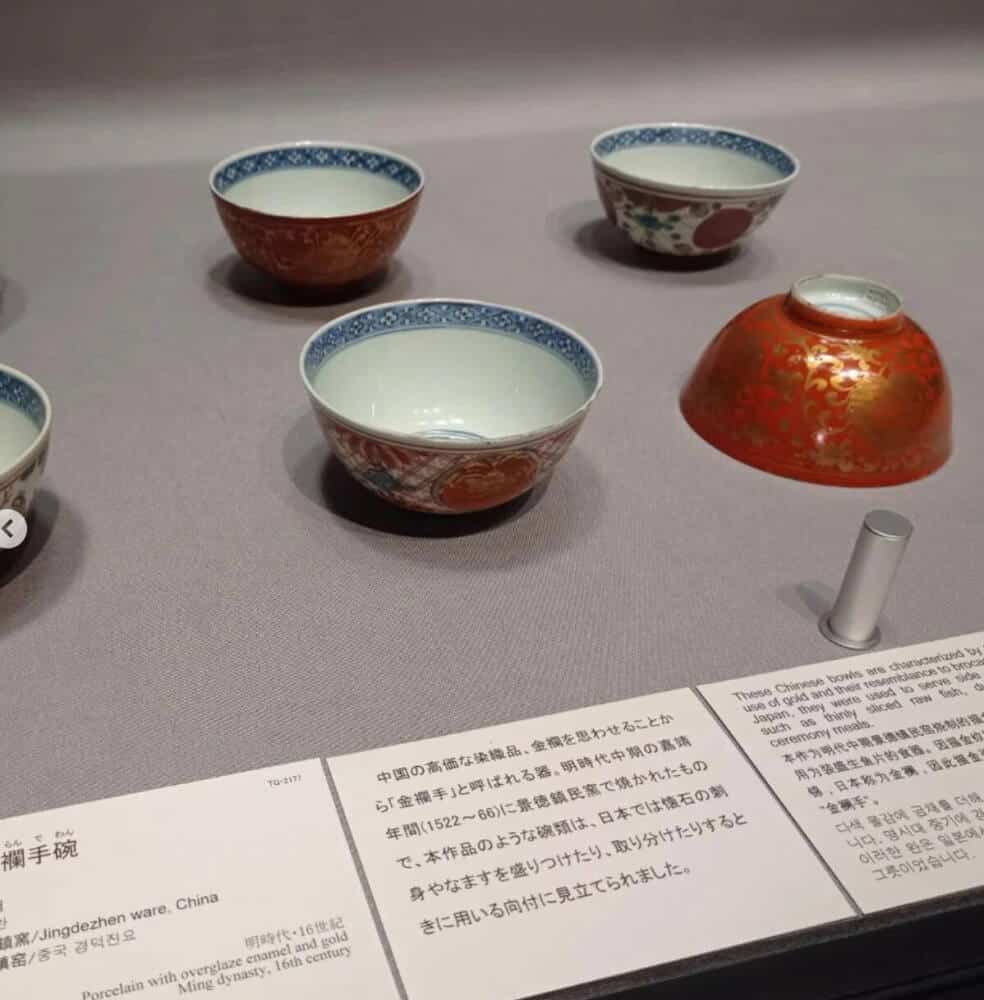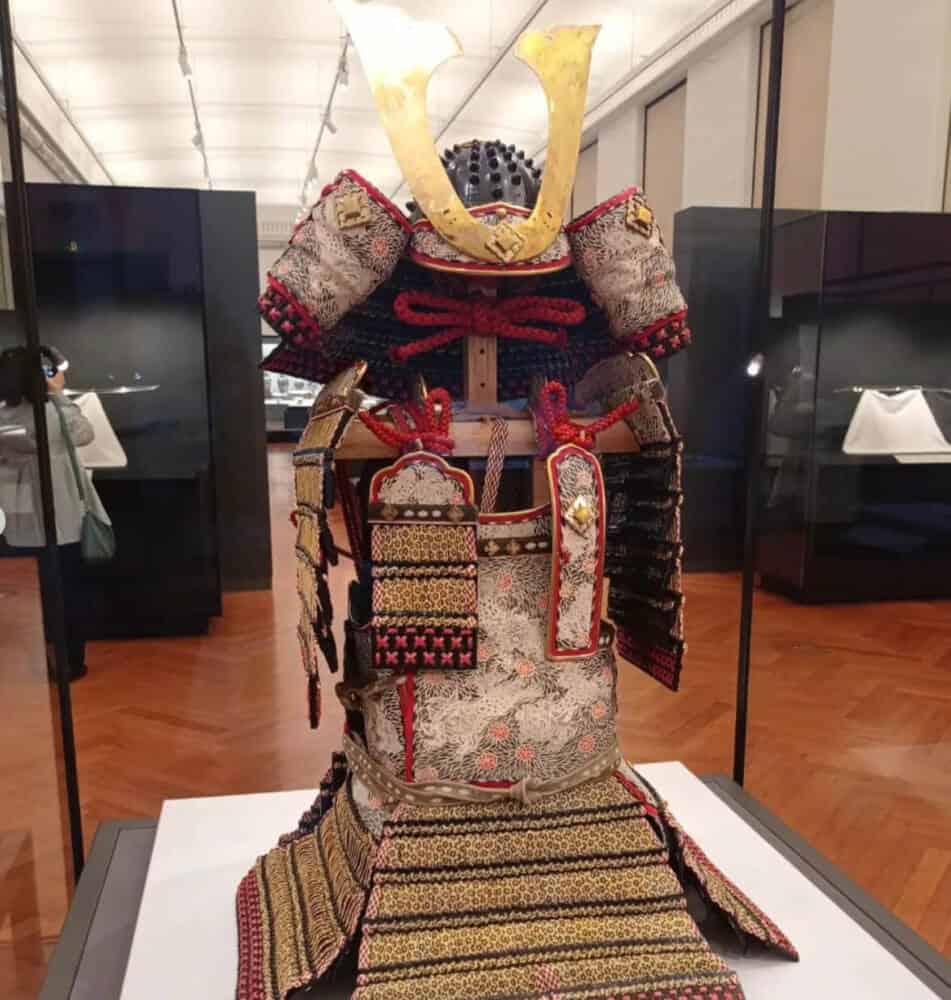 Not a fan of history? No problem, check out the art and science museums at the Ueno park instead!
Option #2 — Architecture Tour Of The Ueno Park: The tour will take about 3 hours as you walk around marvelling at the different items of architecture.
The bigger the group the lesser the price per person – For a single person the tour costs 14,000 JPY and for a group of 5, the tour costs 7,000 JPY per person, and that's a total of 35,000 JPY. You have to book your tickets in advance if you wish to take a tour.
Click here for information on tickets and booking!
Now would be a good time to get a quick snack before you get on with your Tokyo itinerary for 3 days. Revive your energy with a quick snack because this party bus is going ahead full power!
Evening – Tokyo trip Day 1
Now it's time to rock the modern side of Tokyo starting with Akihabara! You're almost towards the end of your first day in Tokyo and now you should be prepared for some unique experiences in modern Tokyo.
Keep your mind (and eyes) open cause Akihabara sure has got some surprises in store for you!
Related: Here's what you can do during your visit to Saitama, Japan!
Hit The Akihabara Streets
To get to Akihabara from Ueno park, get on the train at Ueno station and get off at Akihabara. You could even walk if you're up for it.
Walking down Akihabara street, you'll find an endless number of electronic shops – cameras, computers, phones, TVs – you name it, Akihabara aka the Electric town will have it. Basically, it's the hotspot for all things electric!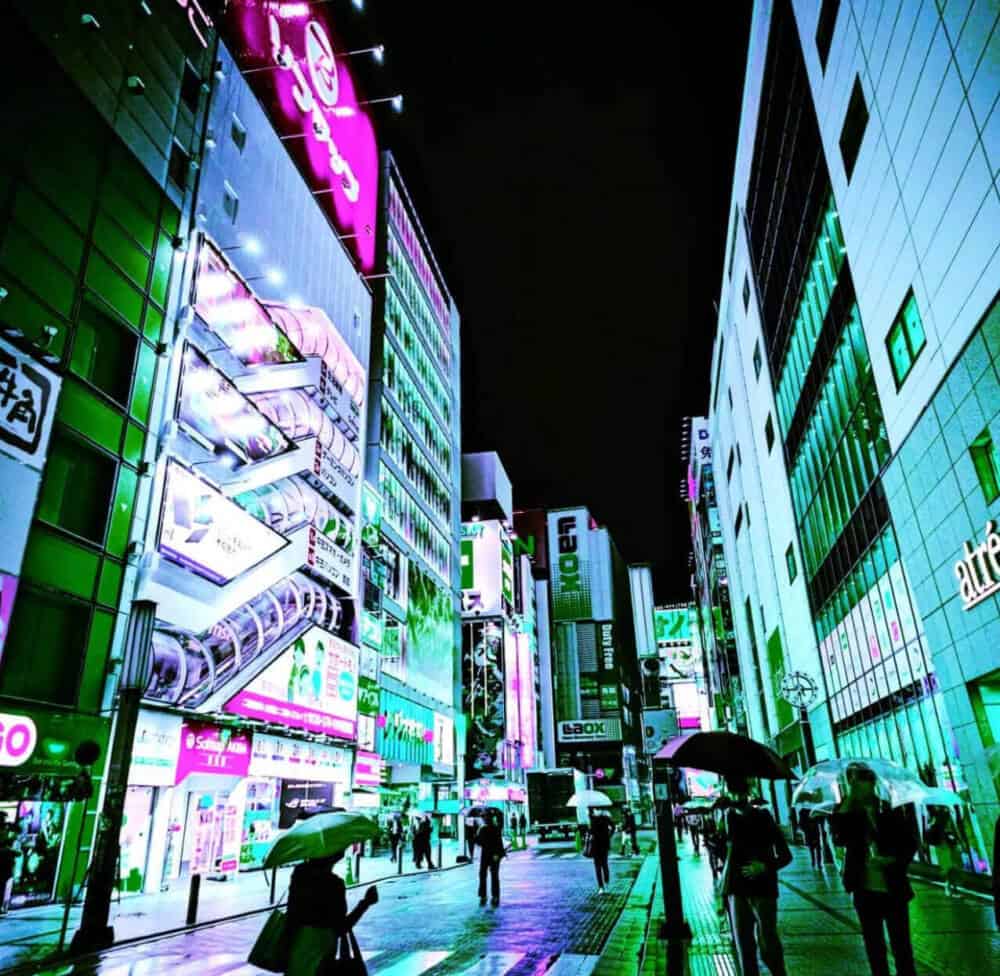 Not interested in fancy electronic gadgets? No problem! Akihabara has something else for you too. It's also the hotspot for Otaku culture.
Otaku, basically, refers to someone who is obsessed with manga and anime culture – in other terms, you'd call them a nerd. But I think it's really cool and yes, I'm a proud Otaku myself! I eat, breathe, and sleep manga!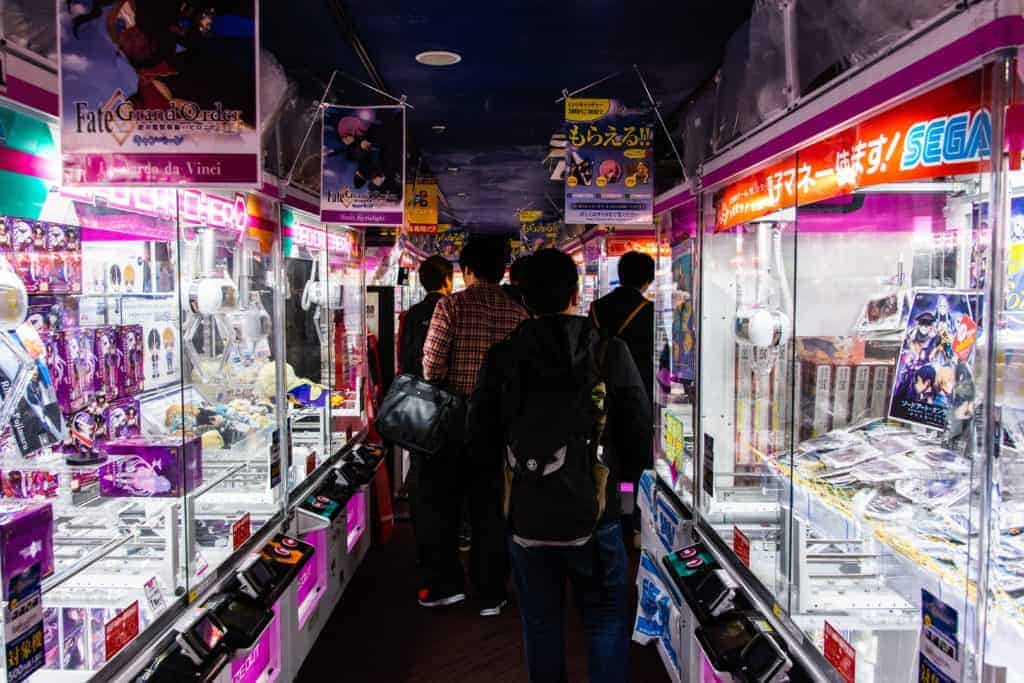 If manga and anime are your thing too then this part of town is heaven for you, senpai!
You will find lots of manga and anime shops along this street – go in check it out – pick some of your favorites if you like. You'll also find a lot of manga and anime related souvenirs as well, in these shops.
Another thing, you will see is tons of cos-players all dressed up, and handing out pamphlets directing you to a maid cafe.
Now, I know what you're thinking, what's a maid cafe? Sounds weird? Cause it sort of is. But not for the locals here, obviously.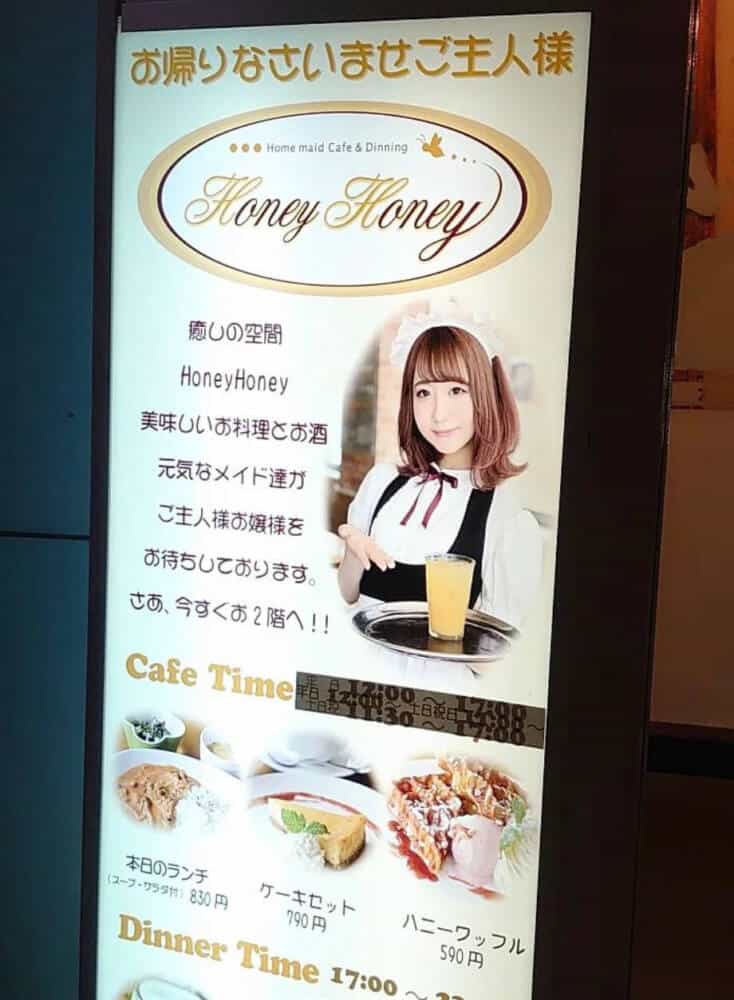 Maid cafe is, basically, what it sounds like – girls dressed as maids treating their customers as masters.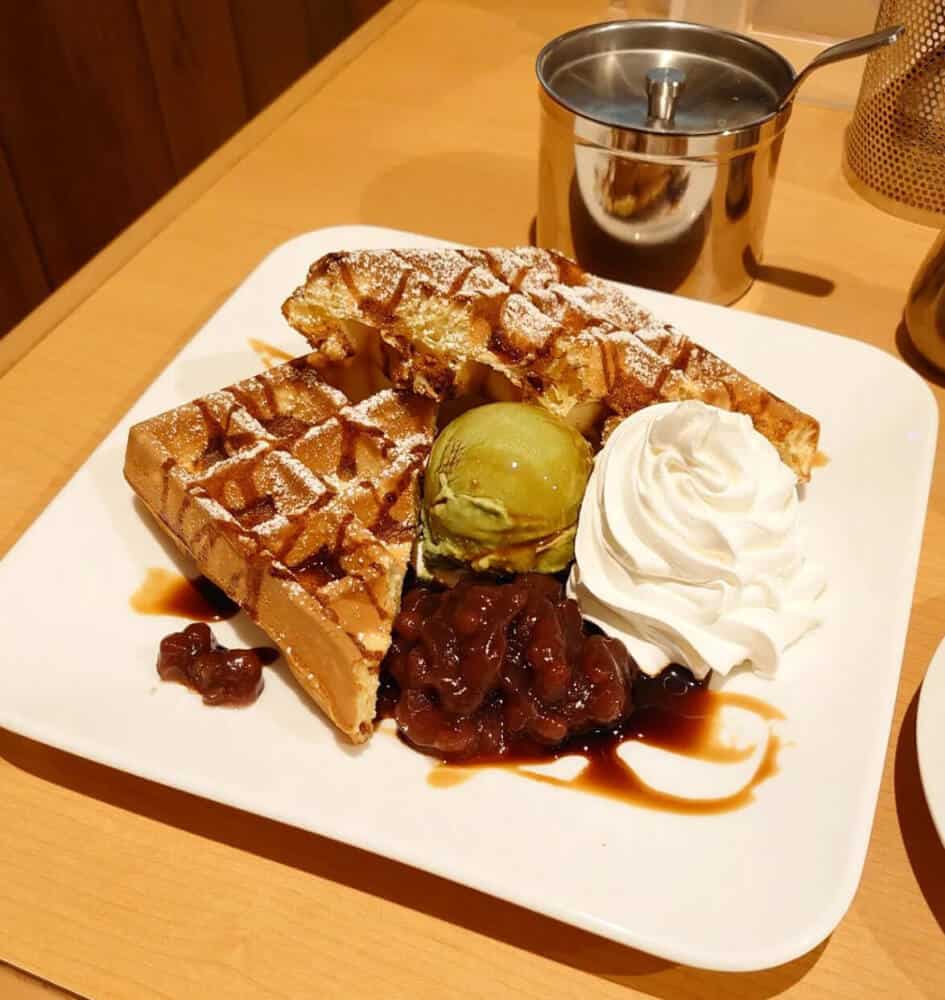 Remember I said, keep an open mind? Well, this one of the reasons why. I know it sounds weird but understand that every country has something unique to offer and this is only one of the weird things you're seeing in Japan yet.
So keep an open mind, and visit one of the maid cafes and accept this city in all its weirdness during your 3 days in Tokyo!
Play At The Pachinko Parlour!
Gambling for money is illegal in Japan, so what did we do? We created Pachinko! In the typical sense, Pachinko is basically gambling but just not for money.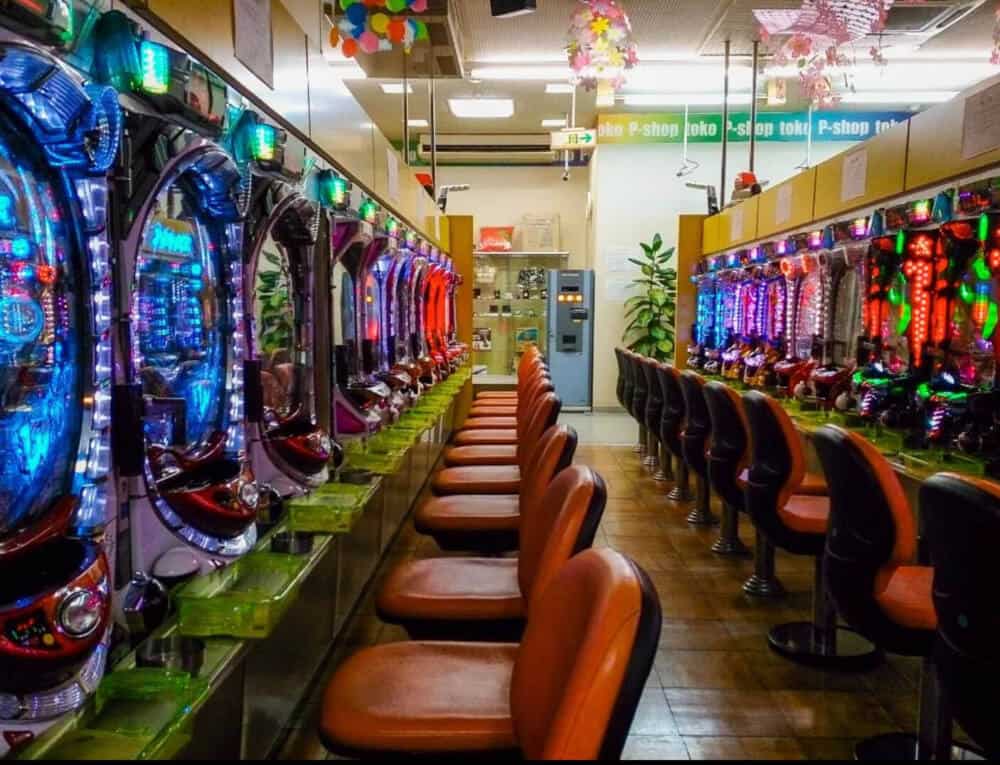 Pachinko machines are like your typical slot machines. And how you play is – you win Pachinko balls that you can exchange for prizes. And then, there's a separate counter that's away from the actual Pachinko parlour, when you can exchange your prize for actual money! **ka-ching**
Trying your luck at the pachinko parlor is definitely something you should try during your 3-days in Tokyo!
Hopefully, you've earned some money and can have a lavish dinner now!
Pick one of the restaurants around the area to grab some din-din. You can even pick one of those fancy restaurants with a conveyor belt sushi joints.
But I'd recommend holding on the sushi because Day 2 of your Tokyo trip will have plenty of sushi!
Also, day 2 on the itinerary of your 3-day Tokyo trip starts pretty early. So better hit the sack soon and wake up fresh like a daisy on your day 2!
Day 2: Shibuya and Shinjuku
And it's day 2! Let's get things rolling. Have a small snack before you head to the fish market because a sushi breakfast is waiting for you at the Toyosu Fish Market!
Morning – Tokyo Trip Day 2
It's day 2 of your Tokyo itinerary and we've got an exciting day ahead! A day filled with food, cultural experiences, and, well, as usual, lots of fun! So, common, let's go have yummy, yummy sushi.
But before that, it's going to be a while before you have your sushi breakfast. So grab a cup of coffee and a light breakfast so you don't have a rumbling stomach all throughout as you walk around the fish market!
Visit The Toyosu Fish Market For Unique Experience
Note: Toyosu fish market is closed on Sundays and national holidays
The Toyosu fish market is the new Tokyo fish market that reopened after the Tsukiji fish market was closed to the public. Formerly known as the Tsukiji fish market, it relocated in October 2018.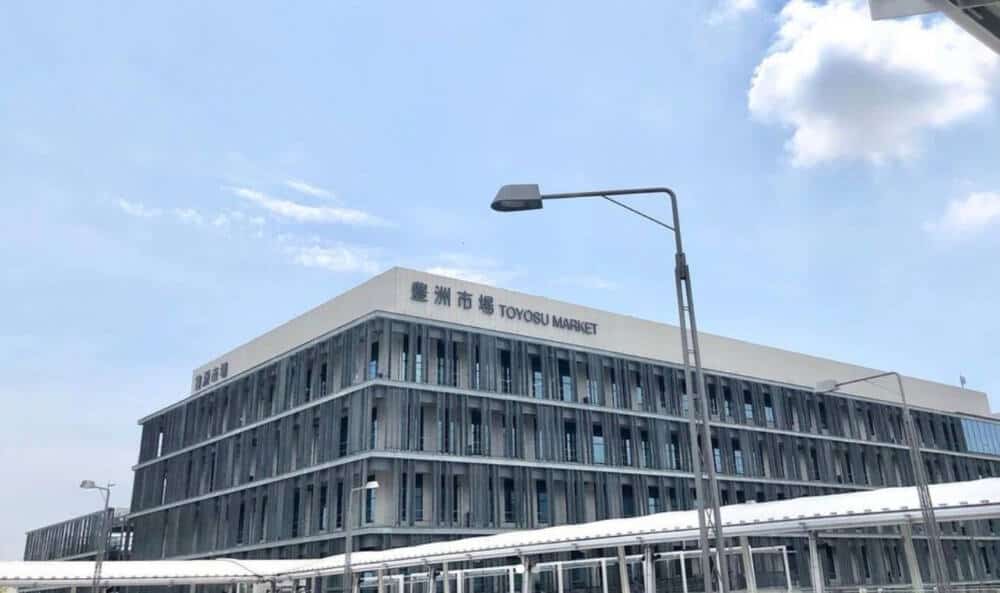 But why am I sending you to a fish market? To see the Tuna auction! (and have some brilliant sushi after!)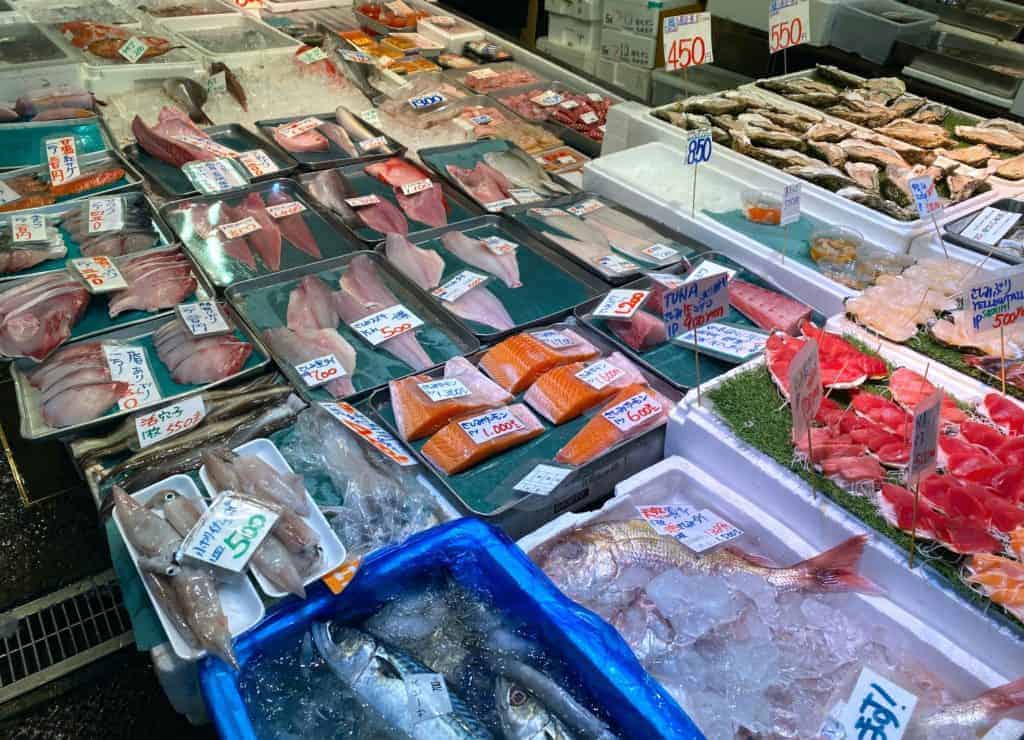 So if you want to catch the Tuna auction, you'll have to take a taxi to the Shijomae station. This station is directly connected to the Toyosu fish market. (also, taxis aren't allowed to stop in front of the fish market, which is why you'll have to ask the driver to drop you off at the Shijomae station).
Trains to Toyosu fish market only commence from around 5:30 onwards so you'll have to take a taxi if you wish to watch the auction.
If you want to watch the auction, you have to apply in advance on their official website.
Note that, even though you apply to view the auction, it's not guaranteed that you'll get a spot in the lower observation deck – it works more like a lucky draw system. 120 lucky people who have applied will be selected at random to watch the Tuna auction from the lower deck. And you'll be informed a week ahead, in case you've been selected. (don't forget to bring your ID along)
But you can still watch the tuna auction from the upper observation deck – the only downside is that you might not get a good view.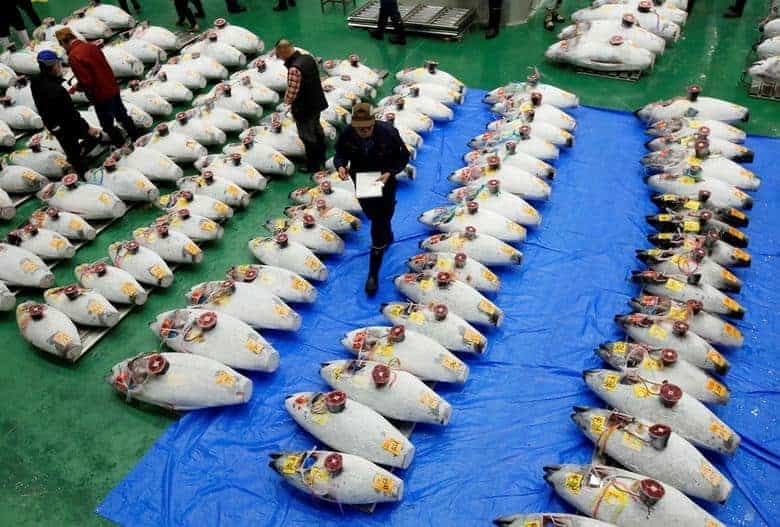 But if you're not all that into the Tuna auction but rather just want to experience the hustle and bustle of this famous Tokyo fish market then you just have to get there before 8:00 AM.
For this, you can just hop on the tube and get off at the Shijomae station.
After you've watched the auction and/or walked around the Toyosu fish market, it's time to get some sushi! Toyosu fish market has several sushi joints, one better than the other!
The entire Toyosu fish market is made of three buildings:
A building dedicated to the fish wholesale market
The intermediate fish wholesale market
Fruit and vegetable market
Get to the fourth floor of the intermediate Toyosu fish wholesale market and you'll see maybe 100 shops and eateries. Splurge here, get souvenirs, sake, cheese, knives, utensils, even bento boxes!
And now it's time to have sushi! Get to the main restaurant area of Toyosu that's housed in the same building. Head to the overpass level to get to the main entrance of Toyosu fish market's restaurant area. Here, you can have some of the best sushi! Other than that, you'll also find a cafe, curry shop and tonkatsu. So choose your meal and head to a food joint to make your tummy happy!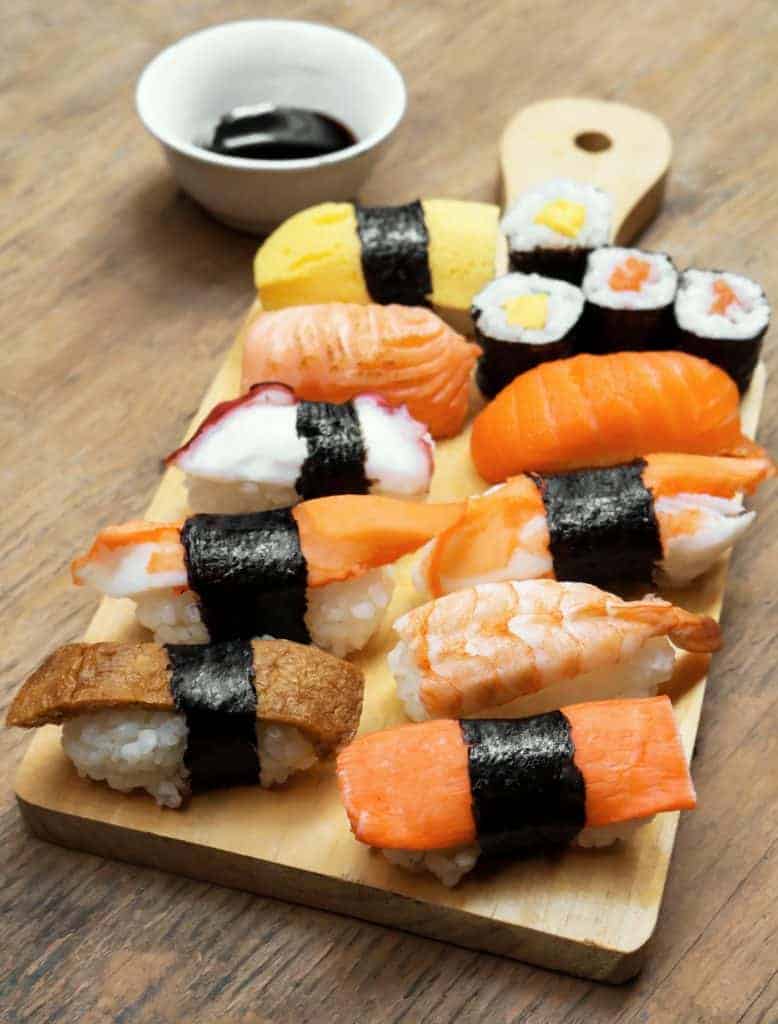 After that, head to the 5F rooftop for a spectacular view of the Tokyo bay and Mt Fuji (on a clear day). You can also head to the fruit and vegetable wholesale building. Nothing much exciting here though. But, if you weren't full from the previous meal you had, here's your second chance.
You'll find a few restaurants housed under the entrance – you can choose from udon, tempura or give sushi a second chance and check out the Daiwa sushi – this is my favourite place to have sushi!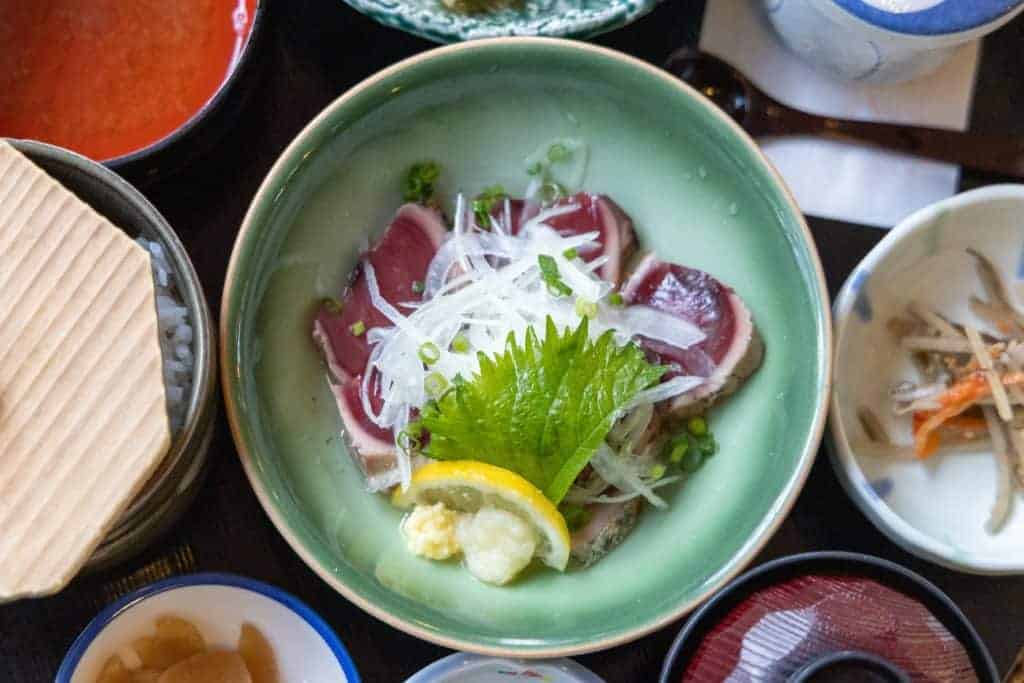 What I love about Daiwa sushi restaurant is that they will replace any sushi that you might not like, for whatever the reason! Isn't that so cool? And the restaurant staff is especially accommodating to the foreign visitors and most of the staff there speaks a bit of English so you shouldn't have any problems communicating!
Toyosu fish market is full of life and so many interesting things to see. It's definitely one of the top things to do in Tokyo!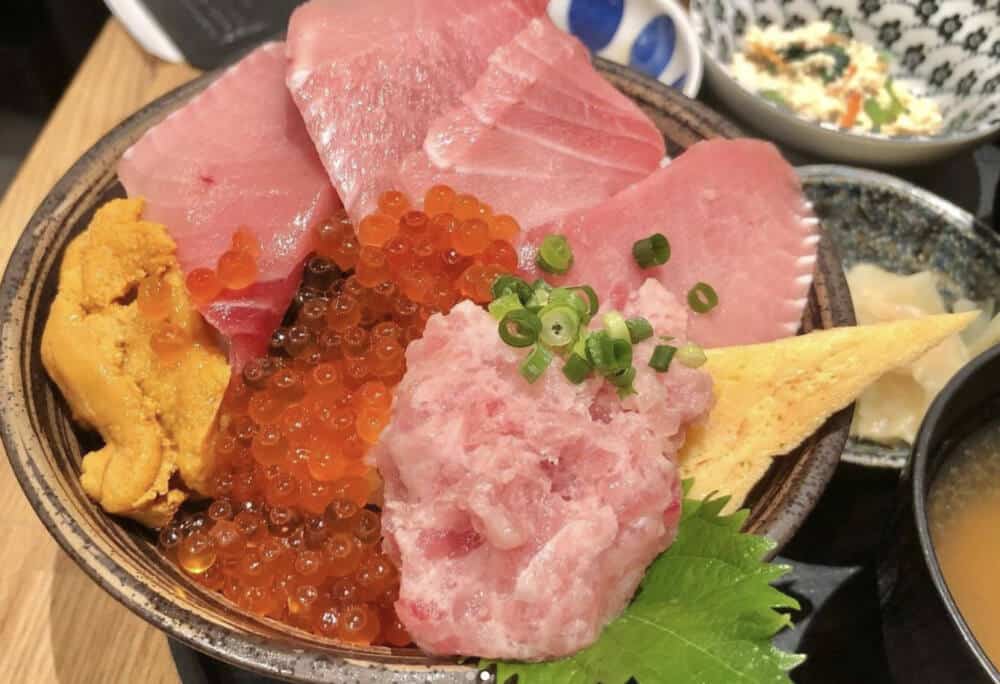 I think we spent too much time at the Toyosu Fish market, now let's get going so we can finish this Tokyo itinerary 3 days with a bang!
You can apply for a spot to watch the Tuna auction on Toyosu fish markets official website. Click here to know more!
Afternoon – Tokyo Trip Day 2
You probably smell like fish right now, and we don't want the entire of Tokyo to know you went to the fish market – so let's get back to the hotel and hit the shower!
Now that you're all 'fresh and fish-free' (there's a tongue twister for you, can you say that really fast at least 5 times? It's okay, you're embarrassing yourself), pull up your socks, put on your walking shoes and head to the station.
Experience Japanese Culture at Harajuku Street
Take the train to Harajuku station to get to Harajuku street. The Harajuku street is really a fun place to explore because it's the epicenter of Japanese culture and youth fashion.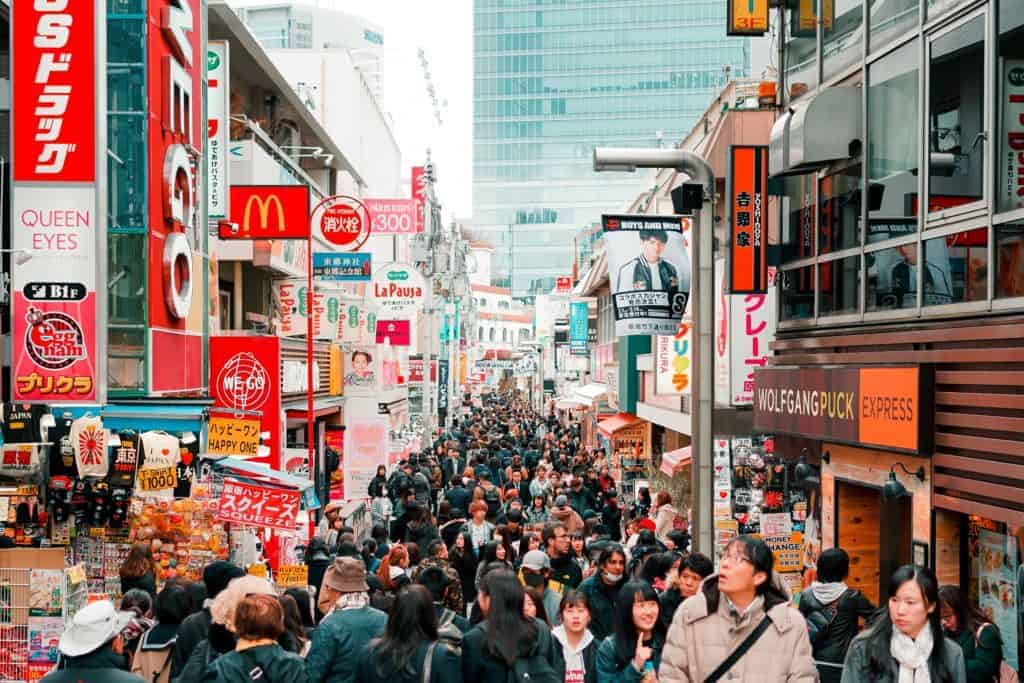 If sushi isn't your thing, and you didn't eat much at the fish market, there are a lot of cafes on this street where you can have some delicious snacks!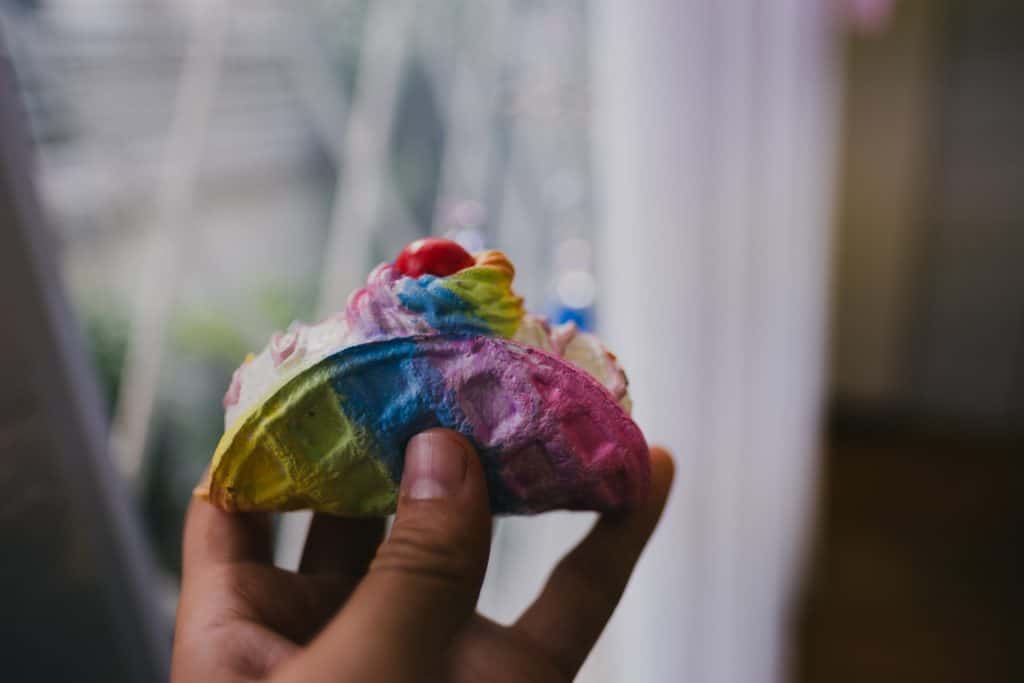 If you're a cat-person (like me), go see some cute little kitcats by visiting one of the many, many cat cafes here but don't spend all your afternoon there (exactly what I always end up doing) cause we're officially half-way through your Tokyo 3 day itinerary and we still have so much to do!
Go To The Meiji Shinto Shrine at Yoyogi Park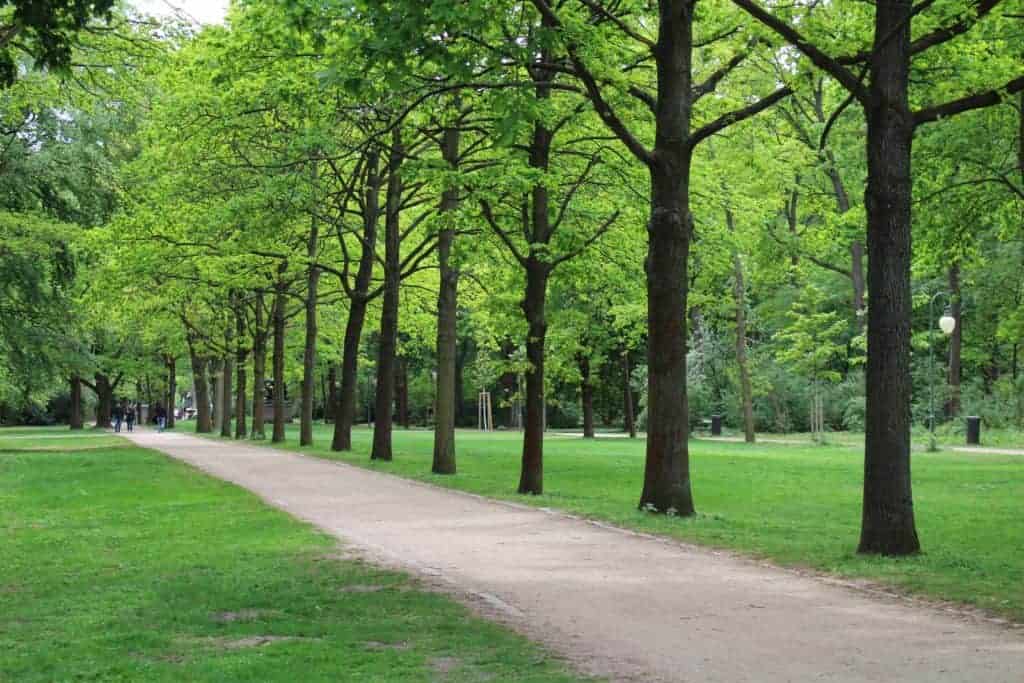 But before we explore the shinier, new side of Harajuku, let's explore a bit of Japanese culture and heritage at the Yoyogi park.
Yoyogi park is one of the largest parks in the city. You'll see fountains, ponds, open green spaces.
If you wish you can cut short on the time spent at the fish market and have a peaceful picnic at the Yoyogi park for lunch.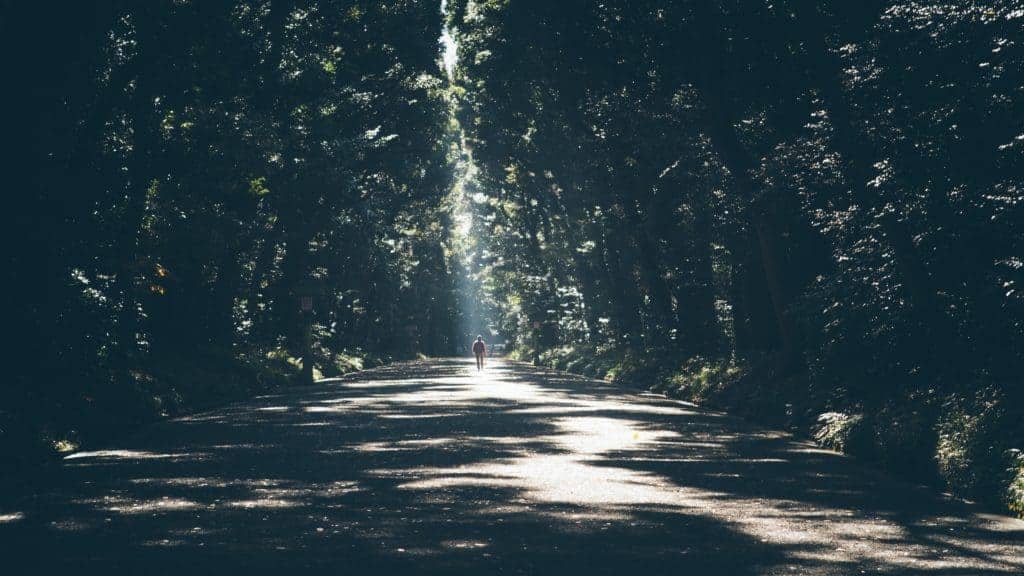 Visit the Meiji Shinto shrine while you're at the Yoyogi park. It's a great change of scenery to be at a quiet, peaceful place after going through all the bustling noises of the city.
To get to the shrine, enter the traditional torii gate and walk up to the Shinto shrine.
Related: Zoom through Tokyo streets with MariCar. Check out this guide to Mari Kart in Tokyo!
Visit The Takeshita Street
After you get some peace of mind at the shrine, head out and into Takeshita pedestrian shopping street to witness Japan's youth culture and fashion sense. Again, keep an open mind – teens here have a wicked sense of fashion – think 'high fashion' style statements – right out of an haute couture Paris fashion week.
It is again very cosplay-ish and it's a sight you probably won't get to see in any other city.
You'll find plenty of boutique shops, street food joints, and cafes. Hang out, for a bit – do some shopping, pick some souvenirs for that friend who secretly watches anime. Or a really cool t-shirt for your teenage niece and/or nephew.
Takeshita street is also a great place to simply watch people – (I know it sounds weird but it's not. I'm not some creepy stalker who likes watching people – it's called people watching). If you don't feel like buying anything, do some window shopping for fun, try on things – more pictures for the gram!
Omotesando: Omotesando street is famous for its high-fashion boutiques, galleries and cafe. It's close by the Takeshita shopping street so if you plan it right, you could hit them both!
Evening – Tokyo Trip Day 2
After you get used to the unique sense of Japanese youth fashion, it's time for some yummy dinner! (I really hope you don't splurge doing souvenir shopping! Though, that's highly likely.
Check Out The Tokyo Metropolitan Building
Try to squeeze in, one quick thing before you head for dinner for a spectacular, panoramic view of the city! Head to the Tokyo metropolitan building by taking a train to Shinjuku station.
Once you reach the building, head to the observatory that's 202 meters above the city streets.
It's a beautiful view from up here and it's definitely one of the top places to visit in Tokyo.
Now let's head to a restaurant that not just serves good food but their servers are quite 'electrifying'
Eat At The Robot Restaurant For A Robotic Customer Service
If I'm singling out a restaurant and making it one of the highlights of your 3 day Tokyo itinerary, know that this restaurant is very, very popular. Which is why you obviously have to reserve your table ahead in time.
Be ready for an experience of robotic dancers, monsters, and lasers. This is a restaurant that has so much more to offer than just good food. Entertainment and food – Worth. Every. Yen.
Click here to book a table at the restaurant online!
Get Tipsy At Shinjuku Golden Gai
Before you end day 2 of your 3-day Tokyo itinerary, take on to the Golden Gai for a couple of drinks. (Just don't get too drunk, we still have day 3 in our Tokyo itinerary to get to and we don't want to wake up with a hangover now, do we?)
It's a short walk from the Robot restaurant so you'll get there quickly. Head to any of the cozy bars for an authentic Japanese drinking experience.
Golden Gai is definitely a place to visit during your trip in Tokyo!
Head back to your hotel, and get some sleep before we get on Day 3 in Tokyo adventure!
Day 3: Chiyoda and Roppongi
It's officially the last day of your 3-day Tokyo trip and you've already done so much. So, congratulations! Have a quick breakfast and get ready to paint the town red!
Morning – Tokyo Trip Day 3
Let's giddy up and start our day – put on your walking shoes again 'cause you're about to indulge in a mesmerising historical tour, then some great street food, and end your day with a spectacular view and play some real-life Mario kart!
Visit The Imperial Palace To Marvel At Its Architecture
Take the train to the Tokyo station, and walk up to the Imperial Palace (it's a really short walk). Note that, for a free tour of the palace, you will have to book in advance on their official website.
Click here for more information on that!
Formerly known as the Edo Castle, the Tokyo Imperial Palace got its name after the Meiji restoration and was the residence of the emperor of Japan. During the Edo period, the Edo castle was also the military capital of Japan. Rich in history and culture, The imperial palace should definitely be part of your 3 day Tokyo itinerary.
If you're not able to get a spot in the free tour, no problem! The palace grounds are still worth visiting. If for nothing else, go there to check out the Imperial gardens that are absolutely stunning! It's one of the top things to see in Tokyo!
While you're there, make sure you take a breather at the Wadakura fountain park. Grab a cup of coffee (or better yet, some soothing green tea – since you're in Japan and everything) and sit by the fountain to enjoy a peaceful minute or two.
Take A Picture With The Godzilla For Your Instagram
After exiting the palace ground, head to Hibiya park by crossing the moat towards the southeast corner. And right around the corner, you'll find the Godzilla statue.
Also there are lots of restaurants and cafes nearby here and I'm sure after your Imperial Palace tour, you will be very hungry! So grab a quick lunch before taking on the last bit of your 3 days in Tokyo!
Afternoon – Tokyo Trip Day 3
Hopefully, you haven't burnt a huge hole in your wallet just yet. 'Cause we about to do some serious shopping on the last bit of 3 days in Tokyo!
Hit The Ginza Shopping Street For Some Japanese Souvenirs
Head to the main shopping arena, Chuo Dori street, that runs through Ginza. I mean, this is the place to be! Luxury stores, restaurants, and cafes and everything fancy! (I wasn't kidding when I said 'splurge').
You can also head to the Kabuki za theater to catch a Kabuki show!
Or if you weren't able to visit the new Tokyo fish market on Day 2, you can quickly swing by the old Tokyo fish market, The Tsukiji fish market, for some fresh sushi.
Evening – Tokyo trip Day 3
Well, looks like our Tokyo itinerary 3 days is officially coming to an end. There's still a little bit more to go. So, don't slow down just yet!
Tokyo View Observatory At Roppongi Hills
The 'Roppongi hills' was basically designed in a way that the inhabitants don't have to get out of the area for anything, be it food or entertainment. You'll find plenty of apartment buildings, office spaces, movie theatres, shops, everything you'd need within this area.
Head to the Tokyo view Observatory for an incredible view of the city! Plus the admission fee of 1,800 yen also includes entry to the Mori art museum. Do check it out!
Click here for more information!
Must-visit The Tokyo Tower During your 3 Days in Tokyo!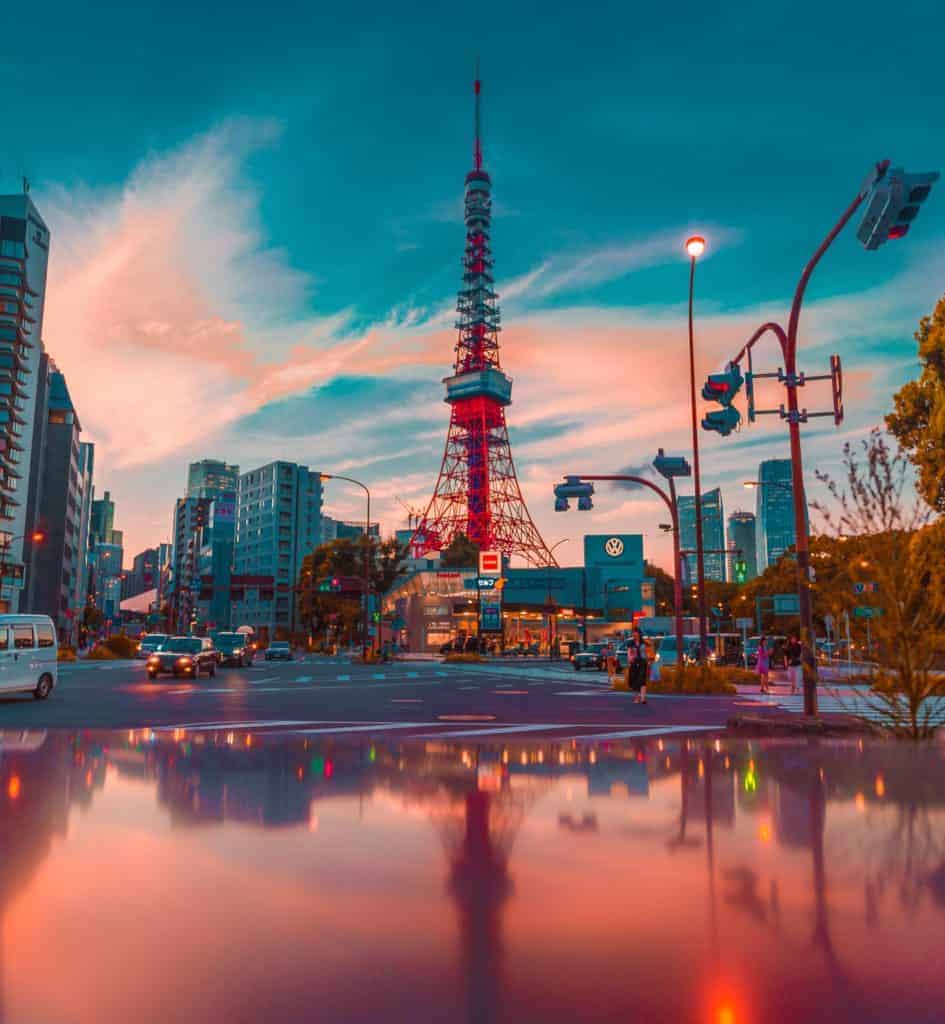 I know it's the last day in Tokyo and we've spent quite a bit of money. So, instead of the Tokyo view observatory, you can also head to the Tokyo Tower (heavily inspired by the Eiffel tower) for a splendid (and cheaper) view of the city! The entrance fee to the observation deck is 900 yen.
**I can already hear your wallet breathe a sigh of relief**
Check Out The Hustle Bustle Of The Shibuya Crossing
The Shibuya crossing is probably the busiest place in the city with over 2,500 people crossing the street every time the light goes green.
Get on the train and get off at the Shibuya station to reach the Shibuya crossing. You'll also find the famous Hachiko statue just outside the Shibuya station.
In Japanese culture, Hachiko represents loyalty and fidelity as the story goes. Get a picture with this world-famous statue for your Instagram because it's definitely one of the best things to do in Tokyo!
From the station, the Shibuya crossing is only a short walk. I really hope you can handle crowds, well, you'll find out soon enough.
You can also get a view of the Shibuya crossing from top. Head to the Starbucks and order some coffee. Find a table by the window and watch the chaos below. It's definitely a sight to see in Tokyo!
Zoom through The Streets Of Tokyo With Real-life Mario Kart
If you ask me what's the coolest thing to do during your Tokyo trip – my answer would be go play real-life mario kart!
You can drive their custom-made go-karts on actual streets of Japan! Isn't that so cool! Don't believe me? Check the video below and see for yourself!
But you need to have your international drivers' licence for obvious reasons. You can dress up as characters from Mario and go go-karting on the streets of Tokyo!
Well, that was officially the last of the Tokyo itinerary 3 days. Quite a ride, no?
Here's a downloadable PDF of the itinerary sheet for your reference. Download and print the Tokyo itinerary 3 days below!
Tokyo Winter Itinerary For 3 Days: FAQs
Is it worth it to go to Tokyo in the winter?
It's absolutely worth it to visit Tokyo in the winter. You get to enjoy a lot of winter activities like skiing and snowboarding. And even if skiing is not your thing, you can still enjoy the winter festivals in Japan. You can see the beautiful illuminations and shop at Christmas markets, (if you're traveling in December). The weather is not too bad during winter in Tokyo. While it's still pretty cold, the sun is usually out with little rain and snow. Also, the prices are cheaper during winter, except during the holiday time.
How many days should you spend in Tokyo?
You have to spend a minimum of 3 days in Tokyo. Believe me, you won't run out of things to do even if you stay for a month. Tokyo is one of the top tourist attractions in Japan and offers a lot of fun things to do. If you plan your trip with a solid itinerary in hand then you can achieve a lot in just 3 days in Tokyo. 
When to Visit Tokyo?
You can visit Tokyo at any time of the year. You'll find lots of different activities to do in Tokyo during different seasons. Winters in Tokyo can really cold and summers a bit too humid to handle. Spring and autumn in Tokyo is probably the best time to visit Tokyo, that is, between March and May. And if you plan it right, you might just catch the Cherry trees in full bloom. You can check the forecast here! Or, you can also visit Tokyo during the Sumo wrestling season in Tokyo which is also a fun experience. Click here to check the dates and find out how to get Sumo match tickets!
What Is The Best Area To Stay In Tokyo For Tourists
The best areas for tourists to stay in Tokyo are Asakusa, Shinjuku, Shibuya, or Ginza. As long as you choose a hotel that's close to the metro station or the subway, you'll be just fine. Like I already mentioned, Tokyo's subway system is really, really efficient. 
Check out this article on the best capsule hotels in Tokyo for budget accommodation! Or if you're travelling solo, here are the best hostels in Tokyo!
Where can I buy a Japan Rail Pass in Tokyo?
You can buy a Japan Rail Pass online, at the Haneda and Narita Airport or at major stations. However, if you're going to be in and around Tokyo for 2-3 days only then it's best to get the JR Tokyo Wide Pass. You can get JR Tokyo wide pass at major JR stations including major spots on the Yamanote Line – Shibuya, Shinjuku, Ueno, Ikebukuro, Tokyo, Shinagawa. Alternatively, you can buy it as soon as you land at the Narita or Haneda Airport. You can even order it online – which is the easiest and cheapest way to get it done! Pro Tip: Get Japan Rail Pass to travel in bullet trains and regular trains for cheaper
What Your '3 Days in Tokyo' Budget Should Be?
The budget you need to set when planning a vacation to Tokyo should be around ¥14,019 per day, i.e., $131. Your meals will cost about ¥3,149 ($29) per day. And travelling expenses within Tokyo will amount to about  ¥1,592 ($15) per day. So your total budget should be about ¥43,000 ($406)
Is 3 days enough for Tokyo?
3 days is perfect to visit Tokyo (at least most of it). In 3 days you can hit the major tourist spots in Tokyo. Make sure that you find accommodation somewhere in the centre of Tokyo so you close to the popular tourist destinations in Tokyo.
Is Tokyo worth visiting?
Tokyo is definitely worth visiting if you're going to Japan. The city has an amazing night life, is full of culture and great food! you can also visit lots of temples and shrines and do lots of shopping. As a tourist in Tokyo, you'll find it easy to navigate around the city and have a really good time!
Is it safe to walk in Tokyo at night?
Tokyo city is considered pretty safe to walk around in the night. Most people don't complaint of any disturbance from the locals, very minimal if any. Ofcourse, it's always best to be alert and on gaurd if you're walking the streets of Tokyo alone at night, especially if you're a woman.
Is Tokyo English friendly?
Since Tokyo witnesses a lot of tourists, most people in Tokyo speak some English. You'll find bilingual signage almost everywhere in Tokyo including the metro stations.
Also Read:
Don't miss the Cherry Blossom season in Tokyo. Check out the dates right here
Don't miss the Sumo match in Tokyo. Here's how you can get the tickets!