Are you wondering what Japan love hotels are for? Well, if you have a significant other, you should definitely try and find out the answer! Don't worry, I'll tell you what is it.
You're wandering in the fancy and lit streets of Tokyo and you happen to find an eccentric building with a private entrance and a sign that say "stay" (宿泊, shukuhaku) and "rest" (休憩, kyukei).
The name of these "stays" is written in an extremely quirky way with neon lights and have offbeat names like Hotel Fooo, Hotel Oz or Casablanca. You must have understood by now that there is something different about it.
Yes! You're right, it's different! You're standing in front of Japan Love Hotel rabuho. It's the not-so-hidden pay-by-the-hour (or night) accommodations for couples, secret lovers and other types of a one-time celebration of love for pleasure-seeking.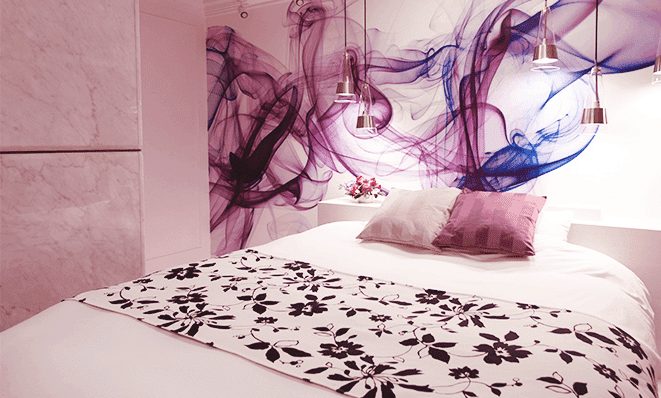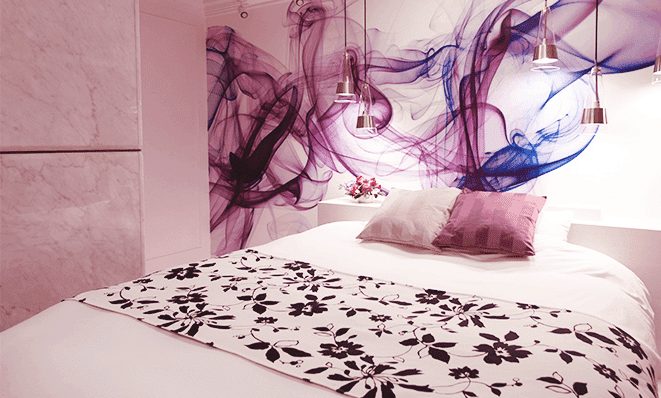 Japan Love Hotels
Love Hotels: History and Background
What are Japan Love Hotels?
Love Hotels are no-tell motels or a short-stay hotel that offers hourly charges or night rates in the name of love, whatever this means to the customers. A short stay could be anywhere from 2 hours to 4 hours or maybe a night or two.
A stay for 2-4 stays typically costs between ¥2,900-¥7,000 depending on the hotel and the dates. While an overnight stay (9 pm to 10 am) would typically cost 3,900 to well over ¥20,000. Room services and meals are also available at extra cost.
The term "Love Hotel" comes from the Love Hotel that was first opened in Osaka in 1968, first of its kind!
Although the concept of a love hotel is not unique to Japan, the term comes from the first rabuho in Osaka in 1968. Soon after, thousands of love hotel was opened throughout the nation.
It was originally to provide privacy to couples for a short period of time. During the postwar period, young people often stayed in extended families with little or no privacy. Hence, for one on one moments for couples, Japan love hotels were started.

During the late 80s and the early 90s in the economic bubble period, going to love hotels were almost as a status symbol date spot. Going there with partners was ritualised and it became a standard date.
The love hotel business was booming and there was fierce competition. To keep up with the demands- the love hotels started coming up with themes like Jungle, fairytale, kitty etc. to cater to various clientele and preferences. In those years, love hotels were quite a trend.
My friend joked around saying many Japanese were convinced during their dates, which is why love hotels are so popular in Japan. Which isn't false because Japan love hotels were made for the same purpose.
Related: Click here to know all about Japanese Nenjago cards, they're so cute!
Japan Love Hotels today: Entertaining or not?
In today's time, Japan hotels are still a part of dating and sex industry. Not only that, but it has also become one of the biggest sources to draw tourists and sources of cheap accommodations too.
However, it more single people living alone, the need for visiting love hotels have decreased over the years which calls for an adjustment in their business plan. Japan love hotels are estimated over 10,000 in the entire nation.
According to a research of 2016, there's only 40% occupancy on the weekdays. Most of the "underperforming" love hotels were turned into normal accommodation facilities keeping in mind the Tokyo Olympics 2020.
As a result, many of the Japan love hotels have been turned to the normal friends-family type of hotel serving full room service meal menus. It is also offered to a group of people travelling for business purposes.
Other love hotels have started stated offering packages such as birthday parties, beauty retreats, spa programs, bachelorette parties for a group of women. Some of them have even started aesthetic couples spa programs including hot springs and sauna.
Japan love hotels are also a comfortable stay if you're a woman travelling alone. Capsule or business-hotels often are restricted to only men. It also often does not include enough amenities, storage or bathing facilities for long-distance travellers.
I have visited 36 different prefectures in Japan and only stayed in Japan love hotels. It is so convenient because there's no prior booking required, no curfew and also no check-in limitations. The only problem you'll face is to find a room during a peak holiday season- its a struggle.
Related: Have you read about the stories of women dealing with Chikan in Japan, Click here to read them!
A close look: what do Japan love hotels offer?
Before getting into details of what extra facilities the Japan love hotels offer, the rooms are definitely worth talking about. Most of the love hotels have rooms huge enough to make apartments in Tokyo feel like a closet.
The average smallest room in Japan love hotels is 20 square meters. I used to live in a 2k apartment that was only 17 square meters. But most luxurious Japan love hotels can be 25-80 square meters in size.
In most of the hotels, you will find a jacuzzi, large LCD TVs with video-on-demand service, kitchen with stove and refrigerator, minibar, microwave, kettle and obviously, a huge king-size bed.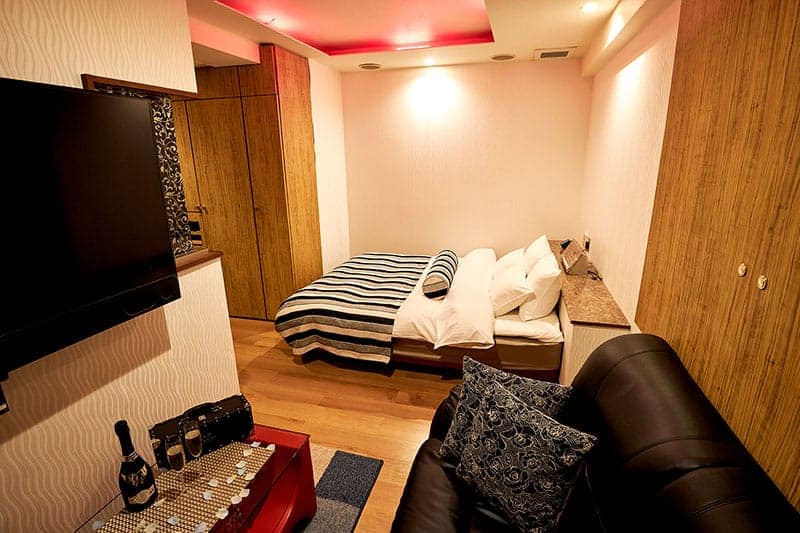 The bath has hotel-like toiletry kit containing shampoo, body soap, face cleanser, bubble bath and also bath salts. Hairdryers, combs, razors and plenty of other things are also available. There will always be free condoms provided in a box near the bed.
That's not all- while it varies from hotel to hotel, the majority of them also provide rental services. So if you've forgotten your phone charger, or you want a nail clipper or maybe a massage gadget, you can get them all for rent.
All these rental services items are listed on the menu kept on a coffee table or sometimes on the main menu on the TV screen.
A receptionist once told me that Japan love hotels are like any other hotels with every facility provided. Customer service is the key. In a love hotel, it's not a guarantee that the customers will come back or not, so making their stay perfect is important.
There are some love hotel chains that have loyalty card systems- if you stay in a certain hotel for a certain number of times or maybe spend a certain amount of money, you're liable to different kinds of gifts and vouchers. These gifts include their branded bags, wallet, certificate, tickets, fine dining experience etc.
As mentioned above, the cost for a few hours up to seven thousand yens while an all-night stay would be around 10,000 yens depending upon the hotel and the location. In centre Tokyo, weekends especially Friday nights, the prices are crazy.
While, in the less populated areas, the prices will be far less than a regular hotel. Another thing is that you pay for the room not on per person basis as in the regular hotels of Tokyo.
When you enter Japan love hotels, you will find a screen with all the available rooms and details on it. You can then head to the counter to get keys to your room. Sometimes, the counters are hidden to avoid awkward eye contacts between the receptionists and the customers.
Related: Are you looking for a job in Japan? Here's your guide!
Love Hotels in Tokyo: Choose the right one
You'll always find popular love hotels in entertainment districts like Shibuya, Shinjuku's Kabukicho, Ikebukuro, Uguisudani and Ueno across their expressway junctions and parking areas.
However, it is always advisable to choose a safe and clean Japan love hotel whatever the purpose of the visit might be. The two best ways of finding the best Japan love hotels.
One is to look for an area that has the highest pubs, bars and restaurants because there should be many nearby and second, is by looking on a ranking site like Happy Hotel or Couples, or their associated apps, Couples Navi from the Couples website, and Happy Hotel.
Though most of these sites are in Japanese, you can swipe through the pictures and understand what kind of hotels they are and also about their services. The pictures are often original.
According to Happy Hotels, most of the hotels in Tokyo are in Toshima-ku (Ikebukuro). Over 100 love hotels are listed alone on the site from Toshima-ku followed by Shinjo-ku and Taito-ku. It is so surprising that Shibuya is fourth while places like Chuo-ku and Setagaya-ku have a very limited option.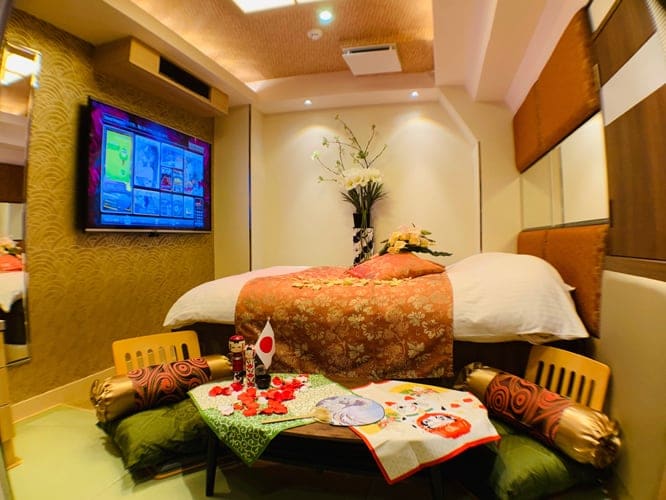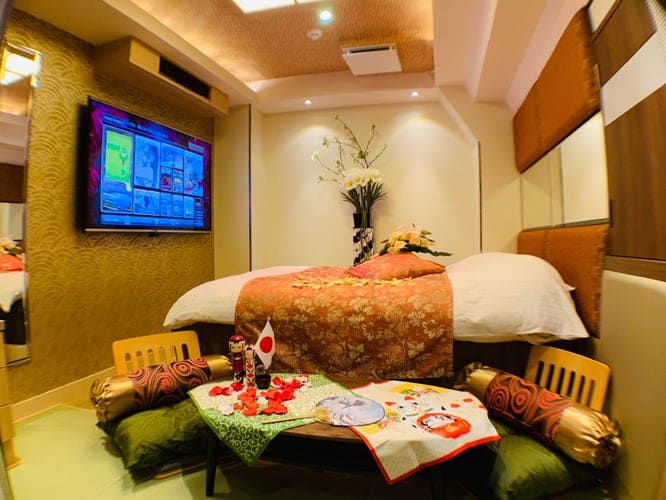 Based on 2017 ranking, the best Japan Love Hotel is undoubtedly going to Bali An group. It has multiple locations all across Japan and provides an incredible service regarding their facilities, in-room amenities, decor, food menus etc.
Bali An group also have multiple Joshikai (girl's night out) plans including birthday parties and Christmas get-togethers for woman safety reasons.
Other amazing Love hotels in Tokyo include Hotel St. Moritz in Asakusa, Hotel Meguro Emperor in Meguro ward (one of the oldest Japan love hotel) in Tokyo and also, Hotel Sulata in Shibuya, which also has locations across Japan.
Love Hotel Recommendations:
ALL INN G
Hotel ALL IN G is a reasonable, affordable and a very stylish love hotel near Otsuka station. Because of its understated nature, it is often mistaken as a business hotel. The rooms are very comfortable and it comes with the right amount of amenities that a first-timer at love hotels needs.
Short stays cost around ¥2,000, and all nights are about ¥6,500.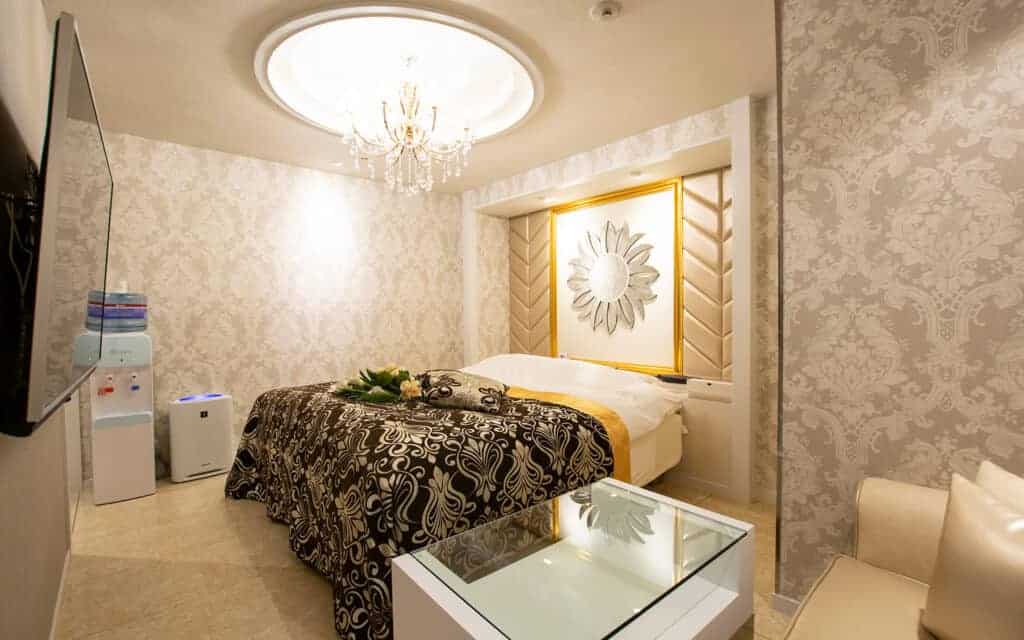 Nearest station: Otsuka Station
Address: Tokyu, Toshima, Minami Otsuka 2-43-4
Meguro Emperor
Meguro Emperor is one of the oldest love hotels in Japan and true to its kind. It was framed with wild room themes where beds revolved but now has a more luxurious look with open air-baths.
It costs ¥1,500 for short stays and up to ¥16,800 for all-nighters.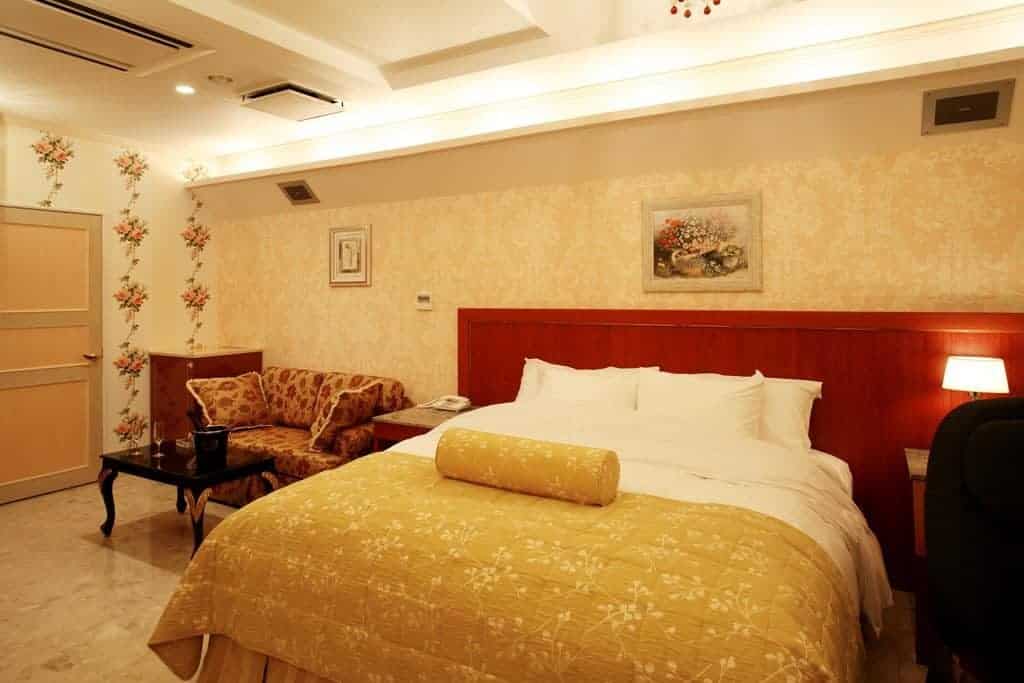 Nearest station: Meguro Station
Address: Tokyo, Meguro, Shimo Meguro 2-1-6
Hotel Mju
Hotel Mju offers a retro-chick vibe to their hotels. These hotels aren't as spacious but extremely aesthetic. These rooms offer amazing views from their windows. Stay on the 6th floor if you love views.
It costs ¥3,900 for short stays, while overnight charges vary from ¥6,800-¥9,800.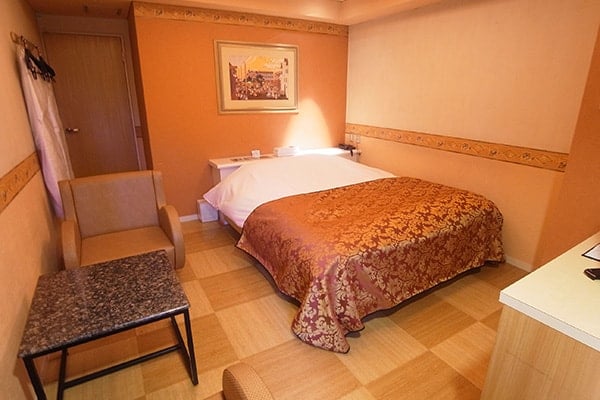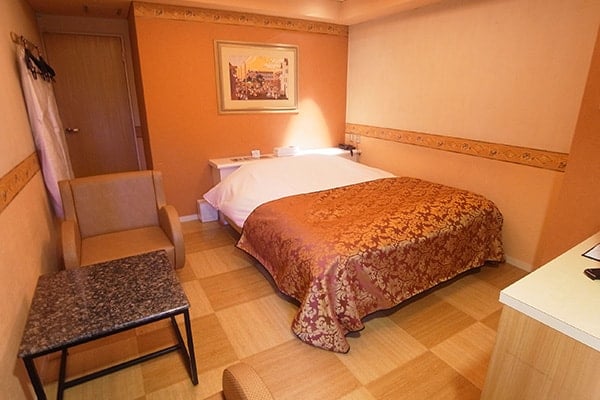 Nearest Station: Asakusa Station
Address: Tokyo, Taito, Hanakawado 2-14-2

Have a Lovely Stay!
Whether you are on holidays, travelling on business purposes, for celebrating occasions like birthday parties or Christmas- Japan love hotels will be the accommodation that you'd want to choose, always!
Also read: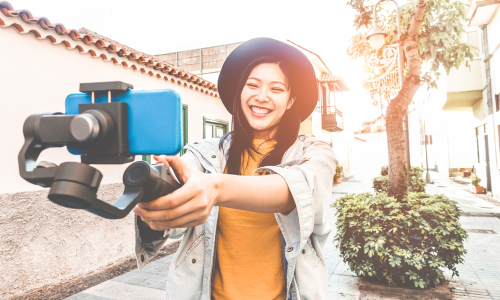 Hiya! I'm the main author of Japan Truly. I love everything Japan and love testing out Japanese products, be it skincare and makeup or gadgets! You'll find reviews of some of the best selling Japanese products (tried and tested) right here!