Here's a curated list of relaxing Tokyo's Onsen Spas for you to relax and unwind. Spa treatments in a Japanese onsen equals absolute heaven! Check out the top onsen spas in Tokyo here!
If you love baths and think that's the best way to relax, you will consider an Onsen Spa in Japan, heaven!
I absolutely love the Onsen spa culture in Japan and I think every other city in the world must adopt it to give its citizens the most relaxing time ever.
If you're wondering which onsen to go in Tokyo, read on for the 5 best Onsen Style Spas in Tokyo:
Our Favorite Tokyo's Onsen Spas
Tokyo Somei Onsen Sakura
Address: 5-4-24 Komagome, Toshima-ku, Tokyo
Tel: 03-5907-5566
The is foreigner friendly onsen in Tokyo, so you're travelling to Japan as a tourist then you should definitely visit this one. Most of the staff here can also speak English amongst other languages so you won't have much problem communicating,
The Somei Onsen Sakura is one of the highly rated spas in Tokyo and has a steady stream of regular clients.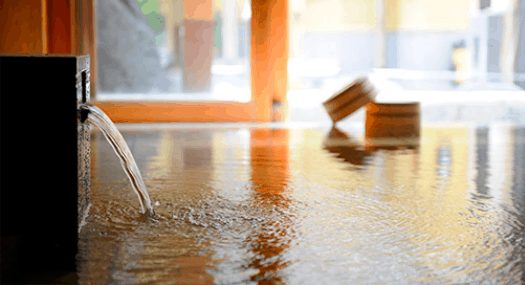 This is the place many go to, to escape the hustle and bustle of city life.
Enter this spa and you are instantly transported to a serene garden, with its streaming waterfall.
You will half expect to see dainty birds, and I won't be surprised if you do.
There is a lovely mural of sakura art that gives you the feeling you're in Kyoto.
Time comes to a standstill at the Somei Onsen Sakura spa as you indulge yourself in one of the many Onsen baths available.
Choose between a bedrock bath, a sauna or one of the six baths for women and 5 for men.
The open-air baths are just the best and one experience you must not miss out on.
The rotenburo, meant for women, uses ultrasonic waves to warm the water and keep it just the right temperature for you.
The spa rents out towels and robes for a small price, but you can bring your own too, if you wish.
Before your bath, you can avail services in the parlour and salon.
After your bath, enjoy a nice meal cooked by the finest chefs in the dining area, or simply stay in the furnished lounge enjoying a warm beverage and reading your favourite book.
The website is quite user friendly and is in both Japanese as well as English, convenient for expats and foreigners.
Location
Saya No Yudokoro
Address: 3-41-1 Maeno-cho, Itabashi-ku, Tokyo
Tel: 03-5916-3826
The next one in this list of best Tokyo's Onsen Spas spas is the Saya No Yudokoro
"Saya" means purity and that's exactly how you feel when you walk into Saya No Yudokoro.
The spa aims to give its clients deep relaxation and healing, and that is exactly what we get.
Set in a traditional wooden building, Saya No Yudokoro takes you back to the early 2000's. The Zen garden, produced by the Japanese master designer, Motomi Oguchi, instantly brings on calm and peace.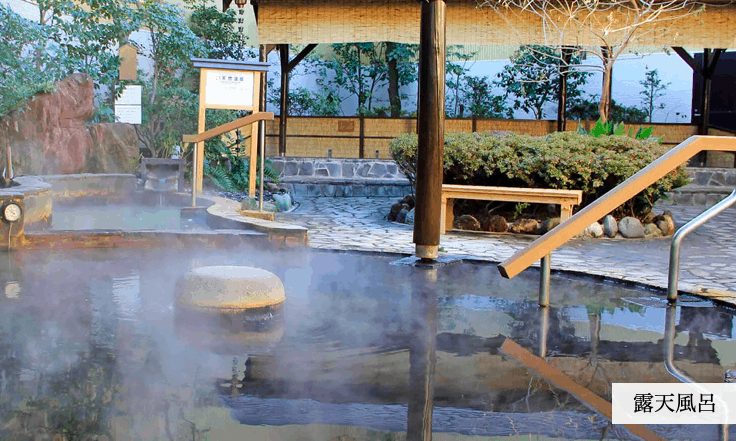 This garden is set amidst other beautiful and aesthetic designs in the spa. The garden is visible from the dining area/ restaurant, so you can enjoy a delicious meal as you relax.
Saya No Yudokoro is reputed for its open air hot spring, which is everyone's favourite, so make sure you call ahead and book for it in advance.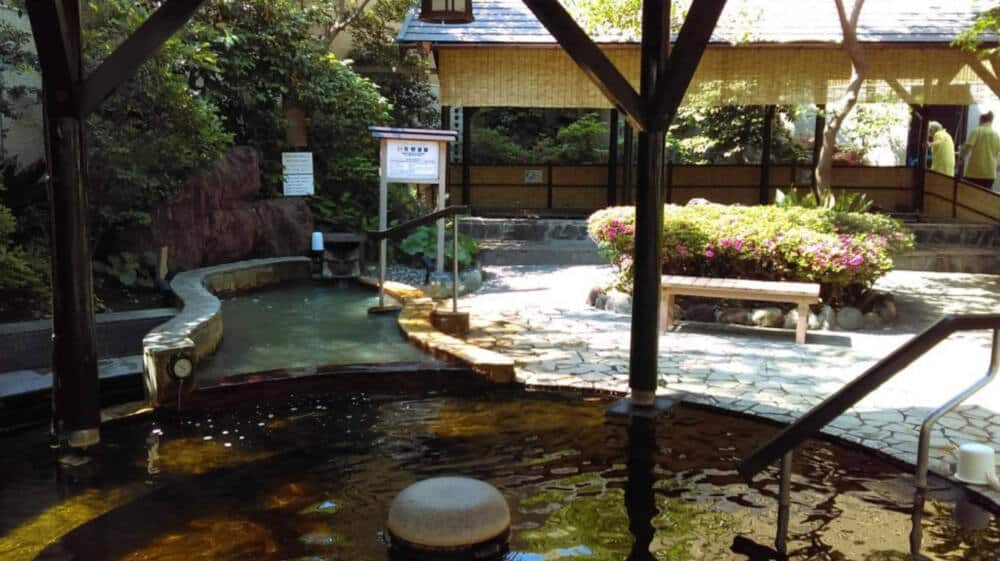 This Onsen has a greenish brown tinge to the water, lent to it because of the high amounts of sodium chloride it contains.
Sodium chloride is known to relieve aching muscles and encourages circulation. It also gently exfoliates your skin and brightens it.
Apart from this, there are 14 other baths, including a hot stone one.
The website is primarily in Japanese but can be translated into English.
Location
Thermae Yu
Address: 1-1-2 Kabukicho, Shinjuku-ku, Tokyo
Tel: 03-5285-1726
The next one in this list of best Tokyo's Onsen Spas spas is a very popular onsen spa located in Shinjuku called the Thermae Yu. Thermae Yu is one of the very few onsen that allow tattoos in Tokyo.
This recently opened spa boasts of six floors, where you can soak in one of the wide range of baths, get a treatment in the spa or enjoy warming up in one of the several saunas.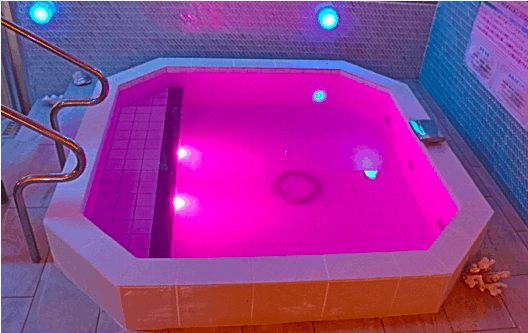 Now, I have to make it clear that this is not an original Onsen, but the reason it's on my list here is because Thermae Yu brings its water from the hot springs of Shizuoka prefecture, for the same effects as a natural Onsen.
Including ingredients like coral light and neutralised water, the baths in Thermae Yu will have your skin soft and glowing in no time.
The spa includes the rental for the towels and robes in the admission fee, so you don't have to carry your own.
No Onsen is complete without a lovely meal to heal your soul and senses, and Thermae Yu offers that in its two restaurants and a cafe.
You can also grab a drink in the bar or simply chill in the lounge area.
Many Onsen spas in Tokyo try to go the extra mile and Thermae Yu has successfully done that with its "Cry Detox" nights, where you have a good cry after an emotional, sentimental or sad movie.
The spa is open overnight, with extra charges after 1 AM.
The website is in Japanese but you can translate it to English through a Google Translate option.
Location
Nagomi No Yu
Address: 1-10-10 Kamiogi, Suginami-ku, Tokyo
Tel: 03-3398-4126
The next one in this list of best Tokyo's Onsen Spas is my favorite and is called the Nagomi No Yu
Nagomi No Yu is an oasis of peace, calm and healing, located bang in the centre of the super busy city.
The water in the baths here is sourced from the hot springs of Musashino.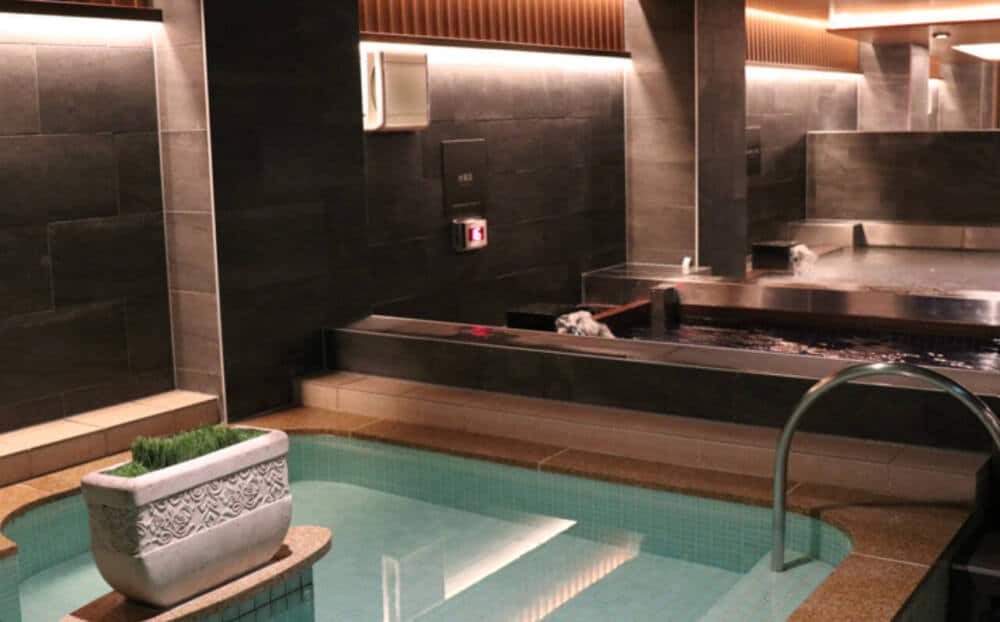 This water is naturally rich in sodium chloride, giving your achy muscles and dull skin some relief.
Walk out pain free and smooth, glowing skin after a soak in one of the several baths this spa houses.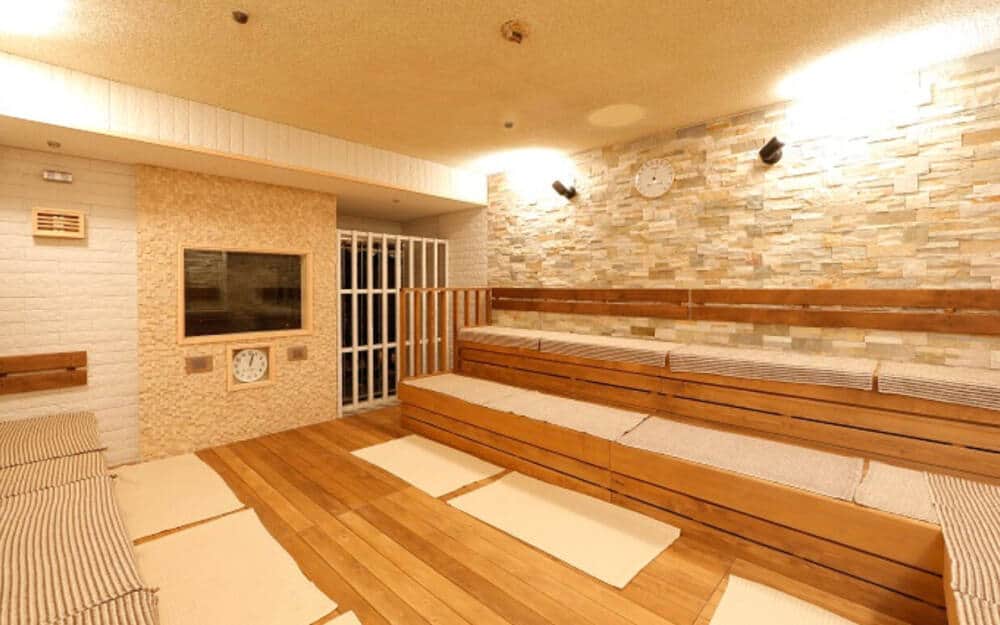 The other popular facilities in Nagomi No Yu are the carbonated bath, the bedrock bath and the Finnish steam bath sauna.
This spa is also open right through the night, but with extra charges after 1AM.
The admission fee includes a face towel, a body towel as well as robe.
The website has a page that translates to English, though most of it is in Japanese.
Location
Ishino Onsen
Address: 4F Roj Building, 5-5-1 Roppongi, Minato-ku, Tokyo
Tel.: 03-3404-4126
The next one in this list of best Tokyo's Onsen Spas is the is the Ishino Onsen.
Ishino Onsen is unlike the traditional Onsen.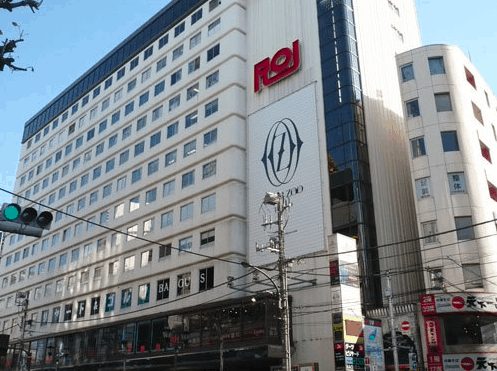 Instead of water, these onsens are more of a dry bedrock bath, heated by infrared rays.
The benefits these baths offer are similar to natural hot spring onsens.
The infrared rays are absorbed by your cells and relieve stress, aches and pains, improve blood circulation and bring a glow on your skin.
They are also known to improve metabolism and act as a good detox.
Ishino Onsen is part of a capsule hotel.
You do have the option of choosing several water baths as well, along with an array of services like body scrubs, facials and body massages.
This spa is open 24 hours, with an additional fee if you're entering between 1 am and 5 am.
Location
Maenohara Onsen Saya no Yudokoro
Address: 1 Chome-1-2 Kabukicho, Shinjuku City, Tokyo 160-0021, Japan
Tel: +81352851726
Saya no Yudokoro, an enormous natural onsen complex constructed in 2005 on the site of an abandoned traditional Showa-era wooden building, is regarded by many as one of the "most relaxing hot springs in Tokyo" for its serene and romantic ambiance.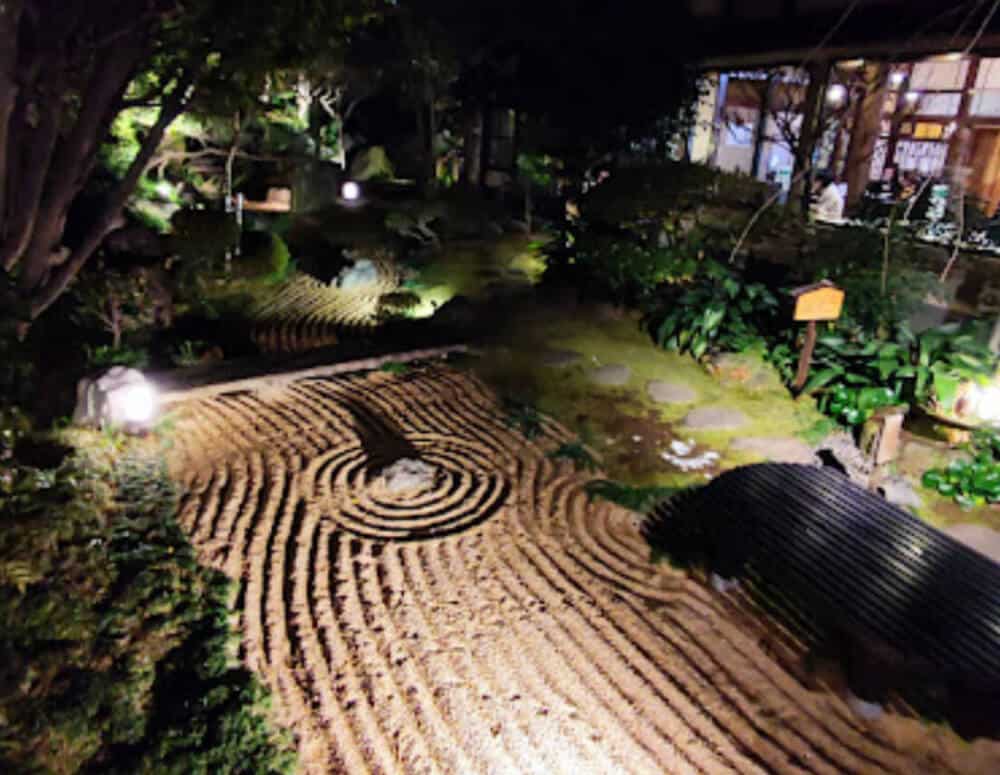 Although it is exquisitely decorated inside as well, the Zen garden, a large natural masterpiece created by the renowned Japanese garden designer Motomi Oguchi, is this onsen's main draw. As they eat in the spa's restaurant, guests may take in its splendour.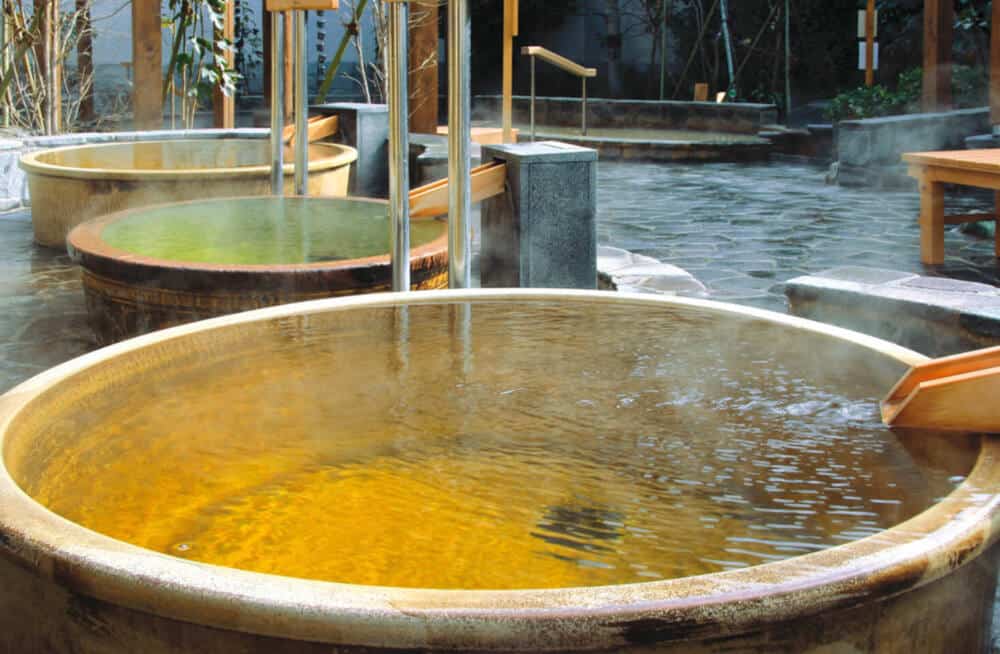 The resort has 14 additional baths of all sizes and types, including a ganbanyoku (hot stone bath) for relaxation, in addition to the main open-air Saya no Yu hot spring, which has a greenish brown hue because of a high sodium chloride content.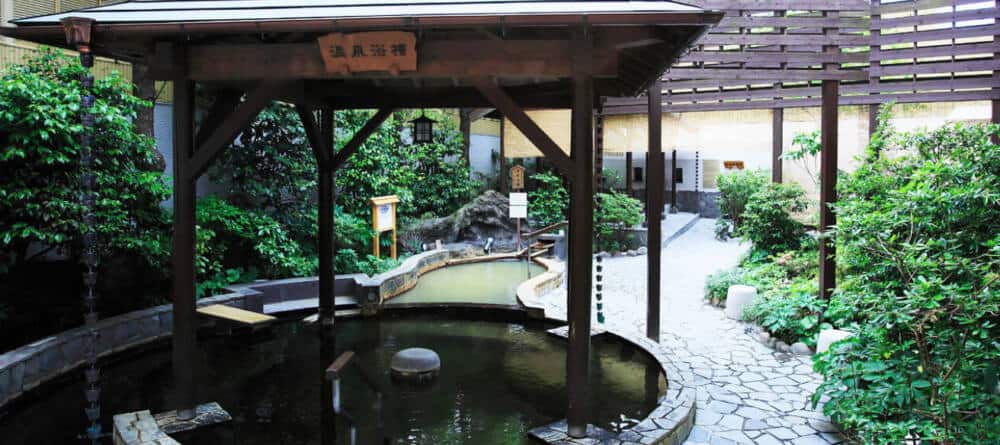 Saya no Yudokoro's baths may treat a variety of health issues, including chronic rheumatism, poor circulation, and neuralgia. This delightful urban retreat can be reached within eight minutes by the Mita line's Shimura-sakaue station. It is very reasonably priced.
Onsen Style Spas in Tokyo: FAQs
What is Onsen Style Spa
Onsens are like hot springs, something that is part of the Japanese culture. Once the weather starts cooling down, you will find the entire family indulging in an Onsen, right from the grandparents to the youngest children. Japanese children are taught decorum, behaviour and what to wear in an Onsen. An Onsen Style Spa is a spa that has the Onsen facility that you can avail.
Onsens not only just warm you up, they also contain several minerals which cleanse your skin and relieve you of aches and pains. These minerals are also known to heal any ailments that you may have.
Onsen vs Sento:
Sento is also a public bathing feature that you might find in spas. Don't get confused between an Onsen and a Sento. Sentos contain hot water but these are regular tap water which don't really possess any minerals. These do clean you and you can use these to relax or to take a bath.
Onsen on the other hand contains water that is taken from the hot springs directly. These are the ones that have healing properties and not all spas have actual Onsens. Onsens are also more expensive than Sentos.
So if you want to soak in a real Onsen, you must first check with the spa if what they have is a Sento or an Onsen. Or, you can go to one of the below listed top spas in Tokyo which feature real Onsens.
Onsen Spa Rules:
Remember the following pointers before you head to an Onsen style spa:
Towels : Many spas provide towels for you, but if they don't, do carry your own. Carry one big towel for drying yourself and a smaller one to cover your modesty
Shower before you dip into an Onsen: Just as it is with a swimming pool, you need to shower and make sure you're squeaky clean before you head to an Onsen. There will be a shower and most places do provide soap and shampoo, but you could always carry your own. Do a double cleaning routine for your entire body to make sure you're very clean. You will be given a stool and bucket which you must wash when you're done with your shower
Walk to the Onsen with your smaller towel covering your modesty and dip a toe to check the temperature of the water. As you get in, you can remove the towel and place it around your neck or over your head to prevent it from getting wet
Cover up your tattoos: Many spas in Japan prohibit tattoos, so if you do have one, make sure you cover it up with a bandage
No Splashing: The Onsen is considered a pleasant and healing place. So don't splash around or swim in it. Just stay calm, and use the time to relax and rejuvenate
Also Read: