When visiting Tokyo, you cannot miss out on the back streets of Harajuku, Urahara. Here are the best things to do in Urahara!
Urahara – a network of back alleys, nestled in the busy district of Shibuya, is a hip place where you will find street style trendy stores to vintage shopping to great artsy and hippie cafes.
These backstreets are known for their quirky fashion and cool vibe.
In the current post, we bring you the best of things you can do in harajuku's hidden backstreets – Urahara (short form of Ura-Harajuku) – it literally translates to "the hidden Harajuku".
Related: Here are the best things to do in Ishigaki Islands in Japan. Check it out!
History of Urahara
The trendy streets of Urahara were once destroyed in the Great Tokyo Air Raid in 1965, after the reconstruction of the area in the 1980s, designer inspired by western fashion trends, opened named and unnamed many boutiques on these streets and soon they were started to recognise at Harajuku's Tribe.
These boutiques had a distinct flavor and youth got attracted to the cool trends borrowed and inspired from American fashion brands like Levi's and Gap.
Related: Here's a Guide to climbing Mt Fuji!
Creativity took a new high, and Japanese culture found a blend with hip hop, bohemian culture on these streets.
Some homegrown OG brands from these streets became youth favourites and soon the cool-kids on the block were talking about them.
Related: Best things to do with kids in Tokyo
Although over the years, the streets have either become too commercialised or too busy and have lost a little touch with their trendy fashionable side, there are still independent artists and punk/hip hop fashion brands that can be found on these streets.
Related: Here's how to get a travel SIM card in Japan! Check it out!
How To Get To Urahara
There are a lot of things to do in Urahara, the trendy backstreets ofHarajuku. From vintage shopping to shrines hoping to check out funky out quint and bohemian cafes. So let's see how you can get around the area.
Related: Before you visit Tokyo, find out when is the Cherry Blossom season in Tokyo!
There are multiple ways to reach the destination, the easiest route would be to get off at Harajuku station on JR Yamanote Line or you can take Chiyoda or Futoshine lines and get off at Meijijinguame station.
If you are in the mood for a stroll and to explore the surroundings, you can head to Omontesado station on the Chiyoda line
Things to Do in Urahara
Take A Stroll on Cat Street in Urahara
One of the first things to do in Urahara is to take stroll on Cat Street.
This street is as hipster as its name suggests. It's known to be "Tokyo's coolest street". There are no big malls or buildings on this street only small stores and boutiques with the most unique and trendy collections.
This street is only about 30 mins walk from the main Shibuya district.
Address 5 Chome-10-10 Jingumae, Shibuya City, Tokyo 150-0001, Japan
Related: After a long day, you'll definitely want to relax in an onsen in Hakone. Check it out here!
Pay Your Respects At The Hatonomori Hachiman Shrine in Urahra
Next on this list of things to do in Urahara is to visit the Hatonomori Hachiman Shrine.
Urahara has multiple shrines with calming and peaceful environment, we even suggest going for Shrine hoping in these backstreets.
Hatonomori Hachiman is a Shinto Shrine located just a little north of Harajuku and south to Yoyogi. This shrine is considered to be an alternative for Meiji Shrine too. There is an area dedicated in the shrine to the game of shogi.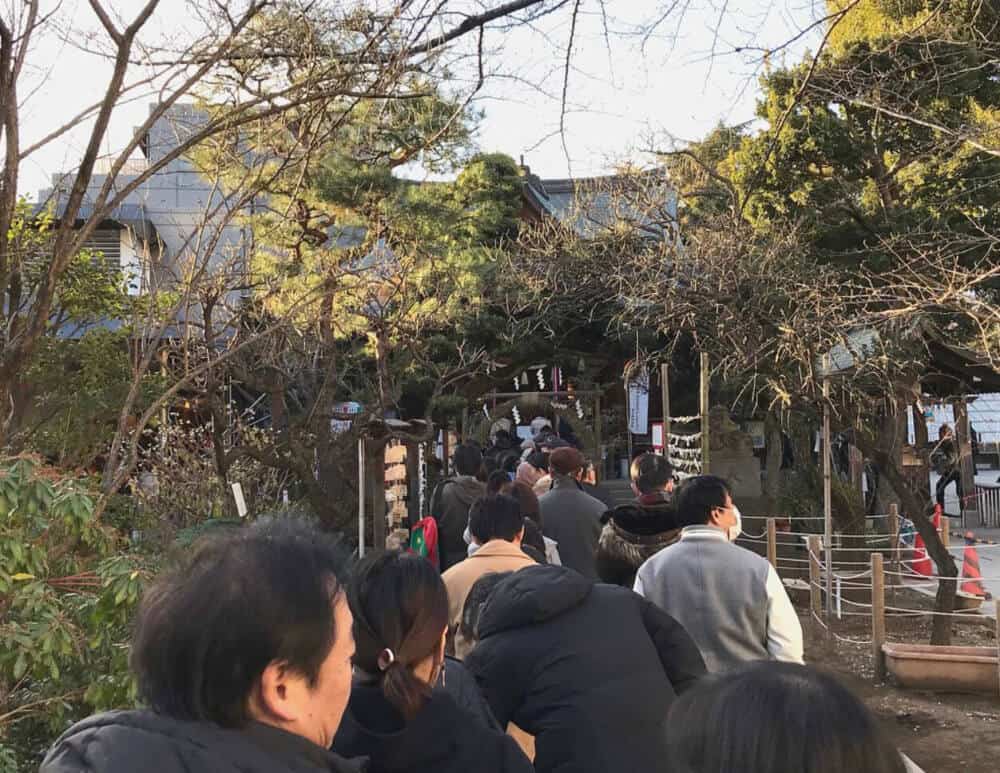 There is also a mound in the shrine dedicated to Mount Fuji called Fuji-zuka.
Related: Here's how to buy the tickets to SUMO match in Tokyo. Dn't miss it out!
It is also considered to be a place to practice climbing Mt. Fuji. It is said that wood pigeons use to fly over the shrine.
You can still find a lot of cute pigeons flying over the shrine and there are many gift shops in the alleys of the shrine which have unique gifts and souvenirs related to the shrine.
Address: 1 Chome-1-24 Sendagaya, Shibuya City, Tokyo 151-0051, Japan 
Go To The Design Festa Gallery At Urahara
Next activity on this list of things to do in Urahara is to visit the Design Festa Gallery in Urahara.
A place dedicated to local Japanese arts and crafts. Anyone can exhibit their art in this gallery. From paintings to crafts to photo exhibits, it's always a unique experience when you walk into this gallery.
It is nestled on the small street of Harajuku and made by renovating an old apartment. Perfect place for artists (local and global) to showcase and sell their art.
There is also a cage and a restaurant next to the gallery where artists can chill and interact with each other. 
Address: Japan, 〒150-0001 Tokyo, Shibuya City, Jingumae, 3 Chome−20−18 2 EAST館 WEST館
Related: Here are the best spots to see wisteria in Japan. Check it out!
Visit The Ota Memorial Museum of Art in Urahara
Next. up in this list of things to do in Urahara is to visit the Ota Memorial Museum of Art.
Immerse yourself in some traditional art in Tokyo's one of the most popular art museums. Ota memorial focuses on the art around woodblock printing ( ukiyo-e).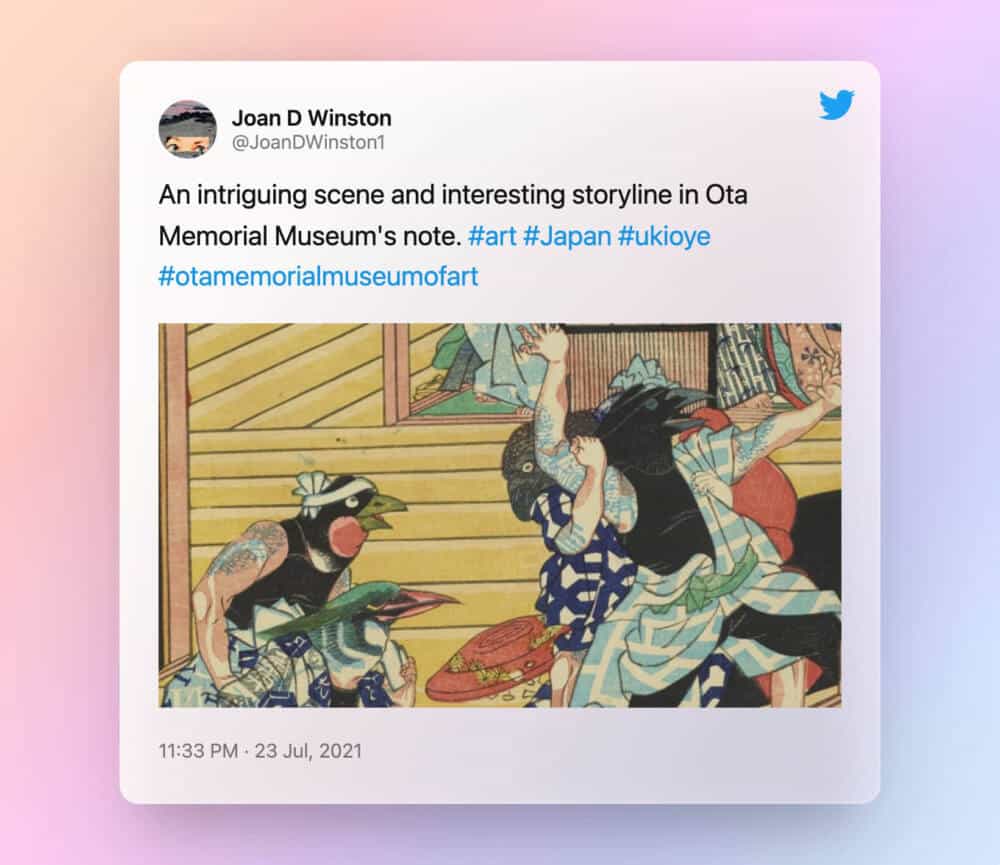 There are fixed as well as frequently changing exhibitions spread across two floors. Escape busy city life and Get yourself acquainted with Japanese culture and art.
Address: 1 Chome-10-10 Jingumae, Shibuya City, Tokyo 150-0001, Japan
Where to Shop in Urahara, Harajuku
One of the best things to do in Urahara is to shop!
Harajuku is the hub for trendy and punk clothing. This place is still filled with fashionable artists with bohemian and western tastes.
Plenty of boutiques and small stores can be discovered in these back alleys. Vintage shops and thrift stores are spread all across this neighbourhood.
Shop At Panama Boy in Urahara, Harajuku  
Looking for something unique and fun, this one two-story vintage shop that provides customized clothing and really cool accessories.
There is no limit to the distinct products that you can find at this store. From leather accessories like boots, shoes, belts to cut shorts or denim accessories, at this place you can find them all.
Shop Somthing Quirky At Kinji Urahara
There are so many thrift stores in this area that it is almost impossible to visit them all.
For bargain hunters, who are always on the lookout for trendy and fashionable clothing without making a hole in their pockets- this place is perfect.
Even though it's a thrift store, it's super organised. From Jackets to Jeans, from woollen jumpers to skirts, you can find them at this place.
Buy Your Favorites At Spiral Toy in Urahara
There is this cool shop for the kids and also for this kid in you. At the spiral toy, they deal with toys imported from America. Barbies, little pony, unicorn toys, one-of-a-kind toys to even vintage toys, all it can be found at this little toy haven.
It is even known at toy collector shops. Let the child in you indulge in the fun of exploring cool toys.
Candy Show-time – Another fun store for the kids and for the ones with sweet-tooth. Its always show-time at this store.
They make candies in front of your eyes and the whole experience is like a show time. Not only you get to shop some fresh and cool candies, you can also enjoy it coming to shape at this place. Take back home something yum and fun from the backstreets if Harajuku.
Location: Japan, 〒150-0001 Tokyo, Shibuya City, Jingumae, 3 Chome−27-17, ナガタビルA-1  
Related: Don't miss out on the driving a Mario Kart on Tokyo streets. Here's everything you need to know!
Shop At Bape Store in Urahara
Bape Sore or A bathing Ape store is a very popular store from the streets of Harajuku that has found global recognition too. It was established in 1993 and has been in demand ever since.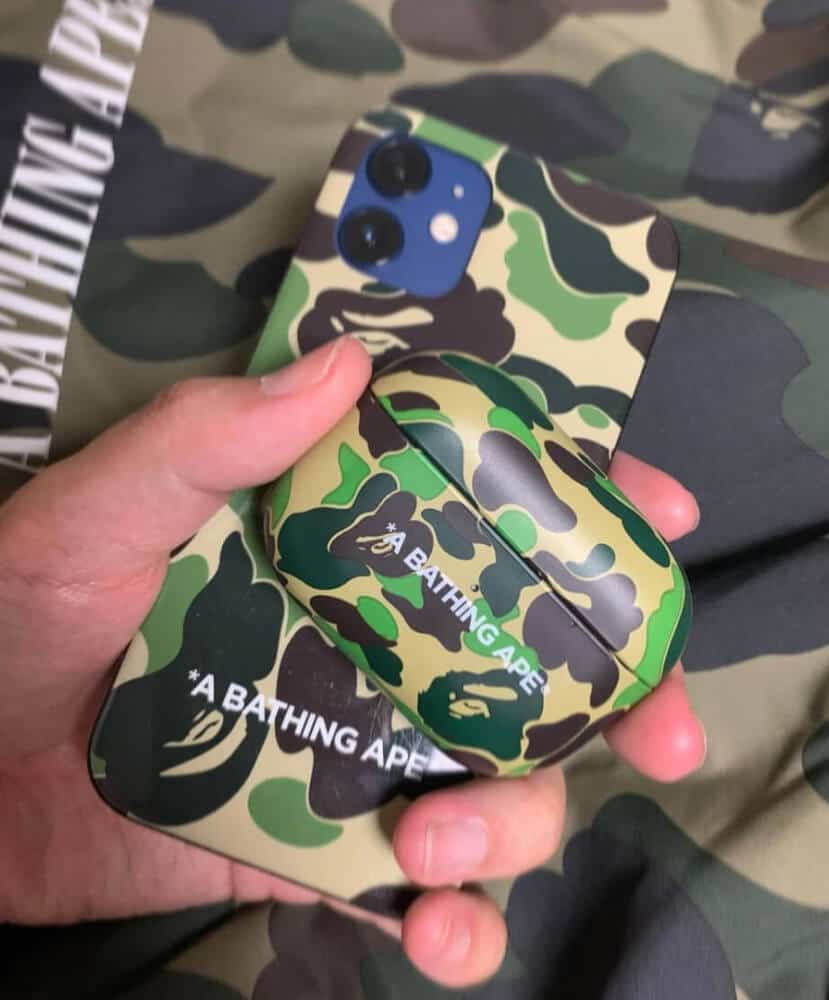 Designs of monkey faces and camouflage prints are not only their USP but also give uniqueness to the entire store. You will find clothes and accessories for everyone here.
It's a big store with ample classic but fun pieces to offer, so you can spend a couple of hours easily here. 
Location: 4 Chome-21-5 Jingumae, Shibuya City, Tokyo 150-0001, Japan
Where to Eat At Urahara, Harajuku
Another one of the best things to do in Urahara is to try out the local eateries and cafe in Urahara.
Enough talking about how cool and trendy Urahara for its unique and punk fashion and styling, there is still more to this hip area, there are plenty of quirky and quaint cafes to satisfy your hunger pangs after an entire day of fun shopping.
Stop For A Chai From British Indian cafe
From Indian chai to English tea and scones, indulgent Indian curries and desserts, and some yummy coffee. This cafe is a must-visit for its colonial interiors and unique blend of menu options. 
Address: 3-27-7 Jingumae, Shibuya-ku
Related: Make sure you try the best 7-Eleven food in Japan. Here's what you should try!
Have A Cuppa At Mojo Coffee in Urahara
Another cafe around the block that also serves as a working place. We love this place for not just its coffee but also its friendly and attentive staff. Great place to meet people from different walks of life and share some heartwarming stories over a cuppa.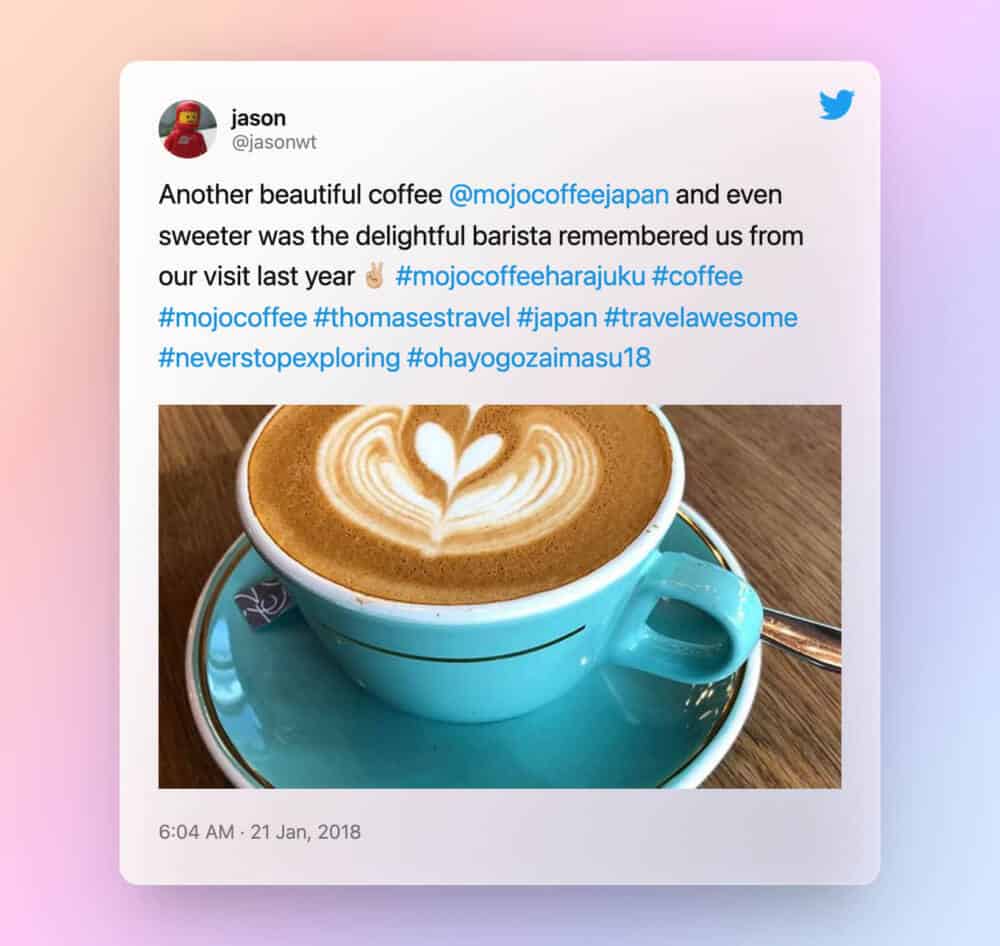 Address: 3-22-15 Jingumae, Shibuya-ku
Enjoy Vegan Food At Kyushu Jangara In Urahara
Fancy some vegan ramen? Urahara has got you covered, with this cozy little joint that seres Hakata-style ramen and has some cool vegan food options as well. The food at this place is absolutely delectable and you just cannot miss coming here.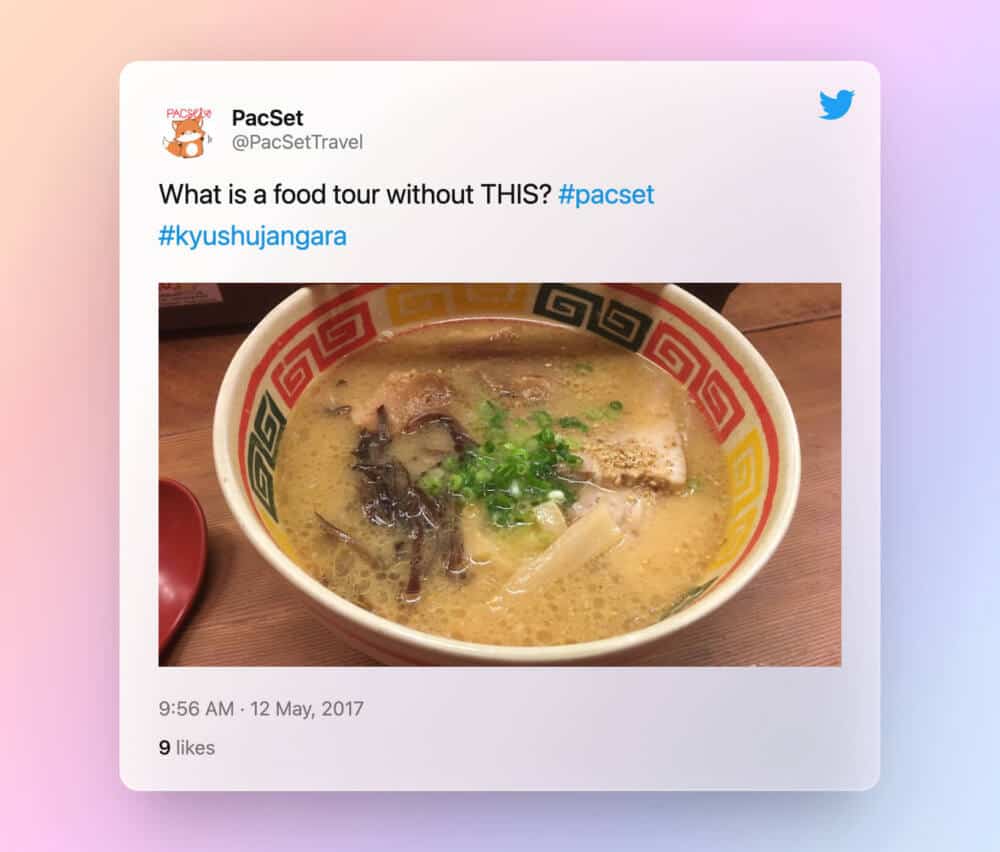 Enjoy The Ambience At Cafe Morinoterasu in Urahara
A nature-inspired cafe, just a small walk from Harajuku station. Even the decor and furniture at this cafe are made from the trees from Meiji Shrine. Indulge in their extensive menu of coffee, snacks, and match and unwind in the lap of nature to rejuvenate your senses. 
Related: Nothing beats Japanese convenience store foods. Check it out here!
Head To The Pie Hole In Urahara For Some Amazing Pie
Known to be the most artisan coffee shop in the neighborhood, pie hole has some great sweet and savory pie and pastries options and their coffee is excellent too.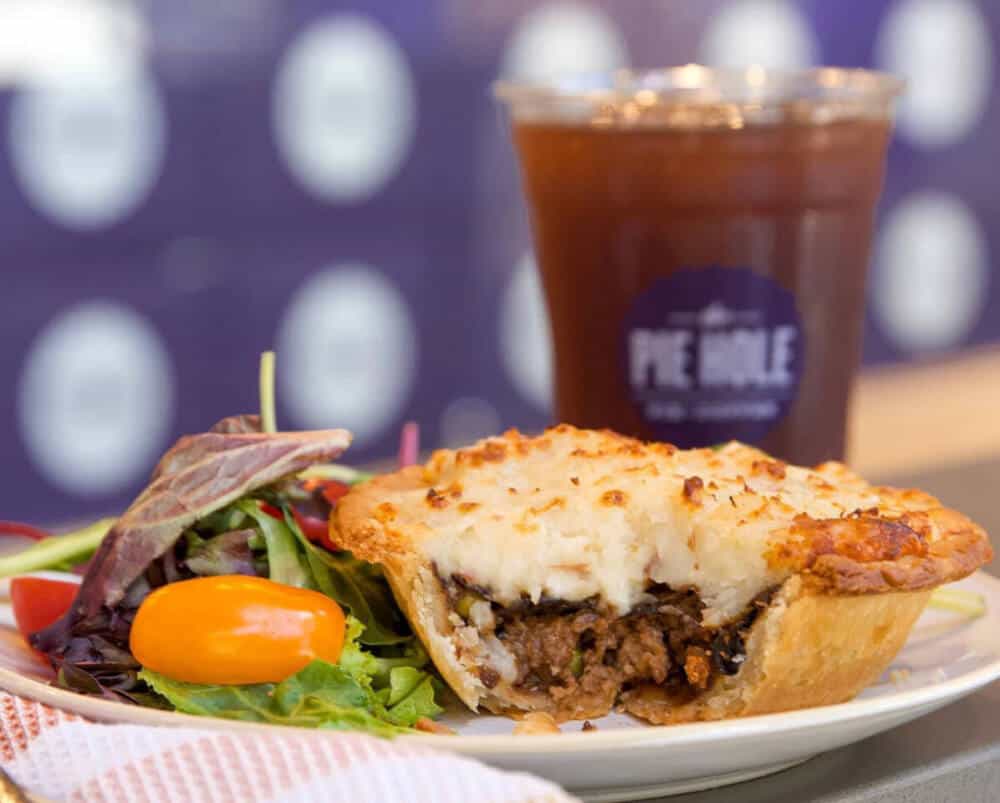 An affordable place to enjoy some food UK food and they also have an all-you-can-eat pie menu too (includes drinks too) makes this place perfect for people on a budget to have an indulgent experience. 
We cannot stop talking enough about things to do in Urahara for all that it has to offer, if you are visiting Tokyo, you must visit these backstreets to enjoy the western blend and unique fashion sense of the city, tucked in the district of Shibuya.
Things to do in Urahar: FAQs
What is Harajuku famous for?
Harajuku is famous for its internationally bold styles and absurd food trends. Harajuku is a must-visit place in Tokyo in most tourists lists and with good reason. The street is filled with unique shops, restaurants, and cafes.
What is Ura Harajuku fashion?
Ura Harajuku also known as Urahara Harajuku literally means hidden Harajuku. Urahara is famous for its absurd fashion stores. In fact, modern day Japanese streetwear fashion took birth in the Urahara streets of harajuku!
Also Read: