Gotemba Premium outlet has 200 international brands and Japanese brands outlets. You'll find upto 70% off on luxury brands at Gotemba Premium Outlet in Japan. Read on to find out more.
Nestled at the foothills of the iconic Mount Fuji, Gotemba Premium Outlet beckons fashion enthusiasts and travelers alike with its unparalleled blend of luxury shopping, traditional aesthetics, and delectable dining.
Beyond its array of over 200 international and Japanese brands offering discounts of up to 70%, this shopping haven offers a cultural journey that extends beyond retail therapy.
Explore how Gotemba Premium Outlet's architectural marvels and lush Japanese gardens intertwine with a culinary landscape that ranges from traditional Japanese fare to global cuisines.
Embark on a captivating exploration of fashion, culture, and flavor in the heart of Japan's retail paradise.
Here's a quick summary with all the important details of Gotemba Premium Outlet: 
| | |
| --- | --- |
| | Details |
| Location | Gotemba Premium Outlet is located in Gotemba, Japan, at the base of Mount Fuji. |
| Address | 1312 Fukasawa, Gotemba, Shizuoka 412-0023, Japan. |
| Operating Hours | – Weekdays: 10:00 AM – 8:00 PM |
| | – Weekends and Holidays: 10:00 AM – 8:00 PM |
| Access from Tokyo | – Direct buses available from Shinjuku Station. |
| | – Train (JR Tokaido Line) to Mishima, then transfer to Tokai Bus. |
| Access from Yokohama | – Train (JR Tokaido Line) to Odawara, then transfer to Hakone Tozan Bus. |
| Discounts | – Discounts on brands range from 30% to 70% off regular prices. |
| Brands | – Over 200 stores, including luxury brands like Gucci, Prada, Louis Vuitton. |
| | – Sportswear brands like Nike, Adidas, Puma. |
| | – Cosmetics brands like Shiseido, SK-II, MAC. |
| Culinary Options | – Traditional Japanese cuisine, international restaurants, cafes. |
| Cultural Elements | – Japanese gardens, traditional architecture blending modernity and heritage. |
| Travel Time from Tokyo | – Direct bus: 2 to 2.5 hours depending on traffic. |
| | – Train and bus: Longer travel time due to transfers. |
| Mount Fuji View | – Breathtaking views of Mount Fuji from various parts of the outlet. |
| Souvenir Shops | – Offers traditional Japanese crafts and products. |
| Languages Spoken | – English may be spoken by staff in most stores and information centers. |
| Currency Accepted | – Japanese Yen (JPY) |
| ATMs | – Available within the outlet for cash withdrawal. |
| Parking | – Ample parking space for both cars and tour buses. |
| Tourist Information | – Information centers provide maps and assistance in multiple languages. |
| Website | – Official website for detailed information: https://www.premiumoutlets.co.jp/en/gotemba/ |
Reasons To Visit Gotemba Premium Outlet In Japan
A Shopper's Paradise With Exclusive International and Local Brands
Gotemba Premium Outlet is a sprawling complex that houses over 200 stores, featuring an extensive collection of international and Japanese luxury brands.
From fashion to accessories, sportswear to cosmetics, the outlet covers an impressive range of shopping categories. Whether one is looking for high-end designer pieces, casual wear, or unique finds, Gotemba has something for everyone.
For those with a taste for high-end fashion, Gotemba Premium Outlet is a haven. International luxury brands grace the shelves of this retail paradise, offering an opportunity to own pieces from renowned fashion houses at a fraction of their original cost.
Brands such as Gucci, Prada, and Louis Vuitton are often among the highlights, showcasing the latest trends and timeless designs.
Imagine strolling through the beautifully designed stores, surrounded by elegance, and discovering that coveted handbag or pair of shoes you've always dreamed of, all while enjoying discounts that can range from 30% to 70%.
Sportswear and Activewear:
Gotemba Premium Outlet caters to the athletic and active crowd as well. Brands like Nike, Adidas, and Puma find a prominent place in the outlet's collection. Whether you're a dedicated runner, a fitness enthusiast, or simply someone who appreciates comfortable and stylish sportswear, the outlet's range of options is bound to impress.
The discounts on sportswear brands allow you to upgrade your workout wardrobe without breaking the bank, ensuring that you're both fashion-forward and performance-ready.
Cosmetics and Beauty Products:
The allure of cosmetics and beauty products is not overlooked at Gotemba Premium Outlet.
Brands like Shiseido, SK-II, and MAC offer a range of skincare, makeup, and beauty essentials. The discounts available on these products make indulging in premium skincare and makeup items an appealing prospect.
Whether you're looking to replenish your skincare routine or experiment with new makeup looks, the outlet's cosmetics section provides ample choices and savings.
The outlet's collection of high-fashion brands like Gucci, Prada, and Louis Vuitton attracts luxury connoisseurs seeking the latest trends and timeless classics.
On the other hand, those with a penchant for sportswear can explore renowned brands such as Nike, Adidas, and Puma, often at discounted prices. This diversity in offerings makes Gotemba Premium Outlet a shopping haven that caters to a broad spectrum of tastes and preferences.
You'll Get Exceptional Deals and Discounts At Gotemba Premium Outlet On Luxury Brands
One of the most compelling reasons to visit Gotemba Premium Outlet is the opportunity to snag remarkable deals on premium brands. The outlet is known for offering discounts ranging from 30% to 70% off the regular retail prices.
This makes it an attractive destination for both budget-conscious shoppers and those looking to indulge in luxury without breaking the bank.
The allure of obtaining high-quality products from well-known brands at a fraction of the cost is a powerful draw, contributing significantly to the outlet's popularity among locals and tourists alike.
To provide a tangible sense of the savings that await visitors at Gotemba Premium Outlet, consider these examples:
Designer Handbags: A Louis Vuitton handbag that might typically retail for ¥100,000 could be found at the outlet for as low as ¥50,000, reflecting a significant 50% discount.
Sportswear Apparel: A pair of Nike running shoes that would usually be priced at ¥15,000 could be purchased for ¥9,000, offering a 40% discount on performance footwear.
Skincare Products: A premium skincare set from Shiseido with a regular price of ¥8,000 might be available for just ¥4,800, representing a 40% discount on skincare essentials.
A Retail Haven with a Breathtaking Backdrop
Located in the scenic town of Gotemba, at the foothills of Mount Fuji, the Gotemba Premium Outlet presents an unparalleled shopping experience.
The majestic Mount Fuji forms a stunning backdrop, providing visitors with a picture-perfect setting that's as much a feast for the eyes as it is for the fashion-conscious soul.
The outlet's design seamlessly blends modernity with traditional Japanese architectural elements, creating an ambiance that is both captivating and serene.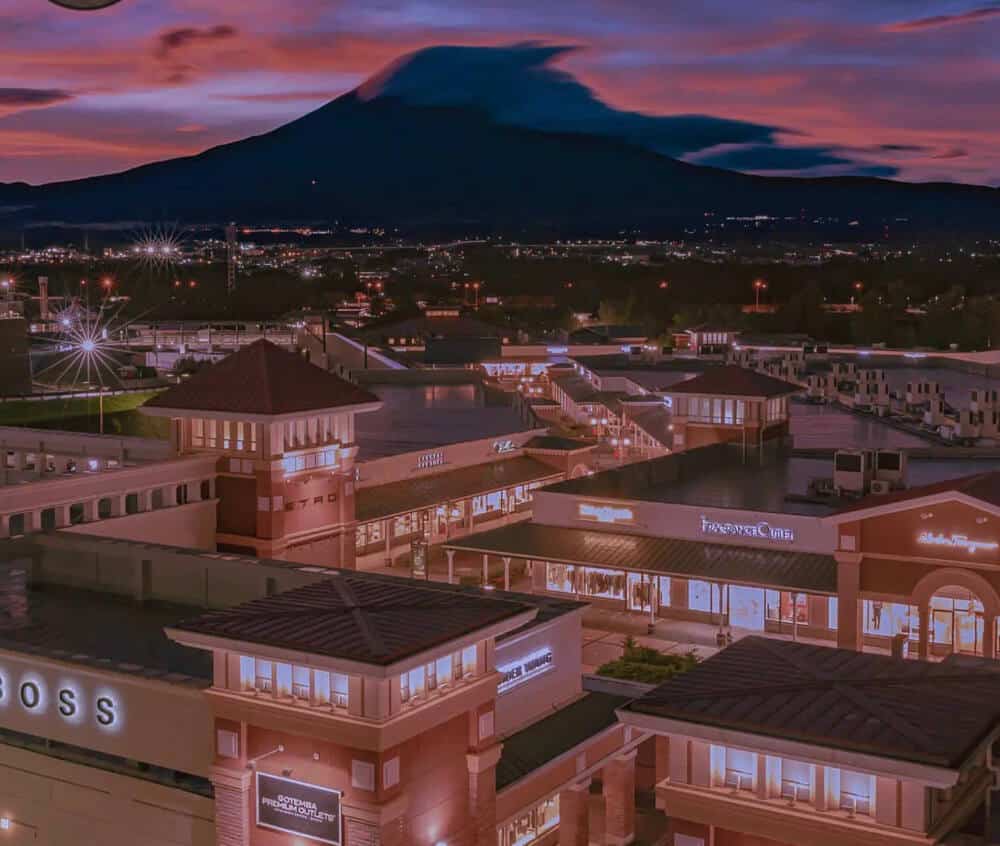 Cultural Experience and Culinary Delights
Shopping at Gotemba Premium Outlet goes beyond retail therapy—it offers a cultural experience as well. The outlet's design and layout incorporate Japanese elements that enhance visitors' sense of immersion in the country's rich heritage.
The Japanese gardens and traditional architecture create a harmonious blend of modern commerce and ancient aesthetics.
Moreover, the outlet boasts a wide range of dining options, from traditional Japanese cuisine to international favorites. This culinary diversity adds another layer to the overall experience, making a visit to Gotemba Premium Outlet a sensory delight.
The architecture of Gotemba Premium Outlet is a fusion of contemporary design and traditional Japanese elements, creating an ambiance that's both visually captivating and culturally enriching.
As you stroll through the open-air walkways, you'll notice the incorporation of wooden structures, water features, and meticulously maintained Japanese gardens.
These elements pay homage to Japan's rich cultural heritage, inviting you to soak in the surroundings while indulging in your shopping spree.

The Japanese gardens within Gotemba Premium Outlet offer moments of tranquility amid the hustle and bustle of shopping. With carefully landscaped ponds, Zen rock arrangements, and carefully pruned flora, these gardens provide a serene escape.
The opportunity to pause, reflect, and appreciate the beauty of nature adds an extra layer of depth to your shopping experience, allowing you to connect with Japanese traditions of harmony and aesthetics.
Beyond its stunning architecture and shopping attractions, Gotemba Premium Outlet is a haven for food enthusiasts. The outlet's dining options cater to diverse tastes, ensuring that your culinary journey is as rewarding as your shopping adventure.
Traditional Japanese Cuisine: Indulge in the flavors of Japan by sampling traditional dishes at the outlet's Japanese restaurants. From sushi and tempura to udon and ramen, these eateries provide an authentic taste of Japan's culinary heritage. Immerse yourself in the art of Japanese dining, savoring each bite while surrounded by an ambiance that mirrors the country's cultural nuances.
International Fare: If you're in the mood for international cuisine, the outlet boasts an array of options. From Italian trattorias to American burger joints, you can explore global flavors without leaving the premises. This diversity reflects the cosmopolitan nature of Japan's modern food scene.
Cafes and Sweet Delights: Don't forget to treat yourself to a moment of relaxation at one of the outlet's charming cafes. Enjoy a cup of aromatic coffee, indulge in delectable pastries, or relish a slice of cake while gazing at the majestic Mount Fuji in the background.
As you shop for fashion and luxury brands, consider exploring the outlets that offer traditional Japanese crafts and products.
These souvenirs are not only a way to take a piece of Japanese culture home with you but also serve as reminders of the cultural immersion you experienced during your visit.
How To Get To Gotemba Premium Outlet?
Gotemba Premium Outlet's strategic location near major cities in Japan makes it easily accessible for both local and international visitors.
Whether you're coming from Tokyo, Yokohama, or another nearby area, various transportation options ensure a convenient journey to this retail haven nestled at the base of Mount Fuji.
Let's explore the routes from different popular locations and the modes of transport you can take to reach Gotemba Premium Outlet.
From Tokyo:
By Bus: One of the most popular and convenient ways to get to Gotemba Premium Outlet from Tokyo is by taking a direct bus.

Buses frequently depart from the bustling Shinjuku Station in Tokyo. The bus journey offers comfort and ease, as you can simply relax and enjoy the scenic views along the way.

The travel time is approximately 2 to 2.5 hours, depending on traffic conditions. Many travel agencies and tour operators offer bus packages that include a round-trip ticket and some additional perks.
By Train and Bus: If you prefer a mix of train and bus travel, you can take the JR Tokaido Line from Tokyo Station to Mishima Station.

From Mishima Station, transfer to the Tokai Bus that will take you directly to Gotemba Premium Outlet. While this option may take a bit longer due to transfers, it offers a chance to experience Japan's efficient and comfortable train system.
From Yokohama:
By Train and Bus: Starting your journey from Yokohama, take the JR Tokaido Line to Odawara Station.

From Odawara, transfer to the Hakone Tozan Bus bound for Gotemba Premium Outlet. This route offers a scenic journey as you pass through picturesque landscapes en route to your shopping destination.
From Narita International Airport:
By Bus: International travelers arriving at Narita International Airport can take direct buses to Gotemba Premium Outlet. These buses provide a seamless connection, making it convenient for those arriving at the airport to reach the outlet directly.
From Haneda International Airport:
By Bus: Similar to Narita Airport, Haneda International Airport also offers direct buses to Gotemba Premium Outlet. These buses ensure a smooth journey for travelers who opt for air travel to reach Japan.
Google Maps Location Of Gotemba Premium Outlet In Japan
Conclusion
Gotemba Premium Outlet is more than just a shopping destination—it's a vibrant hub that brings together fashion, culture, and the allure of discounts in a captivating setting.
Its breathtaking views of Mount Fuji, extensive range of brands, exceptional deals, and cultural immersion make it a compelling choice for those seeking a shopping experience that's both memorable and rewarding.
Whether you're a fashion enthusiast, a bargain hunter, or a curious traveler, Gotemba Premium Outlet promises an adventure that resonates with the heart and soul of Japan's diverse and dynamic spirit.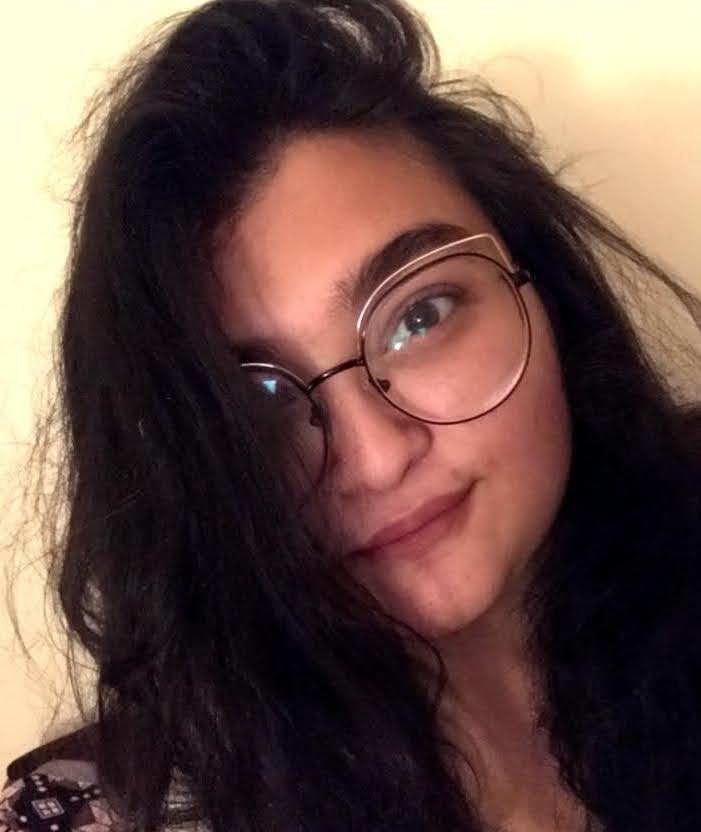 My writing focuses on the various aspects of Japanese lifestyle, from traditional tea ceremonies and flower arrangement to modern fashion trends and pop culture. Through my articles, I aim to share my passion for Japan and provide readers with a glimpse into the rich and diverse world of Japanese culture.
I believe that the key to understanding Japanese lifestyle is to appreciate the balance between tradition and innovation. While Japan has a rich cultural heritage that dates back centuries, it is also a country that is constantly evolving and embracing new ideas and technologies.
Whether you're interested in learning about the latest fashion trends in Tokyo, or want to explore the ancient art of calligraphy, my writing will take you on a journey through the many facets of Japanese lifestyle. So join me as we explore the beauty and complexity of this fascinating culture together!