Convenience stores' food in Japan? – Yum! And, my favorite is 7-11 in Japan. Here's a list of must-try 7 Eleven food in Japan you just cannot miss!
Convenience stores are highly popular in Japan, thanks to the huge array of delicious meals and snacks that are available 24/7. Although convenience stores or konbinis are not known for top-notch gourmet food, you might still be surprised to find nutritious and hearty meals.
With a little exploration of the shelves, you can uncover a wide variety of goodies such as frozen food, sandwiches, rice balls and more.
7 Eleven is one of the major convenience stores in Japan. It has some of the best assortment of meals, snacks, and drinks that are lip-smackingly delicious.
7-11 in Japan provides everything from Bento boxes and rice balls to unique snacks and drinks. You will be surprised to see such a huge variety of assortments at 7 Eleven.
Whether you are looking for a quick lunch or snacks for a movie night, you are sure to find the best here.
Must-Try 7 Eleven Food In Japan
But first, let me answer why you should buy the food from 7/11 in Japan? The reasons and advantages of choosing the popular 7 Eleven convenience store are multifold.
These are the reasons why I love 7 Eleven –
The stores are open 24/7, which means you can drop by even in the middle of the night to find your favorite treats.
A wide range of bento boxes that are perfect for no-cooking days.
Unique snacks that are a delight to the taste buds.
Smoothies and drinks that are a meal in itself.
Healthier options are available in the form of salads that are far from boring.
These were some of the reasons for you to choose 7 Eleven in Japan to satiate your hunger and taste buds.
As there are a ton of products for you to choose from, it can get overwhelming since you would want to pick and try everything you see. So, to eliminate that confusion and get you started on trying the best from this konbini, here are some of the must-try 7 Eleven food in Japan.
Are you ready for a palatable rollercoaster ride? Brace yourselves as this is going to be a ride that is going to burst in flavors in your mouth!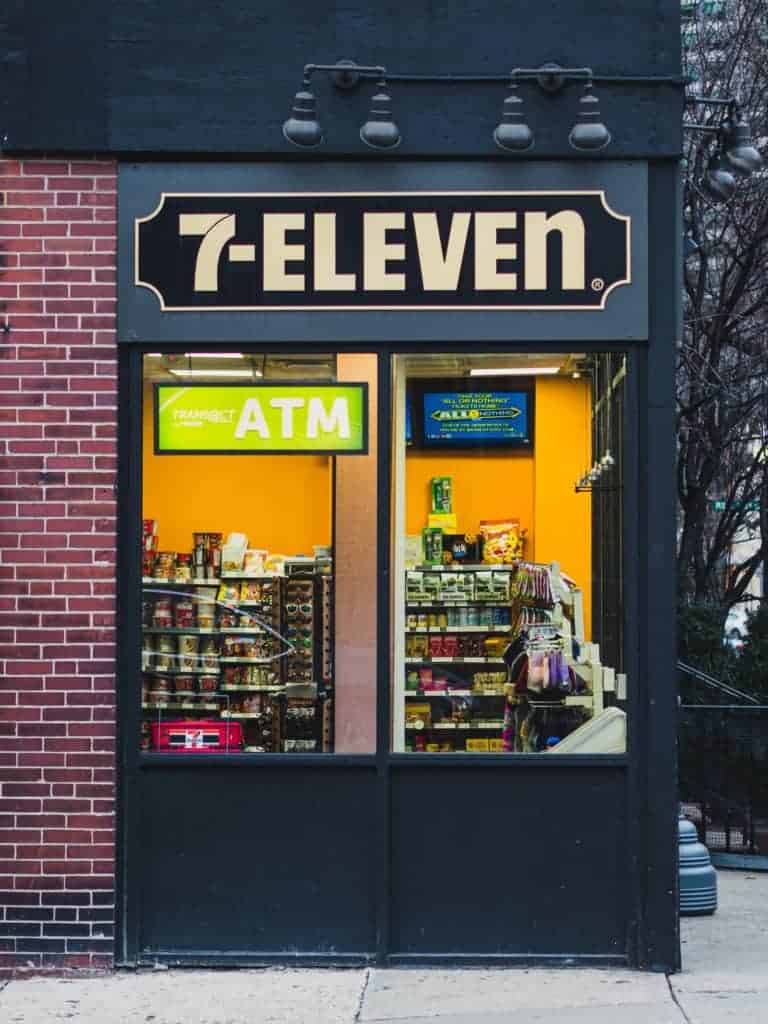 And guess what you buy your favorite 7 Eleven products right here! Amazon has a wide mix of products sold directly by 7 Eleven so you can order it it online from the comfort of your home! Check it out here!
#1 — Special Cherry Blossom Pocky
Who does not know Pocky? It is a favorite sweet snack that is delightful and tasty.
The special pocky from 7 Eleven Japan celebrates the season of cherry blossoms. The special adorable and premium packaging is here for a short duration, so do not hesitate before grabbing a dozen of these.
The savory pretzel is spring colored and is kneaded with burnt butter with refined sakura- flavored chocolate and sprinkled with rock salt. You must definitely try this sweet delight.
Whenever you visit Japan, this treat is a must-try at 7 eleven in Japan. And I'm sure once you taste it, you'll want to take some back with you!
Related: Check out must-try food from other Japanese Convenience stores here!
#2 — Smoked Salmon and Cream Cheese Sandwich – Best 7 Eleven Snack
You must try this 7-eleven food in Japan! Priced at 345 yen or USD 3.22 (including tax), the smoked salmon and cream cheese sandwich is a delectable combination that plays magic on your taste buds.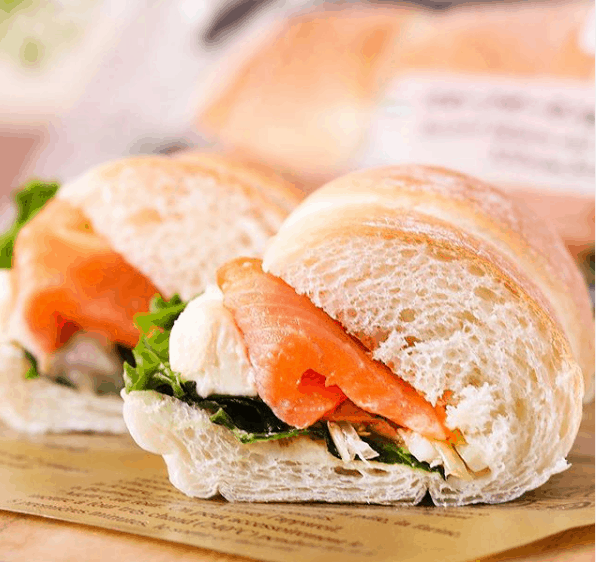 The delicious smoked salmon is mixed with vegetables and cream cheese offering a texture so good, you will soon be reaching out for round two.
The salmon is fatty and smoked and the cream cheese has a mild sourness to it. These are mixed with the freshness of the vegetables and sandwiched between the semi-hard roll of bread adding to the texture. The sandwich is perfect for breakfast as well as lunch.
This is one of the best-selling 7/11 snacks in Japan and you must definitely give it a try!
#3 — Japan 7-11 Onigiri – Five Grain Onigiri
One of the staples that you can find at the 7 Eleven convenience stores is Onigiri, which literally translates to rice balls. This 711 Onigiri is not a regular rice ball though.
They have different varieties and fillings that make them a complete meal. You can choose onigiris for all three meals of the day, depending on the filling inside.

This five-grain onigiri 7-11 has a taste of kelp; it is cooked in two stages and is finished with ginger that adds a fresh taste to the rice ball.
The refreshing fragrance and the lovely taste of golden ginger are mixed with healthy millet rice to give you not just great flavors, but also nutrition.
Priced at 124 yen or USD 1.16 (including tax), it makes for a filling meal.
#4 – Seafood Pasta – Best 7-11 Dinner Meal
Do you love seafood and pasta? 7 Eleven brings you a combination of these two delicious delicacies. The seafood pasta is one of the most delectable dishes available at 7 Eleven. And it's best dinner meal to have at 7-11 in Japan!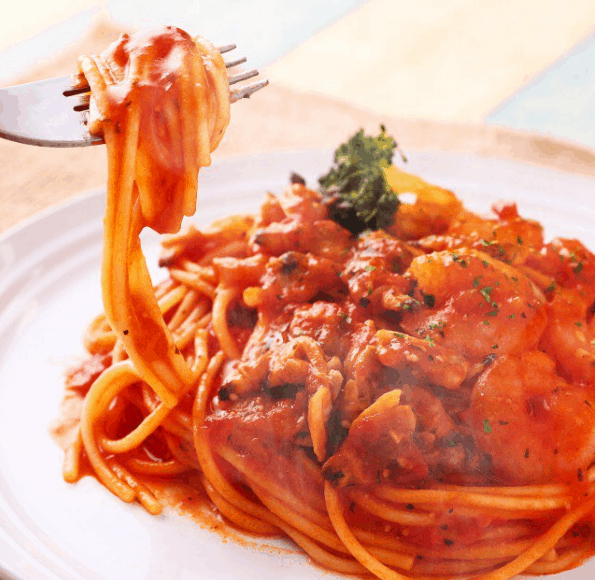 The pasta is drenched deliciously in seafood flavor that gives it a distinctive taste. Seafood such as shrimps and clams are used to make this pasta. It is appetizing and is great for dinners with drinks. You must definitely try this pasta at least once.
If you love seafood then this pasta should definitely go down in your list of must-try 7 eleven food in Japan! 
Related: While in Japan, don't miss out on the Japanese Izakaya experience- here's a guide!
#5 — Super Spicy Fried Noodles
Noodles are a huge part of Japanese cuisine and you will find 7 Eleven well-stocked with different kinds and flavors of the noodles.
From rich curry to seafood flavor, there is just no limit to the wonderful combinations that can be made with noodles.
Priced at 235 yen or USD 2.19 (including tax), these super spicy fried noodles is a must-try 7 eleven food in Japan. It is made with miso, chili, garlic sauce, and sticky thick noodles.
The wonderful combination of these ingredients makes it an addictive dish that will have you running for more.
#6 — Classic Matcha Cake with Dorayaki Dough – Best-selling 7 11 Snacks In Japan
Priced at 275 yen or USD 2.56 (including tax), the classic matcha cake is a luxurious treat that will have you licking your lips. It cannot get better than this when it comes to perfecting a sweet made of famous matcha.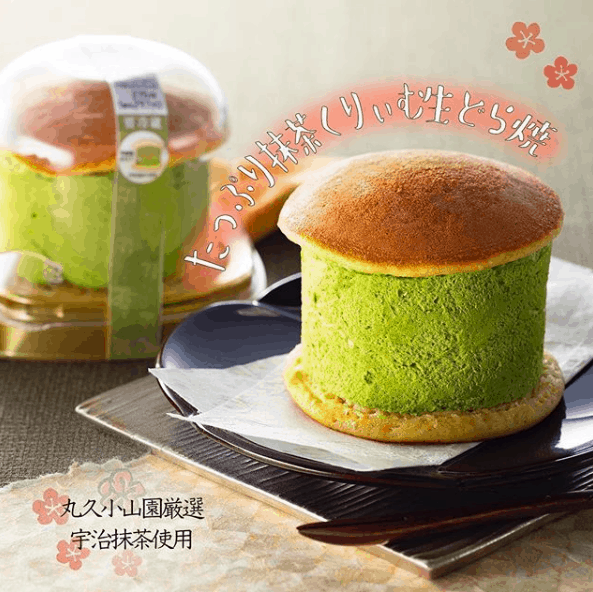 It looks like a Japanese variant of an ice cream sandwich, only better. The dorayaki dough is made like a pancake and the matcha cream is sandwiched between two of these doughs.
The rich and flavorful taste will have you addicted in no time.
Believe me, you'll love this one so put it on your list of must-try 7 eleven food in Japan!
#7 — Seven-Flavors Special Icecream – Best 7 11 Japan Ice-cream
We all love icecreams, especially during those scorching summer days. However, I am sure none of us have ever had ice cream as unique as this one from 7 Eleven.
What is so special about this 7 11 ice cream in Japan, you may ask? Apart from having an adorable package and look, it has the special taste and flavor of seven kinds of fruits, including grapes, apple, and strawberries.
You must try this 7 11 Japan ice cream – it's unique and tastes absolutely delicious!
#8 — Matcha Cheesecake – Must-try 7 Eleven Food In Japan
You must have had several varieties of cheesecakes in your life, however, the Matcha cheesecake available at 7 Eleven is truly unique and flavorful. It adds a nice twist to a classic cheesecake. The matcha flavor is subtle and adds a brilliant flavor to your taste buds. Try it today to know the delights of it.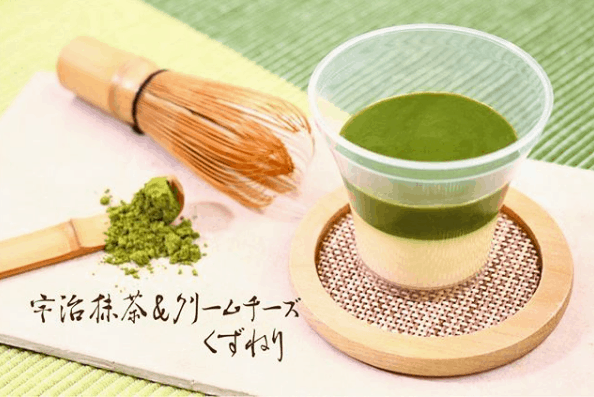 Don't leave Japan without trying this matcha cheesecake at 7-11 in Japan!
#9 — Sakura Cream Rice Cake
Spring in Japan is incomplete without sakura or cherry blossoms. The country bathes on the subtle hues and fragrant aroma of sakura. But why limit yourselves to only that? 7 Eleven brings a tasty spring treat that lets you truly enjoy the cherry blossom season.
While this is not a marshmallow, it has the texture and softness of one. Priced at 129 yen or USD 1.20 (including tax), this eclectic Japanese rice cake sweet looks adorable and tastes delicious with sakura cream in it. The fluffy texture will make you an instant fan.
This is one of my favorites and definitely a must-try 7 eleven food in Japan!
#10 — Apple Ice Bar
Have you ever had an ice bar (popsicle) that is apple-flavored? Probably not! However, with Seven Premium, you can enjoy the taste of frozen apples in a bar. This unique creation deserves a try for its dense texture of frozen apples.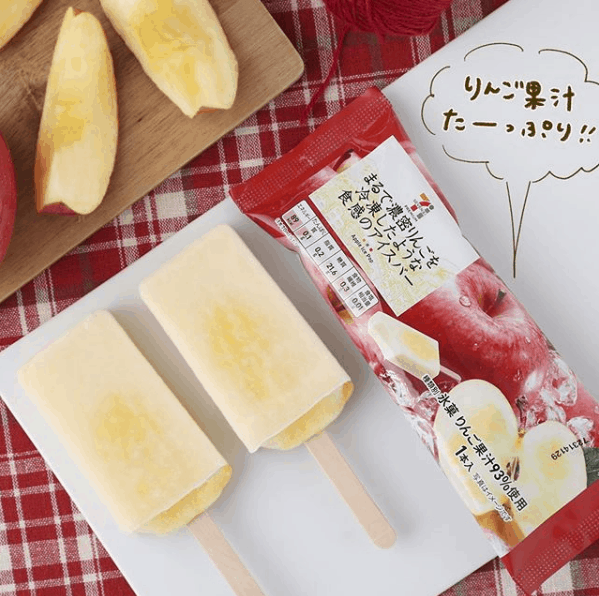 The bar uses 93 percent apple juice to give it a rich taste of apples that is priced at 138 yen or USD 1.29 (including tax).
This is one of my favorite desserts to have after a 7-11 dinner meal! You must try this 7-eleven food in Japan!
#11 — Bento Box – Complete 7-11 Dinner Meal!
Bento is a complete meal in itself. It has everything that is needed to offer great taste and nutrition. On days when you forget to bring your lunch or when you do not feel like cooking, a bento becomes your savior.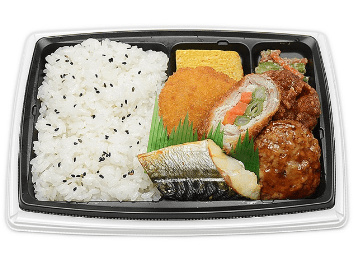 7 Eleven has a wide range of options available that are absolutely flavorsome. One of their most popular bento boxes is the Makunouchi Bento box.
Priced at 464 yen or USD 4.32 (tax included), this bento box is definitely a must-try 7 eleven food in Japan. It has some super delicious side dishes that do not just make the meal attractive, but also lip-smacking. You must definitely try out this bento box from 7 Eleven.
#12 — Tuna and Egg Salad
7 Eleven also has a ton of healthy options for those who want lighter days. Their salad option is extensive. The tuna and egg salad is a must-try.
You get the goodness of tuna and a boiled egg with boiled corn and vegetables to give you a wholesome meal. It tastes best with your favorite dressing. It is priced at 205 yen or USD 1.91 (including tax).
#13 — Oden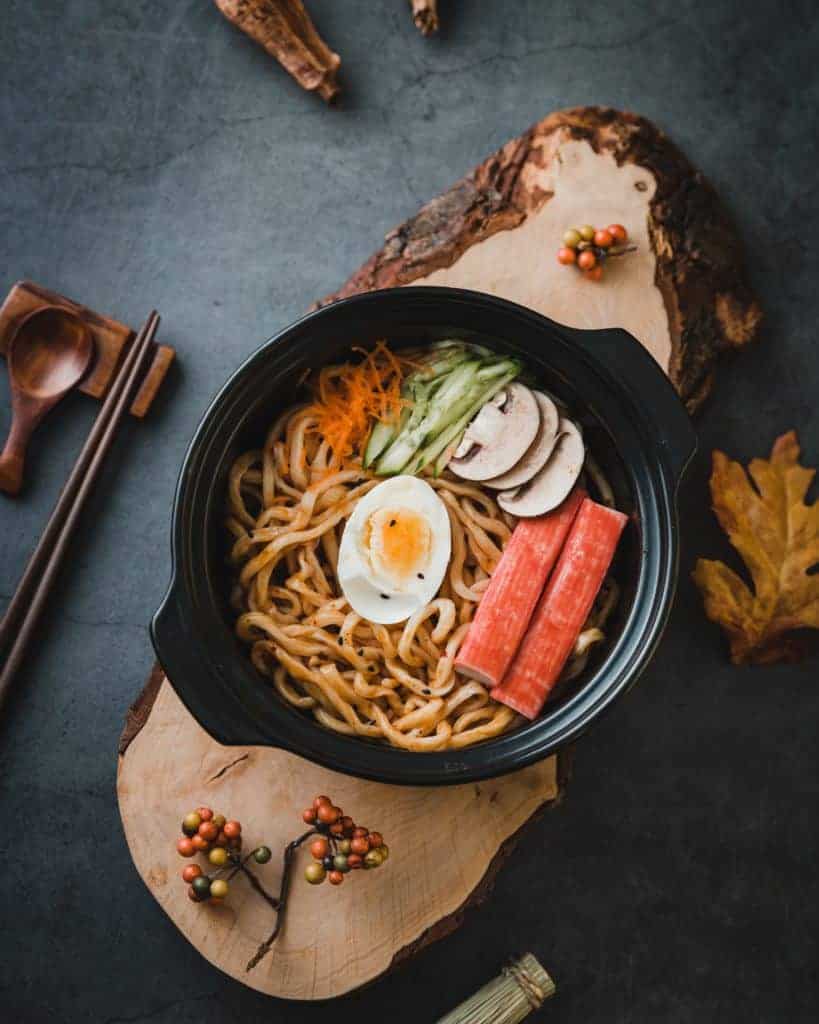 Oden is a Japanese classic. It's a stew that's filled with daikon, boiled eggs, konjac, and fishcakes. Think of it as a traditional Japanese version of chicken noodle soup. The best thing about 7-11 Oden in Japan is that you can mix and match the Oden ingredients that are available on the 7/11 counter. Typically, Oden is served only during the colder months in Japan so that's September to April. 
#14 — Ham Sandwich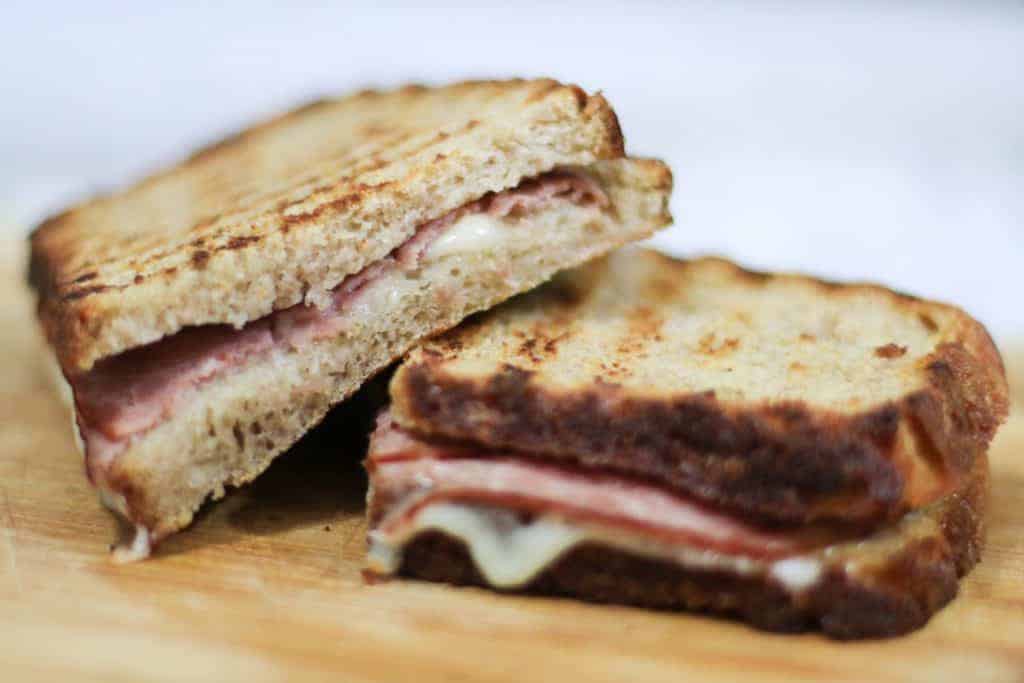 This one is an absolute favorite at Japanese 7-eleven. This ham sandwich is so juicy and so so yummy! A special kind of pork is used and the mayo spread is infused with Japanese mustard which gives it an amazon flavor! And the bread is super fluffy and soft. The sandwich also has cucumbers in it that gives the sandwich a crunch! This is definitely a must-try 7-eleven food in Japan!
#15 — Beef Curry Udon Noodles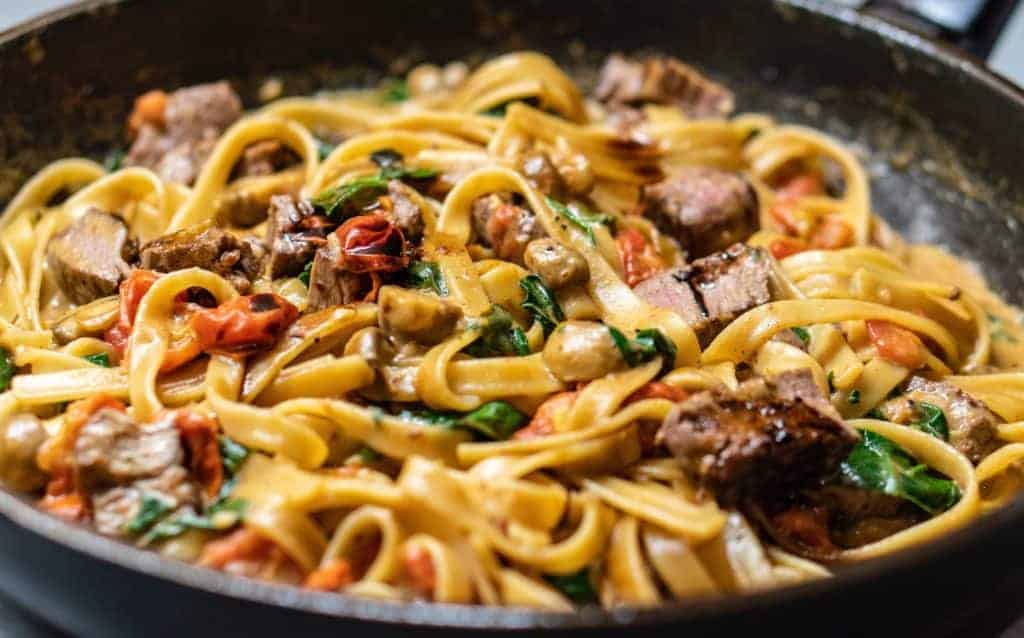 Once heated up, this bowl of udon noodles with beef curry smells heavenly! This is basically Japanese curry poured over Udon noodles. The texture of the noodle soup is nice and thick. The beef curry goes amazingly well with the Udon noodles. And it tastes so fresh that it doesn't feel like a convenience store food at all and more like restaurant grade Udon noodles!
What should you get at 7-11 In Japan?
Must-try 7 eleven food in Japan – Top 3
Japan 7-11 Onigiri
Classic Matcha Cake with Dorayaki Dough
Bento Box
So these were some of the must-try 7 eleven food in Japan that are absolutely lip-smacking. The next time you visit Japan, do not forget to step inside 7 Eleven and try out all these food items for an unforgettable culinary experience! You can also buy these products at 7 eleven's Amazon store. Check it out here!
Also Read: