Convenience Stores are an irreplaceable part of daily life in Japan. And here's a list of some of the best Japanese convenience store food you should definitely check out!
These stores sell every type of meals and snacks and are literally convenient.
My favorite thing about Japanese convenience stores is that they are located all over the country and can be easily accessed.
Japanese Convenience food Stores offer everything we need and whenever we need it. You can get bento boxes, cup noodles, sushi, sweet treats, seating space, and much more at these convenience stores.
There are several convenience stores in Japan. The most famous Japanese convenience store food are 7-Eleven, Lawson, and Family Mart.
Best Japanese Konbini Store Food In Japan
| | |
| --- | --- |
| Popular Convenience Store in Japan | Best Japanese Convenience Store Foods |
| 7-Eleven Japanese Convenience Store Foods | Fluffy Mint Chocolate Rice Cake |
| | Oden |
| | Bento Boxes |
| Lawson Japan Japanese Convenience Store Foods | Uchi Cafe Sweets Caramel Ice Cream Sandwich |
| | Kara-age Kun Regular |
| | Akuma no Onigiri |
| | Green Smoothie |
| Family Mart Japanese Convenience Store Food | Chocolate Parfait |
| | Zakutto Rayu |
| | Wafu Tuna Mayonnaise |
| | Famichiki |
First, let me tell you why you should try best Japanese convenience store food!
The meals available at the convenience stores are perfect for busy workers.
The variety of meals available such as bento boxes, ramen, sandwiches, steamed chicken, and more are available at these stores.
The food does not consist of only junk items; there are also healthy options available such as salads and steamed chicken.
The dishes are continuously improving and taste excellent, just like fresh food from restaurants
Buying lunch from these convenience stores is cost-effective. The food is available at affordable rates
It also saves time if you are running late or are in a hurry.
Japanese convenience stores are the best place to grab a quick bite on the go. It is also quite fun to mix and match food items at these stores.
In this article, I am bringing to you the delicious delicacies of some of the top Japanese convenience store food! Without further ado, let us look at the best Japanese Convenience Store Food.
Best 7-11 Japan Food Products
Check out the best products of 7-eleven on Amazon. Click here to get it!
Fluffy Mint Chocolate Rice Cake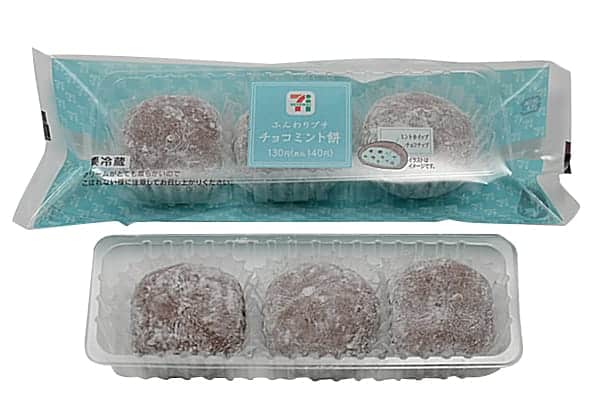 The Fluffy Mint Chocolate Rice Cakes from 7/11 are petite rice cakes made out of mint whipped cream, chocolate chips, and cocoa. If you are lovers of Rice Cake and sweetness, you must try out this rice cake. It offers the most unusual combination that melts in your mouth and makes you want more of it.
Oden
Oden is a popular meal during the colder days. Every winter, you will catch a whiff of this warm and delicious dish that will tantalize you to try everything.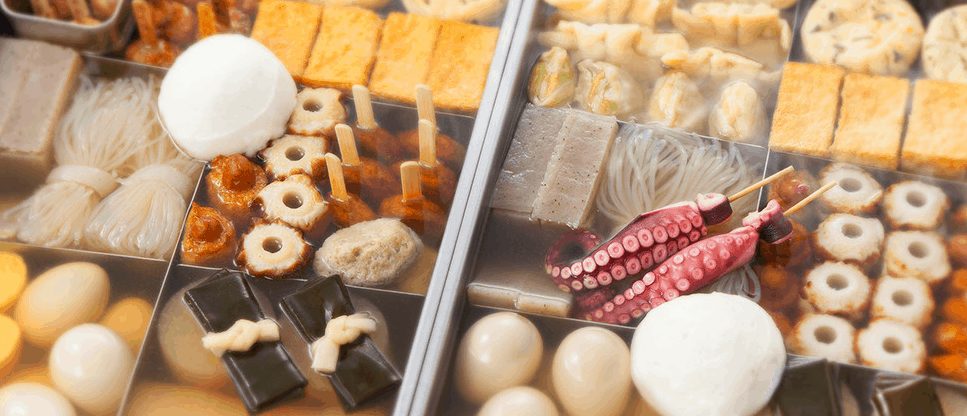 What is Oden? If you are unfamiliar with this delicacy, it is never too late to start. Oden is a combination of vegetables, fishcakes, Konjac, boiled egg, Konjac noodles, and other wholesome items that are cooked in a soy-based broth. The items become soft and savory after cooking with the broth.
The Oden counter is right next to the cash register. The convenience store employee will help you get your bowl of the delicious Oden, so make sure that you tell him or her exactly what you want.
Every item that you want will be out in a bowl and topped with a tasty and hot soup. It helps warm you up on a cold, winter day. What more? It is quite healthy. You must definitely try this!
Bento Boxes
Seven-Eleven has a wide variety of Bento boxes that are perfect for days when you are running late. Thanks to convenience stores, our days become easier and healthier.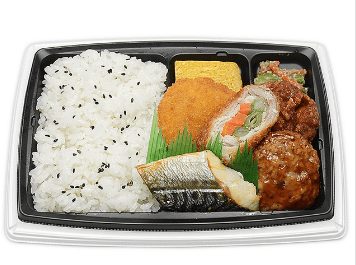 When you are running late for office and need a quick lunch, the bento boxes from 7/11 will save you. Also, on days when you reach home and are too tired to cook, a bento box will fill you up, while also being very healthy for you.
7/11 has several varieties of Bento boxes including the popular makunouchi bento box, which has an assortment of delicious side dishes.
This bento box will satiate your hunger and satisfy your cravings. There are also other popular varieties such as an Okayodon rice bowl with exclusive broiled chicken.
Smoked Salmon and Cream Cheese Sandwich
This delicious smoked salmon is mixed with vegetables and cream cheese offering a texture so good, you will soon be reaching out for round two.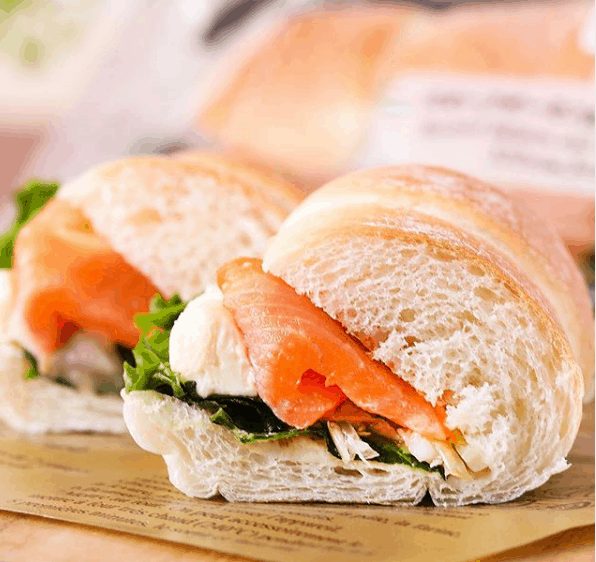 The salmon is fatty and smoked and the cream cheese has a mild sourness to it. These are mixed with the freshness of the vegetables and sandwiched between the semi-hard roll of bread adding to the texture. The sandwich is perfect for breakfast as well as lunch.
Definitely one best Japanese convenience store foods to try!
Love these 7-11 products? Click here to get them all online!
Related: Here are more tasty snacks and food you have to try at 7-eleven Japan!
Lawson Japan Convenience Store Food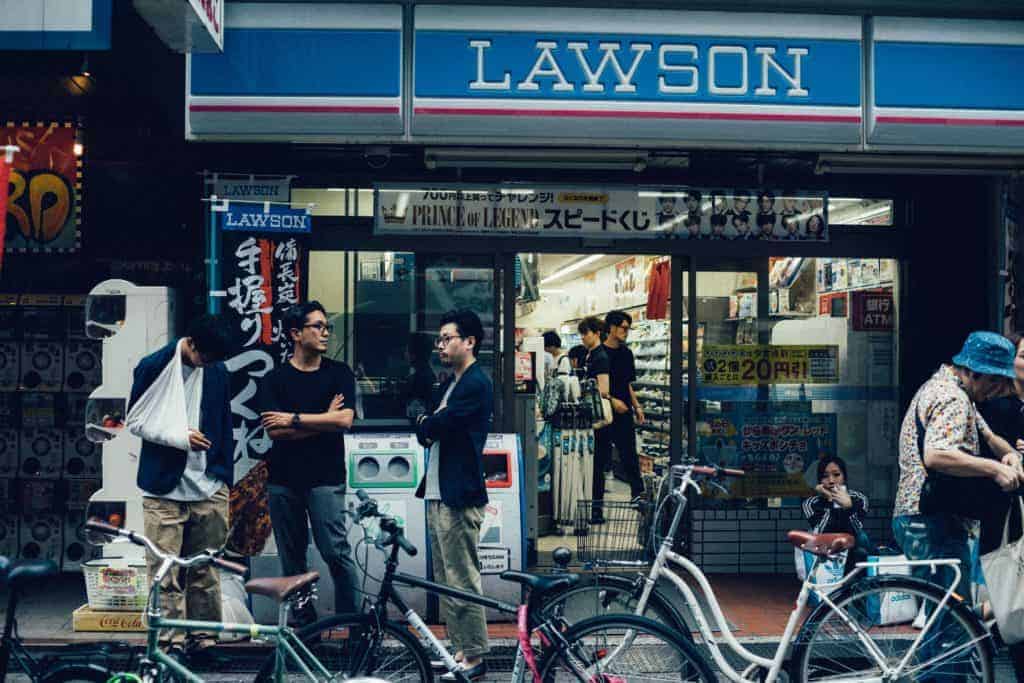 Uchi Cafe Sweets Caramel Ice Cream Sandwich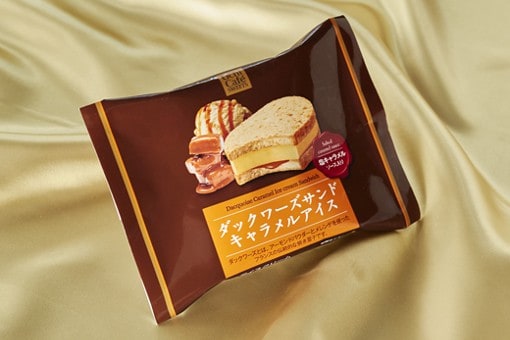 The Caramel Ice Cream Sandwich from Lawsons' very own Uchi Cafe is a special dessert made of two types of caramel paste. The combination of sweet and bitter caramel paste mixed with a tinge of salted caramel adds to the exquisite taste of the ice cream sandwich. Sandwiching the caramel between biscuits adds an extra layer of the texture to the dessert.
Fried Karaage
One of the items you must not miss at Lawson is the Kara-age Kun Regular. These hot snacks are deep-fried chicken nuggets.
Apart from the delicious taste of these fried chickens, what makes it attractive is its adorable box with a rooster's face on it.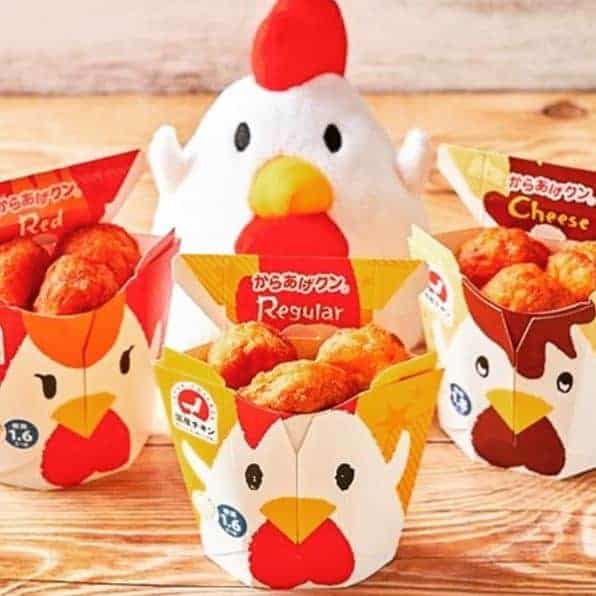 The fried chicken first came out in 1986 and has become a popular snacking option.
You might think that these fried chicken nuggets are junk, however, they are known as low-carb snacks. The nuggets are mainly made using chicken breasts.
The standard flavors are regular, spicy, and cheesy. But, you can occasionally find limited-edition flavors.
Onigiri
The Akuma no Onigiri is one of the most popular rice balls at Lawson convenience stores. The Akuno no Onigiri, or Devil's Rice Balls, was launched in October 2018 and it became an instant hit. Within the first 45 days, Lawson sold about 10 million of these rice balls.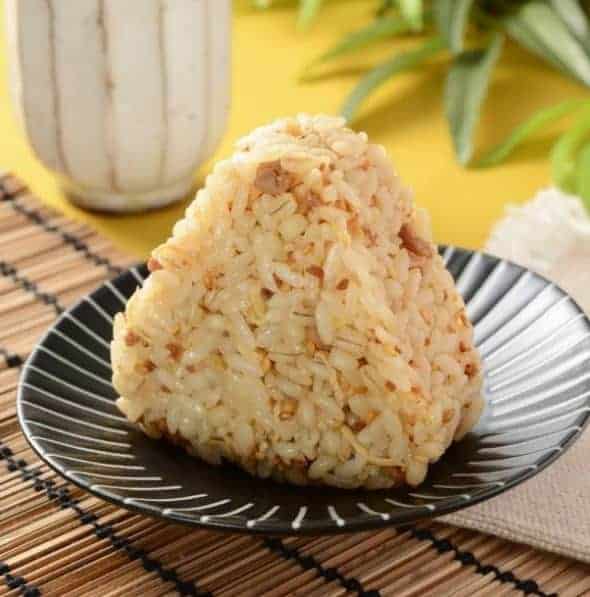 The rice ball features various ingredients providing the perfect balance of taste and flavor. Brown rice is cooked with flavorsome broth, tempura flakes, and dried green seaweed. The combination tempts you and makes you an instant fan.
Green Smoothie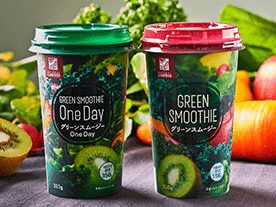 The Lawson smoothie series has several great-tasting smoothies such as the Green Smoothie, Purple Smoothie Maqui Berries, and other delicious variations.
Ever since its launch, Green Smoothie has sold over 42 million items, making it one of their most popular items. Lawson's Green Smoothie came out in 2015 as a complete meal that loads you with every nutrient that you need. It packs the goodness of various vegetables to provide you with a rich smoothie that tastes great and is also good for your health. It instantly became a hit among Japanese people when it first came out.
Related: MUJI is another store you have to check out in Japan. Check out the best MUJI products here!
Best Family Mart Japan Convenience Store Food And Snacks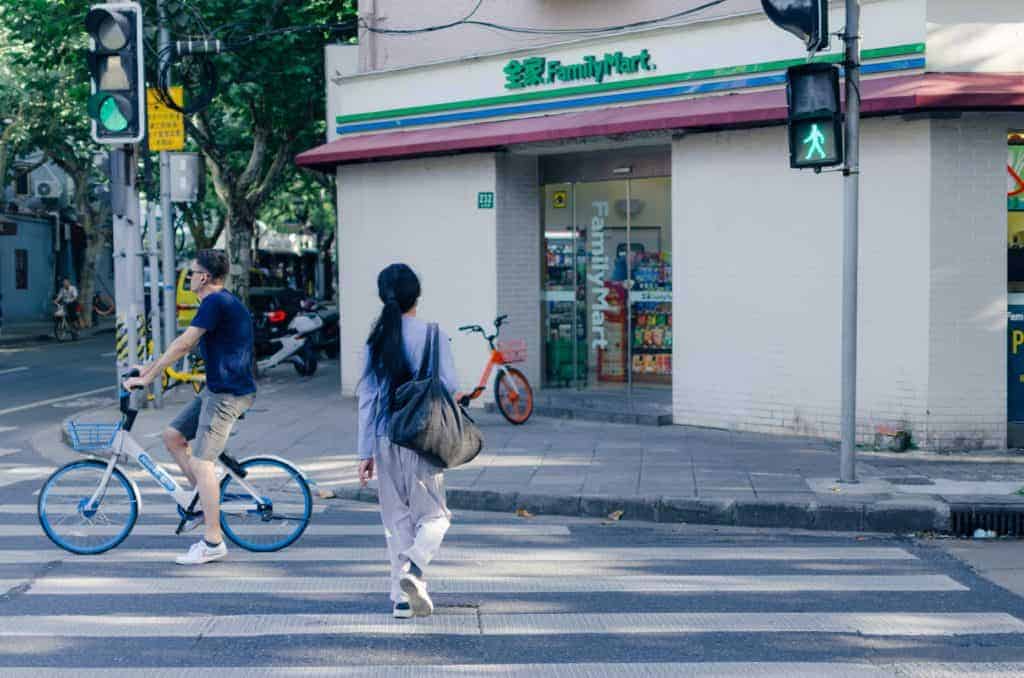 Chocolate Parfait
The Chocolate Parfait from Family Mart first came out in 2015 as a part of a collaboration with Tokyo's popular sweet shop, Ken's Cafe. When it first hit the stores, people were surprised to see that convenience store sweets could be so good!
This chocolate parfait is a perfect combination of chocolate and caramel. The multilayered parfaits are individually handmade, and the chocolates are from the famed chocolatier, Cao's Chocolates.
Zakutto Rayu
Zakutto Rayu or Chili Oil onigiri by Family Mart is a favorite amongst lovers of Onigiri. It has been in people's hearts ever since it made its debut.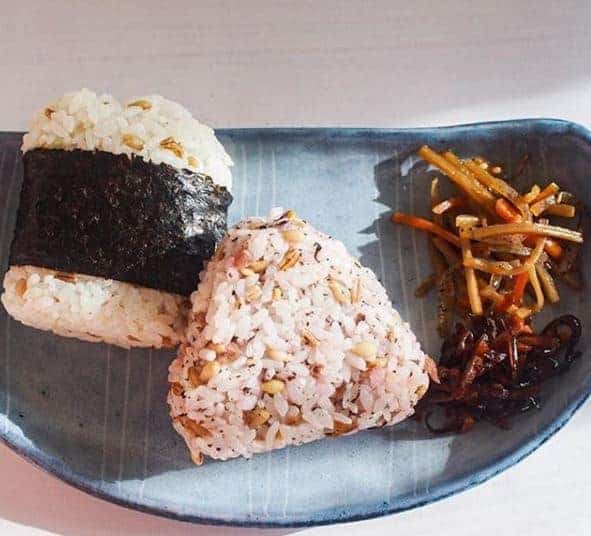 The onigiri surpasses excellence in taste. It is filled with chopped onion and garlic. It is then seasoned with mild chili oil that gives this onigiri its distinctive taste.
You will reach food heaven right from your first bite. The compelling taste of crispy seaweed, soft rice, and crunchy fillings will burst in your mouth and make you a fan.
Wafu Tuna Mayonnaise
Onigiri (Rice Balls) are a favorite convenience store food. Onigiri comes in all shapes and flavors, making it not only delicious but also fun to try out all the different flavors.
The Wafu Tuna Mayonnaise is a seasoned rice ball that is wrapped with soft seaweed. The inside of the onigiri is filled with tuna mayonnaise, giving it a characteristic taste. Apart from this, the rice itself is flavorful. It is seasoned with Japanese broth, bonito flakes, and seaweed.
Famichiki
You cannot miss out on the hot snacks counter when you visit Family Mart. It is positioned right next to the cash register.
The Famichiki is one of the best snacks available at this convenience store. Famichiki is an innovative name that is short for FamilyMart Chicken.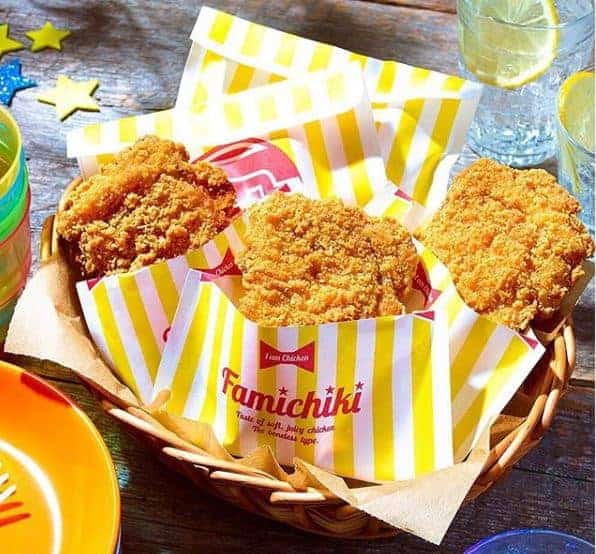 It is a boneless chicken thigh that is perfectly seasoned. Every bite of the chicken bursts with delicious flavors and juices that you will savor.
Apart from the original flavor, you can also find other variations such as salt lemon and spicy. Family Mart also occasionally brings out limited-edition flavors.
Japanese Convenience Stores: FAQs
What's there at Japanese convenience stores to eat?
You get a variety of meals at Japanese convenience stores. From a hearty breakfast to dinner – you get to choose from many options like – bento boxes, convenience store sushi, onigiri, sandwiches, and more.
What can I buy at 711 in Japan?
At 7-eleven in Japan, there are several meals you could try. Some of 7-11 most famous food are Fluffy Mint Chocolate Rice Cake, Oden, and bento boxes – absolutely delicious!
What is there to eat in Lawson Japan?
The most popular eatables at Lawson Japan are: Uchi Cafe Sweets, Caramel Ice Cream Sandwich, Kara-age Kun Regular, Akuma no Onigiri
Do Japanese convenience stores have good food?
Convenience stores in Japan like 7-eleven, Lawson, Family Mart serve delicious snacks and meals at an affordable price. Japanese convenience store are a great option to grab a quick meal for those who are always on the go!
Once you get used to the idea of a convenience store, you wouldn't want to stay away from it. It is one of the best parts of Japan.
The first thing that makes convenience stores so popular is because it is open 24/7. No matter what time of the day (or night) it is, you will always find your comfort food at the convenience stores.
You are always open to your favorite meals, snacks, and other delicious varieties offered by convenience stores. Conbini (convenience stores) make your life so much easier.
"Yumming" away at Japanese Convenience Store Food
In this article, you saw the three major convenience stores in Japan that are each unique in their own way.
You must try out their popular dishes to have a foodgasm like never before. And that's not it! There are so many other food products and meals to explore in these convenience stores!
Are you ready to enjoy the deliciousness?