Are you looking for a place in Tokyo to spend a few nights away from the hustle and bustle? Check out these best capsule hotels in Tokyo!
Not only are these hotels unique, but they also understand your need to rewind, relax, and get some personal space.
Capsule hotels have upgraded drastically from what they used to be and now provide every amenity and care that you need.
The unique and cozy pods give you an experience like none other, and that too without burning a hole in your pocket.
9H Kitashinjuku
Best Co-ed Capsule Hotel In Tokyo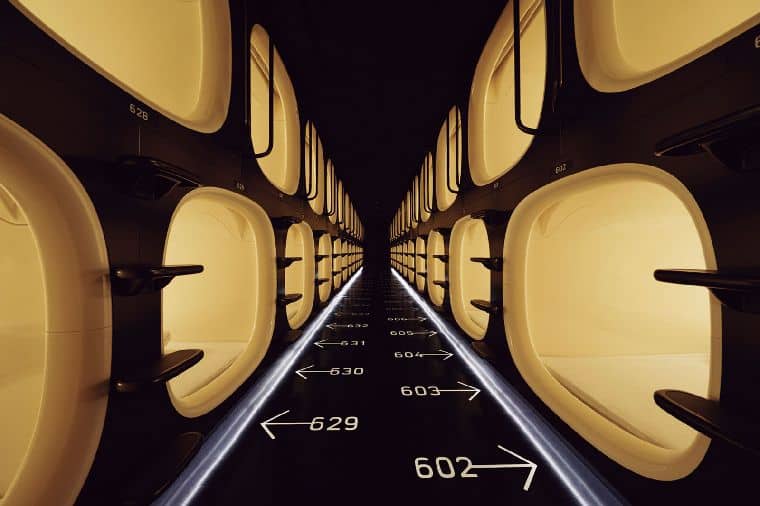 The Kitashinjuku is one of the best capsule hotels in Tokyo that gives the feel of a spaceship, thanks to its alien-like design.
The 9H in the name of the hotel has its own meaning. It showcases the amalgamation of time taken for three essential things in our life – 1 hour to bathe, 7 hours to sleep, and 1 hour to get ready.
This clearly states the function of the hotel and what people can expect.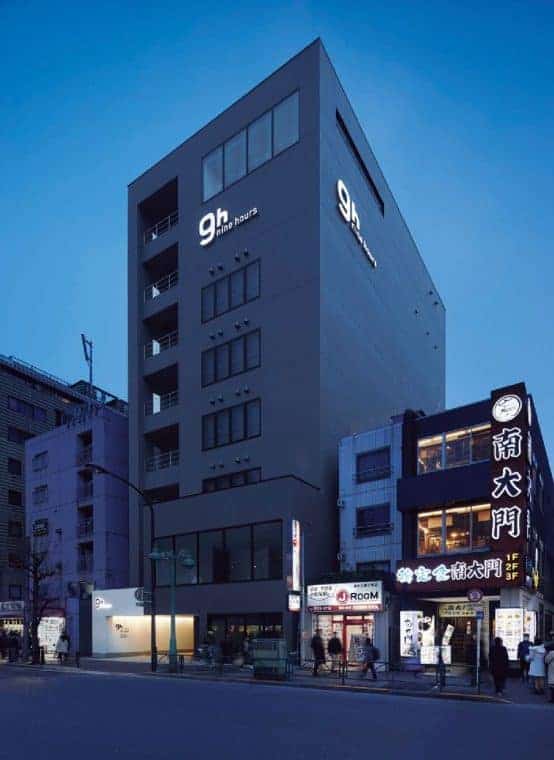 9H also offers nap stays which are for an 8 hour time period and costs about 1000 yen. Apart from that, if you have work to do, then you can rent one of their work desks for 300 yen.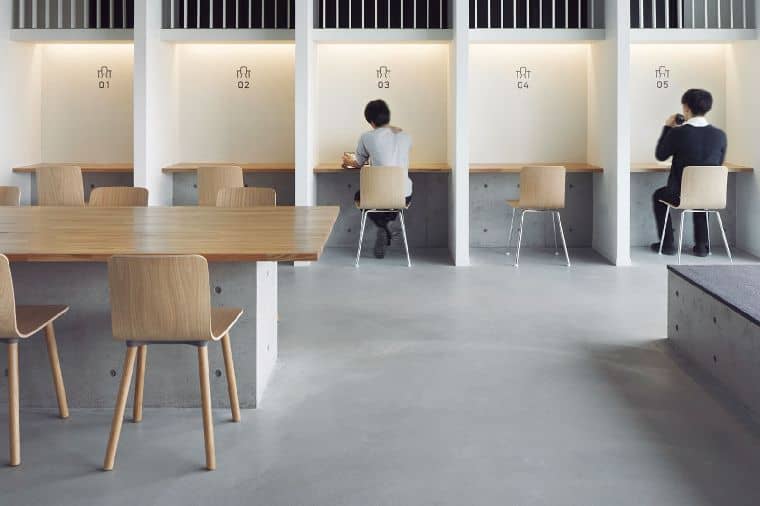 After checking-in, customers have access to their own locker rooms and can change to the special 9H clothing.
Anshin Oyado Ogikubo
5-star Capsule Hotel In Tokyo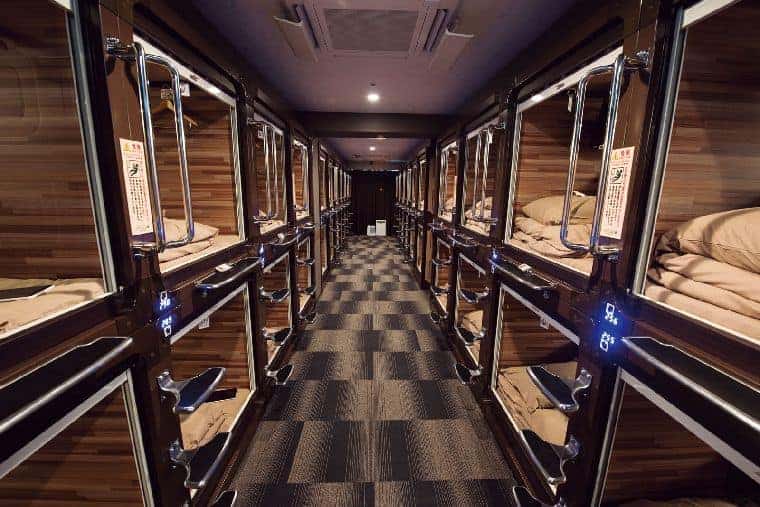 The first thing that comes to mind when we talk about Anshin Oyado Ogikubo is the hot spring baths that are open throughout the day. Which is also why this hotel is in this list of best capsule hotels in Tokyo.
For breakfast, you get a complimentary curry buffet. The hotel also offers free drinks from the vending machine, massage chairs and you can take printouts for free in the lounge.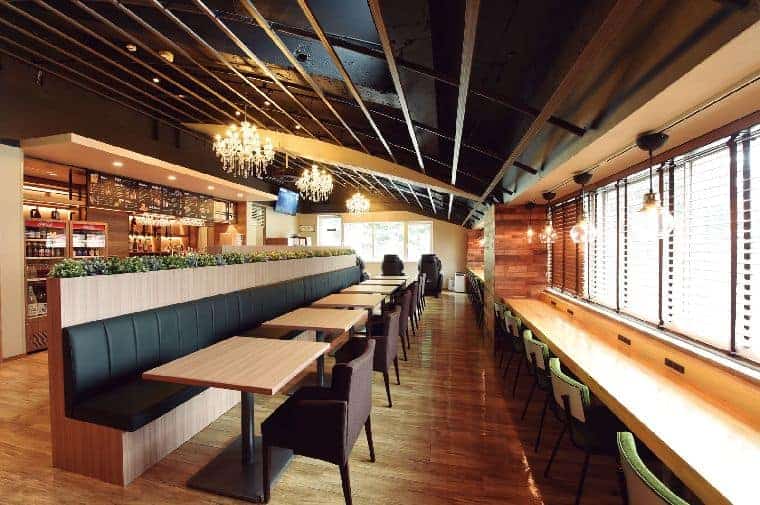 Coming to the capsule, each capsule is equipped with an LCD TV, headphones and an alarm clock. To make sure you sleep comfortably, Simmons mattresses and pillows have been provided.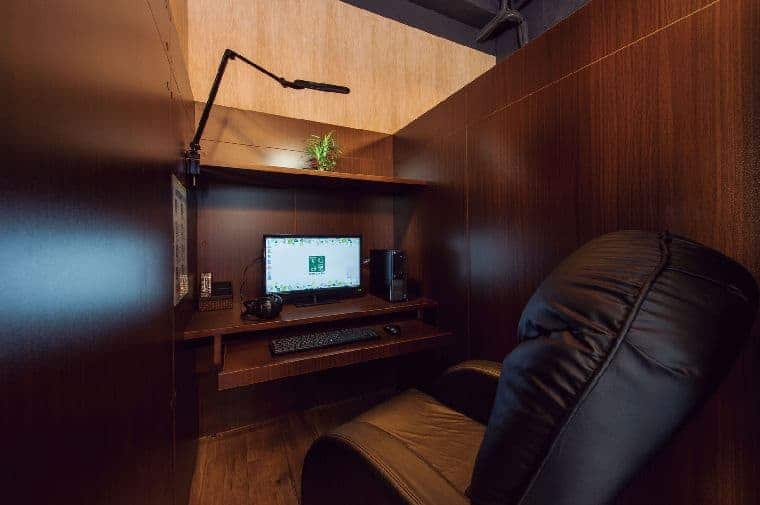 Grand Park Inn Kitasenju Capsule Hotel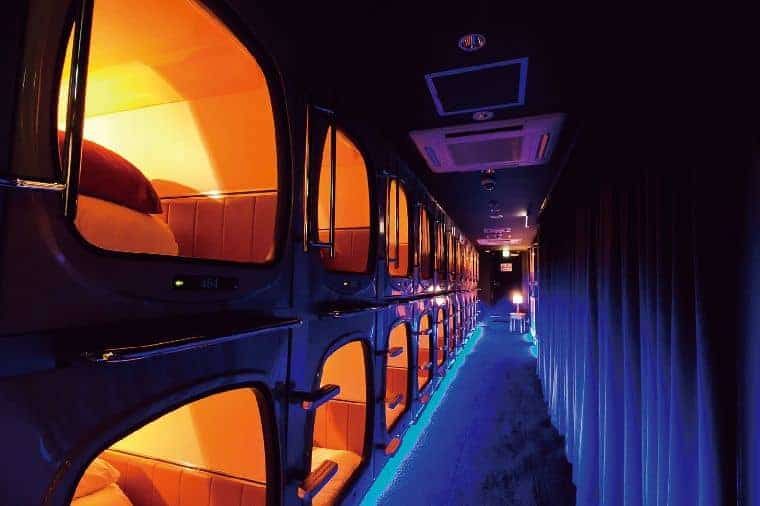 The Grand Park Inn Kitasenju costs about 3800 yen for a night. The hotel has a public bath, a whirlpool, and a sauna.
There is a relaxation room that has around 3000 manga comics for entertainment and computers for personal use. For any manga lover, this will definitely be one of the best capsule hotels in Tokyo!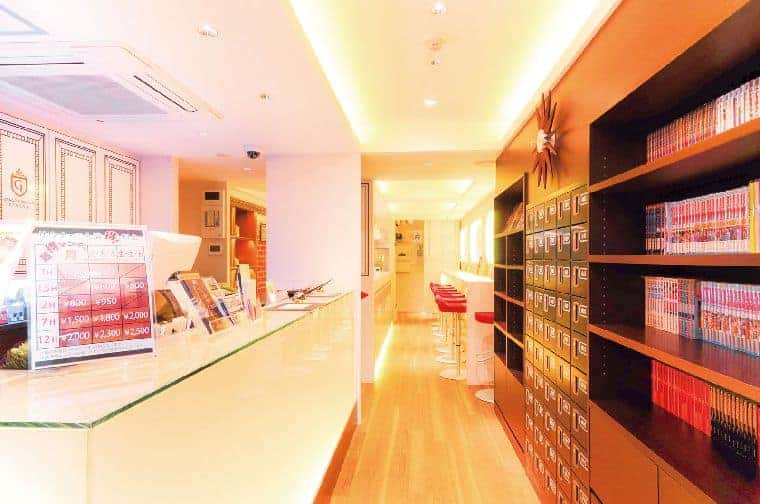 They have a high-end cabin called the theater premium cabin that comes equipped with a television and a VR headset.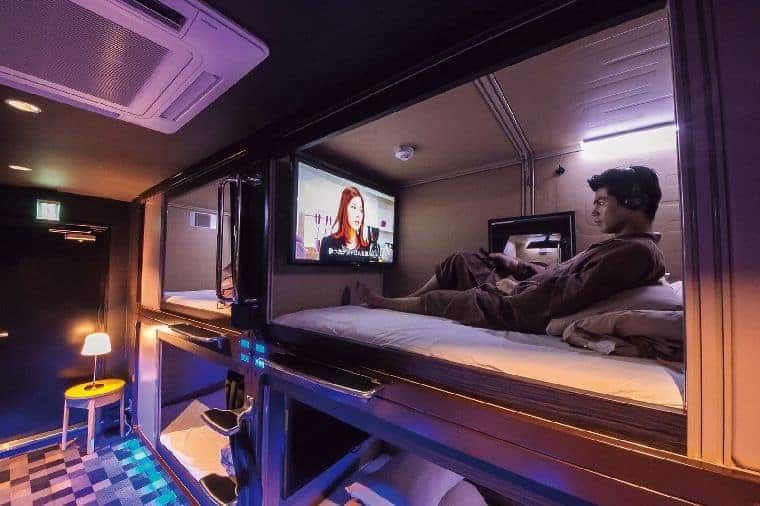 Prime Pod Ginza Capsule Hotel
Best Pod Beds In Japan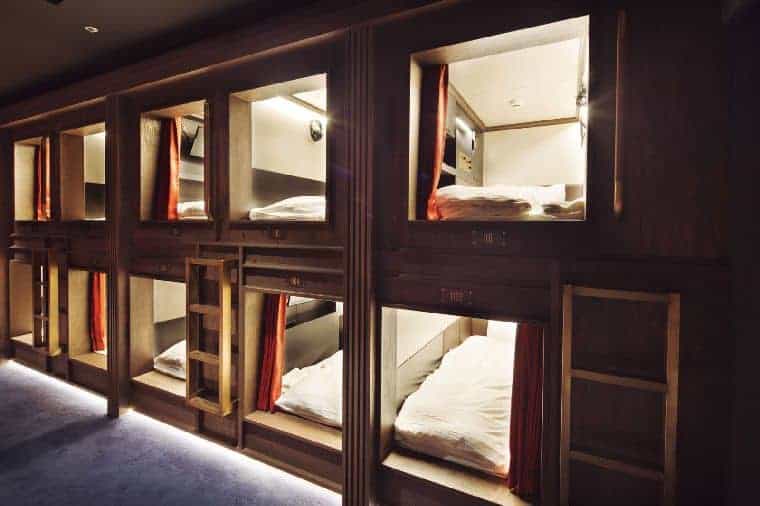 One of the best capsule hotels in Tokyo, the Prime Pod has a lot of wood finishes as part of their decor. This is a tribute to the city of Ginza.
It costs about 3500 yen for a night. The facilities include free luggage storage, Serta Mattresses in the capsule, security deposit box and more.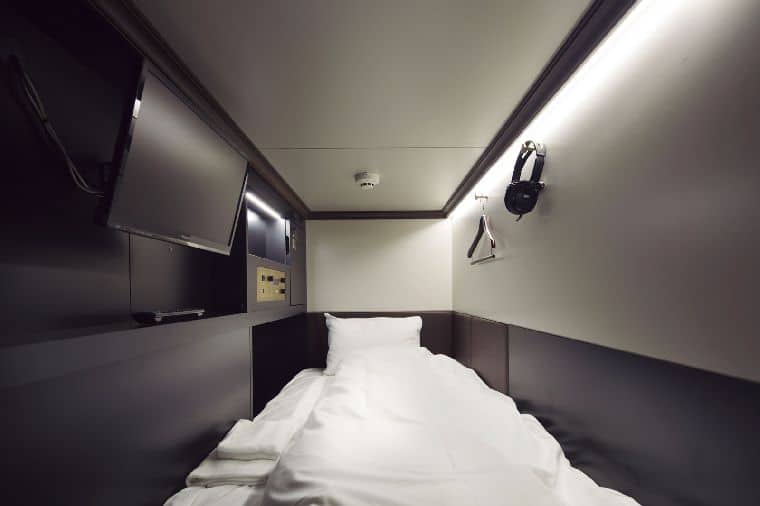 The front desk staff help with travel plans and can guide you to the closest restaurants and help with finding transportation.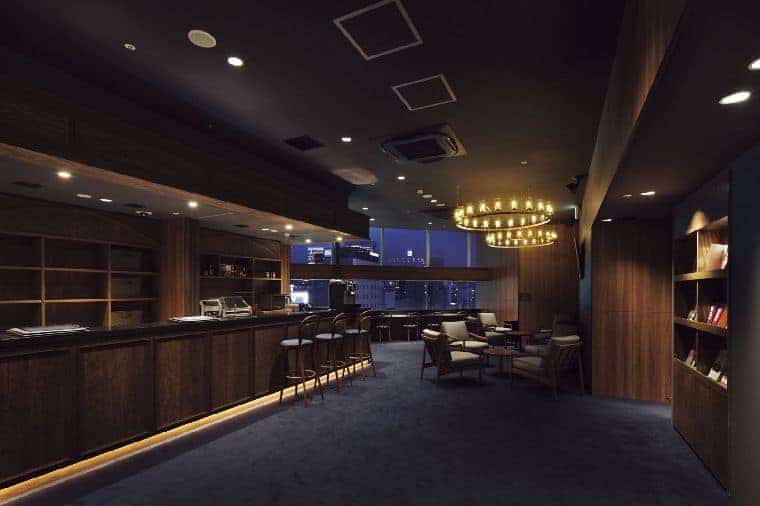 In the hotel, there's a cafe, bar and a lounge.
Click here to know about this capsule hotel!
Resort Capsule Sakuragicho Hotel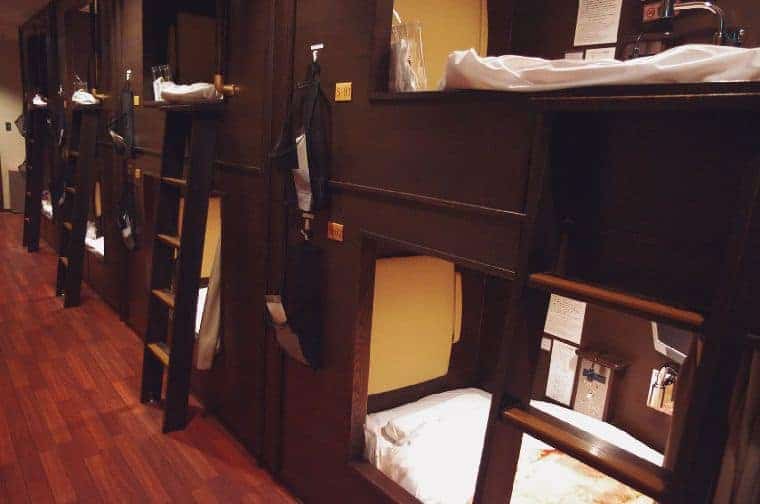 Located in the basement of the Breeze Bay hotel, this best capsule hotels in Tokyo offers hotel facilities such as free breakfast and access to the swimming pool for their customers.
Every capsule has an alarm clock and a TV. They are also soundproof.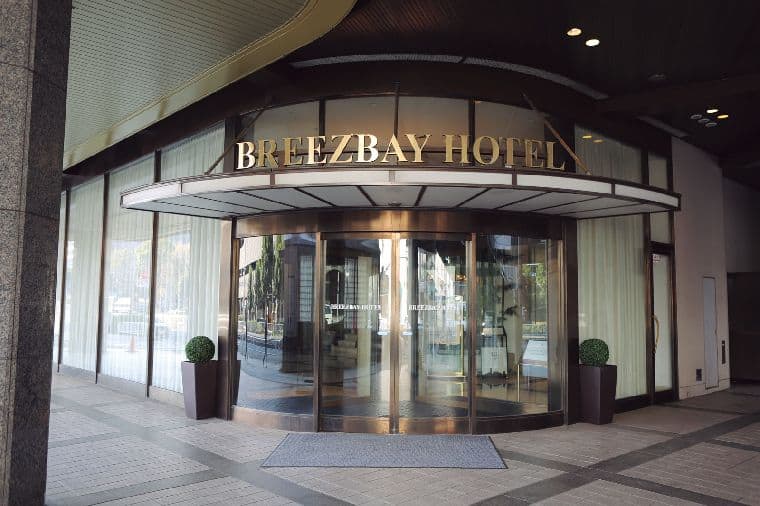 The location of this hotel is perfect because of the access to the Sakuragicho station which is 3 minutes away.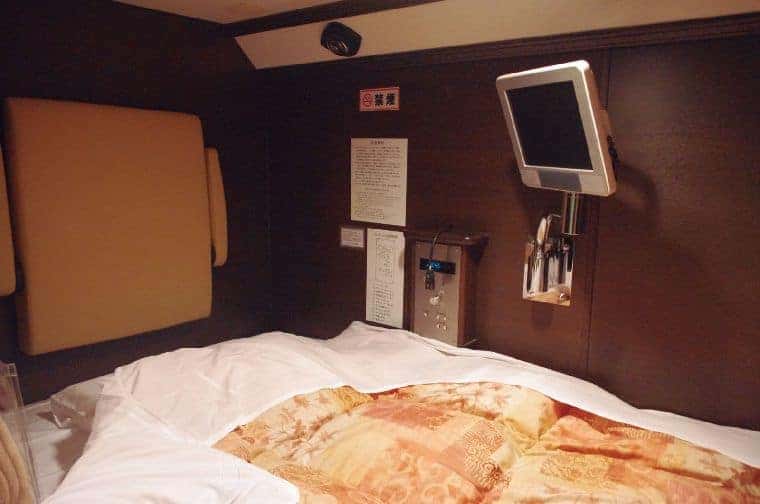 Hotel Cabana Capsule Hotel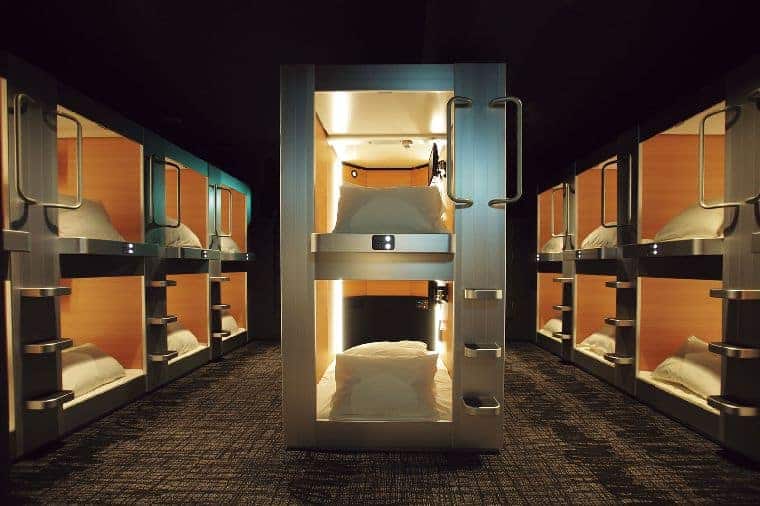 This hotel has combined luxury with affordability for male guests. Hotel Cabana has a spa that has an indoor pool, a gym, and a sauna. You can see why this is one of the best capsule hotels in Tokyo the moment you step in this capsule hotel.
All these are available to the guests for free.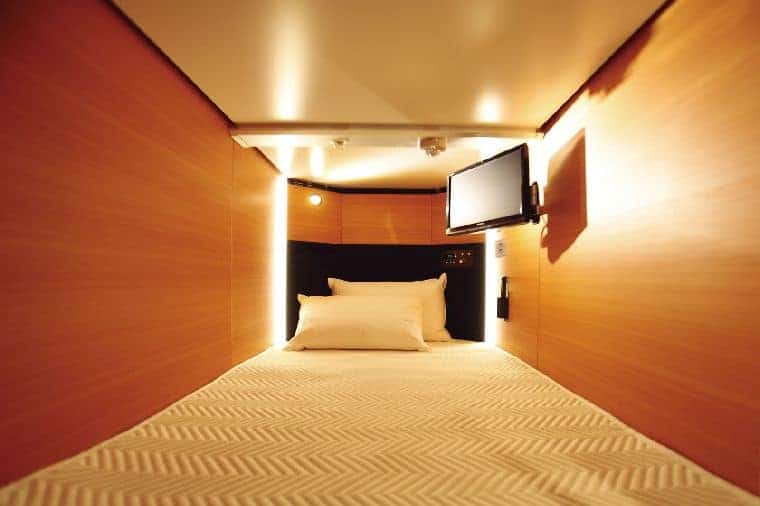 Apart from that, there's a hot tub, a relaxation lounge with individual TV, and a tanning machine.
If you had a long day of sightseeing, you can relax with a Thai or a Shiatsu massage.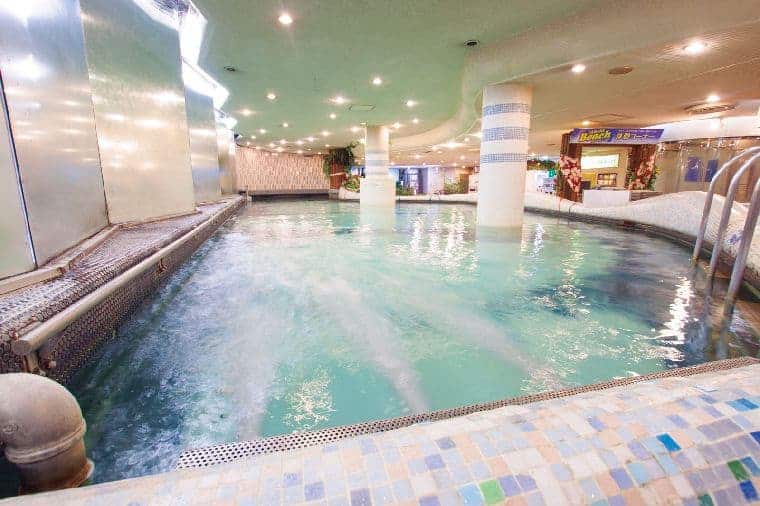 Coming to the capsules, they are large and can accommodate tall people as well. You can use the blinds in your capsule to get some privacy. There is also a TV within the capsule.
Toiletries are free that include skincare creams as well.
Book a room at one of the best capsule hotels in Tokyo to enjoy your stay in the city!
Click here to know more about Capsule Hotel Cabana for men!
Tokyo Ginza Bay Capsule Hotel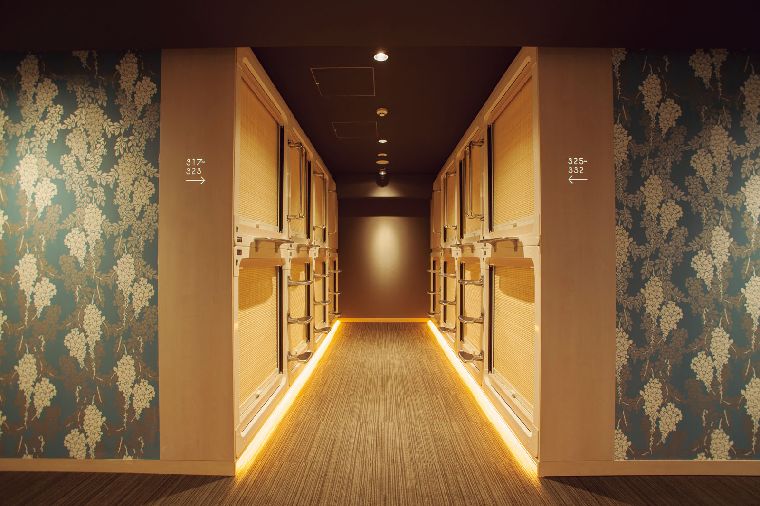 Ginza Bay is located right in the middle of Tokyo. It's a 6-minute walk to reach the Higashi Ginza station. And it's only a 40-minute train ride to Haneda airport.
This hotel is a tribute to Japan's design style with walls covered with Japanese art.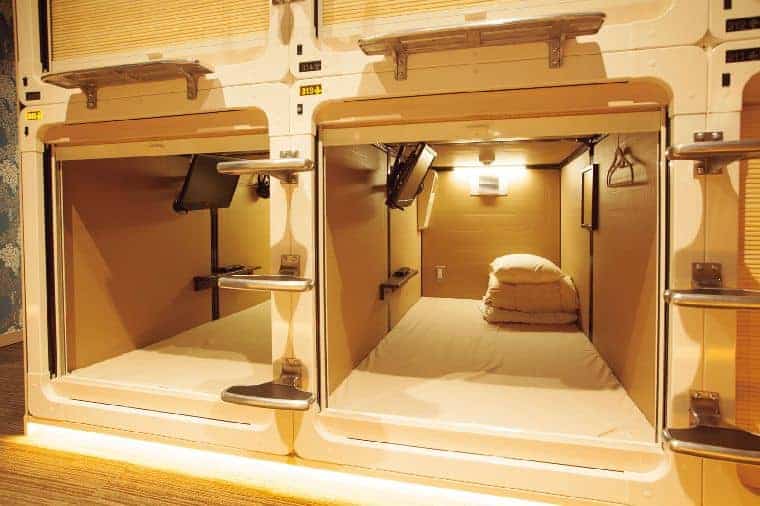 Towels and toothbrushes are provided free of charge.
I absolutely love the architecture and design of this hotel, which is why it made the list of best capsule hotels in Tokyo! You have to check it out!
Hostel Chapter Two Capsule Hotel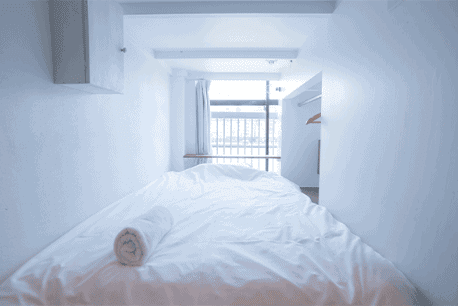 Chapter Two is my absolute favorite capsule hotel in Tokyo and is no doubt one of the best capsule hotels in Tokyo!
Chapter Two believes in the idea of co-living. It's a haven for people from all over the world, who join here to socialize and grow in their journey of life together.
The pods in Chapter Two have special facilities. It comes with a locker, a work desk, a power supply, reading light, and curtains, making it a wonderful experience.
A laundry facility is also available at the hostel.
What's more, you can enjoy stunning views from the hostel's rooftop terrace.
You most definitely have to check out (or rather check-in) one of the best capsule hotels in Tokyo when you travel there!
Click here to find out more about this capsule hotel!
First Cabin Capsule Hotel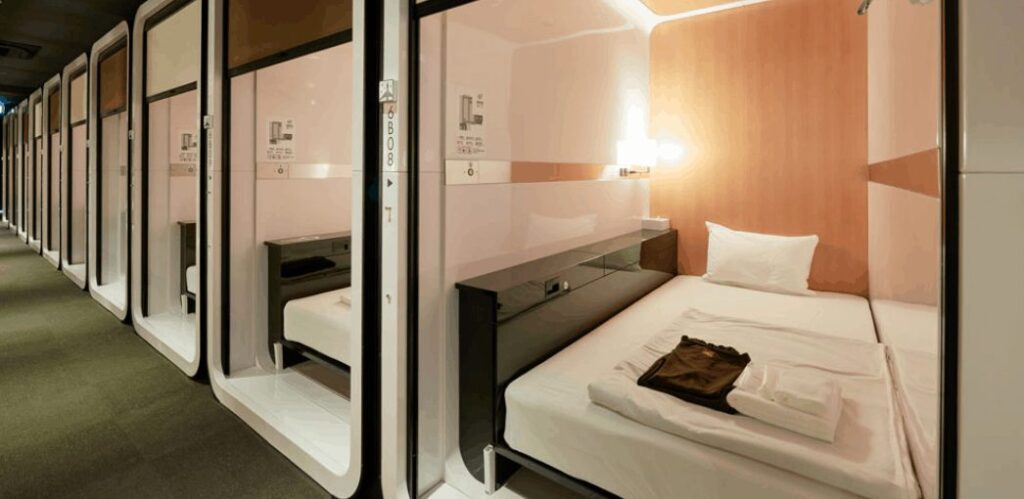 First Cabin is unique and different when compared to other capsule hotels in Tokyo.
It's an impressive and high-tech capsule that has slightly more space than regular capsule hotels.
The capsule space depends on the class of the cabin you choose. There are two classes available – business and first – ensuring that you get a little more space to move around.
If you wish to get more space, you should choose First Class. However, no matter what class you choose, you will get access to a safety deposit box, an LCD TV, and free WiFi.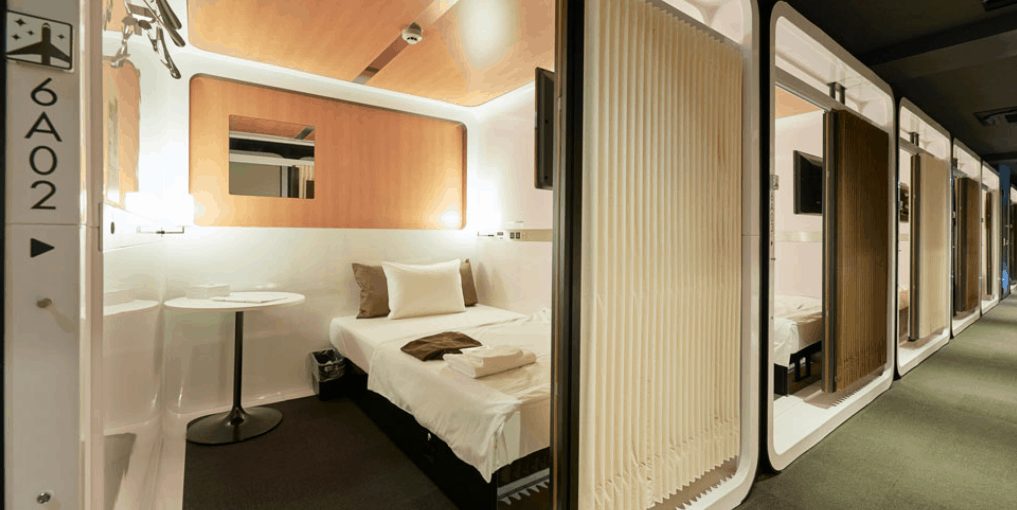 First Cabin includes a bar, cafe, as well as laundry services. What's more, there's also a large hot tub where you can relax, rewind, and enjoy the exotic experience.
You can also take a free loan if you wish to have comfortable wear for the night, humidifiers, and other essentials.
Definitely one of the best capsule hotels in Tokyo and also pretty luxurious!
Nadeshiko Hotel Shibuya Capsule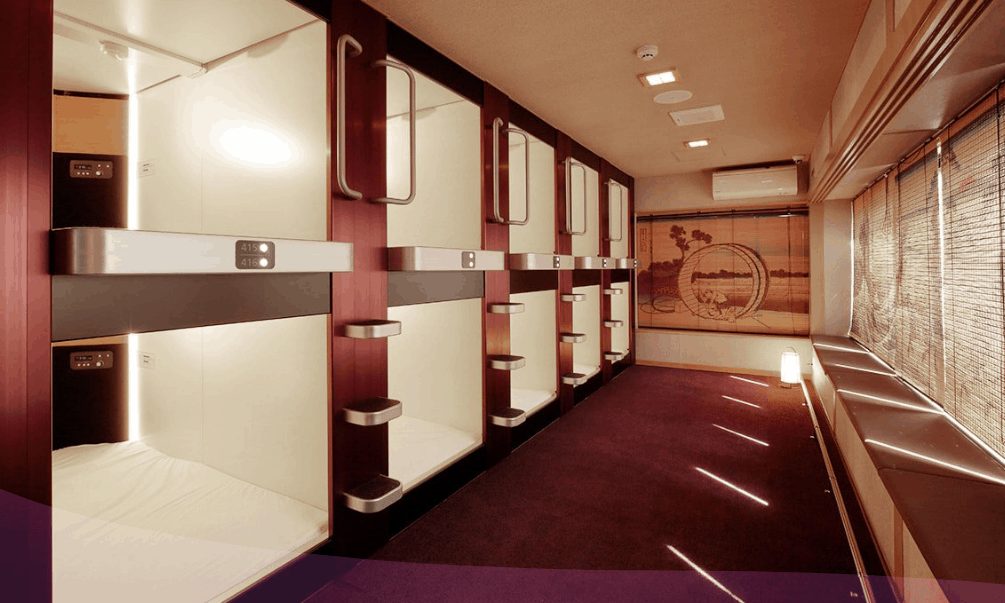 The unique feature of the Nadeshiko Hotel Shibuya is that it is only for women.
To help women relax in a friendly and comfortable environment, the capsule hotel provides several amenities and features.
The capsule hotel has a bar, a shared bath with Japanese decor and art, as well as a tatami common room.
Everything in the capsule hotel, right from the staff to the amenities, are meant to provide relaxation and to help every woman traveler rewind.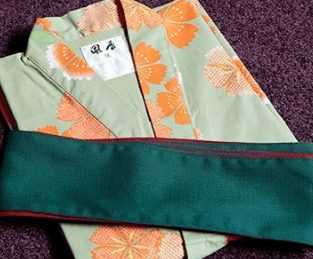 And that's not all! The capsule hotel also has an on-site restaurant and kimono experience packages.
The kimono experience includes the guests dressing up in a traditional Japanese kimono and enjoying a traditional Japanese dinner at the restaurant.
Book your stay at one of the best capsule hotels in Tokyo right here!
Samurai Hotel Asakusa Capsule
The Samurai Hotel Asakusa is located in one of Tokyo's most historic districts.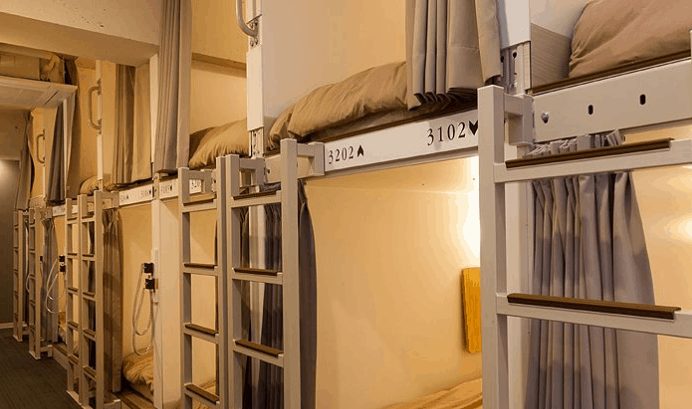 The hotel has recently been refurbished, but despite that, it still holds all its world-class and award-winning amenities. The capsule hotel has both private and shared capsules.
There is also a diversified on-site restaurant that offers both halal and vegan traditional Japanese meals.
And that's not all! The hotel also has a rooftop terrace that offers marvelous and remarkable views. (Tell me, how this not be one of the best capsule hotels in Tokyo!)
Book and Bed Tokyo Shinjuku Capsule Hotel
You might ask what's so special about this capsule hotel. The books that line up every surface of the capsule hotel is what makes this capsule hotel so enticing.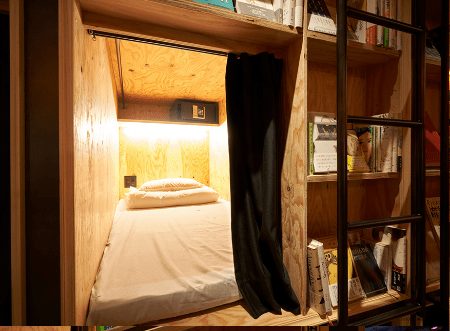 The hotel is both a library and a hostel. The guests sleep in cozy capsules right behind the bookshelves.
It has become extremely popular amongst guests from all around the world and has built its reputation to become one of the best capsule hotels in Tokyo!
Click here to know more about this capsule hotel!
Hotel Zen Tokyo Capsule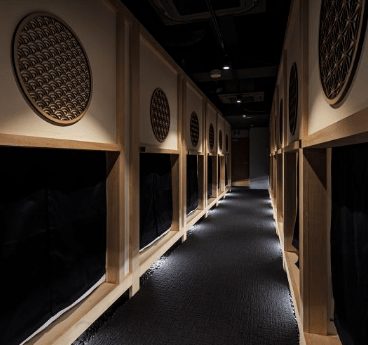 Just like the name suggests, Hotel Zen Tokyo allows you to experience the relaxing Zen culture.
It's a tea room themed capsule hotel that is inspired by the 16th-century tea house of Sen No Rikyu. It's the perfect haven for those who want to get away from the hustle and bustle of everyday life.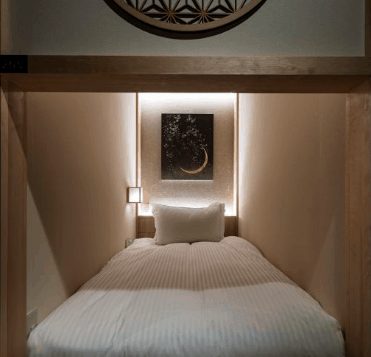 The sleeping pods are cozy and have minimalistic designs. However, you will not feel cramped inside the pods, thanks to the high ceiling of each pod.
If you need quiet time or want to read a book, you can make use of the capsule's Study Lounge.
Also, for days when you wish to indulge in drinks, you can enjoy at the Bar Lounge.
You'll not have one dull moment at this best capsule hotel in Tokyo!
The Wardrobe Hostel Record Capsule Hotel
The Wardrobe Hostel Record is Japan's first record hostel. It is a haven for music lovers.
You will love the vintage jazz records lined up tantalizingly on the shelves; there are over 1000 such records.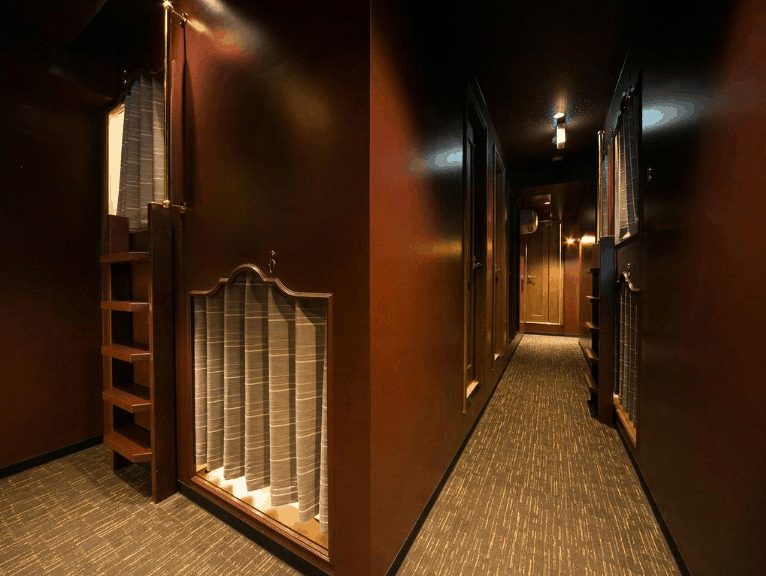 And the best part is that guests are allowed to play the records on turntables in each room.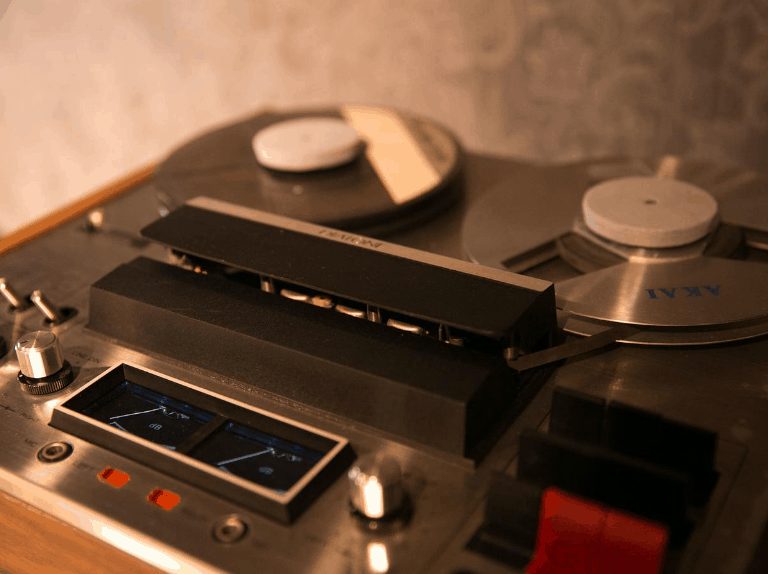 The interior of the pods looks like the interior of European sleeper trains from the good old days.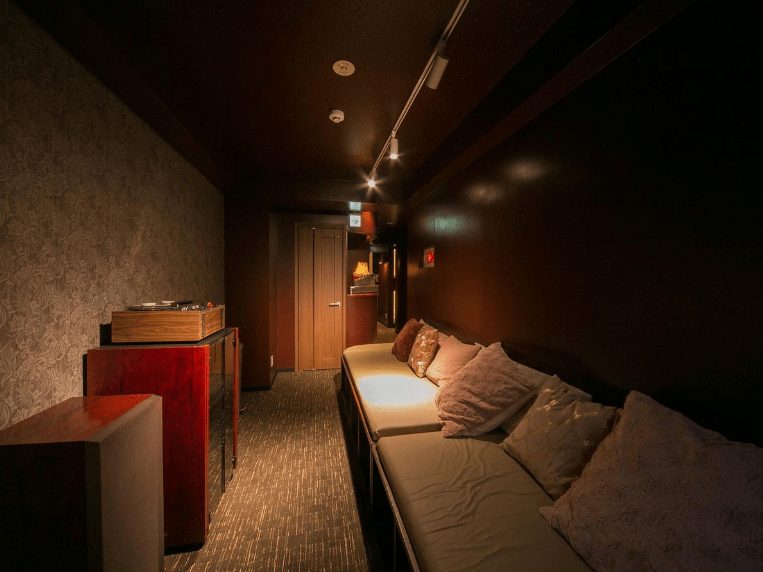 You can choose to stay in a pod or a private room, which can fit about four to eight people.
The Millennials Capsule Hotel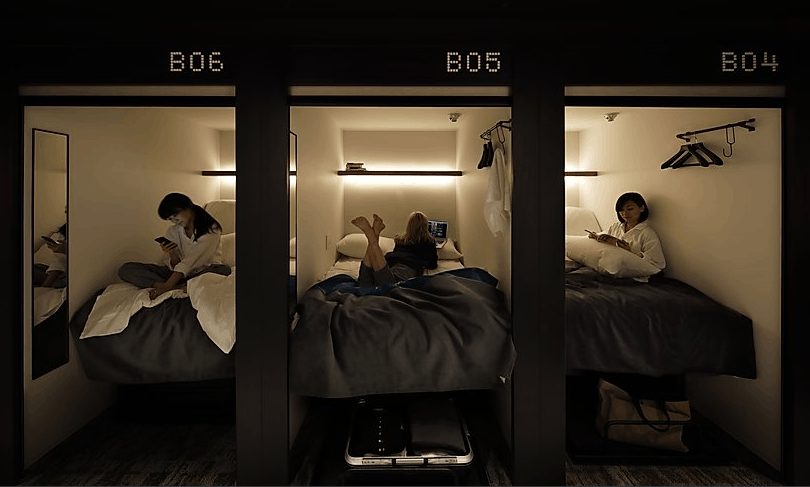 As the name suggests, The Millennials aim to attract the hip crowd.
It has sleek designs and modern tech features that cater to the needs of the young millennials of today.
The 120 capsules are called Smart Pods and have more room and height as compared to regular capsule hotels.
The reason this capsule hotel is so popular amongst the millennials is that it provides its guests with hi-tech facilities.
When you check-in, you will receive an iPod touch that helps you control various features in your pods. You can control the reclining bed and video projector that is available in some select capsules.
If you want something more special, you can ask for Art Pods. These special pods have been customized by local up and coming artists.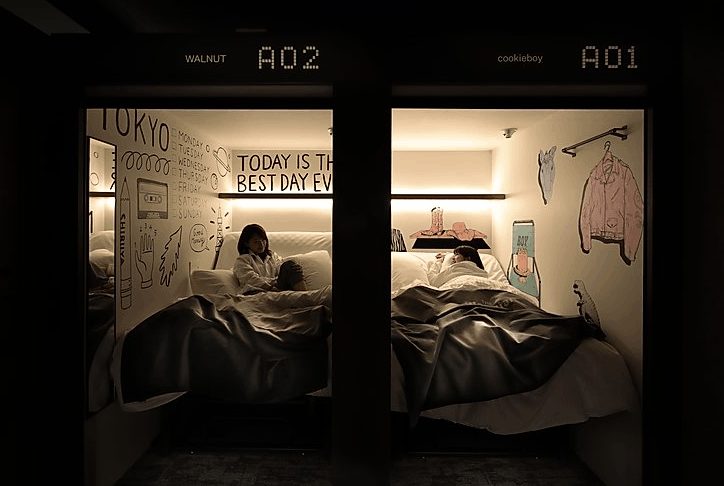 The Millennials hotel has a lot of common spaces such as a kitchen, lounge, and co-working spaces to promote socialization at all times.
Booking Capsule Hotels In Tokyo: FAQs
Which is the best capsule hotel in Tokyo?
First Cabin Atagoyama is the best capsule hotel in Tokyo. The capsule hotel offers a flat-screen TV and free Wi-Fi in the capsule room. Each room has a power outlet where you can charge your electrical devices and also provide clothing hangers and storage space. First Cabin Atagoyama charges a reasonable price of $25 – $30 per night per guest. The rooms are extremely clean and well maintained.
First Cabin Atagoyama also offers other services such as a public bath, shower booths, a cafe, and a bar. You can enjoy a great cup of coffee and also any drink at the bar. The staff in the hotel are very friendly and offer 24 hours front desk service.
To make things convenient and fun for you they offer laundry machines and vending machines. The stations nearby this hotel are Toranomon Station, Kamiyacho Station, and JR Shinbashi Station that take approximately 10 minutes to walk.
What is a capsule hotel?
Capsules are pod-like rooms. They are more like compact compartments stacked on top of each other. The amenities provided in a capsule room is bare minimum. However, some hi-fi capsule hotels do offer fancier amenities. Capsule hotels are cheaper when compared to regular hotels.
#1 — Are capsule hotels In Tokyo good?
There are various enticing reasons to choose capsule hotels in Tokyo over regular hotels.
Firstly, capsule hotels provide you with an unmatched experience that you cannot get anywhere else. It's a different story altogether to stay in a hi-tech pod.
Capsule hotels in Tokyo are no longer the hub of backpackers and businessmen who missed their trains. It has now become the center of a unique adventure, which is a reason in itself for you to choose it.
Also, the price factor is a big motivator. You get all the facilities without them costing you a bomb.
You can also find bars, lounges, work desks, restaurants, and more in these hi-tech capsule hotels.
So, if you want to enjoy this unusual experience, check out these best capsule hotels in Tokyo!
#2 — How much does it cost to stay in a capsule hotel?
A night at a capsule hotels in Japan can cost you anywhere around USD 30 – USD 60. Depending from which capsule hotel you book, this may include WiFi access and basic amenities. You'll also be given a locker to store your shoes and luggage. Some higher-end capsule hotels also give you access to sauna or swimming pool.
#3 — Are capsule hotels cheaper?
Capsule hotels in Japan are much cheaper compared to regular hotels. And a lot of tourists, solo travelers, and backpackers find these fancy pod beds in Japan to be the most economical option when it comes to finding cheap accommodations in Japan.
#4 — Can couples stay in capsule hotels?
There are capsule hotels available for couples as well. You'll find several coed capsule hotels too like nine hours capsule hotel. But if you want to stay in the same pod then Hotel Kiba is a great option for couples traveling together. But compared to Hotel Kiba, Nine hours capsule hotel is more fancier and has better amenities.
#5 — Are capsule hotels safe?
Capsule hotels are completely safe. Your room in a capsule hotel is basically your bed, a mirror, TV, lights, a couple of shelves, and a safe box. And you can lock your capsule from the inside or outside.
#6 — Are capsule hotels clean?
Capsule hotel pods are cleaned everyday, just like at a regular hotel. Most capsule hotels have shared showering spaces that are also cleaned on a regular basis. Other than this, each guest gets free individually packed toiletries as well!
#7 — Are capsule hotels claustrophobic?
Capsule hotels have a charm of their own. If you're generally claustrophobic, space might seem a bit tight but there are some capsule hotels that offer double-bed pods so that should comparatively more comfortable.
Capsule hotels have gained so much popularity amongst the tourists because of its novelty. And plus, booking a sleeping pod is much cheaper than a normal hotel room.
#8 — Are capsule hotels soundproof?
Capsule hotel pods are not soundproof. So you will hear noises like TV chatter, snoring, etc from other tourists but you'd be so tired after sightseeing around Tokyo that you'd fall asleep as soon as you hit the bed.
#9 — Do capsule hotels have showers?
Capsule hotels provide shared bathroom and showering facilities only. And these communal showering rooms are cleaned regularly and sanitized for the guests convenience. Some capsule hotels also provide sauna too!
#10 — Do capsule hotels have locks?
You can lock your capsule hotel pod from the inside when you sleep at night and when you're out and about you have the option of locking your sleeping pod from the outside as well.
#11 — What do capsule hotels look like?
Capsule hotels are usually tall buildings housing capsule pods. Each capsule hotel pod is a like really small hotel room with bare necessities. A typical capsule pod will have a single bed, lights, shelves, plug points for your electronics and a safe box. You'll also be provided with basic toiletries, robe, and slippers. Each capsule hotel pod is as wide as a single or a double bed and just tall enough.
There are shared bathroom spaces that are cleaned regularly.
#12 — Are capsule hotels comfortable?
Capsule hotels provide the most economical and cost-saving accommodations, i.e., a sleeping pod. The idea is to offer travelers and tourists a space to sleep and showering facilities with free toiletries. The beds capsule hotels are pretty comfortable. So if nothing else, a good night's sleep is guaranteed!
How much does a capsule hotel in Tokyo cost?
Capsule hotels in Tokyo can cost you 2,000JPY to 7,000JPY a night. If there are any special holidays going on, you might get a discount as well.
Also Read: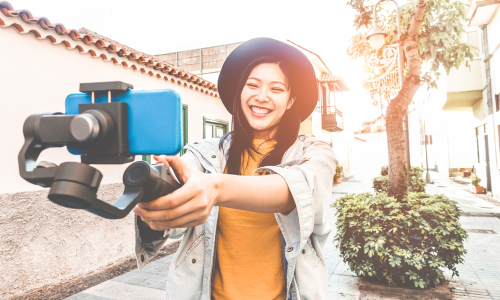 Hiya! I'm the main author of Japan Truly. I love everything Japan and love testing out Japanese products, be it skincare and makeup or gadgets! You'll find reviews of some of the best selling Japanese products (tried and tested) right here!