Traveling to Japan? Check out this beginner's guide to Japanese Izakaya so you can get drunk enough to forget how expensive this Japan vacay is! (But definitely worth it!) So an izakaya is a Japanese-style bar and typical to Japan. No, it's nothing like your usual bar or pub but you do get to mingle with the customers there!
And if you're traveling to Japan, visiting a Japanese izakaya is a must – so put that down in your itinerary! Now, when you visit an izakaya, you'll realize it's very different from a usual bar, restaurant, or bar – hence this beginner's guide to Japanese izakaya will help you understand what an izakaya is, what's the menu like at an izakaya, and where, in Japan, would you find an izakaya.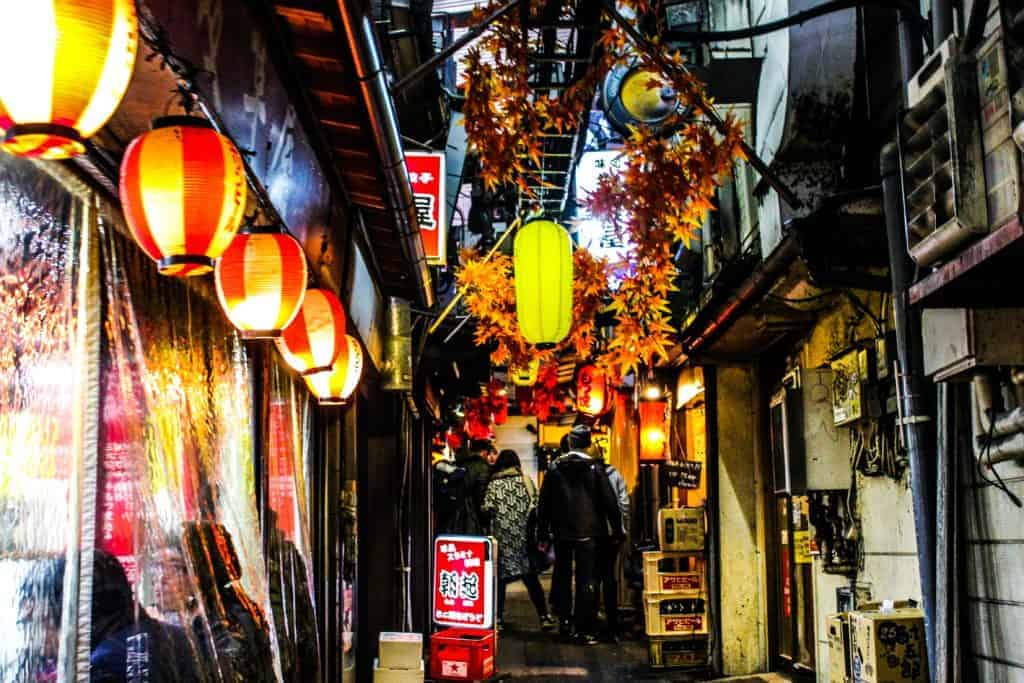 What is an Izakaya in Japanese?
Izakaya is a Japanese-style bar where you drink alcohol and eat some food that typically goes well with alcohol. Izakaya can be a small, hole in the wall type of an establishment or a fancy izakaya with private dining rooms. Izakayas can have tatami mats with lower tables or normal tables and chairs or both. Some izakayas may even let you sit at the bar.
Many izakayas offer 'all you can eat' (Tabehōdai) or 'all you can drink' (Nomihōdai) options – where for a certain amount of money you can drink/eat as much as you want – but that usually also comes with a time limit of about 90 minutes. So to make most out of it, chug that beer and drink like there's no tomorrow!
Most izakayas also allow you to extend your time by paying extra for an hour or two. 
Beginner's Guide To Izakayas in Japan
What is Izakaya experience?
Izakayas are a really fun place to hang out with your gang or even alone! It's almost always loud, and the staff at izakayas are really friendly and always love striking conversations with their customers!
Izakayas are popular for corporate parties and college parties called 'nomikais' where everybody just basically lets loose and get drunk.
You'll find a lot of drunk Japanse guys professing their love to their crushes! Because the Japanese are generally very shy and might need some alcohol in their system for motivation. How cute.
Related: Check out the things do in Kochi Japan!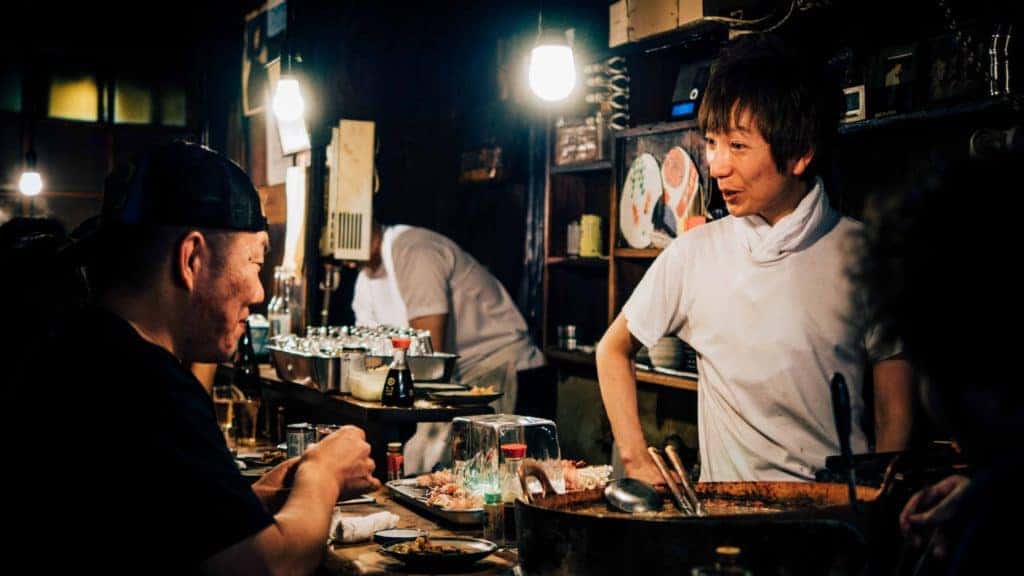 Basically, there's one purpose when you enter an izakaya and that's – To. Get. Drunk. Out. Of. Your. Mind! If you've never been to an izakaya – think of it as a modern-day Scottish tavern – crowded, cheap alcohol and food, and lots of fun!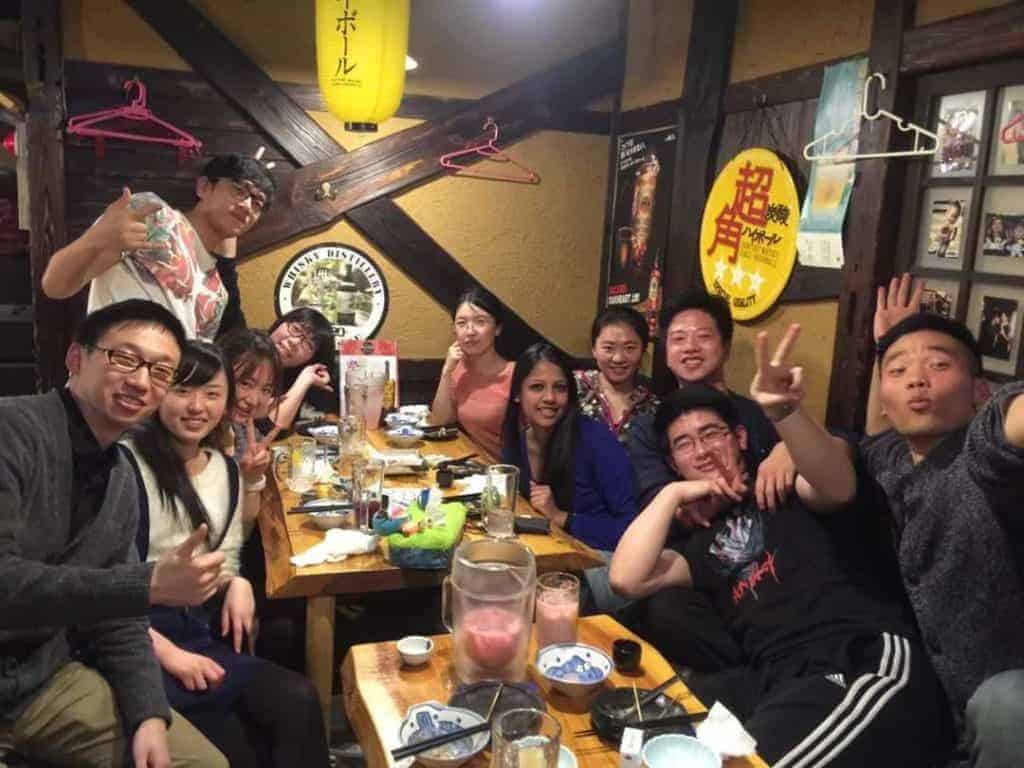 You can try some delicious authentic Japanese snacks and food at izakayas along with Japanese sake and alcohol! Whiskey highball is an especially popular drink to order at any izakaya!
Related: In Japan, melons can cost $200! Here's why!
Drinks and food are much cheaper compared to your regular bars and restaurants. Also, Izakaya is a place where the customers are allowed to smoke – so if you don't like cigarette smoke then it's best to look for izakayas that offer private dining rooms.
At most izakayas, your seafood is cooked right in front of you! A small grill is placed in front of you so you can barbeque those clams or fish.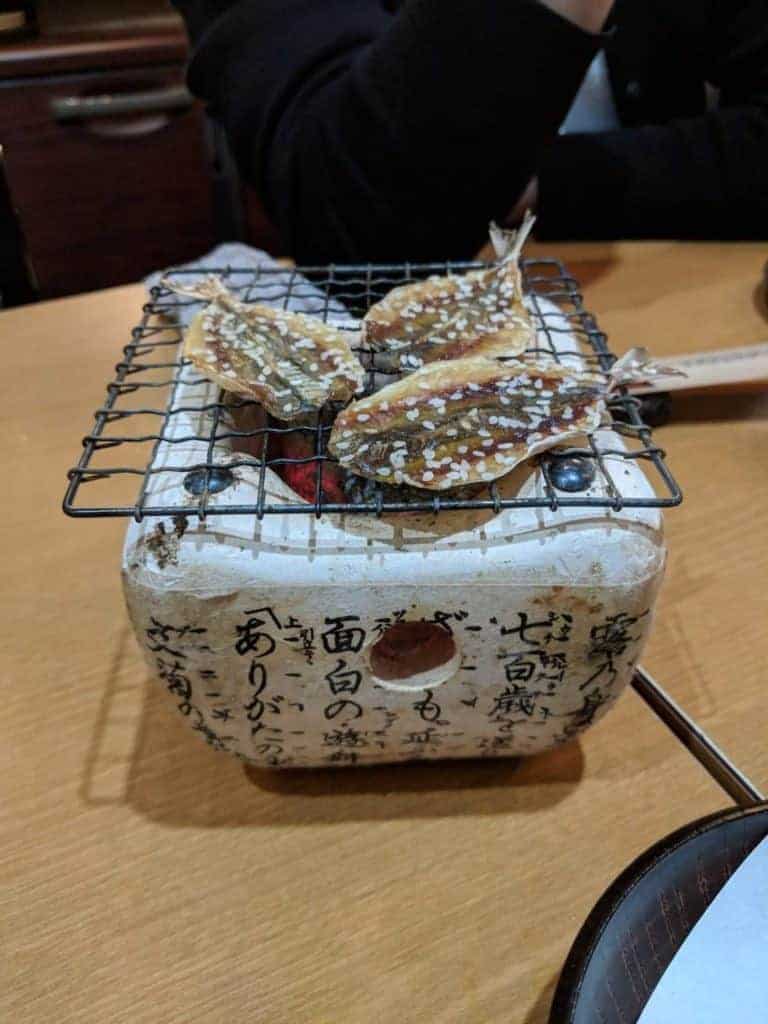 Seating Charges At An Izakaya
You usually pay a cover charge per head. This cover charge includes a small appetizer or 'otōshi' and is served to go with your first beer. What I like most about this is that it's always a surprise what 'otōshi' the izakaya offers. This way you get to try random (but delicious) authentic Japanese appetizers!
Related: Here are the best places to witness Wisteria in Japan!
This cover charge depends on the izakaya – you can always ask the staff if there's a seating charge and how much is it. To ask this in Japanese say 'Otōshidai arimasuka?' (Is there a seating charge?), and to find out how much is the seating charge say "Ikura desuka?".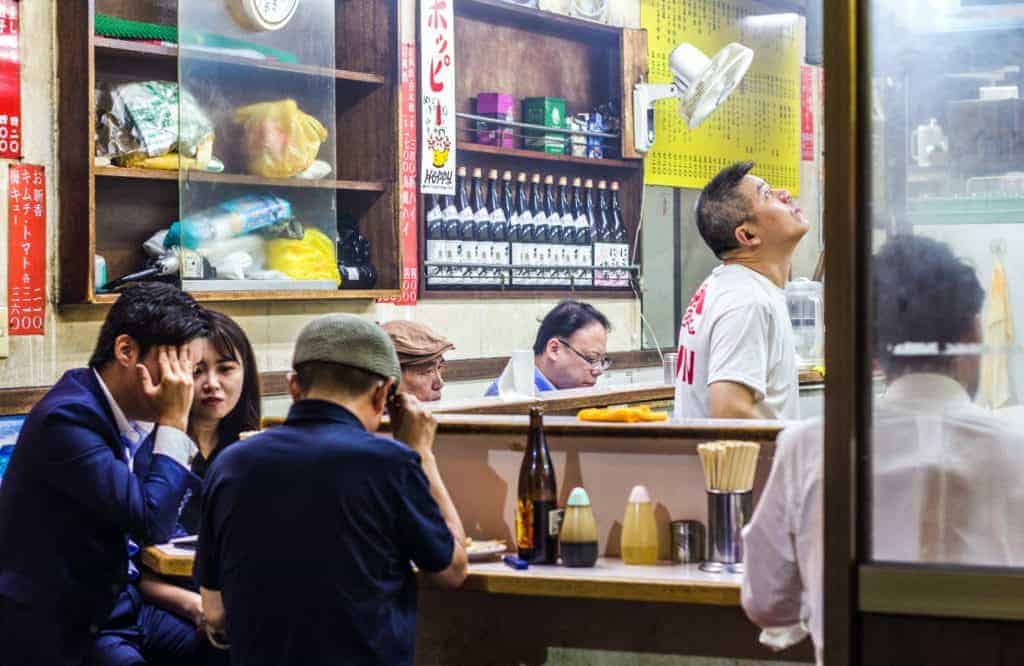 Going To An Izakaya Alone
Going to an izakaya alone can be super-fun! You choose to sit at a table by yourself or by the bar. Chances are, other customers at the izakayas may strike up a conversation with you or vice versa and you end up making more friends!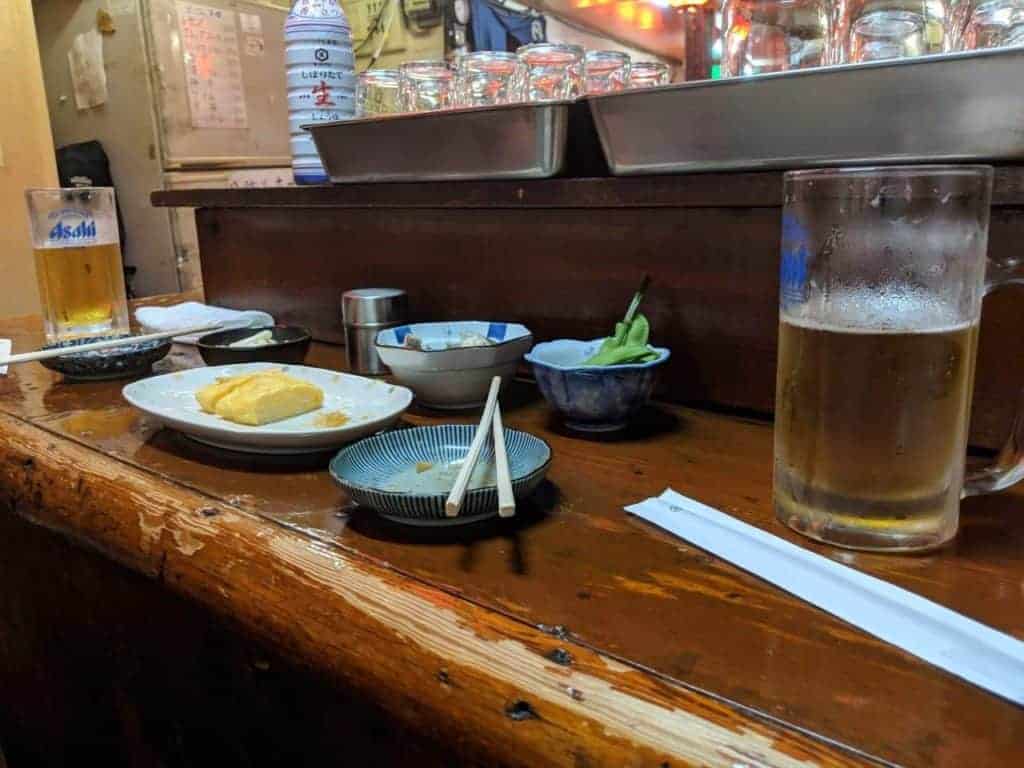 Related: Take a Tokyo tour in Mario Kart! Click here to know how!
What To Order At A Japanese Izakaya Bar?
Usually, customers order a beer when they first sit at their table at any izakaya and then proceed to order snacks and other food items from the menu. So first things first, order a tap beer, get a waiter's attention and say 'tori-aez-nama' to order your first round of beer!
Now as you sip on your icy-cold beer, check out the menu so you can order some Japanese-favorites. To get a waiter's attention, just raise your hand and shout 'sumima-sen'.
Some dishes you should definitely order at a Japanese izakaya are: Japanese – style fried chicken called karaage, edamame, yakitori, grilled fish, sashimi, tempura, sushi, french fries, ebi-mayo (that's basically shrimp with mayo), nabe (hotpot), and salads.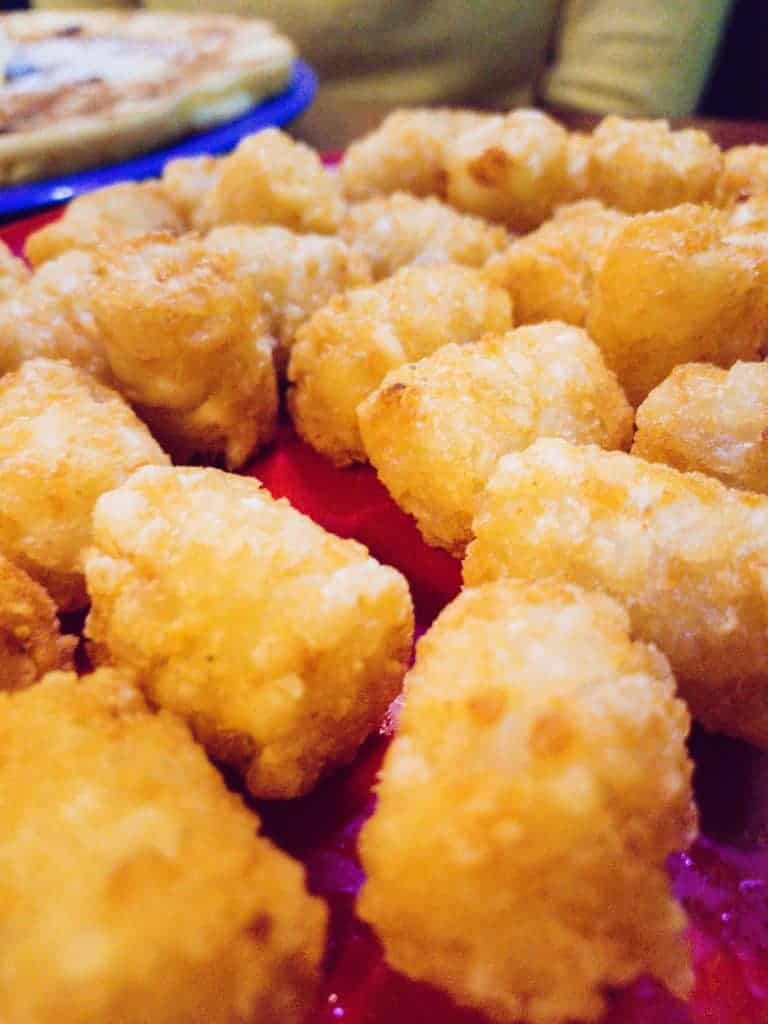 My all-time favorite is the karaage. The chicken is so succulent and crispy! **drooling**
Or If you want to try a specific izakaya's specialty dishes simply ask the waiter 'Osusume-wa?' (which simply translates to 'what do you recommend?"
What is an izakaya menu?
Most izakayas serve typical home-style Japanese snacks and dishes. Ranging from karaage (Japanese-style fried chicken) and edamame to rice dishes like ochazuke and noodle dishes like yakisoba.
Related: Find out why Japanese fruits are the most expensive gifts to give in Japan!
And of course, there's a selection of alcohol for you to choose from but the Japanese favorites are beer and sake. Some types of sake you'll find at izakayas are: Junmai Ginjo Kikusui, honjozo sake, and tokubetsu junmai.
Other than that, a highball whiskey is also a popular drink to order at izakayas. Highball whiskey is basically whiskey and club soda mix with lots of ice.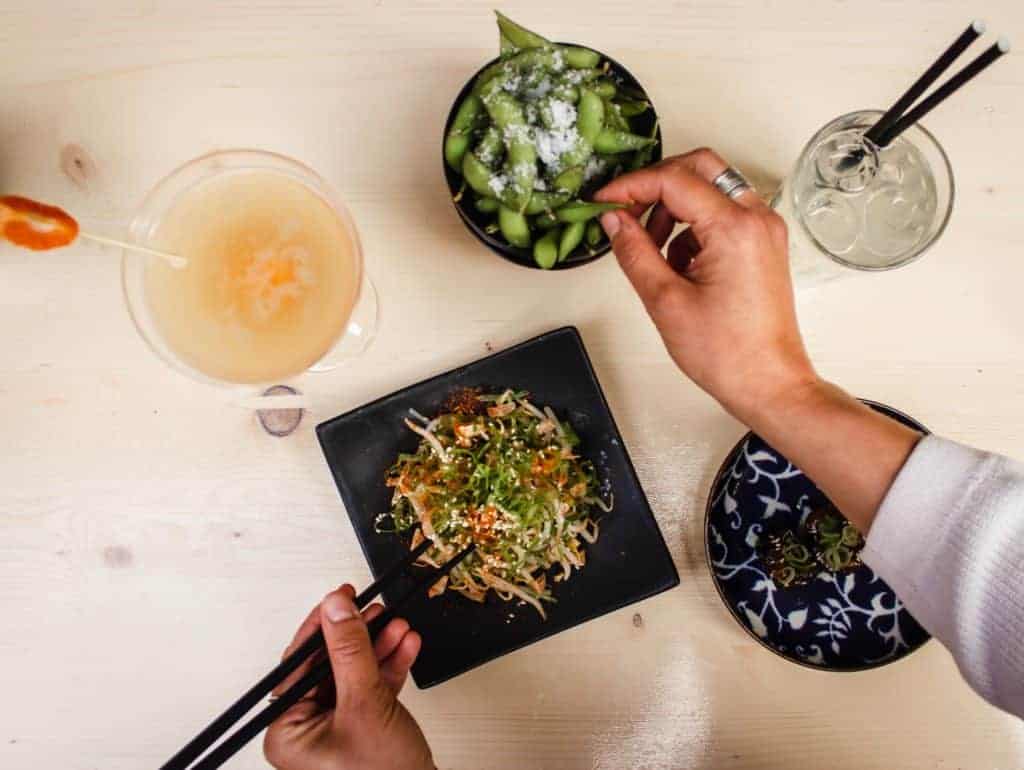 Japanese Izakaya Food Menu
Here are some of the best food items you should try from an Izakaya food menu:
Kara-agé or Japanese-style fried chicken: is to die for! You simply cannot go wrong with this one!

Edamame Beans: I'm yet to meet someone who doesn't enjoy a bowl of this salty snack with their beer. While most commonly edamame beans are boiled, some izakayas also serve grilled edamame – this brings out the sweetish flavor of the beans!

Yakitori (Grilled chicken)

Agedashi-tofu: is basically deep-fried tofu in soup. This is a good option for vegetarians

Sashimi: is a platter of fresh, sliced raw fish. If you step into an izakaya that specializes in seafood then you must definitely try this one. Also, it's a good dish to share when you go with a group of friends!

Salty Cabbage: believe it or not, this dish goes exceptionally well with any alcohol!

Tako-wasabi: is fresh, raw octopus served with wasabi sauce. This dish goes especially well with Japanese Sake

Dashimaki-Tamago: is an omelette rolled in Japanese-style. Another one of my favorites

Yakisoba (fried noodles): If you're particularly hungry or if you're going to the izakaya for lunch/dinner then order one of these or any rice-based dish as well. The Yakisoba is usually made with salty-sweet sauce and served with some fried eggs. YUM!
Related: Rejuvenate in the best onsens in Hakone!
Popular Japanese Izakaya Bar Snacks
Most Izakayas generally include snacks in their menu that go really well with alcohol! And it's pretty inexpensive so ordering at least 5-6 items, especially when you're in a group, is the best way to go!
Here are some of the best Izakaya Japanese bar snacks you can order:
Salty Cabbage: I know you're thinking who eats cabbage with alcohol – the Japanese! And believe me it's a mind-blowing combination. Fresh cabbage seasoned with some salt and served with tonkatsu sauce is definitely yum.

Kakipi: is a mix of spicy rice crackers and peanuts. Obviously, it goes well with any alcohol.

Tsukemono: literally means 'pickled-things'. Typically, it's a side of pickled vegetables.

Edamame beans: Served in their pods and seasoned with salt. Some izakayas serve it boiled and some grilled. Goes exceptionally well with pretty much any alcohol and is a staple snack at any izakaya.

Shiokara: is like a pâté. Shiokara is made with fermented salted liver mixed with seafood like oysters or squid. Order this along with your Japanese sake or whiskey!
Related: Would you pay $5000 for a pair of mangoes? In Japan, they do. Read more about these special mangoes here!
Seating Charges in Izakaya
There are table charges in Japanese Izakaya where you pay for a seat and not the table. You pay a small fee per person which also includes a small nibble bite. It's quite surprising when it comes to the small plate food because sometimes it can be tasty while other times, it can be disappointing.
It might be a little problematic if you're a vegetarian or vegan and most of the food available include meat or fish.
2-Hour Limit in Japanese Izakaya
There is a 2 hour limit in Japanese Izakaya when it's crowded and there are people waiting in line to get in for drinks and food. Your 2 hours start when you arrive at the izakaya. You'll be alerted by the waiters when the 2 hours are over.
However, if the Japanese Izakaya isn't crowded, you can sit for as long as you want and enjoy your drinks your way.
Smoking in Japanese Izakaya
If you don't smoke or have problems with smoking, Izakaya visits might be a little difficult for you. There are hardly any Izakaya without smoking sections. The best you can go for is a well-ventilated izakaya or izakaya with private rooms called koshitsu.
You can say, "Koshitsu arimasuka?" which means are there any private rooms?.
Paying the Bill in Japanese Izakaya
Paying the bill in a Japanese izakaya is quite easy. You pay for your share of food and drinks even though you go out with others. Just calculate the amount of food and drinks you had and pay for it.
Just say "Okaikei onegai shimasu" (お会計お願いします) which means "excuse me, bill please".
Best Japanese Izakayas To Visit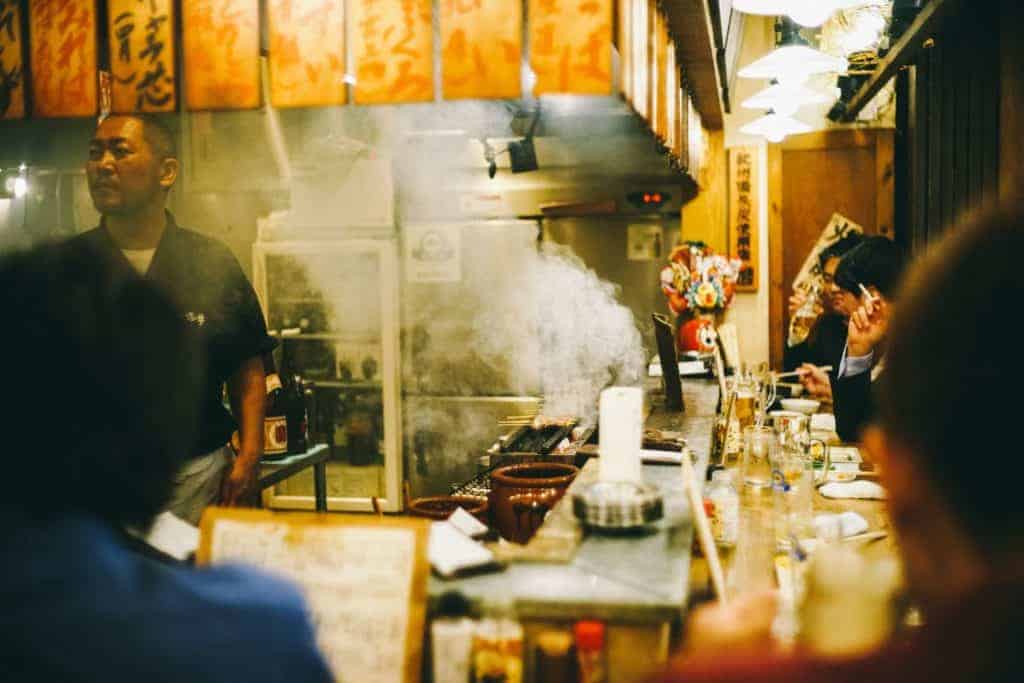 Going to an izakaya for the first time might feel a bit intimidating. And if you're a tourist in Japan then going to an izakaya is literally putting yourself right in the center of really loud Japanese people. (No, the Japanese aren't generally loud and probably the most courteous, humble, and polite people in the world – but when you're drunk – who cares?)
So let's check out some of the best Izakayas you can visit in Japan during your vacation!
Related: Wearing masks in Japan is more than just about health. Find out here why!
#1 — Shirube – Best Shimokitazawa Izakaya
Shirube is a traditional izakaya located in Shimokitazawa.
Best dish to order: Nikujaga (beef and potato stew) with garlic bread.
Timings: 5.30 PM – 12:00 AM, daily
Location:
#2 — Torien – Best Izakaya in Shinjuku West Exit Omoide Yokocho
Omoide Yokocho is a street filled with typical Japanese Izakayas and is the best place to go bar-hopping! Torien is one of the most popular Izakaya there that offers 120 types of Izakaya dishes in its menu!
Best dish to order: Chicken grilled skewers and sashimi
Timing: 12:00 PM – 11:30 PM
Location:
Related: Here's a guide to climbing Mt Fuji when in Japan!
#3 — Jomon – Best Izakaya In Roppongi
This one is a slightly upscale Izakaya but will still keep your wallet happy. This izakaya is very popular in the area so it's best to make a reservation, especially if you're going in a large group.
Best dish to order: Hakata-style grilled skewers and chilled corn chawanmushi (egg custard)
Timings: 5:30 PM – 11:45 PM from Sunday – Thursday;
5:30 PM – 5:00 AM on Fridays, Saturdays, and the day before a national holiday
Location:
Best Izakaya In Shibuya
#1 — Torikizoku
This one is a very popular izakaya chain in Japan and the best one you'll find in Shibuya amongst others.
Best dish to order: Yakitori (Grilled meat skewers)
Timings: 5:00 PM – 5:00 AM
Location
Best Izakaya In Osaka
#1 — Mizukaketyaya
One of the best Izakayas in Osaka is the Mizukaketyaya. The best thing about this place is that everything on the menu costs 300 yen!
Best dish to order: Hotate no batta-yaki (Grilled scallop)
Timings: 5:00 PM – 11:00 PM
Location
Beginner's Guide to Japanese Izakaya: FAQ
What's the age limit to enter a Japanese izakaya?
You can enter a Japanese Izakaya if you're 20 and above. You can't enter a nightclub before that age unless you lie about it but they usually ask for ID proof.
How does an izakaya work?
Izakaya means dine-in sake shop where you can order drinks and enjoy food in an informal setting. It's about being happy, eating well and drinking in Japanese style. People often go to Izakayas with their friends and family. 
What food is served in Japanese Izakaya?
Japanese izakayas serve a variety of Japanese and sometimes international dishes that commonly include sashimi, yakitori, seafood, rice and noodles, grilled seafood and meat and a lot more. Salad and pickles are usually served with food. 
Also Read: