Are you looking for the best Japanese anti dandruff shampoo to get rid of problems like dryness, flakiness, and other hair-related problems? Check out this list of the best Japanese anti dandruff shampoo. Read further to know more!
Dandruff can happen to just about anybody. But it is important to know that there is some misconception about dandruff.
A quick google search won't tell you these things — dandruff is actually dead skin that is in need of exfoliation.
Which are the best Japanese anti dandruff shampoo?
Octo
Head and Shoulders
Collage
Kaminomoto
Coco de Odo
Merit
Amphar Scalp-D
Mediquick
Besides, to holistically treat dandruff on your head, it is important to know what your scalp type is, oily or dry. Yes, dandruff can happen because of both reasons. And finally, too much shampooing is not going to help you get rid of dandruff.
Granted that this is an article about the best Japanese anti dandruff shampoos available for use, it is important to regulate the amount of usage.
Not only that, make sure you're aware of what active ingredients make the most of it. Additionally, it is better for your hair and scalp to choose a shampoo that is targeted towards your hair type.
Best Japanese Anti Dandruff Shampoo: Summary
Top Japanese Anti Dandruff Shampoo
Octo (オクト)
This is one of your drugstore finds. Most commonly known and used to treat dandruff and for good reason. It does the job.
The main active ingredient of the shampoo is octopirox aka Piroctone olamine. This is a replacement for Zinc pyrithione, which is commonly found in other anti dandruff shampoos.
This octopirox is one of the most effective ingredients with the unmatched potential to treat dandruff from its root cause.
The ingredient also has anti-fungal properties that come from its petrochemical origin. This is the best Japanese anti dandruff shampoo that is a drugstore product.
If you're ordering off of amazon, you'll usually find that this shampoo comes as a set of two. Each bottle is 320ml and should last you for quite a bit.
I'd recommend pairing this shampoo with its partner conditioner because I found the shampoo to be quite drying just by itself.
Alternatively, the company produces another post-wash rinse liquid that can be paired with any shampoo, while ensuring the active agent has affected the scalp.
The same company, Lion, also produces another anti-dandruff shampoo called Serapie. The reason it didn't make it to the list is because I didn't see any differences in the ingredients list, and yet it is sold for at least double the price.
Related: check out these best Japanese conditioners you can pair your shampoo with, for healthy hair!
Head and Shoulders moisture shampoo (エイトアンドエス)
Who hasn't heard of h&s shampoo japan review on Amazon for being the best Japanese anti dandruff shampoo? It is one of the most globally popular solutions for dandruff, and it has its own variation for Japan.
This best Japanese anti dandruff shampoo is from their moisture series, and as the name suggests, is for Premium Scalp Care.
This shampoo is recommended for those with dry scalps and treats dryness, itchiness and dandruff all together to give you moist and glossy hair.
The main ingredient of this shampoo is zinc pyrithione, a very promising anti dandruff agent. The agent is derived from deep-sea minerals that are known to seep deep into the pores and gently work their way inside out.
The shampoo comes in multiple variations. Some for men, others for women. And you can also find shampoos for treating dandruff for oily scalps in the Head and Shoulders range.
I wouldn't recommend using this shampoo as a part of your everyday shampoo routine as it can have a somewhat dying impact if used too much.
If your hair is extremely dry, I'd suggest using a conditioner as well. A single wash does the trick. Lather, rinse and repeat is also not necessary.
This product comes in handy for quick dandruff washes, provided you're not an extreme case. That might take multiple washes to get off. This is also a Japanese shampoo for oily hair.
Related: Check out these best Japanese hair dryers to style your hair!
Collage (コラージ)
If you're willing to splurge a little bit on your haircare, this Collage anti dandruff shampoo can do wonders for your hair as it is the best Japanese anti dandruff shampoo but a bit pricey.
This, in my opinion, is one of the best Japanese anti dandruff shampoos around that promotes clean, squeaky scalps, but not at the cost of hair damage.
The main ingredients found in the shampoo are miconazole and piroctone olamine. Both are antifungal agents.
Piroctone olamine is an excellent substitute for zinc pyrithione, considering that preventing scaling from the dandruff is one of its first acts. It does a good job in severe cases as well.
This shampoo is especially great for people who have multiple concerns. You can not only wash off dandruff but also prevent further chances. It also reduces or completely stops the itchiness and bad odour in the hair.
This shampoo comes in variations for dry and oily hair. The red packaging is for dry hair and the blue one for oily. You can find conditioners with respective packaging for the relevant hair type.
Related: Here are some hair straightening products to give your hair a new style!
Kaminomoto medicated shampoo (加美乃素)
If you go to a dermatologist, there is a high chance that he/she will recommend this to you.
This Japanese anti dandruff shampoo is not only effective when it comes to alleviating dandruff but also helps you have control over other issues like itchiness on the scalp, smell, sebum, dirt and clogged hair follicles and pores.
Kaminomoto Medicated Shampoo B&P has piroctone olamine as the main ingredient.
The shampoo is moisturizing for your scalp and aims to create a scalp condition that is suitable for more hair growth.
The shampoo itself has antiseptic and anti-inflammatory properties that further aid in maintaining relaxed scalp conditions.
It is recommended to wash your hair with lukewarm water when you're using this shampoo. A simple and gentle massage into your scalp with your fingertips will do the deed.
The best results are achieved when you couple it with the Kaminomoto Medicated Conditioner B&P that will help you achieve a soft and moisturized scalp.
It helps in moderation of the oil content on your scalp alongside preventing dander. This should definitely be on the best Japanese anti dandruff shampoo list!
Related: Best Japanese Hair Brushes if you wanna comb your hair without breakage!
Coco de Odo (ココデオード)
The main ingredients in the Shirokane Coco de Odo shampoo are Miconazole Nitrate and Dipotassium Glycyrrhizinate.
The latter has properties of preserving hyaluronic acid in the skin, that ultimately helps in keeping the scalp hydrated. Both these ingredients have antifungal properties that help in treating dandruff.
The same company, with the exact same ingredients, also manufacture a soap bar that can be used to shampoo or as an anti-fungal treatment for fungal infections.
The shampoo itself helps in the treatment of dandruff, itchiness, odour and flakiness. This sulphate-free shampoo in Japan is one of the best produced shampoos in the country.
The shampoo brand recommends stopping the use of shampoo if no difference is seen in a few washes. They say that you should switch to another one.
What makes this shampoo one of the best Japanese shampoos for anti dandruff is the fact that it uses a non-silicone formula and is also free of menthol, and scent.
It's one of the best Japanese anti dandruff shampoo that is antifungal, sulphate free and cures dandruff.
.
Related: Change your look this season with these best Japanese hair dyes!
Merit (メリット)
This is one of the more natural alternatives there is to anti dandruff shampoos there is in Japan. While the main ingredient is glycyrrhizinate dipotassium. It's the best Japanese anti dandruff shampoo that smells amazing!
The ingredient is responsible for acting as an anti-allergic and anti-inflammatory agent when used. It is derived and extracted from Licorice roots found in plants.
Adjoining responsibilities of the active ingredient include making the hair feel rejuvenated.
In addition to that, the merit anti dandruff shampoo also has a non-silicone formula with chamomile and eucalyptus extract that helps in keeping the scalp moisturized, that interns prevent dandruff and itchiness.
If you're suffering from severe dandruff, I would not recommend this. However, if you're in recovery and are hoping to prevent a relapse, this gentle solution can do wonders.
Just an extra tidbit, the compounds of the shampoo make for a weakly acidic nature of the solution. This nature resembles the natural state of your hair.
Using this shampoo helps you bring it right back home. It's one of the best anti dandruff shampoo that works really well.
Related: Strengthen your hair and reduce hair loss with these amazing Best Japanese collagen supplements!
Amphar Scalp-D (アンファー スカルプD)
Using the shampoo of the Angfa Scalp D series means more than just treating dandruff. These shampoos are designed to help you reset your scalp condition.
This is one of the most expensive ones in the anti-dandruff range, but it's worth considering because of the many irresistible features it has.
It is completely additive-free. The shampoo is free of paraben, silicone, sulfate, phenoxyethanol, artificial colour and fragrance. And as for what is in it, piroctone olamine and dipotassium glycyrrhizate.
It's the best Japanese anti dandruff shampoo that has no paraben, silicone and other chemicals that will potentially harm the hair.
What makes this combination better, is that it is accompanied by salicylic acid ‒this baby is responsible for the quick clearing of flakes and even quicker healing!
This shampoo is available for all hair types, ranging from dry and oily to very oily.
Mediquick (メディクイックH ふけ)
Mediquik, just like the Coco de Odo, has a desirable combination of dipotassium glycyrrhizate and miconazole. The one thing that is different though, is the fact that it uses a more gentle approach towards cleansing by including amino acid as a cleansing agent.
Which is the best Japanese anti dandruff shampoo?
I've used several anti dandruff shampoos but I found Head and Shoulders to be the best Japanese anti dandruff shampoo because of results, ingredients, and additional benefits.
Head & Shoulders shampoo is an anti dandruff shampoo good for normal hair type. This shampoo is primarily for 'Premium Scalp Care' from the moisture series of the brand. It is recommended for dry scalps and treats dryness, itchiness, and dandruff. This best Japanese anti dandruff shampoo also restores shine and glossiness in hair. It is available for sale on Amazon.
How to choose an anti dandruff shampoo?
Ingredients: Check for salicylic acid as it removes dead skin and Zinc pyrithione that treats flaky scalp. Avoid shampoos that involve harsh chemicals like sulphate, parabens etc.
Fragrance: Choose a shampoo with no scent or mild scent so that it doesn't react with your scalp or hair. Natural scents are fine.
Dermatologically tested: Choose shampoos that are dermatologically tested as they are safe, tested on humans, and tolerant.
Dandruff Free Hair
Be aware of what your issue with dandruff is, whether it is flakiness or itchiness. Look for appropriate labels on the shampoo bottle that say kayumi (かゆみ) for itchiness and fuke (ふけ) for flaking.
These words will also help you describe your dandruff issues to the dermatologist [Hifuka(皮膚科)].
Hope this article- Best Japanese anti dandruff shampoo helped you pick the best one suitable for your hair to restore the shine back!
Also Read:
Hiya! I'm the main author of Japan Truly. I love everything Japan and love testing out Japanese products, be it skincare and makeup or gadgets! You'll find reviews of some of the best selling Japanese products (tried and tested) right here!
Anti Dandruff Shampoo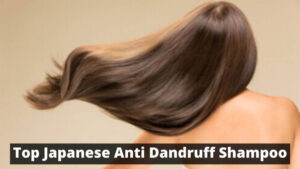 Check out Best Japanese Anti Dandruff Shampoo, a list of shampoos that are great to treat dandruff, flaky scalp, dryness, and other problems. Check out Head & Shoulders as it's the best among the rest. Read further to know more.
Product SKU: GHJNC35476543765
Product Brand: Head & Shoulders
Product Currency: USD
Product Price: 51.70
Price Valid Until: 2021
Product In-Stock: InStock