If you're visiting Japan, MUJI is a must-visit store in Japan! And here's a list of the best things to buy at MUJI Japan!
MUJI is one of the most popular lifestyle brands in Japan providing high-quality and stylish goods. It offers everything from stationery to household products, and cosmetics to furniture. 
The brand has garnered a ton of loyal fans who swear by its products. They have products with simple, minimalistic packaging that comes in subdued colors.
The products are high in quality and will definitely satisfy you. You will be able to find MUJI stores in about 25 other countries across the globe. However, the experience that the MUJI store in Japan provides is unlike any other.
If you are traveling to Japan, you must definitely visit the store to check out the vast array of excellent products it has.
Best Things To Buy At Muji Japan!
Why this obsession with MUJI, you ask? There really is no reason to not love MUJI; it is perfect in every sense. But if you are still looking for reasons to love MUJI, here's why this brand will have you coming back again and again
They have a huge selection of products. No matter what you want, you will find it at MUJI's.
They have an adorable packaging system that is minimalistic, but elegant.
They believe in minimizing waste, and so they recycle.
Every product is perfectly designed.
Now, as there are so many products, we do not want you to get overwhelmed when deciding what to choose. We have put together some of the things that you must buy at MUJI Japan.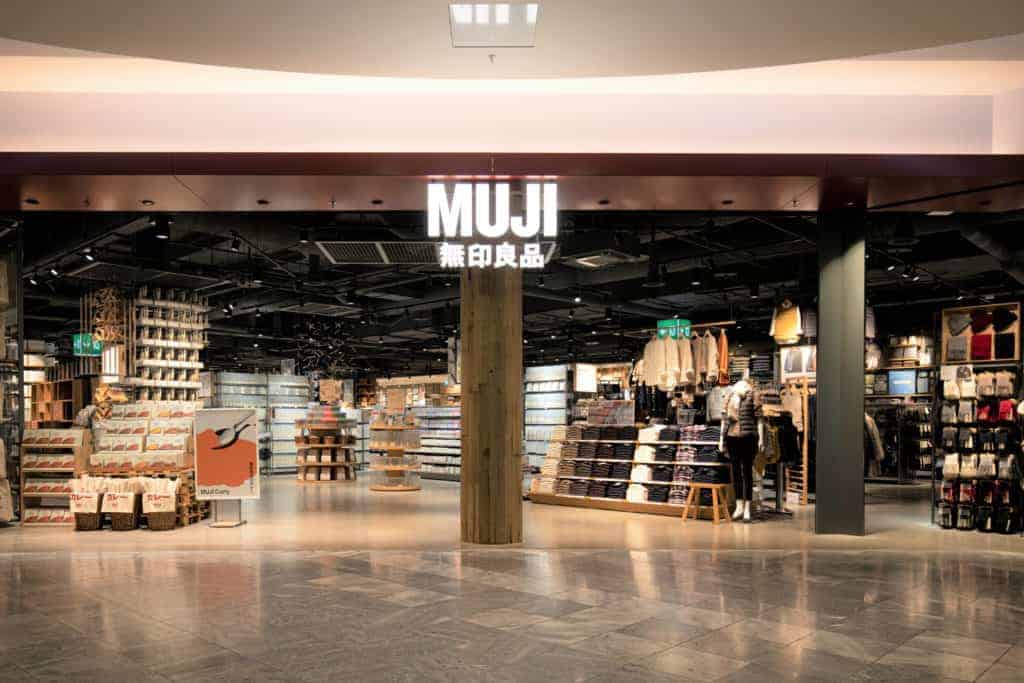 And if you're not making a trip to Japan anytime soon then get your favorite MUJI products online on Amazon. Check it out here!
#1 — MUJI High Moisture Toning Water
If you have never considered the skincare range at MUJI, you must. They have such an extensive range of products that are great for the skin. Their sensitive skincare range is free from parabens and alcohol.
There are also no artificial colors or fragrances, making it the perfect choice for you if you have sensitive skin that also battles with dryness.
It is excellent toning water that provides hydration to your skin, without ripping it off of its natural moisture. It also contains a lot of skin protection ingredients such as purslane extract, grapefruit seed extract, and hyaluronic acid.
Related: You cannot miss out on DAISO products in Japan! Check out the best DAISO products
#2 — MUJI Monthly Planner – Best MUJI Products – Stationery
When you get an elegant monthly planner, you would definitely like to start maintaining a well-scheduled routine. This monthly planner from MUJI will take you one step ahead in following your schedule. If you love diaries and planners this is definitely one of the things to buy at MUJI Japan for you!
It is a schedule book that does not have dates and months pre-written in it, like other planners. This gives you the flexibility of writing your own dates and to start using it at any time, without restricting yourself to the date in the planner.
If you like bullet journal-ing then this planner is a great option! You have the flexibility to design it all by yourself!
It is a great stationery item to note down your daily tasks and monthly aims.
Related: When in Japan check out these Japanese cosmetics! They're worth every penny!
#3 — MUJI Ballpoint Pen With Eraser – Best MUJI Pens
Are you into cute and unique stationery items? Then this pen is definitely one of the things to buy at MUJI, Japan. It is a ballpoint pen, yes, but it is a pen that comes with a special feature. We have all used pencils with erasers on the other end, right? But we have not used pens with erasers. Not anymore, though.
This ballpoint pen comes with a special rubber in its cap that lets you rub the ink. You can write and erase as many times without worrying about damaging or ruining the paper. Isn't it magical? It is great for writing your to-do lists, doing assignments, or anything else.
Definitely one of the best things to buy at MUJI Japan!
Related: The next store to hit in Japan? 7-eleven! Check out these 7-Eleven food items in Japan!
#4 — MUJI Face Towel
The face towels at MUJI are great. These organic cotton towels let you pamper yourselves. Thanks to its wonderful texture and various sizes, it is a favorite amongst Japanese.
The face towels are absorbent and durable. They can withstand a number of washes without fraying or losing its qualities. The fibers of the towels also won't stiffen over time.
The towels are available in three types of thickness: thin, medium, and thick.
The thin towels in the series are light-weight and dry quickly, making it a great choice for when you are traveling. The medium thickness towels are great for daily use, whereas the thick towels are super absorbent and plush.
These super soft towels are definitely one of the best things to bu at MUJI Japan!
Related: Don't miss out on some of the yummiest Japanese convenience store foods. Check it out!
#5 — MUJI Nylon Book Makeup Pouch
As women, we love carrying our makeup with us, but cannot find the right pouch to hold everything easily. This nylon makeup pouch at MUJI is a great find. It is shaped like a book and it opens up like one.
The compact design allows you to carry all your makeup products and makeup brushes with you, without being bulky. When it closes, it becomes small and compact, allowing you to fit it inside your purse.
Check out this best things to buy at MUJI Japan!
Related: Keep your homes squeaky clean with these cleaning products from Japan!
#6 — MUJI Aluminum Card Case
We all have several cards with us, including our credit cards, membership cards, shopping cards, business cards, and more. It is not always possible to carry all of them in our wallet; it is not practical. You might end up wasting several minutes trying to find the right card from a bundle. Also, carrying around those cards in your wallet can make it bulky.
So, what's the solution?
Get the aluminum card case at MUJI with 25 sheets. It allows you to store your cards without mixing them and spending an eternity trying to find the right card. Also, this is a great organization idea for all your cards.
Related: Here are some baby products you'll absolutely love. Check it out!
#7 — MUJI Authentic Spicy Chicken Curry
The packaging of MUJI's Spicy Chicken Curry indicates the level of spiciness. The dish is quite hot and because of this, it is comparable to the popular Indian favorite, Butter Chicken!
The spiciness of the black pepper lingers after eating and the chicken is tender and incredibly sumptuous. This is actually one of my personal favorites and must go into your list of things to buy at MUJI Japan.
#8 — MUJI Hand Cream for Sensitive Skin – Best MUJI Beauty Products
The range of sensitive skincare products is great at MUJI. When we talk of skin, we only talk about our faces. However, it is equally important to give love and care to our hands. If we have sensitive skin, our hands need special cream too to keep moisture locked in and hydrated. 
The hand cream for sensitive skin at MUJI protects the delicate skin of the hands. It prevents the skin from drying. The natural ingredients provide moisture and keep your hands hydrated and soft.
Related: Improve your overall oral health with these amazing Japanese toothpastes. Check it out!
#9 — Muji White Porcelain ToothBrush Stand
The next best things to buy at MUJI Japan is a toothbrush stand. It's sleek and classy and will look super stylish in any bathroom. It's made of porcelain and holds one toothbrush. You can even get this on Amazon. You can either buy a single piece or upto 12 pieces.
Check it out!
Muji Heat Proof Glass Teapot
Muji Heat Proof Glass Teapot is a one litre heat-resistant glass teapot that is worth buying from Muji. It comes with a removable strainer that helps in brewing tea perfectly. I love using Muji Teapot as it's stylish as well as useful.
Even the finest tea leaves can strain through the strainer of this pot. It's difficult to break as the lid is resinous and the strainer is made from polypropylene material. There are two sizes available- 670 ml and 1L which you can take according to your consumption.
I also love the fact that I didn't have to spend a lot of money to buy this teapot because it's a great investment. 
MUJI Ultrasonic Aroma Diffuser
This Muji ultrasonic aroma diffuser is perfect for rooms, drawing rooms as well as halls. It's an amazing device that helps in keeping the room fresh by spraying fragrance mists. The diffuser has 2 LED lights and 4 different sets of timer that you can set.
It's really soothing and you'll definitely love it in your room. You can also get this to gift it to your friend or family member for any special occasion. This ultrasonic aroma diffuser doesn't come with essential oils so make sure you buy them separately to operate this diffuser.
MUJI Room Shoe
This room shoe from Muji is a great buy because it can be worn around the house without having to worry about it being dirty. It's extremely comfortable as well as skin friendly. This is my favourite slipper that I wear throughout the day at home.
It's made with linen, cotton and polyester material of great quality. It's sliding and is easy to put on and take off. I also love the colour which gives a very subtle homely feeling. There are different sizes available that you can pick according to your own shoe size.
Also, check out the Amazon MUJI store so you can buy more authentic MUJI products from the comfort of your home!
What can you buy in MUJI Japan?
MUJI offers a wide range of products from stationery, kitchen items, cosmetics, and food items. Here are some of the best things to buy in MUJI Japan
High moisture toning water
Monthly planner
Nylon Book Makeup Pouch
Aluminum card case
Spicy Chicken curry
Hand cream for sensitive skin
White porcelain toothbrush stand
Sneaker socks
Is MUJI in Japan Cheaper?
You will be able to find MUJI products in MUJI stores abroad. However, it's best to buy MUJI products from Japanese MUJI stores as the prices there are much lower than the MUJI stores abroad.
Also Read: