Onitsuka Tiger is one of my favorite brands! They're classy and super durable. Check out these Onitsuka Tiger Japan outlets and latest releases.
Onitsuka Tiger is a popular shoe brand that took its first steps in 1949 in Japan. They make the best use of their retro designs to create shoes that look stunning and are long-lasting for comfortable footwear.
Thanks to the innovative designs that are a perfect blend of fashion and comfort, this sports fashion brand became a favorite amongst sneaker fans from all over the world!
Two of the most popular series that this brand has are MEXICO66 and SERRANO. They also make slip-on shoes that are a huge hit among people. Onitsuka Tiger Mexico 66 slip-on reviews were all positive and the line gained a lot of attention when it came out.
Their highest ranking line is the Onitsuka Tiger NIPPON MADE, which has become so popular that it has now become an ideal souvenir for anyone visiting Japan.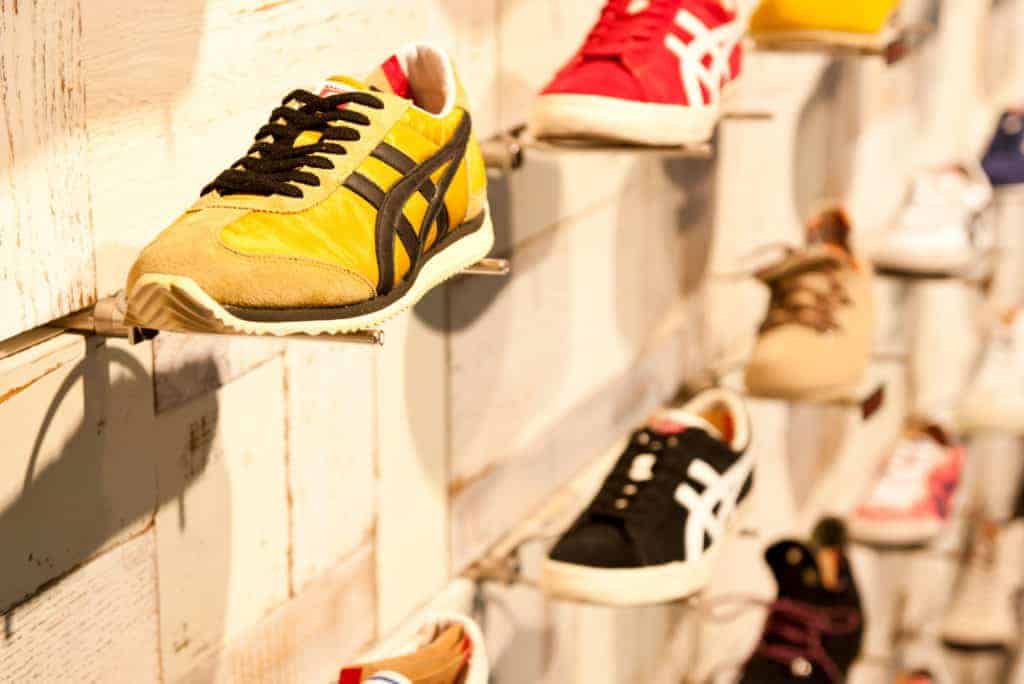 You can check out Onitsuka Tiger's entire range at their official Amazon store here. Or read on below to check out some best select ranges from Onitsuka Tiger's collection!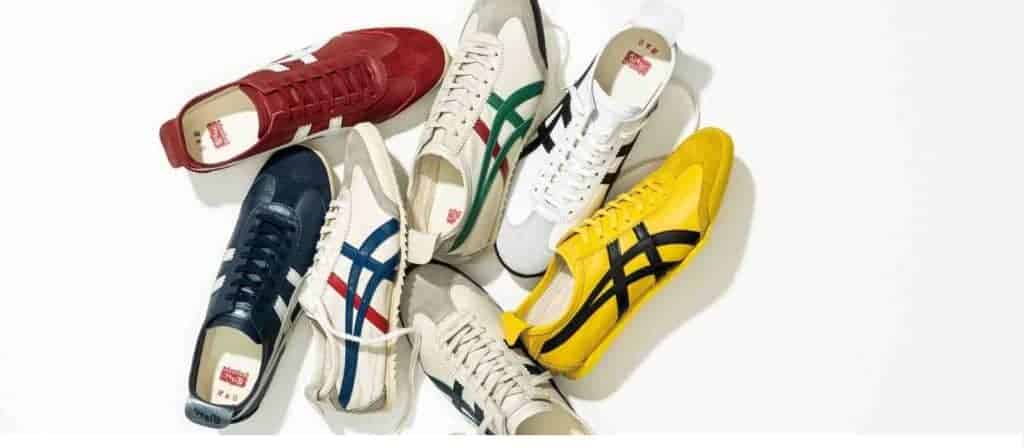 Onitsuka Tiger Official Store and Outlets
There are Onitsuka Tiger shops all around the world. You will be able to find shops in Asian cities as well such as Bangkok (Thailand) and Jakarta (Indonesia).
So, most people can buy Onitsuka Tiger shoes from their home country itself, without having to travel to Japan. However, some limited models are not available outside of Japan.
Each new design that the brand launches into the world is runway ready and so fashionable, you would want to stare at them all day long.
But despite this, they are relatable. These shoes are for everybody, literally!
The brand brings shoes that show the excellence of their expert craftsmanship that pays extra attention to every hand-stitched detail.
This excellency is what makes Onitsuka Tiger a leader in the world of sneakers.
Onitsuka Tiger brings to us all their world-class shoes on their e-commerce website; every latest design and classic piece are here for you to check out and cart before you start drooling all over. They also have online exclusives that you can get your hands on every now and then.
You'll find Onitsuka tiger outlets all over Japan. These include the following
Tokyo
Kanagawa
Hokkaido
Aichi
Osaka
Hyogo
Fukuoka
Hiroshima
Kagawa
Onitsuka Tiger Japan Outlet in Osaka – The Largest Onitsuka Tiger outlet In Japan!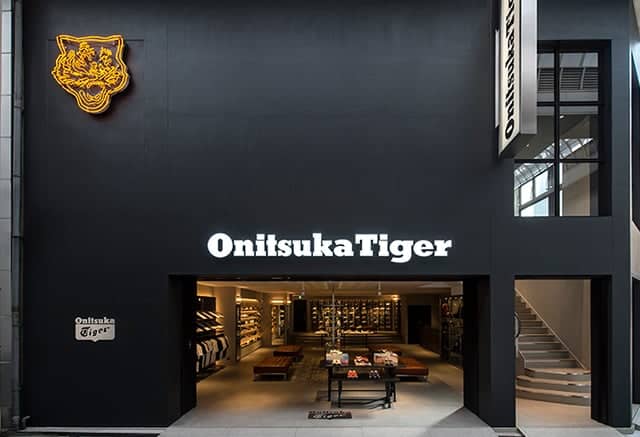 Onitsuka Tiger recently opened its outlet in Namba, Osaka in 2018. The area sees a lot of tourist movement making it quite a busy location. All the tourist attractions and delicious food make this place the perfect place to attract visitors.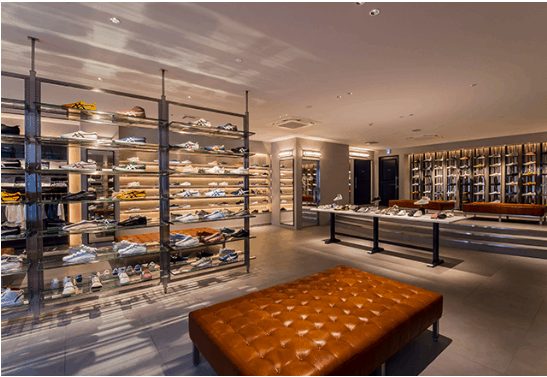 The Onitsuka Tiger outlet in Osaka is the largest shop of the brand in Japan. The shop has an abundance of products, far more than what you will find in other stores. So, if you have been eyeing anything special, you do not have to worry about missing out on it. Also, if you are looking to find gifts or souvenirs from Onitsuka Tiger for your friends and family, this is the best place to get them.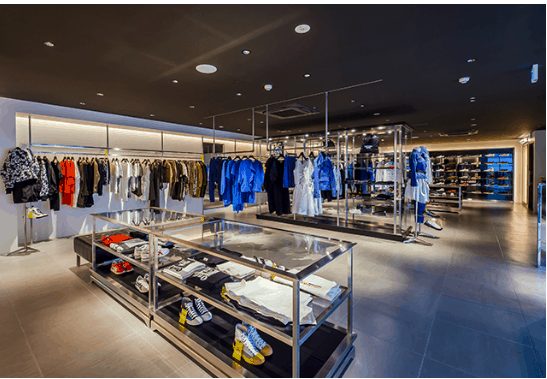 The shop is built on two levels above ground, with interiors that showcase the most stylish combination between the vintage and the futuristic. You will find all types of Onitsuka Tiger shoes in this outlet.
So, be sure to check out this store if you are in Osaka!
You'll also find Onitsuka Tiger Japan outlets in Kanto, Hokkaido, Tokai, and Kansai regions.
Onitsuka Tiger Japan Outlets in Kanto Region
In the Kanto region, you'll find Onitsuka Tiger Japan outlets in Tokyo and Kanagawa. Tokyo has at least 20 official Onitsuka Tiger Japan outlets. While Kanagawa has one official Onitsuka Tiger Japan outlet.
The store aren't as huge as the one in Namba, Osaka but still worth a visit if you're looking for Onitsuka Tiger shoes.
Here are the locations of top Onitsuka Tiger Japan Outlets in Tokyo:
#1 — OMOTESANDO
TEL: 03-305-6671
Working hours: 11:00 – 21:00
4-24-14, Jingumae, Shibuya-ku, Tokyo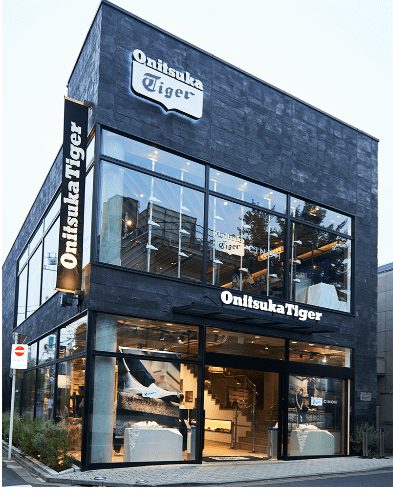 #2 — SHIBUYA1
TEL: 03-3464-9040
Working Hours: 11:00 – 21:00
Shibuya Jinnan Kyodo Building 1-2F, 1-21-3, Jinnan, Shibuya-ku, Tokyo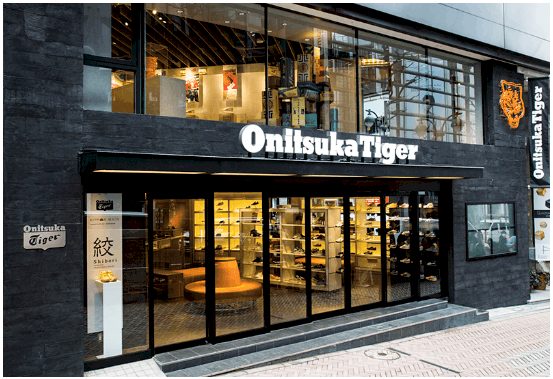 #3 — SHINJUKU EAST
TEL 03-6274-8974
Working hours: 10:00 – 21:00, Sat- Sun
3-17-5 Shinjuku, Shinjuku-ku, Tokyo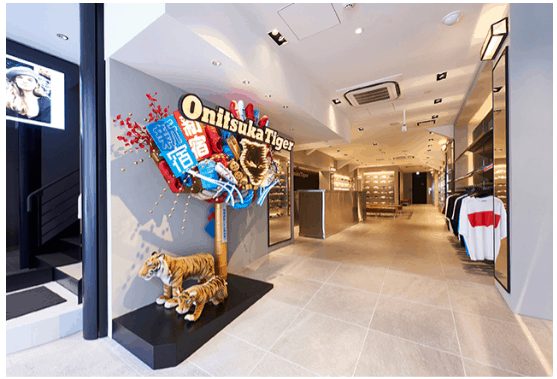 #4 — SHINJUKU SOUTH
TEL: 03-5925-8022
Working Hours: 11:00 – 21:00
Dai san sky building 1-2F,4-1-4, Shinjuku, Shinjuku-ku, Tokyo
#5 — GINZA
TEL: 03-6264-5877
Working Hours: 11:00 – 21:00
Ginza Saegusa building 7-8-8 Ginza, Chuo-ku, Tokyo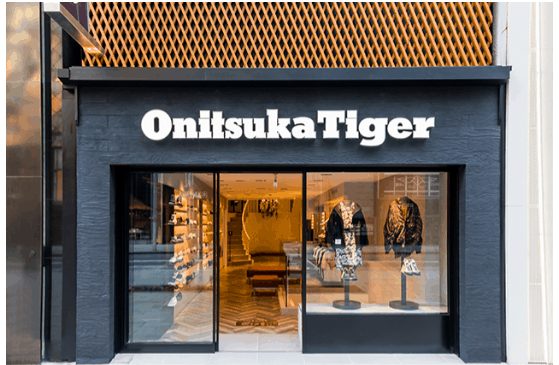 Check out all the Onitsuka Japan Outlet Store here!
Top Onitsuka Tiger Shoes
#1 — Onitsuka Tiger – Delegation EX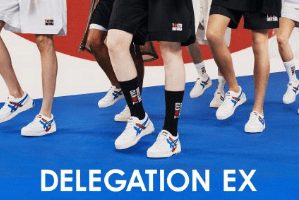 Delegation EX is a modern redesign of the shoes that were once worn by the Japanese athletes in 1964. The 'Tokyo Onitsuka' logo on the tongue is there in the redesigned version as well, just like it was in the 1964 model.
The midsole uses a sponge material, Flytefoam Propel, which has superior resilience. A rubber sponge is used for the outer sole, and the super-comfortable OrthoLite is used for the insole. It is extremely comfortable to wear and ensures your feet do not feel worn out by the end of the day.
#2 — Onitsuka Tiger – Limited Edition Valentino Collaboration Shoes
In Valentino's Paris Men's Collection for Autumn/Winter 2020, Onitsuka Tiger revealed its brand new collection of shoes made in collaboration with Valentino. These are limited editions of Onitsuka Tiger's iconic 'Mexico 66 SD' model. These iconic sneakers have been reinterpreted and designed by Pierpaolo Piccioli, who is the creative director at Valentino.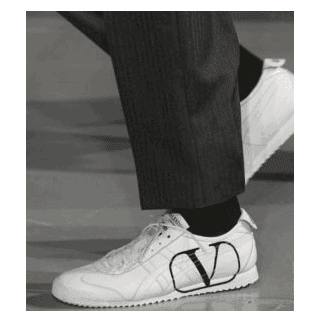 In these limited edition shoes, you will see a bold Valentino 'V' logo, right above the iconic Onitsuka Tiger stripe. The tongues use a label that has been specially designed for this collaboration. The tongues have logos of both the companies. The logos can be seen on the insoles of the sneakers too.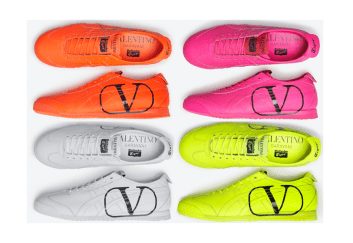 The midsole of the sneakers uses highly-cushioned materials, while the outer sole uses original materials that offer superior durability and gripping ability.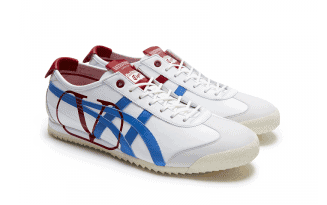 The limited-edition Valentino collection comes in four colors that are emphasized by Valentino's characteristic use of colors. Onitsuka Tiger will sell one of the limited tricolor models in certain stores as well as on it online website.
#3 — Onitsuka Tiger – The Mexico 66
The Mexico 66 is such an iconic shoe that there really cannot be anything wrong with it. The shoe has a strong association with the brand and when one talks of Onitsuka Tiger, this is probably the first design that comes to mind.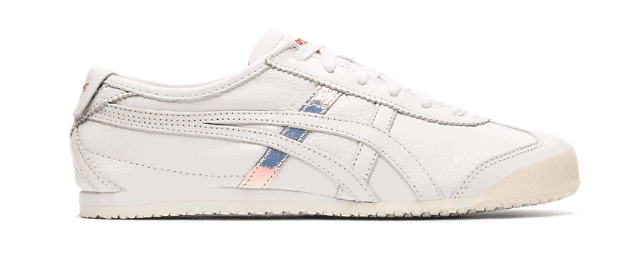 The shoe has a leather and suede design that gets its name from the Limber trainers that were first designed ahead of the Mexico City World Track and Field Championships in 1966. The Mexico 66 also is one of the first models to feature the ASICS stripes. Since the design is so popular, the brand usually comes with a couple of updated versions every year. Here is one that we love:
#4 — Onitsuka Tiger – Mexico 66 SD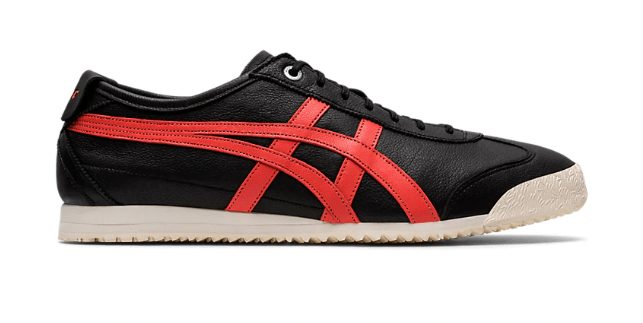 The Mexico 66 SD packs new upgrades that have been designed to improve the performance and utility of the shoe. The shoes are slightly slimmer than their previous counterparts and they come with a modern silhouette.
The Mexico 66 SD has two new technological advancements – AmpliFoam for the midsole and the OrthoLite for the insole. These new additions make the shoes extra comfortable and give an overall cushioning effect.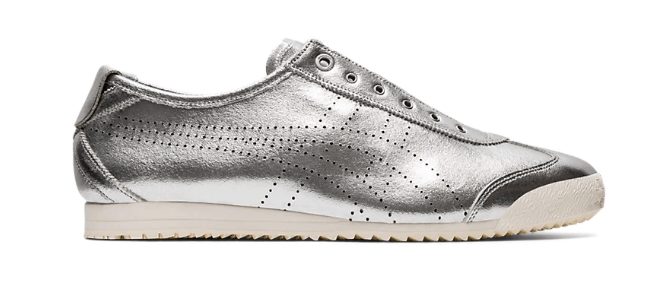 The new outsole is also made of rubber for excellent grip and better durability. There is a range of versatile colors that you can get the Mexico 66 SD in.
#5 — Onitsuka Tiger – Admix Runner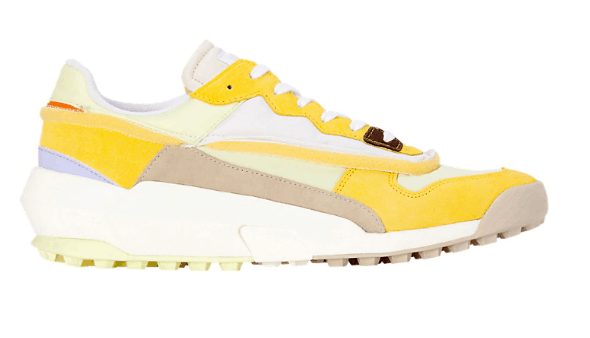 The Admix Runner is from the SS19 Andrea Pompilio's collection. It is a shoe that comes with a unique design and style with funky color blocks and details that are perfect for those people who love making a statement.
Have you been a huge fan of the recent chunky dad shoe trend? If yes, then this shoe will help you live that dream while being fashionable. It is not old-fashioned, contains the features of a chunky old dad shoe, and comes in an artistic pop of colors that will make you an instant trendsetter.
You will definitely appreciate the similarities this design has to the classic running shoes. The shoe has functional details of a shock-absorbing fuzeGEL heel and OrthoLite X-40 inner sole. These features make the shoe light in weight and help give you a comfortable fit that will last all day long.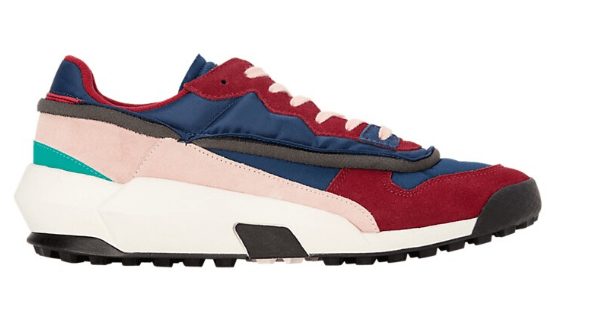 There are two styles available – the slightly chunkier version, Admix Runner and the slimmer version, Admix Runner Slip-On. If you hate dealing with shoelaces, you may want to try your hands on the slip-on version for the same comfort sans the pesky laces.
#6 — Onitsuka Tiger – OK Basketball
The OK Basketball was launched to pay homage to the brand's rich heritage. It was particularly brought to celebrate 70 years of their founding pair of sneakers, the basketball shoe.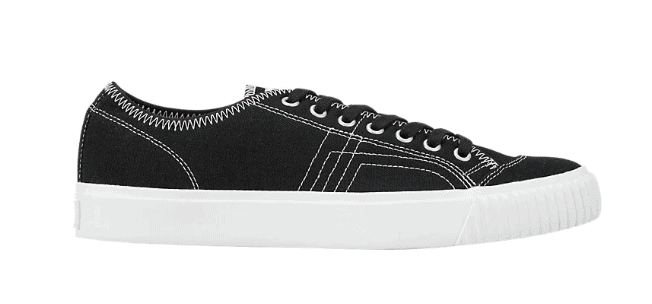 The new release has a slight edge over the original, mainly because of the more comfortable fit and design. The shoe has a molded inner sole that provides a cushioning effect, allowing you to run around for a long time without your feet feeling worn out.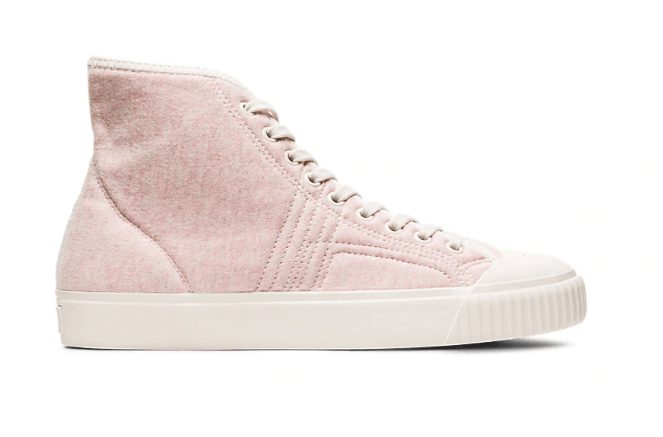 #7 — Onitsuka Tiger – HSINTI
Do you love the Street Style look that is taking the world by storm? Yes, we love it too, and that is why HSINTI is the perfect choice for us. They are also the perfect fit for the dad shoe trend thanks to the chunky yet sleek design that is truly unique.
The shoe has an added OrthoLite sock liner that provides extra cushioning to your feet to make them comfortable. The heels are color-accented and come with the Onitsuka Tiger logo.
#8 — Onitsuka Tiger – Tiger Corsair Shoes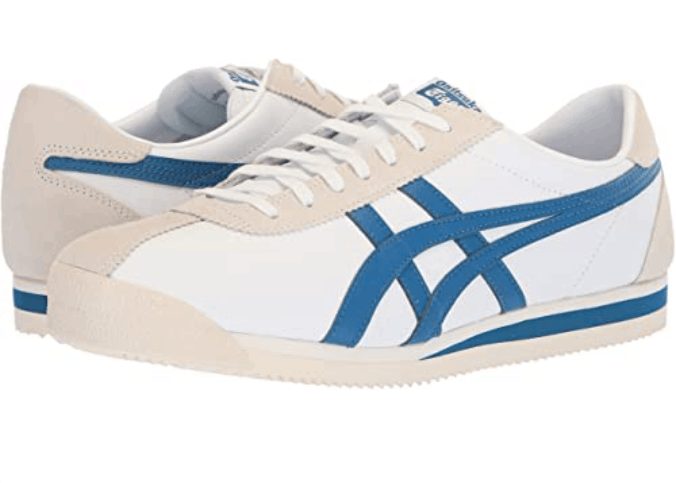 These super stylish Tiger Corsair shoes are based on ONITSUKA TIGER's classic design of the 1970's jogging shoe. The Tiger Corsair has a thicker heel for better shock absorption. Your joints also get better protection because of this. It's also long lasting as it features a flexible EVA midsole and durable rubber outsole.
These pair of uber cool Onitsuka Tiger shoes are great to up your street style game! Check it out below!
Want to check out more? Check out Onitsuka Tiger's official Amazon store here to browse through their entire collection!
Is Onitsuka Tiger Made in Japan?
Yes, Onitsuka Tiger shoes are indeed made in Japan. The brand takes pride in its Japanese heritage and craftsmanship, ensuring that their shoes are manufactured in their home country. By producing their shoes in Japan, Onitsuka Tiger maintains strict quality control and upholds the reputation for superior craftsmanship that the brand is known for. This commitment to manufacturing in Japan allows them to showcase their dedication to creating high-quality footwear that reflects the rich traditions and expertise of Japanese shoemaking.
Is Onitsuka Tiger popular in Japan?
Yes, Onitsuka Tiger is popular in Japan. The brand has a strong presence and a loyal following in its home country. Onitsuka Tiger's long history and connection to Japanese culture, combined with their emphasis on quality craftsmanship and iconic designs, have made them a sought-after brand among fashion-conscious individuals in Japan. The brand's sneakers, particularly the classic models like the Mexico 66, have become synonymous with Japanese street style and have gained a significant following both domestically and internationally. Onitsuka Tiger's popularity in Japan is a testament to their enduring appeal and the recognition of their brand heritage within the local market.
Where is the largest Onitsuka Tiger store in Japan?
The largest Onitsuka Tiger store in Japan is located in Tokyo. It is situated in the popular shopping district of Omotesando, specifically on Cat Street. The store occupies a significant space, providing a wide range of Onitsuka Tiger products and offering a comprehensive brand experience for customers. It serves as a flagship store for the brand, showcasing their latest collections and embodying the essence of Onitsuka Tiger's heritage and design aesthetic. As trends and locations may change over time, it's always recommended to verify the latest information on the specific location and size of the largest Onitsuka Tiger store in Japan.
Is Asics the same as Onitsuka Tiger?
Yes, Asics and Onitsuka Tiger are related. Onitsuka Tiger was the original brand name established in 1949 by Kihachiro Onitsuka in Japan. It gained prominence for its athletic footwear and eventually expanded its offerings. In 1977, Onitsuka Tiger merged with two other companies to form Asics Corporation. Asics stands for "Anima Sana In Corpore Sano," which translates to "a healthy soul in a healthy body." While Onitsuka Tiger primarily focuses on lifestyle and fashion footwear, Asics is more widely recognized for its athletic performance footwear and apparel. Both brands are part of the same parent company but cater to different market segments.
Is Onitsuka made of pig skin?
Onitsuka Tiger footwear typically utilizes various materials for their shoes, including leather. While specific models and collections may vary in terms of materials used, it is possible that some Onitsuka Tiger shoes may incorporate pigskin leather in their construction. However, it is important to note that this can vary between different styles and collections, so it is always recommended to check the product description or reach out to the manufacturer directly for precise information on the materials used in a particular shoe.
Is Onitsuka Tiger comfortable to wear?
Onitsuka Tiger shoes are known for their comfort and quality. The brand places emphasis on designing footwear that not only looks stylish but also provides a comfortable wearing experience. Onitsuka Tiger incorporates cushioning and supportive features into their shoes, ensuring that they can be worn for extended periods without discomfort. However, it's important to note that comfort can vary depending on individual preferences, foot shape, and the specific model of shoe chosen. It is always advisable to try on a pair of Onitsuka Tiger shoes to determine if they meet your personal comfort requirements before making a purchase decision.
What makes Onitsuka Tiger special?
Onitsuka Tiger holds several unique qualities that contribute to its distinctiveness:
Heritage: Onitsuka Tiger has a rich history dating back to 1949, rooted in the founder Kihachiro Onitsuka's commitment to creating high-quality athletic footwear. The brand's heritage and legacy are ingrained in its designs and craftsmanship.
Japanese Aesthetic: Onitsuka Tiger embraces Japanese design principles, blending traditional craftsmanship with modern sensibilities. The brand's footwear often features clean lines, minimalist aesthetics, and attention to detail, reflecting the beauty of Japanese art and culture.
Iconic Designs: Onitsuka Tiger has created iconic shoe models that have stood the test of time. Styles such as the Mexico 66 and the Corsair have become synonymous with the brand and are recognized for their classic and timeless appeal.
Versatility: Onitsuka Tiger offers a diverse range of footwear that spans lifestyle and fashion categories. While rooted in athletic footwear, the brand has successfully transitioned into the fashion realm, appealing to individuals seeking both comfort and style.
Quality Craftsmanship: Onitsuka Tiger is known for its commitment to quality craftsmanship. The brand pays attention to detail, using premium materials and employing skilled artisans to ensure that their footwear is durable, comfortable, and built to last.
Global Appeal: Onitsuka Tiger has gained international recognition and a dedicated fan base worldwide. Its fusion of Japanese aesthetics with global fashion trends has helped it resonate with diverse audiences and establish itself as a prominent brand in the global sneaker and fashion industry.
These qualities collectively contribute to what makes Onitsuka Tiger special, offering a blend of heritage, craftsmanship, design, and versatility that sets the brand apart in the footwear market.
Is Onitsuka Tiger tai chi discontinued?
Yes, Onitsuka Tiger tai chi has been discontinued
Also Read: