Daiso is a one-stop-shop for all kinds of products. From super cute kawaii products to some really useful products. Here are the best Daiso products you should definitely get when in Japan (or on Amazon).
If MUJI is something you like, you should also try DAISO for a different experience. From really cute stationery products to beauty products – you'll find all kinds of things at Daiso.
Best Daiso products are super-affordable and of good quality as well. So here are the best Daiso products for you to choose from. These are my absolute favorite products from Daiso. Check it out!
Things to buy at Daiso: Quick glance
Top Daiso Products
DAISO Natural Double Eyelid Nudy Tape Slim
This Daiso product is a beauty accessory item that comes in handy for those who have hooded eyelids. It's definitely a pain to do your eye makeup especially when you have hooded eyes and sagging skin on your eyelids.
Don't let that reduce your confidence because this Daiso Natural Double Eyelid Nudy Tape will help you tackle this issue.
It's easy to use because all you have to do is remove the adhesive sheet, trim your desired size and use a pair of tweezers to paste the tape where you'd like to create a perfect eye fold.
The tape has a nude color hence it's almost invisible and makes it look completely natural. The tape is flexible and doesn't reflect any light. It has a total of 86 eyelid tapes.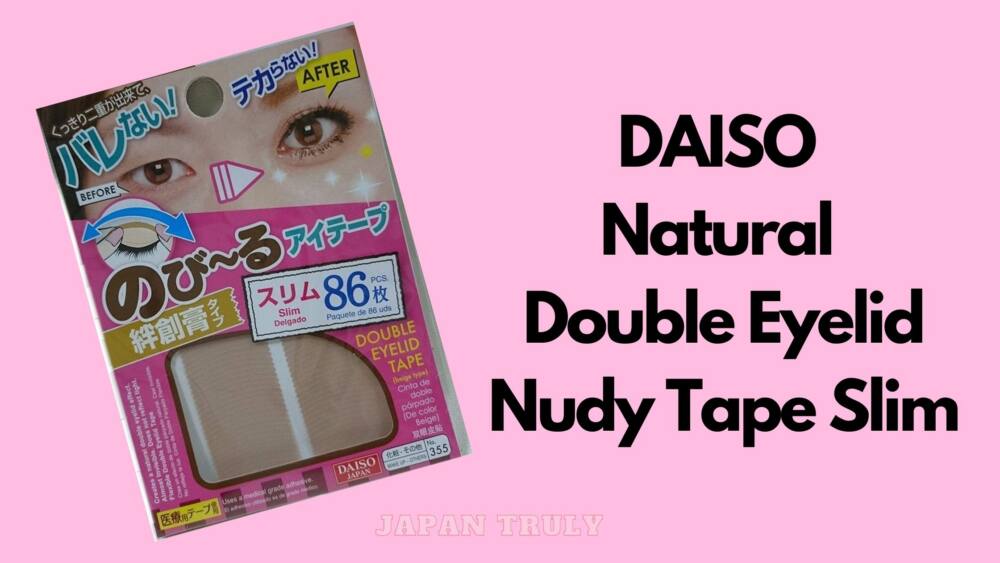 DAISO Erasers
The first product on our list are these super cute erasers from Daiso Japan! These erasers are specially designed keeping preschoolers in mind who may have just started using pencils.
The erasers are designed to be hard and firm so the dust is less when you erase. If you're an artist who uses a soft drawing pencil, this is a great eraser for you as well! And well, any stationery buff would love to add these erasers to their collection!
These super cute erasers from Daiso come in a set of two with a cute design that you will no doubt love!
Check out this best Daiso products here!
Related: Keep your home spick and span with these Japanese cleaning products!
40 Color Origami By DAISO Japan
The next best Daiso product is this scrapbooking origami book by Daiso Japan! If you're into origami or arts and crafts, you'll absolutely love this set of origami papers. Each set consists of 120 single-sided sheets. There are a total of 30 colors and you'll get 40 sheets of each color. The size of each square sheet is 15 cm (5.9in)
Check out this best Daiso products here!
DAISO Japan Soft Clay
This is one of my favorite Daiso products. – soft clay. This is a real fun product to get and play with as well. Using the soft clay, you can use the molds given with the clay to make different shapes. Or even mold it yourself to get whatever fun shape you like.
Once you create the shapes, wait for about 3-4 hours for it to harden. To make it a bit more fun, you can even paint on it to personalise your creation. You can buy an entire set of 8 different colors of soft clay or get a single pack of your favorite one.
Check out this best Daiso products here!
Sticky Notes, Animal Series by DAISO
Here's another super cute Daiso product for you! Sticky notes designed with cute animals is just what your stationery collection is missing! You can stick them on your notes, stick it on your fridge for quick notes.
Regardless, however you use them they'll definitely put a smile on your face. There are three themes for you to choose from – arctic bear series, otter series, and Shiba series. Each set has 30 sticky notes and they're oh-so-worth it!
Check out this best Daiso products here!
Daiso Japan Kitty Memo Sticky Notes
I absolutely LOVE kawaii sticky notes. These are cat-themed sticky notes – so cat lovers you gotta get this! You can stick it on your book, fridge, door or wherever you want – it'll definitely look cute wherever.
There are four different cat designs with 20 sheets per design – you get a total of 100 sheets! These cute Daiso sticky notes are made of film material so it doesn't tear easily. Definitely one of the best Daiso products to get!
Check it out here!
Daiso Japan Mechanical Pencil & Ballpoint Pen
Daiso is just filled with super cute, most adorable kawaii things to buy and here's another one for you! Check out this set of mechanical pencil and ballpoint pen. With a super cute crown on one end, this set of pen and pencil is a great addition to your stationery collection!
Check out this best Daiso products here!
DAISO Japan Natural Pack Charcoal Peel Off Mask
I absolutely love Daiso cosmetics products. They're of good quality and affordable as well. However, it's always best to do a patch test before – especially if you have sensitive skin. This charcoal peel-off mask by Daiso removes all oil, dirt, and dead cells to reveal clean skin. Your skin will definitely feel softer, brighter, and smoother.
DAISO Detergent Cleaning For Makeup Puff And Sponge
Personally, I absolutely hate cleaning my makeup puffs, sponges, or beauty blenders – I mean it's just such a drag! This Daiso beauty cleaning product, believe me, is a life saver, especially for you makeup lovers.
You can easily clean your makeup puffs and sponges by applying the detergent directly on the makeup sponge, wash it with your hand and rinse. Now, your make up sponge will be as good as new!
Check out this best Daiso products here!
Reusable Silicon Mask Cover for Sheet To Prevent Evaporation
Here's another super useful Daiso product. Put on this reusable silicon mask above your sheet mask to protect all the essences of your mask. This way you'll get the maximum benefit of your sheet mask as all the ingredients from your face masks will be absorbed into your skin and not evaporate.
The silicon mask cover by Daiso is made of super thin elastic silicon. And it feels comfortable on the skin as well. This mask cover is two-sided so you don't have to worry about which side you put it on.
Check out this best Daiso products here!
Children's Cute Animal Bath Sponge From Daiso Japan
Here's another best Daiso product for your little one or well you. This is a kawaii bath sponge that is soft and gentle on your skin making it perfect for delicate, sensitive skin. The bath sponge is made of cotton blend and Polyurethane foam. And the panda design is just too cute to refuse!
Check out this best Daiso products here!
DAISO PET Bottle Slim Brush
This is a super-handy Daiso product. You can easily keep your home clean and get rid of dust, grease, or dirt in tricky areas in your home like window ledges, grills, or window blinds. This dust accumulating on these areas can eventually affect your overall health. But with this Daiso cleaning product you can easily take care of this.
All you need to use this product is a PET bottle. Unscrew the cap of the PET bottle and screw the brush on top of the bottle. Fill the bottle with plain water or detergent water to clean. You can get rid of the most stubborn dirt and stains around your home or even your car.
Check out this best Daiso products here!
DAISO Egg Timer
With this Daiso product, never will you over boil or under boil your eggs ever again. Get this egg timer by Daiso for perfectly boiled eggs every single time. And it's super simple to use as well. Just drop the egg timer into the water along with the egg.
Watch the indicator change from pink to white as the eggs boil. Remove the eggs from boiling water keeping the color as reference as how much you want your eggs boiled. With this Daiso egg timer, you'll always have perfect ly boiled eggs.
Check out this best Daiso products here!
DAISO Sushi Magnets
You can never have enough fridge magnets. Amd if they're this cute – you cannot miss out on these. Put all your quick notes and snapshots on the fridge, or even your child's report card or art.
And these cute sushi magnets will definitely highlight whatever you put up on your fridge. There are different designs like prawns and rice balls. Get these super cute fridge magnets for your fridge to just add little sparkle to your kitchen.

DAISO Japan Loose Tea Filter Bag
Here's another super-useful Daiso product. Fill your favorite green tea leaves, coffee, barley tea, or even herbs into these filter bags and dip it in hot water so you have your favorite hot beverage ready!
The filter bag is made of thin material so you get the full flavor. But in spite of being thin, it won't tear easily either. With one pack of these filter bags, you get 100 pieces. This is a great option for when you're traveling as well.
Check out this best Daiso products here!
DAISO Rice Roll Shaker
This is another best Daiso product for you. If you're a sushi lover, you'll definitely love this product and even more so if you can't make a decent sushi roll (like me). With this rice roll shaker, all you have to do is fill it with rice, press it down and your sushi roll is ready. The rice roll shaker comes with detailed instructions to use it.
Check out the best Daiso products here!
DAISO Japanese Calligraphy Paper
If you are a fan of calligraphy writing or considering practicing calligraphy then make sure to get this Japanese calligraphy paper. It has a medium thickness which helps to keep the writer's pace of writing in control. It also has a smooth surface to make it convenient for beginners in calligraphy.
The paper is a specialty calligraphy rice paper and is in the color of white. The ink does not bleed through papers and doesn't fade afterward.
The pack contains 100 sheets of calligraphy paper and each sheet comes in the measurement of 9.5 in x 13 in. The calligraphy papers are ideal for ink brushes rather than pens.
Daiso Sumi Calligraphy Liquid Ink
What other ink brand would be ideal to practice perfect calligraphy on Diaso calligraphy paper? The Daiso Sumi calligraphy liquid ink is specifically made for writing calligraphy and brush painting.
The ink is stable and permanent and hence cannot be erased and wetted once it dries on the paper. The ink does not bleed through the paper when writing and when using a wet brush.
It's waterproof ink so you don't have to worry about it fading away. The ink is a dark black color and tends to dry quickly so be mindful of how and what you write. It does not have a strong smell and comes in a bottle capacity of 180 ml. It's recommended for Sumi-e and watercolor artists.
DAISO Sandwich Maker Bear
This is a sandwich maker that comes in the shape of a bear face. If you're worried about your kid not finishing their lunch in school then this panda sandwich maker comes in handy. It's a high-quality sandwich maker and is so adorable.
It shapes the bread super fine giving the best end result in the shape of a panda's face. It works in all kinds of bread and is very easy to use.
All you have to do is cut the sandwich with the shaper and place your kid's favorite filling in it except the edges and place it in the sandwich maker to cut out a perfectly crisp sandwich bear.
This would be ideal for a bento box lunch where you can decorate your kid's lunch box with different kinds of food. They would definitely finish their lunch without fail.
DAISO Japanese Kimono Fabric Goldfish Cosmetic Purse
This is a cute purse that has a goldfish shape. It's made out of top-quality Japanese Kimono fabric which represents the traditions of Japan. It's super durable, portable, and spacious enough to carry your cosmetics and phone.
The stitchings are made perfectly to ensure they don't separate in any way. It's a drawstring purse which makes it easier for you to carry in your hand.
The purse is available in 3 colors and the red color is my favorite. It has a clean print and is quite affordable as well. This would be the perfect gift for your loved ones.
So these were some of the best Daiso products for you. From super cute kawaii products to super useful ones – DAISO is filled with interesting products you didn't think you needed but are definitely super useful. Have I mentioned your favorite Daiso product too? If I haven't, do mention your favorite Daiso product in the comments section below! 
Things to buy at Daiso: FAQs
Also Read