Looking for gadgets to make life easier in the kitchen? Here are the most useful Japanese kitchen goods that will help you quickly finish up cooking and cleaning and spend more time having fun!
How many have you exclaimed "Oishii!" (How delicious!) at the sight of Japanese food or as you taste the first formel as it hits your tongue with its strong, soothing flavours? Well, you're not alone.
The art of making Japanese food is in the ingredients and chef, obviously, but also in the tools that they use. These tools aid in bringing out the flavors and ensure that the traditional cooking style keeps the flavors intact.
As you scroll through, you'll find the best kitchen goods from Japan that will help you host the perfect Japanese themed night for a fun dinner party.
Essential Japanese Kitchen Gadgets
The next one on this list of best Japanese kitchen goods is this essential sushi making kit.
A firm, cold fish combined with the right sauce and rice wrapped with elegance and expertise can steal the show at a get together you host if you do it the right way.
This sushi making kit comes with two sushi rolling mats, 1 paddle to set the shape, a spreader to make sure your layers are even and 5 pairs of chopsticks to make sure you can share this lovely food.
Related: Here are authentic Japanese rice brands for you to cook sushi, onigiri!
The next one on this list of best Japanese kitchen goods is chopsticks!
Chopsticks are the traditional way and the best way to enjoy Japanese food. Say goodbye to plastic and get your hands on this lacquered bamboo pair. A portable pair of chopsticks comes in handy if you're setting up a picnic.
Carry along with it a bento box and you're set. This pair of chopsticks are about 9 inches long and comes with an attractive case.
Related: Here's a guide to How to Cook Japanese Rice in a Rice Cooker
The next one on this list of best Japanese kitchen goods will complement your chopsticks really well!
It is perfectly fine to put down your chopsticks once in a while to take a sip of your sake or sever yourself some second helpings.
But everything has its set place and so should your chopsticks. This ceramic set of chopstick rests gracefully adorn your dining table with its subtle blossoming branches design.
The chopstick rest adds an element of aesthetic and function to your meal.
Related: Make authentic Japanese curry at home with the best Japanese Curry Brands!
The next one on this list of best Japanese kitchen goods in an indoor grill.
This Zojirushi electric griddle cuts down your cooking time and cleaning time in half. Its wide cooking space enables you to do a lot on the surface without having to bring out multiple pots and pans.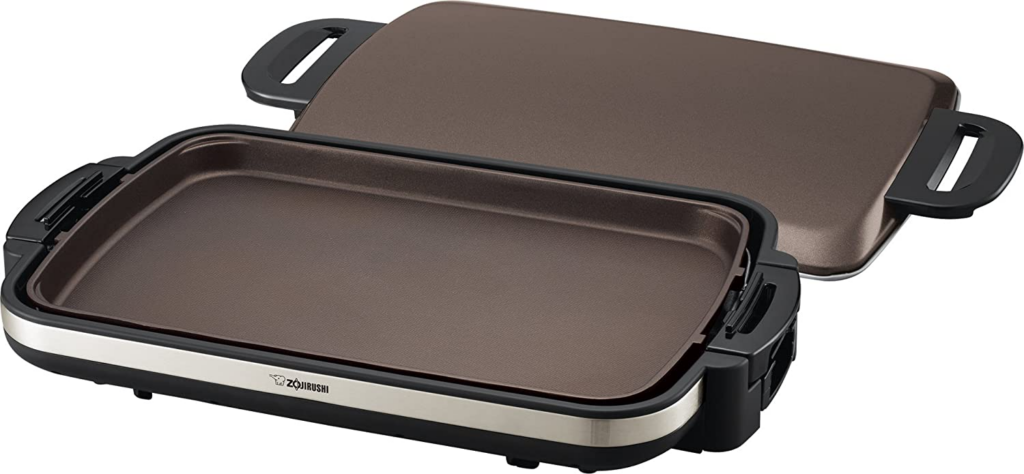 The whole appliance can be disassembled for easy cleaning. This grill has a 'keep warm' setting that allows you to leave it at 425˚F / 220˚C and cook and serve from the same, elegant, titanium enhance coated grill.
The next one on this list of best Japanese kitchen goods is the outdoor grill!
If you're craving sizzling horumon or yakiniku, you should have the tools to make it. Why depend on a restaurant when you can have your own outdoor grill.
This grill is lightweight and portable, making it the perfect (and authentic) addition to your camping trip and poolside party.
You can barbeque a variety of meats on this netted girdle that also assists in even cooking.
The Japanese alphabets on the side although are the perfect addition to a rich, cultural evening.
Zojirushi Rice Cooker – Votes Most Useful Japanese Kitchen Goods
The next one on this list of best Japanese kitchen goods is something every household should definitely have!
Another wonder product by Zojirushi, this rice cooker will help you cook, let me give you a clue, different varieties of rice! Down from white rice, jasmine rice, mixed rice to sushi rice, porridge and brown rice.
And you can even fiddle with how much you want the rice to be cooked, whether you need it to be regular, softer or harder.
It is embellished with a thick, black and spherical inner cooking pan that allows ease of access and easy cleaning as well.
If you cook regularly, you'll love this next product on this list of best Japanese kitchen goods
What good is a tamagoyaki pan if it is not deep enough? The speciality of tamagoyaki is that it is a rectangle and several layers deep, all of which you can achieve in this IBBM pan.
Its stainless steel, the magnetic conductive base makes it compatible with practically anything, be it a gas stove, induction hob or an electric cooktop and ceramic stove.
If you're a fan of takoyaki, you'll love the next item on thi slist of best Japanese kitchen goods.
This takoyaki maker will allow you to make 12 of the ridiculously good octopus balls in under five minutes.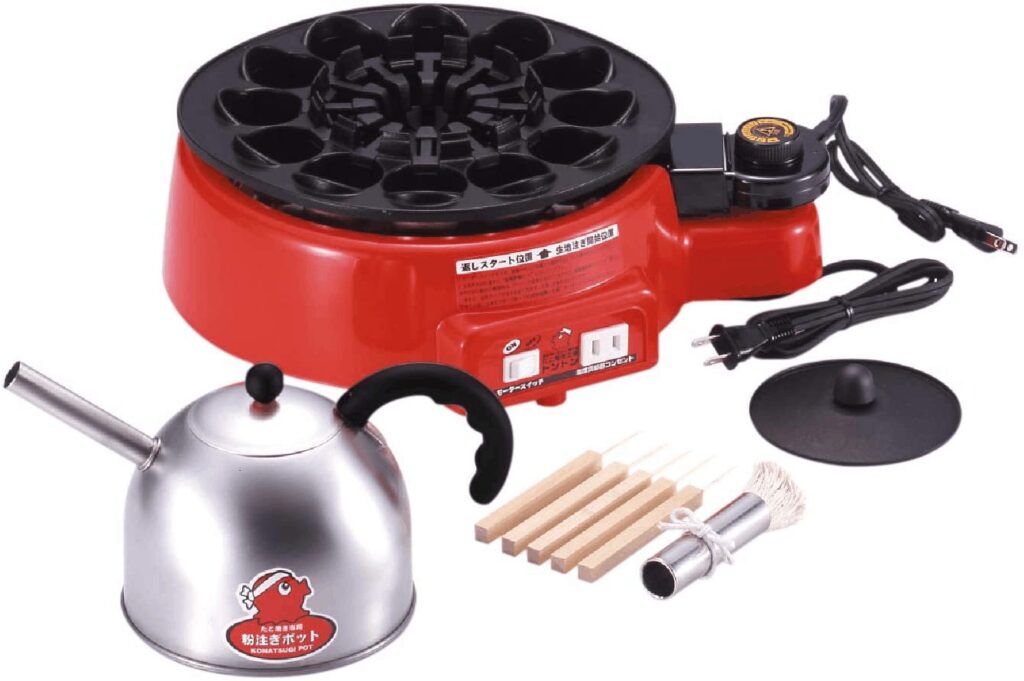 It can be temperature controlled and comes with an oil brush and takoyaki flipper that simply makes the whole cooking process fun and easy.
Bonus, you can make mini muffins and cake pops in cute little pans.
This is the not-so-secret maintenance tool of every Japanese kitchen. This Tawashi scrub eliminates the need for any synthetic additives to use as a cleaning agent.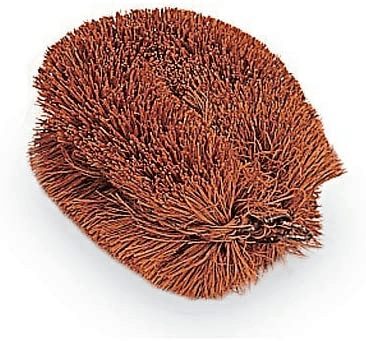 The natural palm fibres clean all the grease in cookware and wash all eating cutlery without a scratch.
You can also use it to remove the stubborn soil from the fresh vegetables without washing away its minerals.
It's not cheap but it's worth every penny you spend. You should know that this Yoshihiro Gyuto Chef's knife is handcrafted and one of a kind.
These knives are not mass-produced. Their manufacturing process includes ice-hardening of stainless steel carbon blades.
This knife is perfect for a swift chop-chop and the extended tip helps with quick slicking of meat, fish and veggies.
The octagonal handle welds into the hand and seems comfortable during intensive cooking.
Ceramic knives tend to last at least ten times longer than steel knives. Besides, they are less dangerous but just as effective.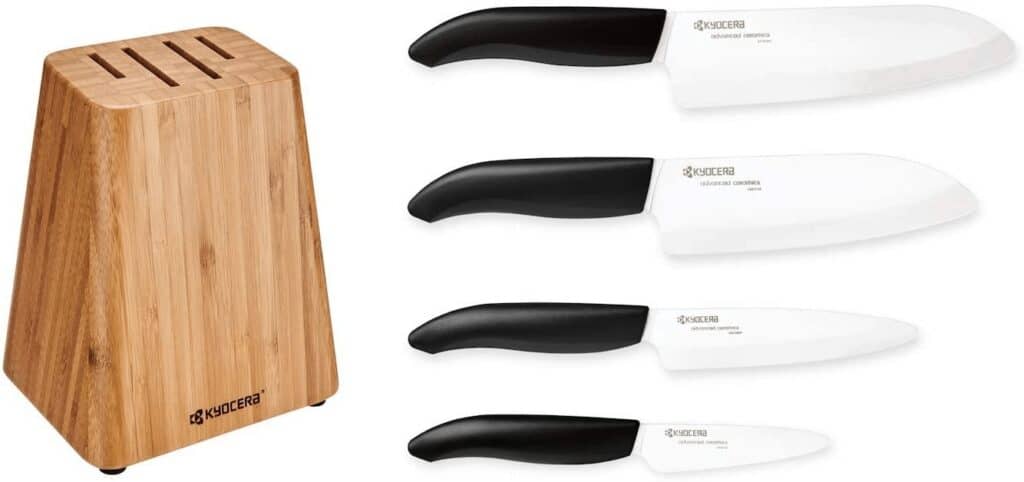 The Japanese kitchens love to use ceramic knives because of their ability to thinly slice any meat.
This Kyoto ceramic knife has been sharpened on a diamond dust grinding wheel that ensures it needs low maintenance.
The knife set has a set of four knives allowing you to be as versatile as you wish to be in the kitchen.
If you have an expensive, super quality Japanese knife, you should maintain it. Maintain it with nothing but the best or you'll ruin your prized knives.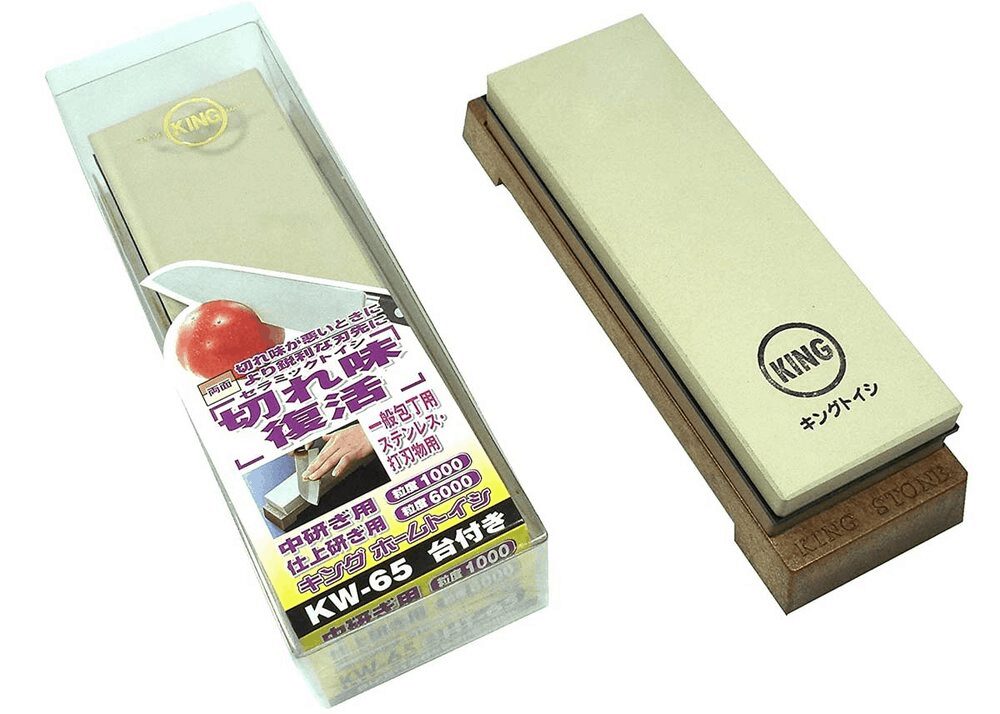 This hand-sharpening whetstone knife sharpener uses water to prevent any build-up of grit on the surface of the stone.
T comes on a tiny bamboo pedestal that prevents the stone from slipping in the middle of the sharpening process.
This Waterstone from KING uses a grit of 1000 grade to sharpen and about 6000 to polish the knife.
This bamboo draining basket, also known as zaru, is a staple in every Japanese kitchen.
Since it is flattery and airier than a colander, it drains water quickly and even cools down the noodles from the dish quickly.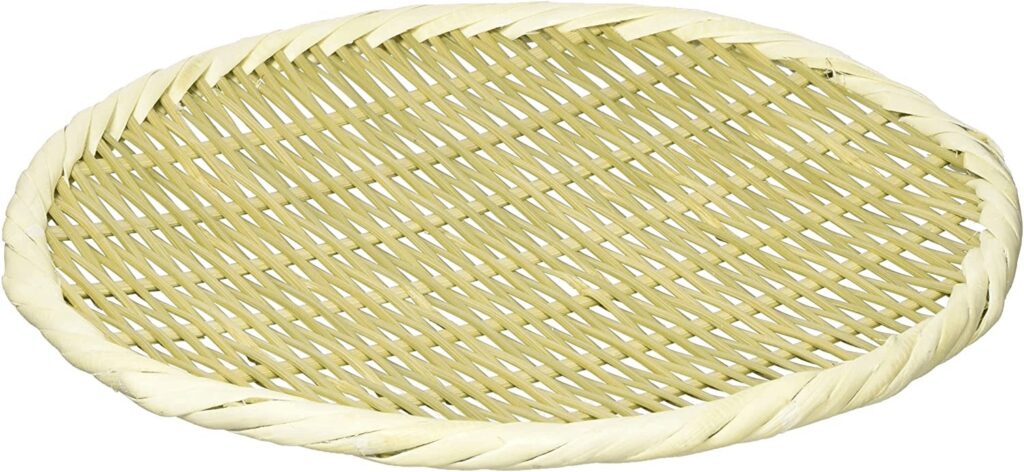 The large surface area really speeds things up. Because of its flatness, the zaru doesn't take up a lot of space in the kitchen, making it really easy for us to store it.
You should get one if you love eating Japanese dishes like udon or soba.
These Bento boxes are traditional Japanese lunch or snack boxes that are made using the Magewappa technique that involves bending thin sheets of (cedar) wood and setting them together to make each box.
The wooden boxes ensure insulation for a longer period of time than your regular plastic or stainless steel boxes.
Hot food remains hot, and you can enjoy a wholesome meal at any time. Besides, you can even feel like you're doing your part for the environment.
If you're in the mood for a hot and steamy restaurant-style ramen, you'll need a bowl that looks like it!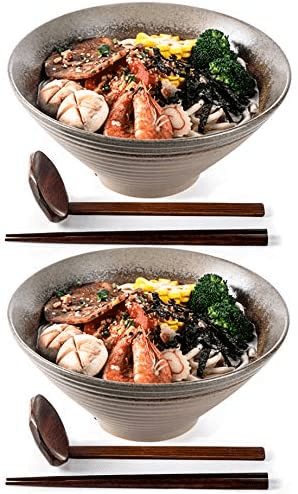 This set of 2 is a rocking combination of glazed ceramic bowls that comes with a pair of chopsticks and a spoon for each bowl.
This bowl has the space to hold about 1.4 litres of liquid along with your vegetables and udon/soba.
Bonus: these are dishwasher safe, so all you need to think about right now is eating.
Save yourself from making blunders I did. Do yourself a favour and begin your meal with miso soup.
Actually, if you want, you can serve just about anything init: Miso soup, appetizer, clam soup, rice, etc.
The set includes two bowls along with a lid for each. The set looks rich while it is set on a table with its lacquered glaze.
Sotya is well-known for its cast-iron utensils.
This teapot can hold at least 900ml of tea. The teapot comes with a strainer that saves you a lot of time from hounding down your teabag.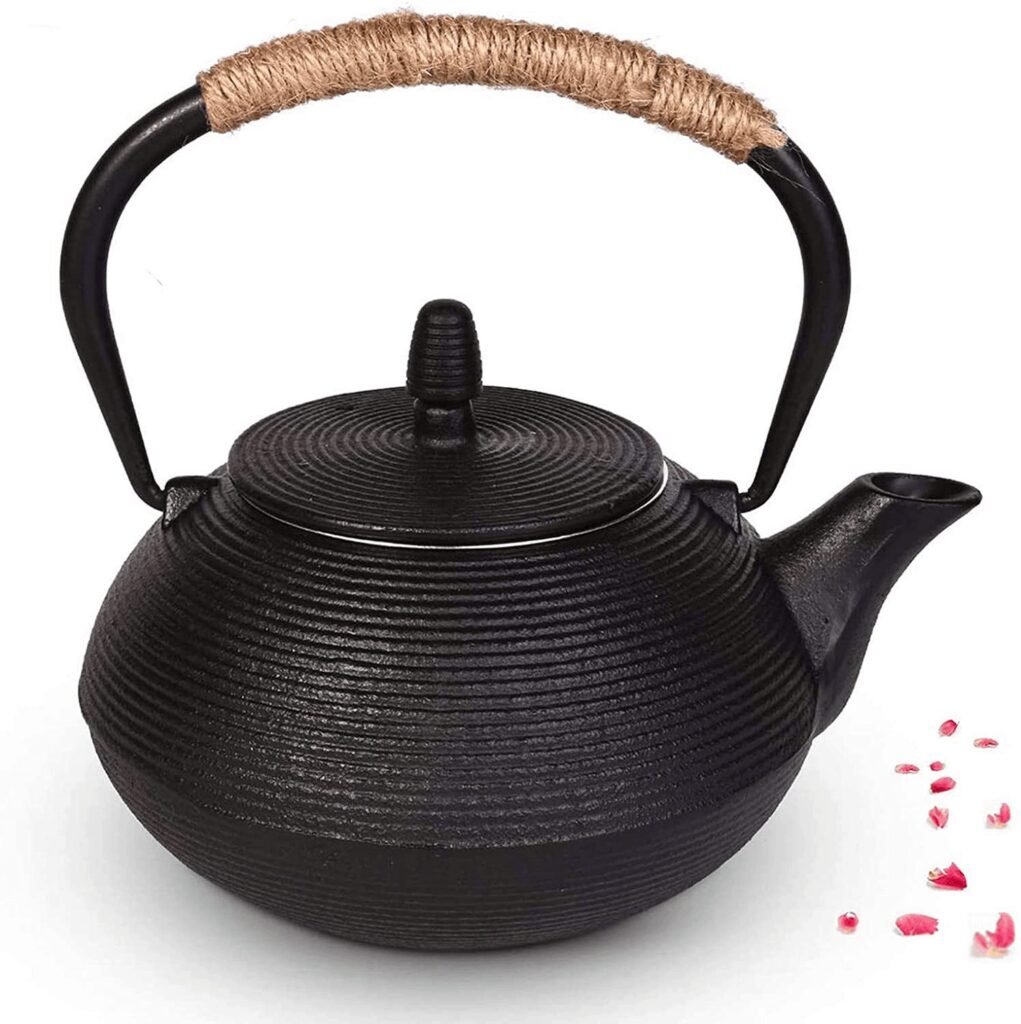 It is recommended that the teapot is at least half-filled with water when you're brewing a pot of piping hot tea.
As you pour out a cup of hot tea into it, it is sure to drain all your worries away with it. The insides of the teapot are coated with enamel, making it rustproof and easy to clean.
Now this isn't exactly a utensil, but it is an important kitchen tool nonetheless.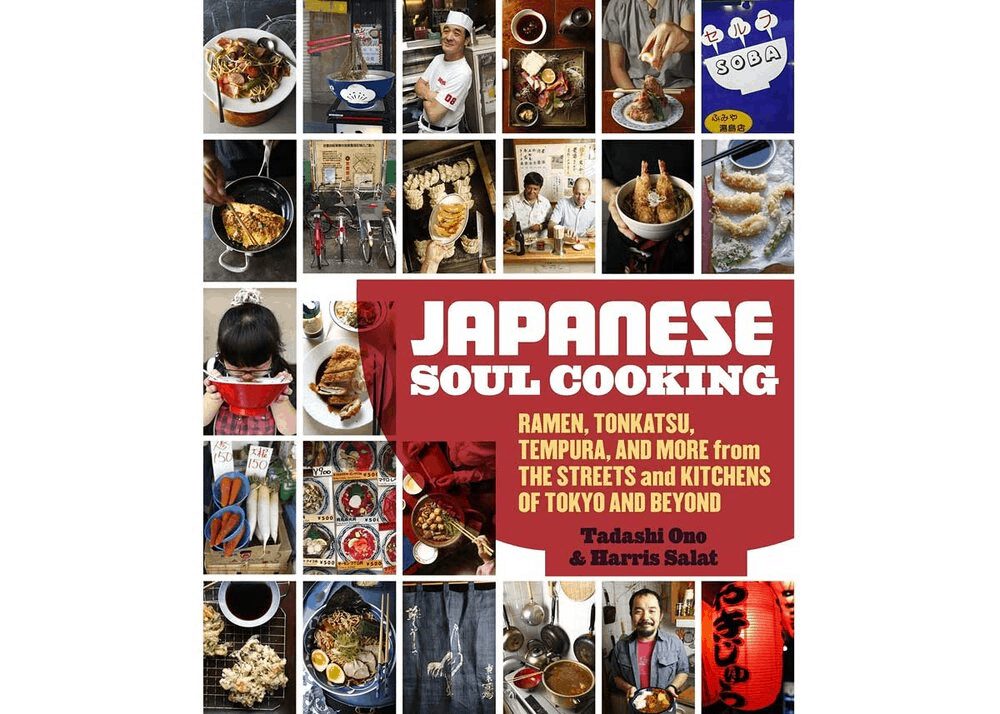 Without recipes, we are all nothing. This Japanese cookbook is a curation of some of the most satisfying homely meals available in the Japanese household.
Note that they are savoury, but you might just find the inspiration for tomorrow's luncheon or simply spice up things and try something new.
Also Read: