Kichijoji is one my favorite neighborhoods in Tokyo and is a must visit! SO here are fun things to do in Kichijoji.
Kichijoji is a popular neighborhood in Tokyo maintaining the perfect balance of small town vibe and modern Tokyo! Explore Kichijoji and its restaurants, cafe, shopping streets, and beautiful parks. Here's a complete guide to Kichijoji
Bars, green parks, restaurants, plenty of places to shop in, all a hop, skip and jump away from where you live. This will be yours if you call Kichijoji, your home.
Whether you're in Tokyo for just a few months or you plan on settling in this beautiful city for a longer time, or even if you're just visiting Japan, Kichijoji is a neighbourhood you must check out.
This is one of those neighbourhoods that have been voted as one of Tokyo's most liveable neighbourhoods, time and again.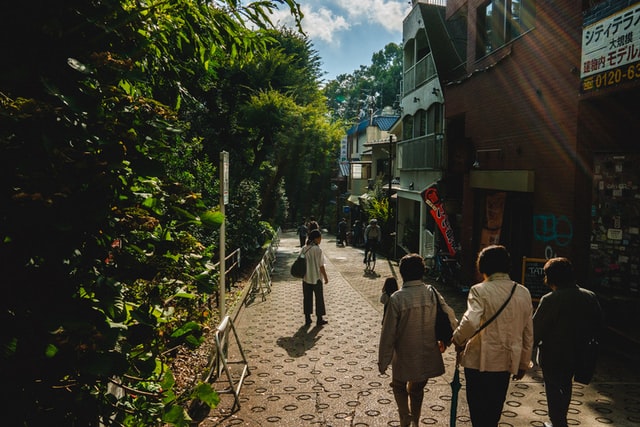 It also happens to be one of my favourite neighbourhoods in Japan. So, continue reading for a Guide to Kichijoji, Tokyo's most liveable neighbourhood.
Things To Do In Kichijoji
Things To Do in Kichijoji
Kichijoji has something for everybody to do. No matter what your interests are, you will have plenty of choices to keep yourself entertained here.
Visit The Ghibli Museum
You can discover some of Hayao Miyazaki's best works in the Ghibli Museum. For the young and old, this is a place filled with magic and excitement. 
You cannot click photographs inside the museum, so put your devices away and experience it in the truest sense without distractions of recording the moment.
Do keep in mind that tickets to enter this museum have to be purchased in advance.
There are instructions on the website of the museum to figure out how and where to purchase them.
Related: Top Things to do in Kochi Japan
Inokashira Park
You can find the Inokashira park quite close to the Ghibli Museum.
This park is a paradise for those who seek a bit of peace and quiet in an otherwise bustling and noisy city.
Enter this park and you immediately feel like you're in a different world altogether.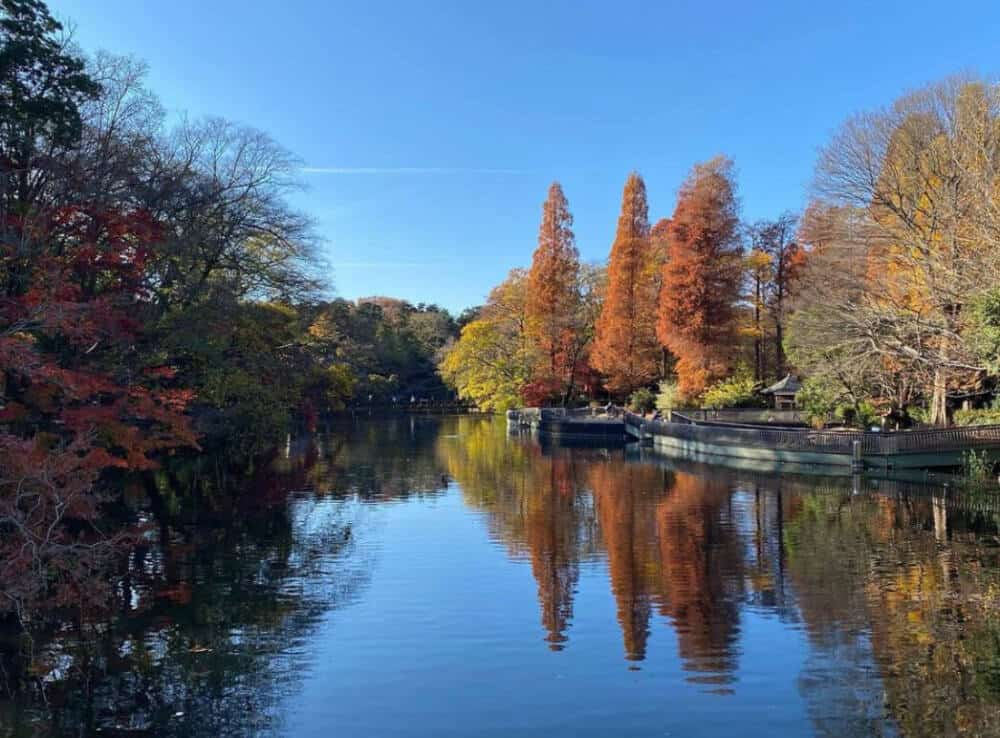 The park is quite huge and one of those perfect first date places.
There are plenty of small cafes around the park where you can grab a nice chilled drink to keep you hydrated during the sweltering summer.
As you walk into the depths of the park, you reach the lovely little pond which is very romantic when the sakura petals fill it up in the spring.
The bridge that goes over the pond is Instagram ready, so make sure you carry your camera along.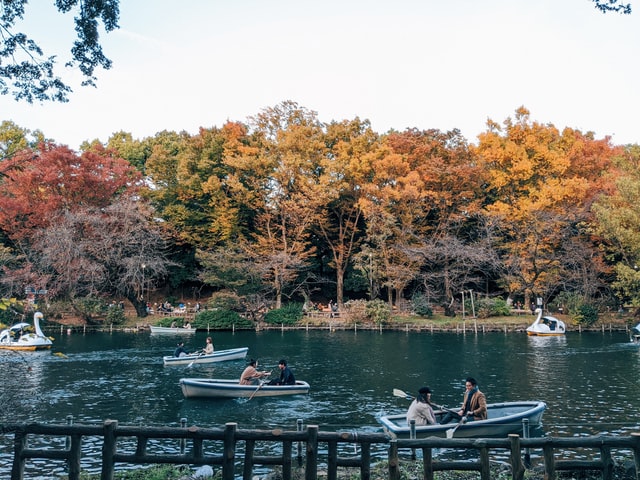 Related: 10 Fun Things to do in Urahara
Inokashira Park Zoo
Another place where you can grab some quiet time is the Inokashira Park Zoo. 
This is also a place where you will see a lot of people posing and cameras capturing them.
This is a piece of heaven, with a breathtaking botanical garden where you can stroll connecting with nature.
The open air sculpture museum is worth visiting too, and I guarantee you will take your time admiring the lovely work by Seibo Kitamura.
In this zoo, several indigenous animals are bred and conserved. This was also home to the first-ever elephant to come to Japan after WWII. She was named Hanako.
There is now a statue honouring Hanako near the northern exit, which was set two years ago.
Related: Best Things to do with kids in Tokyo
Sometime
For Jazz music lovers, there is Sometime located in Kichijoji. Like a typical scene that you often see in the movies, there is a grand piano in the middle of the room.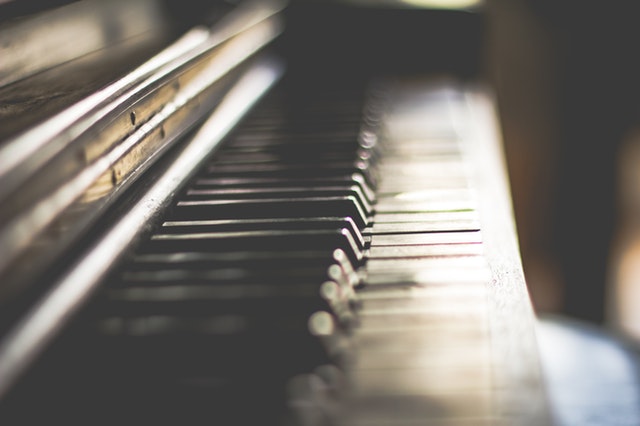 The audience is seated either around the musician or in the loft seats.
The place is kind of dark with dim lighting to set the mood. But the place is full of life when there's music playing. Quite often there is live music even during the day.
Sometime serves good coffee and a continental lunch anytime you visit during the day.
Related: Here's a Tokyo Itinerary for 3 Days. Plan out your short trip now!
Cocomaru Theatre
To satisfy your thirst for the world of arts, Cocomaru theatre is just a few steps away from Sometime. The building looks like a cafe, but it really is a theatre.
Cocomaru theatre was launched in 2017 but it has quickly captured the hearts of the people who live and visit Kichijoji. In fact, many have forgotten that this theatre is fairly new.
This two story building houses the theatre on the first floor and a quaint cafe on the second floor.
The movies that are played here fall under a wide range of genres, but what makes the theatre popular and close to heart is that it supports a lot of independent films.
Before or after you watch the movie, step into the cafe for some American style beer and burgers.
Related: Here's a guide to climbing Mt Fuji. Check it out!
Kichijoji Waltz
Just like the dance, this restaurant has a rotating Japanese menu, keeping its customers coming back.
Never two days in a row will you find the same stuff, so you always have a wide variety of dishes to try. Some of his bestsellers are the steamed Jade dumplings and Ayu rice.
Wash it down with some lip smacking domestic sake.
Pepa Cafe Forest
When you take a stroll through the Inokashira park hand in hand with your date, make sure you drop into this beautiful cafe for a quick bite, or a longer meal and some conversation.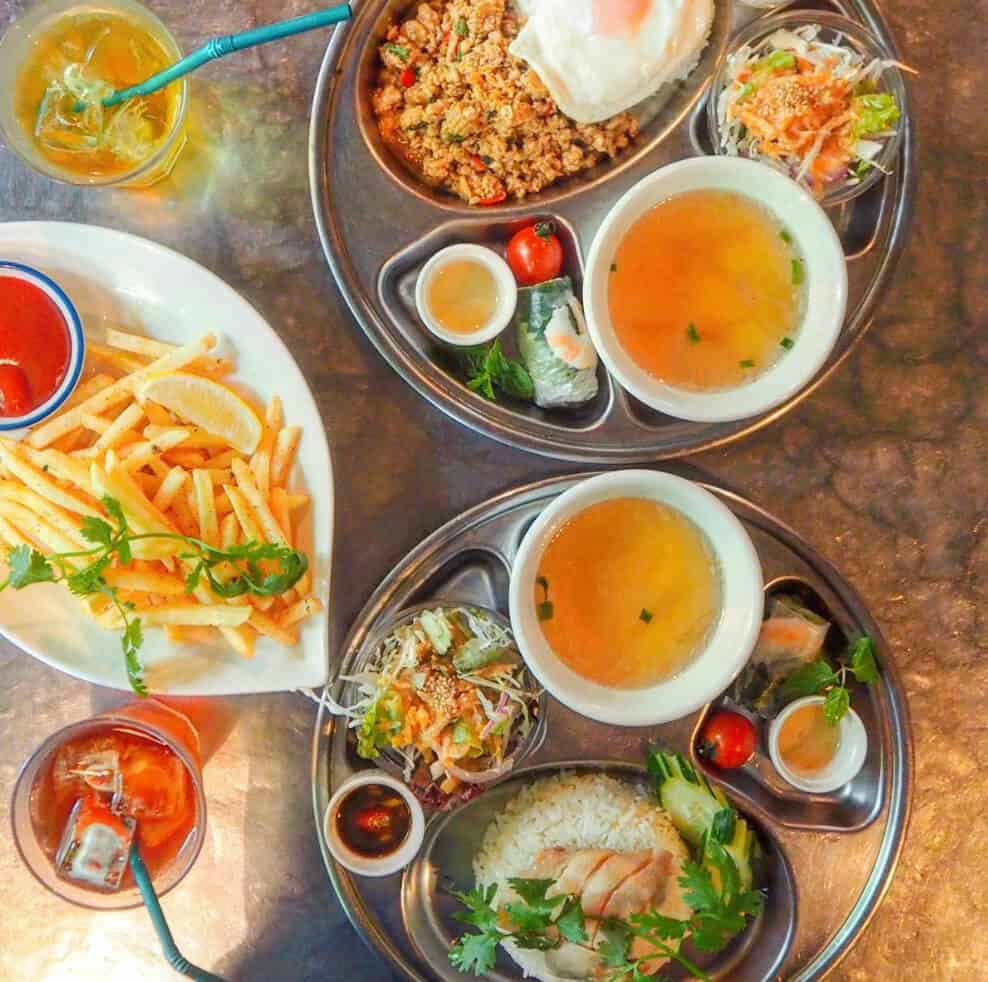 Located close to the trees and greenery, this cafe is cool even during the hottest of summers with a relaxing ambiance.
The menu is South East Asian with quick bites as well as meals. You can also grab some beer here.
Mahika Mano Hammock Cafe
It can't get better than you chilling with a glass of sweet honey milk tea as you swing on an uber comfortable hammock while it is scorching hot outside. 
Mahika Mano Hammock Cafe has hammocks instead of regular seating.
Now that sounds interesting but I admit, it's a little difficult balancing your drink but you get the hang of it in a few sips and start enjoying it.
In fact, you'll enjoy it so much that you wouldn't want to get out of the hammock!
This cafe has plenty of delicious vegan options, so it does get quite crowded.
Monk's Foods
As the name goes, this is a cafe that you can visit over and over again if you're vegetarian.
The menu is quite wide and the food is organically produced. The minute you enter the cafe, you get these pleasant Buddist vibes.
There's a bar on the first floor and group seating on the second.
Temari No Ouchi
All the cat lovers, you found your home! This is a super cute cafe with so many fluffy cats across the 3 floors.
You can sit in one of the low tables, cuddle and play with the cats to your heart's content.
The cafe has very appealing interiors, especially for children.
Harmonica Yokocho Alley
You should go to an izakaya to experience the traditional Japanese cuisine and drink culture, and Tokyo is home to various well-known izakaya alleyways. If you want to experience Kichijoji's nightlife, Harmonica Yokocho Alley (ハモニカ横丁) is crowded with Izakaya.
Don't be afraid to step into the tiny Izakaya establishments, and let's enjoy bar-hopping while consuming Yakitori and Oden together with beer like the locals.
Daiya Shopping Arcade
Walking and eating is a Japanese food culture and and Daiya Shopping Arcade (吉祥寺ダイヤ街) is the ideal place to sample some of the favourites of the locals.
There are typically lines of people waiting outside Kichijoji Sato, which offers Menchi-katsu (deep-fried minced meat) made with Wagyu Beef for a reasonable price. The retail arcade has enticing locations for shopping and other scrumptious delicacies.
Kichijoji Petit Village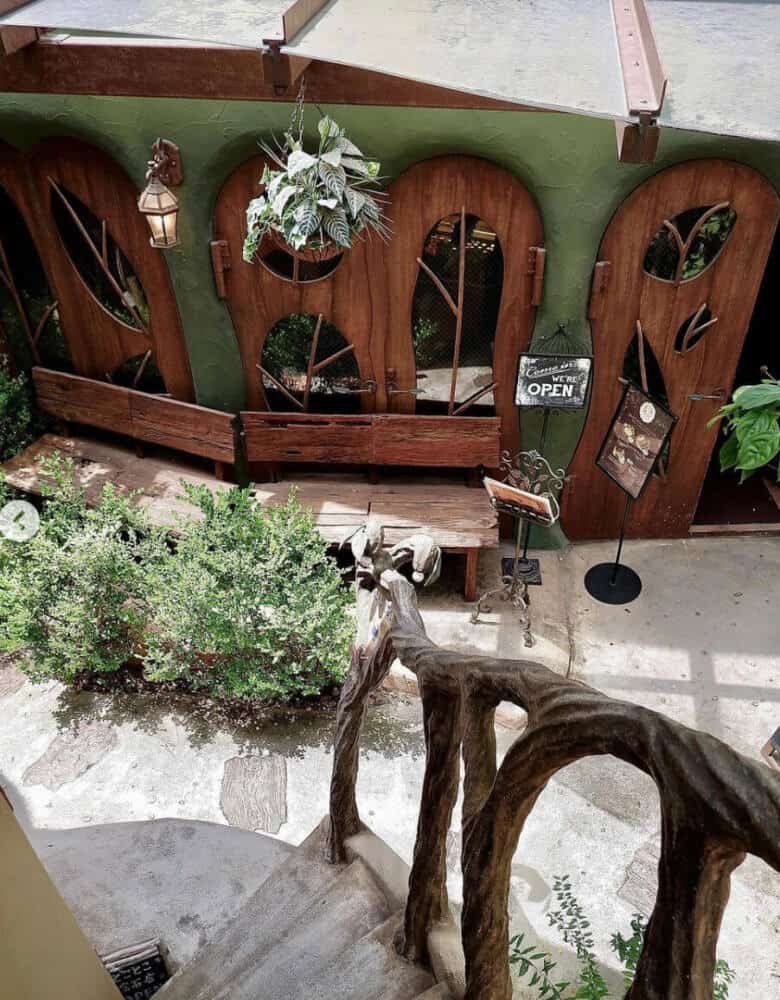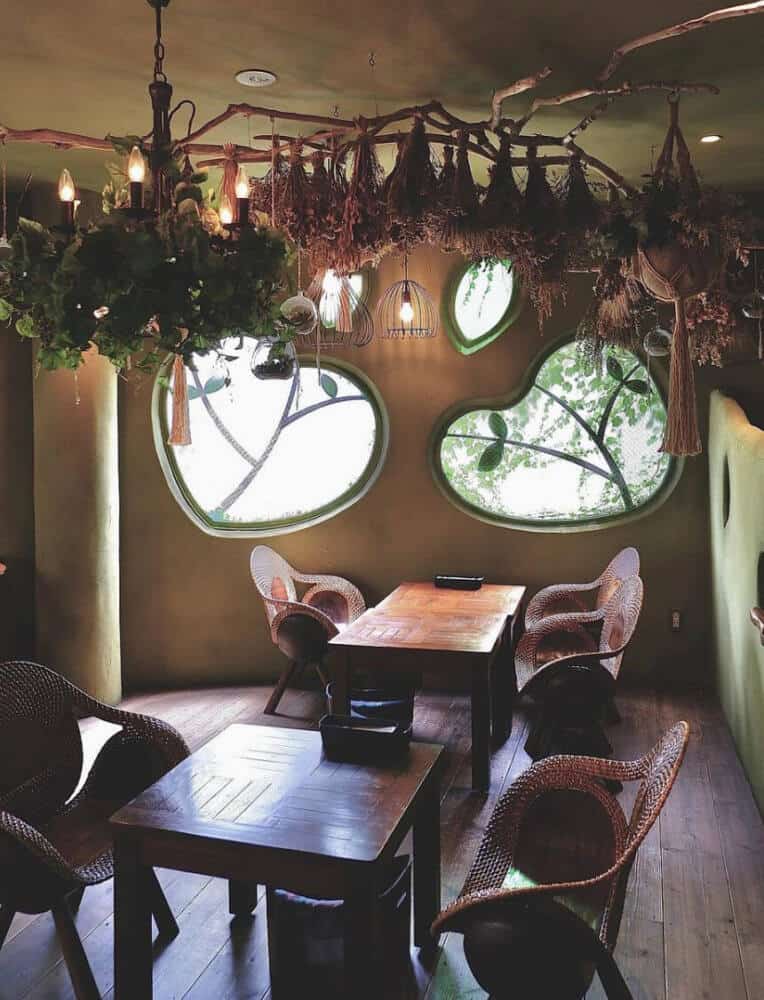 After a few minutes of exploring the street Nakamichi Dori Avenue, you will come across the unusual and fantastical-looking Kichijoji Petit Village. The location has a few adorable stores and cafes that look as though they belong in a picture book. Find the secret fantasy area for the cutest accessories, jewelry, and other fun things!
Musashino Hachimangu Shrine
The guardian spirit of Kichijoji is housed at Musashino Hachimangu, which is also the region's most well-known "power spot," where people go to unwind.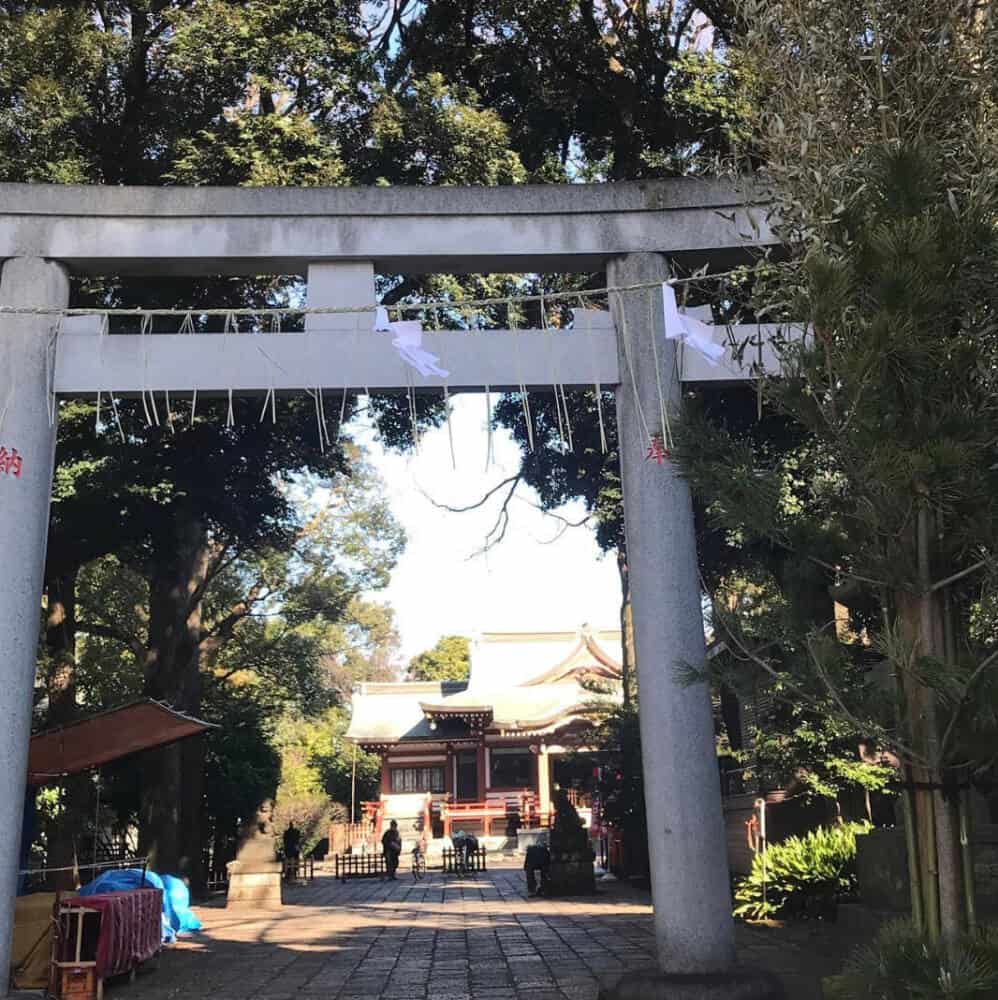 The shrine is surrounded by camphor and zelkova trees, creating a quiet, private setting, making it simply the best place to introspect. It's extremely peacefula nd relaxing to stroll through this ancient shrine after a long day of sightseeing.
Coppice Kichijoji
Everything is available at this bustling shopping centre, from the newest trends to airy cafes and interior design. You might want to take it easy before you enjoy in all of the retail therapy you're about to indulge in because there are 10 stories total, and I'm not even counting the rooftop grilling area.
Find the Kyara-Park Kichijoji on the sixth level, where speciality stores sell merchandise featuring characters, like Hello Kitty, Star Wars, and Disney.
Additionally, the Kichijoji Art Museum, which also houses a wide collection of artwork, is located on the seventh floor. If you're not into shopping then you can head to this museum.
Where to Shop in Kichijoji
You can never run out of quaint and interesting places to shop in Kichijoji. For a market-like shopping experience, trot down to Sun Road.
This is a huge shopping arcade that has plenty of stores selling everything from A to Z.
When you get tired, rejuvenate with the tasty treats sold by the vendors. The shopping arcade is covered, suitable for all kinds of weather.
For those who love collecting (and wearing) vintage sneakers, Skit is a store you will love shopping at.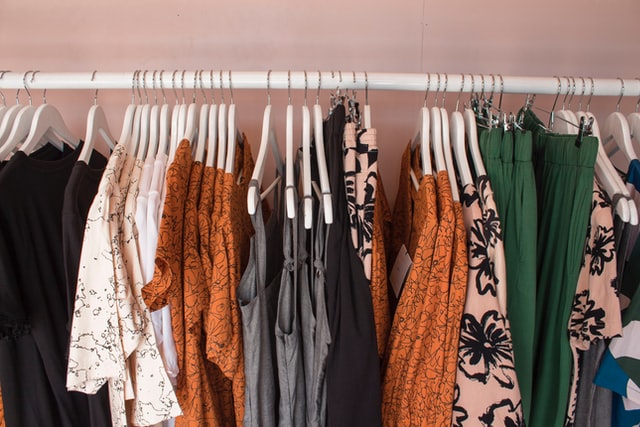 Bookworms and literary worms should definitely check out Hyakunen, a shop that houses books, DVDs, magazines and records, both old and new.
The store also regularly exhibits artist's work.
Coppice is a department store close to Cocomaru Theatre where you can shop for your entire family. It also has a play area on one of the floors along with a baby changing room.
History of Kichijoji
Kichijoji is a place that will supposedly bring you luck and wealth. "Kichijoten" is the name of the Buddist Goddess of wealth and prosperity.
A temple dedicated to the Goddess was situated in the neighbourhood of Bunkyo-ko. This, however, burned down in a fire that occurred in the mid 17th century.
The neighbourhood burned down as well and the people lost their homes. The new village that was built after this incident was called Kichijoji, in honour of their Goddess and the new temple.
Kichijoji is one of the most liveable neighbourhoods in Tokyo because of the vibrant life, close proximity to stores, parks, gardens, restaurants, bars, art and theatre.
Residences here are most sought after, though the rents aren't exactly cheap.
Related: Here are the best things to do in Saitama, Japan
How to Get to Kichijoji
Kichijoji is very well connected from all parts of Tokyo, thanks to the public transport system. If you want to reach Kichijoji from the airports, you can get buses that go directly to the station's east side. '
From central Tokyo, take the rapid train from Shinjuku along the Chuo line. It takes about 14-15 minutes to get to Kichijoji on it. You also have the option of taking the JR Sobu line from Chiba.
From Shibuya, it takes a few more minutes to get to Kichijoji than from central Tokyo, on the Keio-Inokashira subway line.
Also Read: