Do you want to know about Obento the art of Japanese boxed lunch? Well, if yes. Then you're certainly in the right place. Read further to know more about the Japanese Bento boxes.
Obento isn't just a lunch box in Japan but rather is a work of art and a means of communication between the maker and the receiver of the obento.
What is Obento the art of Japanese boxed lunch?
Obento (Oh-Ben-Toe) is a special lunch box that is not only tasty but also very healthy and aesthetically pleasing. It has a variety of food and flavours that is also colourful and nutritionally well-balanced usually with rice or bread, pickled veggies, fresh fruits, stir-fried meat etc. The Japanese people believe that food should be prepared in such a way that it can be eaten by the eyes.
Obtento has a history tracking down to hundred years of providing hungry men, women and children with food on the go. The original bento was actually just a dried rice meal but over the years it has slowly transited itself into a beautiful and oftentimes, a time-taking art.
Related: Try these easy Japanese for food ordering words when you next visit an Izakaya/Restaurant in Japan!
The importance of obento the art of Japanese boxed lunch is highlighted in various places in Japan. Today, if a simple search on Google or Instagram will give you over 5 million different pictures (and ideas) of #お弁当 obento.
It is considered as an important part of Japanese life and can be found anywhere from the streets, railways or schools.
One of the main features of obento, the art of Japanese boxed lunch, is seen as a means of communication between the maker and the receiver.
Related: Try this healthy-licious Okinawa's superfood Goya to stay fit!
The Obento box is made with utmost love and care by the parents, husbands and wives with attention to details and filling it with healthiness.
Many Obtento menus consist of rice balls that are shaped by popular Disney characters or Totoro cut out nori in various shapes, stir-fry octopus-shaped sausages, flower-shaped cut veggies and whatnot.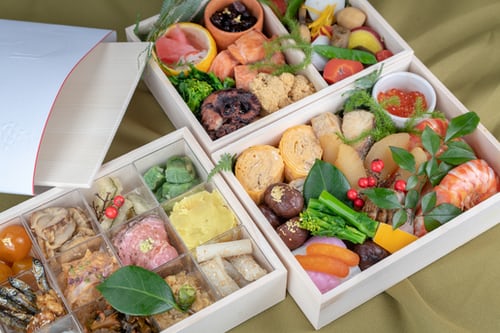 Everything for the receiver as the Japanese Obento box recipes are solely about what the receivers like. Obento's meaning is only art and communication with the medium of food.
Let's move forward and get to know more about the Obtento Japanese boxed lunch that is so much more than just food!
Related: Wanna stay fit and fine? Read rules of eating healthy in Japan!
Obento The Art Of Japanese Boxed Lunch
What's So Much Fun About the Japanese Boxed Lunch?
Obento (Oh-Ben-Toe) is a Japanese boxed lunch that usually kids carry to school. It's so much fun that they get to eat good looking food everyday and it's exciting to see what's in the Japanese bento box menu everyday.
Related: Sip the Awamori Island Sake, the oldest alcoholic beverage, read more about it here!
Japanese boxed lunch obento are often made out of wood or plastic and also have sections to separate the food. Traditional Japanese bento boxes food is made out and decorated in Disney characters, flowers, animals etc.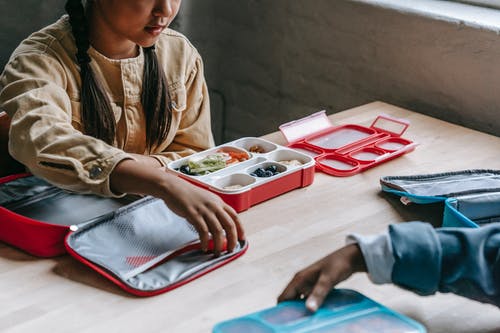 The chopsticks are often of matching colour and also consist of silverware cups, bags, containers and lunch mats. The Japanese boxed lunch concept is really cool and fun!
Related: Check out what's better between Soba vs Ramen to enjoy it on a cold evening!
More than Just Boxed Lunch
There is a saying in Japanese, food should be made in such a way that it can be eaten by eyes and very evidently, it stands true for the Japanese boxed lunch, bento. The food in the obento is really colourful and fun as most Japanese believe that food should look pretty and taste good.
Japanese bento makers often choose colour, texture, patterns and taste very carefully before laying out the Japanese bento boxes. Apart from making a colourful and beautiful Japanese boxed lunch, they also make sure it's healthy.
Related: Top Conveyor Belt Sushi Restaurants to visit in Tokyo for amazing Japanese sushi!
Obento always consists of green healthy vegetables, a dash of meat with some fresh-cut fruits as dessert.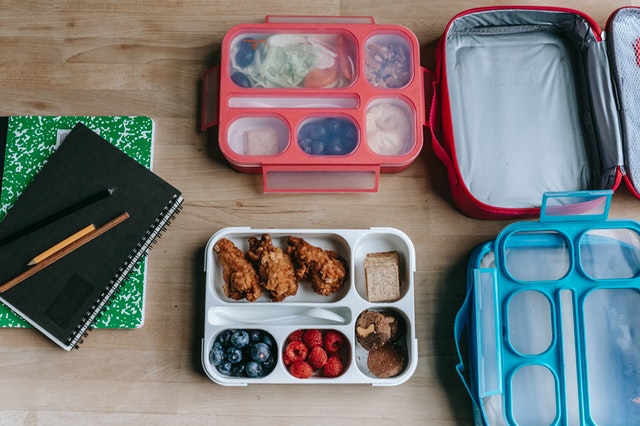 People often layer the bento with some rice topped with stir-fried meat with some pickled vegetables/fruits like apricot, plum etc, some boiled veggies, a small portion of omelette made with salt and sugar, a teeny bit of sausages and fresh fruits.
Related: Check out these Japanese convenience store foods you have to try!
The meat can be pork, beef, chicken or fish according to one's choice. Even the veggies and fruits can be according to one's liking and choices.
Related: Do you know why fruits in Japan are so expensive! Check it out now.
Before You Eat Bento
Obento box is special so first, the children wash their hands and gargle with a kind of mouthwash. They then take the Japanese boxed lunch out of their bags. During the cold season, the sensei might take the bento boxes to warm them.
Related: Here are some yummy options for you to try these snacks at 7-eleven in Japan!
Kids then put their bento boxes, chopsticks, cups and lunch mats on the table and sing a fun song before they start eating their Japanese boxed lunch.
Related: Try the Osechi Ryori New Year Japanese cuisine, you'll love how significant it is!
Obento: Do's and Don'ts
We definitely have seen a lot of Japanese bento boxes in Tvs, vlogs, movies etc where they share the secrets of their aesthetically pleasing Japanese boxed lunch but I decided to take a much better step.
Here this time, I've asked the Obento makers throughout Japan to share their personal secrets related to bento.
Related: Do you know why Japanese eat raw fish and love it? Check out here!
My first question was"What are the elements in a successful Japanese boxed lunch obento?"
I spoke to around 15 women who make obento on the daily basis in the household or professionally.
It became apparent that planning your obento in month's increment or meat-to-vegetable ratio, there's a common ground on what a "good" packed lunch consists of:
Colour: Five different colours (most common answer)
Well-balanced: Nutrition
Variety: Food that is raw, cooked and pickled
Harmonising: Strong Flavours with the delicate ones
Related: Check out this Japanese cookbook and make a delicious Ramen at home!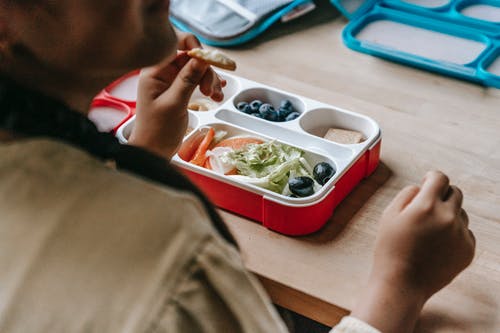 I then moved forward with asking some insider tips on making the perfect obento which attracted a lot of answers, here are the most common ones:
If you want to attach cute inserts, coloured paper cups, different rice moulds, go to Daiso or other ¥100 shops because it's cheaper there and everything is available.
Not all mornings will be the same where you'll have time to include everything homemade for the Japanese boxed lunch obento and that's fine. Many makers use frozen foods like gyoza or korokke to save time. It's hard to find out that it's not homemade!
If you find your onigiri (rice balls) a little on the sour sight, you can always improvise. Make onigirazu, the perfect fusion of Japanese rice balls and sandwiches.
You can always reach out to YouTube or free obento box making classes, there are so many tutorials in English as well as other languages.
Related: Try out a crash course in the Japanese home and kitchen that will ease your living in Japan!
Some women also shared a few taboos related to the Japanese boxed lunch:
Avoid including bread and rice in the same Japanese lunch box. It makes the meal heavy and full of carbohydrates. It also makes the bento box colour palette dull.
Remember to only pack food which does not have to be warmed up or refrigerated. A lot of times the fridge and microwave aren't available.
Food with strong aroma also becomes a burden sometimes to not only to the receiver but also to the people around. Please try including clean food in your Japanese boxed lunch.
But is Obento Here to Stay?
In a country like Japan where pretty much everything is available and every family is growing and both parents working full-time, it's normal to think about questions like these.
A lot of women I interviewed said that they willfully make these bento boxes while there were other women who confessed that they've stopped the practice of making Japanese boxed lunch at home.
Related: Here's a beginner's guide to Japanese Izakaya if you're going to Japan for the first time!
Some women said that they've stopped making obento boxes because it costs less for their husbands to buy cafeteria food. Others have stopped due to daily stress of coming up with different obento menu and obento box recipes.
However, there are many high school students who are challenging themselves to make their own Japanese boxed lunch and bento to relieve their parent's daily stress.
Though this is a very small percentage of people, it still leads us to think about Obento's future in this fast-paced world.
Perhaps it's only about time we'll be able to find out whether bento boxes will stay or not. For now, let the internet flow many new ideas and recipes of aesthetic and pleasing Japanese lunch boxes.
Japan's Best Lunch Box
Obento culture is quite hard to define in a brief. With every box comes a different pair of hands working on it, different choices and a different mind that makes every bento unique.
Hope you enjoyed reading about Obento: The Japanese boxed lunch and the art behind it.
Also Read: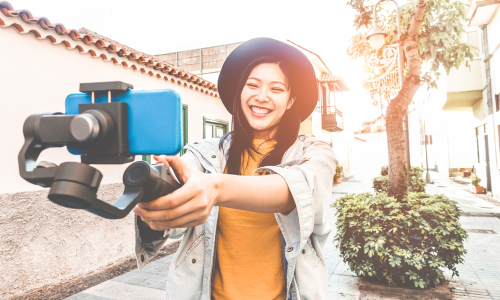 Hiya! I'm the main author of Japan Truly. I love everything Japan and love testing out Japanese products, be it skincare and makeup or gadgets! You'll find reviews of some of the best selling Japanese products (tried and tested) right here!