Are you curious about what does Sakura taste like? Then this blog is for you! Here you will find out all about this beautiful flower and what makes it so special. Read on to learn more.
If you are making a trip to Japan, there is no better time of the year to make a trip there, than during springtime or most commonly known as the "Cherry Blossom" season.
This season lasts for a few months, from late March to the beginning of May wherein you will find the country covered in a blanket of pink, because of the overflowing pink flowers on every cherry blossom tree around you. A splendid sight indeed!
These trees, also called as 'Sakura' trees have innumerable flowers blossoming and what is super cool is that these flowers are edible!
So, during this season, the Japanese people take the opportunity to create several sakura-infused dishes from sweets to savory items, to beverages like teas and other drinks, desserts, snacks you name it!
There is so much hype about sakura and its flavor. But what does sakura actually taste like? Is it sweet or maybe, sour?
Well, if you want to find out, check out this article!
What Does Sakura Taste Like
Sakura is sweet, but also has the perfect tinge of salinity, with a brief hint of a floral fragrance to it. Some also find it slightly sour, but at this point, I just feel like describing the "right" flavour of sakura is super hard. Hence, I'd think it's easiest for one to taste and tell, right?
Since sakura is also known as "cherry" blossom, there are many people who often think that the flavour of sakura is similar to that of cherries.
Well, sakura has absolutely no flavour of cherries! They are nothing alike and are two completely different things, one is a fruit, while the other is a flower.
For those of you who have tasted sakura, well, I'm sure you can relate to this when I talk about its taste. The taste of sakura is absolutely distinct and unique.
So, since sakura isn't eaten plain/raw (because it will taste quite weird of course!), it is often combined with food items, desserts, beverages, and snacks to be able to achieve its distinct flavour in a number of eatables and drinks.
If you wish to know what a "comparison" would be, well, maybe you could compare the taste of the sakura flowers to that similar to a rose.
Floral and slightly sweet, but I'd definitely think it's still quite distinct and hard to describe an accurate flavor.
Sakura Foods to Try Out
Well, there are plenty of sweets and desserts, savory items, drinks, and other dishes made from sakura and if I begin, the list will go on and on.
So, I've decided to talk to you guys about a few of the most popular Japanese sakura-based foods and drinks which are must-try items!
Here are the top best must-try sakura foods, desserts, drinks and snacks:
Sakura Pasta
If you are a pasta lover, then you must try out this sakura-flavored pasta. Basically, the raw pasta itself is sakura flavored and then of course, you need to boil it in boiling water and cook it with other ingredients, similar to how you'd make your regular pasta dish.
Sakura Noodles
Sakura noodles have a very subtle taste of sakura. These noodles are most often made with thick wheat flour and not refined flour.
Once these noodles are cooked in boiling water (similar to other noodles), they are tossed into hot soup and served as noodle soup.
Sakura Onigiri
Sakura onigiri is nothing but Japanese traditional rice balls or rice cakes that are infused with dried sakura flowers. So basically, when the rice for these rice balls or rice cakes is cooked, the dried sakura flowers are dropped in and cooked along with it.
Thus, you get sakura rice, which is then seasoned and formed into balls or cakes using plastic molds.
Sakura Bread
Sakura bread is made similar to any other bread, but incorporates sakura powder or sakura flowers into the dough for its flavor and kneaded in before it is sent to bake.
Sometimes, after the bread is ready, a filling of the red bean paste or sauce is filled into its center.
Sakura Smoothie Bowl
Smoothies or smoothie bowls are common breakfast items that people choose to have because they are rich in nutrients and incorporate a lot of items.
For the sakura smoothie, they either blend in sakura powder or the dried sakura flowers into the yogurt or milk base while making the smoothie along with all the other ingredients to get the best of its flavour.
Sakura Ice-Cream
As an ice cream lover, after trying out the sakura tea, this was the next thing on my list of sakura items to try out!
The flavor of sakura ice cream has a slightly floral tinge to it, while you also get a few bites that contain the sakura flowers in it as well. It smells just like fresh sakura flowers.
Sakura Cheesecake
When sakura cheesecake is made, either the sakura powder is added into the cheesecake batter for it to dissolve better and let out a better and more distinct flavour into the cheesecake or sometimes, a regular cheesecake is made, with a sweet sakura sauce as its middle layer.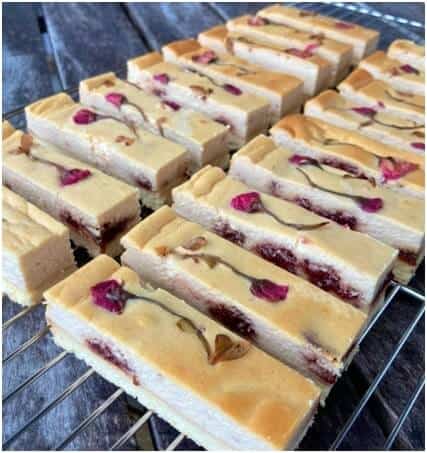 Sakura Jelly
What I love the most, is the look of the sakura jelly, even more than I love the taste of the sakura jelly! It looks super pretty, like as if the sakura flowers are floating, doesn't it?
When sakura jelly is made, traditionally, it is made using clear jelly, to give it that effect like the sakura flowers floating in it. Most often, this clear jelly is made using agar, gelatin, or jelly powder along with a sweetener.
Some also use sakura extract while making the jelly for a heightened sakura flavour.
Sakura Anmitsu
Sakura anmitsu is a traditional Japanese dessert that contains various items like jelly cubes, mochi, ice cream, seasonal fruits, red bean jam and various syrups.
So in a sakura anmitsu, you could get one that contains all sakura-flavored items or just a sakura mochi or sakura ice cream along with the other ingredients.
Sakura Mochi
Sakura mochi is a type of sweet, which is traditional to Japanese cuisine. It is a rice cake (sometimes made of thick rice sheets or folded rice dough), with a paste made of red beans (called Anko) as its filling in the center. It is often wrapped in a sakura leaf that has been pickled.
You will often observe how sakura mochi is made differently in different regions in Japan.
Sakura Tea
Sakura tea is one of the most famous beverages during springtime in Japan. The sakura flower is dried and preserved in salt.
For when the tea is made, a few of these preserved dried sakura flowers are tossed into a boiling cup of water and are allowed to steep for a few minutes until the water is infused with the sakura flavor and the flower petals begin to unfurl.
Sakura Milkshake
Similar to making any other milkshake, the sakura milkshake is made with chilled milk, cream or ice cream which is infused with sakura powder (or sakura flowers for taste) along with sakura syrup sweetener or any other sweetener.
It is blended in a mixer and then served chilled, with most often a piece of fresh sakura jelly, placed on top, to go with it.
Sakura Cookies
Sakura cookies are made in two ways, either by adding powdered dried sakura into the dough or by adding dried sakura flowers (which are softened with water) into the cookie dough and kneading them in before forming the cookies to bake.
Sakura Cake
If you are looking for a lovely tea-time snack and not looking for something heavy then a yummy sakura cake can satisfy your tastebuds.
This cake is made by either adding sakura powder into the cake batter or incorporating treated sakura flowers into the cake batter and folding it in before you begin the baking process.
While these are some of the top best sakura foods, drinks, snacks and desserts to try out, there are some "limited edition" food items sold in Japan, only during the cherry blossom season.
So if you make a trip to Japan during spring, make sure to try these out!
Sakura Doughnuts
Sakura doughnuts are most often flavored with sakura in its base to make these delicious tea snacks!
Sakura Starbucks Frappuccino
During the Cherry Blossom season, Starbucks comes out with their sakura special drink called the "Sakura Fuwari Berry Frappuccino", which is truly heavenly!
Sakura Kitkat
If you're a Kitkat lover, then make sure not to miss out on trying this limited edition sakura-flavored Kitkat. Trust me, they get sold out even before you know it!
Sakura Pocky Sticks
For all you Pocky stick lovers out there, here's yet another flavor to lay your hands on, but only during the Cherry Blossom season of course!
In addition to these, there are plenty of other sakura snacks (like chips etc) and drinks (even alcoholic beverages like beer) to try out. So go ahead and have your fill!
The Final Takeaway
If you have been living in Japan and have not tried out most of these sakura drinks, desserts, snacks, and food items, then I think it's high time you do, because trust me you're missing out on the good stuff!
Well, for the others, if you are visiting Japan, keep this article bookmarked and make sure to try out all the possible sakura items available and I'm sure you will have no regrets because of how awesome they will be!
Also Read: