Love Japanese snacks? If you're wondering where to buy Japanese snacks online, here are the most reliable online sites for you to buy your favorite Japanese snacks from!
The Japanese are truly unique. Their traditions, mannerisms, sense of style, and even their food, are one of a kind.
Over the years, Japanese snacks have become popular all over the world. The world can't seem to resist the many varieties, flavours, and designs that Japanese snacks offer. 
Many Japanese snacks draw inspiration from traditional foods. They are reinvented into eye catching, bite sized yummies to munch on. Some snacks are Japanese remakes of Western snacks that will leave your taste buds happy.
However, unless you're in Japan, finding these snacks can be difficult. Asian stores usually stock up on the more popular snacks and you could find stores that sell imported snacks. 
But with our busy schedules, we don't always have the time to go to a store and browse the many aisles to find what we're looking for. 
Thanks to technology, you can get your favourite Japanese snacks delivered to your doorstep with just the click of a button.
Here are a few sites where you can buy your favourite Japanese snacks!
Where to buy Japanese snacks online: Quick Summary
| | |
| --- | --- |
| Where to buy Japanese snacks online | Popular snacks available |
| Japan Candy Box | Candies and chocolates including KitKat, Pocky, Milky, Calbee, Glico, Meiji |
| Amazon | MochiJapanese rice crackersMatcha cream biscuitsGlico Pocky |
| Japan Centre | Melon panFlavoured crispsMochiCandySodas |
| Japanese Taste | Shrimp rice crackersBeef jerkyCaramel corn puffJelly snackCookies |
| Tokyo Treat | Snack BoxesFlavoured KitKatJapanese drinks like Ramune and FantaRamenSobaUdonFlavoured chipsJapanese cakesJapanese cookies |
| OMG Japan | PockyNori PringlesSakura mintsFlavoured KitKatsMentaiko Pringles |
| Japan Haul | Flavoured KitKatsRamenPockyJapanese latteRamuneEnergy drinksJapanese cream soda |
| Gohan Market | Japanese style pound cakeJapanese pastry rollsRice crackersNorimaki ArareMochiBerry Mix BagPocky |
Where to Buy Japanese Snacks Online
Japan Candy Box
I don't think any kind of candy can compare to Japanese candy. When I first tasted Japanese candy, I instantly fell in love with the many flavours and textures.
If you're like me and need a steady supply of candy, Japan Candy Box is the perfect site for you.
What I love the most about this site is its monthly subscription box. Customers can subscribe to this and they will receive a box packed with 10 Japanese candies and snacks of your choice every month.
You can even customize your box to incorporate your favourite Japanese candies and snacks.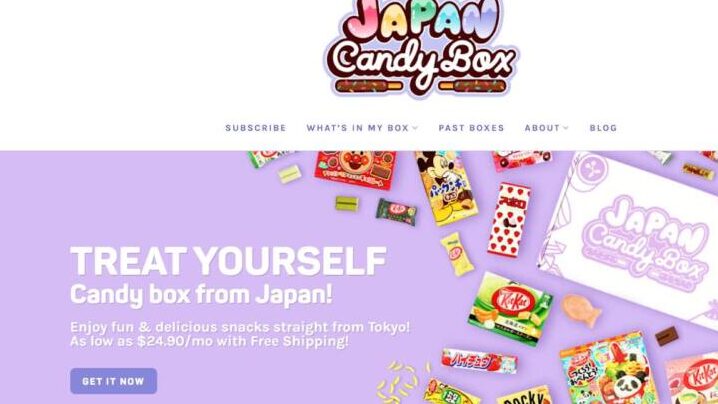 All their products are authentic. Customers can opt for a monthly plan, a 6 month plan, or a yearly plan. The site is available in 120 countries and customers can enjoy free shipping.
Amazon
This list would not be complete without mentioning trusty Amazon. Amazon has a section for Japanese snacks that customers can browse through.
They have snacks that include Japanese soda, candies, chocolates, biscuits, and so much more. These snacks are authentic and are usually delivered in a short time.
The plus point of shopping on Amazon for Japanese snacks is that the shipping costs are a lot lower when compared to other places. In some cases, shipping is free on Amazon.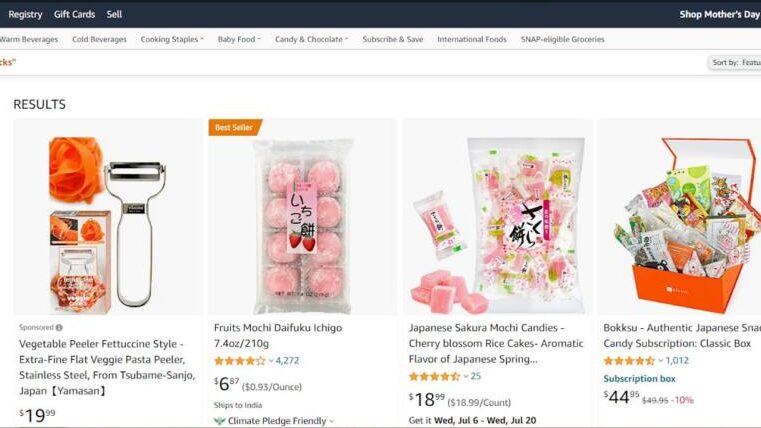 Amazon ships to almost every country and allows costumes to track their orders as well. I find Amazon a very convenient choice. However, I have noticed that the selection is often limited to only a few products and many products seem to run out of stock quickly.
Japan Centre
Japan Centre is a one stop destination for your Japanese groceries and products.
From iced tea and soup bases to Japanese crisps and melon pans, Japan Centre has a wide variety of products to choose from.
This site offers free delivery in the UK for orders over 50 pounds. While stores are only in the Uk, the site offers worldwide shipping.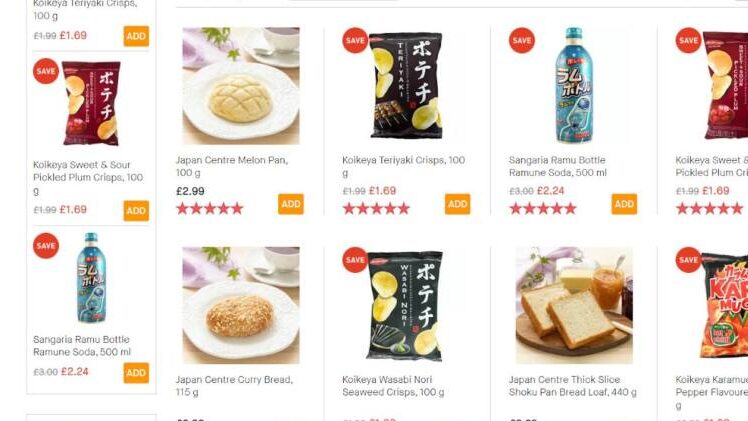 I found this site a good option for weekly orders. I loved their variety and well stocked online store.
Japanese Taste
Japanese Taste is an online Japanese grocery store that offers its customers a wide range of Japanese products including snacks, toiletries, kitchen and household products.
I need to be honest here for a second. This site is not always my first choice because I always end up spending way more than I had initially planned. There are just too many deals and products that I cannot refuse.
But that being said, Japanese Taste is a great site to get all your favourite Japanese snacks from.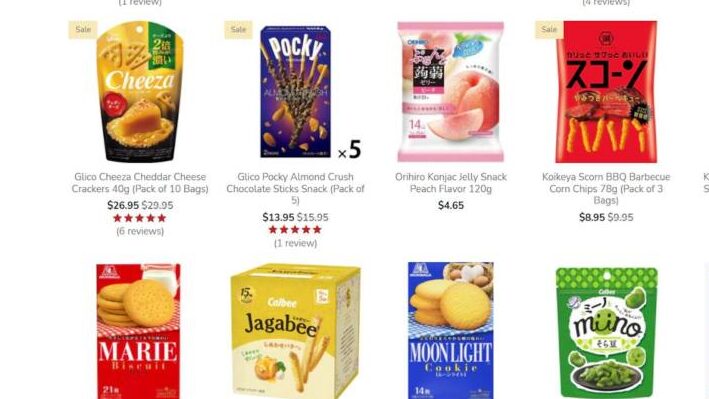 Tokyo Treat
Tokyo Treat is a slightly different concept. Here, you subscribe to a monthly mystery box that is packed with delicious Japanese snacks.
You can subscribe to a 1 month, 3 months, 6 months, or 12 months plan. The shipping cost is additional.
I loved the mystery aspect of the whole thing! The goodies are handpicked by a team of "sback experts" and include, candies, snacks, soda and a whole lot more.
The box also contains complete allergen information and a culture guide to give you a better idea about Japan.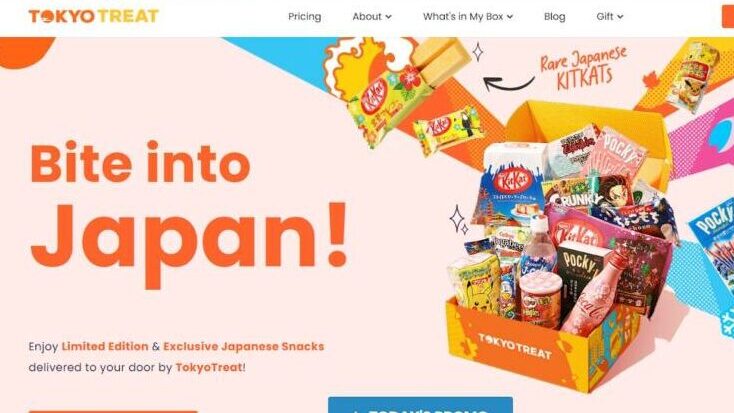 OMG Japan
What I love the most about Japanese snacks are the numerous (not to mention out of this world) flavours that you are bound to come across.
OMG Japan is the one place that I'm always sure about when buying KitKat and Pringles because they are always stocked up with all the flavours (including the rare ones).
They have some of the most amazing products that I haven't come across on other sites like the Pokemon Curry.
If you are in the mood for so whacky flavoured KitKat, OMG Japan should be your next search on the internet.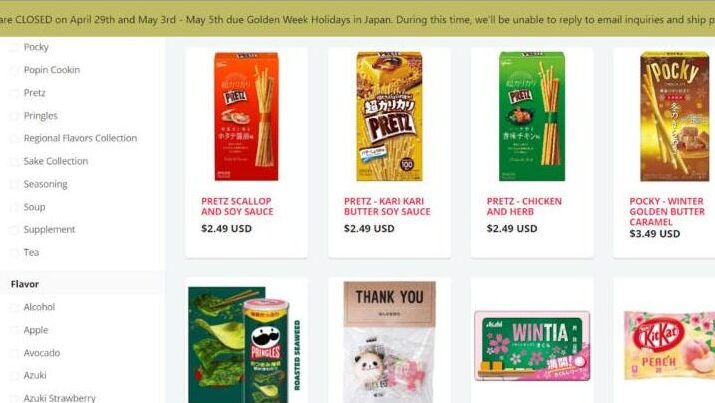 Japan Haul
Like Japan Centre, Japan Haul is another site where you can get your hands on not only Japanese snacks but also beauty and other household products.
The site has pretty much anything and everything that is Japanese. They are sticked with the latest Japanese snacks, makeup, plushies, and much more.
All items sold on this site are 100% authentic. They also offer free express shipping on orders above $199.
I have found that a lot of the products are sold at a lower price when compared to other competing sites. This is because msot products are acquired directly from the manufacturers.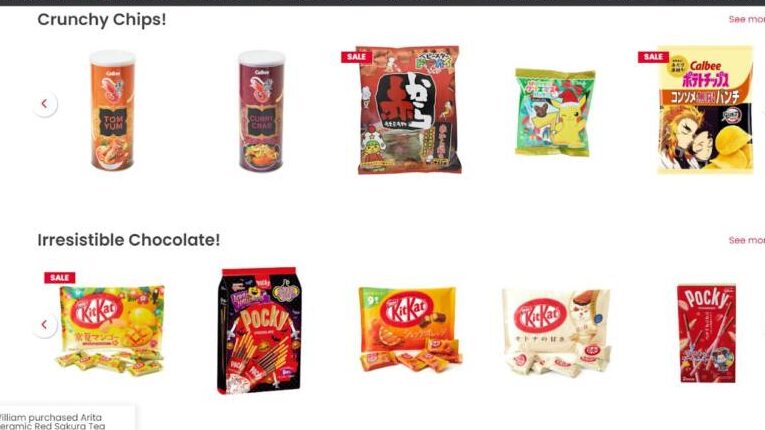 Gohan Market
Gohan Market never disappoints me. With a wide variety of products to select from, it's like snack time all the time!
Besides snacks, the site also sells other foods like dry foods, noodles, rice, seasonings, and beauty and health products.
The site stocks up on well known brands like Calbee, Castella, Glico Pocky, Ginbis, and more.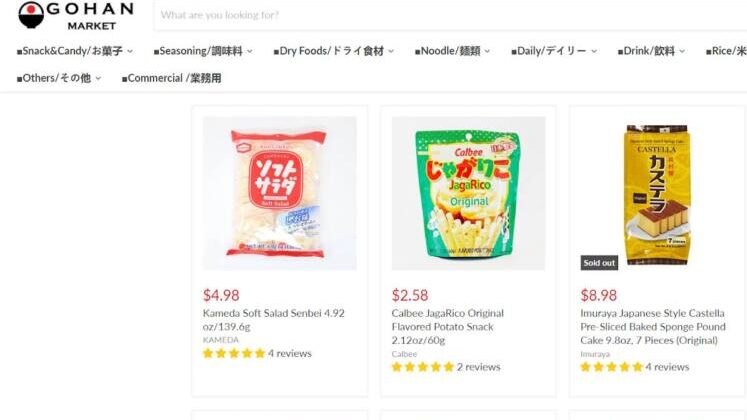 Common Japanese Snacks
Now that we have spoken about where you can get Japanese snacks, I think it's important to mention some of the best and most popular Japanese snacks. In case you can't seem to make up your mind on what Japanese snack to try, here is a list to help you:
Pocky- This is probably the most common Japanese snack and it can be found in almost any supermarket. They are slender biscuits that come coated with cream. The cream comes in multiple (and strange) flavours including matcha, smoked bacon, chocolate, and pumpkin apple.
KitKat- If you are planning on trying out Japanese snacks, you must try the different flavours of KitKat. KitKat in Japan come in some of teh most unique flavours including sakura, matcha, and melon.
Ramune Soda- While this isn't exactly a snack, this list would not be complete without Ramune Soda. As a Japanese product, of course it comes in over 50 flavours.
Calbee Potato Sticks- Nope, they aren't chips or fries. These potatoes sticks are one of the older snacks and have been around for a long time. They are crunchy and delicious and make the perfect snack.
Ramune Whistle Candy- Like the name suggests, you can whistle with this candy! Just pop it in between your lips and blow. They are shaped like polos and usually come with a small toy at the bottom of the pack.
Mochi- Mochi is part of my top 5 favourite Japanese snacks. These little rice cakes have a soft and chewy texture and usually come with a filling. There is no limit on the different flavours that mochi comes in.
Senbei- These Japanese rice crackers come in a hundred different flavours and colours.
Melon Pan- This snack is sweet and comes in a variety of flavours. They are also sometimes filled with cream.
Kaki No Tane- This is made with senbei and peanuts. They are flavoured with a little chilli powder and is often considered a drinking snack.
Where to buy Japanese snacks online: FAQs
What is Japan's most popular snack?
Japanese snacks have gained much popularity across the whole world. Some of the most popular Japanese snacks are:
Rice crackers
Mochi
Kaki no Tane
Onigiri
Melon Pan
Flavoured KitKat
Pocky
Milky candy
Instant miso soup
Ramune soda
Ramune whistle candy
Flavoured Pringles
What makes Japanese snacks different?
Japanese snacks are quite different from snacks from other countries. The candies, sweets, and other snacks do not contain huge amounts of chocolate, caramel, or nougat. They instead contain sweet beans, sweet potatoes, and other natural ingredients. Another thing is that Japanese snacks often come in uniques flavours like matcha and sakura.