For some high-quality condoms in the world, check out this list of top Japanese condom brands and you won't go back to normal brands again!
Condoms are the easiest and quickest contraceptive you can just pick off the shelf in your local drugstore. At some point or the other, we've all had terrible experiences with condoms, be it the size, the thickness, the way it feels or the smell.
Which is the top Japanese condom Brand?
Having tried out several Japanese condom brands, I can safely say that Okamoto 004 Aloe Almost Nothing is the Top Japanese Condom Brand. 
Okamoto is a very popular Japanese condom brand as it offers several types of condom. The most popular one is the Okamoto 004 Aloe Almost Nothing condoms are super thin and come heavily lubricated with aloe vera infused water based lubricant. Besides giving you the best protection, these are also very safe for women who have sensitive skin.
Who doesn't love a condom that is thin, lighter than air, yet gives you the best protection. Japan, known for all things sensual and delicate, also makes some of the best condoms in the world.
Check out below for my reviews of the Top Japanese Condom Brands:
Top Japanese Condom Brands: Quick Summary
Best Japanese Condom Brands
Sagami Original 0.01
I recently had the opportunity to try out the Sagami Original 0.01 condoms, and I must say, they have completely exceeded my expectations.
As someone who values both pleasure and protection, finding a condom that delivers on both fronts is essential, and Sagami has definitely achieved that with their 0.01 range.
First and foremost, the thinness of these condoms is unparalleled. At a mere 0.01mm thickness, they provide an incredibly natural and intimate sensation during intimate moments. You'll hardly notice you're wearing one, allowing you to fully enjoy the experience without any distractions.
The ultra-thin material allows for maximum sensitivity, letting you feel every touch, stroke, and sensation, making it feel as close to bare as possible.
What truly sets the Sagami Original 0.01 apart is its reliability. Despite its paper-thin design, these condoms are incredibly durable and resistant to breakage.
The thought of using an ultra-thin condom may initially raise concerns about safety, but rest assured, Sagami has taken every precaution to ensure their product performs impeccably.
The condoms are rigorously tested to meet the highest quality standards, providing you with peace of mind without compromising pleasure.
Additionally, the Sagami Original 0.01 condoms are made from premium-quality latex that is odorless and free from any unpleasant chemical smells.
This feature adds to the overall comfort and enjoyment of using these condoms, making the experience more pleasant for both partners involved.
The packaging is also worth mentioning. The condoms come in a discreet and compact box, which is perfect for carrying in your pocket or bag.
The individual wrappers are easy to open and ensure quick and hassle-free application when the moment arises.
If there's one minor drawback to mention, it would be the slightly higher price compared to some other brands on the market.
However, when it comes to the delicate balance between pleasure and protection, the Sagami Original 0.01 condoms deliver unparalleled satisfaction and reliability, making them worth the investment.
In conclusion, if you're looking for a condom that provides an unrivaled level of sensitivity while maintaining the highest standards of safety, look no further than Sagami Original 0.01 condoms.
They offer an incredibly thin design, exceptional durability, and a heightened level of pleasure that will undoubtedly enhance your intimate experiences. Don't hesitate to give them a try – you won't be disappointed!
Pros
Unmatched Sensation: The ultra-thin design of 0.01mm thickness provides an incredibly natural and intimate sensation, allowing for maximum sensitivity and a closer experience to being bare.
Reliable and Durable: Despite their thinness, Sagami Original 0.01 condoms are highly reliable and resistant to breakage. They undergo rigorous testing to ensure top-notch quality and performance, offering peace of mind during intimate moments.
Odorless and Pleasant: These condoms are made from premium-quality latex that is odorless, eliminating any unpleasant chemical smells and enhancing the overall comfort and enjoyment of using them.
Discreet Packaging: The condoms come in a compact box that is easy to carry in your pocket or bag. The individual wrappers are also easy to open, allowing for quick and convenient application.
Cons
Higher Price: Compared to some other brands on the market, Sagami Original 0.01 condoms may have a slightly higher price. However, considering the exceptional sensitivity and reliability they provide, many users find them worth the investment.
Glamourous Butterfly Hot Type 1000
The performance of the Glamourous Butterfly Hot Type 1000 is truly impressive. Equipped with advanced heating technology, it quickly reaches the desired temperature and provides consistent heat distribution.
This feature ensures efficient styling while minimizing hair damage.
Whether you're looking to create sleek straight hair or beautiful curls, this hot type delivers excellent results.
The adjustable heat settings allow you to customize the temperature based on your hair type, ensuring versatility and suitability for a wide range of users.
One of the standout features of the Glamourous Butterfly Hot Type 1000 is its user-friendly design.
The butterfly shape of the tool allows for a comfortable grip, providing better control and maneuverability during styling. The swivel cord prevents tangling, making it easier to navigate while styling.
Additionally, the straightforward controls and clear temperature display make it simple to adjust the settings according to your preference.
Whether you're a professional stylist or a novice, you'll appreciate the intuitive nature of this hair tool.
The Glamourous Butterfly Hot Type 1000 is built to last. Its high-quality construction and materials ensure durability, withstanding frequent use and maintaining its performance over time.
The ceramic plates are resistant to scratches and provide a smooth glide through the hair, reducing the chances of hair breakage or snagging.
The overall build of the tool exudes reliability, instilling confidence that it will withstand the test of time.
While the Glamourous Butterfly Hot Type 1000 falls in the higher price range of hair styling tools, its exceptional performance, ease of use, and durability make it worth the investment.
The versatility it offers, from straightening to curling, makes it a versatile addition to your hair care routine.
Moreover, the long-lasting nature of the product means you won't have to replace it frequently, making it a cost-effective choice in the long run.
Pros:
Stunning butterfly design adds elegance.
Excellent performance with quick heat-up and consistent heat distribution.
Versatile for both straightening and curling.
User-friendly with a comfortable grip and intuitive controls.
Durable construction for long-lasting use.
Cons:
Higher price range.
Limited availability in some locations.
Potential heat damage if not used correctly.
Slightly bulkier or heavier compared to other tools.
Lacks additional features like auto shut-off or temperature lock.
OKAMOTO 004
Okamoto is one of the most popular and most preferred brands of condoms in Japan. The okamoto 004 is priced on the higher side, but what you're paying for is for super thin condoms that don't feel like you're wearing one, made of premium quality latex.
This is the basic classic shape with a reservoir tip. The condom is lightly lubricated, just right to get started and into action. These condoms are designed to fit medium sized men, of length 5 to 6 inches.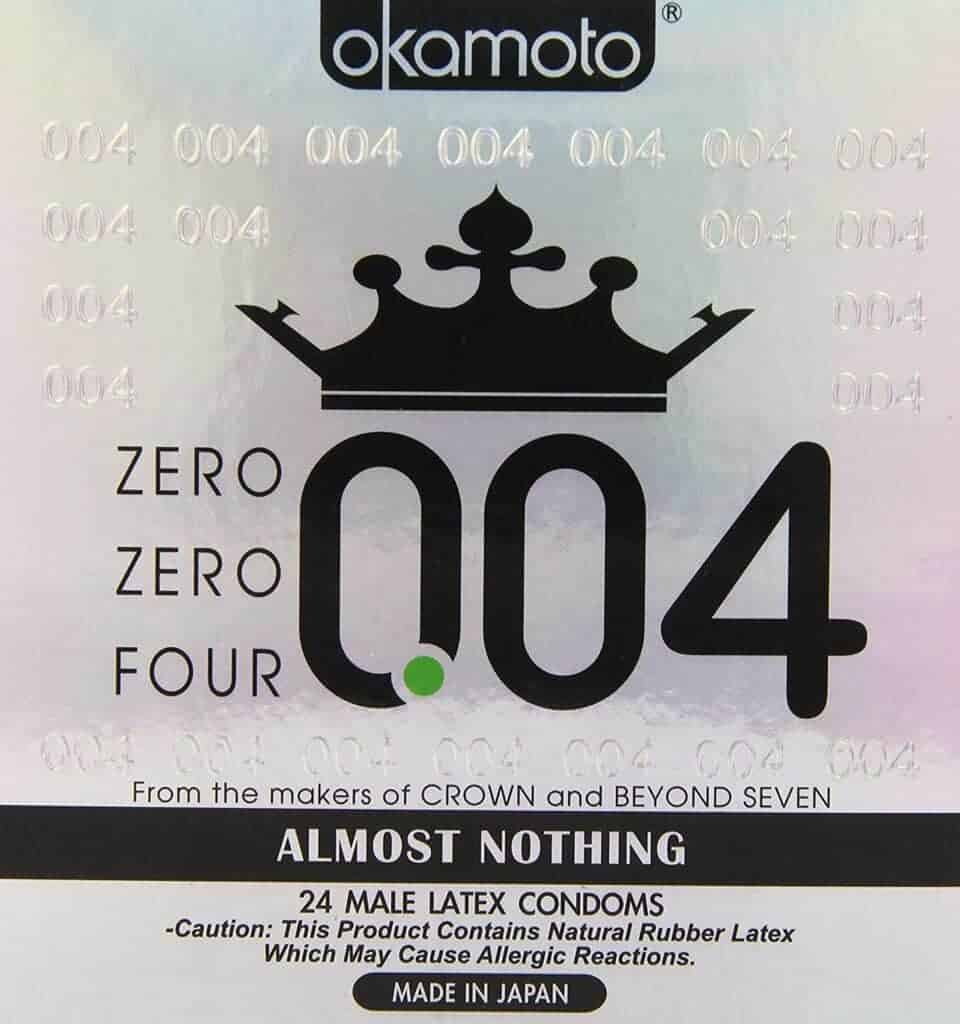 Key Features:
The material this is made from is natural rubber latex
Very thin condom
Premium quality, strong condoms
Lightly lubricated
Medium sized
Classic straight shaped with reservoir tip
Pros:
Super thin, feels like you're wearing nothing
Cons:
Not suitable for very large men, over the size of 6 inches
Kimono Microthin
Another popular condom brand in Japan is Kimono. For some real sensual pleasure, try the Kimono Microthin, which, true to its name, is indeed ultra thin.
These condoms are made from latex and are supposed to be 20% thinner than leading western condom brands. The microthin range has condoms that are classic, straight walled with the reservoir tip. They are also transparent to give you the sense that the wearer isn't really wearing protection.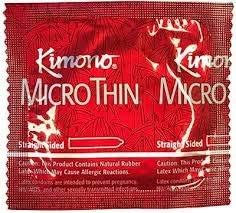 Key Features:
Ultra thin condoms
20% thinner than many leading western condom brands
Transparent and sheer in appearance
Lightly lubricated
Premium quality latex material is used in manufacturing the condoms
Classic design with straight walls and a reservoir tip
Pros:
The totally transparent walls of the condom add to the sensuality and pleasure
No irritating smell or fragrance
Kimono Microthin Ribbed
If you've tried the classic Kimono Microthin and are looking for something more exciting that heightens the pleasure for the woman, you must try the Kimono Microthin Ribbed.
These textured condoms are also super thin, as you can expect from Kimono, but have minute sensory dots on the outside for stimulation during your lovemaking. Even though these condoms are thin, they are strong and very reliable.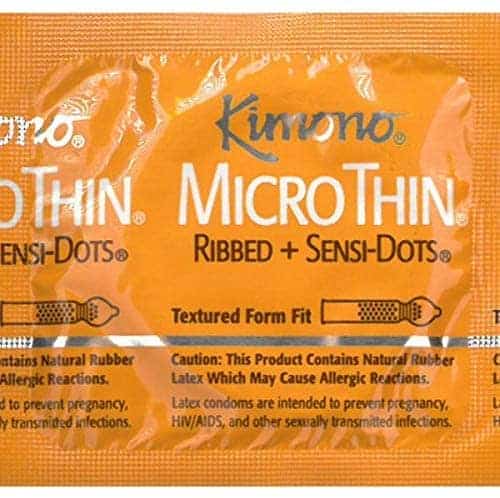 Key Features:
Premium latex material used to manufacture these condoms
Super thin condoms, 20% thinner than most leading Western condom brands
Textured on the outside with micro dots for increasing sensory pleasure
Lightly lubricated
Meant for medium sized men
Strong and reliable
Pros:
The textured condoms heighten the pleasure of the woman
Beyond Seven Studded Condoms
From the manufacturers of the famous Okamoto condoms, we have another top Japanese condom brand, The Beyond Seven. Made from natural rubber latex, the Beyond Seven condoms are strong and trustworthy.
The "Studded" range comes with condoms that are textured on the outside for more pleasure for the woman. They are also lightly lubricated but you can add another water based lubricant if you desire. These condoms are of standard thickness and length.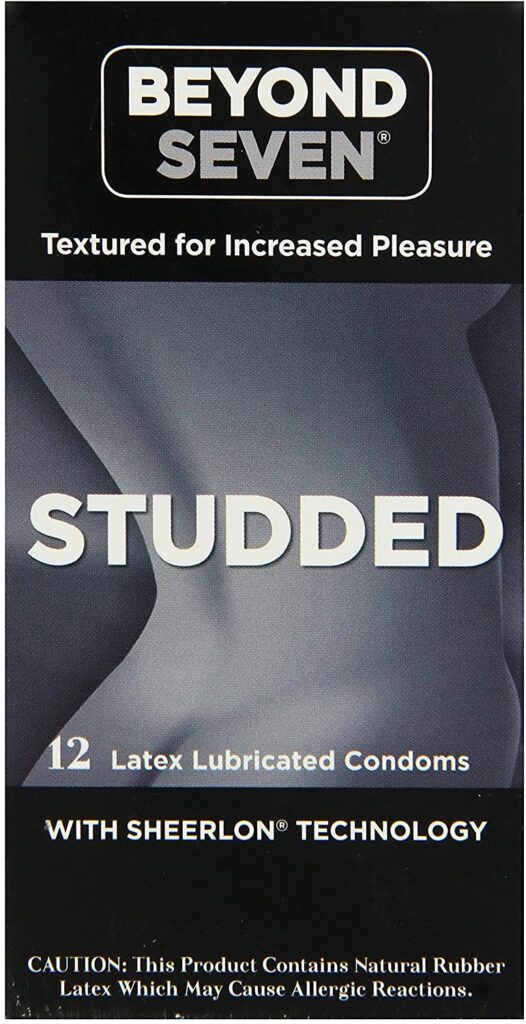 Key Features:
Made from natural rubber latex
Textured on the outside for increased pleasure for the woman
Lightly lubricated for ease
Premium quality
Strong and reliable condoms
Pros:
Cons:
Not very thin, might feel uncomfortable for those used to super thin condoms
Shibari Premium Lubricated Latex Condoms
A go-to brand of condoms for many Japanese is Shibari. These condoms are made of high quality latex and are well lubricated. They are also nominally priced when compared to the other brands, making this a popular option.
They are quite thin, though not comparable to ultra thin condoms. These condoms are strong and reliable, and designed to fit medium length and medium girth. These condoms with a classic straight walled design come with a mild fragrance.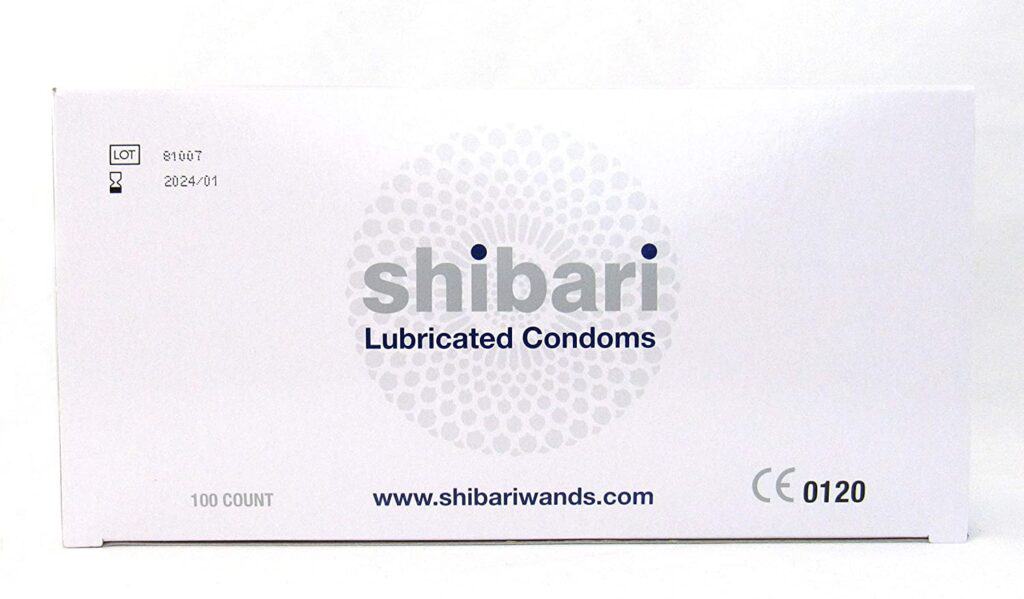 Key Features:
Made from strong, high quality natural rubber latex material
Heavily lubricated
Medium thin, classic, straight walled design with a reservoir tip
Fits medium length and medium girth
Has a mild fragrance
Pros:
Good condoms for teenagers or those new to sex
Nominal price for high quality condoms
004 Aloe Almost Nothing Condom
For the best sex you can ever have, the right condoms play an important role. And the condom having the right kind of lubrication is even more important.
Okamoto 004's Aloe Almost Nothing Condom feels like you're wearing nothing with its sheer thin texture, yet gives you the protection and peace of mind you need. These condoms are also coated with aloe vera infused water based lubricant which is smooth, gentle on her body and adds to the pleasure without the disgusting smell of many lube brands.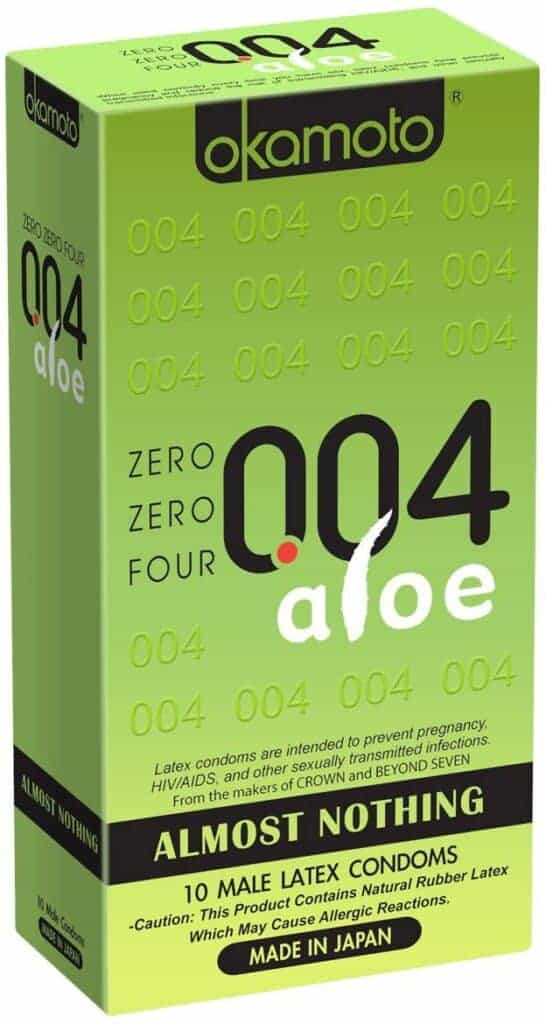 Key Features:
Made from premium latex material
Strong and durable condoms
Ultra thin and transparent texture
Heavily lubricated with aloe vera infused water based lubricant
Ideal for women who are allergic to certain kinds of lubricants
Meant for small sized to medium sized men
Pros:
The aloe vera lubricant reduces discomfort and irritation for the woman
CROWN Condoms
Crown brand is one of the most trusted condom brands in Japan and for good reason. These condoms are made with advanced technology, putting the condoms through several testing processes, so what you get are super strong, durable condoms.
Crown basic condoms are also quite thin and give you the most sensitive pleasure you can experience. The condoms are classic shaped and lightly lubricated for your comfort. This is the same brand that manufactures Okamoto as well, so you know you're signing up for reliability.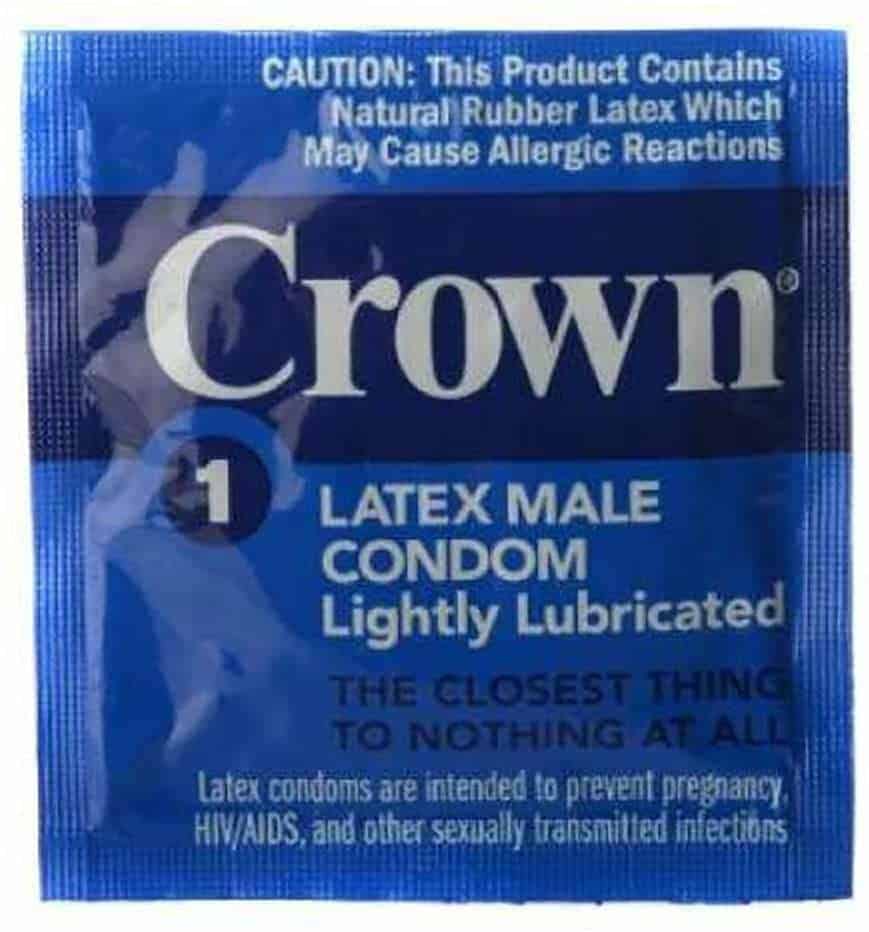 Key Features:
Classic, straight walled condoms
Made from premium quality natural rubber latex material
Thin walled condoms
Lightly lubricated
Strong and durable
For medium sized men
Pros:
The light lubrication and the smooth, soft texture gives the user a great experience
Kimono Microthin with Aqua Lube
Most condoms are lightly lubricated but sometimes you need a little extra lubricant to get things going. Kimono Microthin takes care of your needs with the Aqua Lube condoms.
These condoms heavily coated with water based lubricant for making every lovemaking session a mind blowing one. Like the trademark ultra thin Kimono Microthin condoms, these Aqua Lube ones are also super thin, feel like you're not wearing a condom and overall, very impressive.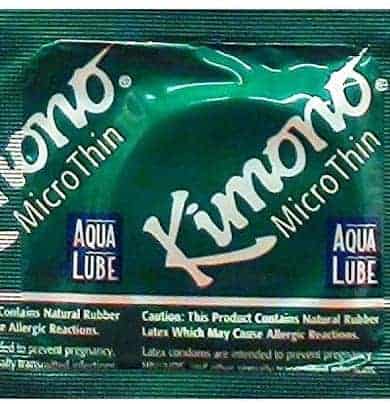 Key Features:
Ultra thin condoms that are 20% more sheer than many Western brands
Made from premium quality rubber latex material
Durable and strong material
Heavily lubricated with water based lubricant
Safe and comfortable for the person being penetrated
Pros:
Water based lubricant coating the condoms is safe even on the most sensitive skin
Kimono Microthin XL Extra Large
While most of the condoms on this list is for normal or medium sized men, Kimono Microthin does make condoms for extra large men as well.
The Kimono Microthin XL Extra Large is the right fit for men who measure over 6 inches, so you don't have to struggle with condoms that are too tight. These condoms go through heavy testing measures before they are passed for quality, so you know you're in good hands.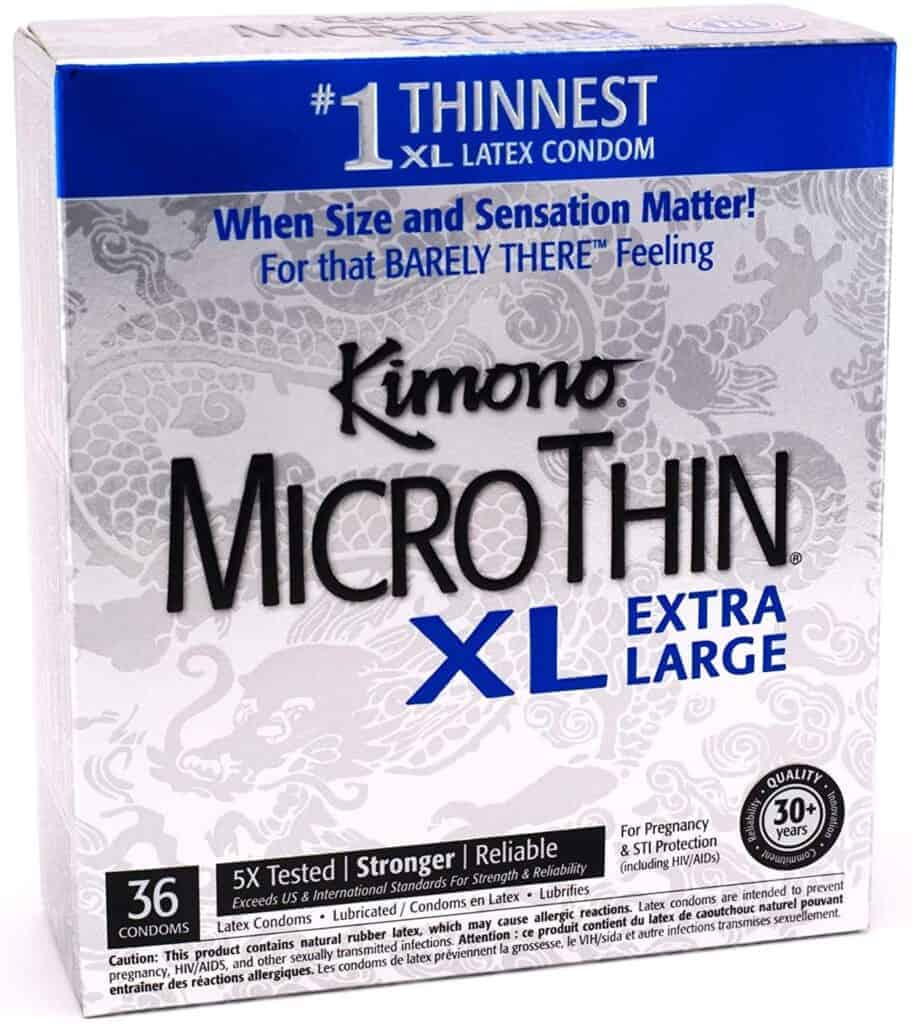 Key Features:
Super thin condoms, 45% thinner than most popular Western condom brands
Product goes through 5X testing procedure
Adheres to international quality standards
Has a 56mm base to fit extra large penises
Pros:
Crown Assorted Colors Condoms
When there's so much colour everywhere, why should your condoms be a boring white or simply colourless and transparent? I know for a fact that certain colours turn on people and if you're one of those, take advantage of the Crown Assorted Colors condoms. These have the same strength and durability as the regular, uber thin Crown standard condoms.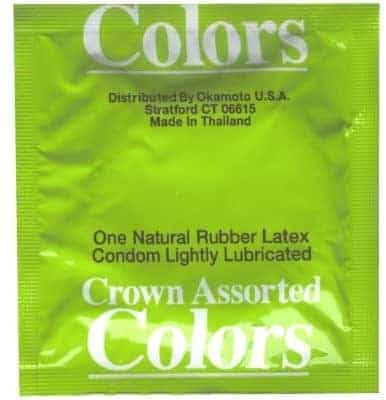 Key Features:
Made from natural rubber latex material
Strong and durable condoms, tested for strength
Coloured condoms
Ultra thin to increase sensitivity and sensuality
Pros:
Comes in fun colours like pink, red, blue, green and yellow to suit your mood
Japanese Condom Sizes
When it comes to condoms, size does matter. Western sizes are a little different from Japanese sizes in terms of girth. Condoms in the west are usually 54-55 mm while Japanese condoms are usually 52-53 mm.
You can check your size with measuring tape or buy a few sample pieces and try them. It's always better to try on because you'll know better on how they feel and if they're working out for you or not.
How To Choose The Right Japanese Condom For You?
Choosing the right condom is an important aspect of practicing safe and responsible sexual activity. When it comes to selecting a Japanese condom, you can consider the following factors:
Size: Condoms come in various sizes, and it's crucial to choose one that fits you properly. Japanese condoms typically cater to the average Japanese size, which may be smaller compared to condoms available in other countries. Take note of the nominal width of the condom, which refers to the width of the condom when laid flat. You can measure your own girth to determine the appropriate condom size for you.
Material: Condoms are commonly made from latex or non-latex materials. Latex condoms are widely available and offer effective protection against sexually transmitted infections (STIs) and unintended pregnancies. Non-latex condoms, such as polyurethane or polyisoprene, are suitable for individuals with latex allergies or sensitivities.
Lubrication: Some condoms come pre-lubricated, while others are not. Lubrication can enhance comfort and reduce the risk of condom breakage. If you prefer additional lubrication, you can choose condoms with added lubricant or use water-based lubricants separately.
Thickness: Condoms vary in thickness, ranging from ultra-thin to regular. Thinner condoms offer increased sensitivity but may be slightly less durable. Regular condoms strike a balance between sensitivity and strength. Choose the thickness that suits your preference and comfort level.
Texture: Some Japanese condoms have textured surfaces, such as ribbed, dotted, or studded patterns. These textures can enhance pleasure for both partners. Consider trying different textures to see which ones provide the desired sensations.
Brand and reputation: Japan has several well-known condom brands, such as Okamoto, Sagami, and Kimono. These brands are recognized for their quality and reliability. Reading reviews and feedback from other users can help you gauge the reputation and performance of different condom brands.
Personal preferences: Ultimately, personal preference plays a significant role in selecting the right condom. You may want to experiment with different brands, styles, and features to find the condom that feels most comfortable and enjoyable for you and your partner.
Top Japanese Condoms Brands: FAQs
Why are Japanese condoms so good? 
Japanese condoms are good because they are ultra thin. Most of them are 20-30% thinner than western condoms. Japanese condoms are highly lubricated and also made with natural latex material. 
Which are the main condom brands in Japan?
Some of the main condom brands in Japan are Okamoto, Crown, Sagami, Jex as well as Kimono. 
Where to shop and what are the prices of condoms in Japan?
You can shop for condoms online on Amazon.com and Amazon Japan. Other than that, all the Japanese drugstores have condoms. Some will be in the men's sections while others might keep them in the first aid section.
You can also find them in sex goods store like Don Quijote around love hotel areas. Some pharmacies also have a condom vending machine in Harajuku. It costs about ¥300~¥500 for a pack of 3 while a box of 10 might cost ¥500~¥1300 depending on the brand.
What size condoms do they use in Japan?
Japanese condoms are typically sized according to nominal width, which is the width of the condom at its widest point. The most common sizes in Japan are M (52-54mm) and L (55-57mm). There are also some XL sizes available, which are 58mm or larger.
It is important to note that condom size is not just about length. The width of the condom is also important, as a condom that is too tight can be uncomfortable and even painful, while a condom that is too loose can slip off.
Also Read:
Okamoto 004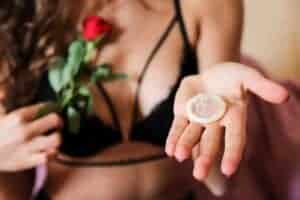 Check out the Top Japanese Condom Brands, a list of the best condoms available in Japan. They're ultra thin, highly lubricated and really pleasurable. Do check out Okamoto which is the best in the list. Read further to know more.
Product SKU: BGH03759837593
Product Brand: Okamoto
Product Currency: USD
Product Price: 24.99
Price Valid Until: 2021
Product In-Stock: InStock