Are you looking for the best gyms in Tokyo to restore your fitness goals? Well, check out this list of gyms that are the best in Japan and would help you meet your desired body goals really soon.
Have you been planning your workouts and home but never actually been able to do it? Do you lack motivation when no one is pushing you to thrive harder while you work out? I used to face the same issues every day but not anymore after joining a gym in Japan.
Which is the best gym in Tokyo?
I've been to many of the best gyms in Tokyo as a fitness freak but Anytime Fitness stands out for me.
Anytime Fitness is a 24/7 gym with 166 locations in Tokyo and 4,000 worldwide. Once you get a membership of this gym, you'll get a fob purple key which acts as a pay to enter and access the gym. Membership in the Hiroo location costs ¥7,980 per month but otherwise, it depends on location.
Gyms have trainers that constantly push and motivate us to cross our limits. Joining a gym can not only help you gain/lose weight but also bring you mental satisfaction. It removes unnecessary thoughts and refreshes your mind, working like a therapy.
Also, I am a big snacker. I cannot diet for some reason and to keep a balance in my body, gym really helps.However, after working out regularly and seeing significant results, my eating habits have also become better.
It's summer and you must want to go to a beach wearing the best bikini and be comfortable in your own skin. Working out will definitely give you that confidence, trust me. Also, you can choose your gym membership in Tokyo and have a trial before.
Top Gyms In Tokyo (Foreign Friendly)
Get into fitness and see the difference in yourself, physically as well as mentally. So here are the best gyms in Tokyo you can get memberships in.
Gold's Gym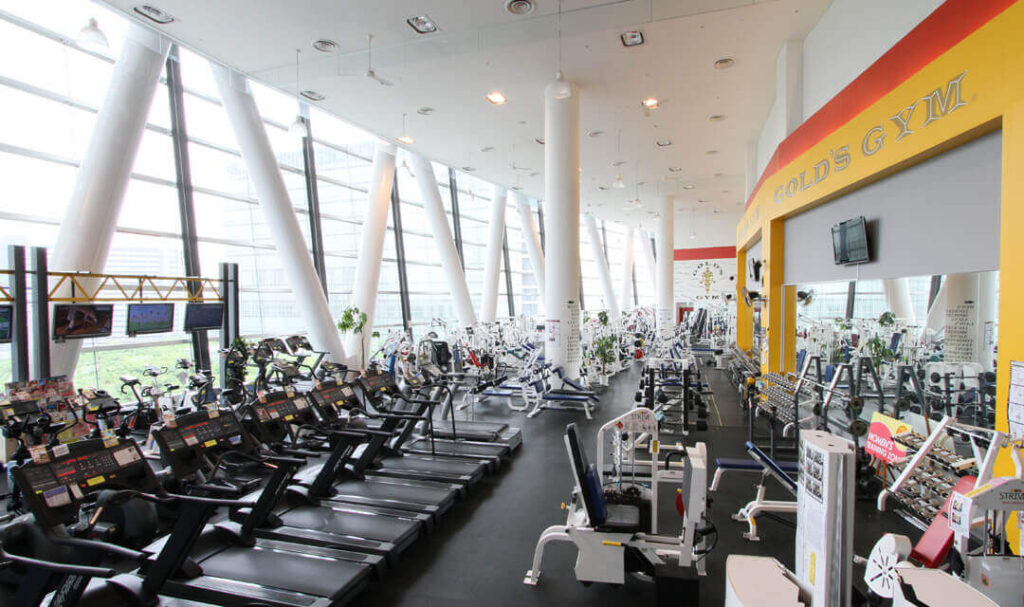 Gold's Gym, Tokyo is one of the best gyms in Tokyo for health freaks and is also an English-speaking gym in Tokyo. It is in the middle of Harajuku street in a huge building.
There are so many machines and equipment for cardio and weightlifting. You can also get a personal trainer but that might be a little expensive. Just a normal membership also works well. It's one of the best in Tokyo with multiple franchises.
There are 27 Gold's gym franchises in Japan so you can choose one according to your location. There's also a collagen machine available for women to boost collagen and elastin on your skin. Great body and good skin, what else do one need?
You can buy protein and supplements on the spot if you wish to gain some muscle power. It might be a little daunting if you're not into regular fitness as you'll see a lot of people seriously working out for bodybuilding and might feel like a competition.
This is a great gym for tourists in Tokyo cause it offers gym day pass for tourists at 2870 JPY per day for five hours.
Price:
The enrollment fee is ¥5,000.
Membership fees vary in different locations.
Harajuku location's Gold membership ¥19,000/month and full-Time membership ¥13,000/month.
You can pay month-to-month (pay first two months together) or pay first 6/12 months together.
Address: Gold's Gym Harajuku Tokyo, 6-31-17 Berokkusu Building 4F, 3F, B2F, Jingumae, Shibuya-ku (other locations available)
Location
Related: Check out the rules of eating healthy in Japan for staying in shape!
Anytime Fitness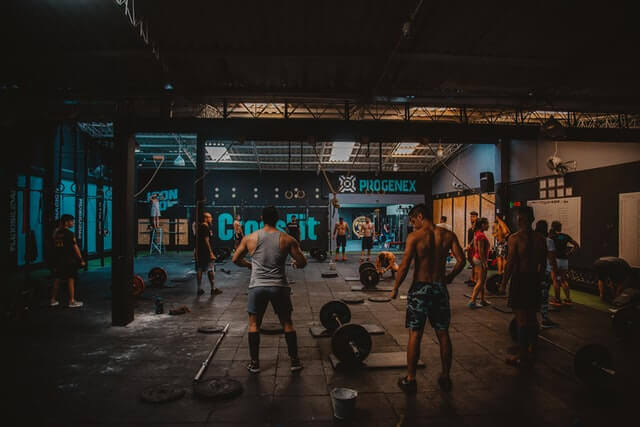 This is one of the best gyms in Tokyo that also stands by its name, Anytime. Yes, you can access this gym anytime, morning, night or midday, 7 days a week. This 24/7 gym is perfect if you're working late or have other engagements since the time you enter is up to you.
There are around 166 locations in Tokyo and 4,000 worldwide so don't worry if you're away on a holiday, you can still be gymming to keep your fitness regime tight. Definitely, one of the best gyms in Tokyo to meet your fitness plans.
Once you purchase the membership, you'll get a purple key that you have to use anytime you enter the gym at any location in the entire world. The convenience of the Anytime Fitness gym in Tokyo is what keeps me going.
I have a membership in this gym and I love that I can do everything and still attend the gym. The only problem is there's no one to help at night with anything (not even the security guards). Just be alert while you go to Anytime Gym in Japan at night.
Price:
Anytime fitness membership fee in Hiroo location cost is ¥7,980 per month. Otherwise, it depends from location to location.
Address: Anytime Fitness Hiroo, 4-12-4 Platinum Coat Hiroo B1F, Minamiazabu, Minato-ku (other locations available)
Location
Related: Check out the difference between the Japanese diet and the western diet and pick the best one that suits your fitness regime!
Tipness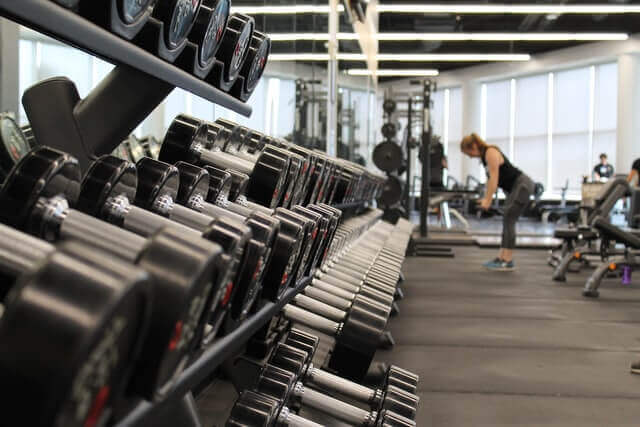 Tipness is an all in one and one of the best gyms in Tokyo. Name it and you have it here from free weights, strength training, cardio to sauna, yoga and pool.
There are days where you don't feel like lifting weights or training heavy, you can always go for something light like yoga or swimming.
You can also schedule a session with your personal trainer if you need personal guidance and training. I went to this gym for a couple of trial classes but unfortunately, couldn't join in due to the distance.

I remember this one time I was really stressed and I used their sauna bath for a detox, must say it was really relaxing and worth trying for tough days. There are available in-house apps that will monitor your mental and physical health.
For athletes, there's hydrogen water available in case someone is too drained out. There's a 20-meter lap pool available for you to swim. Everything about Tipness is good so that's what makes it one of the best gyms in Tokyo.
However, sometimes having a spa can be difficult inside a gym where you are putting in your 100% but then you see something relaxing.
Price:
The FG24Plus membership is ¥12,800 per month.
Regular membership is ¥12,300/month.
Under 30 membership is ¥8,500 per month.
After5 membership is ¥8,000 per month.
Morning membership is ¥5,824 per month.
Address: Pilamide Building B1F, 6-6-9 Roppongi, Minato City, Tokyo (and other locations)
Location
Related: Include superfood goya in your diet for a healthy living!
Club 360
Club 360 is a group taught gym where you can get your fitness friend along. There are also kids classes available so if you have kids at home, get them too. There are so many activities of sweating like boxing, mo' fit 360 classes etc.
If you're looking for a boxing gym in Tokyo then this is a great gym option for you in Tokyo.
There's physiotherapy, osteotherapy and a few other sports massages that can help you out on your bad days. This gym is family friendly and serves your fitness needs well.
The only problem here is that there's only one space for the classes which means some classes are only held once a week. It's one of the best gyms in Tokyo for group taught fitness training.
Price:
Depends on the class and service chosen.
Address: 3-1-35 Cma3 Building B1, Motoazabu, Minato-ku
Location
Related: You can also include hakusai in your diet that reaps a lot of healthy benefits!
Orangetheory Fitness
Orangetheory fitness goal is to make sure if you try it, it is successful. It is a group-taught 60 minutes workout by the trainers that will make you feel satisfied and strong.
This gym is based on the excess post-exercise oxygen consumption (EPOC) method and regulates homeostasis. They also provide an OTBeat which is an informative wearable band that measures heart rate in real-time and pushes you accordingly.
It's a group workout session so after it's over, rush to have a bath or you'll have a long queue to wait. It is one of the best gyms in Tokyo that is scientifically equipped. It's also one of the best gyms in Tokyo for its tech.
Price:
Regular membership is ¥20,000 per month.
Light membership is ¥17,000 ( 8 times per month)
Address: Orangetheory Fitness Azabujuban, 1-7-3 Azabujuban, Minato-ku, Tokyo
Location
CrossFit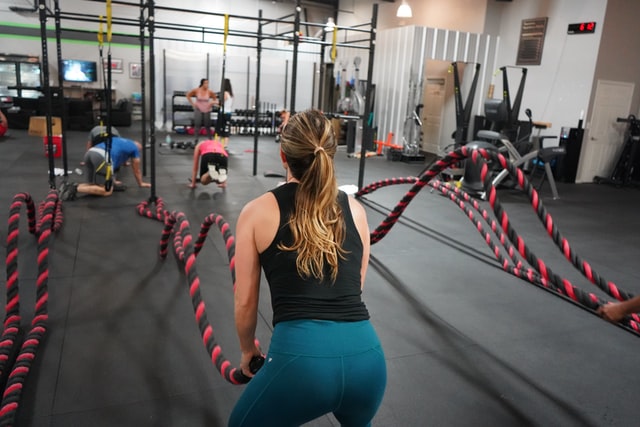 This gym is one of the best gyms in Toyko if you're planning to go for high-intensity training with rowing, running, pushups, deadlifts etc. CrossFit gyms in Tokyo is powered by Rebook and best for bodybuilders.
This isn't a gym but a sport to become crossfit athletes. But nevertheless their training can definitely bring changes in your body and it's never boring when you work out here. It is quite expensive to get a membership here.
Gym goers of CrossFit often post their photos on Instagram with #SweatAngels and believe me, their photos are proof of it. Don't think twice, it's among the best gyms in Tokyo for CrossFit.
Price:
Premium membership is ¥32,400 per month.
3 Days a Week membership is ¥32,400 for the first month and then ¥27,000/month.
trial classes are for ¥3,240.
Address: Reebok CrossFit Heart & Beauty, 3-13-3 Castalia Hiroo B1F, Nishiazabu, Minato-ku, Tokyo (and other locations)
Location
Sarugaku Gym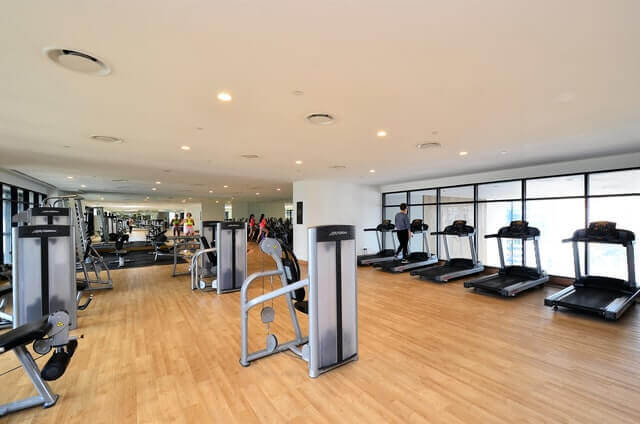 Sarugaku is one of the best gyms in Tokyo that is open to the public. Although it's not as great as other private gyms, it's still good enough to help you shed a few pounds within your budget.
This isn't a place for heavy lifters but you can use this gym for basic lightweight training and other exercises. There are some cardio and weight machines you can hop onto.
This gym is fun as there is no involvement of others and you can do what you really wish to but other times, you might feel like there's a lack of a trainer. One of the best gyms in Tokyo at a cheap price!
Price: ¥400 per day.
Address: 12-35 Sarugakucho, Shibuya City, Tokyo 150-0033, Japan
Location
F45 Training
Circuit training and HIIT (high intensity interval training), both of which last for a brief yet intense 45 minutes, are the hallmarks of F45 Training.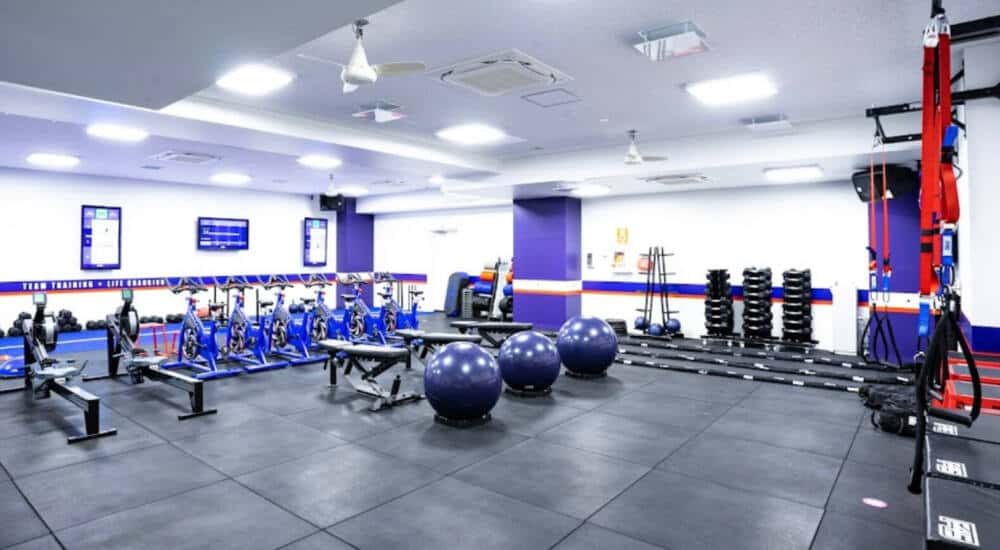 All muscle groups are put to work in a very balanced manner, and their approach will appeal to people who enjoy exercising in a group.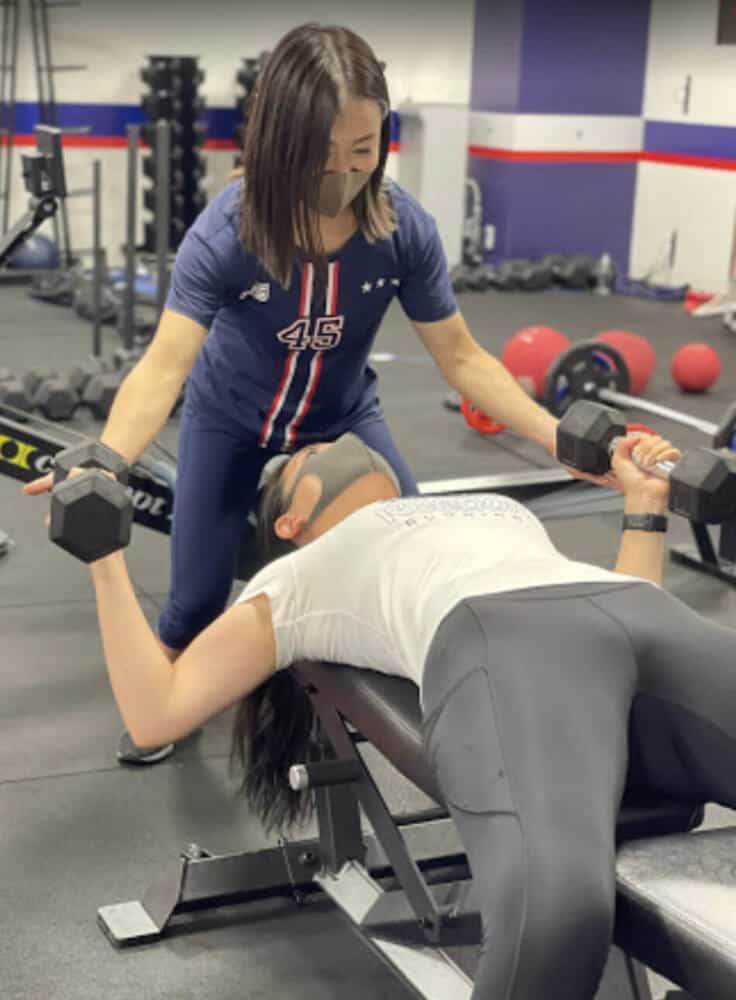 All muscle groups are put to work in a very balanced manner, and their approach will appeal to people who enjoy exercising in a group. Even if your life is very busy, you can still manage to stay healthy and fit thanks to their relatively brief workouts.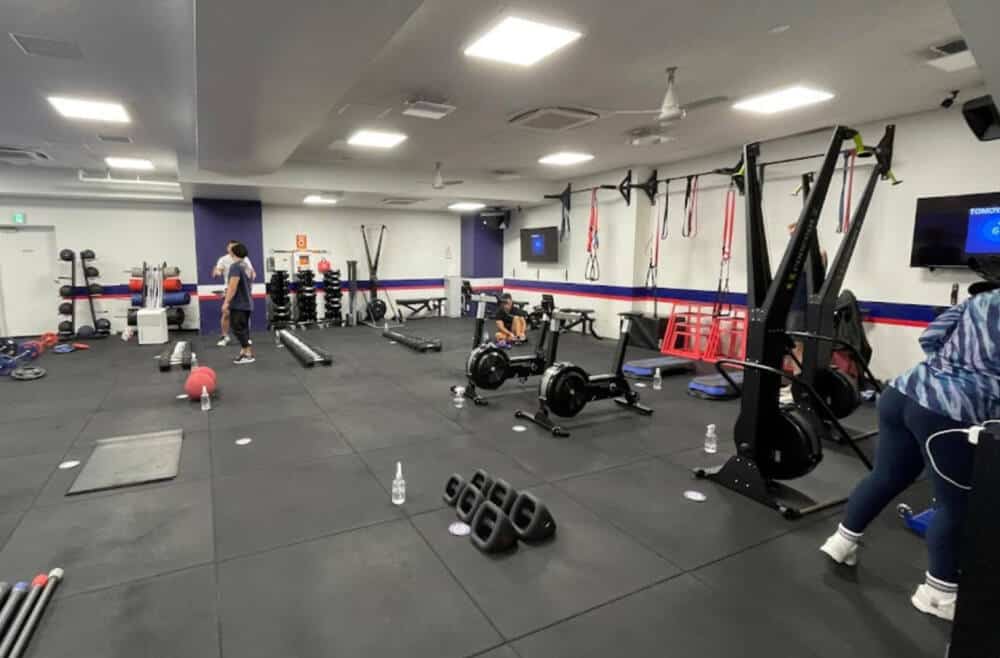 An F45 Training membership is on the more expensive end of the scale, costing about 20,000 yen per month.
Address: 港区芝大門1-16-3 芝大門116ビル1F, B1F, Minato City, Tokyo 105-0012, Japan
Location
Local Community Center Gyms (Ward Gyms)
The community gym in your neighbourhood ward is the best option if you're looking for a cheap gym in Tokyo. In the urban areas of Japan, there is at least one open gym for everyone to use.
Even if you use them frequently, you will probably pay less than you would for an unlimited usage membership at a standard, less expensive gym chain. They typically just offer a pay as you go structure. Prices vary from location to location, but you should budget 250–400 yen for each visit.
Depending on the ward, the quality of the gym in Tokyo might differ. But the equipment selection is still good enough and they provide a variety of group workouts like aerobics and Zumba.
You can use the pool at some gyms for an additional cost. The policies of the ward gym respect diversity, and tattoos are OK as long as they are covered.
Fighting Lab Tamachi Mita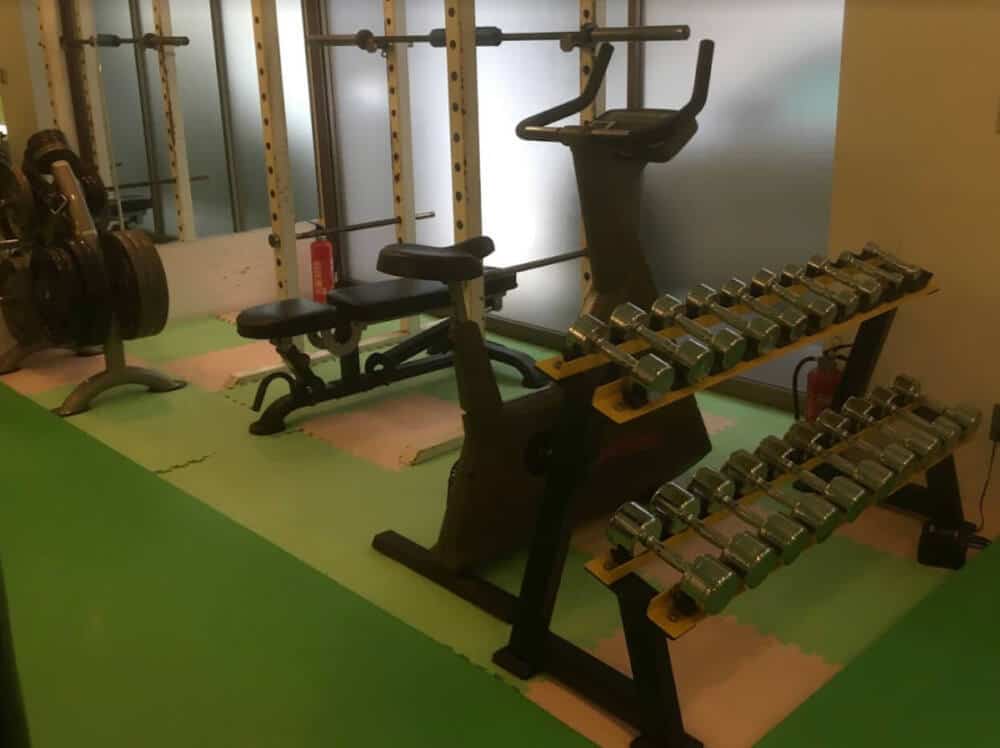 I loved my experience at the FIghting Lab Tamachi Mita. If you're looking for MMA gyms in Tokyo then Fighting Lab Tamachi Mita is the best one. The trainers here are experienced and very patient with you. There are many slots you can choose from and they have a huge number of trainers too.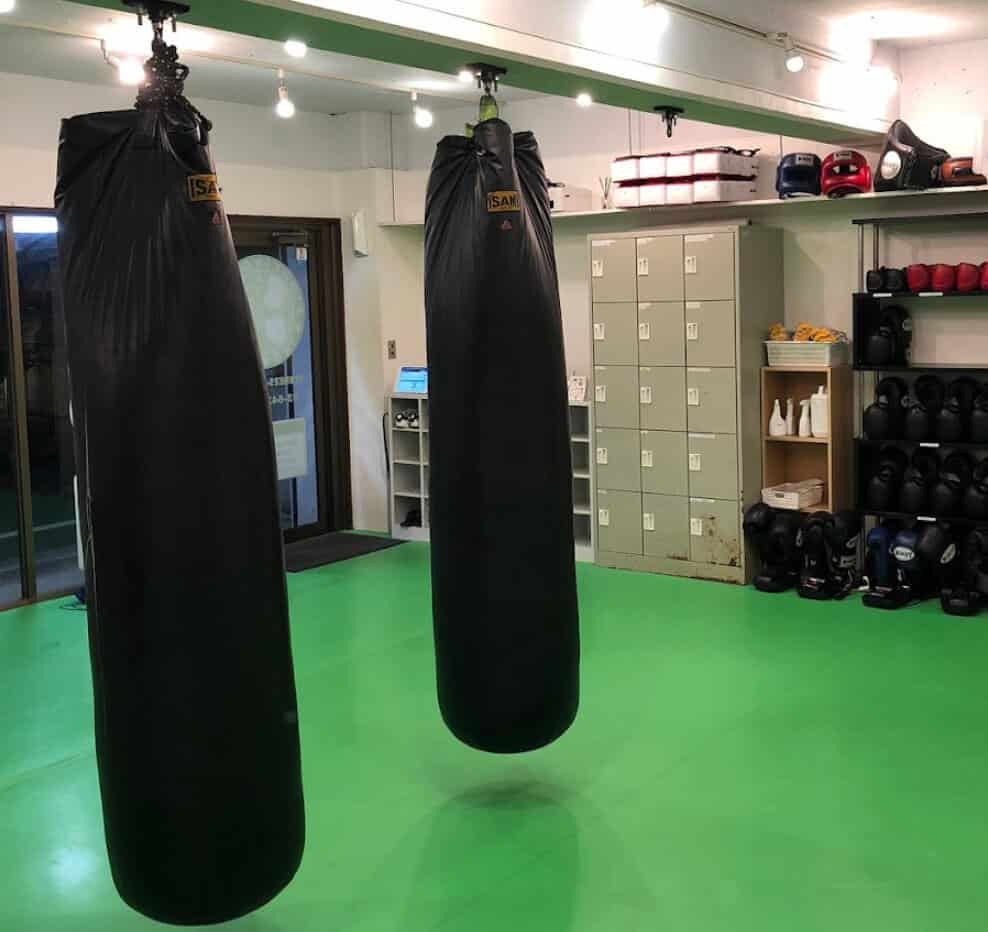 Other than this, just like any other gyms they have most of the equipment including weights. All the equipment is well maintained and clean as well. The price at this gym varies depending on th plan you take from JPY 2000 – JPY 11000.
Address: Japan, 〒108-0014 Tokyo, Minato City, Shiba, 5 Chome−1−5 松浦ビル
Location
Gym Etiquette in Tokyo, Japan
Here are some of the tips that will help you maintain the gym etiquette in Japan.
Don't use your phone: Keep your phone aside while working out. Don't chat or take selfies at the gym, leave them in your bags.
Don't hoard the equipment: Pick the equipment that you need and do not overuse it beyond a certain time limit. Others will need the equipment too and they must be waiting.
Don't leave body weights anywhere and everywhere: Keep the body weights and other equipment in place. Do not leave it around. There are specified racks made for it and as a rule please follow it.
Don't leave your sweat behind: Clean your place and training equipment that you've used which might have a residue of your sweat. Wipe your equipment before leaving the gym.
Don't make sound: Making loud sounds in the gym is really not appreciated in Japan. You'll be judged badly if you do so!
| | | |
| --- | --- | --- |
| Best Gyms in Tokyo | Gym Type | Area |
| Gold's Gym | Membership | Harajuku and 27 other locations |
| Anytime Fitness | 24/7 gym | Hiroo and 166 other locations |
| Tipness | Membership | Minato City and other locations |
| Club 360 | Group taught | Minato-ku |
| Orangethory Fitness | Group taught | Azabujuban |
| CrossFit | CrossFit | Minato-ku and other locations |
| Sarugaku Gym | Public gym | Shibuya |
Fitness Ready
If you're a fitness rat and you're ready for some challenges, join one of these best gyms in Tokyo that will help you out in all ways possible to achieve your body goals.
Happy Sweating!