Wondering where to get the best mochi in Japan? We curated a list of places in Japan where you can get the most delicious mochi. Check it out!
If you've ever had Japanese food you know they're hands down one of the best cuisines in the world.
Most popular Japanese food like ramen, sushi, takoyaki, unagi, etc are quite flexible dishes that can be altered in a subtle manner to suit your tastes and preferences.
And there's another versatile Japanese food that can be equally or even the best of all mentioned above and that's mochi.
Mochi is one of the famous Japanese desserts that are to die for and they're definitely loved by millions across the world. But there's no other better place to try mochi except for Japan.
Hence, if you're planning to visit Japan we've brought you a curated list of the best places you should visit to try the perfectly chewy mochi. Hang on and check out down below!
Shoutout: ByFood has some interesting food experiences here. Do check them out.
Where To Get Mochi in Japan?
Takemura – Chiyoda City Tokyo
Mikan Club – Shibuya City Tokyo
Ginza Akebono – Chuo City Tokyo
Nakatanidou – Nara
Saryo Suisen – Kyoto
Benzaiten – Various Outlets across Japan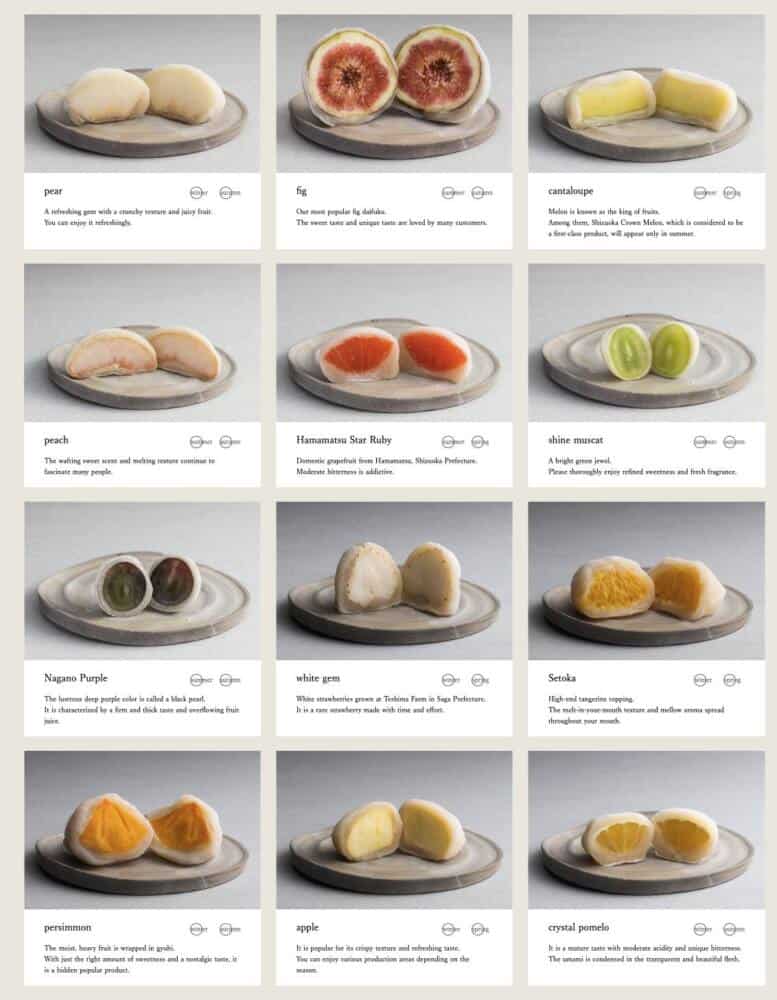 At Benzaiten, they take great pride in our commitment to using only the finest ingredients for their daifuku, a traditional Japanese confection
Renowned for their unrivaled commitment to excellence, Benzaiten indulges the senses with a delectable array of over ten exquisite varieties of freshly sourced, seasonal fruits. Each day, these impeccable fruits are meticulously handpicked directly from the flourishing markets, allowing for an unparalleled taste experience within their luscious daifuku creations.
Exclusively embracing the philosophy of purity, our meticulous artisans ensure that the essence of these divine fruits is safeguarded, guaranteeing an infusion of their delectable flavors that tantalizes the palate with every bite. To further heighten the opulence of this extraordinary delicacy, not one, but two layers of supremely crafted, velvety white bean paste and habutai are meticulously layered to embrace the essence of luxury, elevating the daifuku to an extraordinary masterpiece that is hand-prepared with love and devotion each and every day.
Takemura – Chiyoda City, Tokyo
Takemura is one of the best places to get traditional Japanese mochi and it's one of the places that's preferred by tourists as well.
Takemura is quite an old restaurant that was founded in 1930, surprisingly Takemura restaurant has escaped the detriments of the 2nd World War, and as an accomplishment, the restaurant is still located in its original building till now.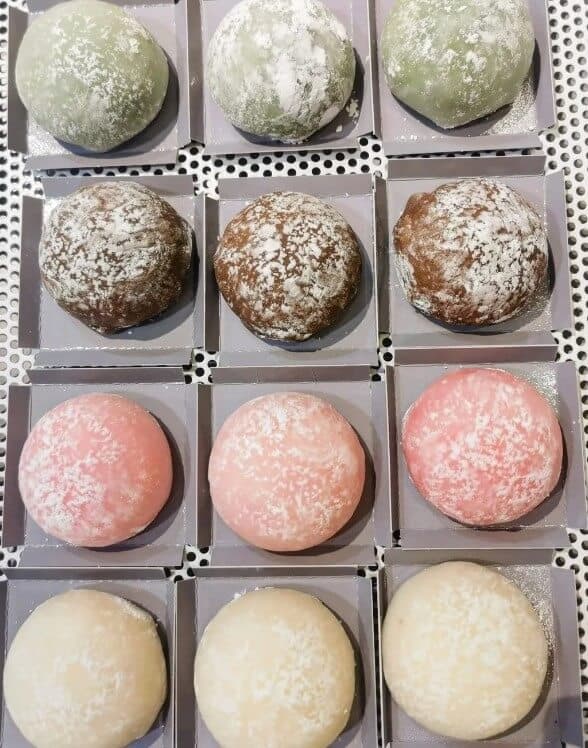 It's one of those places that are loved by the locals as well, due to its historical influence and here you'll find mochi and countless other Japanese desserts made in the traditional Japanese ways.
You'll also love the sakura drink they serve at Takemura therefore make sure to check this place out.
Address – 1 Chome 1 9, Kanda Sudacho, Chiyoda City, Tokyo
Opening Hours – Monday to Saturday 11 am to 7:40 pm. Closed on Sundays
Contact Number – +81 3-3251-2328
Website – Takemura
Mikan Club – Shibuya City, Tokyo
Mikan Club is hands down one of the must-try spots in Japan if you love traditional mochi and dango.
When visiting Mikan Club you'll notice that there are countless items on the menu and trust me choosing what you want to try there gets overwhelming.
One of the coolest features at Mikan Club is that there's a mini charcoal grill on the table where you can grill dango or dumplings for a roasted flavor.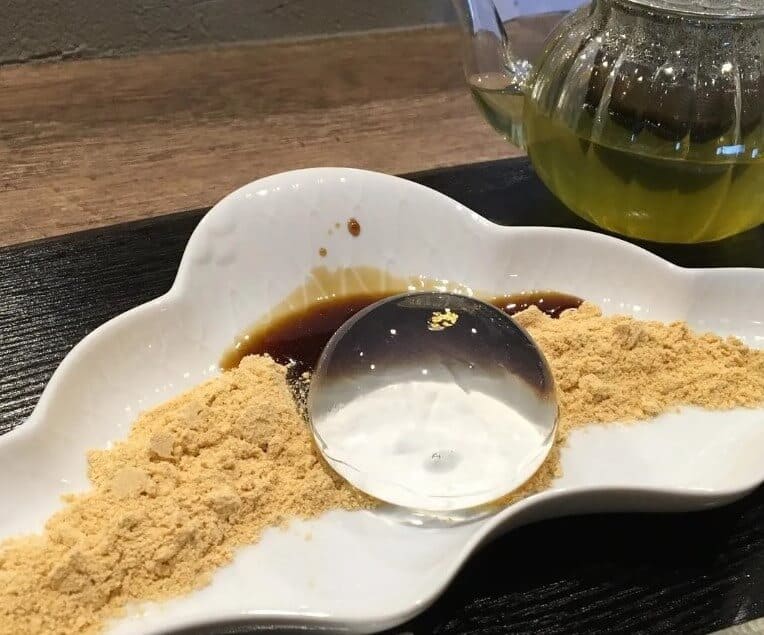 One of the best-selling mochis at Mikan Club is warabimochi which is called "Angel's Tear". This mochi is transparent and looks like a huge bubbly water drop hence the name Angel's Tear.
This transparent mochi is made using agar which is seaweed and since Angel's Tear has no specific taste, it's topped with roasted soy flour and brown sugar syrup.
Water drop mochi with soy flour and brown sugar syrup is absolutely a match made in heaven. You'll love all the mochi and dango served at Mikan Club in Tokyo.
Address – 4 Chome -15-2 Jingumae, Shibuya City, Tokyo
Opening Hours – Monday to Sunday 12 pm to 6 pm
Website – Mican Club
Ginza Akebono – Chuo City, Tokyo
Ginza Akebono is one of the oldest mochi places in Tokyo that has been selling traditional Japanese mochi in Ginza since 1948.
Currently, Ginza Akebono has several branches operating all across Japan and they provide authentic Japanese street food such as mochi, sakura sweets, and other savory dishes as well.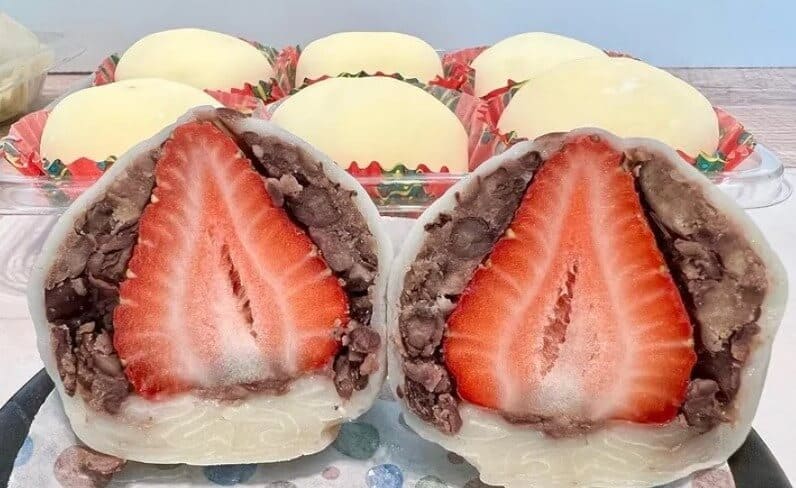 If you're a fan of the Ichigo Daifuku mochi which consists of whole strawberries inside then Ginza Akebono is the ideal place for such delicacies.
These strawberry mochis are a treat loved by the locals and tourists as well and they're only available between December to April.
It gets pretty crowded at Ginza Akebono during this season hence make sure to visit them sooner.
Address – 5 Chome-7-19 Ginza, Chuo City, Tokyo
Opening Hours – Monday to Friday 10 am to 9 pm. Saturday and Sunday 10 am to 8 pm.
Contact Number – +81 3-3571-3640
Website – Ginza Akebono
Nakatanidou – Nara
When we said there's no other place better than Japan to try the best mochi we really meant it and one of the best places in Japan where you can find mochi that's made right in front of your eyes is at Nakatanido.
Nakatanidou is at Nara which is a commercial place hence you'll witness a large crowd visiting here to taste the lovely round mochi.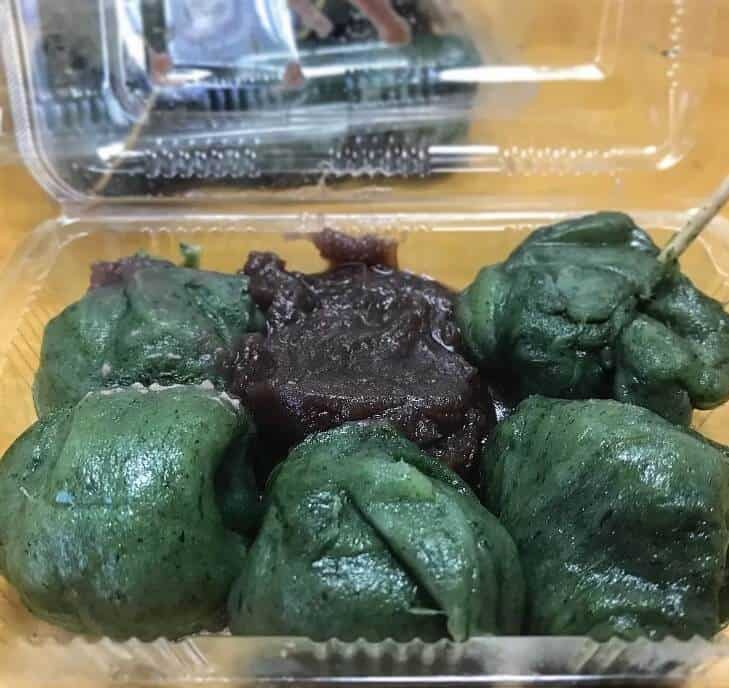 If you love to catch how mochi is made traditionally then Nakatanidou is the right place for that. You can watch how the rice is pounded into a dough and then stretched to make mochi.
Nakatanidou is famous for their Kusa mochi which is made out of mugwort plant with a sweet red bean filling. Make sure to visit Nakatanidou to taste freshly warm mochi.
Address – 29 Hashimotocho, Nara, 630-8217
Opening Hours – Monday to Sunday 10 am to 7 pm
Contact Number – +81 742-23–0141
Website – Nakatanidou
Saryo Suisen – Kyoto
Do you love everything matcha? Then visit Saryo Suisen in Kyoto which is literal matcha heaven. Saryo Suisen offers their iconic Uji Matcha Warabimochi, a sticky mochi with the consistency of slime.
This mochi is made using matcha and an interesting aspect of this mochi is you can choose the level of matcha for your mochi depending on your tastes and how bitter you like them.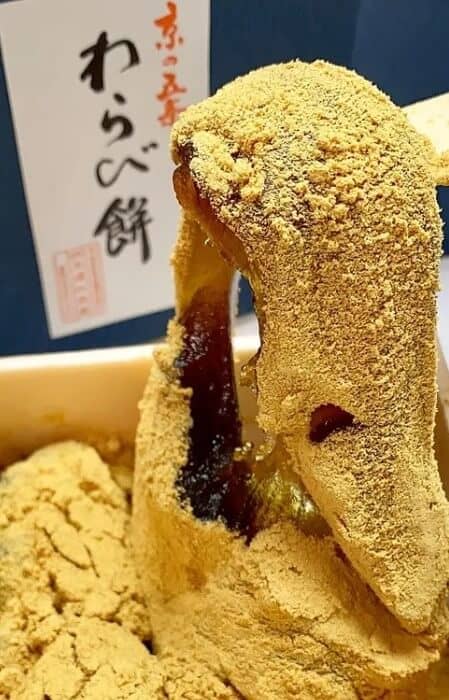 The Uji matcha warabimochi is topped with roasted soybean powder and accompanied by a small cup of green tea, sweet rice dumpling, brown sugar syrup, and a red bean soup. This is the perfect platter to have a relaxing and stress-free day.
Address – 461, Kinbukicho, Nakagyo Ward, Kyoto
Opening Hours – Monday to Sunday 10:30 am to 6 pm
Contact Number – +81 75-221-7010
Website – Saryo Suisen
What's Mochi And How's It Made?
A lot of us know mochi as a chewy and filling dessert that can have a variety of delicious fillings inside but not many of us know how it's made and the intricacies and traditions behind this mouth-watering dish.
Mochi is a type of Japanese rice cake that's made out of short-grain glutinous rice with the incorporation of other ingredients like sugar, water, and a plethora of fillings.
Traditionally mochi is made by using cooked short-grain glutinous rice called mochigome and pounding the cooked rice in a mortar.
When visiting Japanese streets it's usually a scene witnessed by most people where street vendors put their utmost effort to pound the rice to make it into the perfect slimy dough.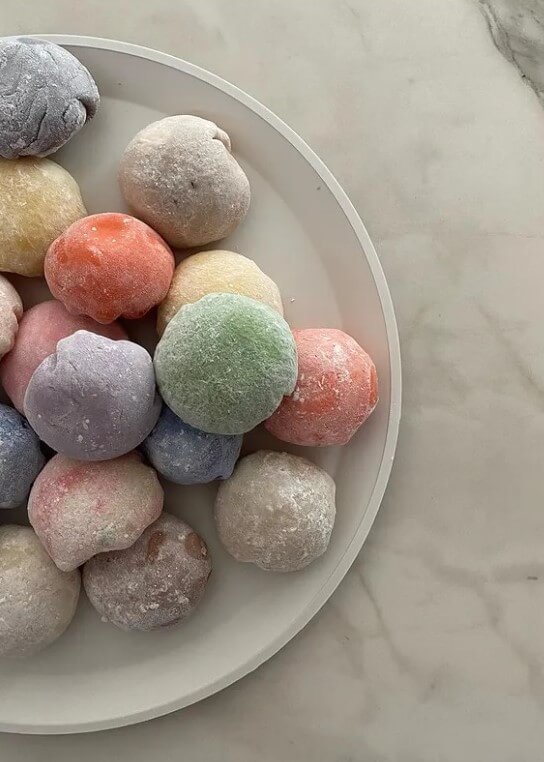 The mochigome rice has a high content of amylopectin gel which is released when the rice is pounded. As a result, the dough becomes sticky and stretchy. The dough is then stretched and molded into any desired shape.
Generally, mochis are shaped into small balls and the shapes of mochis can differ from place to place.
Since the traditional method of making mochi is tough and time-consuming, there's another simple method most people follow which helps them make mochi without any hassle or arm cramps.
This method involves using dry mochigome rice flour combined with the ideal amount of water to form a dough.
The dough is then divided into small balls or any desired shape and then steamed which makes the mochi have a sticky consistency just like how it's made traditionally.
This is the widely used method to make mochi by most restaurants and at home due to its convenience and simplicity.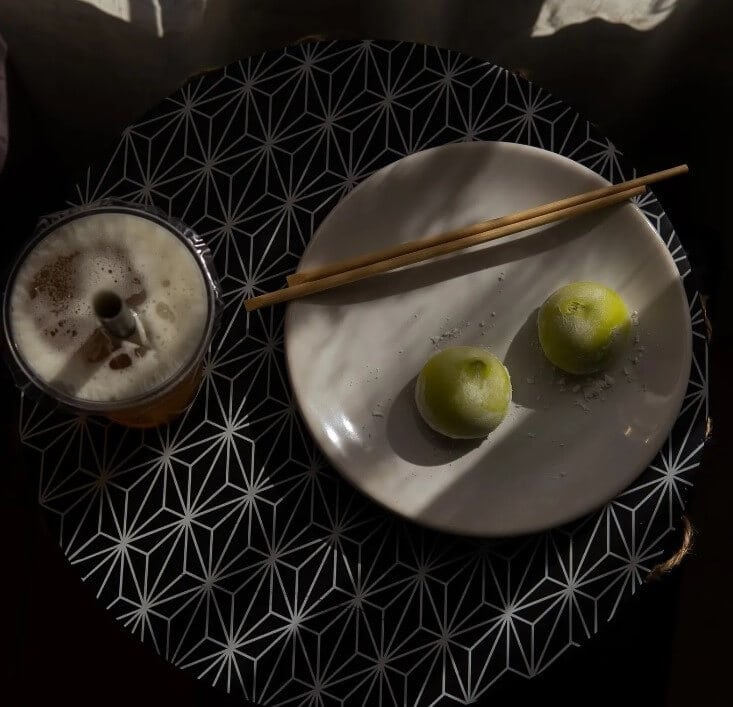 Although the instant method to make mochi is preferable there are some places in Japan that still follow the traditional way of making mochi using mortar and pestle.
Since mochi has a sticky outer appearance it can be broken by separating it with your hands. Cutting the mochi in half is possible, however, if the mochi has a filling inside you'll risk oozing the filling from all sides.
Different Types of Mochi in Japan
| | |
| --- | --- |
| Different Types of Mochi In Japan | Flavors / Fillings |
| Daifuku Mochi | Filled with either red or white bean paste and topped with powdered sugar and soy flour. |
| Ichigo Daifuku | Filled with whole strawberries |
| Dango Mochi | Served with a variety of flavors and toppings such as soy sauce, sakura, matcha, black sesame, etc. |
| Kiri Mochi | Unflavored mochi used for making other dishes |
| Kinako Mochi | Topped with soybean powder and sugar syrup |
| Kusa Mochi | Aka grass mochi which is made out of mugwort plant. Kusa Mochi has a leafy taste. |
| Bota Mochi | Topped with sweet red bean paste |
| Isobe Yaki Mochi | Grilled mochi wrapped in seaweed and served with soy sauce for dipping. |
| Yatsuhashi Mochi | Triangle-shaped mochi with a cinnamon flavor that's either baked or served raw. Has a variety of fillings. |
| Sakura Mochi | Pink-colored mochi with sweet red bean filling and covered with a cherry blossom leaf. |
| Ice Cream Mochi | A popular type of mochi with different ice cream fillings. |
We know that mochi comes in a variety of flavors and colors hence the taste can differ largely.
A mochi without any fillings inside has an off-white color and it usually tastes bland or has a slightly starchy taste. Therefore, most people prefer having mochi with distinct and exotic flavors and fillings.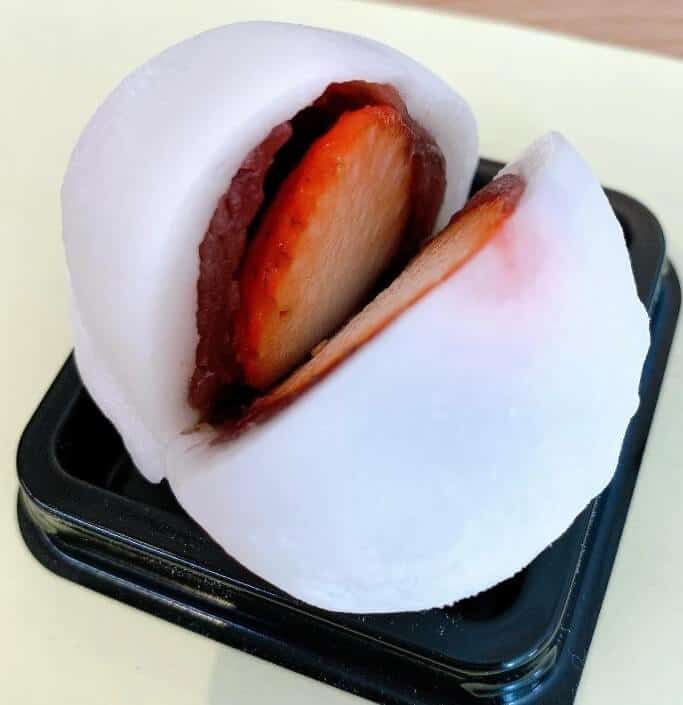 Where To Get The Best Mochi In Japan: FAQs
Which is the best place to get mochi in Japan?
Mochi is a Japanese dessert that's made out of glutinous rice with a variety of delicious and colorful fillings which makes mochi a favorite dessert for several people. The best places to get delicious mochi in Japan are:
Takemura  – Chiyoda City
           Mikan Club – Shibuya City
           Ginza Akebono – Chuo City
           Nakatanidou – Nara
           Saryo Suisen –  Kyoto
What is the most popular mochi flavor in Japan?
The most popular mochi flavor in Japan that's preferred not only by the locals but tourists as well is the Daifuku Mochi which is a mochi that consists of a sweetened red bean filling and coated with powdered sugar or soy flour. There are multiple other mochi flavors such as Sakura Mochi, Ichigo Daifuku, Warabimochi, Kiri Mochi, etc which are loved by the Japanese people as well.
What is the best mochi flavor?
The best mochi flavors are Daifuku Mochi, Ichigo Daifuku, Sakura Mochi, Uji Matcha Warabimochi, and Kinako Mochi.
Also Read