Here's a list of weird Kit Kat flavors in Japan that you'd love to relish. These Japanese kit kats are quite unique and taste really good. Check out this guide to the Japanese Kit Kat flavors list with pictures. Read further to know more. 
Kit Kat is a classic treat that has been around for your ears. This iconic treat is made of three layers of wafers and it first came out with a delicious layer of creamy chocolate. As far back as I can remember, I can see myself surrounded by Kit Kats. 
List of Japanese Kit Kat Flavors: Quick Summary
As much as we love them, there is no country that is as addicted to this sweet treat as Japan. With so many flavors, there is never a shortage of new items to taste and get addicted to.
Which is the best Japanese Kit Kat flavor?
My team and I taste-tested 150+ kit kat on the basis of taste and aftertaste. We found Sakura Kit Kat to be the best Kit Kat flavor.
Sakura Kit Kat is made with authentic Japanese flavor inspired by the Japanese cherry blossom season. The Sakura KitKat has a sweet taste with slight notes of sourness. It's also extremely creamy. Sakura Kit Kat is available on Amazon for sale.
Today, I will bring to you a list of Japanese Kit Kat flavors that I have tried. Some of these I loved and some, I could not stand. You'll find these Japanese Kit Kat flavors on Amazon to buy.
Try out these today and know the wonderful world of Japanese KitKat. Let's find out some of the best ones from this list of Japanese Kit Kat flavors. Here's your personal list of Japanese Kit Kat flavors guide.
List of Weird Kit Kat Flavors In Japan
Green Tea Kit Kat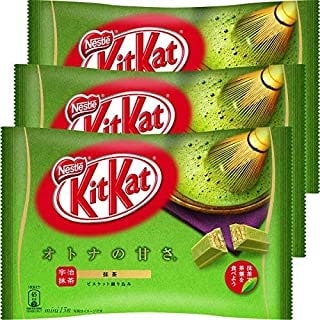 Green tea is extremely popular in Japan; it is one of the most consumed beverages throughout the nation and it is slowly gaining popularity worldwide. Owing to the popularity of green tea, Nestle Japan used Green Tea to bring out a unique flavor in their Kit Kats. 
However, the chocolate is extremely rich and smooth; you will not find the usual bitterness of green tea in Kit Kat because it just melts and merges so well with the chocolate. 
When I first tried the green tea Kitkat, I was expecting a very authentic green tea flavor, but that is where I was disappointed. You will hardly catch any hint of green tea which is perfect for those who do not like that extreme bitterness.
Cheesecake Kit Kat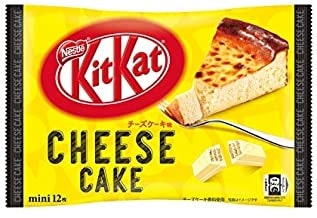 cheesecake is a favorite amongst several and so, nothing can be better when two of our favorites come together: Kit Kat and Cheesecake.
 If you do not have constant access to cheesecake, this Kit Kat will definitely satisfy every sweet craving you have. I love this the most from the list of Japanese Kit Kat flavors.
Purple Beni Imo Kit Kat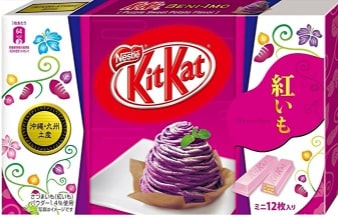 This is another very unique flavor that you will come across in Japan. I love sweet potatoes and never thought I would eat them as my sweet treat.
However, Nestle Japan was very creative when it thought of mixing sweet potato with Kit Kat, and believe me, it became a big hit. Purple sweet potatoes are quite rare in the US but they are quite common in Asia. 
The Purple sweet potatoes are extremely nutritional. Once you taste the Purple sweet potato-flavored Kit Kats, there really is no going back to the others from the list of Japanese Kit Kat flavors.
Wasabi Kit Kat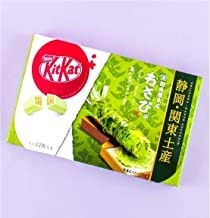 If you like spicy food, you will love Asami. Wasabi can be extremely strong and pungent and for those who cannot handle Spice, this can be a real challenge. However, the wasabi-flavored kit kat brings down the spiciness to a level that you can handle. 
However, the flavor is quite interesting and once you get hooked on it, you will want to keep taking the next bite.
Sakura Kit Kat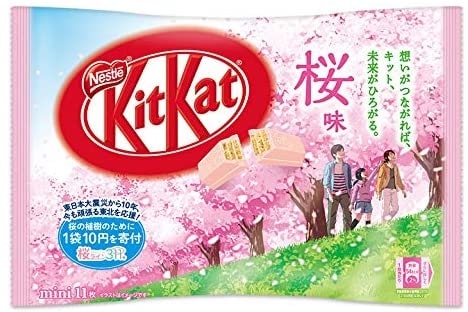 Sakura or Cherry Blossoms are the most beautiful experiences that you can experience in Japan during the spring season. During this season, you can feast on the beautiful Cherry Blossoms with your eyes but now, you can also taste them.
These Sakura kit kats look extremely beautiful and they taste very creamy and delicious. If you don't believe me, you really have to taste it for yourself and know what I am talking about. A creamy delight from the list of Japanese Kit Kat flavors
Lemon Kit Kat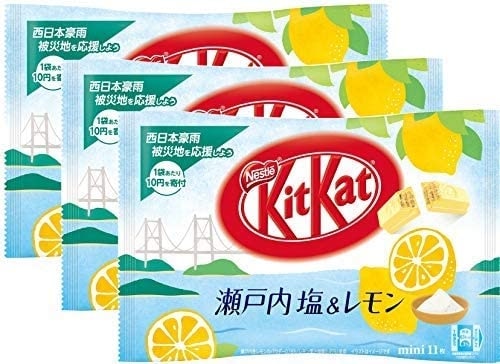 Yes, you heard that right. Lemon, which is an acidic medium and citrus, can be turned into a sweet and Nestle Japan has proved that. I love getting my Vitamin C intake with lemon Kit Kats, and I suggest you do too to get this from the list of Japanese Kit Kat flavors.
Cookies and Cream Kit Kat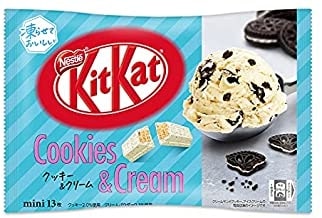 Cookies and Cream Kit Kat brings together white chocolate, milk chocolate, and light chocolate wafers right in the center. All of these different flavors from the list of Japanese Kit Kat flavors are mixed together and bring out a unique taste that gets you addicted. 
Azuki Bean Kit Kat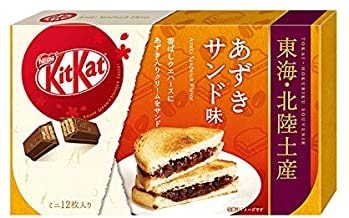 We in Japan love azuki beans. This has now come into Kit Kat and this is a flavor you would not want to miss at all. It really reminds you of peanut butter and there is nothing more comforting than that. Get this as it's one of the best from the list of Japanese Kit Kat flavors.
Cranberry Almond Kit Kat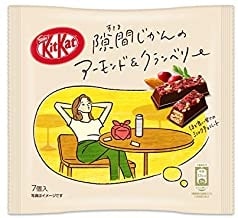 The Cranberry Almond Kit Kats actually contain sugared pieces of Cranberries and ground Almonds. In every bite you take, you will get these pieces to bring out that unique flavor. The extremely lovely flavor from the list of Japanese Kit Kat flavors.
White Chocolate Kit Kat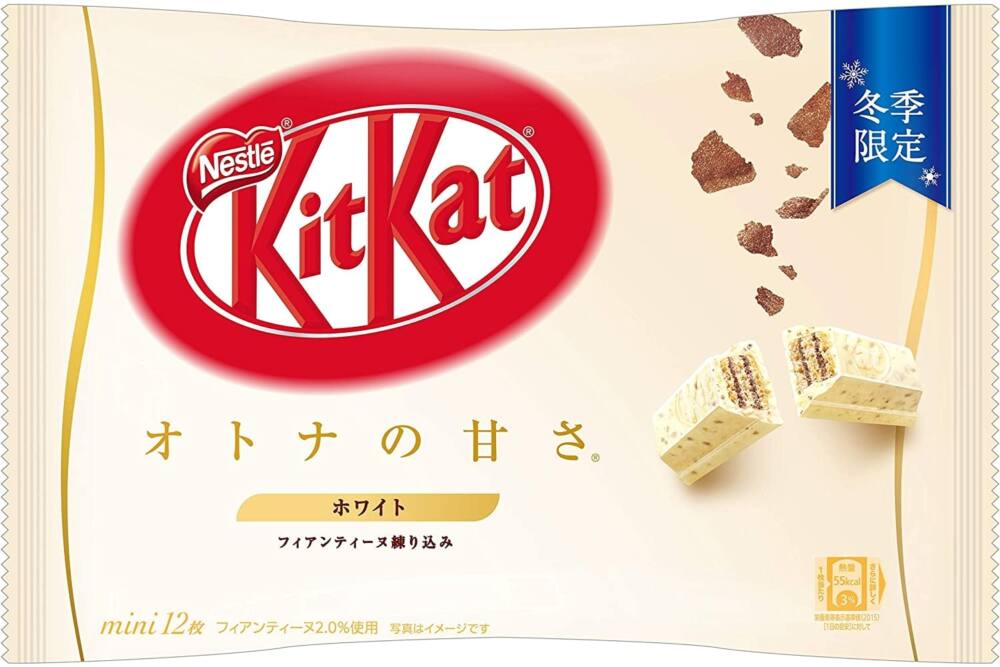 I have always been a huge lover of white chocolate, and when Nestle finally decided to bring my favorite and mix it with their classic Wafers, I knew I had my new favorite from the list of Japanese Kit Kat flavors.
These bars melt in your mouth and give you that milky chocolate flavor that takes you back to your childhood. Get this Japanese kit kat box for yourself!
Darkness Kit Kat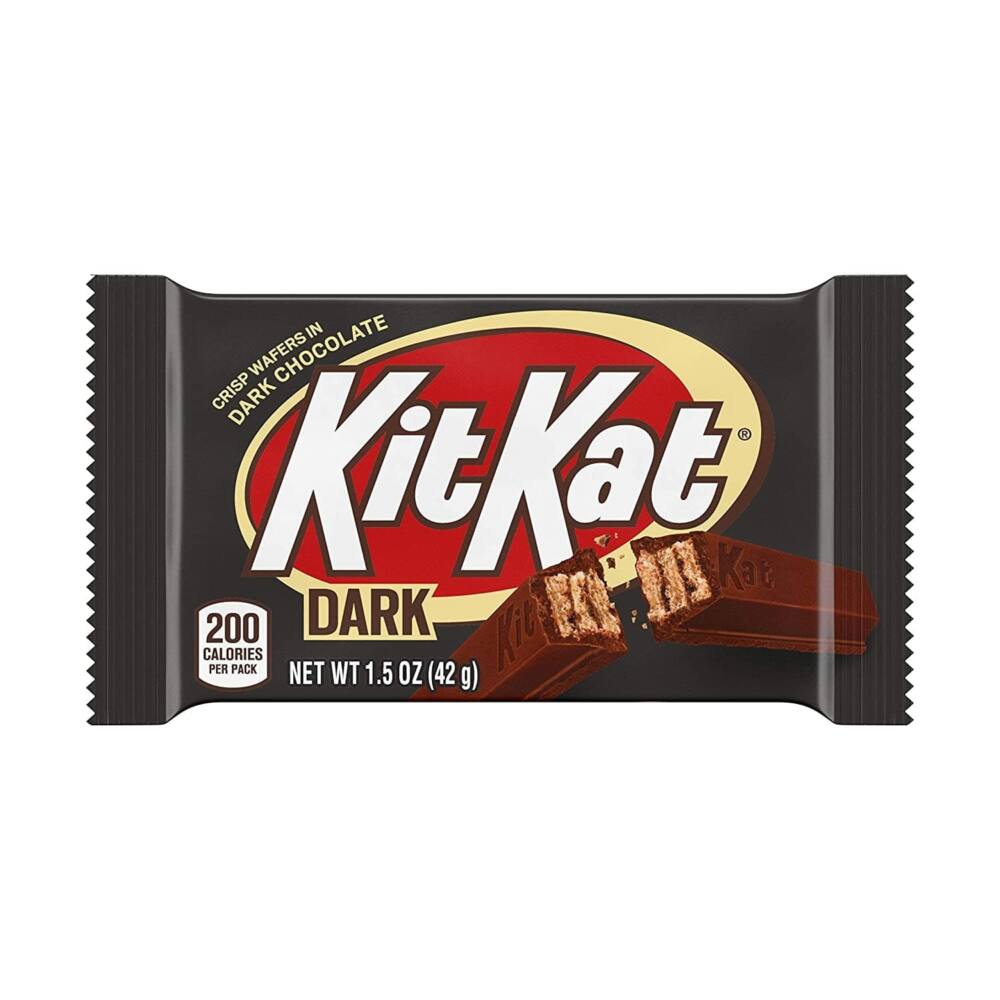 Who doesn't love dark chocolate? I do. And so, I always have at least one packet of Kit Kat Darkness in my bag to satiate me whenever the cravings for that sweet bitterness hits me. My fav from the list of Japanese Kit Kat flavors.
Sake Kit Kat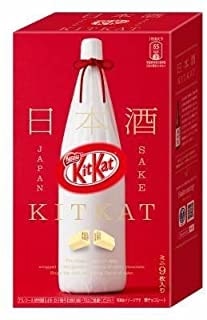 When Kit Kat first released its sake flavor, it broke the internet. It just became so popular and there definitely is a very good reason for that. You'll definitely love it more than the rest from the list of Japanese Kit Kat flavors if you love sake and alcohol. 
Peach Kit Kat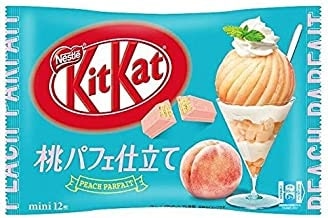 Every fruit-flavored Kit Kat out there is excellent, but the peach one is something incredible. It gives out a very creamy peach flavor that just works so well with the chocolate. It just does not make it seem like you are going through a generic fruit flavor.
Hojicha Kit Kat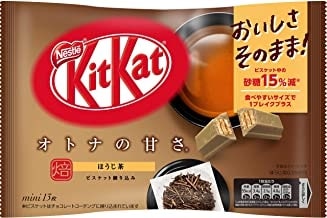 Hojicha or roasted green tea flavor is absolutely perfect if you hate sweet flavors. The green tea KitKat is quite subtle in taste, but this one gives you a very different level of flavor. 
The bitterness of Hojicha works perfectly well with the sweetness of the chocolate used in Kit Kat. It's the most unique in the list of Japanese Kit Kat flavors.
Custard Pudding Kit Kat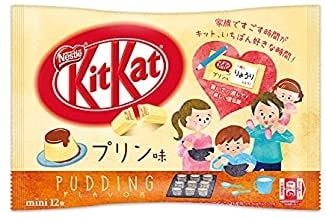 Custard pudding is a classic dessert and so getting Kit Kat in this flavor is something extremely incredible. In the list of Japanese Kit Kat flavors, this is one of the best. 
If you want to truly experience the custard pudding flavor, it is recommended that you first pop the Kit Kat in the oven for only a few seconds. This brings out the real magic and gives you that authentic custard pudding taste.
Other Weird WeKit Kat Flavors You Can Find In Japan:
Apple Vinegar Kit Kat
This is a very strange flavor, I agree. When I first heard about Kit Kat in the flavor of Apple Vinegar, I could not imagine the taste of this one from the rest in the list of Japanese Kit Kat flavors.
It really feels like it would taste pretty absurd and strange. However, we cannot deny that this makes a very interesting flavor and it can also be taken as healthy.
Vegetable Juice Kit Kat
The vegetable juice KitKat is probably one of the weirdest kit kat flavors I have ever heard of. Drinking vegetable juice in itself can be a very traumatizing experience for many. Personally, this is a very odd flavor from the list of Japanese Kit Kat flavors.
I literally hold my nose and drink it all in one gulp so when I heard of this Kit Kat, I was not very excited. All of these vegetable juices mixed together with the chocolate flavor of Kit Kat can be a very odd experience.
Sweet Corn Kit Kat
Corn is a huge deal in the United States. There are so many varieties available in the US including corn syrup and medicines.
 For all the westerners, there is some nostalgia associated with corn and now this has made its way into the Kit Kat world. You must really try this one to see if it really brings back all those memories.
Choco Banana Kit Kat
Choco Banana KitKat is my absolute favorite. It is a flavor that mixes chocolate, banana, and wafer into one and brings out this delicious treat that I can have any time of the day. This flavored kit kat sells out really fast so hurry up and grab yours today.
Edamame Milkshake Kit Kat
I was very skeptical to try out this flavor because I was expecting my tastebuds to hate me but that was before I took the first bite.
This flavor from the list of Japanese Kit Kat flavors is extremely exciting and the weird combinations used here actually work. It took me a few minutes to adapt to the taste, but it was worth it.
Grape Kit Kat
When I first saw the grape-flavored Kit Kat, I was immediately transported back to my days when I would eat a lot of grape-flavored candies. This is a very different one from the list of Japanese Kit Kat flavors
Just to bring those memories back and to see how grapes and wafers fared together, I knew I had to try it. And now I recommend that you try it out at least once.
Chunky Cookie Dough Kit Kat
I tried this and believe me, I did not want to give even a tiny piece to anyone. These are just too good to be shared. This is my favorite from the list of Japanese Kit Kat flavors.
It really brings out that delicious and comforting flavor of cookie dough that I am sure many of us love. The sweet fragrance and the melt-in-the-mouth wafers are worth the try.
List of Weird Kit Kat Flavors in Japan: FAQs
Why does Japan have so many KitKat flavors?
There are a few reasons why Japan has so many Kit Kat flavors:
Competitive market: Japan has a very competitive confectionery market, with many brands competing for customers' attention. KitKat Japan has differentiated itself from the competition by offering a wide variety of unique and innovative flavors.
Culture of experimentation: Japanese consumers are generally more open to trying new things than consumers in other countries. This is reflected in the wide variety of food and beverage products available in Japan, including Kit Kats.
Gift culture: Omiyage, the Japanese practice of bringing back regional specialties for family and co-workers after a trip, is another factor that contributes to the popularity of Kit Kat flavors. KitKat Japan offers a variety of regional flavors that are popular as omiyage, such as matcha green tea Kit Kats from Kyoto and strawberry Kit Kats from Ibaraki Prefecture.
Limited-edition releases: KitKat Japan often releases limited-edition flavors to coincide with different holidays or events. This helps to create a sense of excitement and anticipation among Kit Kat fans.
Why is Kit Kat so popular in Japan?
Kit Kats and Japan have a very long history. Even though Kit Kat is so popular in Japan, neither its origin nor its name has anything to do with Japan. 
Kit Kat was first introduced in Japan in 1973. When it first entered Japan, it had only the chocolate flavor known worldwide. It was only later that Nestle Japan started experimenting with different flavors and brought out a wide range of Kit Kat layers. 
The first flavor that was introduced was the Strawberry flavor and it came out in Hokkaido. This happened at the beginning of the strawberry picking season in Hokkaido.
Ever since then, Kit Kat has significantly grown in popularity in Japan. It is also one of the best souvenirs that you can get. 
How much is 1 KitKat in Japan?
The price of a single KitKat in Japan varies depending on the flavor and where you buy it. For example, a regular milk chocolate KitKat at a convenience store will cost around 150 yen (about $1.20 USD). However, a limited-edition flavor or a KitKat from a specialty store may cost more.
Here are some examples of KitKat prices in Japan:
Regular milk chocolate KitKat: 150 yen
Matcha green tea KitKat: 200 yen
Sakura cherry blossom KitKat: 250 yen
Wasabi KitKat: 300 yen
Kit Kat Chocolatory KitKat: 324 yen
You can also find KitKats sold in packs, which are often cheaper than buying individual bars. For example, a pack of 12 regular milk chocolate KitKats will cost around 400 yen (about $3.20 USD).
Is Japanese KitKat vegetarian?
Yes, Japanese Kit Kats are generally vegetarian. The base ingredients do not include any animal-derived products, such as gelatin or rennet. However, some flavors may contain additional ingredients that are not vegetarian, such as milk whey or honey.
It is always best to check the ingredient list on the packaging to be sure that a particular Kit Kat flavor is vegetarian. You can also look for the "V" symbol on the packaging, which indicates that the product is suitable for vegetarians.
How many Kit Kat flavors are sold in Japan?
There are over 300 unique Kit Kat flavors sold in Japan.
Where to buy Japanese kit kats?
You can buy Japanese kit kats at convenience stores. Some of them are also available on Amazon.
What are some strange Kit Kat flavors that you can find in Japan?
As we know, Nestle Japan has not hesitated to create some of the most unusual Kit Kat flavors over the years. 
While there are flavors like green tea strawberry passion fruit and Sakura, there are also quite a few strange flavors that you can find here. Some of the weirdest flavors in Japan include baked potato, cough drop, hot Japanese Chilli, and edamame.
List of Japanese Kit Kat Flavors
These are some varieties of Kit Kat flavors. Hope this list of Japanese Kit Kat flavors helped you find the yummiest one for yourself. Grab some of them from this Japanese kit kat flavors list.
Also Read:
Sakura Kit Kat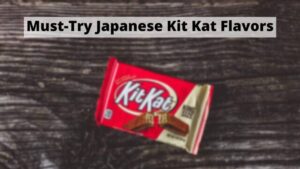 Check out the List of Japanese Kit Kat Flavors, these flavors are unique and delicious. These Japanese kit kat flavors should definitely be tired once. Do try out the Sakura Flavour Kit Kat which is the best in the list. Read further to know more about it.
Product SKU: BJKK39050938585098
Product Brand: Kit Kat
Product Currency: USD
Product Price: 12.49
Price Valid Until: 2021
Product In-Stock: InStock