Looking for some amazing Japanese whiskey? Here are some of the top Japanese whiskey brands every whiskey lover should try!
Over the past few years, Japanese whiskey has garnered quite a bit of popularity in the alcohol world.
The demand for Japanese whiskey today is pretty high and so is its price. Some other brands are offering no-age-statements and new blends and many of them are great for cocktails!
If you want to buy an authentic Japanese whiskey bottle, make sure to do your research.
There are some brands that source whiskies from different countries to make their own blend, call it a no-age-statement blend, bottle it in Japan and market it as Japanese whiskey.
So here's a list of the top Japanese whiskey brands and their best Japanese whiskey bottles so you can get the best one!
What is the best Japanese whisky?
With the help of a few experts I've made a list of some of the top Japanese whiskey every whiskey lover should try:
Best Overall: Yamazaki 12 Year Old
Best Under $50: Mars Shinshu Iwai 45
Best Under $100: Nikka Coffey Grain
Best for Highball: Suntory Toki
Best No-Age-Statement Blend: Akashi White Oak
Best Sherry Cask: Ohishi 8 Year Old
Best Single Malt: Hakushu 12 Year Old
Best Age Statement Blend: Hibiki 17 Year Old
Best Peated: Nikka Yoichi
Best for Cocktails: Shinju Whisky
What is the most expensive Japanese whisky?
Yamazaki-55 year old is the most expensive Japanese whiskey and was auctioned off at Bonhams Fine & Rare Wine and Whisky Sale in Hong Kong for a whopping HK$6,200,000 in August 2020. This bottle is the oldest Japanese whiskey that has set a new world auction record.
Is Japanese whisky better than Scotch?
When compared to scotch whiskey, Japanese whiskey is less peated this is because Scottish distilleries are located in coastal areas and islands where during the malting phase peat is popularly used for drying barley. Japanese distilleries, on the other hand, use much less peat. When it come to taste, Japanese whiskey has some links to Scotch whisky and some of Japanese whiskey bottles can be earthy, peaty, and brooding as single malts – like the Nikka Yoichi Japanese whiskey. But you'll also find other Japanese whiskey that is more subdued and restrained like a highland scotch.
How do you enjoy Japanese whisky?
There are different ways you can enjoy a Japanese whiskey. You can enjoy it as a highball to bring out the flavors of the whiskey. If you want to savor your Japanese whiskey and enjoy its aroma then it's best to have it neat. You can also enjoy a Japanese whiskey on the rocks like many whiskey lovers do.
Best Japanese Whiskey Brands
Yamazaki 12 Year Old
Best Overall Japanese Whiskey
Suntory whisky is widely popular not only in Japan but all over the world. And Yamazaki 12 year old could be considered Suntory's signature bottle as it is known as one of the best Japanese whisky. It is a fruity and floral single malt that will remind you of a good scotch but it has a style of its own. If you're just starting to explore Japanese whiskey, Yamazaki whisky is a good choice to start with.
Tasting Notes:
Aroma: Floral character, tropical fruity and rooty notes, nut oils and zest
Flavor: Smooth and soft. Hints of sweet notes and winter spice. A slight citrus flavor along with fruity notes and rum also develops
Finish: Medium with zest and fruit
Nikka Coffey Grain
Best Japanese Whiskey Under $100
Nikka is another one of the best Japanese whiskey brands that is popular all over the world. Nikka is a major producer of whiskey in Japan. Coffey Grain by Nikka is named after Aeneas Coffee, who invented the continuous still. Unlike other single malts made from barley, this is made mostly from corn which gives it a delicious creamy texture and sweetness. If you're a bourbon fan, you'll love this Japanese whiskey by Nikka.
Tasting Notes:
Aroma: Vanilla and corn notes like bourbon; hint of chamomile
Flavor: Fruity and sweet flavor of grapefruit, melon and thick syrup
Finish: Sweet and vibrant
Mars Shinshu Iwai 45
Best Japanese Whiskey Under $50
Mars Shinshu Iwai 45 is made from mash bill that mostly consists of corn along with rye and malted barley. With aromas of vanilla and baking spices, it has flavors of quince and pear notes. It is a great drink for the summer season and also a great Japanese whiskey to make cocktails as it has 45% alcohol level.
Tasting Notes:
Aroma: Butterscotch, vanilla, strawberry, and stewed apple
Flavor: Sweet with hints of pears, quince, toffee, and milk chocolate
Finish: Lingering sweetness
Suntory Toki
Best Japanese Whiskey for Highball
Suntory Toki is a blend of Suntory's best whiskies from Yamazaki, Hakushu, and Chita. It has notes of almost, pink grapefruit, and with a light vanilla finish. It is the best Japanese whiskey for a delicious highball. All you have to do is add some sparkling water and lemon!
Tasting Notes:
Aroma: Hints Orchard fruits, thyme honey, and peppermint
Flavor: Bright citrus notes due to the pink grapefruit, toasted almost, bitter herbs, and lingering vanilla oak
Finish: Hints of white pepper and ginger
Hakushu 12 Year Old
Best Japanese Single Malt
Produced in Japanese Alps, Hakushu whisky is just as amazing as the alps. This 12 year old bottle is one of the best Japanese whiskey by Hakushu. It has a herbaceous and woodsy aroma that develops into giving you fruity notes with a light peat quality.
The distillery is located in the mountains deep in the forest where the water for this whisky is also sourced from. This makes it great for a peated whisky!
Tasting Notes:
Aroma: Almonds, toasted barley, nut loaf and seed, barrel char along with sweetness brought by milk chocolate and dried grass
Flavor: Fruity palate but not sweet. Herbaceous, rich and grassy
Finish: Doesn't linger, orange peel and minerals
Akashi White Oak
Best No-Age-Statement Japanese Whiskey
Akashi white oak is one of the top Japanese whiskey brands and is loved by most whiskey fans. It is a blended whiskey that is aged in several cask types – bourbon, sherry, and shochu. It has complex flavors which will give you a bit of everything. If you're a scotch lover then the Akashi White Oak japanese whiskey is a good choice. It's rich with American oak notes and smokey peak undertones.
Tasting Notes:
Aroma: Citrusy, malty, black cherry, oak, toffee
Flavor: Pine nuts and vanilla
Finish: Malty, long finish
Hibiki 17 Year Old
Best Japanese Age Statement Blend Whiskey
Here's another whiskey from one of the best Japanese whiskey brands, Suntory. Hibiki range of whiskey is a perfectly blended single malt whiskey that any whiskey lover would enjoy. It's a blend of malt and grain whiskies aged for almost twenty years. It has a silky smooth feel and a heavy fruity taste. While it's the best choice to have it neat, it is also a good choice for cocktails!
Tasting Notes:
Aroma: Notes of honey and wax, oak and resin along with notes of cacao and gentle smoke. Nutty note and hints of cooked fruits
Flavor: Rich and sweet. Notes of custard, raisin, mixed peels, little zest and oak
Finish: Lingering with notes of cocoa and oak, and sherried peels
Nikka Yoichi
Best Japanese Peated Whiskey
Nikka's Yoichi Single Malt is one of the best Japanese whiskies and is quite smokey. With a good dose of smoke, it also has caramel and tropical fruit flavors. In terms of peat, this is one Japanese whiskey that, I can say, comes close to Islay scotch. You can have it neat or serve it as a highball mixed with soda and ice!
Tasting Notes:
Aroma: Peat smoke, dried citrus zest
Flavor: Smoke, almonds, melon, slightly salty
Finish: Smooth, herbal, lingering
Ohishi 8 Year Old
Best Sherry Cask Japanese Whiskey
Here's another one of the best Japanese whisky brands for you. This one hails from the Kumamoto prefecture in Japan. This is a rice whiskey which tastes absolutely amazing and is very different from American whiskies.
With aromas of roasted nuts, sherry oak, dried fruits, spice, and mushroom, you can taste flavors of cocoa, dark fruits, tobacco, and sweet sherry wood. It's absolutely delicious and pairs well with food. The best food to eat with Ohishi 8 year old is cracked black pepper crusted steak with sauteed and shiitake mushrooms in toasted sesame oil. YUM!
Tasting Notes:
Aroma: Notes of citrus, oak, dried dark fruits, and ash
Flavor: Dried dark fruits, sherry, notes of citrus, oily nuts, and vanilla
Finish: Cocoa, dark fruits, sherry, and spice
Shinju Whisky
Best Japanese Whiskey For Cocktails
The next of the best Japanese whiskey brands on this list is Shinju whiskey, for which the water is sourced from the slopes of Mt Fuji. Scents of orange blossoms and sweet honey will grace your nose with a finish of oak. It feels smooth and has a soft texture with a dark toffee color. Matured in white oak barrels for 2-4 years, it's the perfect whiskey for cocktails!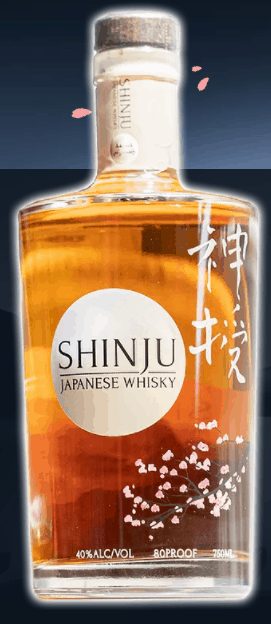 Tasting Notes:
Aroma: Notes of orange, vanilla, and honey
Flavor: Light oak and herbaceous notes
Best Japanese Whiskey Accessories Every Whiskey Lover Should Have!
Check out these whiskey accessories toa dd to your collection and enjoy your whiskey luxuriously.
#1 — YAMAZAKI Collectible Whiskey Glass
Yamazaki is one of the best Japanese whiskey brands and the one of the most sought after one as well. While an aged Yamazaki whiskey bottle might be too hard to find (and too expensive), you can begin your Yamazaki collection with this rare Yamazaki Single Malt Collectible Whiskey Glass collectible to enjoy your delicious whiskey or even place it on your showcase.
Costing about $5.00, this is one of the best Japanese whiskey accessories for your collection!
#2 — Premium Japanese Style Double Cocktail Jigger
If you're a Japanese whiskey person, you gotta have this premium Japanese style double Jigger. Made of stainless steel, it has clean lines and a brushed finish. For accurate measuring, the calibration markers are seen in the entire circumference of the Jigger.
It balances well between your fingers with a good heft. Even when filled in full capacity, the cup still has enough space left so not a drop if that delicious whiskey goes to waste as you pour it into your glass.
The large cup holds up to 2oz while the small cup holds 1oz. It's dishwasher friendly which makes it super easy for you to keep it clean.
#3 — Small Japanese Jujube Wooden Whiskey Cups
Drink your whiskey the traditional Japanese style with these Jujube wooden cups. The cup reserves the natural texture of wood and is also great gifting options for whiskey lovers. Durable and compact, these wooden cups have a simple, elegant design and will look great placed amongst the vintage whiskey accessories.
The best thing about these Japanese wooden cups is that they can be used to serve multiple beverages like tea, coffee, milk, juice, and even beer.
#4 — Vintage Mt Fuji Whiskey Glass With Gorgeous Wooden Gift Box
Here's another gifting option for Japanese whiskey lovers. Handmade transparent whiskey glass, these glasses are shaped like Mt Fuji. Made of High borosilicate lead-free glass, the glass is clear and easy to clean.
It holds about 9.5oz (280ml) and has an attractive and elegant design. The glass, however, can be used to serve other beverages as well.
#5 — Diamond Whiskey Glasses
The design of these whiskey glasses are inspired by diamonds. The glass rests at an angle that allows your drink to aerate and it is being poured and swirled. The glass is designed with a 50° angle tilt which makes it anti-rocking and spill proof.
These diamond whiskey glasses will be a stylish addition to your whiskey accessories collection or glassware. It is dishwasher safe, freezer safe. This crystal clear glass is made of high quality materials and is lead free.
#6 — Japanese Whiskey Crystal Clear Ice Ball Maker
Get the proper on-the-rocks experience with Japanese style ice balls made from this Crystal clean ice ball maker. All you have to do is fill up the mold and let it freeze it overnight. There are two ice cube trays in each pack.
And each ice tray will give you two 2.35 in perfectly round ice cubes. The ice ball maker is made from durable and flexible silicone that is BPA free and chemical free.
Also read: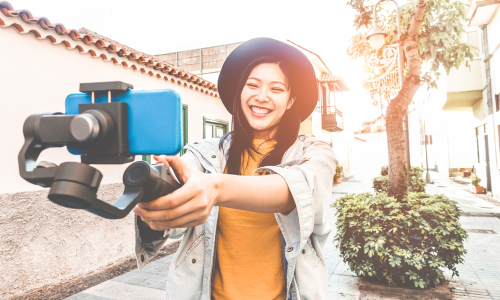 Hiya! I'm the main author of Japan Truly. I love everything Japan and love testing out Japanese products, be it skincare and makeup or gadgets! You'll find reviews of some of the best selling Japanese products (tried and tested) right here!