Looking for the best Japanese quartz watches? Check out these top watch brands selling out their premium quartz watches that you'd love to own. Read further to know more!
Japanese quartz watches are famous around the world, for their premium quality and watch technology.
Which are the best Japanese quartz watches?
The best Japanese quartz watches are:
Seiko Quartz Men's Watch SNDC89P2
Citizen Men's Watch BF0580-57L
Casio Quartz Watch F-91WS-7CF
Orient Men's Chronograph Quartz Watch
Seiko Women's Ladies Japanese-Quartz Watch
Citizen Women's ' Quartz
Quartz watches use an electronic oscillator regulated by quartz crystal to keep time. Although they show time, these watches are timeless and always in fashion! *get it?*
If you know about the Quartz Crisis in Japan during the 1970s, you probably know how famous the watches of Japan are. Despite the crisis, Japan managed to keep their quartz collection top notch and the best Japanese quartz watches are so well known.
While Swiss brands like Rolex, Omega etc. might be hyped in the market, Japanese luxury brands like Seiko, Credor, Citizen are still famous. 
I have a collection of so many best japanese quartz watches that are fancy, fast tech and affordable. I love wearing them with any outfits that I want and it goes along so well.
Let's not delay and check out some of the best Japanese quartz watches that are so cool.
Top Japanese Quartz Watches
Seiko Men's Watch – Quartz Chronograph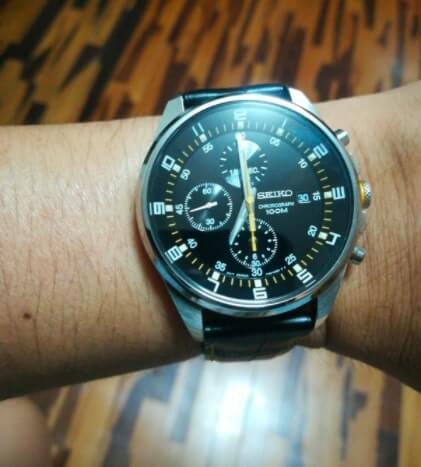 Seiko definitely produces one of the best Japanese quartz watches. Their watches are of premium quality and loaded with technical advancements.
Seiko built one of the first quartz watches and still makes the most popular watches in Japan. The timepieces are affordable and classy.
This piece is a quartz movement watch with a case diameter of 41mm for men. It's made of stainless steel which doesn't lead to erosion or rusting. It's one of my favorite watches to wear when I head out with my friends.
It also goes well on office outfits and formal wear. It's water resistant up to 330 feet which is it's best quality. I'd definitely recommend it if you like big dial watches.
Key Features:
Water-resistant – 330 ft.
Quartz movement watch
Diameter of 41mm
Stainless steel
Citizen Men's Quartz Watch
Citizen brand watches are the best Japanese quartz watches that run on solar-driven technology. Some of the watches are also satellites that set time and dates on their own according to the time zone.
These watches are fancy and yet inexpensive. In the watch industry, the citizen watches are known to produce "superquartz" watches.
The citizen quartz watch from Japan is silver-polished on the belt with a deep blue dial and a small slot for date and time.
It's water resistant upto 99 feet, fine with splish-splashes but not recommended for swimming. It's diameter is 40mm and comes in stainless steel. I love it because it belongs to the quartz movement and has an analogical display that gives it a classy look.
Why is it one of the best Japanese quartz watches? It's because of its simple design, solid weight and affordability. It goes so well with casual wear as well as office wear.
Key Features:
Water resistant 99 ft.
Analogical Display
Simple design
Diameter of 40mm
Affordable
Casio Quartz Watch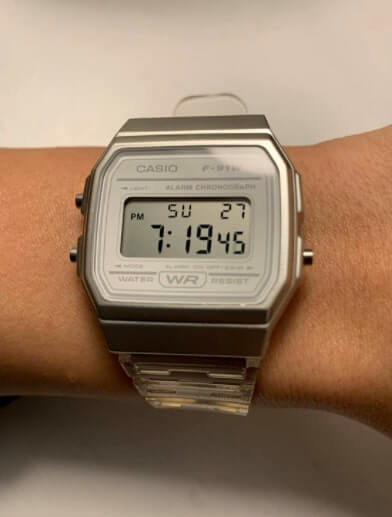 Casio watches definitely can give you a moment of nostalgia with a feel of calculators. It's one of the vintage Japanese watch brands. These retro looking watches are extremely cool and cheap.
I have two casio watches, both of them are unbreakable and invincible, I swear. It's great because you get so many qualities at such an affordable price.
This Casio watch is so cool with a resin band. It has a digital dial with alarm chronograph. The digital display has a choice of running in 24 hr or 12 hr format according to your convenience. It also has an LED for darkness.
The watch also has an hourly signal and stopwatch if you want to time some tasks of the day. The average battery life is about 7 years which is what makes it one of the best watches to buy in Japan.
It's a great watch for casual wear. The only problem is that the band fits too tight sometimes.
Personally, it's one of the best Japanese quartz watches to buy if you're looking for affordability as well as features.
Key Features:
Digital display
Alarm, stopwatch, hourly signal
LED light for dark
7 years of battery life
Affordable
Orient Mens Chronograph Quartz Watch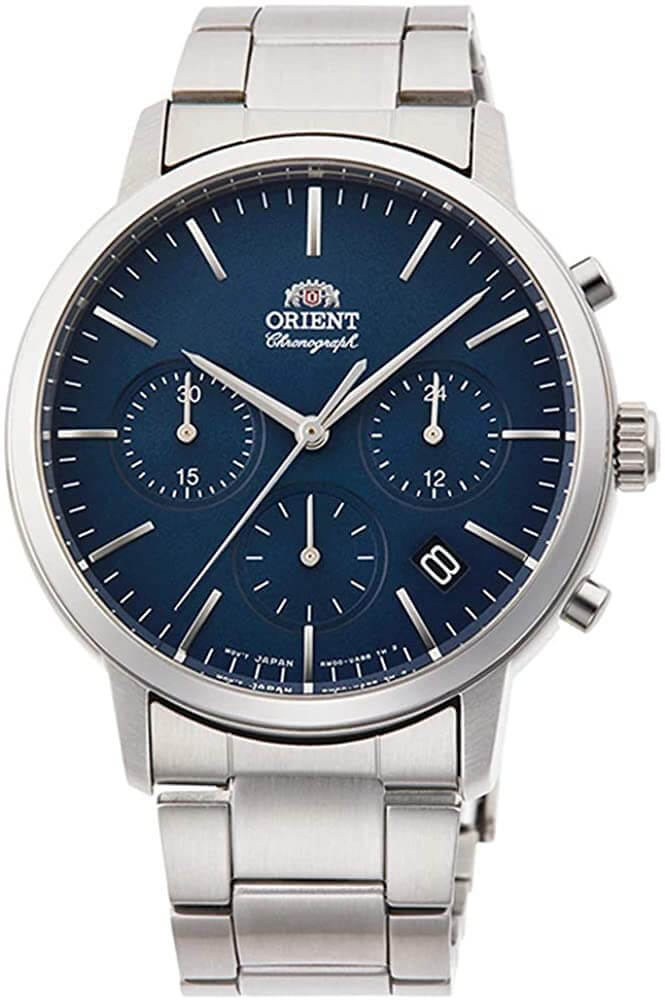 Orient watches focus on mechanical watchmaking more than anything. If you want to opt for mechanical watches, this company produces the best Japanese quartz watches in that range.
The brand came in in 1950 in Tokyo and is still valid in today's time, though it's not as famous as Seiko or Citizen.
This watch in the list is one of the popular quartz watches from the brand. It is quite casual and perfect for a hangout with friends or family. It's made of stainless steel with 50 mt water resistance, not recommended for swimming.
It's made with stainless steel with silver metallic belts and deep blue dial that gives a classy look. It has 3 small dials for a cool look. If you're looking for something nice, go for this watch.
Key Features:
50 mt water resistance
Stainless steel
Quartz movement
Casual yet classy
Seiko Women's Ladies Japanese-Quartz Watch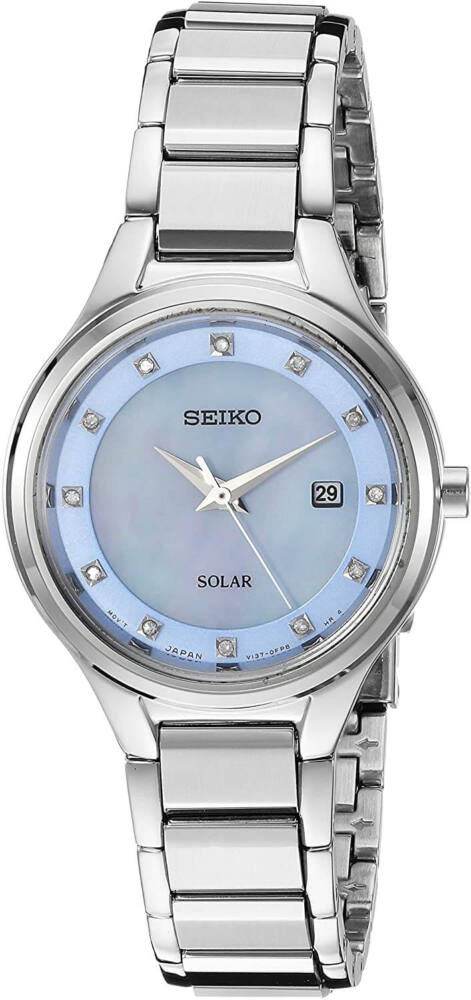 As I've already mentioned what Seiko is known for, let's look at another watch from it which is a class apart.
This Seiko women's watch is something I gifted to my friend on her birthday and she loved it. It's one of the best Japanese quartz watches that she's ever owned, as she says.
It comes in a 29mm case diameter perfect size for a woman's hand with metallic straps. It's six months power reserved once the battery is charged. The dial is so simple and sober yet elegant with crystal studs around the diameter.
This best Japanese quartz watch for women also has a water resistance of 50 mt. It is okay for recreational swims but it's better to avoid it. It's quite expensive but goes a long way.
The best part about this Seiko quartz watch is that it can be worn with any outfit you want. It gives out the vibe you're asking for, literally!
Key Features:
50 mt water resistance
29mm diameter
Fancy design
Citizen Women's ' Quartz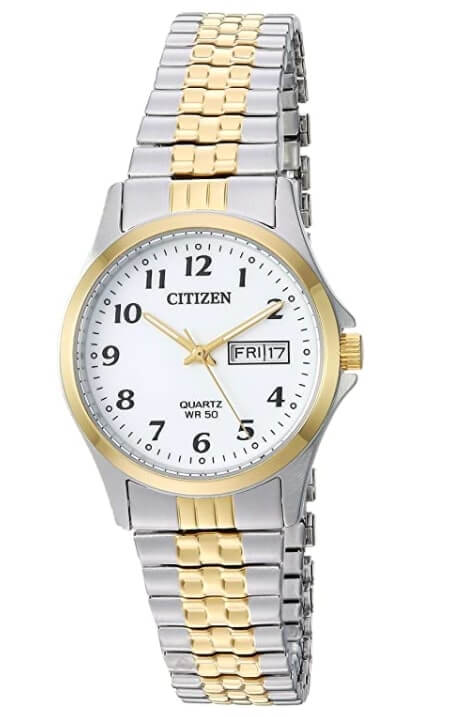 Citizen watches for women account equally good like the men's. Let's check out the features of this women's Citizen quartz to make you believe that.
This women's quartz watch is so elegant and classy. It makes a perfect watch to wear on parties as well as for formal occasions.
This Citizen watch is with stainless steel and the straps are expandible. I especially like the colour which is metallic silver on the ends with a touch of golden in between.
The case diameter is about 26 mm, not too small and not too big. It has an analogical type display with bold dial and date and day slot in the watch.
It's resistant to water upto 50 mt and is not recommended for swimming, snorkelling and other sports activities.
It's quite comfortable to wear and gives a premium look. I'd recommend you to get this if you're looking for the best Japanese quartz watches for a good price.
Key Features:
26 mm diameter
50 mt water resistant
Premium look
Date and day slot
Seiko Men's Essentials Japanese Quartz With Stainless Steel Strap
Wearing this stylish accessory will ensure you never miss an important event or deadline again. With its supremely precise timekeeping, its design provides a perfect balance of function and fashion. Investing in this watch is an investment in peace of mind, as you know you can depend on it to provide accurate timekeeping at all times.
Key Features
Durable and reliable: Made from high-quality stainless steel, this versatile timepiece is built for endurance and longevity.
Accurate timekeeping: Powered by Japanese Quartz movement, this watch offers precision accuracy for keeping time.
Easy to use: Its simple design allows for quick and effortless readability, making it a great everyday accessory.
Comfortable to wear: Its lightweight construction and stainless steel strap provides comfortable and secure wearability.
SEIKO Men's SSB321 Analog Display Japanese Quartz Silver Watch
The SEIKO Men's SSB321 watch is an analog display timepiece with Japanese Quartz movement to provide the wearer with reliable and accurate time keeping.
The stainless steel silver case is anti-corrosive and durable, providing the wearer with a reliable and long-lasting piece.
The luminescent hands and markers are easy to see even in low-light settings, perfect for activities in the evening or night. A water-resistant level of up to 100m means that this men's watch is able to withstand currents and showers.
Key Features:
accurate and reliable timekeeping
Strong stainless steel case
Luminescent hands and markers
Water resistant upto 100m
Women's Casio Watch with Japanese Quartz Movement
Featuring a Japanese quartz movement, this Casio watch effortlessly combines timeless style and reliable accuracy. The slim, 22mm size of the watchcase makes it ideal for women's wrists of all sizes.
The watch is highly durable, resistant to scratches and has crystal clear water resistance up to 30 meters.
With the accuracy and stability of this watch, you can be sure to be on time for any occasion or have a reliable time reference for important activities and tasks.
Furthermore, the durable construction of the watch ensures that it will last for many years to come.
How we chose the best Japanese quartz watch:
I along with my team rated 10+ watches to find the best one based on 4 factors. These four factors are quality, water resistance, longevity, and technology. Based on these factors we found that Seiko Men's Watch SNDC89P2 is the best among the rest.
Which is the best Japanese quartz watch?
The best Japanese quartz watch is Seiko Men's Watch SNDC89P2. Here's why:
Seiko Men's Watch SNDC89P2 is a quartz movement Japanese watch with 41 mm diameter. It's made of stainless steel and the belt's straps are of leather which makes it perfect for casual wear. The water resistance capability of this Japanese quartz watch is 100 meters.
Why are quartz watch worth buying?
Quartz watches are worth buying because they're inexpensive, easy to maintain, and highly accurate.
Can a quartz watch last forever?
Quartz watches usually go up to 20-30 years as the electric components of it take time to wear out. However, if the watch is well maintained, it might outlive the considered time.
How do you maintain a quartz watch?
Store your watch away from sunlight when not in use. UV rays may harm the watch.
Make sure the watch doesn't come in contact with margets. If it does, it might the functionality of the watch.
Wipe it with soft cloth after rinsing it from water and dipping it in salt water for a few minutes. Make sure no salt particle is collected in the grits of the watch. (make sure the watch is water resistant before doing this).
Quartz All the Way
These quartz waters are extremely classy, elegant and amazing. Own them and you'll know!
Hope this article- best Japanese quartz watches helped you find the watch you're looking for.
Also Read:
Seiko Quartz Men's Watch SNDC89P2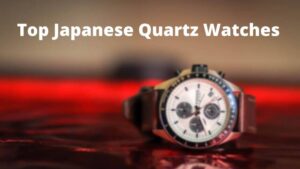 Check out the best Japanese quartz watches, a curated list of the top watches of quartz in Japan based on technology, design, and longevity. Do check out Seiko Quartz Men's Watch SNDC89P2 which is the best watch on the list. Read further to know more.
Product SKU: BJQW876543234
Product Brand: Seiko
Product Currency: USD
Product Price: 120
Price Valid Until: 2021
Product In-Stock: InStock