Are you looking for the best Japanese sushi plates? Well, we have a collection of the finest Japanese sushi plates to serve some delicious sushi with a gourmet glam. Read further to know more about them.
If you're a foodie, Japanese sushi is something you could eat anytime. It's also extremely easy to make at home and hardly takes any time if you know the right things to be done. Plating sushi is also an art for which you'll need the right kind of sushi plates.
Japanese crockeries are one of my favourite because of their amazing designs, porcelain and stoneware material as well as its versitality. The variety of these sushi plates can make you go bonkers as they come in various shapes and sizes. 
How to choose a Japanese sushi plate: Buying Guide
Here are some things to consider before buying a sushi plate:
Material: Sushi plates are made with various materials like ceramic, melamine, porcelian. However, the most common and the best ones are ceramic and porcelain. This is because they're lightweight, easily microwavable and long lasting. You can also go for melamine if you're a little clumsy as melamine doesn't break easily. 
Size and shape: Now size is a personal choice. It depends on you how big or small you want your plates to be. The shape of the plates should be rectangular and flat from the top to place your sushi or snacks comfortably. 
Design: Design depends on the ocassions you're going to use your sushi plates for. Go for a simpler designer for casual dinners, or birthdays. You can choose desginer one's for anniversaries, weddings, big parties etc. 
Should be dishwasher safe and microwave safe: It's best to pick sushi plates that are microwave safe as well as dishwasher safe so that you don't have to take the hassle of trasporting the food again to heat them up or wash it with your hands. These features just make things way more convenient. 
Best Japanese Sushi Plates: Quick Summary
Which is the best Japanese sushi plate?
My team and I tested 20+ sushi plates on the basis of material, size and design. We found LIFVER Serving Platter White Rectangle Serving Plate to be the best choice.
The LIFVER Serving Platter White Rectangle Serving Plate is made with porcelain material and has an adequate size of 10 x 4.7 inches. There are 6 white plates that are fit for every occasion. The Lifver sushi plates are non-toxic, lead-free and odourless. Additionally, these sushi plates are also dishwasher safe and microwave safe. It's available for sale on Amazon.com at a decent price.
I love plating my homemade dishes in Japanese sushi plates as they bring out elegance and sophistication in the food. The plates also elevate the entire dining experience and make things a lot better.
If you're looking for a Japanese sushi plate but can't seem to pick one, I've listed a few options for you. Check out below some of the best sushi plates for a dining experience like no other.
LIFVER Serving Platter White Rectangle Serving Plate
Lifver is one of my personal favourite brands for sushi plates and other Japanese crockeries. I love it because it's made with long lasting porcelain material and can be fit to serve in your food at any occasion like parties, private dinners, anniversaries, birthdays etc.
The ergonomic rectangular design makes it perfect for not only serving sushi but also other dishes like summer rolls, dumplings etc. It's a white sushi plate so you can place your food according to your own aesthetics and believe me, everything looks so amazing on it.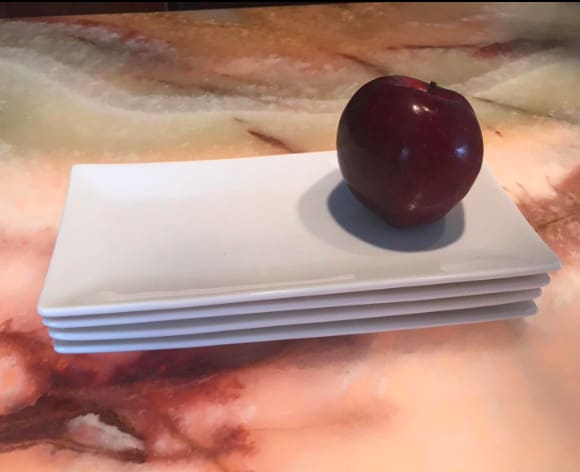 The Lifver serving platter is lead-free, non-toxic, and odourless which means it'll not harm you in any way. You get a set of 4 with each of 10 x 4.7 inches dimensions. Price wise, it's fair for what the plates have to offer. Additionally, it's dishwasher safe and easy to store as well.
Features:
Size: 10 x 4.7 inches
Color: white
Material: porcelain
Ratings:
Durability: 10/10
Quality: 10/10
Value for Money: 9.5/10
Pros:
Long lasting porcelain plate
Meant for all occasions
Dishwasher safe
Easy to store
Lead-free, non-toxic and odourless
Cons:
Happy Sale 6 Piece Japanese Style Sushi Plate
To put it simply, Happy Sale sushi plates just define elegance and class. These Japanese sushi plates come in blue ombre color with grey corners that will make your sushi servings stand out. I love the design and the strong porcelain material it's made with.
The dimensions of the plate are 9″L x 6″W x 2.5″Th that make them perfect to serve any dish of your choice. Also, they're dishwasher and microwave safe. I also got two pairs of chopsticks and two small sauce-serving bowls along with 2 pieces of sushi plates.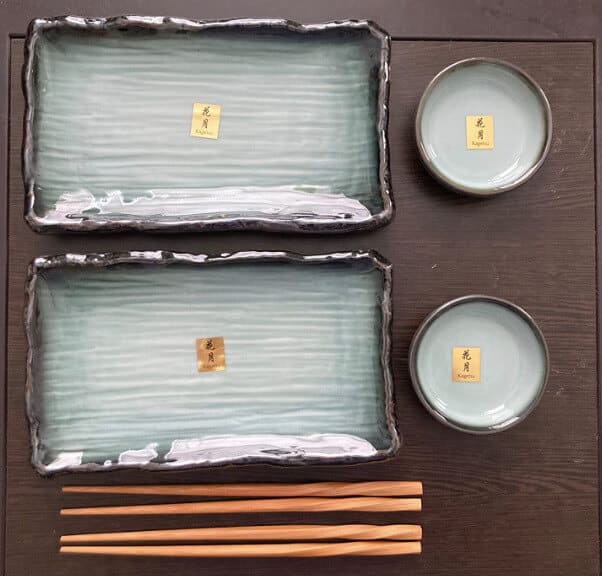 It's slightly expensive if you're looking for budgeted options but a great choice for anyone who's looking to splurge a bit extra for beautiful Japanese crockeries. I gifted this to my uncle who's a home-chef and he loves it.
Features:
Size: 9″L x 6″W x 2.5″Th
Color: blue and grey
Material: porcelain
Ratings:
Durability: 10/10
Quality: 9/10
Value for Money: 7.5/10
Pros:
Elegant look
Meant for all occasions
Dishwasher safe and microwave
Can serve variety of dishes
Cons:
GOLIBER 16 Piece Japanese Style Sushi Plate Set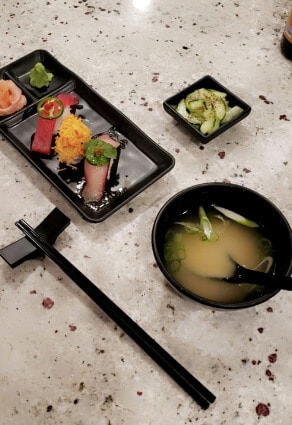 The Goliber Japanese sushi plate set is such a steal, I love it. You'd never find a 16 piece set for such a cheap price. This melamine set consists of 4 sushi plates and soy sauce bowls, 4 chopsticks, and 4 chopstick holders in plain but gorgeous black color. Each sushi plate consists of 2 saucers making it easy to serve wasabi and ginger.
The size of the plates are L 25cm W 12cm H 2 cm making them perfect to serve any quick bite. I found Goliber plates to be extremely lightweight, drop-resistant and long lasting. The best part is that it's even dishwasher safe so I don't have to wash it on my own.
However, there's one downside of this plate and that is you can't use it in microwaves. Goliber sushi plates are perfect for all occasions like parties, casual dinners, etc.
Features:
Size: L 25cm W 12cm H 2 cm
Color: black
Material: malamine
Ratings:
Durability: 10/10
Quality: 8.5/10
Value for Money: 10/10
Pros:
Fit for all occasions
Value for money
Dishwasher safe
Lightweight
Drop-resistant
Cons:
Artcome 11 Piece Japanese Style Ceramic Sushi Plate
My best friend gifted this Artcome 11 piece Japanese style sushi plate and it's definitely one of the best gifts I've ever received because it's so cute and exquisite. The sushi plates have traditional Japanese art of flowers and fruits on them with a color combo of white and blue.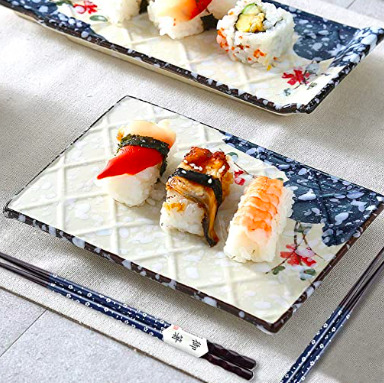 The Artcome sushi plate set consists of 3 sushi plates, 2 sauce dishes, 2 side dish bowls, 2 pairs of chopsticks and 2 chopsticks holders. I love how it can fit on occasions like house warming, weddings etc. because of its elegance.
The size of the sushi plates are 10.6'' x 4.9'' making them perfect to serve at least 6 sushis together. The crockeries are dishwasher safe as well as microwave safe in case you want to heat up something. The price range falls somewhere in between cheap and expensive but the plates are prone to breaking if they fall as they're made with ceramic.
Features:
Size: 10.6'' x 4.9''
Color: blue and white
Material: ceramic
Ratings:
Durability: 8/10
Quality: 8/10
Value for Money: 8/10
Pros:
Beautiful design
Value for money
Dishwasher safe and microwave safe
Cons:
Material isn't long lasting
JapanBargain 2385 Set of 2 Sushi Boats Plate
JapanBargain's Sushi boat plates are a must have to create a cute and quirky vibe in your dinner parties. These melamine plates are black from the outside and red from the inside with a saucer section for convenience.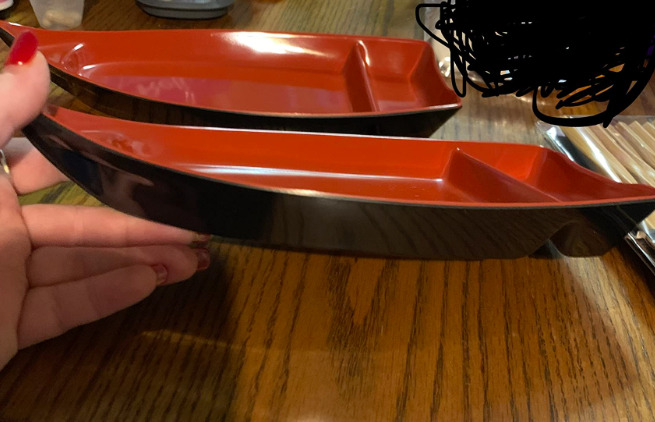 I have served sushis, dumplings, sashimi, sweets as well and snacks in these plates and it has always impressed my guests. The plates measure 10 inches long and 4.5 inch width making them perfect for serving nibbles.
The best part is that the JapanBargain BPA free, dishwasher safe, is made with food grade melamine that will not cause you any harm. It's fairly priced and definitely worth buying for their fantastic design and size.
Features:
Size: 10'' x 4.5''
Color: black and red
Material: melamine
Ratings:
Durability: 9.5/10
Quality: 9/10
Value for Money: 9/10
Pros:
Boat shaped
Dishwasher safe
Food grade melamine, and BPA free
Value for money
Great size for maximum quantity
Cons:
Also Read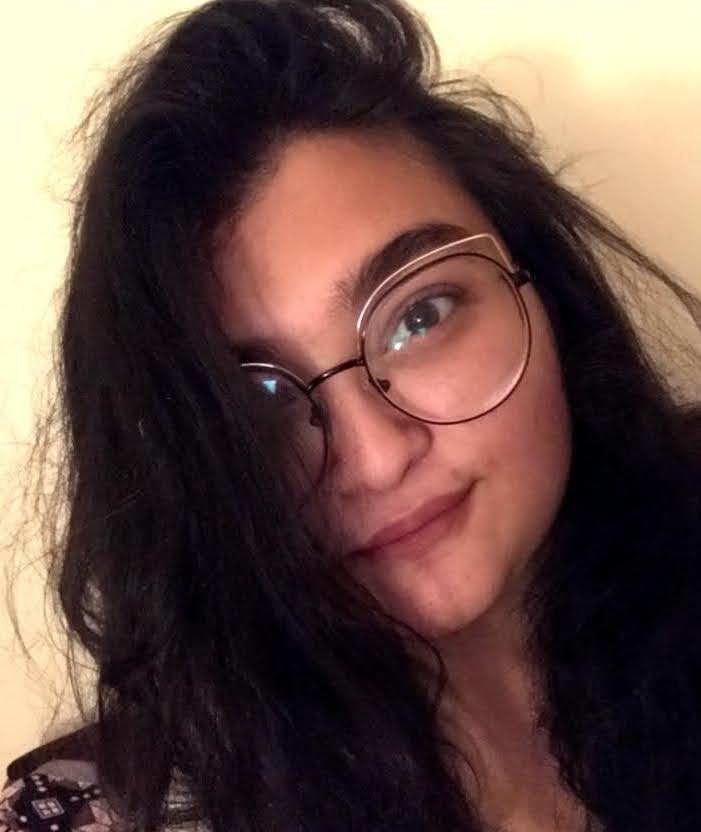 My writing focuses on the various aspects of Japanese lifestyle, from traditional tea ceremonies and flower arrangement to modern fashion trends and pop culture. Through my articles, I aim to share my passion for Japan and provide readers with a glimpse into the rich and diverse world of Japanese culture.
I believe that the key to understanding Japanese lifestyle is to appreciate the balance between tradition and innovation. While Japan has a rich cultural heritage that dates back centuries, it is also a country that is constantly evolving and embracing new ideas and technologies.
Whether you're interested in learning about the latest fashion trends in Tokyo, or want to explore the ancient art of calligraphy, my writing will take you on a journey through the many facets of Japanese lifestyle. So join me as we explore the beauty and complexity of this fascinating culture together!