Travelling to Tokyo? Here are some unique Tokyo neighborhoods to visit! Make sure you add it to your itinerary!
Tokyo is a dream city that everyone wants to pay a visit to. This metropolis city is home to countless other sub-cities and neighborhoods which have their own culture and tradition.
Tokyo is the busiest city on planet Earth and there's much reasoning to that. There are multiple tourist attraction sites and must-visit places in Tokyo that are definitely worth taking a look at.
If you are visiting Tokyo for the holidays and want to know the unique and breathtaking neighborhoods in Tokyo then we have the best picks for you. We have listed a few neighborhoods in Tokyo that are unique in their culture, setting, and sceneries which you may love to visit.
Most Unique Tokyo Neighborhoods To Visit
Akihabara
This town is the dream place and heaven for every anime enthusiast. It's also known as the Electric Town because it's a neighborhood where nobody sleeps and is active throughout the day.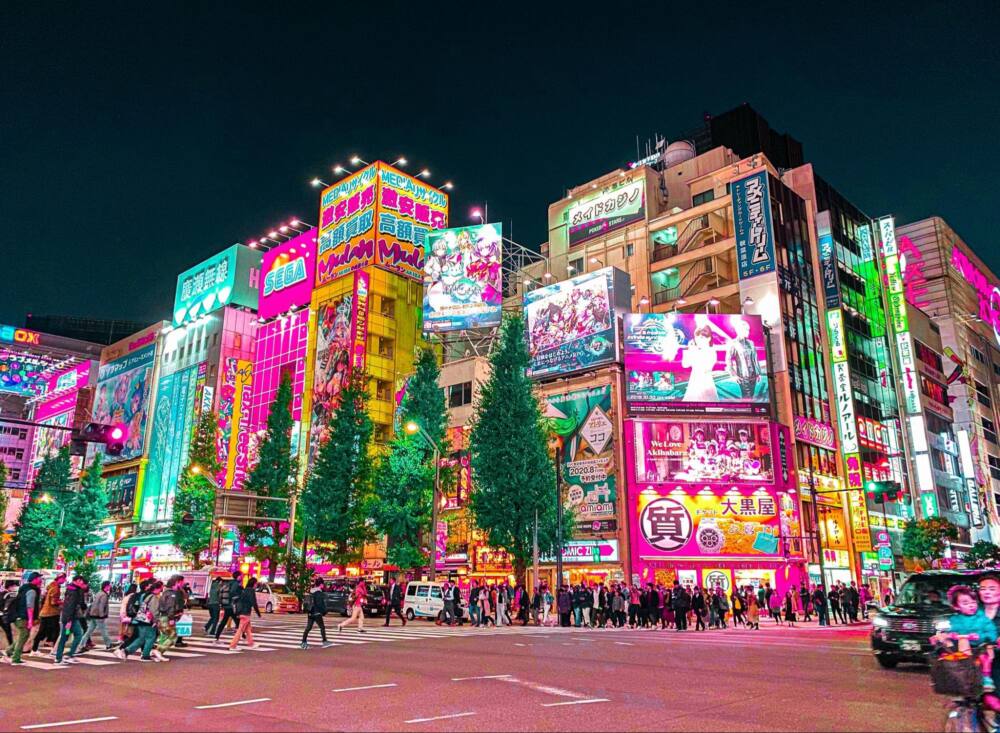 The lights in the city of Akihabara never go off thus giving the name Electric City. Akihabara is situated in central Tokyo in Taito City. This urban city is quite popular for its otaku culture which draws several tourists to the neighborhood.
If you're an anime geek then this is the ideal spot for you. Akihabara is filled with anime and manga cultures and you're in for a treat once you visit this place.
I loved visiting Akahibara for its culture of Anime and manga as I'm a huge fan myself. I shopped for quite a lot of goodies related to Anime characters because I knew I wouldn't get this quality and variety anywhere else. Also, I went to a lot of tech shops with my dad in Akahibara as he wanted to check out some of the latest tech stuff in the market.
The best place an anime enthusiast would want to visit in Akihabara is Animate Mandarake Complex. It's literally the largest manga store in the world and you'll find any manga you're looking for right here.
The building complex has 8 floors and all floors are home to anime and manga goodies. You can also find anime DVDs for affordable prices right here along with rare anime figurines as well. It's one of the most unique Tokyo neighborhoods to visit.
Are you a gamer? Then there's a place for you in Akihabara as well. Make sure to visit SEGA, which is an arcade game center where you'll find iconic games to play. You'll also find VR games and other video games in shops nearby for cheap prices.
Kichijoji
Kichijoji is one of my personal favorite places around Tokyo and its neighborhood. I have visited Kichijoji at least 5 times because of its enormous Inokashira Park and world-famous Ghibli Museum.
This neighborhood in Tokyo will give you a scenic experience with a blend of modern conveniences. The city is fairly green with lots of trees and nature around you but there are also tall buildings and residential areas.
Ghibli Museum is a showcase of artwork from the Japanese animation studio. It's extremely mesmerizing. The best part is that it's located in Inokashira Park itself.
If you happen to visit Kichijoji, don't forget to check out some of the best Izakayas in town that serve awesome Japanese drinks and finger food.
Shimokitazawa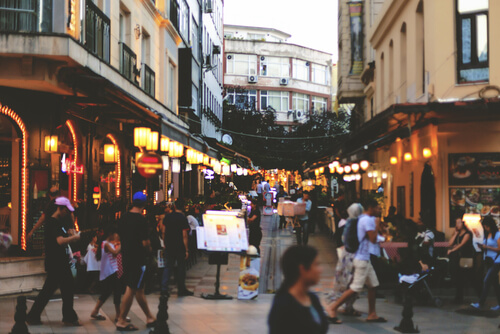 Shimokitazawa is just the alternative to Tokyo and it's definitely one of the coolest neighborhoods to visit in Tokyo. The streets are bustling with people and the main crowd is youthful.
There are so many different cafes, restaurants, and bars that you'd love to check out as well as quite a few shops for clothing. I visited Shimokitazawa quite recently and I literally fell in love with the place. It's super happening, especially the Izakaya scene in the city.
Do visit Azito Izakya for its amazing menu that wouldn't even burn your pocket. You can also check out the cat temple of Gotokuji Temple with its many Neko and the Japan Folk Crafts Museum for folk arts. Try visiting these places at night because during the day the places are crowded.
Shibuya City
Shibuya is another urban city that's located in Tokyo in the Kanto region. It's a commercial city that's famous for its posh and luscious tourist spots. It's one of the crowdest cities in Japan that has two of the busiest stations in Tokyo such as Shibuya station and the Shinjuku station.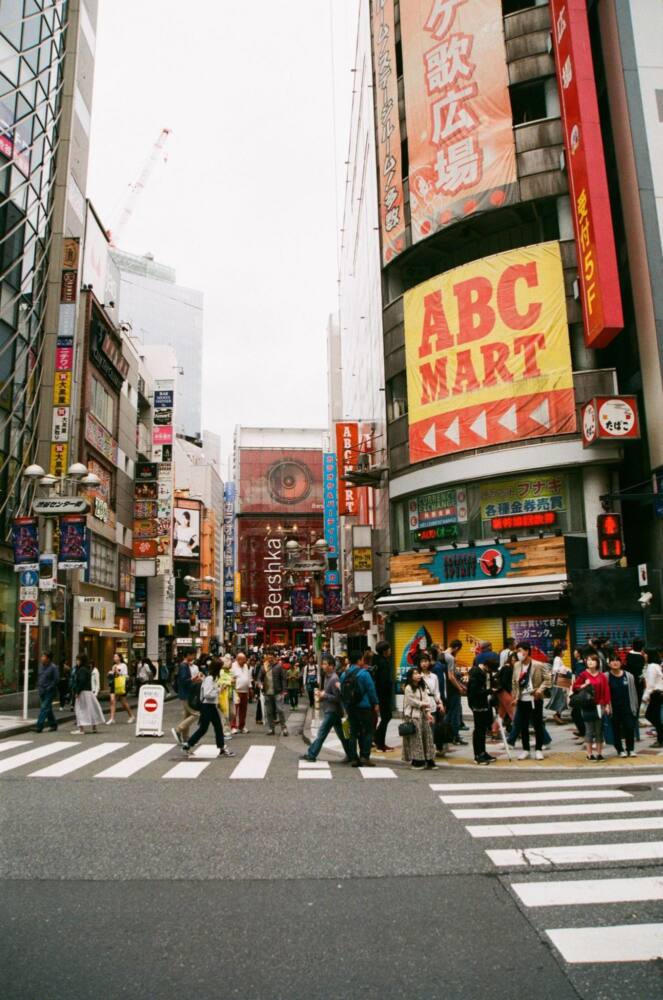 Shibuya is the capital city for youth fashion and otaku culture is present here in great numbers. It's literally the birthplace of trending Japanese fashion and entertainment content. It's amongst the unique Tokyo neighborhoods to visit of all times.
If you want to purchase the trendiest and top-quality fashionable clothes then make sure to visit Shibuya City. You'll find plenty of huge department stores that contain a wide variety of clothing and fashionable items.
A large flock of people can be seen visiting the stores and purchasing sophisticated goodies. The best stores in Shibuya city are Tokyu and Seibu. There's also a PARCO store that has interesting spots to visit like the Nintendo store which has official Pokemon merchandise.
Apart from department stores, there are other cool spots that are worth visiting. You'll find cozy restaurants and nightclubs which both local and foreign tourists rush to visit. There are also several commercial buildings visited by most business personnel. Most of the iconic tourist spots are close to the Shibuya station hence it'll be much convenient for you to visit.
Asakusa
Tired of the city and modern life? Then Asakusa is the place you'd love to visit in Tokyo for a peaceful outing. It's surrounded by beautiful ancient Japanese historical buildings that date back to the 7th century. It's located in Kaito city in Tokyo.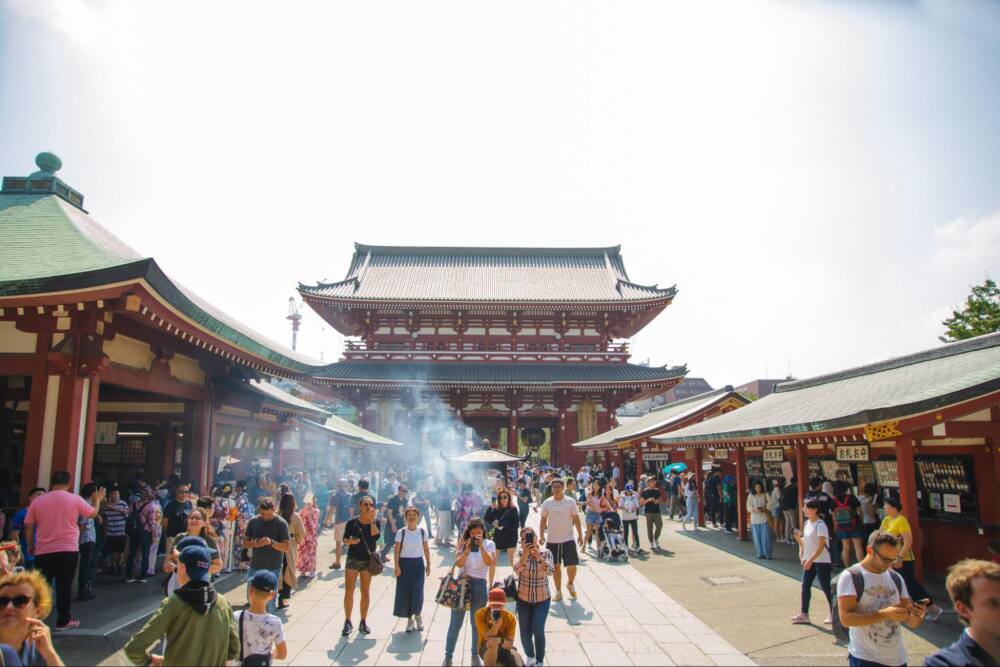 The neighborhood has an ancient Japanese vibe to it which is an amazing and unique experience. The signature attraction site in Asakusa is a popular Buddhist temple called Sensoji. This temple is visited by both foreign and local tourists and it has a very calming atmosphere. It's also the oldest temple in Tokyo that was built in the year 628.
Just as you exit the temple you'll find a shopping street called Nakamise. This is the best spot in the neighborhood to hang out for a meal. You'll find traditional Japanese street foods sold in carts that are quite delicious.
A few meters from the temple is the Asakusa Shrine that was built in 1649. Every day is a festival in the Asakusa Shrine as there are so many events held throughout the year. The grand festival held in the Asakusa Shrine is called Sanja Masturi which is held in May.
There are other festivals are like Asakusa Samba Carnival where you can witness Japanese traditions coming back to life. You can get the traditional Japanese goodies right here.
Shinjuku City
Shinjuku city is similar to Shibuya as they are not very far from each other. However, Shinjuku has a mixture of all the cultures here and it's a very vibrant city. It's located in the west of Tokyo and is home to one of the busiest train stations in the world.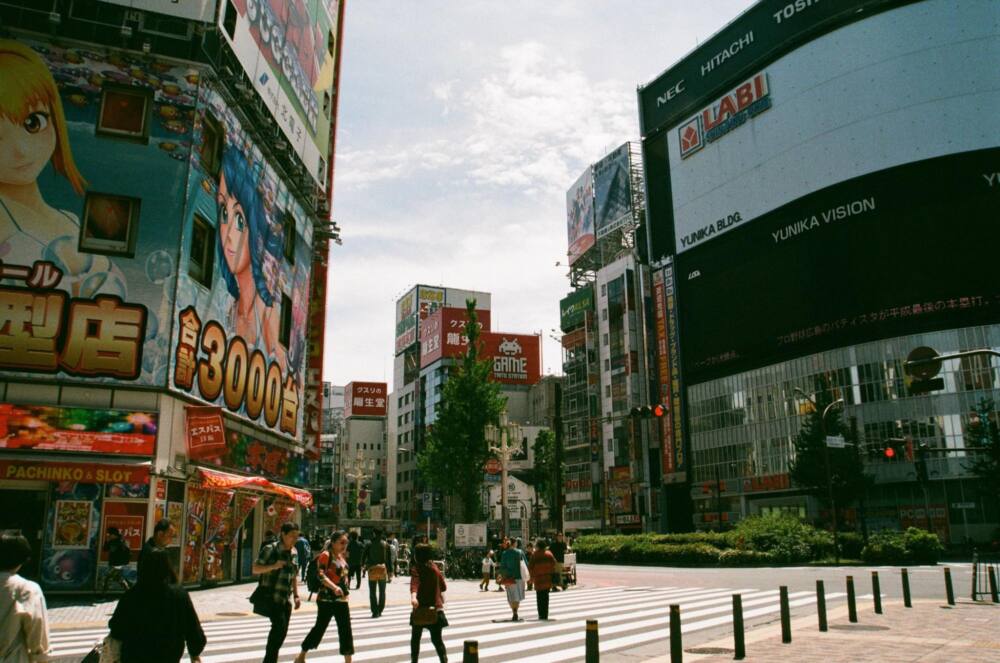 You can literally find anything and everything in Shinjuku. You can see office employees rushing to work into the high-rise buildings and tourists flocking into shops to get the best goods for affordable prices.
Who says office workers can't chill out in clubs and shop in department stores? The atmosphere in Shinjuku city says otherwise. You'll literally find everyone having a good time around street shops and restaurants.
If you want to try authentic Japanese sushi then make sure to visit the Itamae Sushi which is a restaurant that has won the award for tuna auction.
There are also karaoke joints that are open all night where you can party and hang out with friends. Shinjuku is a rainbow city that has several subcultures and new traditions thriving. There's also a park nearby called the Shinjuku Gyoen National Garden where you can visit for a refreshing walk.
Ikebukuro
Ikebukuro is another counterpart of Akihabara that's mostly filled with youth and otaku cultures. This is an emerging city that has grown popular over the past few years. Located in the west part of Tokyo, Ikebukuro is renowned for selling the best and quality Japanese products for a reasonable price.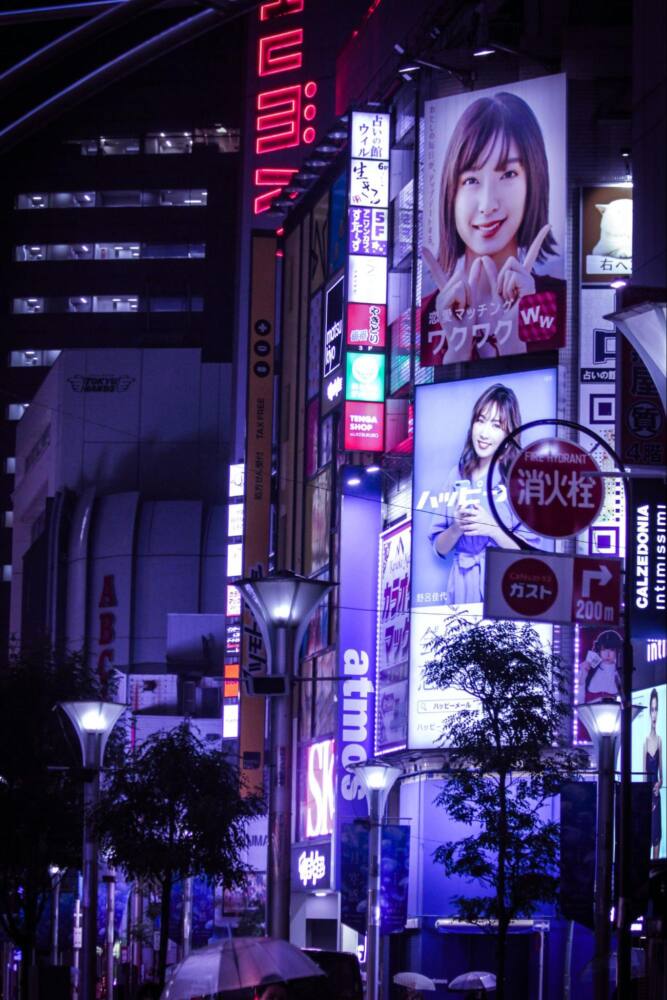 If you're traveling on a strict budget and are cautious of the prices then visit Ikebukuro. You'll be able to find most products like anime goods, street foods, and hotels for quite a fair price.
The iconic tourist site in Ikebukuro is the Otome road that's packed with shops selling anime and manga-related goods, cosplays, and games, etc. The road is very clean and not overcrowded unlike Akihabara and it's a wonderful place to hang out.
Unlike Akihabara, Ikebukuro has shops that sell anime-themed items for women. If you want to get the latest cosplay outfits for a convention then this is your go-to Tokyo neighborhood.
To check in to a well-maintained yet inexpensive hotel then check out the Sunshine City. That's where you'll find the Sunshine 60, a high-rise building that overshadows the area. You can go for a shopping spree right in the area as there are multiple department stores available.
Odaiba
Odaiba is definitely one of the unique neighborhoods in Tokyo that everyone must visit. This is a man-made island in Tokyo Bay that's specifically made for business and commercial purposes.
Once you enter Odaiba you'll notice how the island looks super futuristic. It's surrounded by extravagant monuments like the Rainbow Bridge, a replica of the Statue of Liberty, and futuristic hotels.
There are amazing sceneries to explore and visit in Odaiba. One of the most popular tourist attraction sites in Odaiba is the Gundam Statue robot. It's a robot that was displayed in the anime Gundam Build Fighters.
The Gundam robot makes its moves 4 times a day and people flock to see its actions. It lights up, lets out steam, and transforms into Destroy Mode when it's threatened. It looks absolutely stunning at night and that's the time when you should take pictures.
There are also a couple of restaurants, cafes, and department stores available in the area.
How to Get around Tokyo Neighbourhoods
Tokyo is well-connected city and most of it's neighbourhood are just a few minutes or hours away. You can take public transport like busses or trains or you can also hire a private taxi for touring purposes.
If you're hiring a private taxi then it might be a little expensive for you and you'll also have to set your time, date, location, and areas to visit beforehand and book in advance. The taxi will pick you up from your location and drop you off at the end of the tour.
Trains are the most convenient and cheapest ways to travel in Tokyo neighborhoods. There are 13 lines spanning the city that will help you get easy access to your desired location.
The JR train lines train operate within Tokyo and its neighborhoods. You can check the itinerary and board the train as per your plan.
There's also a metro that runs in the greater regions of Tokyo. The JR train pass will not cover this, you'll have to get a separate metro card
Toei Subway is another option that covers lighter Tokyo regions. You'll have to get a separate pass to access the subway as well.
Unique Tokyo Neighborhoods To Visit: FAQs
How many neighborhoods are in Tokyo?
There are over 1000 neighborhoods in Tokyo and only a few are known for being popular tourist attraction sites. Some of the best neighborhoods you should visit in Tokyo are Akihabara, Shibuya City, Asakusa, Shinjuku City, Odaiba, and Ikebukuro.
What is Tokyo known for?
Tokyo is known for being a futuristic and the largest metropolis in the world where most tourists pay visits to. There are top-rated restaurants, hotels, markets, street food stalls, high-rise buildings, and even the crowdest crossing in Tokyo. Other aspects of Tokyo are vending machines, arcades, anime-themed malls, and shops, and sacred temples all in one city. 
What is Shibuya known for?
Shibuya is known for being the fashion capital of Tokyo. It's in this city where sophisticated fashion trends came to be and it's literally known as the center for youth and otaku fashion. The iconic Shibuya Crossing where countless people cross is situated here. 
Which five neighborhoods are located in Tokyo?
The five of the most famous neighborhoods located in Tokyo are Akihabara, Asakusa, Shibuya City, Shinjuku, and Ikebukuro. These neighborhoods are mostly renowned for being visited by both local and foreign tourists.
What part of Tokyo is the best?
The best part of Tokyo for tourists is Shinjuku city. This is where the best options for accommodation, sightseeing, shopping, and entertainment are in place. And it's definitely one of those cities that's very active and lightened up.
Also Read