In this article, we will be breaking down the famous McDonalds in Japan, one of the  biggest fast food hamburger restaurant chains in the world. Its origin, menu, cost, marketing campaign,unique menu items, how to order  and so much more!
Mcdonalds continues to dominate the fast food world and believe us when we say it is not only blooming all around the globe but Japan never ceases to surprise foodies with their incredible food options offered in the outlet.
If you're looking for a wide variety of new and exciting fast food items, where you cannot find anywhere else, Japan is THE place to visit!
Aside from their most popular items, you will find everything from rich supper items to super creamy desserts. So, let us dive a little deeper into the history, cultural differences, their wacky food inventions, the cost and how you can order.
McDonalds In Japan
How did McDonalds in Japan start?
The very first McDonald's was started way back in 1940 by the McDonald brothers in California. The hamburger-making company had released a service that was replicated by hundreds of businesses and organizations in the world.
Den Fujita decided to bring it to Japan in 1967 after discovering it and falling in love with the restaurant chain.
The Japanese name Makudonarudo (マクドナルド), was given to the popular franchise which is an adaptation from its original name. The sound was more pleasing to the Japanese ear and was a smart marketing strategy.
The first outlet opened in 1971 in Ginza Department store in Tokyo and launched Japanese-taste burgers like the Teriyaki McBurger and Chicken Tatsuta. 
But what was incredible was the fast food restaurant not only introduced hamburgers but also introduced the concept of a drive-through restaurant.
Japan was undergoing rapid motorization at that time and the McDonalds added a whole new enjoyment to driving.
According to Fujita, the Japanese were yellow because they ate only rice and fish and should incorporate more hamburgers and potatoes.
After many many Japanese inventions, McDonald's has become a huge success in Japan making life easier for many people.
Since then, Japan's love for the restaurant has just increased over time, becoming the second-largest consumer of McDonald's behind the United States with over three thousand outlets.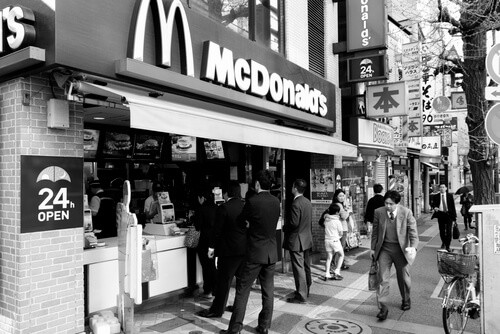 What Sets McDonalds in Japan Apart?
Although McDonalds uses the same marketing campaigns in different countries, it has set itself apart in Japan from outlets around the world due to the addition of multiple items found in the menu.
This tactic of creating new products from strange and different flavors is quite common in Japanese snacks. Japan has also implemented its own anime in the commercials to make exclusive marketing campaigns
You will find several hamburgers with seasonal flavors, breakfast items , a variety of drinks and teas, in addition to other products launched.
Both in Japan and the world over, McDonalds does not have a reputation for being a classy restaurant yet many people still love hanging out here or working while sipping on some delicious coffee.
A primary consumer of McDonald's in Japan is a middle aged worker, who stops by for a quick grab-o-bite breakfast and coffee. This speaks of the brand's efficiency, which is something that should be appreciated in Japan.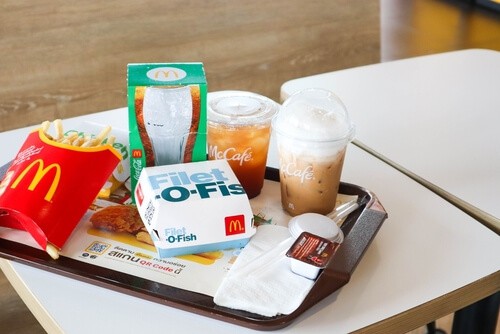 Unique Menu Items at McDonalds in Japan:
Can you imagine ordering your McNuggets with wasabi sauce? Well, believe it or not, you can find them in Japan! Almost all ingredients used here are imported from different countries.
McDonald Japan is responsible for inventing various strange snacks along with some other remarkably unique items:
Burgers:
Cheese Katsu Burger
Teriyaki burger- chicken, beef and fish
Hawaiian burger
Gracoro Burger with a creamy croquette with white sauce, pasta and shrimp
Beverly Hills Burger
Shakachiki Burger
Samurai Mac
American Funky BBQ Beef/chicken
Sakura Teritama Burger( Sakura is a Japanese tree popular among locals and foreigners)
Hot Gold Masala
Cheese Tsukimi burger
Grilled fish burger
Shrimp Filet O
Idaho burger
Mega Tamago
Chicken Tatsuta with wasabi and tartare sauce
Snacks:
Anko pies stuffed with sweet red beans
Sakura-flavored french fries
Shaka-chiki ( Crispy breaded chicken with garlic sauces, onion, cheddar cheese and pepper).
Karaage(chicken with basil powder and chicken)
Bacon and potato pie
Edamame and corn
Chocolate fries
Mega Fries equal to two potatoes
Snack with black bread
McNuggets with wasabi or plum sauce
Drinks:
Melon fanta float
Uji Matcha frappe
Macaron pistachio
Mcfloat coffee
Marshmallow cream tart
Yasaiseikatsu ( vegetable and fruit mix juice )
Suntory Kuro Oolong Tea
McFizz Kumamoto Watermelon
Babyccino
Sokenbicha (A Japanese blended tea by Coca-cola)
Desserts:
Triangle shaped chocolate pie
Cheesecake McFlurry
McFloat Aomori Fuji Apple
Tea chiffon cake
Pineapple pie
Waffle cone chocolate & almond
Strawberry and Kit Kat McFlurry
Sankaku Chocolate pie
Related: KFC in Japan Menu
Reputation of McDonalds in Japan
There are also a number of other factors to consider what makes it so unique:
Japan is known for having politeness and respect as very important values in culture so there is no denying that the McDonalds here has to be the best quality when it comes to consumer service. The cleanness of the restaurant is another feature to consider and even foreigners who visit here admire the set up and appearance.
Most of the tourists that visit the  Japan McDonalds do not  feel as satisfied after having a regular burger as they would anywhere else.The reason is that all portion sizes of food and drinks in Japan are small as compared to other places.
As you see, culture is still around us all the time and this affects what we eat and the portion offered. Japan, like most of the other Asian countries, tend to ration all their meals so that they won't consume more calories than needed. Pretty smart and practical , don't you think?
A very popular  reason why McDonalds is famous in Japan is because it is very affordable.To give you an idea, a basic Big Mac costs 390 yen which is equal to $3.44. The salient point is that one hour of work in Japan can get you two snack combos.
But keep in mind that the prices will vary depending on location so you may even get a burger equal to  $1. Drinks also may vary from 100 yen to 250 yen depending on the size.
Other Features: McDonalds in Japan is also known for its service and speed. Another thing that makes McDonald's popular is the fact that you can get free Wi-Fi so you can chill here with a tasty snack and drink and do your work/ homework. It even has multiple plus for you to charge your phone conveniently.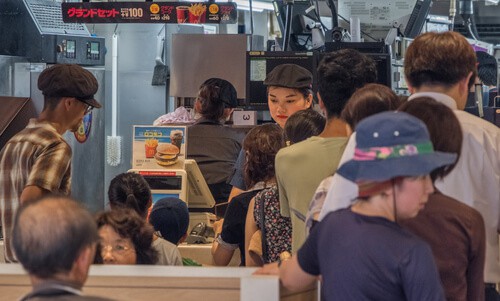 How To Order at McDonalds in Japan?
Now let us try to understand a few related words in Japanese translated into English that can help you order your meal in McDonalds.
いらっしゃいませ or irasshaimase means 'WELCOME.'
ご注文は or go-chuumon wa means ' WHAT WILL YOU WANT?'
お飲み物はいかがですか or o-nomimono wa ikaga desu ka means 'SOMETHING TO DRINK?'
ビッグマックor biggumakku means 'BIG MAC.'
ハンバーガー or hanbāgā means 'HAMBURGER.'
チーズバーガー or chīzubāgā means 'CHEESEBURGER.'
てりやきマックバーガー or teriyaki makkubāgā means 'TERAYAKI MACBURGER.'
フィレオフィッシュ or fireofisshu means 'FISH FILLET.'
メガマック or megamakku means 'MEGAMAC.'
マックシェイク or makkusheiku means 'MACSHAKE.'
セット or setto means 'COMBO.'
サイズ or saizu means "SIZE.'
結構です or Kekkodesu means 'NO, THANK YOU.'
持ち帰ります or Mochikaerimasu means 'TAKE OUT/ TO GO.'
Once, you choose your burger item, the attendant usually asks you if you would like a setto and drink. That's it, it's really quite simple. Then, you have to wait for your order and enjoy!
McDonalds in Japan: FAQs
What are some hamburgers offered in every season in McDonalds Japan?
The menu of McDonald's Japan varies according to the major festivals of the calendar. For example, for the moon festival tsukimi during autumn, tsukimi burgers are available with burgers topped with fried eggs. During the cherry blossom celebration hanami in spring, teritama burgers are brought out every year consisting of a pork or beef teriyaki burger with egg accompanied by pink mayonnaise with resemblance to the cherry blossoms. 
What are a few items worth ordering from the Japan menu?
–Some of the unique items worth ordering include Sakura Teritama burger, eating mcnuggets in wasabi sauce,  chopped bacon and onion in a thin potato pie  crust, ume fries (pickled plum), hokkaido milk pie, ginger pork burger, and purple McShake.
Takeaway:
It is remarkable how very different cultural features can make people fall in love with the place.The fast-food chain has managed to find new ways to attract consumers in every place, launching commercials with Japanese animation in the country along with exclusive menu items that reflect its personality.
So, now that you know what makes McDonald's Japan so unique, if you are lucky, you will be able to indulge in some of their scrumptious items for the ultimate experience.
So, the next time you are  planning a trip to Japan or you are  already there, be sure to check out a McDonald's. You never know what treats you will find unless you go searching!
Also Read