Here's are the full Wendys menu in Japan. Check it out!
If you love delicious burgers and mouth-watering pasta, Wendy's is the place for you. The fast food chain has everything you need for breakfast, lunch, and even dinner! The good thing is that you will have many options to choose from.
Wendy is an American international fast-food chain that was founded by Dave Thomas in 1969. As of 2018, it was the world's third-largest ham-burger fast-food chain.
If you are planning your visit to Japan, don't miss out on the amazing menu. In this article, we will guide you through the Wendy's menu! It will help you decide what is best for you. Without further ado, let's dive into it. 
Wendys Menu in Japan
In Japan, Wendy's menu is quite different from the USA. You will find hamburgers with a Japanese twist. Other than that, if you are traveling from the States and want to have your favorite burger, worry not!
The menu also consists of the original USA hamburgers for you to satisfy the craving. Not just that, you will also find Jr. burgers that are cheaper and more fulfilling. If you want a meal, you can also opt for add ons with the burger. Check out the menu below. 
Hamburgers in Wendys Japan Menu
Let us explore the delicious menu of hamburgers. Currently, Wendy's is serving a special time limited burger. It is Jalapeno Popper and Jalapeno Popper chicken. Both of the burgers will stay on the menu for a few weeks.
Jalapeno Popper: It is the original 100g (3.53oz) beef patty with a number of cheeses. It includes Pepper jack cheese, cheddar cheese sauce, and to top it off with a little spice, it also contains Jalapeno cheese sauce. It has a rich flavor that will excite your taste buds. With pre-cooked bacon, this is a must try hamburger! It costs 770 yen.
Jalapeno Popper Chicken: On the other hand, this is a sandwich of crispy and juicy chicken fillet. It costs 670 yen.
Both the burgers are seasonal and available only during the summer. If you are traveling in the summer, Wendy Japan has a treat for you! It surely is spicy!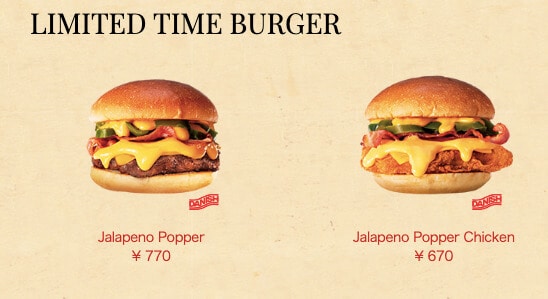 Other than this, Wendy's Japan also has their own version of hamburgers. These are called "Japanese Original Burgers." While you are exploring the country, don't miss the authentic Japanese burgers. They are different from the Wendy's in the USA and will allow you to taste the flavours of the country. These include:
Bacon Cheese Burger
Cheese Bacon Egg Burger
Wild Rock
"Wild Rock" is one of the most unique burgers on the menu. It is a bunless burger! Can you imagine a burger without a bun? Well, Wendy's Japan brings you their speciality. In this, you will get beef patties as the bun, and inside will be ripe vegetables paired with bacon strips and eggs. The juicy burger will want you to come back. It is one of those burgers you eat after having a busy day.
We personally recommend you try the Cheese Bacon Egg Burger. It has a richness in flavour; the buns are soft and the egg yolks add more to the taste. There are four different sauces that are provided with the burger. So you can dip them and add more tanginess to them. One of the best sauces in Wendy's is the garlic mayonnaise sauce.
This is followed by the original USA burgers, which you can try if you want to eat the originals. These include:
Wendy's Burger USA
Wendy's Burger USA Double
Wendy's Burger USA Triple
Baconator USA Single
Baconator USA Double
Spicy Chicken Fillet Burger USA
Chicken Fillet Burger USA
The prices are given below: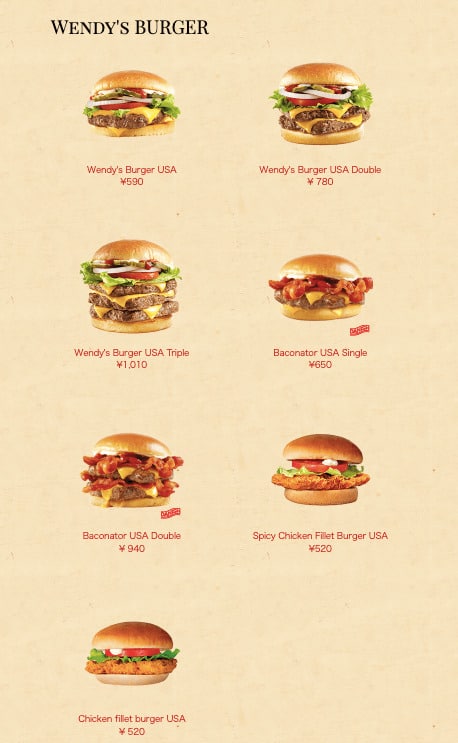 The menu also includes Jr. Cheeseburgers. These are small bites and are cheaper than the others. These include:
Jr. Bacon Cheese Burger
Double Stack
Jr. Cheeseburger Deluxe
Jr. Teriyaki Burger
Jr. Teriyaki Cheeseburger
Jr. Bacon Egg Burger
Jr. Bacon Egg Cheese Burger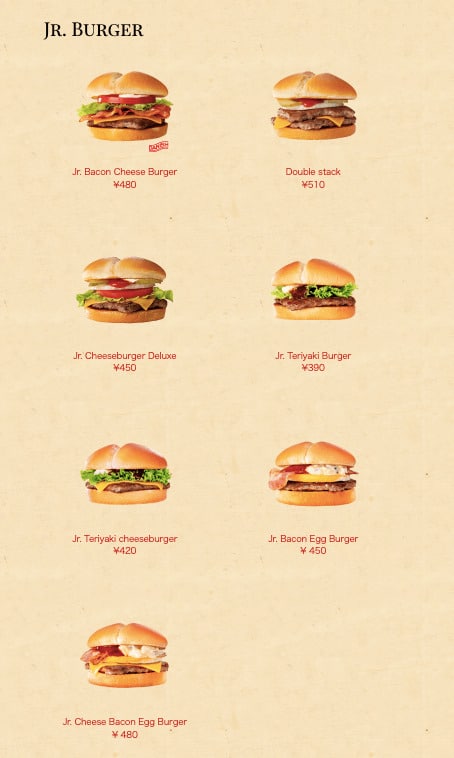 While you are busy picking up your favourite burger, don't forget the add-ons! Wendy's Japan offers various add-ons for you to pick from. Currently, there are Plus Sets available at the store for an additional cost. The sale may end soon, so don't forget to taste them. 
Plus Set Menu in Wendys Japan
In this plus set, you will be able to pair various items with the main menu. It contains items like – Drinks, Potato fries, and Wendy's chili M. They act as the perfect sides for your hamburger. You will also get the option to select the size of the Potato M sets. Check out the prices below.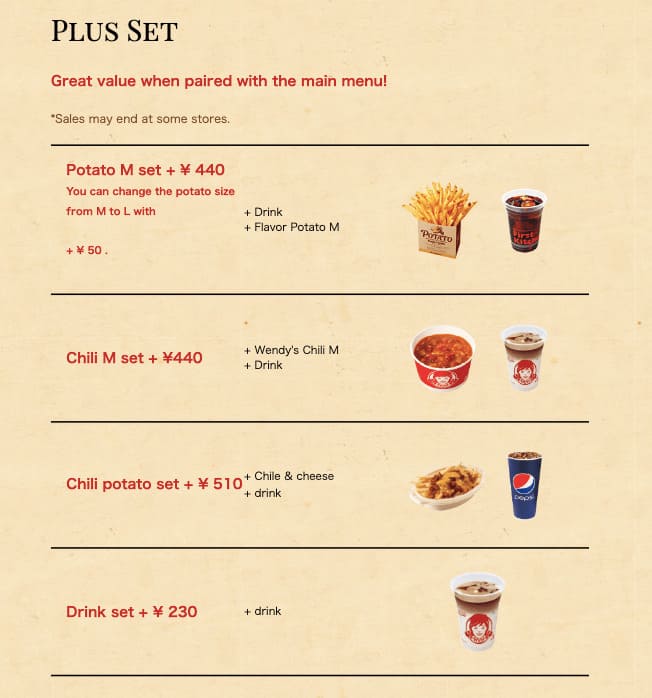 Pasta
Now that you are aware of the different kinds of hamburgers available on the menu, it's Pasta time! Wendy Japan's Menu has various pastas for you to taste. If you are a fan of spaghetti, you have come to the right place.
With a plethora of flavours, Wendy delivers six different types of pasta. From bacon to carbonara, you will get everything. The menu includes:
Suruga Bay Kamaage Shirasu and Bacon Dashi Peperon
Lemon cream of fried shirasu and prosciutto from Suruga Bay
Melty mozzarella and bacon tomato sauce
Beef cheek cream meat sauce
Carbonara
Aged Hakata Mentaiko
We personally recommend the beef cheek cream meat sauce. It has a sweet taste and a tomato base. The meat is delicious, and the spaghetti is soft and thick. The best part about this pasta is the chopped onions. It adds more to the flavour, and it is a perfect meal for you.
Check the prices below: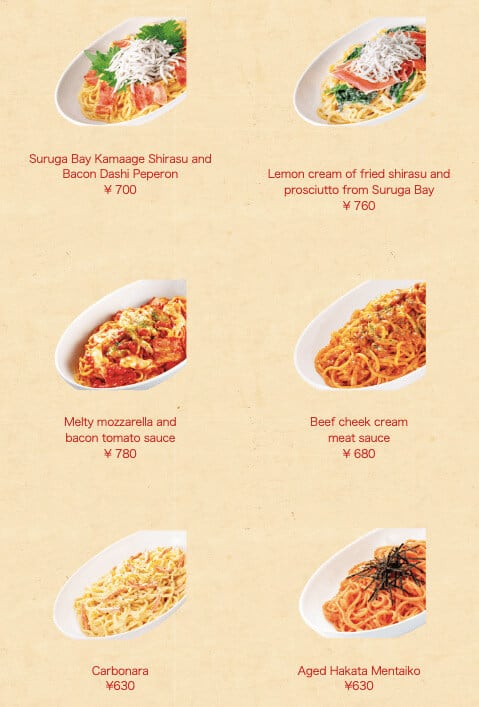 Potato Fries At Wendys Japan
Don't you love potato fries on the side of your burger? Well, Wendy's offers various fries for you. There are five types of fries that you can try. Take a look.
You should try the premium fries with chili and cheese. It has a tangy flavour and will excite your taste buds. It is satisfying and is best to take away.
Another one you can try is Burnt Butter Soy Sauce Potato Fries. We recommend you try this because of its intense and savoury flavour. Also, make sure to consume it immediately to avoid the fries going soggy.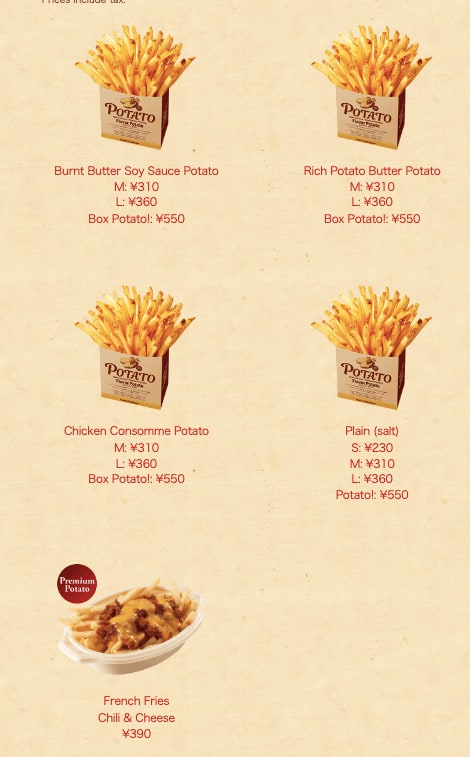 Drinks Menu At Wendys Japan
The best add on to your burgers or pasta is drinks! The Wendy's Japan Menu has both cold and hot items. You will be able to explore various boba teas and hot matcha teas. They are available in all sizes – S/M/L. Have a look at the menu.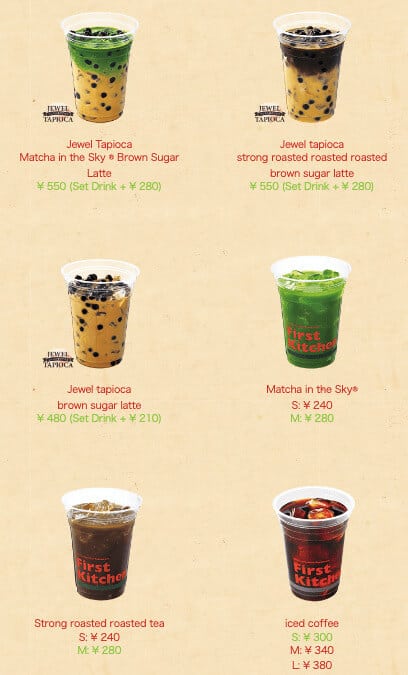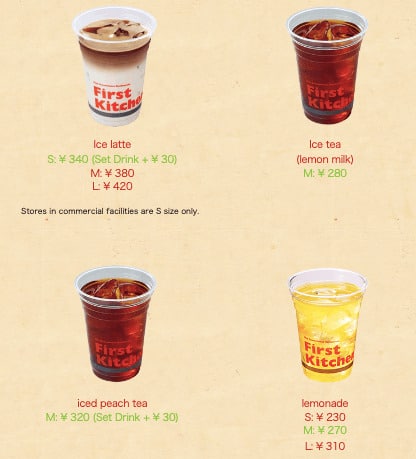 To add more to this, you can also buy cold beverages like Pepsi Cola, Melon Soda, Seven Up, 100% Apple Juice, and Oolong Tea.
You can definitely try Matcha Boba Tea. It is milky, and the boba is soft and chewy. On a sunny day, it will quench your thirst.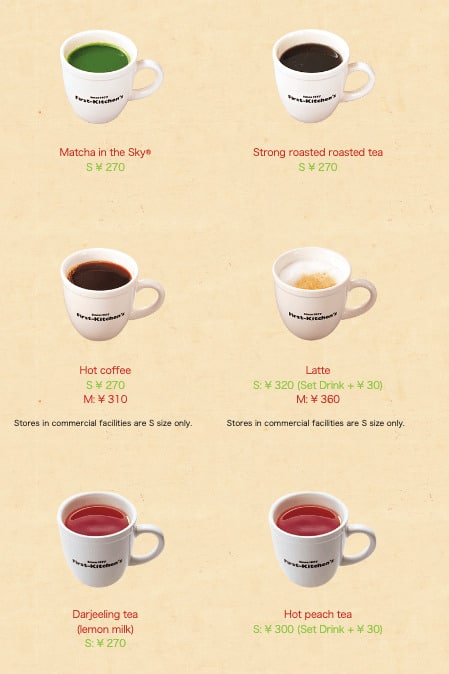 Topping Menu At Wendys Japan
If you want to add more flavour to the food, Wendy has got your back. You will get a variety of toppings at a reasonable rate. From meat to vegetables, the menu has it all. Take a look.

Morning Menu At Wendys Menu
If you are a morning person, Wendy's provides a wide range of burgers to pick from. If you are looking for a light breakfast, you can opt for basic burgers along with sides. There are over four burgers on the morning menu that consist of bacon and eggs. Take a look at the morning menu.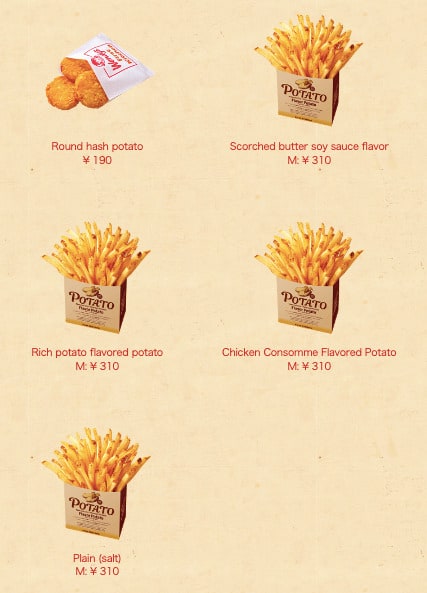 For a minimum price, you can also get hashbrowns and a drink. If you are going for a combination plus a drink, the cost will be 110 yen more. On the other hand, if you want to opt for hashbrown and a drink, it will be 190 yen. 
Dessert Menu in Wendys Japan
Who doesn't love sweet desserts after a good meal? As author Adrienne Posey said, "Dessert is a necessity of life." We recommend you try some at Wendy Japan. It has ice cream and floats that will fill your heart with sweetness. Take a look at the menu.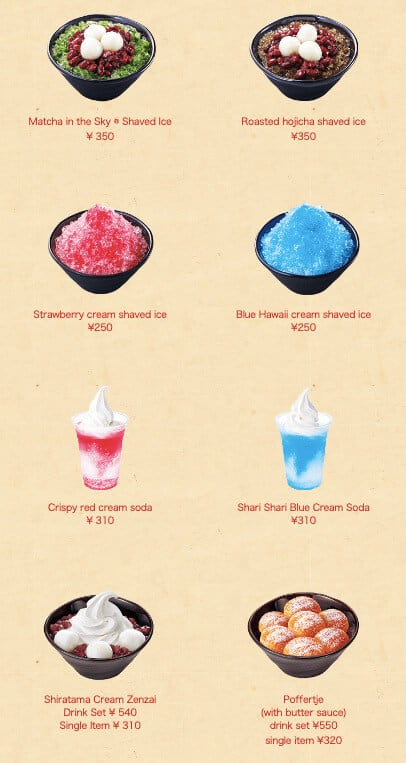 We recommend you to try Poffertjr (with butter sauce). It is basically mini pancakes but instead of traditional maple syrup, they have butter sauce. They are spongy and most importantly, tasty. If you want something cold, do try Crispy red cream soda. 
Conclusion
The price ranges from 400 yen to 1000 yen. With the cultural difference in Japan, you will get to witness a change in the taste of hamburgers and pasta. It varies from the American outlets, and trust us, you need to try the Wendy's in Japan.
After a full-day work or touring, you can be rest assured that Wendy will satisfy your hunger. We have tried and tested various food items, and it will surely blow your mind. Not only the main meal, but the sides are also delicious. They offer takeaway as well as dining.
The ambience is quite relaxing, and they also provide free wifi. You can also go for their membership, i.e., My First Card. Through this, you can avail various discounts and offers. It can only be issued at the store.
The good thing about Wendy's is that there are several outlets in a single city. Tokyo alone has over 10 outlets for you to visit. So what are you waiting for? Grab your backpack and head to the nearest store for a delicious meal. 
Contact Wendy in Japan
To find out more details about Wendy's menu in Japan or its location, you can connect with them on various social media platforms.
Also Read