Want to check out the KFC in Japan? Here's the complete KFC in Japan menu items. Check it out!
KFC or Kentucky fried chicken is a popular American fast food restaurant chain. As the name suggests, its speciality is fried chicken. With its headquarters located in Louisville, Kentucky, it is the second largest restaurant chain in the whole world after McDonald's.
The fast food chain was founded by Colonel Harland Sanders, more commonly referred to as the colonel. Believe it or not, the KFC empire began as a small roadside restaurant that sold fried chicken in Kentucky during the Great Depression.
KFC has come a long way since then. As of 2019, it is open at 22,621 locations around the world.
Japan has a way of taking the usual and putting its own twist on it. KFC is no exception.
KFC in Japan is nothing like what the Colonel would have thought. Japan has the third largest market for KFC after the U.S. and China.
Here's the PDF of KFC in Japan Menu.
KFC in Japan Menu
The first time I visited a KFC in Japan, I stopped and questioned if this really was KFC. The menu is so different in Japan!
To say that I was overwhelmed and didn't know what to order is an understatement. I may have ended up ordering pretty much everything that caught my eye, but that's beside the point.
Along with the usual KFC favorites, there were some dishes with that charming Japanese twist to them.
I had heard that every country has a personalized version of this popular fast food chain, and KFC in Japan proved this.
The menu of KFC in Japan is one of a kind and has managed to blend in Japan inspired items like Wa-fu chicken cutlet, Natchan Sukkiri Orange, and Oolong Tea.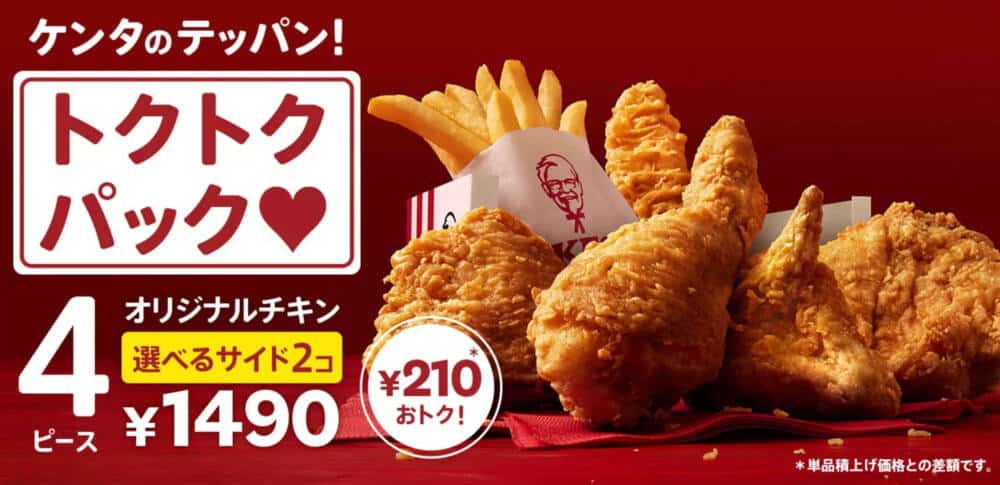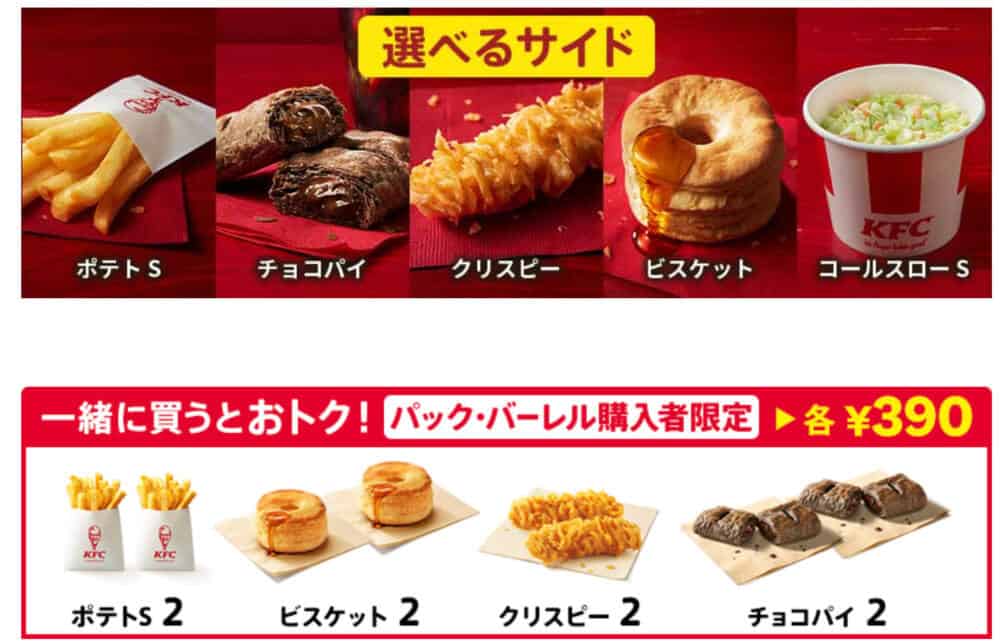 Super Saver Pack Options in Japanese KFC Menu
It's a fact that KFC is quite expensive in Japan. One of the reasons is that the staff at KFCs in Japan have to undergo extensive training before they become qualified to work at the establishment.
The menu offers customers three super saver pack options. They consist of 4, 6 and 8 pieces of original recipe chicken respectively with sides. You get to choose from a variety of sides including french fries, choco pie, crispy strips, and biscuits.
These super saver packs are priced at just 1490 yen, 1990 yen, and 2640 yen. Customers can add a dip of their choice, either BBQ sauce or mustard, for 70 yen each.

Sandwich Options in Japan's KFC Menu
Like the menu says, "why don't you try out sandwiches?"
Personally, I'm not really a sandwich person. But KFC Japan is the exception. KFC in Japan doesn't usually sell burgers. Instead, we have sandwiches!
The Wa-fu Chicken cutlet sandwich is to die for! I took a bite, and I just couldn't get enough. This delightful sandwich is a perfect example of the Japanese touch in KFC.
The sandwiches here can be made into a combo deal by adding a drink and fries. For an entire meal, you can make these into deal boxes and add some boneless chicken and a mini apple pie!
Twisters in KFC Menu in Japan
Another epic section on the KFC menu in Japan is the Twister section. These twisters come in three varieties, namely teriyaki, pepper mayo, and lemon and basil.
These are similar to wraps and are packed with flavour. You can add a drink and fries to create a combo. If you're craving a bigger meal, then make a box by further adding boneless chicken and a mini apple pie.

Combos in KFC Japan Menu
Your KFC order is incomplete without a drink and fries. That's where the combos section comes in.
The menu at KFC Japan allows customers to enjoy their favourite sandwiches, twisters, original recipe chicken, and chicken strips with a drink and fries.

Box options in KFC Japan Menu
Similar to the combos section, this section is a good choice if you're looking for a big meal.
The box is made up of a sandwich, original recipe chicken, or a twister along with a drink, French fries, a mini apple pie, and boneless chicken.

Option for kids in Japan's KFC menu
This is probably my favorite section on the entire menu. I may have ordered from this section more times than I'd like to admit.
When I'm looking for a small meal or snack, I find that the kids' meal is the perfect portion size. The toy is just a bonus.
The kids' meal comes in two variations. One is the nuggets combo which is made up of nuggets, a drink, and fries. The other is the crispy strips combo which comes with chicken strips, a drink, and fries. Both combos come with a cute little Colonel toy.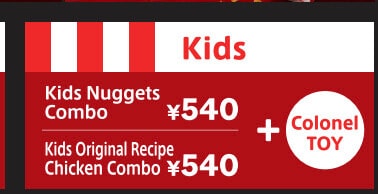 Sides options in Japan's KFC menu
The sides section consists of the usual items that you would see on any KFC menu, like fries, crispy strips, nuggets, boneless chicken, coleslaw, and corn salad. They all come with two choices of dipping sauce, namely BBQ and mustard.
But wait, there's more. We have a couple of sweet options as well. It looks like a doughnut, but we call it a biscuit. It is another favourite from the menu and comes with honey flavoured maple syrup for an additional charge.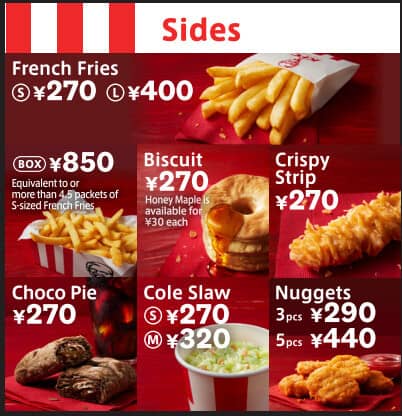 Another sweet side that you can choose is the choco pie. Light and flaky, the choco pie is the solution to your sweet tooth craving.
Drinks Option in Japan's KFC Menu
If you're expecting just regular drinks like Pepsi and Sprite, you're in for a pleasant surprise.
Besides the usual sodas and lemonades, customers get to choose from Japanese favourites like Oolong tea, Natchan! Sukkiri Orange, and ginger ale. The drinks come in three sizes- small, medium, and large.
Customers can also choose hot coffee, hot tea, 100% orange juice, and KFC natural mineral water from Mt. Fuji to go with their meal.

Exclusive items that be found only on Japan's KFC menu
The Japanese sure know how to take something foreign and make it their own. I mean the KFC menu is an example of that.
The Japanese inspired items available at KFC in Japan are created to appeal to the Japanese tastebuds.
Here are some items that are exclusive to Japan's KFC menu (it should be noted that many of these items are limited or seasonal offers, so they may not always be available. Further, some of these items may be available at only select locations in Japan):
· Kentucky friend rice bowls in flavours like Japanese teriyaki, Spanish salpicao, and Kentadon bowl
· Ballotine
· Biscuits with honey flavoured maple syrup
· The bistro hamburger
· Kentucky fried salmon
· Kentucky fried fish
· Kentucky chicken rice sandwich
· KFC bento lunches
· Kentucky fried soup
· Wa- fu chicken cutlet sandwich
· Chicken fillet sandwich
· Teriyaki twister
· Pepper mayo twister
· Chicken cream pot pie
· Sweet potato pie
· Chicken fillet and menchi katsu sandwich
· Garlic and soy sauce fried chicken
· Chicken katsu sando sandwich
· Colonel's dish line- This was discontinued but it deserves a mention. The line featured apple wood-smoked chicken thighs, chicken terrine (upscale pate), and ballotine (chicken roasted with apricots, plums, cranberries, orange, and white wine-soaked chestnuts)
Anniversary Celebratory Pack at KFC Japan
Now, KFC in Japan boasts of its crazy marketing skills and promotions. From all you can eat chicken offers to giving away gadgets that resemble fried chicken, KFC Japan's marketing team got no chill.
So of course, they came up with something to celebrate the anniversary of KFC Japan.
For the month of June, KFC Japan's menu features a KFC Japan Anniversary Celebratory Pack. Take a look at what KFC Japan's menu will look like from June 8th to July 5th.
The Celebratory Pack comes in two options, both consisting of original recipe chicken, crispy strips, and biscuits. These options are also super savers because you can get them for just 1000 yen and 1500 yen!
What's more? Along with your celebratory pack, you can purchase French fries, biscuits, and choco pies for just 300 yen each!
KFC for Christmas in Japan
No article about KFC in Japan is complete without mentioning KFC's significance during Christmas in Japan.
Japan doesn't declare Christmas as a national holiday. But that doesn't stop the locals from embracing the holiday spirit.
Sometime during the 1970s, KFC became a traditional Christmas meal in Japan. The tradition continues and people stand in line for hours to get their hands on a festive bucket of the good old fried chicken. The order is often combined with sides, cake, and sometimes even champagne!
KFC in Japan Menu: FAQs
Does Japan eat KFC for Christmas?
Yes, this tradition goes way back to the 1970s when the first manager of KFC in Japan, Takeshi Okawara, started promoting the fried chicken party barrels. This was a replacement for the traditional American Christmas turkey dinner. Since then, KFC dinners have become a Christmas tradition among the Japanese.
Is KFC different in Japan and the US?
Yes, there are some differences between the KFCs in Japan and those in the US. In Japan, it is more expensive, mostly because the staff has extensive culinary and service training. KFC in Japan also represents the local preference for dark meat over white meat. Another feature that sets KFC apart in Japan is its marketing strategies and promotions.
Is KFC affordable in Japan?
KFC is pretty affordable in Japan. A full KFC meal can cost you about 500 yen to 700 yen.
Why is KFC so famous in Japan?
KFC has become a Christmas tradition in Japan. During Christmas, Japanese families and couples order in KFC for their Christmas meal and enjoy it together.
Also Read