Love Taco Bell? Here's Taco Bell Japan menu items you have to try! Check it out!
Who is craving for some delicious Mexican Food? Well, there is only one place that comes to mind. Lucky for you, this guide will help you decide better on what to order for your next big meal at TACO BELL and what to expect as well.
While you can certainly find an endless number of restaurants offering a huge variety of cuisines in Japan, if you have spent some time in the country, you may have noticed that your options for Mexican food are somewhat limited.
So, when the news broke out that American fast food chain Taco Bell was going to open in Japan, the response was sensational.
I am not kidding. When the first outlet opened in Tokyo way back in 2015, there was a crowd of more than three hundred people who showed up to stand in the queue.
The menu is certainly way different and there are a few exclusive 'Japan only' Taco Bell dishes.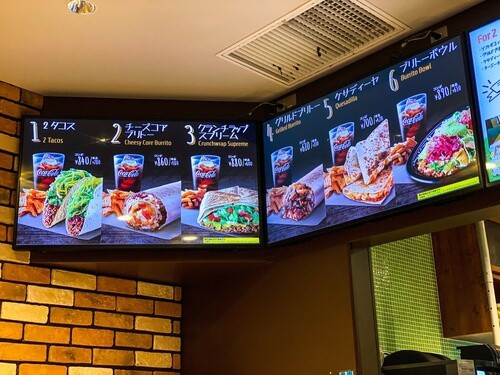 Taco Bell Japan Menu
Taco Menu In Taco Bell Japan Menu

| | |
| --- | --- |
| Taco | Price (incl. tax) |
| Beef Soft Tacos | 290 yen |
| Beef Soft Tacos Supreme | 410 yen |
| Beef Crunch Tacos | 290 yen |
| Beef Crunch Tacos Supreme | 410 yen |
Burritos in Taco Bell Japan Menu
| | |
| --- | --- |
| Burrito | Price (incl. tax) |
| Chicken burrito | 480 yen |
| Beef cheese core burrito | 650 yen |
| Cheesy Beef Burrito | 440 yen |
Special Menu at Taco Bell Japan
I must say that I am seriously impressed with how easy and convenient tacos are to eat here. In Japan, 'fast food' usually means hamburgers most of the time.
So, Taco Bell definitely did have  a novel appeal to Japanese consumers which is why I personally think it is doing fabulously well in the country. 

| | |
| --- | --- |
| Specials | Price (incl. tax) |
| Beef Crunchwrap Supreme | 670 yen |
| Chicken burrito bowl | 670 yen |
| Chicken Quesadilla | 530 yen |
| Crispy chicken chickstar | 610 yen |
Party Menu at Taco Bell Japan
Check out these super tasty options below to give you that extra golden bliss-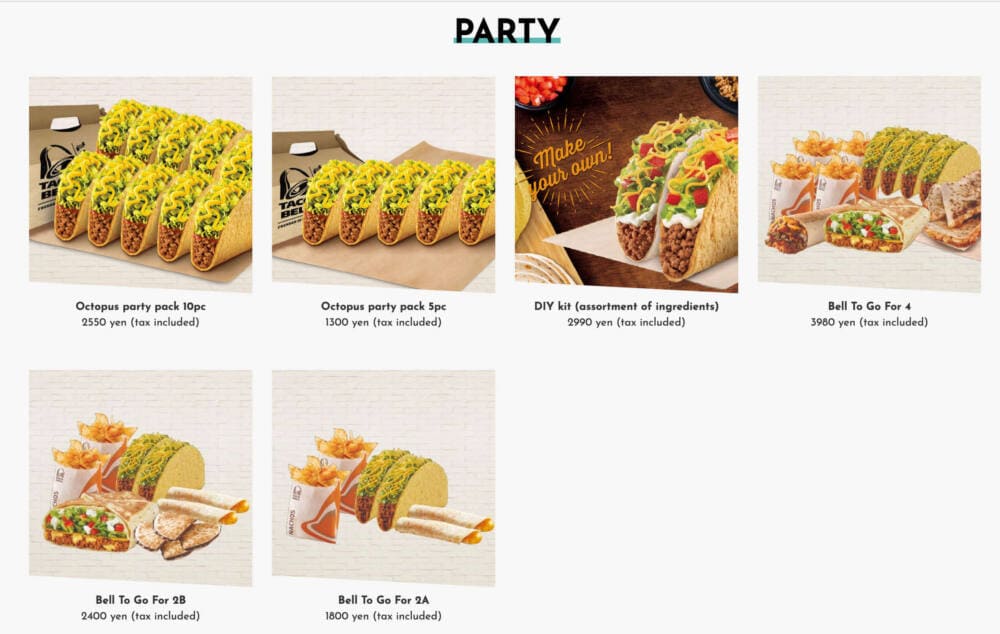 | | |
| --- | --- |
| Party Menu in Taco Bell Japan | Price |
| Octopus Party Pack (10 pc) | 2550 yen |
| Octopus Party Pack (5 pc) | 1300 yen |
| DIY kit (assortment of ingredients) | 2990 yen |
| Bell to go for 4 | 3980 yen |
| Bell to go for 2B | 2400 yen |
| Bell to go for 2A | 1800 yen |
Sides Menu at Taco Bell Japan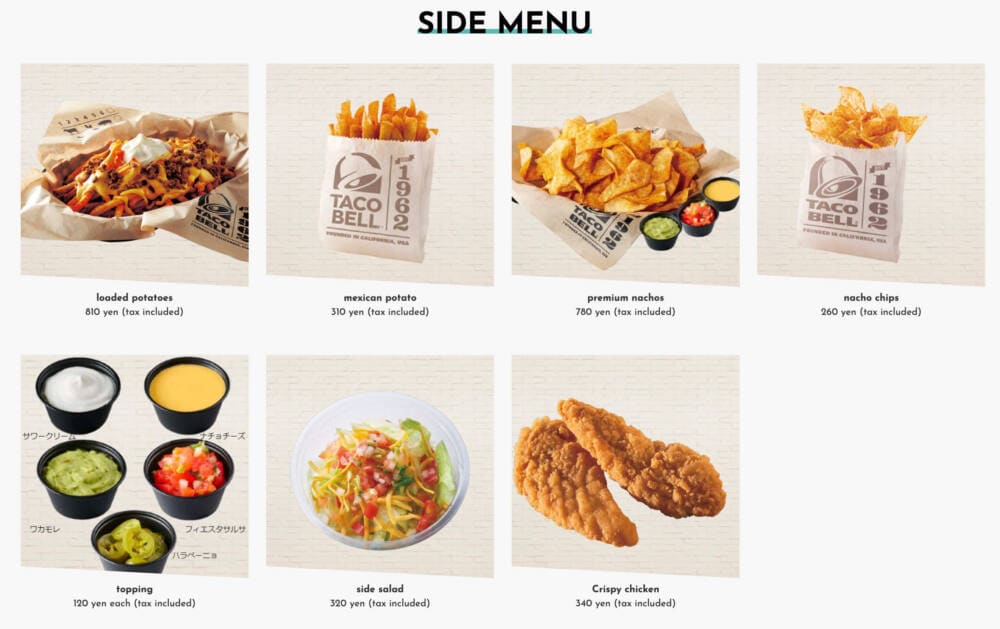 | | |
| --- | --- |
| Sides | Price (incl tax) |
| Loaded potatoes | 810 yen |
| Mexican Potato | 310 yen |
| Premium Nachos | 780 yen |
| Nacho chips | 260 yen |
| Toppings | 120 yen each |
| Side salad | 320 yen |
| Crispy Chicken | 340 yen |
Desert Menu Available In Taco Bell Japan:
Every good meal ends with dessert. Discover some desserts for every occasion that are super indulgent and impressive showstoppers. Check out these top items offered by Taco Bell as a desert option. Get ready to pamper yourself with these deserts guilt-free: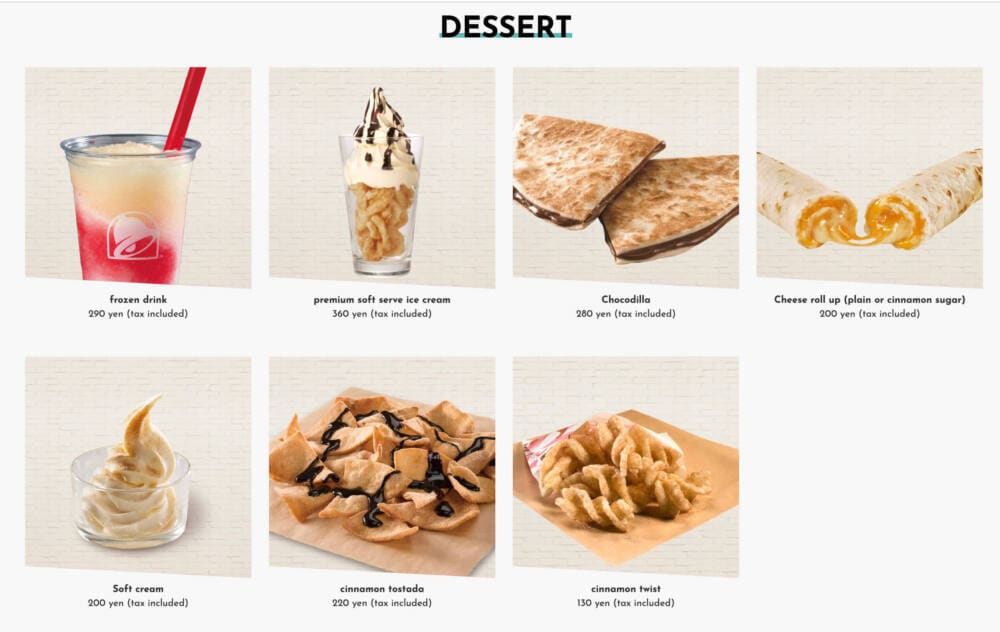 | | |
| --- | --- |
| Desserts | Price (incl tax) |
| Frozen Drink | 290 yen |
| Premium soft serve ice cream | 360 yen |
| Chocodilla | 280 yen |
| Cheese roll up | 200 yen |
| Soft cream | 200 yen |
| Cinnamon tostada | 220 yen |
| Cinnamon twist | 130 yen |
DIY Taco Kit Available in Taco Bell Japan:
At Taco Bell, 'DIY TACOS KIT' is available where you can enjoy ten freshly made tacos anywhere you want. It contains five hard taco shells, five soft tortillas, shredded cheddar cheese, sour cream, taco beef, shredded lettuce, and taco sauce. Don't stress. You do not have to be an expert to make this.
The kit includes a recipe on how to make it so even beginners or amateurs can make it with confidence. It is available for takeout only so you might want to resist the urge of making those delicious tacos right there in the store.
You can even spruce up these tacos flavors with some cilantro and avocado found in your kitchen. It can be a great family bonding activity too as you can have great fun fixing it up yourselves.
It is different from the TACO PARTY PACK and priced higher as the taco party Pack does not have any tomato or sour cream in it. So it is much plainer than the DIY Taco Kit. Plus, the DIY kit has tons of leftovers so you could end up making more than ten tacos.
| | |
| --- | --- |
| Menu Item | Price |
| DIY TACOS KIT(10 pieces) | ¥2990 |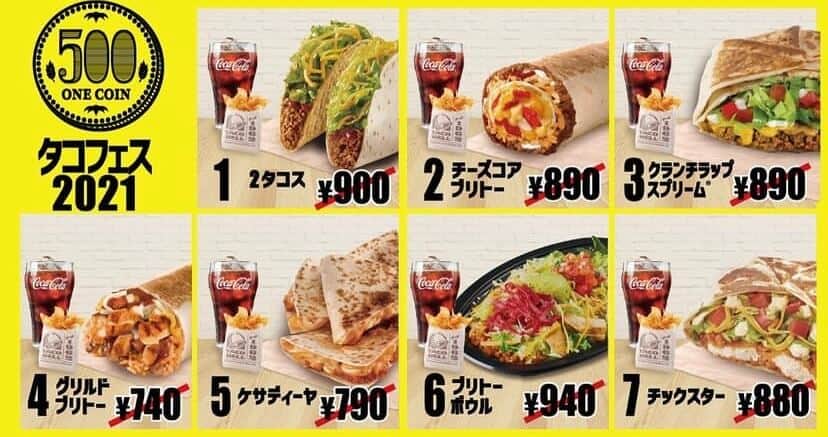 Taco Bell Japan: FAQs
What are some of the food safety measures followed in Taco Bell Japan?
Taco Bell follows strict  food safety and security measures to provide customers with the best of products. They even work with suppliers who follow the same values for quality management and food safety. Taco Bell has a very firm belief in 'doing the right thing for customers.' all suppliers and stores all over japan follow the same practice.
How many Taco Bell outlets are in Japan?
The very first branch  opened in  the 1980's, but closed shortly. April 21, 2015 marked the grand opening ceremony of the franchise's return, in Shibuya, Tokyo. At present there are around twelve branches all around Japan.
What is the Star Shaped Cheese in Taco bell?
Taco bell Japan makes tiny cheddar bits shaped as stars that can be seen on the tacos or salads they serve. This is a cool and wacky food trend that is an absolute delight and can be seen only during holiday seasons like Christmas.
What was one of the limited-time menu items that was available in Taco Bell Japan?
In 2019, The Naked Chicken Taco was available and then re-introduced for some time last year. It cost around 520 yen and was sold in limited quantities in all the outlets. It was full of cheese, tomatoes, lettuce and sauce wrapped up in a crunchy and juicy chicken tortilla.
Takeaway:
So, there you have it. The exclusive menu of Taco Bell in Japan. I jus. t can't wait to see what new items they will come up in the future. I will definitely go back to binge on the cinnamon tostada chips!
Although most of the items found on the menu sound simple, yet sometimes the most simple ingredients pack incredible flavors. Japan has always been known for its fresh seafood so they are experts in
creating the perfect menu for their Japanese taco bell outlets. Now that you know what to order the next time you are here, you can thank us later.
What do you think? Comment below and let us know! Check out the detailed menu, location, and more at tacobell.co.jp.