Here are the best Japanese romantic dramas I have ever seen. Check it out!
This genre of romantic drama has been around for a long time. It combines the essence of love with a dash of drama. There are many hurdles that must be crossed before two strangers can find happiness together.
Japanese romantic dramas are on another level. J-dramas are short and include proper character development. You will also witness a detailed storyline, but unlike movies, it won't be a stretch.
The chemistry between the lead actors, along with a glimpse of the culture of Japan, will draw you to watch the series. Unlike in the western world, Japanese drama has its own league. If you are planning to explore this world or are looking for more J-dramas, we have curated a list for you!
Must-watch Japanese Romantic Dramas
First Love (2022)
First Love is the perfect combination of breathtaking cinematography, a romantic storyline, and two leads who are not only easy on the eyes, but also evoke emotion with their performances.
It's no wonder that the drama, which released on Netflix on 24th November, quickly made its way onto the streaming platform's Top 10 TV (Non-English) chart at No. 8 within a week of its release.
Telling the story of high school sweethearts, Harumichi Namiki and Yae Noguchi, First Love encapsulates the struggles of young love, particularly of Namiki, who is the complete opposite of the model student.
Almost two decades on, it appears as though Namiki and Noguchi have gone on their separate paths and have lost contact with one another – but their destinies aren't done intertwining just yet.
After spotting Noguchi being driven past in a cab, Namiki begins a frantic search by engaging the services of cab operators to help him find her.
As the drama draws out across dual timelines that occasionally blend together without indication, the story can be confusing in the first two episodes; however, the captivating plot and satisfying revelations that come with progress make the watch worthwhile.
Hyakumankai Ieba Yokatta
Takeru Satoh's fans can be delighted with his starring role in Hyakumankai Ieba Yokatta, a tantalizing mystery romance drama.
Satoh plays Naoki, a man who had plans to propose to his childhood friend Yui, but tragically dies before he has the chance. Even though Naoki is no longer alive, his spirit can still be seen lingering around the earthly world.
Following Naoki's death, Yui goes on a journey to uncover what happened to her lost love. You won't want to miss this thrilling story as it is slowly unraveled!
Naoki was desperate for a way to reach out to Yui, until his hope came in the form of Yuzuru, a detective investigating a murder case who could communicate with the unseen Naomi.
Fortunately, Yuzuru was the only one with the ability to speak with the paranormal, and Naoki was able to share his emotions in a way he hadn't been able to before. He was overjoyed and filled with a newfound purpose—a chance to be with Yui even if only in spirit.
Here's the trailer:
Marriage Is Difficult for A Ninja
Adapted from a novel, Marriage Is Difficult For A Ninja follows a charming and endearing couple who are head-over-heels in love with each other, but unbeknownst to each other, something else lies beneath the surface: they are both ninjas from opposing clans – the Koka and Iga families – who are fierce rivals and have been embroiled in a feud with one another for generations.
This hilarious romance comedy is filled with unexpected twits and turns as the couple try to keep their true identities a secret from one another, whilst simultaneously navigating the difficulties and complications of their seemingly blissful marriage.
Yugure ni, Te wo Tsunagu
Yugure ni, Te wo Tsunagu is one of the most exciting romantic dramas out there. Soramame, a young woman from rural Kyushu, moves to Tokyo in pursuit of her fiance, only to fall in love with Oto, a beguiling but down on his luck musician.
Together, they embark on a thrilling journey of love, loss and ultimately, a heartwarming reunion.
Spanning stories set in the Tokyo's cityscape, the narrative is a stark reminder of how the power of love and passion can transcend culture and language barriers.
If you're looking for an emotionally powerful and enthralling love story, then Yugure ni, Te wo Tsunagu is for you.
Mischievous Kiss: Love in Tokyo
This is the fifth time the original anime has been remade into a series. Mischievous Kiss: Love in Tokyo, a romantic comedy stars Kotoko Aihara, a student who isn't the best in her class.
Although she receives failing grades in the majority of her classes, Naoki Irie, the smartest and most handsome student in the class, captures her heart and soul nonetheless.
She decides to take a chance and begins writing to him. When Irie doesn't respond to her messages, she decides to stop. In the middle of the night, a shooting star falls to the ground in Kotoko's house, forcing her to relocate to her father's friend's. Guess who she ran into while she was there? Yes! It was Naoki Irie.
This time, the schoolgirl is smitten with the handsome gentleman. Do you think she'll give it another go at trying to impress him?
You should watch this series if you want to watch a lighthearted high school romance. You'll be smitten, and you'll want to watch it nonstop.
From 5 to 9 (5-Ji Kara 9-Ji Made)
From 5 to 9 premiered in 2015. Sakuraba Junko, a 29-year-old English teacher from Japan, has a lifelong ambition to live in New York City. She is a hard worker and shares a home with her parents. Her romantic life isn't going anywhere, and she doesn't have a boyfriend.
When she accidentally drops an ash bowl on the priest's head while attending a funeral, the real action begins. The priest, Hoshikawa Takane, is a dashing young man who served at the funeral.
She takes solace in the knowledge that she will never again see him face-to-face. Her family, on the other hand, encourages her to participate in a matchmaking event. When she agrees and goes to meet the other family, she's surprised to see Takane on the other side of the table!
For 10 episodes, you'll see how delicately the two fall in love and be entertained by a cast of colorful secondary characters. This brief series isn't worth the wait; binge-watch it right away.
Coffee & Vanilla
Coffee & Vanilla, a romantic comedy based on Takara Akegami's manga series, has it all. A 20-year-old freshman from her hometown, Shiragi Risa, moves to Tokyo for university. She is well-liked by her male classmates because of her good looks. Risa yearns for the love of a fairytale but is unable to find it.
Fukami Hiroto, a 30-year-old businessman and consummate gentleman, happens to cross her path one sunny day.
You're about to see a love story, unlike anything you've ever seen before. The two protagonists are inseparable and want nothing more than to spend their lives together. When Fukami's past begins to haunt the couple, the drama begins.
You should watch this series so that you can experience the enchanting love story as well as the challenges that follow. You won't regret watching any of the show's ten installments.
Hotaro no Hikari
If you're one of those people who enjoy kicking back and relaxing, Hotaro no Hikari is for you! Such is the nature of Amemiya Hotaru, who prefers to do nothing but lounge around like a couch potato. Even though she enjoys what she does, she has a day job as an interior designer that pays well.
When her landlord's son comes to inspect her house, he does so without her knowledge. As a surprise, she discovered that it was Takano Seiichi. As a recently divorced single man, he was in need of a place to call home.
Finally, he went back to his dad's house. They grew closer and closer as time went on, eventually forming a romantic bond.
You should watch this series because it features characters who are relatable, such as Hotaru. Their love story will end up making you feel single. You can watch all 10 episodes at your leisure.
Sky of Love
You'll be sobbing your eyes out when watching Sky of Love. The story is presented as a fairytale, but there is much more going on underneath the surface. There has been a long-term relationship between Sakurai Hiroko and Tahara Mika. Because of their polar opposite personalities, they were able to get along.
Even though they enjoy spending time together, they have to deal with a lot of difficulties. The couple goes through a lot of ups and downs, and in the end, they decide to call it quits. They realize after they've parted ways that they're somehow connected.
You'll want to stay in bed and cry for a long time after watching this romantic drama. Even though there are only six episodes, you're sure to be moved by the story and the characters.
Two People Who Can't Fall in Love (Koisenu Futari)
Koisenu Futari is an unusual love story between two people who don't believe in romantic love. It's not a typical romance story, but it does have a sliver of truth to it.
The story revolves around the protagonist, Sakuko Kodama, who has no faith in love. She has a problem with the fact that society encourages people to have romantic relationships.
Sakuko meets Takahashi Saturo, a supermarket employee, during a "fall-in-love" campaign, and he says something she never expected to hear. During the course of a conversation, he made the statement that he believes some people do not fall in love. She felt as if she wasn't the only one who felt this way.
After being compelled to marry, she eventually leaves her mother's house and starts her own life. Despite finding a place to stay, she is left without a roommate at the last minute.
She turns to Saturo for help because she has nowhere else to turn and no one else to live with. They begin living together with no romantic feelings but only mutual support.
This isn't your typical love story; this one is out of the ordinary. This isn't even a "love" story, really. Friendship and mutual support are important aspects of the relationship between the two. They face some difficulties in their aromantic relationship because of Sakuko's former boyfriend.
If you want to understand how an asexual and aromantic relationship works, you must watch this series. This topic has not been addressed in the mainstream media. This show promises to be an enjoyable diversion from the drudgery of everyday life. In total, there are eight episodes.
Cursed in Love
Cursed in Love includes not only romance and drama, but also a mystery element. It is based on the life of Hanaoka Nao, who lives with her mother, Yuriko. She is a Japanese confectionery artist at a well-known bakery in Tokyo. Nao, a six-year-old girl, meets Takatsuki Tsubaki, the son of the bakery's proprietor.
When Tsubaki's father is killed, Yuriko is immediately suspected of the crime, and the drama begins.
Nao is placed in a foster home, and Yuriko is found dead during the investigation. 15 years later, Nao is an experienced confectionary maker, but she still runs into challenges on a regular basis because of her past.
Tsubaki, who isn't aware of her identity, is one of her opponents in one of the competitions. While they're getting along, he decides to go back to the bakery with her. Various shocking revelations await Nao in this chapter.
This show is worth watching if only for the gorgeous Japanese sweets and the growth of the characters. You'll be hooked by the suspense.
Conclusion
Japanese romantic dramas have their own distinct elements. Theirs is a tale of two outcasts who meet and fall in love in the most unlikely of ways. While there are plenty of romantic comedies to choose from in Hollywood, J-drama is a must-see.
You'll feel like you've been a part of it because of the character development, the culture, and the wholesome romance, as well as the beautiful scenes.
J-drama, in contrast to Western fare, emphasizes the development of adorable moments over sexual relationships. Some of these series are based solely on manga that has been adapted into anime.
For example, Horimiya, Erase, and many others. The Japanese public enjoys live-action. If you're tired of the same old love stories, it's time to switch to Japanese love stories.
These shows will make you want to find a partner while you watch them. If you already have one, you'll want to hug them even more!
Also Read
Mischievous Kiss: Love in Tokyo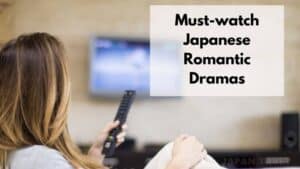 Director: Koto Nagata, Koji Kawano, Masakazu Abe
Date Created: 1970-01-01 00:33