Are you looking for Japanese high schools that accept foreign students for pursuing their education? I've got you covered! You'll find below the list of colleges with details about the same.
Japanese compulsory education completes after 9th grade. If you want to pursue studying further, you should start looking for a high school for yourself that is right for the career you want to pursue or serve your interests.
Which is the best Japanese high schools that accept foreign students?
The best Japanese high schools that accept foreign students is Kokusai High School commonly known as Kokusai Koko and located in Komaba Meguro Ward, which is one of the best public Japanese high schools that accept foreign students. It claims itself to be among the top 10 per cent of schools in the Tokyo metropolitan.
It is completely okay if you don't know Japanese and you want to study in a high school in Japan for there are quite a few Japanese high schools that accept foreign students.
I still remember the days when I was enrolling myself on a high school. The hassle was real as I had to physically check out so many places because of the absence of websites. But, it is so easy now because most of the schools have official websites.
High schools in Japan provide good education with skill enhancement programs, sports and other extracurricular activities for students to become all-rounder.
These Japanese high schools that accept foreign students welcome them and provide them with language and cultural support who are equipped in the English language and not Japanaese.
Related: Best Japanese Universities for International Students
Check out these Japanese high schools that accept foreign students in Tokyo for the students interested in studying in Japanese and graduate like a true local.
Opportunities & Preparation
The opportunity cap in Japanese high school education is huge. All you need to do is be smart and prepared for the entrance of the particular school you want to get into.
There are so many co-ed, 3-year senior high schools (usually called college, otherwise) that is under Tokyo Metropolitan Government. Six of these schools are designated as schools that take in non-Japanese students living in Tokyo or abroad.
Apart from the foreign language classes, all these high schools teach in Japanese with adequate language support. These schools provide an opportunity of knowing the cultures better, have club activities and a lot more fun stuff.
The students are expected to complete their 9 years of compulsory education either from Japan or abroad that must be registered as a foreign national living in Japan whose one parent is Japanese while applying for schools.
These schools are great for students who want to learn and experience what it is like to live in Japan, learn the language and continue being in Japan for a longer time. It teaches a lot more than just education that comes from interaction and engagement.
You can register for these high schools if you've been in Japan for 3 years or more. It is the same for private schools as well.
So if you're planning to get yourself admitted into these schools, it's better to consult the Tokyo Metropolitan Education Consultation Center for a general enquiry or just visit or call the schools for better information.
The centre offers help in English from Monday to Friday from 1 pm to 4 pm and their phone number is 03-3360-4175.
Public schools are a lot cheaper than private ones. The fees of a full-time public school for a year is around ¥118,800 with an admission fee of about half of it. Low-income families are also provided with tuition fees support to provide education.
Japanese High Schools That Accept Foreign Students
Public High Schools: Option 1
Find below the list of best-known Tokyo's public Japanese high schools that accept foreign schools.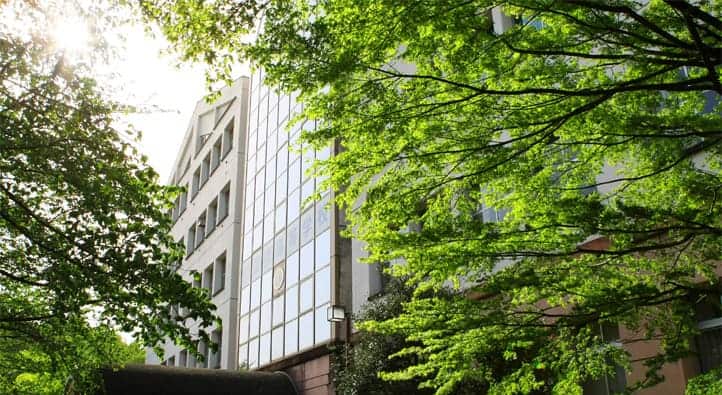 The Tokyo Metropolitan Kokusai High School commonly known as Kokusai koko amd located in Komaba Meguro Ward, is one of the best public Japanese high schools that accept foreign students.
It is amongst top 10 per cent of schools in the Tokyo metropolitan. Among the top 6 claimed to have English as a foreign language, only Kokusai has a website that is completely in English.
Kokusai (means international in Japanese) focuses on nurturing its students' language skills with an international viewpoint. It has several foreign languages like- french, spanish, german and many more.
I had a few cousins studying here and undoubtedly, they are some of the smartest ones in my family. They usually credit their smartness to their school so that's how I know that this is one of the best schools.
Students can apply twice a year in April and September. The high school also has an International Baccalaureate Diploma (IB) program that is to teach the kids the English language and make them proficient and bilingual (Japanese and English).
Kokusai aids foreign students through special Japanese courses that include maths, science and languages based on their proficiency levels.
Related: Do you know about the Japanese blood type theory? Check it out here!
Asuka High school is in Oji Kita Ward and is one of the best public Japanese high schools that accept foreign students.
It claims to have the highest number of teachers for which it can have a small batch of classes that is good for the students as the teacher-student ratio is low and there is a great interaction between the two.
The classes are divided into one's ability in English, math and Japanese. It offers subjects like culture and art and life studies as a part of learning which makes them familiar with Japan.
Akusa describes itself as a high school that actively takes part in school exchange programs in Australia. Exchanges provide a great opportunity for people to mix with other cultures and know more about everything

The school opens their enrollment twice- April and September with an annual induction of 130 students.
Related: Want to know more about Japan? Try watching these Netflix shows!
Fuchu Nishi High school is located in west Tokyo, Fuchu. It has detailed instructions for whoever stops by their sites or school with every information attached either on websites or notices.
The classes are divided into small batches according to students' abilities just like other schools. I have a few friends from Fuchu who have given a review of it as being one of the best Japanese high schools for foreign students.
The school uses information and technology equipment in teaching its students. Their main focus stays on information tech in the first year curriculum and science and humanities in the second year curriculum covering all the essential subjects.
Fuchu also takes in candidates in the month of April and September for international schools and is one of the top high schools that accept foreign students. So you can apply here.
Related: When in Japan, don't tip, here's why!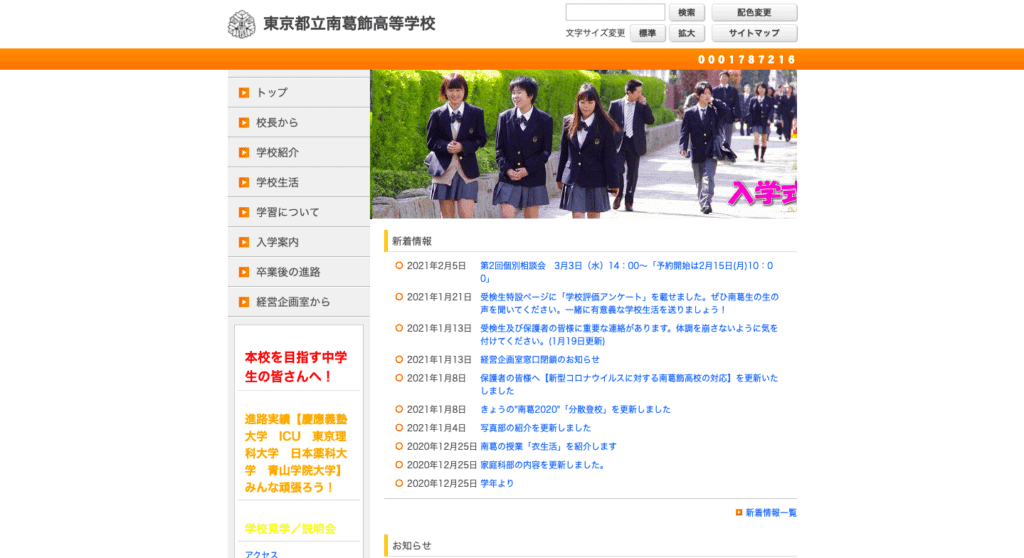 Minamikatsushika is located in Tateishi, Katsushika Ward. It usually enrols in April and September with 15 and 3 non-Japanese students respectively.
It runs small batches of students in a class which are divided according to their proficiency in the subjects- maths and English like all the other schools. You can view youtube videos on how the classes are held for better understanding.
It also holds voluntary extra classes on Saturdays for students who couldn't cope out during the week. This is a decent school to study in so you can apply here and look for your chances.
Related: Read these horrific Chikan stories of Japan, it will chill your spine!
Tagara is located in Hikarigaoka, Nerima Ward and teaches Japanese culture and traditions in the third year.
There's some of the enrollment-related information present in English on the website otherwise you can take the help of counsellors.
You can try in Tagara as it is one of the topmost high schools that accept foreign students but make sure one of your parents is Japanese and you've stayed here at least for 3 years before filling out the application.
Tagara high school is also among the top high schools that accepts foreign students in the month of April and September. It is divided into two courses- foreign culture course and general course.
Related: Visit Tokyo's little Brooklyn when in Japan- Click to view guide!
Private High Schools: Option 2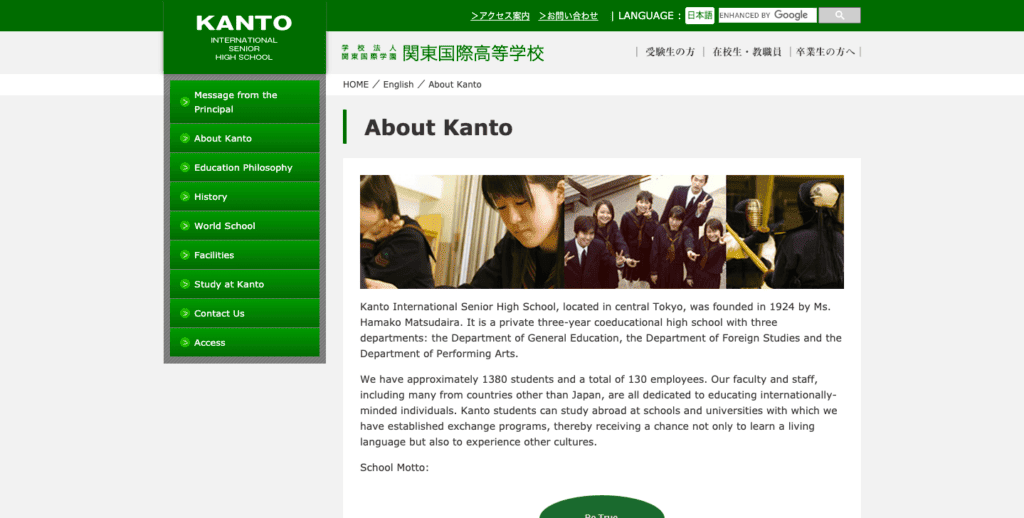 The Education Ministry of Tokyo designated Kanto to be "Super English Language High School" which I belive is a great assurance that the school is really nice. This school has an English curriculum and also mainly focuses on practical researches.
Kanto is one of the best private Japanese high schools that accept foreign students located in Shinjuku, central Tokyo. It is a co-educational school with three streams- performing arts, foreign studies and general education, you can choose one.
The admission cost is around ¥240,000 (the year 2017) with a monthly tuition fee of ¥31,500. The fee is quite affordable for the education quality Kanto school provides. Make sure to fill out the forms on time.
Related: You know why Japan is called the land of the rising sun? Read about it here!
This high school is located in western Tokyo's Koganei City on the campus of International Christian University (ICU). It describes itself as top private Japanese high schools that accept foreign students in Japan.
Most of the classes are conducted in Japanese except those taught by native speakers.
It is designated as "Super Global High School" that aims to encourage students who will be leaders playing an active role in international stages.
The entrance fee of ICUHS is ¥330,000 with an annual tuition fee of ¥591,000, it also has a dormitory which means that it partly boarding which provides a stay facility.
Related: Do you know why Japan is obsessed with Kawaii? Find it out here!
Keika Gakuen is located in Hakusan, Bunkyo Ward has different girls and boys senior and junior high schools which avoids problems for parents who do not wish to enrol their kids to a co-ed school.
Each of these high schools for both boys and girls has a returnee category which had 10 places in the year 2017. It is meant for the students of foreign nationals.
The admission fee is ¥250,000 and the monthly tuition fee is ¥34,000 among other costs. This school is counted under top Japanese high schools that accept foreign students.
Related: Address everyone correctly when in Japan! Here's how women should be called!
Otsuma is a 6-year joint junior and senior high school and the admissions are done in grade 7 so you need to be quite quick if you're planning your education in this university.
This is one of the top Japanese high schools that accept foreign students and is an all-girls school in Tama City, western Tokyo.
It has a few places available for foreign students every year and the first step is filling a form before being shortlisted for round 2.
The junior school focuses on basic development in academic ability, while during the final three years it prepares the students for college. It has a lot of club-based activities to polish students' skills.
Foreign Students in Japan
Even if you're not aware about the culture or language of Japan, these top Japanese high schools that accept foreign students will aid and support the students to be well equipped in language and culture.
Hope this list was useful for you and you're able to apply to your dream high schools in Japan!
Also Read: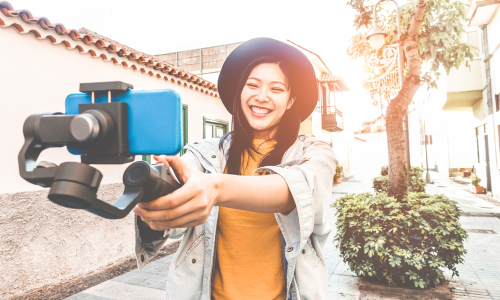 Hiya! I'm the main author of Japan Truly. I love everything Japan and love testing out Japanese products, be it skincare and makeup or gadgets! You'll find reviews of some of the best selling Japanese products (tried and tested) right here!