Have you ever seen a manga cover that just takes your breath away? That's what you will see in this blog – the best manga covers designed in terms of uniqueness, creativity and detailing. There are lots of different cover designs for manga, but there are some that are just that bit more creative. Here are my favorites. I will update the blog when I find more.
Manga is the go-to entertainment reading material for otakus and the manga fandom is exponentially growing. New readers have been flocking to read the latest mangas. But what draws readers to read the manga?
The manga's storyline and its genre are of course what most readers look into before reading a manga. However, there's one other aspect that attracts several readers and that's manga covers.
Although people say not to judge a book by its cover, a manga's cover holds much significance just like its plot. Hence, we've brought you some of the best and the most influential manga covers that have made a huge impact on the readers.
Best Manga Covers 
Naruto Vol 72 Cover
First off, let's start with the Naruto manga because in manga or anime, Naruto has to make an appearance.
The Naruto manga series was written by Masashi Kishimoto and the plot is about a young ninja named Naruto who was orphaned as an infant.
Naruto's story is divided into 2 parts with the first part focusing on Naruto's childhood and the second focusing on Naruto's teenage and adult years.
There are 72 volumes of the Naruto manga and the one with the best manga cover is from the 72nd volume. The final cover depicts Naruto standing in front of a metal barricade and the breeze is causing the leaves to fly towards him.
It also depicts how Naruto is prepared for his next mission and it's not just an emotional moment for Naruto but for all the Naruto fans as well because this was the last manga volume for the Naruto manga series.
My Hero Academia Vol 30 Cover
My Hero Academia manga and anime have been a hot topic since their release. The author of the My Hero Academia is Kohei Horikoshi and the manga was initially released published in 2014.
The story focuses on a young boy named Izuku Midoriya who lives in a world where most people are born with superpowers. Being an ordinary human boy, Izuku seeks to become a popular superhero and joins the My Hero Academia.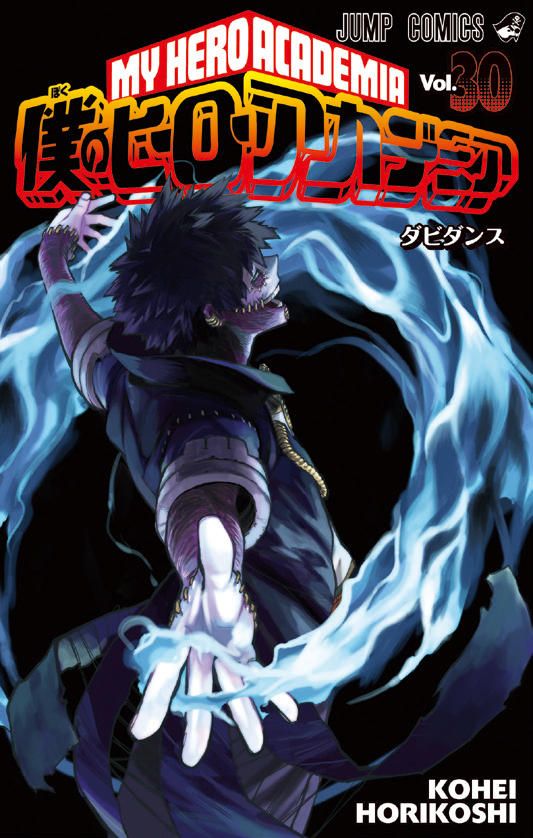 The best manga cover from My Hero Academia is the Volume 30 cover. Here you can see the main antagonist of the manga, Dabi facing the opposite side and unleashing his blue flame powers.
The background is in black which depicts the diabolical nature of Dabi. This is hands down my favorite manga cover from My Hero Academia, the dark hues have done justice to the cover big time.
Slam Dunk Vol 20 Cover
When it comes to sports manga, no manga like Slam Dunk has been so popular. This manga focuses on a high school basketball team. The author of the Slam Dunk manga is Takehiko Inoue and the manga was released in 1990.
It has a total of 31 volumes and the best volume cover is from the 20th volume.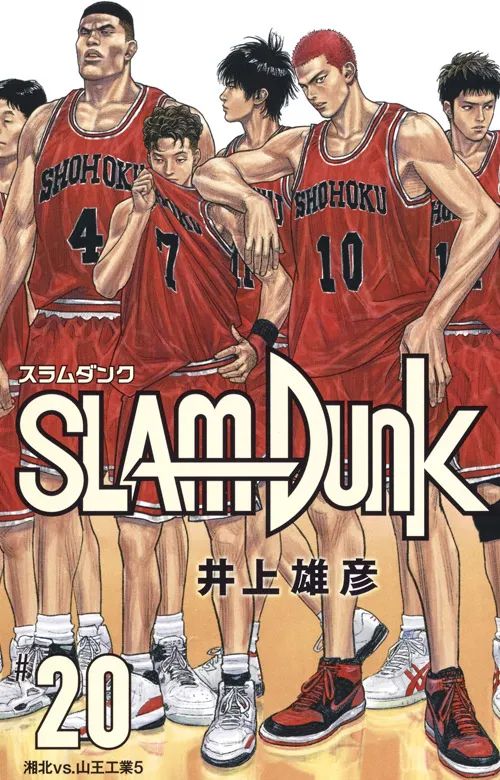 This cover displays the mighty basketball team of the Shohoku High School in Japan.
The players are in their basketball jerseys and you can see the team captain Takenori Akagi with Ryouta Miyagi and Hanamichi Sakuragi in the front while the rest are at the back. They all look exhausted yet ready to nail the next game.
Death Note Vol 1 Cover
Death Note is a very popular mystery and supernatural manga and anime series. The Death Note manga was initially released in 2003.
The storyline of Death Note focuses on the protagonist Light Yagami who's a high school student that stumbles upon a strange book called the Death Note.
Little did he know that this book would belong to the power of a supernatural entity called Shinigami Ryuk.
The volume 1 cover of the Death Note manga is what I find impressive. This is because the cover portrays Light's evil side and him holding a death scythe and Shinigami Ryuk is at the back facing the left side.
Shinigami's bulging eyes and diabolical smile are enough to creep anyone. There's also a glowing purple cross and human skulls stacked behind Light and Shinigami which depicts an eerie, horror vibe that is sufficient to attract several readers.
Tokyo Ghoul Vol 4 Cover
Tokyo Ghoul is a dark fantasy manga and anime series. The Tokyo Ghoul manga series was written by Sui Ishida and was released in 2011.
The plot focuses on Ken Kaneki who's a shy student. His life takes a turn when he goes on a date with the hottest girl in his school but turns out to be a ghoul who wanted to feast on him.
Tokyo Ghoul's volume 4 manga cover is one of the best covers of the series. It depicts Ken Kaneki in a formal red and blue striped suit with a tie and red shoes. He's seated on a red couch with his right hand placed on his chin.
Ken looks well dressed here but also seems like he's hiding something. The red and blue colors are also on the title which shows that it's going to get real gory.
Hunter X Hunter Vol 1 Cover
Hunter X Hunter is a fantasy and adventurous manga series that was initially published in 1998. The author and illustrator of the Hunter X Hunter manga series are Yoshihiro Togashi.
The storyline of Hunter X Hunter focuses on a little boy named Gon Freecs who aspires to become a professional Hunter like his father. The Hunter X Hunter manga series presently has a total of 36 volumes.
The best cover of the Hunter X Hunter manga is from Volume 1. Here you can see the protagonist, Gon Freecs sitting on a frog with his mouth wide open. The portrait of Gon is adorable and funny and also shows how excited he is.
The title of the manga is written in yellow and block letters. It's just nice to see a wholesome cover like this after all the supernatural covers.
One Piece Vol 61 Cover
One Piece is one of the famous manga and anime series that focuses on the protagonist, Monkey D. Luffy who's a pirate with weird powers.
Monkey and his crew of Straw Hat pirates go on an adventurous journey to find a treasure called the One Piece. The series is comprised of several interesting characters and has a total of 101 volumes presently.
The 61st volume cover of One Piece shows Monkey and his Straw Hat pirate crew having an amazing time on their ship.
The cover looks exotic and colorful with all the characters laughing, dancing, and enjoying their time together by having drinks. It portrays how fun and adventurous the manga is.
Fullmetal Alchemist Vol 16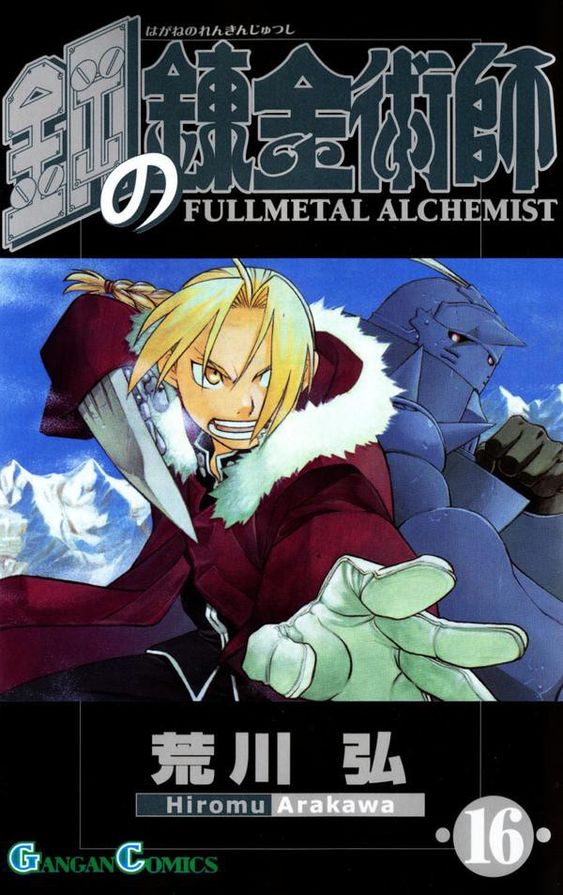 Fullmetal Alchemist is a popular manga series that was written by Hiromu Arakawa and initially released in 2001. This dark fantasy manga focuses on two brothers named Alphonse Elric and Edward Elric who are alchemy students.
One day when they lose their mother to a fatal disease both Alphonse and Edward use their alchemy techniques to revive her. However, this resulted in a major accident that caused Edward to lose some of his limbs and Alphonse to lose his entire body.
The volume 16 manga cover of Fullmetal Alchemist is by far the best I've seen from the series. It depicts Edward stretching his arms with an angry look on his face.
His right arm, which he sacrificed to save Alphonse is a sharp weapon and Alphonse is at the back in his full body armor suit having a light smirk on his face.
Attack On Titan Vol 1
Attack On Titan is one of the best manga and anime series of all time that has a massive fan base. The Attack On Titan manga was written by Hajime Isayama and was initially released in 1999, it has a total of 34 volumes.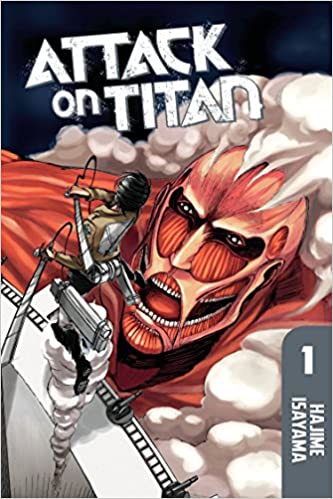 The storyline focuses on a post-apocalyptic era where humans reside in between huge walls, protecting themselves from giant creatures called Titans. The titans feed on humans and wreak havoc in the city.
The best manga cover from the Attack On Titan manga is from volume 1. Here you can see the protagonist, Eren Yeager on top of the wall and trying to attack one of the powerful titans called the Colossal Titan with a weapon.
The Colossal Titan's physique shows his inner muscles with his mouth open which adds an unsettling vibe to the cover.
Assassination Classroom Vol 1
Assassination Classroom is a comedy and sci-fi manga series written by Yusei Matsui. It was released in 2012 and has a total of 21 volumes. The story of Assassination Classroom focuses on a powerful and creepy creature that looks like an octopus.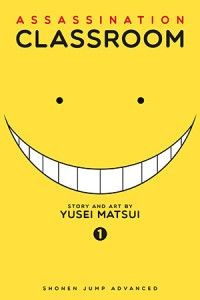 This creature destroys parts of the moon and threatens humanity to destroy Earth if they don't comply with him. It offers humanity a chance and teaches a group of high school children of ways to kill him.
The first manga cover of Assassination Classroom has a bright yellow background with a wide smile and two dots that represent the eyes of the creature.
Although the cover looks like a smiley face, it presents a dark and eerie sense. The wide smile can also represent the quarter of the moon the creature has left of the moon.
Most Brilliant Manga Covers Ever: FAQs
Why do Japanese manga have covers?
Japanese manga have covers that makes it easier for readers and sellers to identify a manga by looking at its cover. Manga covers are useful because they not only provide the title for the manga but also portray an overview of what the manga is about. This lets a particular manga stand out from the rest of the other books.
What are the best manga covers?
Some of the best manga covers that not only have an attractive display yet portray a deep meaning to the manga are:
– Naruto Vol 72 cover
– Slam Dunk Vol 20 cover
– My Hero Academia Vol 30 cover
– Attack On Titan Vol 1 cover
– One Piece Vol 61 cover
– Fullmetal Alchemist Vol 16 cover
Also Read