Looking for gender bender animes? Here are the best gender bender anime with
Gender bender entertainment content has been on the rise in recent days. Thanks to normalization and acceptance we are witnessing a surge in people tackling cultural norms to prove that nobody should be judged or belittled for their gender.
The term gender bender in fiction entertainment contains several meanings such as a person experiencing a change in their sexual orientation magically or due to their bodily changes.
It can also mean a person of a specific gender group trying to break stereotypes in order to appear encouraging to the audience or society.
There are several gender bending content not only in Hollywood but also in the Japanese entertainment industry as well.
If you're looking for intriguing anime that contain gender bending storylines then we've got you covered.
Here you'll find a list of interesting gender bender anime that'll keep you entertained throughout.
Top Gender Bender Anime: Quick Glance
| | | |
| --- | --- | --- |
| Best Gender Bender Anime | Genre | Editor's Rating |
| Your Name | Drama, Romance, and Fantasy | 9/10 |
| Ouran High School Host Club | Drama, Romantic Comedy, Harem | 8/10 |
| Kokoro Connect | Comedy, Romantic Comedy, Supernatural | 7.5/10 |
| I My Me! Strawberry Eggs | Comedy, Romantic Comedy, Slice of Life | 7/10 |
| Ranma 1/2 | Adventure, Martial Arts, Romantic Comedy | 8/10 |
| Yamada Kun and the Seven Witches | Romantic Comedy, Harem, Supernatural | 7.5/10 |
Top Gender Bender Anime
Saga Of Tanya The Evil
Saga of Tanya the Evil is an interesting anime and brings forward religion and concepts of reincarnation and heaven and hell.
A common Japanese working man is murdered by an angry employee he fired. Then this Japanese working man encounters a being that calls himself God. This apparent God is furious with the common Japanese working man cause he calls himself an atheist.
So this God – who calls himself Being X – reincarnates this working man so he goes back to the world and lives as a Believer. Which is why, Being X reincarnated this man in a world where he would meet a lot of difficulties and have no choice but to believe in God and beg for help.
The man is reincarnated into Tanya Degurechaff, an orphan girl in the Imperial Germany in 1920s. Being X threatens Tanya that if she continues to not believe in God or doesn't die naturally then her soul will suffer in hell.
Thus, the anime then follows Tanya's struggles as she is reincarnated and is forced to believe in God and go through life.
Your Name
Your Name is an anime movie that was directed by one of the renowned anime directors in Japan, Makoto Shinkai. It was released in 2016 and was the highest grossing film for that year and is also the third highest grossing anime movie of all time. 
The storyline of Your Name takes place in 2013 in a rural area called Itomori where a high school girl named Mitsuha Miyamizu lives. Mitsuha is bored of the village life and wishes to be a boy living in modern Tokyo.
Out of the blue Mitsuha wakes up in a different place and realizes that she has a different body. To her surprise, she has switched bodies mysteriously with a boy living in Tokyo named Taki Tachibana.
Meanwhile, Taki is now Mitsuha physically. They both come up with ideas to communicate with each other through phones, letters and sometimes writing on their bodies.
Taki lives as Mitsuha and carries on her daily routine like going to school and Mitsuha who lives as Taki sets him on a date with his coworker.
Taki who's in Mitsuha's body visits the Shinto Shrine with her grandmother and he learns about a comet that'll pass Earth on the autumn festival.
The very next day Taki wakes up in his body and goes on a date with his coworker which Mitsuha set for him. However, being uninterested in the date Taki tries to reach out to Mitsuha through the phone but he's unable to reach her.
Hence, he travels to Itomori in search of Mitsuha, and what he discovers there would astonish him. He learns that he swapped bodies with a girl who was living in 2013 while Taki is from the 2016 timeline.
Your Name consists of various emotional and thrilling scenes of gender bending that'll have you entertained till the end.
Ouran High School Host Club
Ouran high School Host Club anime focuses on a privileged high school named Ouran High School where children from affluent families such as children of politicians and rich businessmen attend. 
The school consists of the best teachers around the country who design a curriculum that isn't overloaded with studies as a means of impressing the rich kids. Hence, the students have free time to participate in other activities.
One such activity is the Host Club where wealthy and good looking men participate to entertain rich and beautiful girls and impress them using their talents.
One day Haruhi Fujioka enters the classroom where the club is based and accidentally knocks off an expensive vase.
This would gain his detention and he's forced to work as a servant for the members of the Host Club by going to the store and running errands for them.
However, the leader of the club Tamaki Suo decides to forgive Haruhi for his mistake if he succeeds in pleasing a hundred clients. Although not interested in the deal, Haruhi decides to agree and he was able to attract a handful of students.
Things take a wild turn when they realize that Haruhi is a girl who has very short hair and was mistaken to be a boy.
Kokoro Connect
Kokoro Connect anime introduces an academy known as the Yamaboshi Academy and the storyline of this anime revolves around five students of the academy such as Himeko Inaba, Taichi Yaegashi, Yoshifumi Aoki, Iori Nagase, and Yui Kiriyama. 
All of them are members of the culture club in the academy. They are all caught up in a series of eerie events and all of them end up swapping bodies with one another.
This would lead to each of them learning about the intentions, feelings, and thoughts of the other hence this would strengthen their bond.
When trying to figure out the mysterious events they learn that a supernatural entity called Fusenkazura is behind these events.
They work together to bring everything back to normal and once they are back in their own bodies, Fusenkazura makes them undertake tasks that will test their bonds with each other.
As the story progresses the team of five is accompanied by new characters.
To know what happened next watch Kokoro Connect and I guarantee it's filled with enthralling scenes that will impress you.
I My Me! Strawberry Eggs
I My Me! Strawberry Eggs is a comedic anime that centers on a man named Hibiki Amawa who's an enterprising teacher and he struggles to pay the rent for his room which is owned by an old lady named Ruru Sanjo. 
He tries to join a school but learns that the headmistress is quite strict and believes that teachers should only be women since men cannot teach well.
Devastated by this statement, Hibiki goes back to his room and tells Ruru about the incident.
Ruru hatches a plan and asks Hibiki to disguise himself as a woman and offers him a gadget that would change his voice to a woman's. Hibiki looks just like a woman and he manages to join the school as a physical education teacher.
However, Hibiki falls into trouble when he insists the girls wear clothes ideal for athletics and the vice principal deems this practice immoral.
Hibiki is caught up in a huge mess when he starts developing feelings for one of his female students. Now Hibiki has to face all the challenges in his work life and make tough choices.
Ranma 1/2
This anime focuses on a 16-year-old boy named Ranma who's a martial arts professional. Ranma and his father Genma were cursed when they fell into the Cursed Spring in China.
This spring has the power to change any person into another person or an animal depending on who fell into the spring thousand years ago.
Ranma fell into the spring where a girl drowned. Meanwhile Ranma's father fell into the spring where a panda drowned. The only way for them to return to their original bodies is if they wet themselves with hot water.
One day Genma's friend asks any of the three of his daughters to marry Ranma. As the ladies wait for Ranma and Genma to arrive they're visited by a panda and a girl. One of the ladies thinks Ranma is a girl and she faints.
However, Akane the youngest daughter finds out that Ranma is a boy after she witnesses him coming out from a hot bath. After explaining to them about the curse the older sisters persuade Akane to marry Ranma.
With a rom-com fantasy story, this anime will definitely keep you thrilled.
Yamada Kun and the Seven Witches
This gender bender anime focuses on a gangster student named Ryu Yamada who dislikes going to school and has a bad record in academics.
As he joins high school he wants to redeem himself but when he slips down the stairs he accidentally falls on a girl named Urara and they share a kiss mistakenly.
This kiss resulted in them swapping their bodies to check if it works. They kiss again. This led both of them to swap bodies and live the lives of the other.
Yamada realizes that Urara is a successful student but gets bullied by other students. Hence, Yamada swaps his body with Urara and fights the bullies. This incident would grab the attention of Toranosuke Miyamura who's the president of the student council and supports Urara and Yamada.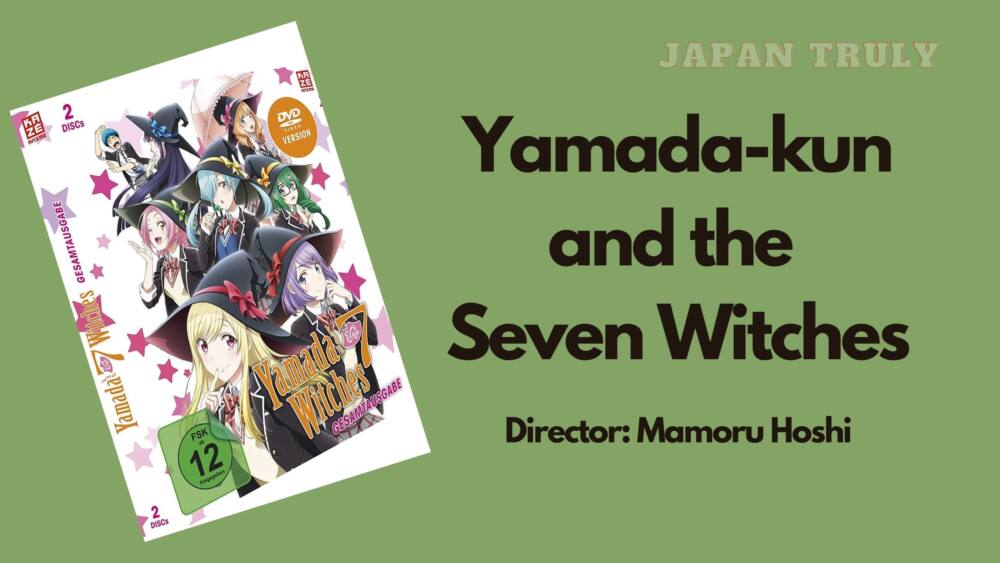 They restart the club to investigate any supernatural occurrences in the school.
When more people start to join the club they're faced with betrayal and troubles. However, they find out that there are other girls in school who possess magical powers that can be activated by a kiss.
Best Gender Bender Anime: FAQs
Is there any gender bender anime?
What is a Hideyoshi?
The word Hideyoshi refers to the character of Hideyoshi Kinoshita and it is an informal term used to describe any anime that contain the aspects of a gender bending storyline. 
Is gender bender anime fun to watch?
Gender Bender anime is one of the most interesting aspects an anime can have and they're definitely fun to watch. Most gender bender anime involve accidental or intentional body swapping with the opposite gender and this makes the anime enthralling and comedic.