Wondering how much does Manga cost? Well, check out below the price of manga, tips while buying it, and a lot more. Read further for more details.
Manga has a special spot in my top 5 favorite things from Japan. So of course I have read a lot of manga because of my possession. I'm not going to lie but I may have spent slightly more than necessary on them.
One of the biggest issues I have faced as a manga fan is not being able to find authentic manga. And if I do find it, I am never completely sure if it's priced right or if I am being scammed.
It took me a few years to figure it out but I would like to believe that I now have some knowledge about the pricing of manga. This article will give you (much needed) knowledge on- how much does manga cost so that you aren't completely ripped off on your next manga purchase.
How Much Does Manga Cost?
What is Manga?
Manga is a huge part of Japanese culture. They have gained much popularity around the world and have a huge fan base. Manga includes comics, magazines, and novels.
Manga is basically comics or graphic novels that are read by people of all age groups. There are numerous genres that manga is available in, including romance, horror, gore, sci-fi, erotica, and adventure.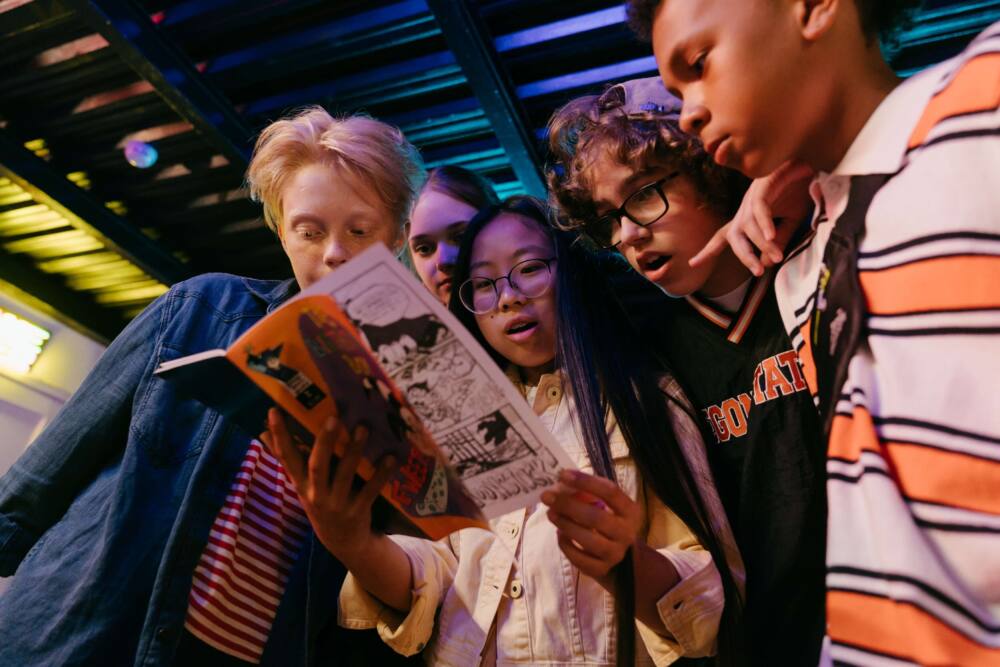 Manga is easily identifiable by its art and graphics. While they originate from Japan, manga is available in many languages. MMuchpopular manga series are translated into other languages to suit their audience from different countries.
In the late 1900s, the manga industry was estimated to have a value of 586.4 billion yen in Japan. Later in 2020, this value rose to 612.6 billion yen, thanks to the growth of digital manga sales. Manga has become so popular that in 2021, according to the NPD BookScan, 76% of all comic and graphic novel sales were made by the sales of manga.
Popular publishers of manga include:
Shueisha
Shogakukan
Kodansha
Hakusensha
Gangan Comics
ASCII Media Works
Kadokawa Shoten
Mag Garden
With the development of technology, manga has been made available digitally as well. Many websites are making web manga available and are also giving a space for amateur manga artists to publish their art. Some of these are later professionally remade if they become popular. One Punch Man is an example of this.
Webtoons is another popular medium for manga. It can be downloaded as an app on your device and you have access to thousands of comics.
Manga has become so popular that some universities, like Kyoto Seika University in Japan, are offering their students courses that specialize in the manga.
Some of the most popular manga around the world are:
Doraemon
My Hero Academia
Demon Slayer
Tokyo Ghoul
JoJo's Bizarre Adventure
Dragon Ball
Fairy Tail
Naruto
Bleach
Attack on Titan
Death Note
Cost of Manga
You can purchase manga online or at bookstores. A word of caution- shipping charges often raise the final price drastically making your online purchase very expensive.
Manga is quite expensive when compared to other novels and comics. Most manga come in a series of volumes. Each volume can cost anywhere upwards of $14 and buying an entire series can cost you $150 to even $300 and up depending on the series and its popularity.
RightStuf is one of the websites that you can buy manga from. Customers can choose from a variety of genres and media like novels, art books, graphic novels, and more. 
I love that this site almost always has a sale going on or special discounts on their products. The manga here is so much more affordable than most other sites. However, this is applicable if you are eligible for free or minimal shipping costs.
One of the setbacks of buying from this website is that in case you have to return your purchase, you have to bear the return shipping costs, even in the case of damaged products.
Another thing I didn't appreciate is that they charge you immediately for preorders. So while it is a good thing that you can preorder on this website, it can be risky to make immediate payments for the same.
Out of personal experience, I would suggest that you order from RightStuf only if you are purchasing single volumes.
Here,offices start at as low as $9. Prices vary depending on things like the manga's popularity and rarity. If you find a particular manga too expensive at the moment, I guarantee you that you will find it at a discounted price during sales.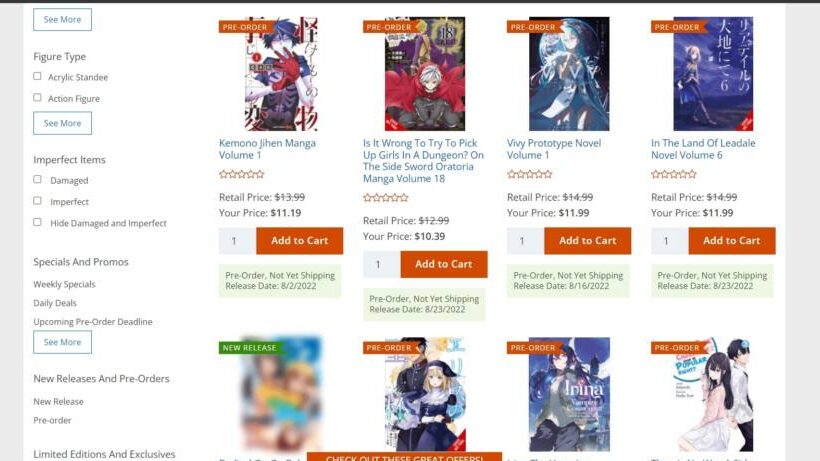 Amazon is probably one of the most popular places to purchase manga online. I find Amazon to be hassle-free. They have the fastest shipping time and the cost is quite reasonable as well. In some cases, like in the case of a membership or season sales, you may even be exempted from paying a shipping cost. 
When pre-ordering manga, I always choose Amazon. The reason is that they don't charge me immediately. Instead, they charge me on the day of release.
Returns on Amazon are easy as well. In case of replacements, Amazon provides them for free!
My only bone to pick with Amazon is that a lot of the time books are damaged during shipping. I have received manga with damaged spines and creased covers due to poor shipping. However, their easy returns and free replacements make up for it.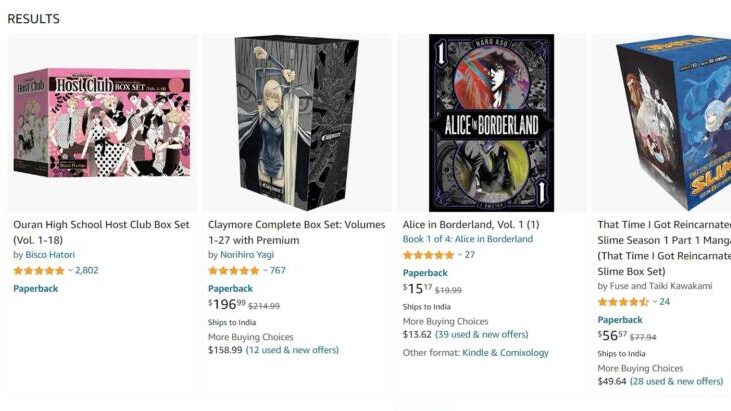 If you prefer to get your mangas from physical stores, Books-A-Million and Barnes and Noble are good choices. These stores are the most expensive place to buy manga. Websites like RightStuf are a major steal when compared to these physical stores. 
They don't have many sales and often price manga at full cover price. However, they both have official websites that have sales once in a while like buy 2 and get 1 free. They both also give customers with memberships extra discounts and free shipping. On the websites, manga starts at around $10 and can go up to a few hundred dollars in case of a complete series. 
As expensive as shopping at these stores can get, it is often worth it since they get exclusive manga releases.
Another great option for affordable manga is to buy secondhand books. Stores like Half Price Books and 2nd & Charles are the best places to get your hands on rare or our choicest manga. Of course, you may have to compromise a little on the quality, but you are in for good deals. 
Why is Manga So Expensive?
So why is manga so expensive? There is a lot of work and effort that goes into making a good manga.
Licensing, publishing, and translating manga costs a lot of money and this reflects on the end price that customers have to pay.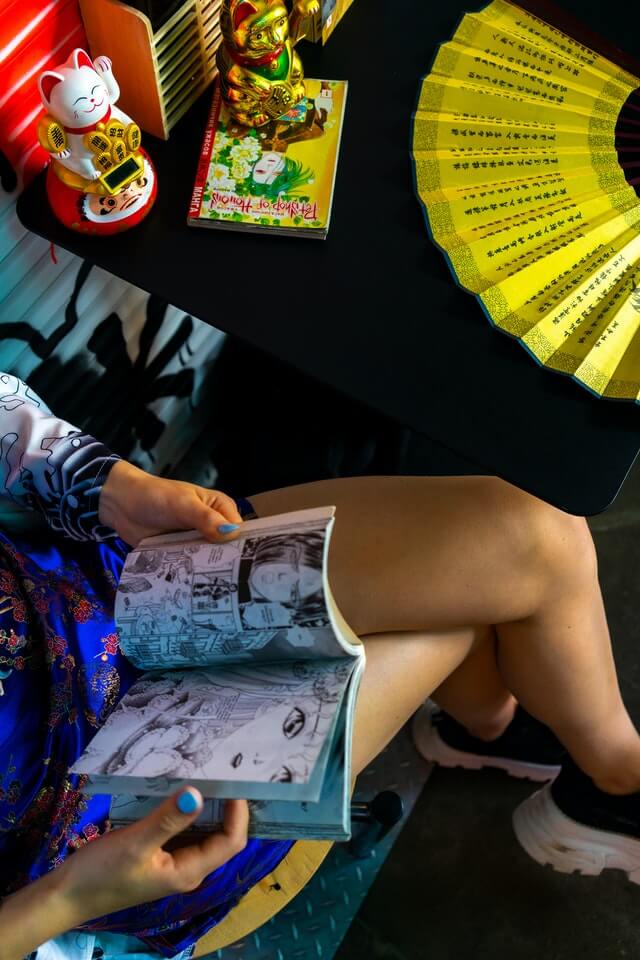 The average price for one volume of the manga is around $13 to $14, and prices can range anywhere from $10 to $25 and upwards. These prices vary from country to country and depend a lot on the publisher and rarity of the manga among other things.
How Much does Manga Cost in Japan?
Manga in Japan is extremely cheap when compared to other countries. The price for manga averages to just around $4.
This is because the manga is made in Japan. So there is no need for extra licensing, translation, or import.
Another contributing factor to the lower pricing of manga in Japan is the fact that manga is so popular and loved by the people of Japan that sales are always high. This brings in a lot of profit and so publishers can sell manga at affordable prices.
Comparison of Manga Prices between Different Countries
| | |
| --- | --- |
| Country | Pricing for manga approx. (USD) |
| Japan | $3.64 – $7.28 |
| United States of America | $8 – $15 |
| Canada | $7.90 – $14.22 |
| Australia | $10.13 – $21.70 |
| India | $10.10 – $17.50 |
| China | $5.40 – $20.05 |
| Korea | $4.10 – $8.54 |
Tips to Remember While Buying Manga 
We've already seen that manga can be rather heavy on the pocket. So here are a few tips to help you buy manga without burning a hole in your wallet.
Make your purchase during special occasions like festivals and the end of the season. Most websites and stores have sales for special occasions that will save you a lot of money. 
Second-hand manga are not a bad investment. Most second-hand copies are in good condition and almost as good as new, but at more affordable prices.
Check your local bookstores. If you're lucky, you may just come across rare manga at affordable prices.
Trading your manga with your friends is a great way of reading different manga without having to spend it on them. 
If you are interested in collecting manga, buy your manga in bulk as complete series instead of individual volumes.
How Much Does Manga Cost?: FAQs:
Is manga cheaper in Japan?
Manga is a lot cheaper when bought in Japan! Brand new copies of manga can be bought for as cheap as 500 yen and second-hand or pre-owned copies are even cheaper.
Is buying manga in Japanese worth it?
Besides the amazing storylines, manga is also known for the brilliant artwork that goes hand in hand with the story. If you are interested in art and studying manga, it is worth it.
It is a great learning experience and will give you a lot of exposure to different backgrounds, toning, paneling, and pretty much anything that goes into designing manga.
How do you know if a manga is fake?
If you are looking for a good-quality manga, keep an eye out for the graphics. An authentic manga has the best quality graphics because these are produced by the original publishers like Viz and Shueisha.
Also Read: