Love zombie movies? Here are the best Japanese zombie movies to watch!
Zombie movies aren't everyone's cup of tea. I guess not everyone can stomach the gore that accompanies almost all zombie movies.
Nonetheless, zombie movies are a popular genre among movie buffs. Especially in Japan, zombie movies have a strong foothold and are one of the leading movie genres.
Zombie movies have a special place in my heart because logic goes straight out of the door when they come on. These movies have some of the craziest storylines that can sometimes make you question your choice of movie.
However, I have much appreciation for the effects, makeup and other aspects of good zombie movies.
So what makes Japanese zombie movies so different from regular zombie movies? It's that most Japanese zombie movies have a comical aspect to them.
So don't wash your hands off of zombie movies just yet. Here is a list of the best Japanese zombie movies for you to watch!
Best Japanese Zombie Movies: Quick Summary
| | | |
| --- | --- | --- |
| Best Japanese Zombie Movies | Director | Editor Rating |
| One cut of the Dead | Shin'ichirō Ueda | 9/10 |
| Versus | Ryuhei Kitamura | 7.5/10 |
| Wild Zero | Tetsuro Takeuchi | 7/10 |
| I Am a Hero | Shinsuke Sato | 7.5/10 |
| Zedd | Teppei Nakamura | 8/10 |
| Miss Zombie | Sabu | 7.5/10 |
How did we choose the best Japanese zombie movies?
Zombie movies are not easy to critique. It's because there are so many of them that have failed. But, my team of experts (and movie buffs) have gone through over 15 Japanese zombie movies and put together this list. The movies were rated on their storyline, direction, and viewer reviews.
We concluded that One Cut of the Dead is the best Japanese zombie movie. It has the perfect amount of humour and a good storyline. It's an enjoyable watch that doesn't overwhelm viewers with gore or horror.
Top Japanese Zombie Movies
Director: Kazuo 'Gaira' Komizu
Main Actors: Cutie Suzuki as Keiko, Kera, Heiko Hayase
The entire region is infected by a cloud of "cosmo-amphetamine" that is created when a meteor lands in Tokyo Bay. When they die, that chemical takes over right away, reviving them as flesh-eating zombies.
Colonel Kirihara, who is in charge of the rescue effort, dispatches his daughter K-ko (Suzuki) to survey the contaminated area. She learns that one of his lieutenants, Captain Fujioka, is purposely infecting survivors with cosmo-amphetamine in order to convert them into an invincible army of undead soldiers for human experiments.
Nobody, least of all K-ko, will be allowed to escape alive, according to him. Her father, fortunately, gifted her a fighting suit, which helps to level the playing field against the army of living dead she must face.
So that was the plot, which is actually pretty interesting. Now on to the actual review of this Japanese zombie movie.
Despite being a small-scale production, the movie was put together well for a low-budget movie.
K-ko's journey across the city, her encounters with the "Battle Kids," a bus-driving gang of black marketeers, and her discovery of Fujioka's diabolical plans make up the first part of the story, which is wonderfully scripted and shot.
As the move progresses, however, it loses some of its impact, reducing to little more than a succession of human vs zombie fights that blend into one another without much development.
The fact that it results in the inevitable conflict between K-ko and the soldier-scientist is not really a spoiler. Although undoubtedly low-budget, what I found to be fairly unimpressive when I first watched it in the late 1990s now seems pretty decent, and possibly even ahead of its time.
Director: Shin'ichirō Ueda
Main Actors: Takayuki Hamatsu, Mao, Harumi Syuhama, Yuzuki Akiyama, Kazuaki Nagaya
One Cut of the Dead is by far my favourite zombie movie of all time. The perfect combination of humour and zombies, the movie is truly one of its kind.
The movie was made with a low budget of just 3 million yen but it made box office history by earning back a thousand times its budget.
The story is about a bunch of film makers and actors who must shoot a zombie movie in a single take. In a desperate attempt to ensure the film's success, the director tries to bring in real zombies based on the horrific past of the place they are shooting at.
The movie became Japan's 7th highest grossing domestic film of 2018. It also holds a 100% "Certified Fresh" approval rating on Rotten Tomatoes.
If Stephen King loved the movie enough to tweet about it, then you know that it's a must watch.
The movie has been the recipient of many awards. Some of them are listed below:
Best Film and Best Director at the Austin Fantastic Fest (2018)
Best Editing at the Awards of the Japanese Academy (2019)
Best Film at the Blue Ribbon Awards (2019)
Audience Award at the Brussels International Festival of Fantasy Film (2019)
Best Film at the Fantaspoa International Fantastic Film Festival (2018)
Best Direction at the Fantastic Costa del Sol International Film Fest (2019)
Best Cinematography at the Faro Island Film Festival) (2018)
Best Film, Best Supporting Actress, Film You Will Find Yourself Remembering The Most, Lost Weekend Audience Favorite at the Film Club's The Lost Weekend (2019)
Director: Ryuhei Kitamura
Main Actors: Tak Sakaguchi, Hideo Sakaki, Chieko Misaka, Kenji Matsuda
Versus is a 2000 Japanese zombie movie. The story is set in the "Forest of Ressurection" where an escaped convict and a gang of gangsters fight off zombies.
The movie was supposed to be the sequel to Down to Hell but it later was released as an independent film.
The director, Kitamura has stated that the movie draws inspiration from the films of George Miller, John Carpenter, and Sam Raimi.
This one of a kind movie is the perfect blend of horror, action, and comedy. The original storyline is another appealing aspect that has drawn in a large cult following. The movie won an award for best direction at the Fantafestival in 2001.
Director: Tetsuro Takeuchi
Main Actors: Guitar Wolf, Masashi Endō, Makoto Inamiya
Saying that this is one of the widest zombie movies that I have ever seen is an understatement.
The film features Guitar Wolf, a Japanese rock trio that has been a part of the Japanese music scene since the late 1980s. In the movie, the trio along with a fan find themselves stuck in the middle of a zombie outbreak.
The energy that the movie has is undeniable and while it's not a conventional zombie movie, it's definitely one that needs a spot on every to watch movie list.
The movie won Best Horror in the Audience Award category at the Philadelphia Film Festival in 2001.
Director: Shinsuke Sato
Main Actors: Yo Oizumi, Kasumi Arimura, Masami Nagasawa
If you're a manga buff, then you've heard of the zombie series I Am a Hero. The live action film adaptation of it was released commercially in early 2016.
The story shows Hideo Suzuki fighting for his life as a deadly virus is turning people around him into zombies. He fights them off with his sporting shotgun while meeting strangers who become his companions.
I have always been under the impression that movie adaptations of books, manga, and video games don't live up to our expectations. However, the movie adaptation of "I Am a Hero" was far from disappointing. Everything from the effects to the action was captivating and kept me on the edge of my seat.
The film won the International Competition award at the Brussels International Festival of Fantasy Film. It has also won multiple awards for special effects and best film at film festivals including the Toronto After Dark Film Festival and Stiges- Catalonia International Film festival.
Director: Teppei Nakamura
Main Actors: Shin Won-ho, Terada Takuya, Kim Yongseok, Eric Feliciano
The movie features 6 young men who are imprisoned after being wrongly accused. They are in the midst of a zombie apocalypse and when one of them gets infected by the zombie virus, they must find an antidote soon.
It's not your regular zombie movie. There's dancing and singing and action and humour all bundled up into this one film.
With a run time of just 54 minutes, this movie is a must watch for all zombie movie buffs.
Director: Sabu
Main actors: Toru Tezuka, Ayan Komatsu, Makoto Togashi, Riku Onishi
With a run time of just 85 minutes, Miss Zombie really stands out. Unlike other zombie movies, this movie actually shows Japan in the future where zombies are domesticated and used as servants.
The movie tells the story of Miss Zombie a zombie with a lower virus level that has helped her hold onto some part of humanity. As the story progresses her mistress' child embraces her as his mother and the husband falls in love with her.
The story is unique and well paced. It has received many awards and international acclaim. Some of the awards include Best Film at the Gérardmer Film Festival (2014) and the International Fantasy Film Award at the Fantasporto (2014).
Director: John Cairns
Main actors: Higarino, Mai Tsujimoto
Schoolgirl Apocalypse is a 2011 film whose main protagonist is Sakura, a young schoolgirl. She is traumatized by the murder of all the women in her town by the men who have turned into zombies.
Armed with just her English textbook and a kyudo bow, she fights for survival. She soon begins to hallucinate about a boy named Billy. She is close to losing her sanity on multiple occasions and has to divide if she needs to fight or give up.
The movie is a good combination of sci- fi, horror, and adventure. It was John Cairns' first feature film and has been praised for its unexpected and unique plot.
Tokyo Gore Police
Director: Yoshihiro Nishiura
Cast: Itsuji Itao, Eihi Shiina
I absolutely enjoyed watching Tokyo Gore Police. The special effects used in the movie are exceptional and well edited. The movie has amazing action scenes that kept it on the edge of my seat along with some gore scenes.
In Tokyo Gore Police, a mad scientist has formulated a virus that turns humans into monsters that they call Engineers. The Police Squad called Engineer Hunters are tasked to kill them. This squad is lead by Ruka who is also hunting her fathers killer.
Some other Japanese zombie movies that you should watch are:
Tokyo Zombie (2005)
Bloody Delinquent Girl Chainsaw (2016)
Yoroi Samurai Zombie (2008)
Junk: Resident Zombie
Best Japanese Zombie Movies: FAQs
Are zombie movies popular in Japan?
Yes, zombie movies are quite a popular genre in Japan. You'd be surprised by how much popularity the genre has gained over the past few years. The popularity of zombie movies is always fluctuating across the world but in Japan, it's going steady. 
One cut of the Dead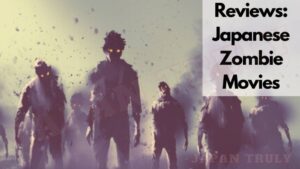 Director: Shin'ichirō Ueda
Date Created: 1970-01-01 00:33