Unleash your inner anime fan and transform into your favorite anime characters to cosplay with our guide to the best anime cosplay ideas. Discover iconic characters, easy-to-assemble costumes, and tips for bringing your cosplay to life.
The world of anime is filled with vibrant characters, captivating storylines, and endless possibilities for cosplay. Whether you're a seasoned cosplayer or a curious newcomer, there's an anime character out there waiting for you to embody.
From the determined heroes of shounen anime to the magical girls of shoujo, our guide will take you on a journey through the diverse realm of anime cosplay.
Best Anime Characters Cosplays to Buy – Quick Summary
Top Anime Characters To Cosplay
Monkey D. Luffy (One Piece)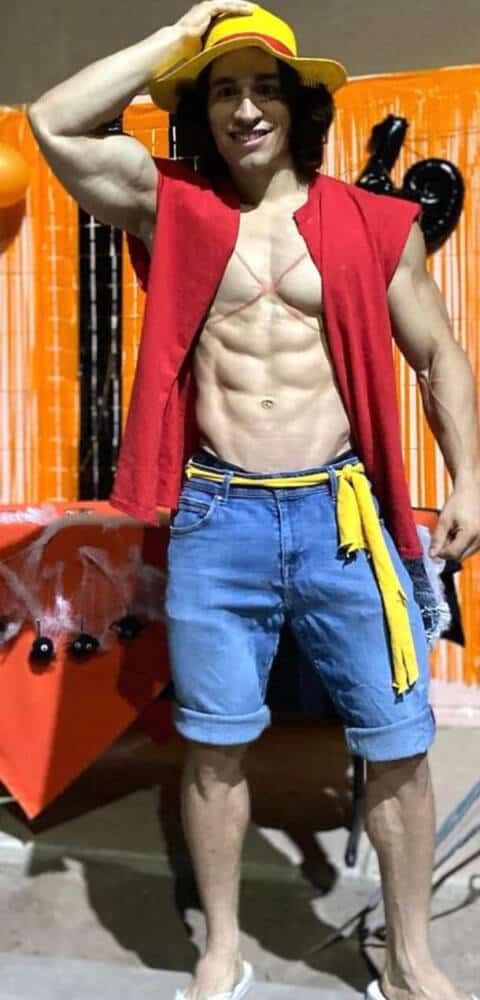 The carefree and adventurous pirate captain from One Piece is another popular pick, thanks to his iconic straw hat, red vest, and devil-may-care attitude.
Light Yagami (Death Note)
Costume Details: Light's standard attire is a black suit, white shirt, and red tie. He often carries a black backpack containing the Death Note. His brown hair is styled with a middle part.
The eccentric and brilliant detective from Death Note is a unique cosplay choice, with his hunched posture, love for sweets, and signature black shoes
Mikasa Ackerman (Attack on Titan)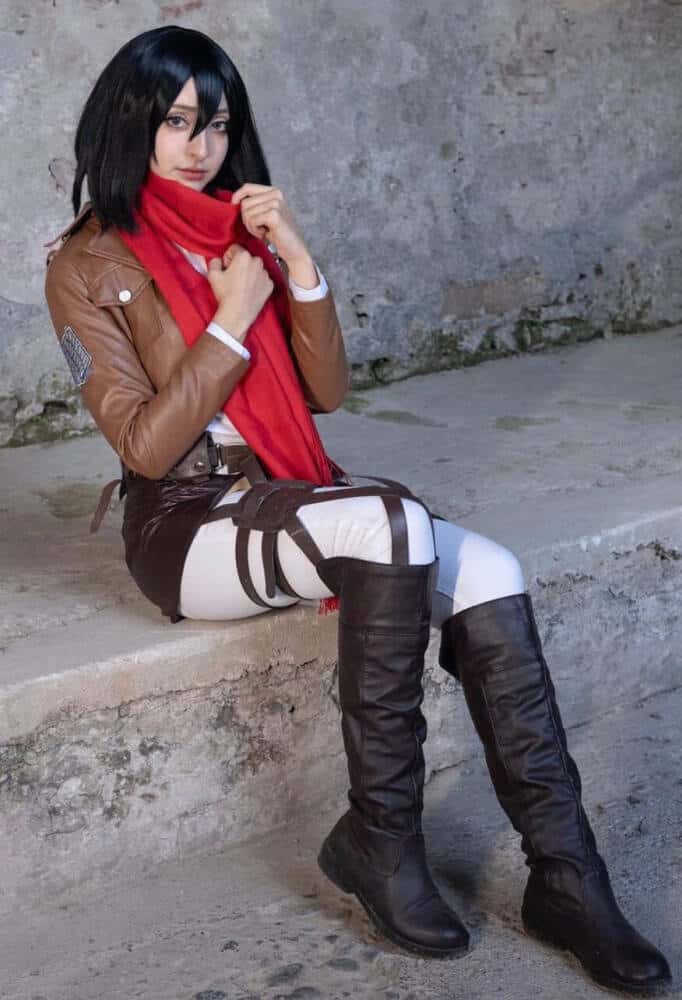 The skilled and stoic soldier from Attack on Titan is a popular choice among female cosplayers, with her signature dark hair, red scarf, and military uniform.
Umaru Doma (Himouto! Umaru-chan)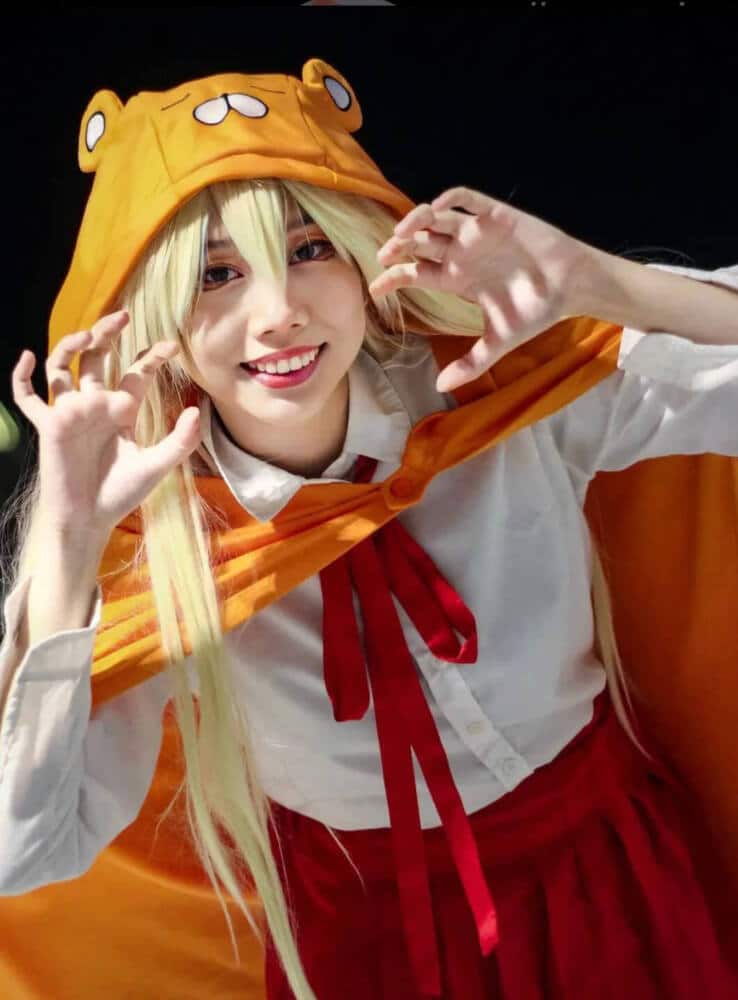 Costume Details: Umaru's standard attire is a pink and white hamster hoodie, black sweatpants, and pink slippers. Her brown hair is styled with two small braids.
The lazy and introverted high school girl from Himouto! Umaru-chan offers a fun and relatable cosplay option, with her signature hamster hoodie, sweatpants, and glasses.
Sailor Moon (Sailor Moon)
Costume Details: Sailor Moon's iconic outfit is a white sailor fuku (sailor uniform) with a pink bow, blue crescent moon tiara, and pink boots. Her blonde hair is styled in long pigtails with pink ribbons.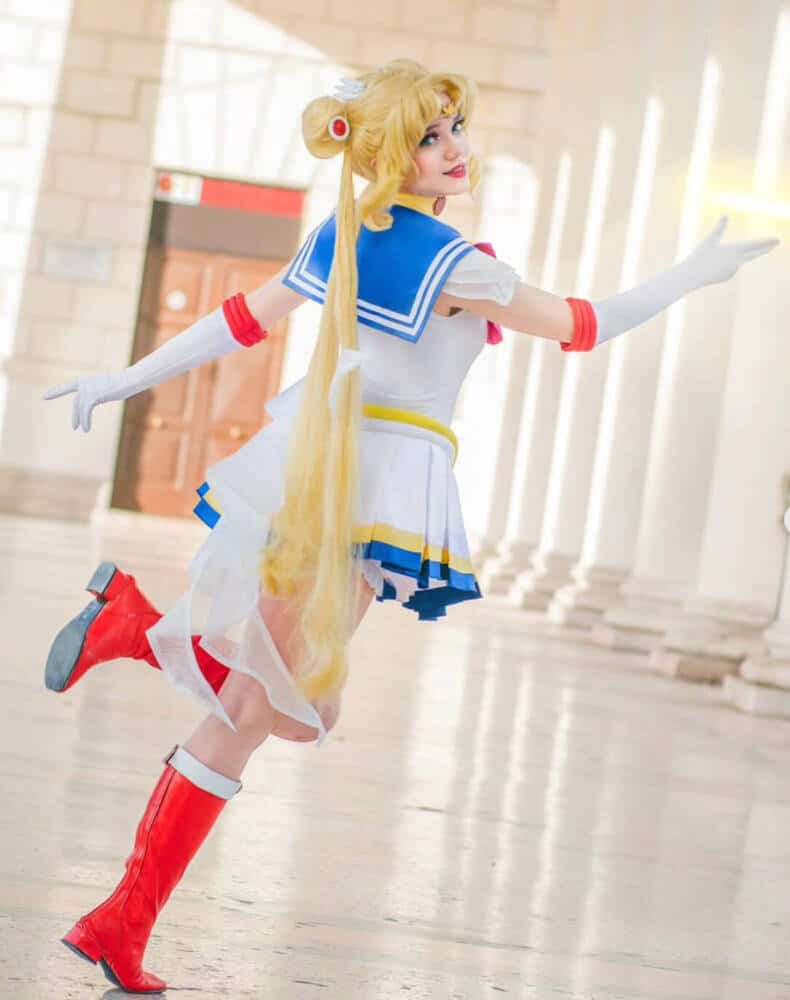 The iconic magical girl from Sailor Moon is a classic cosplay choice, with her pink sailor suit, crescent moon wand, and long blonde pigtails
Edward Elric (Fullmetal Alchemist)
Costume Details: Edward's signature attire is a red coat with a yellow trim, a black shirt, and white pants. He wears red gloves and boots, and his right arm is replaced with a red metal automail arm. His blonde hair is styled in a spiky fashion.
The young alchemist from Fullmetal Alchemist is a popular choice for those seeking a more complex and visually striking cosplay, with his auto-mail limbs, red coat, and blonde hair.
Tanjiro Kamada – Demon Slayer: Kimetsu no Yaiba
Demon Slayer: Kimetsu no Yaiba is one of the best anime series that has garnered a lot of fans in the anime fandom. The protagonist of the series is Tanjiro Kamada who is seemingly ordinary life turns upside down when a demon attacks his family.
This would result in his sister turning into a demon and the demon slayers in his village trying to execute her. To protect his half-turned demon sister and to avenge the deaths of his family Tanjiro decides to become a demon slayer.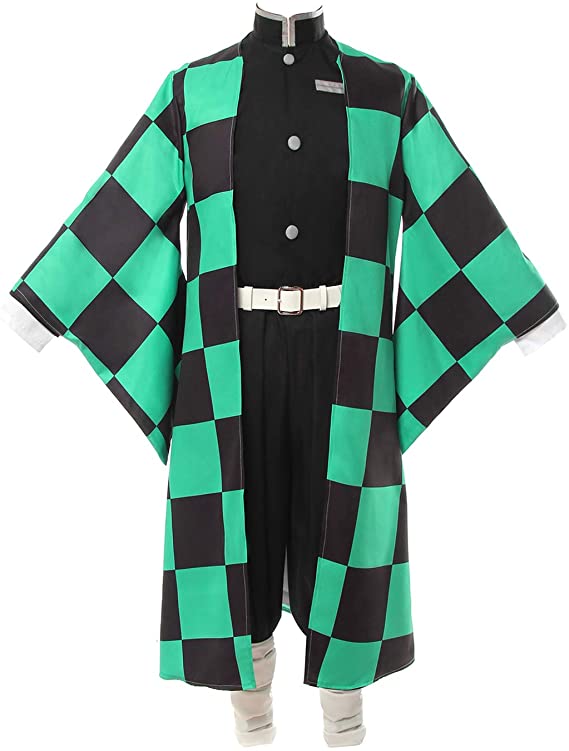 After Tanjiro becomes a demon slayer you would see him wearing a specific outfit in the series. This outfit is a kimono that has a black and green checkered pattern with a white belt around his waist and baggy pants.
Inside the kimono, you'll find Tanjiro wearing a dark black jumpsuit and he pairs them with long white socks. This outfit displays the bravery and courage of Tanjiro Kamada. It also portrays how humble and honest he is.
The kimono is a very flexible outfit and can be worn by both men and women and will complement any dress. It's also one of my personal favorites that I love wearing for conventions. This kimono is available in a nice variety of colors and it would definitely be an ideal outfit for Halloween.
Related: Best Anime of Food Lovers
Midoriya Izuku Deku – Boku no Hero Academia
Izuku Midoriya is the protagonist of the anime series My Hero Academia. This anime series depicts how superheroes defend the ordinary population from the threat of the supervillains. Among the ordinary population is Izuku who dreams of becoming a mighty superhero like All Might.

One day Izuku has to become the successor of All Might who passes all of his powers to Izuku. Unprecedented with the excessive powers, Izuku joins the My Hero Academia where he learns to use his powers for good and to become a superhero.
During his time in the academy, Izuku wears a basic uniform that's gray-colored and has a tie with a blazer. However, Izuku makes several alterations to his outfit eventually. And the best of his hero outfits is the 'Costume Gamma'.
This costume is green colored with long white gloves and a red belt around his waist. The costume also consists of arm braces, knee pads, and a pair of black and red boots.
This is one of the most loved cosplay costumes for anime weebs and most of them have mastered the looks by wearing wigs and accessories that complement the cosplay.
Although Izuku is a male, his costume is cosplayed by both males and females and they have added their own features to the cosplay. It's time to cosplay Izuku Midoriya for Halloween and this outfit comes with a lot of gear that makes you look heroic.
Related: Best Anime Like One Piece
Naruto Uzumaki – Naruto
Naruto is one of the Big Three anime which is the most popular anime in the fandom. Naruto's look was copied by most anime fans even before cosplaying was a thing. The story revolves around Naruto working hard to pursue a martial arts career and to be the Hokage of the village.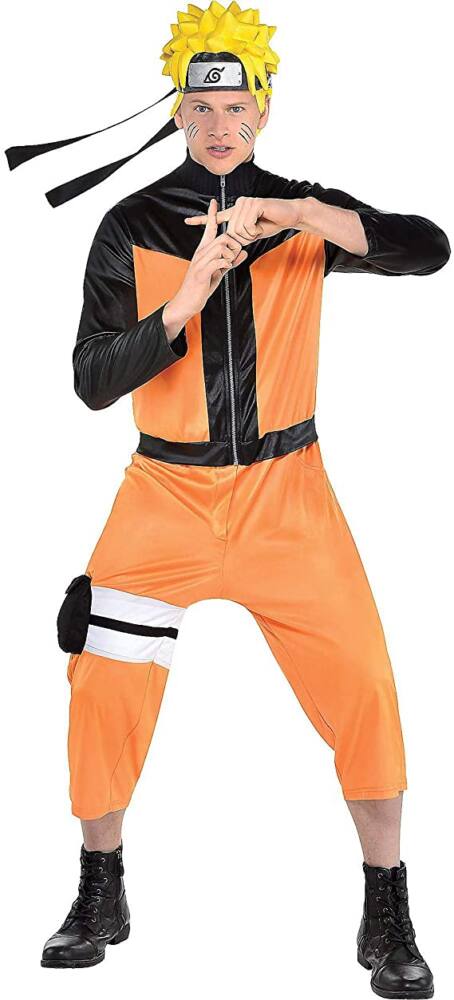 Throughout the series, Naruto wears the ever famous orange-colored jumpsuit with a holster and a headpiece which most Naruto fans are fond of. The cosplay is basic and simple to carry out.
All you have to do is, put on the orange jumpsuit and tie the headpiece around your forehead to cosplay Naruto. It's one of the simplest anime characters cosplay and that's why we see most people wearing it.
You could also replicate Naruto's hairstyle by wearing a yellow wig with spiky hair.
Become Naruto for a day and rock your parties or conventions with this simple and stylish cosplay.
Related: Anime Like Attack On Titan
Goku – Dragon Ball Z
Dragon Ball Z is another famous anime that owns all our hearts. The protagonist of Dragon Ball Z is Goku who grew up practicing martial arts since childhood. He learns about a magical dragon that would grant a wish if the seven mystical dragon balls are collected.
As Goku grows up he becomes an expert in martial arts and succeeds in becoming the champion in the competition.

If you want to become a champion like Goku in real life then suit up in Goku's classic cosplay. The cosplay outfit comes with an orange overshirt and pants with a blue undershirt and a slash belt.
Just like the anime, the cosplay outfit comes with blue foot covers and armbands. This cosplay is all you need to protect the world from any danger and to flex your fashionable side.
The cosplay outfit is carefully made with every little detail properly crafted on it. Cosplay Naruto to show the heroic nature of yourself at parties and cosplay costume conventions.
Asuka Langley Soryu – Neon Genesis Evangelion
Neon Genesis Evangelion is anime that depicts the end times of the world. The earth's forces are defending humanity against giant galactic monsters who are referred to as Angels.

To combat the Angels an organization called NERV has created bio machines that can be piloted by humans through synchronizing with the nervous system.
The protagonist of this anime is Shinji Ikari but here we're going to talk about Asuka Langley who becomes Shinji's pilot partner eventually.
Asuka Langley has a narcissistic personality who's rude and impulsive. She's very aggressive and only sticks by her opinion irrespective of others. But that's what makes her invincible and undefeatable.
Asuka's cosplay is a red bodysuit that's made out of elastic spandex. It's a colorful costume that has shades of blue, green, and orange.
The cosplay is very tight fitting and the material is stretchable. It has a zipper on the back with a detailed design and subtle features.
The cosplay costume is very comfortable and it's ideal for comic con and Halloween events. This is the ideal costume that perfectly flaunts your curves.
Violet Evergarden – Violet Evergarden
Violet Evergarden is an anime that has a beautiful storyline about a girl who recovers from the aftermath of a disastrous war. The protagonist of this anime is Violet Evergarden who was an ex-soldier and was wounded during the war. As she wakes up she reminisces little to nothing about her past.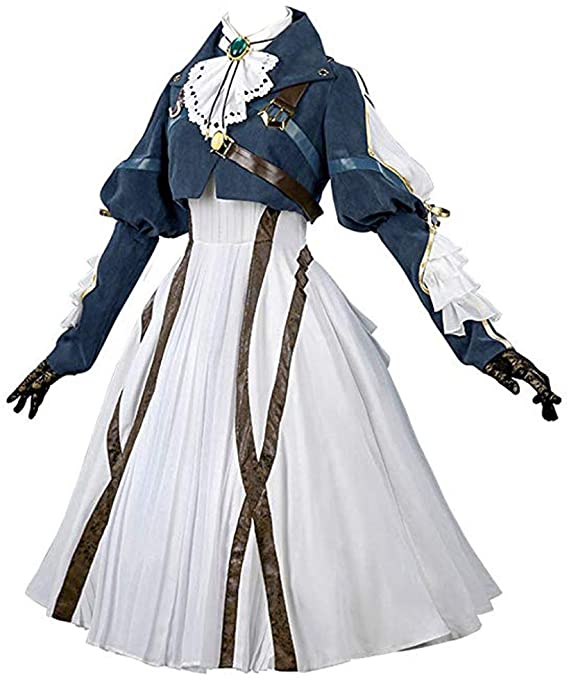 Eventually, she goes on to work in the postal services, and there she meets an 'Auto Memory Doll' which transcribes people's thoughts into words and prints them on paper. This would help Violet to regain her lost memories and also help people like her.
Let's talk about Violet Evergarden's cosplay costume. It's hands down the best cosplay choice for women and it's also one of my personal favorites. The costume is a long white frock with beautiful frills in the back.
It's designed with a unique dark brown pattern on the sides. The jacket is blue colored and has long sleeves with a puff design and multi-layered ruffles. The jacket also has shades of white and a black belt that perfectly crosses from the back to the front to keep that keeps the jacket in place.
In addition, there are also other accessories like a necktie, lace gloves, and a gem brooch that complement the overall outfit. I've cosplayed Violet Evergarden and I must say that it's the best decision I've ever made.
The costume is pristine and you can not only cosplay for conventions but it also can be worn for regular parties and outings. Cosplay Violet Evergarden for your parties and witness how everyone compliments you.
Best Anime Characters Cosplays to Buy: FAQs
What is the most popular anime cosplay?
The most popular anime cosplays are Naruto, Goku, Tanjiro Kamada, Asuka Langley and Violet Evergarden.
What is the best anime costume?
The best anime costume is Goku's from Dragon Ball Z which most men cosplay.
Where can I buy good anime cosplay?
You can buy the best and affordable anime cosplay on Amazon and they provide a wide variety of cosplays.
How much do anime costumes cost?
The cost of anime costumes depends on the character and quality of the products. However, most anime costumes are available for an affordable price of below $100 on Amazon.
Who is the most popular anime cosplay?
The most popular anime cosplays are Naruto Uzumaki, Goku, Izuku Midoriya and Tanjiro Kamada.
Also Read: