Are you looking for the best summer dresses to wear in Tokyo? Read further for a complete summer fashion makeover!
It's summer again, Tokyo's weather is changing and it's getting warmer day after day. The sweating heat might make you want to not step out because of the excessive humidity of Japan.
However, let's be real! We all have engagements and have to step out sooner or later, maybe for work, meetings or getting something from the supermarket. Whatever it be, Tokyo is known to always maintain its sass and style when it comes to clothing.

What are the best summer dresses to wear in Tokyo?
Some of the best summer dresses to wear in Tokyo are going with neutral colours, floral style dresses, tie and dye dresses and animal print dress styles are some of the must-have for Tokyo summers. You can pair your dresses with cool sunnies, funky heels and other accessories like rings, bags etc.
Well there are many best summer dresses to wear in Tokyo but I've a few lined up for you that will keep you cool in the scorching heat of Tokyo.
This recommendation of best summer dresses to wear in Tokyo is inspired by Tokyo Amazon Fashion Week as well as seeing the latest fashion trends on social media. Hope it helps you find the breeziest dresses that you will enjoy wearing.
Let's have a look at the best dresses to wear in Tokyo that you need to shop right away!
Best Summer Dresses To Wear In Tokyo
Wear Floral Dresses in Tokyo During Summer
You know what makes summer beautiful and happy? The colors! Yellows, greens, pinks, and reds all blossoming under the bright blue sky!
So complement this weather by wearing light, bright colors with pretty floral prints!
Pull out that beautiful, yellow dress wrapped in sweet floral designs. I call this type of dress the kinda people who are 'just happy to exist' – always fresh and spreading positive vibes!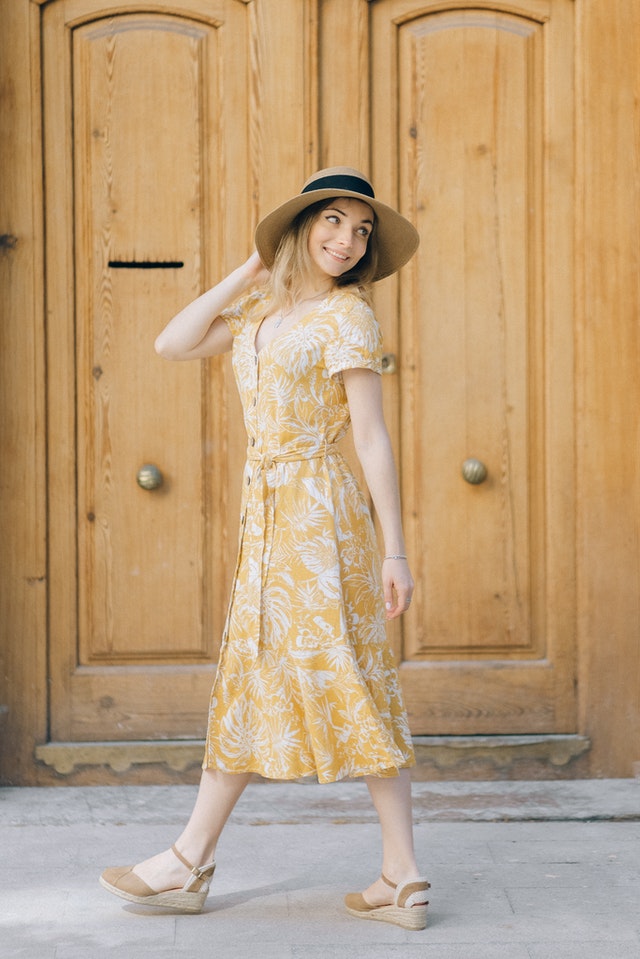 Outfit Ideas with Floral Dresses to wear in Tokyo
If you decide to go with the floral print one sunny day in Tokyo, I suggest you pair it with sneakers or sandals and quirky pair of earrings for a casual day out.
Or pair it with some elegant heels and delicate earrings for an elegant look.
Carry a blazer to make a boss-lady statement if you plan on stepping into a meeting later!
Undoubtedly, one of the best summers dresses to wear in Tokyo, at least for me!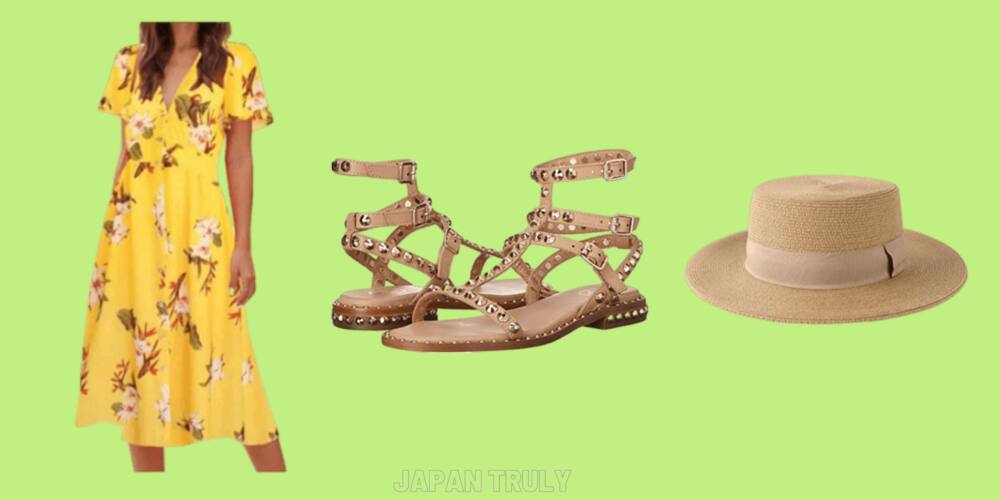 Wear your favorite floral print dress when you plan a picnic to the Yoyogi park or even touring around the city!
Opt For Neutral Colors
When the summers come, raid your closet for your light, bright, white, grey, beige, and dresses with muted colors and pack away your heavy, black ones.
Be careful with the fabric you wear too. Your best bet is cotton, obviously! Linen also works great for summer. Or you could even opt for a cotton-linen blend to get the best of both worlds!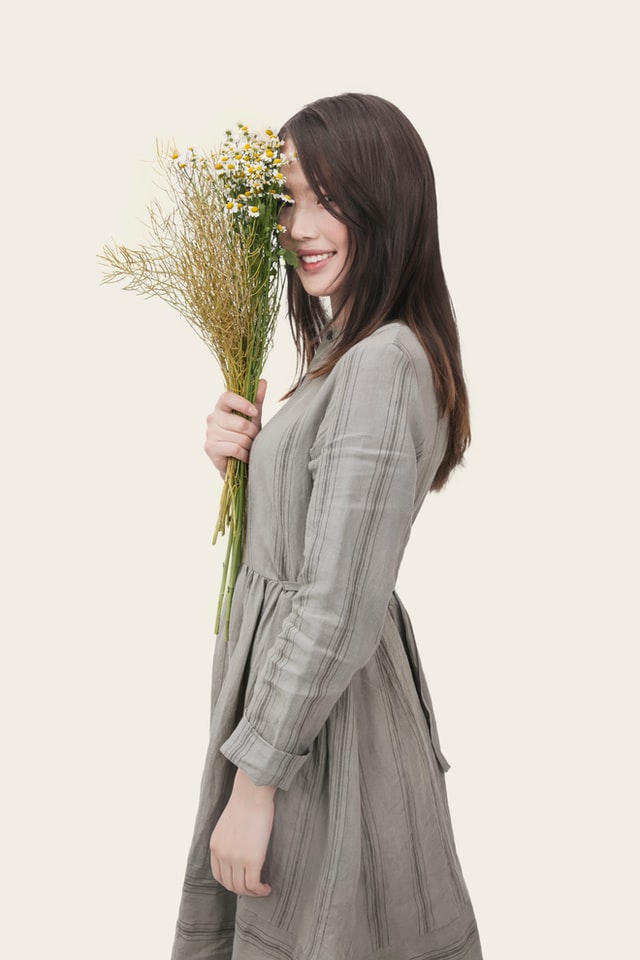 What materials you should definitely avoid in Tokyo during summer? Nylon, polyester-blends, vinyl are all a big no-no!
The idea is to wear fabrics that will reflect the sun and avoid those over enthusiastic UV rays! (also, don't forget your sunscreen!)
In short, neutral or muted colored dresses of cotton/linen blend are one of the best dresses to wear in Tokyo this summer 2021!
How to style muted dresses
The thing about neutral and muted colored dresses is that they are so beautifully flexible. They don't have demands. They don't have complications. They are the kind of people whose mantra in life is 'Live and let live'.
They're easy to dress up if you're going to party and dress down if you're just going to the park!
So now depending on what your mood is like (partying or sightseeing) you decide how you want to do your hair, jewelry, and shoes, cause these neutral colors pretty much fly with anything!
Outfit ideas with neutral dresses to wear in Tokyo!
A-line muted grey dress with sneakers and studs. Tie your hair up in high side buns or a ponytails! Cute!
Or you could go for something free'er' and flowy if that's your style. Pair a maxi dress with some chunky bracelets and tribal, vintage style necklace.
A pair of casual gladiators or chunky heels, both will go complement this outfit amazingly well!
Also check out this cute short maxi dress! It's a cotton-poly blend with a little flare. The material is super comfy and this dress can easily dressed down or up as you like!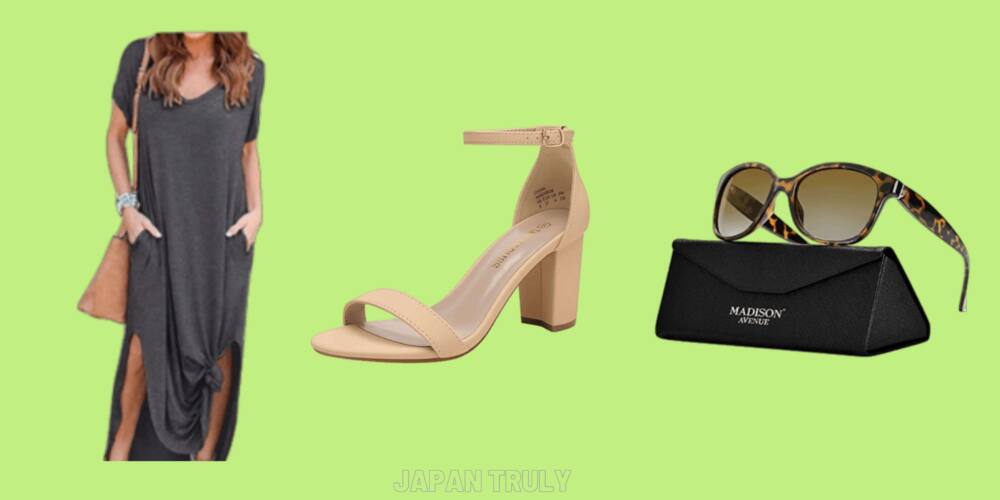 Keep it cool with a pair of sunglasses and a quirky summer hat. It can be worn with boots or any other shoes that will protect you from sun and tan!
Make sure to apply sunscreen on all the exposed parts of your skin to avoid tanning! It's one of the best summer dresses to wear in Tokyo right now.
Now if you're wondering where can you wear maxi dresses with muted colors in Tokyo – just about anywhere! To the park, sightseeing or even a date!
Tie-Dye Dresses are Perfect for Summer in Tokyo
This summer in Tokyo don't be afraid to go all casual with a comfy tye-dye dress.
I know what you're thinking, 'isn't that a bit too hippie'. Well, no! Cause tie-dye, previously popular amongst our hippie friends is now also worn by models walking down the ramp for top luxurious brands!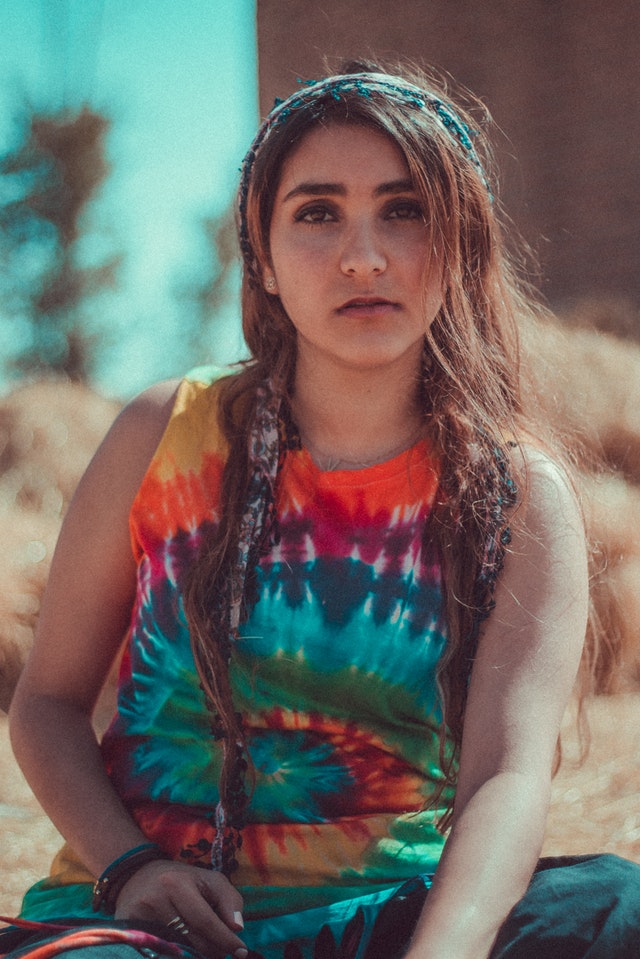 So go pick out a comfy, cotton, over-sized t-shirt dress or even a loose halter neck dresses with a cool tie-dye print! If you're feeling a bit experimental you can convert your own dress into a tie-dress dress. Just look up a tutorial video on Youtube.
Outfit ideas with tie-dye dresses to wear in Tokyo!
So there are two ways you can go with tie-dye dresses. Dress it up with elegant pair of heels and delicate earrings, necklace and a hat.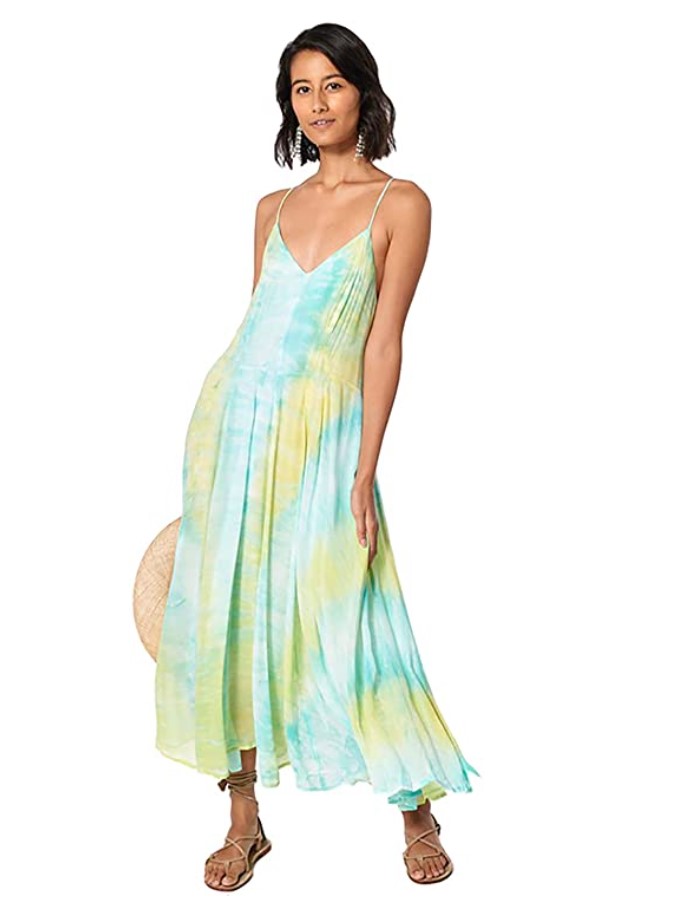 Or embrace the inner hippie in you and go for wear layers of thread bracelets and chunky earrings with a pair of gladiator shoes. You can also add a head scarf leaving your hair open or in a bun (I mean, it is sweaty!)
Tie-dye dresses are a great option for music concerts, if that's your thing. Or you could even wear your favorite tie-dye dress. Depending on how you style it, you can also wear it to the mall when you go shopping or on a coffee date!
Animal Print Dress is In This Summer in Tokyo
Animal prints just never get old! You know why? Cause animal prints are bold, fun and absolutely sexy!
Now I know animal prints aren't everybody's thing but don't think it's about time you step out of your comfort zone? Give it a chance and you might change your mind!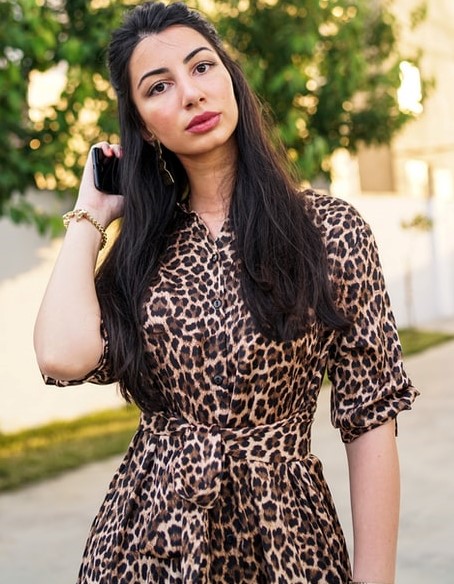 Animal print dresses have been showcased on the runway time and again.
What I love about animal print dresses is that you don't need to do much to dress it up!
Outfit ideas with tie-dye dresses to wear in Tokyo
Animal prints look good on any dress type. A line, short dresses, or even body con! You can even skip the dress and go for animal print top with a plain skirt that complements it or a plain top with an animal print skirt!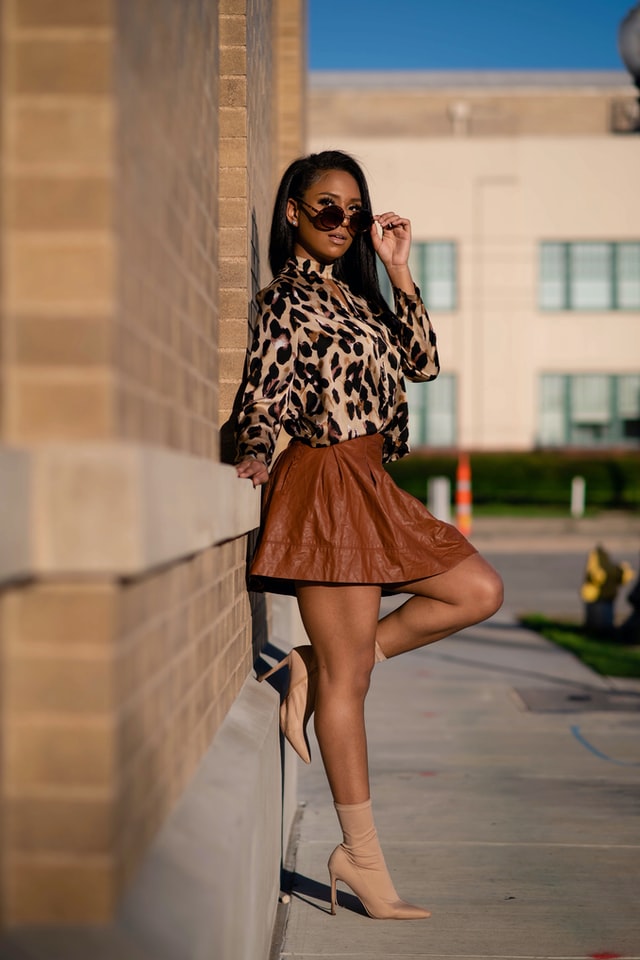 Pair it with hoops and sexy boots and you're ready to paint the town red!
If you're going clubbing then put on a sleeveless bodycon dress. Pair it with shiny hoops, silver choker, and sleek black heels! **Did someone turn up the heater cause it's getting too hot to handle!**
Cheetah and Leopard prints are not only animal prints to try this summer in Tokyo! You can also give this snakeskin print dress a try! Pair it with oversized hoops, sun shades, and black stiletto's or square heels. Sexy!
Flowy Clothes
Since it's summer, it's best to wear something that doesn't stick to your body and irritates your skin. Flowy clothes like one-piece frocks, loose shirts, and flowy pants are the best for this season.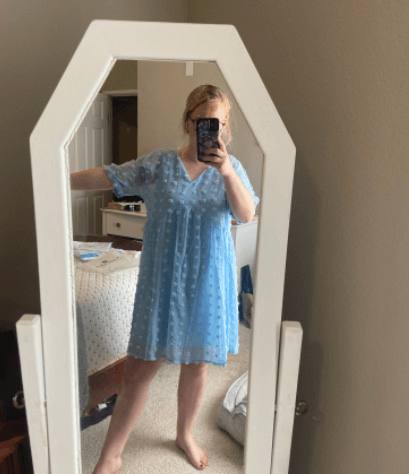 I love wearing flowy dresses during Tokyo summers. It's super fashionable and is also comfortable. You can never go wrong with them because these clothing items are always in fashion. Pick light cotton or linen material clothing so that you're at peace.
Just pair your favorite pick with a pair of sandals or sneakers, shades, and a summery hat to complete your look.
Add Accessories To Complete Your Tokyo Sumer Look
You can style your best summer dresses to wear in Tokyo with some cool and on-trend accessories that will give you big fashionistas feel and also not make you bathe in the pool of sweat.
Check out some of the accessories you can to give great look to your best summer dresses to wear in Tokyo:
Scarves: Wear a scarf in different styles like tied around the neck or turned into a bow tie. Printed scarves will look great with plain one-coloured dresses whereas plain scarves look better with printed dresses.
Round Pochette: Find a cute round pochette to hang it on one shoulder. It looks cute and also can accommodate all your necessary toiletries like cream, sunscreen etc.
Mirrored Sunnies: You should carry sunnies EVERYWHERE, with whatever you wear! Rose-tinted, gold coloured lenses should look great with your best summer dresses to wear in Tokyo.
Rings: If a Game Of Thrones character can pull it off, you too can! Wear all sorts of rings, doesn't matter how many per finger. Make sure you give it a little touch of Boho.
Sculpted Heels: Pair your best summer dresses to wear in Tokyo with funky geometric heels for it would look really sassy.
Sneakers: A lot of people find it really trendy to wear sneakers in Japan over heels, this is because of its comfortability. Japan has the highest country of sneakerheads so you know! So if you're looking for some inspiration, it's available right in the streets.
Oversized bags: This is my all time favorite and a great fashion accessory. It will accommodate your basic needs whether its laptop or books, or skincare. You can also avoid shopping bags and just put the items directly in your bag.
Yukata: Yukata is a half-with single collared summer kimono. You can wear it and feel like a local in Japan. Make a Japanese hairdo with a glossy lipstick to give your Yukata an authentic touch.
Tenugui: Tenugui is essentially a cloth of 30 cm in width and a meter long usually worn during summers. It is available in Daiso and is extremely cheap! It will look great with your best summer dresses to wear in Tokyo!
Japanese summer dress to wear in Tokyo: FAQs
What should I wear in Tokyo in summer?
Opt for thin outerwear, a light top paired with flowy pants or a skirt. Choose footwear according to your own comfort from sandals or sneakers. Carry a light jacket to protect yourself from sunlight. Also, carry an umbrella and sunglasses along with you.
What should you not wear in Tokyo during summers?
Avoid all-black or dark colors during summers in Tokyo. Don't wear revealing or sleeveless clothing if you have a formal event to attend.
Unleash the Summer Fashionista Within You
Hope this list of best summer dresses to wear in Tokyo helped you to curate your own fashion goals!
Happy Summers!