Are you looking to take sushi classes in Tokyo? Well, I have some of the best suggestions for you to upgrade your Japanese culinary skills. Read further to know about the best sushi classes in Tokyo.
One of the most well-known and globally loved Japanese cuisines is sushi. It's so delicious and would definitely make your tummy happy. I lately discovered my love for cooking due to the pandemic when everything outside was shut.
I took a lot of bakery and cooking classes to accelerate my passion into skills. Since sushi was my favourite Japanese cuisine, I got myself enrolled into sushi making classes and I had to tell you that it was the best decision of my life.
Sushi making is fun and no one can teach you this art better than the chefs in Tokyo who conduct online as well as offline classes. These teachers are professionals who teach you from the basics and then turn you into a professional.
Shoutout: ByFood has some interesting proposals here. Do check them out.
Cost of Sushi Classes in Tokyo in General
The cost of a sushi class in Tokyo can vary depending on the type of class you choose and the instructor you work with. Generally speaking, a basic sushi class in Tokyo can cost anywhere from 5,000 to 10,000 yen (approximately $45 to $90 USD) per person.
However, more advanced classes or classes with well-known sushi chefs can cost significantly more. It's best to research different options and compare prices before booking a class.
Sushi Classes In Tokyo
You're in for learning so many different flavourful, colorful and unique sushi that you probably never knew about. Anyway, let's delve into the online and offline sushi classes in Tokyo that will make you a sushi chef by the end of their session.
Best sushi classes in Tokyo: quick summary
| | |
| --- | --- |
| Best sushi classes in Tokyo | Location |
| Tokyo Sushi Academy Tsukiji Branch | Near Tsukiji Fish Market |
| Tokyo Sushi-Making Tour | Adachi City |
| Kawaii Cooking Classes | Minato City |
| Mayuko's Little Kitchen Japanese Cooking Class | Shibuya City |
| Cooking School- YUKA MAZDA | Minato City and Online |
| Buddha Bellies Cooking School Tokyo | Bunkyo City |
| Cooking Sun Tokyo | Shinjuku City and Online |
| Tokyo Cooking Studio | Shibuya City |
1. Tokyo Sushi Academy Tsukiji Branch
I joined the Tokyo Sushi Academy Tsukiji Branch as an amatuer but came out as a professional. The classes run for a good 90 minutes where you'll learn different kinds of sushi like scallop sushi, tuna sushi, salmon sushi etc. You'll get to know how different flavours work together.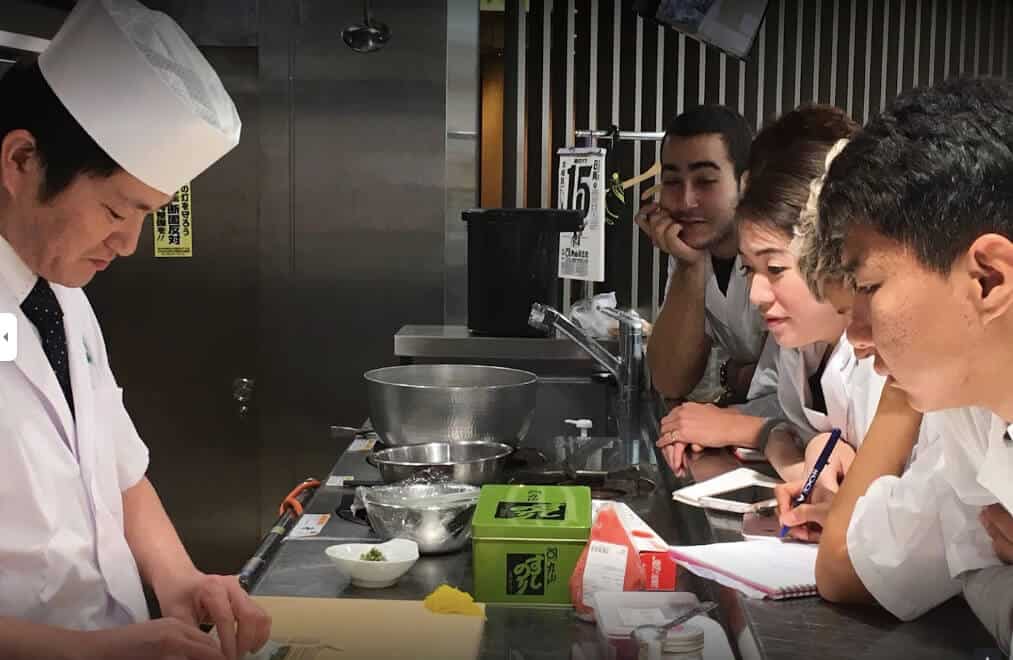 The teachers are extremely helpful and answer all your doubts. You can also try out all the sushi that you'll be making that will make learning even better. Note that the beginner classes only take place on Saturdays and you need to pre book your place via the website or phone call.
There are different courses like video lectures, International Sushi Chef Course (5 weeks), private lessions and you'll get to know about the fees after registration.
Address: 8-2-5 Nishi-Shinjuku, Shinjuku-ku, Tokyo Japan 160-0023
Phone number: 81-(0)3-3362-1755
Class Duration: 90 minutes
2. Tokyo Sushi-Making Tour
The Tokyo Sushi-Making Tour is another great class that you can join where learning is super fun. You'll meet a lot of tourists from different parts of the world who come for an experiential learning here.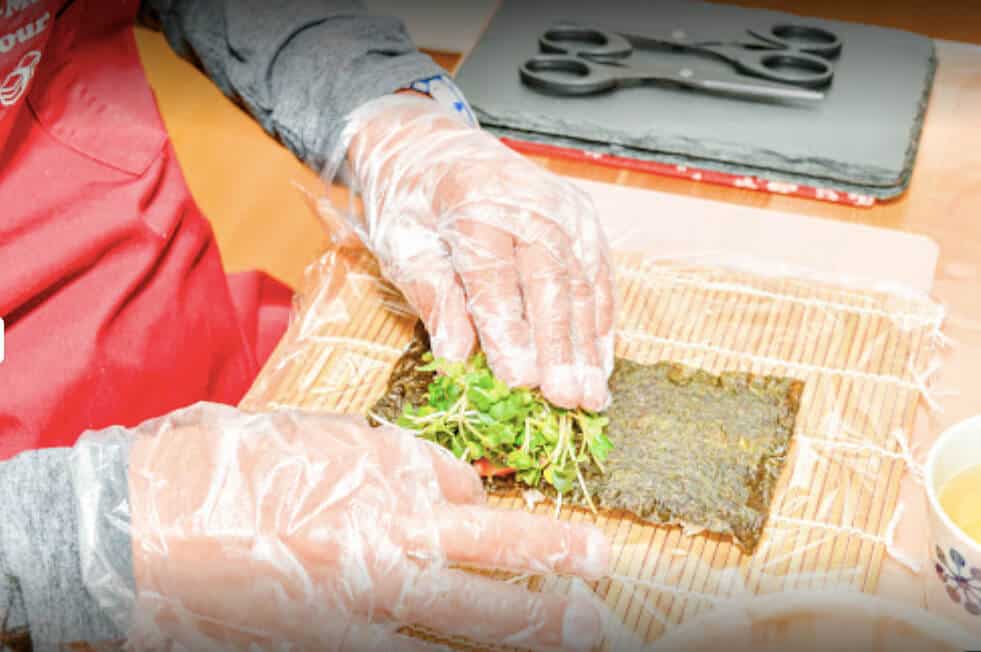 They teach about 4 types of different sushi with history, ettiquettes, and also take care of the hygiene. I visited here with my friend who came all the way from Africa and wanted to take a sushi making class.
The classes are extremely interactive and take place in small as well as large groups. The instructors teach in English and welcome all types of people, even children. Each class's duration is about 2.5 hours and happens throughout the week from Monday to Friday except Japanese holidays. Book your seat through their website.
Address: 3-13 Senjuasahicho, Adachi City, Tokyo 120-0026, Japan
Phone number: n/a
Class Duration: 2.5 hours
Website: tokyo-sushi-making-tour.com
3. Kawaii Cooking Classes
Kawaii Cooking Classes is a perfect paradise for vegetarians and vegans as they're famous for teaching vegetarian sushi. It's a great cultural opportunity for you if you wish to learn Japanese sushi making as a beginner.

The best part about this cooking class is that they provide budget fee options after looking at your needs and your learning plan is tailor-made. The lessons can be learnt alone, in group, as a private group etc. I love how they teach us to do plate decor after making food.
The price of the class ranges from $50-$70 per person for 2 hours depending on the option you choose from. Kawaii Cooking chefs also hand you over a recipe book that you can take home. You can book yourself a class on their official website and you'll receive the confirmation quickly.
Address: 6-13-25 Minami Aoyama TM Building 2F, Minami Aoyama, Minato-ku, Tokyo
Phone number: +81 3-5766-2251
Class Duration: 2 hours
Website: https://www.kawaii-cooking.com/
4. Mayuko's Little Kitchen Japanese Cooking Class
Another must-attend class in this Mayuko's Little Kitchen Japanese cooking class where you can learn homestyle sushi in an actual home setting.
I went to interview Mayuko for our magazine and found out so much more about her and her cooking classes.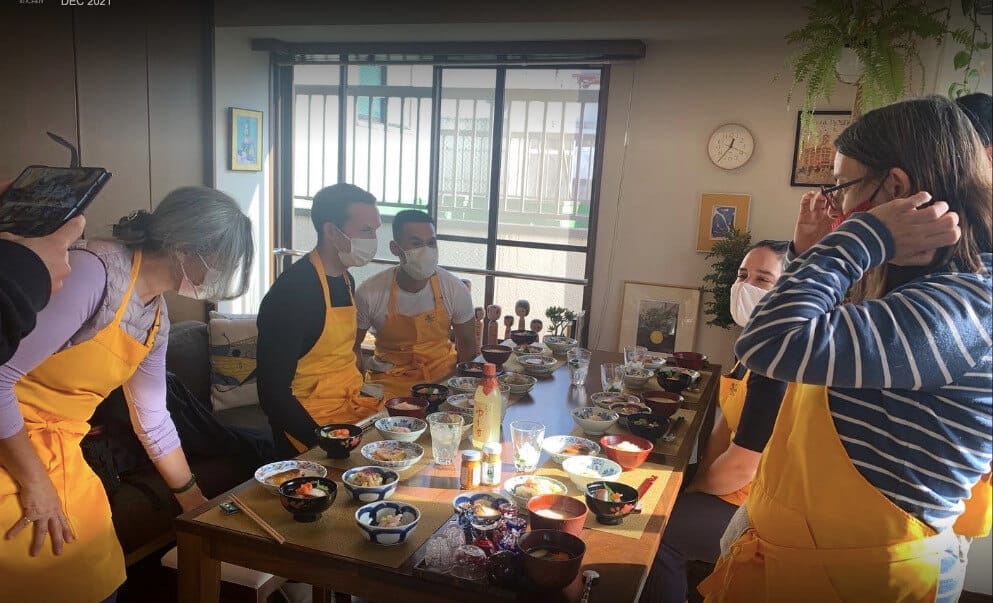 I loved how she provides simple recipes and techniques that are easy to follow. You can also get personal attention since the setting is quite informal. All her cooking classes are delivered in English and last for about 2-3 hours.
You can also enjoy the food that you learned along with sake and other drinks. The price for the classes are about $110-$200 for different types of classes. She also teaches gyoza and ramen making. Mayuko's Little Kitchen is located in Shibuya city and is easily accessible via train.
Address: 5 Chome-5-6 Sendagaya, Shibuya City, Tokyo 151-0051, Japan
Phone number: +81 80-3502-2005
Class Duration: 2-3 hours
Website: mayukoslittlekitchen.com
5. Cooking School- YUKA MAZDA
The Yuka Mazda cooking school provides online zoom sushi classes as well as the offline option to attend in person. You don't require any skills but your passion for learning about food. Yuka, the teacher, is super energetic and answers your silliest questions about Japanese sushi.
You'll learn about the history of Japanese sushi, fishes and flavour that go well with sushi, knives and rolling techniques and what not. The classes are delivered in fluent English and cost around $95-$100. There are two options- lunch class or dinner class and both the sessions are for 4 hours each.
You can book Yuka's Japanese sushi making class on her website through a form. Her classes are located just 2 minutes from Shibuya station.
Address: Japan, 〒108-0072 Tokyo, Minato City, Shirokane, 5 Chome−10−17 Grace Court
Phone number: -na-
Class Duration: 4 hours
Website: https://www.japanese-cooking.jp/
6. Buddha Bellies Cooking School Tokyo
Buddha Bellies Cooking School Tokyo is one of the most famous cooking schools that teaches fish cutting as well as sushi making. The host is extremely entertaining and knowledgable who will make this learning experience memorable.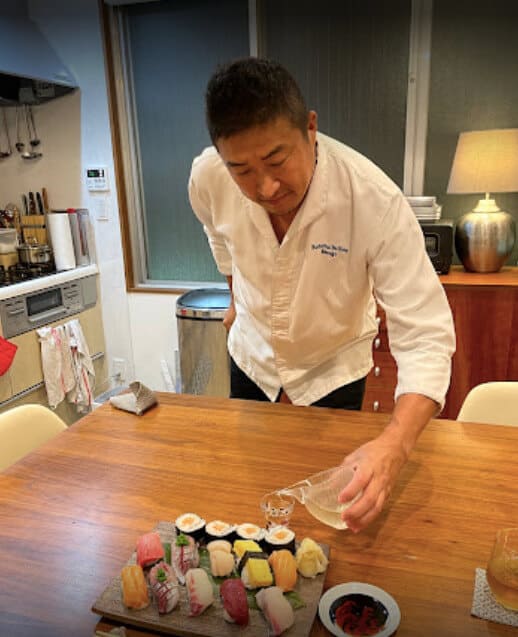 They also offer drinks and all the students eat together when the classes are done to have a taste of their creations. Buddha Bellies cooking school also has different options like Halal, vegetarian, vegan, Kosher etc. if you have any preference.
They run their class for about 2-3 hours and you gotta book your seat at least 7 days prior through their website or email. Buddha Bellies also allow group classes for Japanese cooking for adults. Avarage cost per sushi and fish cutting class is about $150.
Address: 2 Chome-15-14 Nishikata, Bunkyo City, Tokyo 113-0024, Japan
Phone number: n/a
Class Duration: 2-3 hours
Website: https://buddhabelliestokyo.jimdofree.com/
7. Cooking Sun Tokyo
Cooking Sun is the teaching school you should attend if you're looking for authentic Japanese sushi making experience from local intructors. They have branches in Tokyo as well as Kyoto.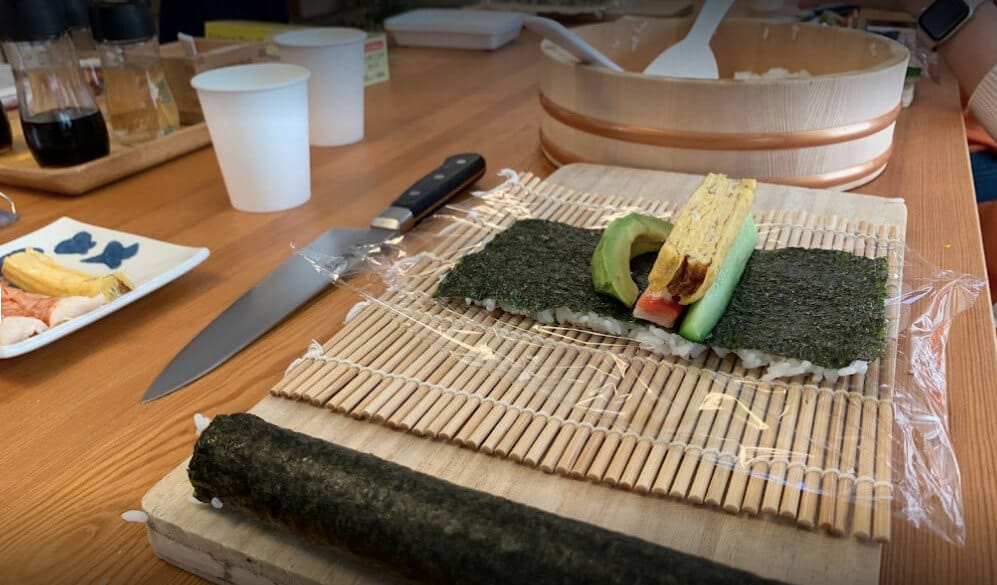 Cooking Sun instructors speak fluent English and offer online as well as offline classes in groups, or private. Don't worry if you're a beginner as they welcome anyone with the passion for learning food and Japanese culture.
If you're a student, you also get a 10% discount on the class fees. There are two menus you can choose from that include a variety of sushi, rolls, soup and salad. The classes cost about $55 which is honestly a steal deal.
Address: 18 Shinanomachi, Shinjuku-ku, Tokyo 160-0016, Japan
Phone number:+81 3-6380-6028
Class Duration: 2 hours
Website: https://www.cooking-sun.com/
8. Tokyo Cooking Studio
Another lovely cooking school is Tokyo Cooking Studio where you can learn local Japanese sushi. I'm fond of this cooking school because they value local and fresh ingredients and recipes with a creative touch.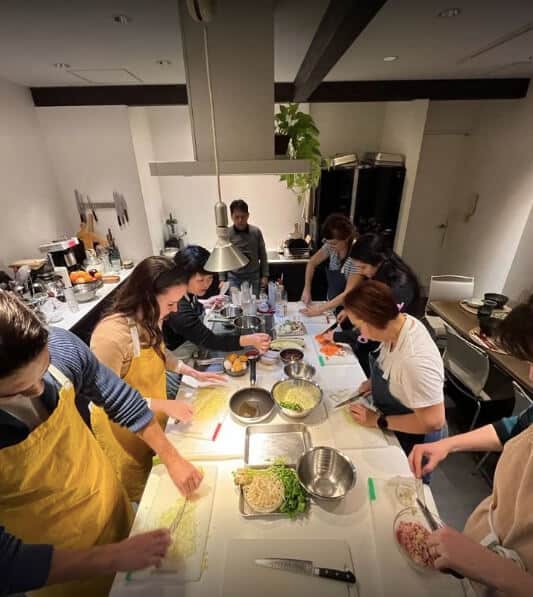 TOkyo Cooking Studio offers 3-4 hours of classes in small groups of 5-6 guests and charges about $95-$140 depending on the menu you choose. You can also customise your menu if you've any allergies, or prefer a vegan or vegetarian menu.
They give you a studio apron after you're done with the class and also have birthday cakes for birthday bookings. It's located in Shibuya city and is easily accessible by train stations.
Address: 2 Chome-25-3 Tomigaya, Shibuya City, Tokyo 151-0063, Japan
Phone number:+81 80-7896-8476
Class Duration: 3-4 hours
Website: https://www.tokyocookingstudio.com/
Hope you book yourself a Japanese sushi making class soon as it's one of the most wholesome and enriching experiences. All the classes listed above are amongst the top ones in Japan. Do let us know your experience in the comments below. Cheers!
Also Read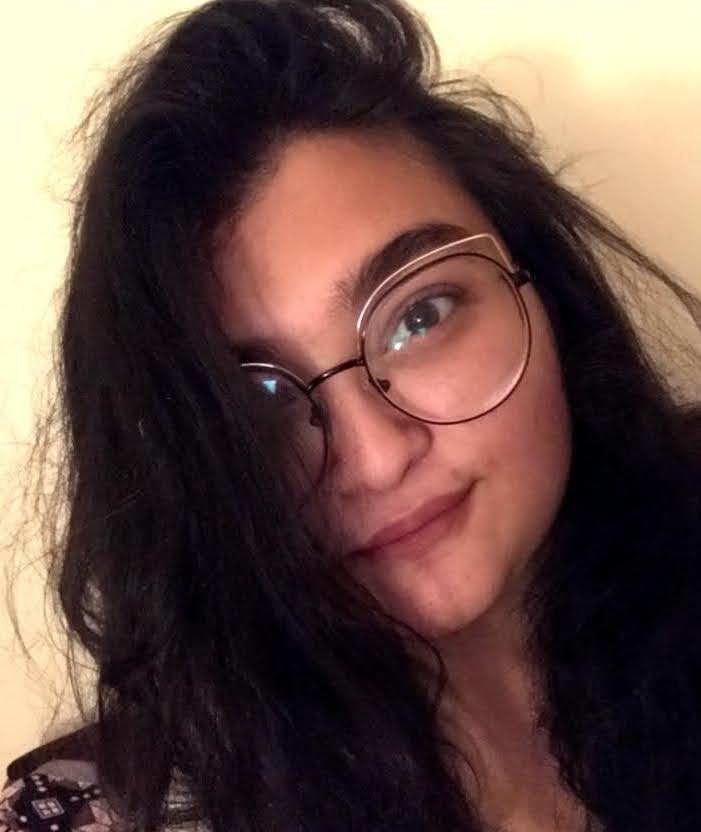 My writing focuses on the various aspects of Japanese lifestyle, from traditional tea ceremonies and flower arrangement to modern fashion trends and pop culture. Through my articles, I aim to share my passion for Japan and provide readers with a glimpse into the rich and diverse world of Japanese culture.
I believe that the key to understanding Japanese lifestyle is to appreciate the balance between tradition and innovation. While Japan has a rich cultural heritage that dates back centuries, it is also a country that is constantly evolving and embracing new ideas and technologies.
Whether you're interested in learning about the latest fashion trends in Tokyo, or want to explore the ancient art of calligraphy, my writing will take you on a journey through the many facets of Japanese lifestyle. So join me as we explore the beauty and complexity of this fascinating culture together!