Wondering what's the modern Japanese Kimono fashion? Read further to know more about the new Japanese styles of Kimono that are trendy and fashionable in the current times.
Kimono is traditionally a Japanese dress that started in the Japanese Heian Period. The dress was influenced by the Chinese hakama but with time the hakama was replaced with obi (the sash that holds the kimono).
Modern Japanese Kimono Fashion: Summary
A Traditional kimono is usually a T-shape, front-wrap long garment with square sleeves. It's worn left to right and is secured with a sash called obi. It's an elegant and iconic image of a Japanese woman that comes in everyone's mind when we think about a kimono.
What is the modern Japanese kimono fashion?
The modern Japanese kimono fashion is extremely fluid and dramatic. The modern kimonos are made with light material and have thin or no obi (sash) to secure the kimono. These modern kimonos can be short, knee-length as well as long. Some modern Japanese kimono styles are kimonos without belts, kimonos with fringes, kimono for men, and modern kimono dresses.
But the times are changing and Kimono is no longer just worn traditionally. It has taken many designs and changes in the modern world and has come down to fast fashion.
Now, the kimono is no longer special for new years or Japanese festivals or even to the Japanese people because there are so many people from all over the world with different identities are trying the modern Japanese kimono fashion their way.
Would you want to know about some of the modern Japanese kimono fashion? Keep reading.
Modern Japanese Kimono Fashion
Modern Kimono Fashion is inspired by the age old traditional Japanese Kimono but is much more fluid, dramatic and fashionable. They are made with lighter material than the traditional ones and may or may not comply with the traditional looking kimono.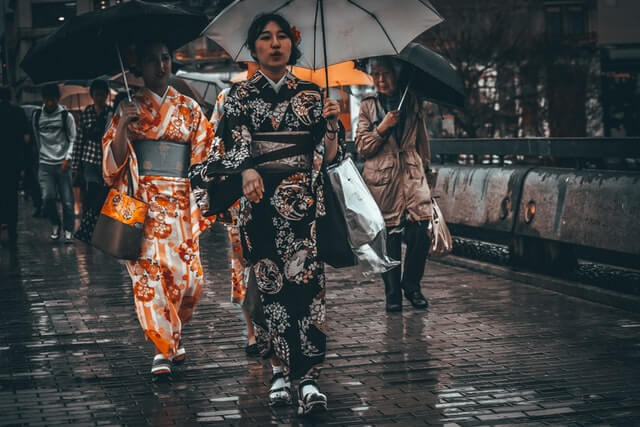 Modern Japanese Kimono Fashion is not only limited to Japan but is spread all over the world. People think of it as a free and liberating piece of clothing and definitely enjoy wearing it on vacation, beaches, parties as well as casually.
Modern kimono designs are, however, regular with floral patterns, checks, tie and dye, boho and a lot more. The floral ones are the most common in the modern kimono of females.
Modern Japanese Kimono are Versatile
Modern Japanese Kimonos are the most versatile piece of clothing. It's perfect for summer as it's completely airy and doesn't hug the body to make one feel uncomfortable. It can be worn by people of all ages and shapes because it's not form-fitting.
Modern Kimono is a really basic clothing piece that will make your outfits stand out which is why it should be in your cupboards. It can be worn over everything and make it look extremely trendy and fashionable.
It can be worn over as a jacket for a party or a cover-up in your swimsuit. It can also be worn over to add layers to your clothing. Also, there are plentiful choices of the modern Japanese kimono fashion, like they can be long, short, knee-length etc, as you like them to fit.
Further, let's check out some of the best modern Japanese kimono fashion below:
How do you style a modern kimono?
Styling a modern kimono is a creative and versatile endeavor that combines traditional elements with contemporary fashion sensibilities.
Whether you're wearing a traditional kimono or a modern reinterpretation, here are some tips to help you style it:
Choose the Right Kimono: Opt for a kimono that suits the occasion and your personal style. Traditional kimonos are typically reserved for formal events, while modern versions can be more casual and versatile.
Base Outfit: Pair your kimono with a simple base outfit. For women, a solid-colored dress, a tank top and jeans, or a fitted skirt and top work well. For men, a plain shirt and trousers create a balanced foundation.
Belt or Obi: Use an obi (sash) or a belt to cinch the kimono at the waist. This adds structure to the silhouette and enhances your waistline. You can choose a contrasting color or pattern to create visual interest.
Layering: Layering is key to achieving a stylish look. Leave the kimono open to reveal the base outfit, or tie it slightly to create a more fitted look. Experiment with different ways of draping and folding the kimono for a unique appearance.
Footwear: Pair your kimono with appropriate footwear. Sandals, heels, or loafers can complement the outfit, depending on the level of formality. Consider the length of the kimono when choosing footwear.
Accessories: Add accessories to complete your ensemble. Jewelry, such as earrings, necklaces, or bracelets, can enhance your look. A clutch or small handbag can also complement the outfit.
Hair and Makeup: Consider your hairstyle and makeup. A more formal kimono might warrant an updo, while a casual kimono could be paired with loose waves. Opt for makeup that enhances your features without overpowering the outfit.
Mix Traditional and Modern Elements: Combine traditional kimono pieces with modern elements for a unique fusion look. For example, pair a traditional kimono top with modern jeans, or wear a kimono-style jacket over a contemporary dress.
Play with Patterns and Colors: Don't be afraid to mix and match patterns and colors. Experiment with complementary or contrasting hues to create an eye-catching ensemble.
Confidence Is Key: The most important aspect of styling a modern kimono is confidence. Wear the outfit with pride, embracing the blend of cultures and eras that the kimono embodies.
Remember, styling a kimono is about expressing your personal style while paying homage to the garment's rich history.
Whether you're going for a formal look or a casual twist, the modern kimono provides a canvas for creative expression that beautifully marries tradition and contemporary flair.
Modern Japanese Kimono Without Belt
We all know that the traditional kimonos are belted but the modern ones can omit them and use them as per their fitting. They are loose, fluid and meant to be worn over as a cover up or to add layers.
There are various patterns like floral, plain, geometric shapes, stripes, check etc. in which they come in. You can choose according to what's suitable for you. This type of modern Japanese kimono fashion is a statement garment as it looks good over anything and everything.
Let's check out some of the kimono pieces without belts
Chunoy Kimono Cardigan
This is a modern kimono for females. It's made with light polyester material and has a floral print. It's extremely loose and fluid and perfect to be worn over a dress or a swimsuit to cover up. It can also be worn over jeans and tops.
This Chunoy Kimono is great for summer, spring and early autumn. It's one of the most desired modern Japanese kimono fashion trends.
Lai Meng Dragon Japanese Kimono Cover up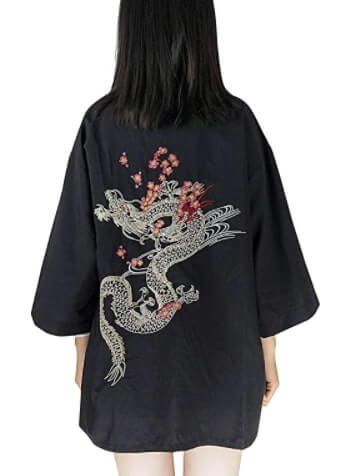 This is another Japanese kimono cover-up without a belt. It's extremely fashionable and can be sported with various dresses. The square sleeves and the front resemble the traditional kimono. However, it has no obi (sash) to tie.
It's a loose fit, fashionable, fluid and dramatic kimono to wear during summer, spring and autumn season. This modern Japanese kimono fashion is here to last for a while.
Modern Japanese Kimono with Fringes
Modern Japanese kimono fashion has taken so many different and stylish forms and definitely one of them is this trend of kimono with fringes. The fringed kimonos might come upto the knees or maybe full length, both of them look good.
This modern Japanese kimono fashion with fringes can be worn with or without a belt as per the choice. Adding a belt can give a statement style but it also looks cool without the belt and gives a much simpler and casual look.
SERECA Women's Burnout Velvet Kimono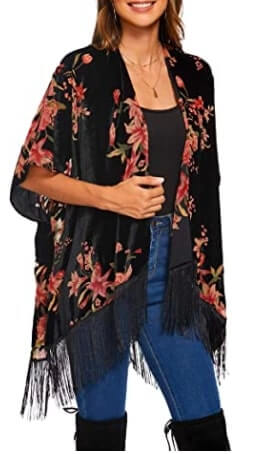 This is a modern Japanese kimono fashion with fringes. The fringes look extremely pretty and stylish. The kimono is pretty versatile and can be worn over with short as well as long clothes inside.
However, the fringes are more prominent when paired with short dresses or short pants. This type of kimono is extremely popular and trendy.
Modern Kimono for Men
It's most commonly understood that only females wear kimonos but the notion is certainly not right. There's modern kimono fashion mens as well. These are more than just cover ups. The modern kimono fashion for males is to wear them as styling jackets.
They are lightweight and resemble a kimono in the first appearance. The male kimonos might or might not have the strings to secure the kimono which totally depends.
PRIJOUHE Men's Kimono
This modern Japanese kimono fashion for men is ultimate and will make any man look extremely well dressed. Even though the fit is loose and fluid, adding the kimono on top of a shirt and pants give an extremely trendy look.
This modern kimono is extremely fun to add up as a layer and give a smart look to your dress. It's a blend of cotton and linen and very comfortable to wear as well.
This kimono can be sported for casual meet-ups, hanging out with friends, for a brunch, or even when you're on a vacation.
LifeHe Men's Japan Kimono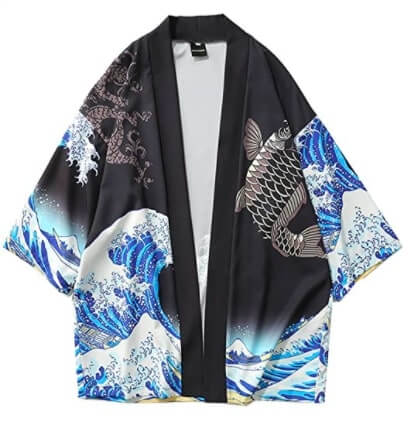 This is another modern Japanese kimono fashion clothing piece which pretty much reminds of Japan because of the print. The fishes and the Great Waves of Kanagawa are surely symbolic to Japan.
This modern kimono for men is one of the best apparel to layer if you're into Japanese culture. The front of the kimono and the sleeves are exactly like the authentic Japanese kimono but the length is short.
It's lightweight and made with soft polyester fabric. It can be casual wear as well as outdoor wear. This modern kimono jacket is minimalistic and comfortable.
Modern Kimono Dress for Women
Well, modern Japanese kimono fashion has taken lots of twists and turns and here is another twist- a modern kimono dress! It's very simple and resembles the authentic kimono the most. It can be worn in traditional functions as well as homewear or bridesmaid dress.
This modern kimono is very trendy and can be worn in several different ways. It's elegant and also has a luxurious drape. There's definitely a rope to secure the kimono which is much smaller than the original obi in width.
Ledamon Women's Kimono Robe
This modern Japanese kimono is a short knee-length dress that can be sported in various places like at home, as a bridesmaid, or at traditional functions. It has a very fine drape with collars and sleeves resembling the traditional kimono.
This modern kimono is made with polyester material that is very silky and soft. It also has a tie belt to secure the kimono which is much smaller than the traditional obi. It's perfect for seasons like summer, autumn and spring.
Current Trends of Modern Japanese Kimono
Over the years, a lot has changed with kimono trends. The obi which was supposed to secure the kimono is no longer used or is shortened to just a belt.
The authentic kimono was made with silk material and was quite heavy whereas the modern kimono is usually made with cotton and linen blend or polyester material which is lightweight. It's also extremely easy to wash the modern kimonos which wasn't the case with traditional ones.
Although, the Japanese people may not recognise the modern kimono as kimono as they are quite different but still they are popular all around the world because of the comfort and fashion.
Also Read:
Chunoy Kimono Cardigan
The modern Japanese Kimono Fashion is constantly changing, fluid and dramatic. It's far apart from the traditional Japanese kimono. There are various kinds of modern kimono to wear that are classy and stylish. Do check out Chunoy Kimono Cardigan which is the best modern kimono Kimono. Read further to know more.
Product SKU: YHFG09009670740
Product Brand: Chunoy
Product Currency: USD
Product Price: 16.99
Price Valid Until: 2021
Product In-Stock: InStock