Want to try the best ramen bowl in Japan? Check out Ichiran Ramen Japan menu down below!
Ramen is one of the must-have meals if you're visiting Japan. There's nowhere in the world where you can get the most authentic ramen bowl except for Japan.
Since ramen is a Japanese dish you're more likely to find multiple ramen shops all over Japan. However, the go-to ramen stop for most locals and tourists alike is Ichiran Ramen.
Ichiran Ramen is hands down the best place to taste this exotic bowl of goodness without worrying about the price or taste. Well, then what are we waiting for? Let's move forward and take a look at what Ichiran Ramen in Japan has to offer.
To make it convenient for you we've also shared our experiences with Ichiran Ramen in Japan and how you can effortlessly get your ramen bowl without having to wait too long in queues.
Ichiran Ramen in Japan Menu
Ichiran Ramen is a popular Japanese ramen restaurant that was founded in Fukuoka Prefecture. Initially, Ichiran Ramen was named "Futaba Ramen" in 1960 and it was only a small stall back then.
In 1966, the stall was renamed "Ichiran" which means "one orchid" and the stall was converted into a retail store in 1993.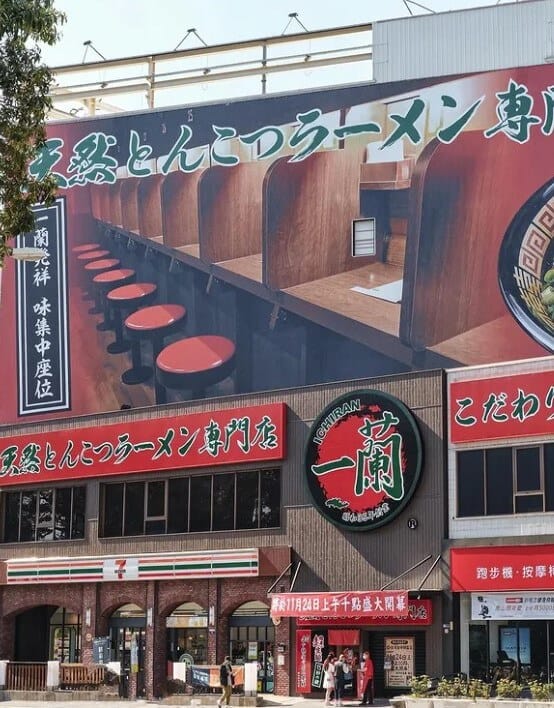 Since then Ichiran Ramen restaurants have seen breakthrough success all over Japan and eventually, Ichiran Ramen opened several outlets in countries across the world.
Presently, Ichiran Ramen has over 60 ramen outlets operating in countries outside Japan such as the USA, Hong Kong, Taiwan, etc.
The best-selling dish at Ichiran Ramen is their Tonkotsu Ramen which is a ramen dish made out of pork broth. Tonkotsu ramen is the iconic ramen dish of the Fukuoka Prefecture, founded several decades ago.
With the establishment of Ichiran Ramen restaurants across the world, everyone can taste the ancient ramen recipe that hasn't been altered by time or trend. The art of making classic Tonkotsu ramen is a complex process.
However, Ichiran Ramen restaurants have mastered that art and are keen to provide everyone with a heavenly bowl of ramen with a variety of sides that can make you full in no time.
Ichiran Ramen in Japan Menu
Since Ichiran Ramen is a Tonkotsu ramen-based restaurant everything available here is ramen.
However, the staff at Ichiran Ramen are open to accepting your preferences and customizing a ramen bowl with toppings and accompaniments of your choice. I mean, what more do you want except for a yummy and tummy-filling ramen bowl?
Check out the tonkotsu ramen menu down below.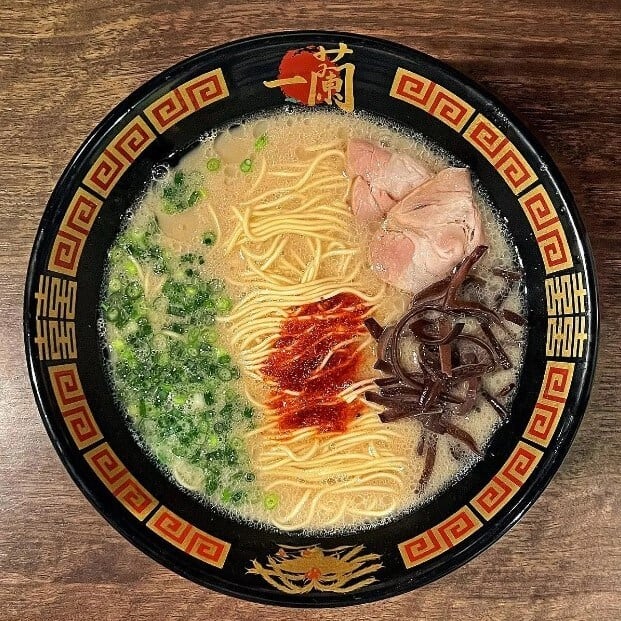 | | |
| --- | --- |
| Ichiran Ramen In Japan Menu | Price |
| Ichiran Select 5 | 1580 yen |
| Ichiran Select 3 | 1320 yen |
| Ramen | 980 yen |
| Kae Dama (Noodle Refill) – Full | 210 yen |
| Kae Dama (Noodle Refill) – Half | 150 yen |
If you still have the rich tonkotsu broth remaining you can choose a noodle refill from a size of your choice and complete your ramen meal without worrying about wasting the flavorful broth.
Toppings and Extras At Ichiran Ramen in Japan Menu
Ramen is nothing without those subtle toppings and condiments. That's why Ichiran Ramen in Japan offers you a variety of toppings and extras that you can choose from according to your tastes and preferences.
Be mindful of the toppings and extras you choose because they can get overwhelming when you attempt to finish your entire rich ramen meal.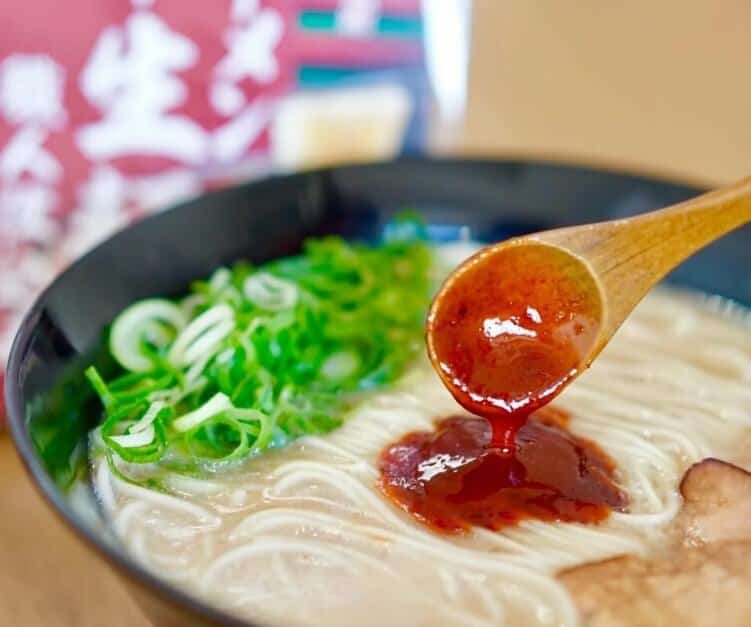 | | |
| --- | --- |
| Toppings and Extras At Ichiran Ramen in Japan Menu | Price |
| Half Boiled Salted Egg | 140 yen |
| Extra Green Onions | 130 yen |
| Rice – Medium | 250 yen |
| Rice – Small | 200 yen |
| Extra Sliced Pork (4 pieces) | 260 yen |
| Smoke Flavored Stewed Pork | 490 yen |
| Kikurage Mushroom | 120 yen |
| Dried Seaweed | 130 yen |
| Extra Garlic (2 cloves) | 120 yen |
| Ichiran's Original Premium Vinegar | 130 yen |
| Spicy Red Pepper Powder | 130 yen |
Drinks Menu At Ichiran Ramen Japan
Ichiran Ramen outlets in Japan are not popular for having a plethora of drinks which is understandable because their main and only focus is on providing the best ramen in the world. Therefore, you'll only find a limited amount of drinks that are enough to quench your thirst.
| | |
| --- | --- |
| Drinks Menu at Ichiran Ramen Japan | Price |
| Shikaibicha Ichiran's Original Blended Tea | 250 yen |
| Draft Beer | 580 yen |
Step by Step Guide To Ordering At Ichiran Ramen Japan
Many foreigners who've visited Ichiran Ramen outlets in Japan have had to face the intricacies of the ordering protocols. That's why we've brought you an easy guide you can follow before when visiting Ichiran Ramen outlets in Japan.
Follow the step-by-step guide as shown below.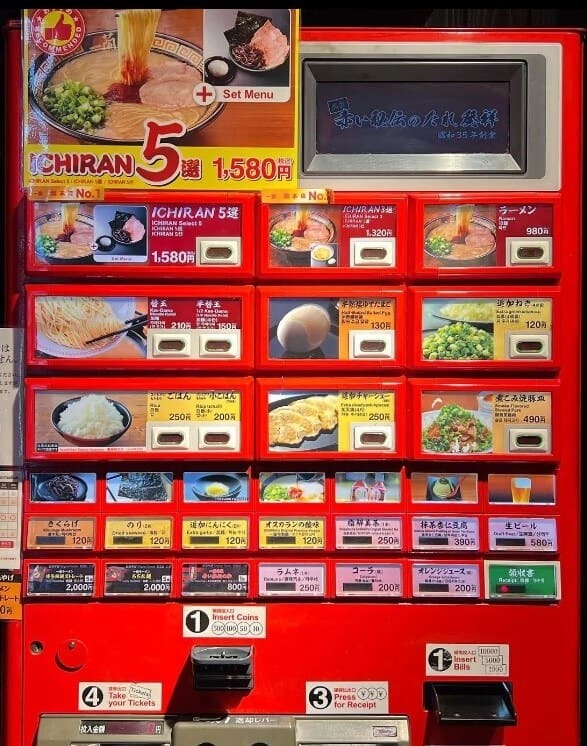 Step 1 – Purchase The Ramen Ticket At the Vending Machine:
Almost every ramen shop in Japan follows the vending machine procedure which is a convenient way to order ramen. The vending machine at Ichiran Ramen outlets displays the item you want to purchase along with the price mentioned.
After deciding what you want to buy you can insert the money which causes the buttons to light up. Then you press the button on which item you wish to purchase including noodles and toppings. Once chosen, a ticket will appear.
Step 2 – Choose Your Own Ramen Booth:
Ichiran Ramen stores in Japan have personal booths where customers can sit to finish their ramen. These booths are divided by wooden slabs which can be removed by the staff at request.
You can either ask staff to escort you to a vacant booth or take a look at the seating chart which displays occupied and vacant booths.
Step 3 – Customize Your Ramen As You Wish
Once you've occupied a booth you can now personalize your ramen bowl by simply following the instructions on the order sheet. In the order sheet, you have to circle on your preferred toppings, meat, and also how rich and creamy you want the broth to be.
You can also choose your desired noodle texture on the order sheet. In addition to toppings and texture, you're allowed to choose the strength of the broth flavor like how much garlic and spicy sauce you prefer.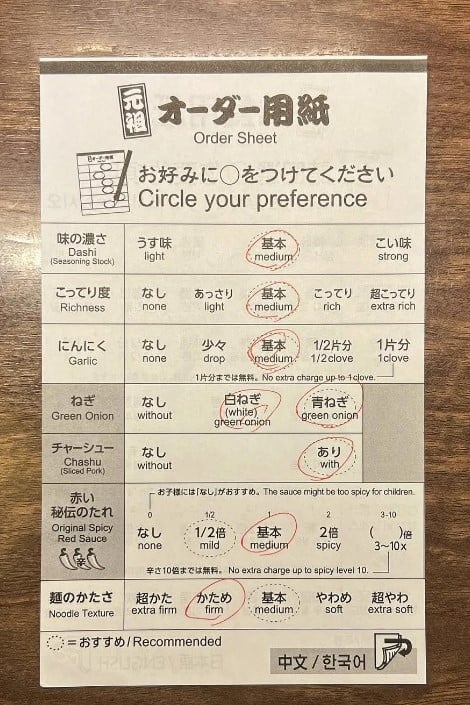 Step 4 – Press The Button To Hand Over The Sheet
After choosing your desired toppings, all you have to do is press the little button on the table. A waiter/waitress will be at your service to collect your order sheet and ramen ticket.
In the meantime, you can suit yourself by drinking a glass of water by opening the tap that's available at your booth. Don't worry, it's completely safe to drink tap water in Japan.
Step 5 – Enjoy Your Rich Ramen Bowl
After you've handed over the ticket and order sheet, you just have to wait until you receive your ramen bowl.
And once you receive it, all you have to do is just indulge in that bowl of rich and creamy goodness and experience what authentic ramen tastes like. Make sure to peel the shell of the boiled egg and mix all the toppings thoroughly to get the taste of everything in the bowl.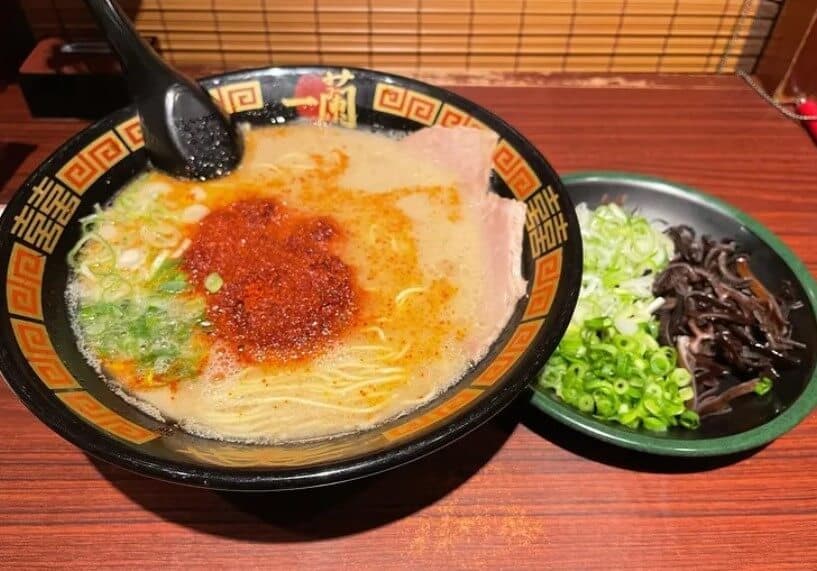 Keep in mind that you can still order an extra set of toppings or noodles if you prefer to have another bowl of ramen or if you still have broth remaining. Remember broth is the key ingredient of a ramen meal and you don't want to waste it.
If you're considering ordering extra items then turn your order sheet to the other side where you'll find a set of toppings and other extra accompaniments.
Circle what you prefer to order and press the button on your table like you did before and hand the order sheet to a staff member.
How To Avoid Queues At Ichiran Ramen In Japan
Ichiran Ramen stores in Japan are infamous for their queues and long waiting times. It's acceptable because who wouldn't want to queue up for hours to try the world's best tonkotsu ramen?
However, not everyone likes to stand in queues, especially not when your stomach is growling and hankering for ramen. That's why we've offered you some of the easiest ways for you to enjoy the ravishing bowl of ramen without having to wait too long in queues.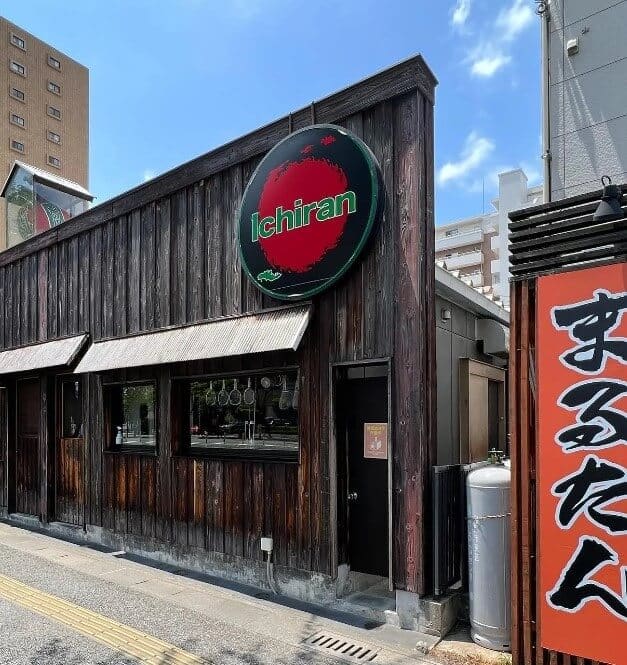 Visit Ichiran Ramen Outlets In Sparsely Populated Locations
'If you're visiting Japan and want to visit Ichiran Ramen in the streets of Tokyo then you can only dream of having to try ramen. Because Tokyo is a busy city and you can't even get close to the entrance of the outlet.
However, there are less crowded places in Tokyo where you can find Ichiran Ramen restaurants too. Make sure you call the outlet and ask them if they're available before making a visit.
Stop By The Outlet At Off-Peak Hours
This is another option you can follow to avoid queues. Off-peak hours at Ichiran Ramen in Japan are usually between 7 am to 9 am or between 10 pm to 12 am.
Contact Ichiran Ramen in Japan
You can contact Ichiran Ramen in Japan by reaching out to them via their social media profiles:
Ichiran Ramen Japan Menu: FAQs
What type of ramen is available in Ichiran Ramen?
Ichiran Ramen is a popular Japanese ramen restaurant chain that's specialized in Tonkotsu Ramen. Tonkotsu ramen is a type of ramen that's made out of rich pork broth by leaving the pork bones to boil for a longer period of time. This in turn provides a rich and creamy broth in which the ramen noodles are served along with a variety of toppings like green onions, boiled egg, spicy red sauce, etc.
What is the most famous ramen in Japan?
The most famous ramen in Japan is Ichiran Ramen. There are over hundreds of Ichiran Ramen stores operating all across Japan. They're quite famous for their Tonkotsu Ramen which is ramen made out of pork broth by leaving the pork bones to boil longer so that the flavor is transferred to the broth.
How much does Ichiran Ramen cost in Japan?
The price of ramen at Ichiran Ramen stores in Japan is 980 yen upwards which is $7 for regular ramen. If you wish to go for a larger ramen bowl with more toppings then it would cost 1320 yen upwards which is approximately $9.
Also Read