Looking to try some authentic Ramen in Tokyo? Here are the best ramen restaurants in Tokyo you have to try! Check it out!
Let's admit it, ramen is our top favorite Japanese food of all time. It's one of the dishes that the entire world has accepted as their own and there have been countless people making ramen with quite a ton of variations.
The juicy noodles sunken in the flavorful broth topped off with colorful veggies and boiled egg and the succulent meat chunks that add extra flavor to the ramen bowl are everything you could ask for.
However, it's always best to try the dish where it originated from. And that's why we are here to help you with that.
If you're traveling to Japan and want to find a place where you could get the authentic and delicious ramen we've got you covered. We've listed the best ramen restaurants in Tokyo that provide you with delicious ramen.
Check out DearJapanese on the average price range of a bowl of ramen.
Top Ramen Restaurants In Tokyo Near Me
Ichiran Ramen – Shinjuku City (Best Tonkotsu Ramen)
Ichiran is a renowned ramen restaurant chain in Japan that has multiple branches located around the country. The closest and the high rated Ichiran restaurant is the one in Shinjuku city.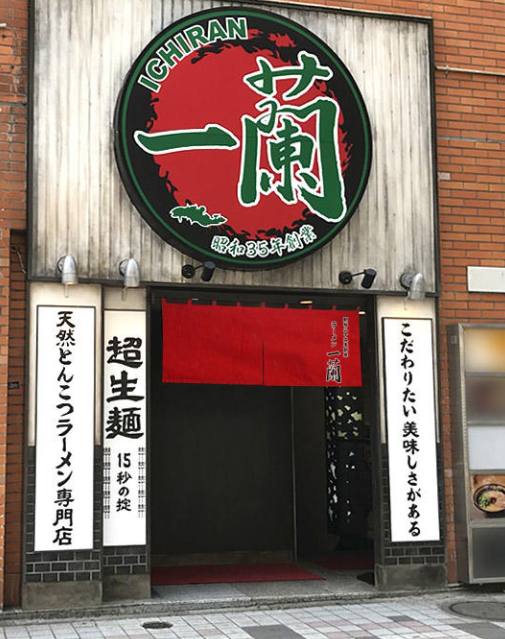 Ichiran is quite popular in Japan for its rich pork broth called 'Tonkotsu Ramen'. If you're a fan of the noodles submerged in the fatty pork broth then you know where to go. Ichiran also provides authentic recipes of ramen such as the Hatasha Tonkotsu ramen which is another pork-based ramen that originated from the Fukuoka Prefecture in Japan.
The broth is rich in flavor and has an oily texture due to the pork being left to boil for hours. The noodles are soft and topped with green onions, ginger, garlic, and sesame seeds.
The overall taste of the ramen isn't too spicy and Ichiran makes sure to take your preferences into account.
In Ichiran restaurants you have to place an order through a machine and you'll receive a form where you can add how you'd like your ramen such as spiciness, the richness of the broth, and choices of meat, etc.
This is the best restaurant to taste the authentic flavors of Japanese ramen.
Address – 6F Peace Building, Shinjuku, Shinjuku City, Tokyo
Opening Hours – 24×7
Contact No – +81 3-3225-5518
Location:
Related: Best Japanese Instant Ramen
Ramen Atelier Nakiryu – (Best Shoyu Ramen)
Nakiryu is another popular ramen restaurant in Japan that has been rewarded a Michelin Star and it's the second Japanese restaurant to ever receive the reward.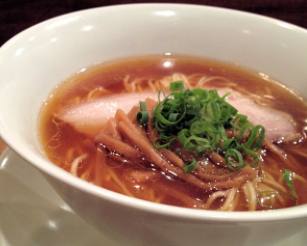 Nakiryu is known for having only a few seats to provide services to customers and you will have to wait for hours to take your seat. But don't let that take a step back from trying their yummy ramen dishes.
It's definitely worth the wait to try out their unique and juicy ramen bowl.
The special ramen dish in Nakiryu is their shoyu ramen. It's pork-based ramen that's added with different parts of pork and different kinds of barbecued pork that are cooked in distinct methods.
So you can taste a combination of flavors when you sip the broth. The noodles are long, soft, and a bit chewy, and they are topped with half-boiled egg, green onion, shrimp wonton, and bamboo shoots.
The broth is cloudy and super creamy. You can also try other ramen dishes in Nakiryu that are loved by locals.
Address – 2-34-4, Minamiohtsuka, Toshima City, Tokyo
Opening Hours – Monday 11.30 am – 3 pm, Wednesday to Sunday 11.30 am – 3 pm, and 6-9 pm. Closed on Tuesdays.
Contact No – +81 3-6304-1811
Location
Related: Best Japanese Snacks
Kipposhi – Shibuya City
Kipposhi is a small ramen shop that was opened by Mr. Koizumi in 2016 in Oshiage. Currently, Kipposhi has been relocated to Shibuya City and it's very close to the Shibuya station.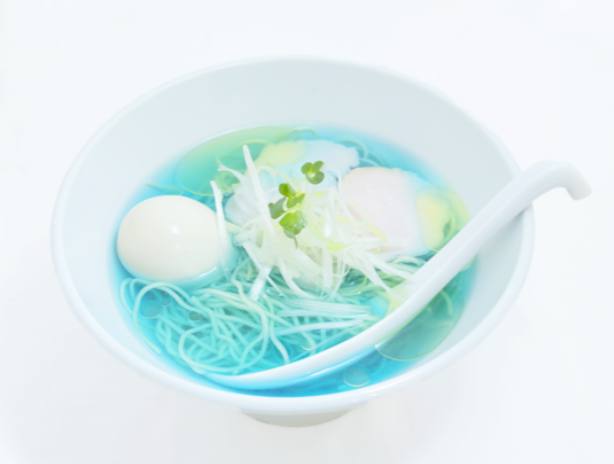 The secret of success for Kipposhi to now operate as a popular Japanese ramen restaurant lies within the owner himself. He believed that making ramen is nothing but art and he took it to another level by introducing new flavors to the ramen dishes.
The most iconic ramen dish sold at Kipposhi is the Blue Ramen or Clear Chicken Soup Blue.
Yes, it's a ramen bowl that has a blue-colored broth made to look like the beautiful Hawaiian Sea which inspired Mr. Koizumi. The Blue Ramen has been a social media sensation and people flock to try it.
As someone who's tried it, I must say that it's the best ramen you could have. It's simple yet delicious and the chicken broth will leave your taste buds in awe.
The broth is clear, light and the blue color isn't too overwhelming. You'll also find other unique ramen options in Kipposhi such as Clear Chicken Soup Pink Ginger etc.
Address – 5-11-1, Jinnan, Shibuya City, Tokyo
Opening Hours – 12-3 pm and 6-8 pm from Sunday, Monday, Tuesday, Thursday, Friday, and Saturday. Closed on Tuesdays.
Contact No – +81 3-6712-7285
Location
Noodle Stand Tokyo – Shibuya City (Miso Ramen)

Ramen is nothing without the tasty and fatty broth and meat chunks that make your ramen bowl appetizing. But this ramen restaurant in Tokyo proves it wrong by introducing their new vegan ramen option. Finally, a ramen restaurant where vegetarians and vegans can eat peacefully.
And they don't just stop right there. Noodle Stand provides a diverse menu of unique ramen noodles for a cheap price unlike anywhere else.
The popular ramen dish sold by Noodle Stand is the Coconut Miso ramen. This ramen is served both vegan and non vegan hence you can make your own choice. Trust me when I say that this ramen tastes out of the world. The soup is made out of blended coconut miso and it's just heavenly.
The coconut makes the broth super creamy and thick and it complements well with the thick chewy noodles.
The vegan coconut miso ramen is topped with green onions, nuts, ginger and soy meat (vegetarian) with a piece of lime on the side. You can also choose your noodles to be low carbohydrates and gluten-free.
You can order your ramen here through a vending machine and watch the staff make your meal.
Address – 1-23, Jingumae, Shibuya City, Tokyo
Opening Hours – Tuesday to Friday 11:30 am – 3:45 pm and 6-9:30 pm, Saturday 11.30 am – 9:30 pm, Sunday 11:30 am – 9 pm. Closed on Mondays.
Contact No: +81 3-6804-1477
Location
Tsuta – Shibuya City (Shoyu Ramen)
Tsuta is another popular ramen restaurant in Tokyo and the first-ever ramen shop in Tokyo to ever receive a Michelin Star reward. This is your go-to place if you want to have a luscious ramen bowl.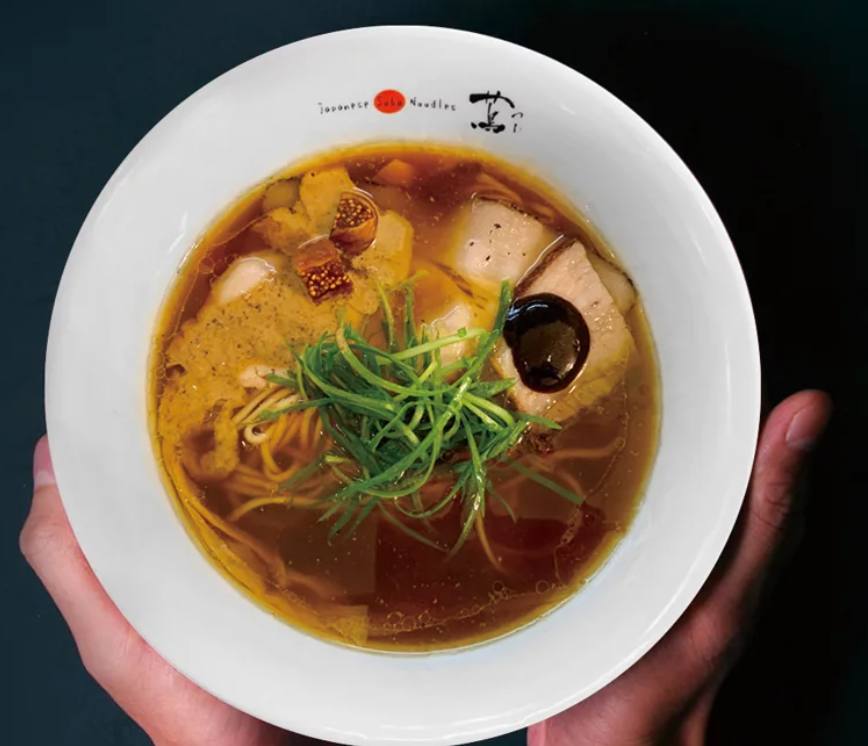 Their signature ramen dish is Shoyu Soba which is soy sauce ramen. It's made out of a mixture of chicken and seafood stock which adds a phenomenal flavor to the broth.
The noodles are thin and long and easy to slurp right away. It's added with a chunk of pork and topped with Tsuta's iconic black truffle oil.
The ingredients used to make this ramen dish are carefully picked and come from renowned districts in Japan.
Thus you can expect original and delicious ramen from Tsuta. Tsuta is usually crowded during peak hours and you might have to wait in the queue to get a seat. However, it's worth the wait, and Tsuta provides affordable ramen for a Michelin Star restaurant.
Address – 3-2-4, B1 Nishihara, Shibuya, Tokyo
Opening Hours – Thursday to Sunday 11 am – 4 pm. Closed on Monday, Tuesday, and Wednesday.
Contact No: +81 3-6416-8666
Location
Ippudo – Chuo City
Ippudo is another famous restaurant chain in Japan that has several outlets scattered throughout Tokyo.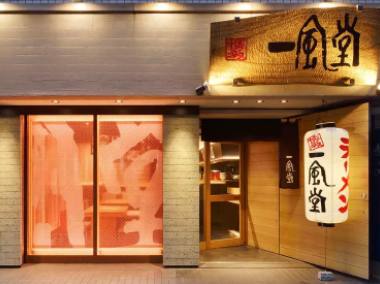 Ippudo also has opened outlets in foreign countries like France and The USA. Despite being a renowned restaurant chain, Ippudo outlets are quite compact, have a wooden facade and a traditional interior.
But that doesn't mean you'll have an uncomfortable experience inside. Once you enter the Ippudo restaurant you'll find it very welcoming. The staff are amicable and you'll also find a menu that's in English.
Ippudo provides a large variety of foods that are quite appetizing. The classic ramen bowl provided by Ippudo is Shiromaju Motoaji.
This ramen is made using soba noodles and the broth is tonkotsu which is pork flavored. The broth has the right amount of seasoning and it's not greasy but creamy and rich. The noodles are thin, long, and chewy.
It's topped with mushrooms, pork shreds, and seaweed. The prices in Ippudo are more on the expensive side but you'll find ramen for affordable prices as well.
Address – 1F-3-10-4, Ginza, Chuo City, Tokyo
Opening Hours- Monday to Sunday 11 am – 10:30 pm
Contact No- +81 3-3547-1010
Location
Ramen Jiro – Mita Honten
This ramen is one of the best you can find in Tokyo and very difficult to get a table at! To get into this restaurant you'll have to stand in queue from 10:30 AM onwards. Once ordered, your food should take about 30 minutes to be served and the wait is definitely worth it!
Also, the portions at this place is super large so maybe take a friend along to help you finish the ramen bowl!
Address: 2 Chome-16-4 Mita, 港区 Minato City, Tokyo 108-0073, Japan
Opening Hours- Monday to Saturday: 8:30am–3pm; 5–8pm | Sunday closed
Contact No: –
Ramen Restaurants in Tokyo: FAQs
Which place in Japan has the best ramen?
The best ramen in Japan can be found in several restaurants in Tokyo. Some of the best ramen restaurants in Tokyo are Ichiran Ramen, Ramen Atelier Nakiryu, Kipposhi, Noodle Stand Tokyo, Tsuta, and Ippudo. They are the renowned ramen restaurants in Japan that provide authentic Japanese ramen.
What is the number 1 ramen in Japan?
The number 1 ramen in Japan that's loved by both locals and tourists is the Tsukumen ramen. It's a ramen dish where the noodles and the broth are served separately and the noodles are eaten by dipping in the broth. Tsukumen ramen is available in restaurants like Ichiran Ramen, Ramen Atelier Nakiryu, Tsuta, and Ippudo.
How many ramen shops are in Tokyo?
Ramen, the iconic Japanese noodle dish is widely eaten by everyone in the country. Ramen shops in Japanese are called ramen-ya and there are over 10,000 ramen shops all around Tokyo served in small shops to large restaurant chains and five-star hotels.
How much is a bowl of ramen in Tokyo?
The price of a ramen bowl in Tokyo depends on the restaurant they are served at. In some small shops, ramen bowls cost quite cheaper than large restaurant chains. The average amount of a ramen bowl is usually 600-100 yen and if you wish to include extra toppings the price may vary.
What is the most popular ramen?
The most popular ramen dishes are Shoyu ramen and Tonkotsu ramen. Shoyu ramen is made out of a soy sauce flavored broth which either has a light or dark brown color depending on the amount of soy sauce added. Tonkotsu ramen is made out of pork flavored broth which has a light color and rich flavor.
Also Read: