The Mango Kit Kat Japan Review is all about giving you an insight into this new and exclusive flavor of Kit Kat from Japan. Find out more about the taste, ingredients, and whether it's worth trying out!
Did you know that till date, there have been hundreds of different flavors of Kit Kat available in Japan? Yes, hundreds! Simply unbelievable right? Or maybe since it is Japan, it sure is believable, I guess! It is a country capable of making everything possible.
Well, while they have many flavors of Kit Kat created, not each and every flavor of these Kit Kats are sold at all times.
Some are limited edition, some are region restricted and some are that are sold seasonally.
Well, the mango Kit Kat flavor is one of the seasonally sold Kit Kat flavors in Japan and is known as the "Summer Mango" flavor.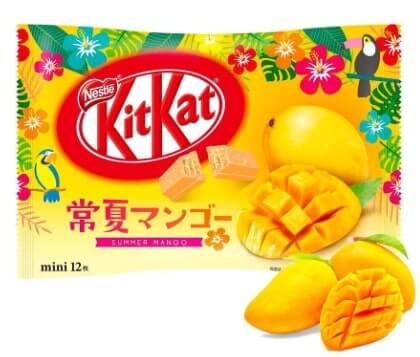 So, being a huge Kit Kat fan and having tried over 15 different flavors of Kit Kat, I had to lay my hands on a packet of these mango-flavored Kit Kat bars as soon as possible, and guess what, I did!
Here's my review, after tasting this flavor. Here you go!
Mango Kit Kat Japan Review
Mango Kit Kat: A Brief Description
Flavor name: Summer Mango
What's in the box: 12 mini bars
Cost of the packet: 1,058.40 JPY (8.24 USD)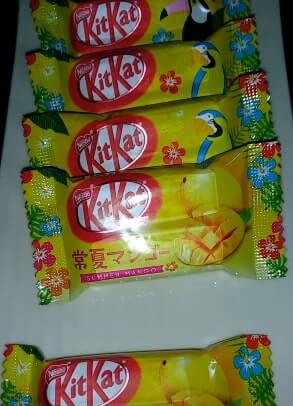 The mango Kit Kat bar is a seasonal Kit Kat flavor that is filled with rich mango flavor. The wafers in the Kit Kat bar are stuffed with mango and the two-finger wafer bars are wrapped in white chocolate which is also flavored with mango.
Factors I Considered While Reviewing the Mango Kit Kat
So whenever I review food items, be it any type, I always make sure to correlate it with some factors so that the readers will get a better idea about the item they are planning to buy. I also rate them on a scale of 1-5, as per my personal opinion.
For this product, Mango Kit Kat, I have considered four factors to review, which I hope comes in handy for you guys.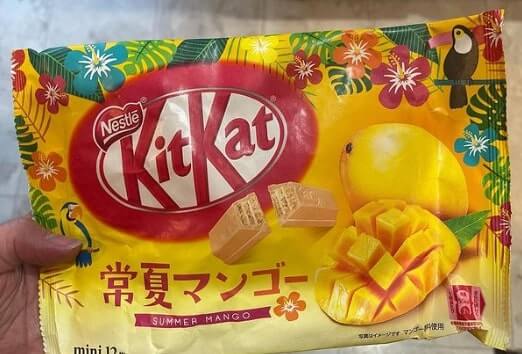 Here are the four factors I chose to review the mango Kit Kat on:
Product packaging:
Some are very particular about the packaging because if they have to transport this product, then they prefer if it comes in a box and not a plastic pack.
So this is something I considered whether the Kit Kat bars came in a box or a plastic packet.
The taste:
Well, this one's pretty obvious. In this factor, I considered whether the mango Kit Kat has the taste of actual mango or whether it's simply mango essence filled into the chocolate bars.
I always like when flavors taste natural and not artificial. So this is something I always consider.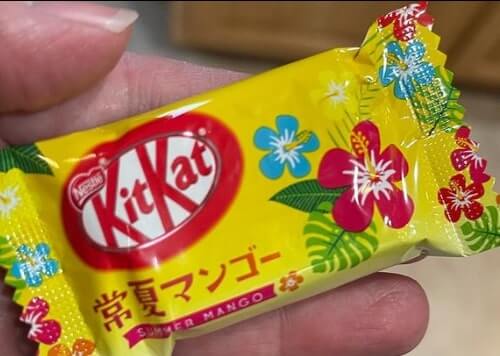 Also, the mango Kit Kat is mango flavored along with white chocolate wherein both these ingredients are sweet. So, how this chocolate bar manages to balance the sweetness in its taste, is also something I considered.
The aroma:
This aspect was pretty important to me because I love the smell of fruit mango! It's fresh and fruity, while an essence smells so artificial.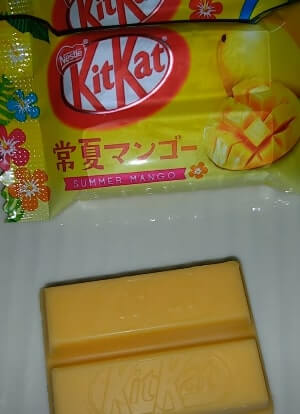 So this is another thing I considered, whether the mango Kit Kat actually smelled like it had fresh mango added to it while it was made.
Its appearance: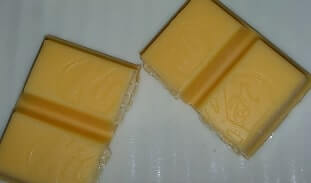 Here I considered whether the mango Kit Kat looked appealing or not. Did it actually look like a "mango" Kit Kat, wherein the Kit Kat bars were yellow in color or whether they were white chocolate bars with mango bits, or if the bars like the regular white chocolate ones with just an essence of a mango?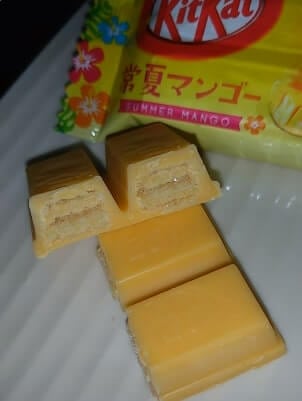 Review Of the Mango Kit Kat
Anything to do with mangoes is my favourite! Whether it's mango juice or mango ice cream, mango milkshake, or even a yummy ripe mango, I will take it all! That's how much I love the flavor of mangoes.
So when I saw a poster of the new mango-flavored Kit Kat, I knew I had to buy myself a packet and try them out as soon as I could!
I reviewed the mango Kit Kat based on the few aspects I chose (as mentioned above) and here's my review below.
The product packaging:
So as for the product packaging, well, I received 12 mini Kit Kat bars in plastic packaging. So, no, it did not come in a box. But nevertheless, since I bought the Kit Kat pack at the store itself, the mango Kit Kat bars came intact.
Each of these two-finger Kit Kat bars was individually wrapped and was super easy to open! So that's what I really liked because sometimes, opening a chocolate bar's plastic wrapping can be a task by itself, honestly!
The taste:
Coming to the taste, well, if I said "yum", it would be an understatement, I guess. Let me just say that I simply loved the taste of the mango Kit Kat bar and it was absolutely fantastic in my opinion. As a mango lover, it was a feast to my tastebuds!
The white chocolate perfectly blends in the mango flavor and has a lovely subtle aftertaste of mango which lingers in the mouth for a while. So that's what I really enjoyed because the flavor of the mango remains long after the chocolate has been consumed.
The wafers were really crisp and I felt like the wafers too had some extent of mango flavoring or maybe I was too obsessed with it because of how awesome this flavor was!
Also, I was wondering whether the white chocolate and mango combination would make this Kit Kat flavor extremely sweet. Well, it didn't, really. Even though it was on the sweeter side, I felt like the balance of sweetness was definitely there.
Besides, the taste of the mango was not an essence nor did it taste artificial, it felt like fresh mango pulp in each bite, wherein you could taste both the mango and the white chocolate equally. Neither flavor overpowered the other. Every bite was bliss!
Its appearance:
Well, just as I imagined, the mango small, two-finger-sized Kit Kat bars were yellow in color, pale yellow in fact and they looked super appealing and so appetizing!
The texture of the chocolate was smooth and it wasn't melted, nor was it too hard. It was just perfect and melted in my mouth!
The smell:
The last factor I considered was the smell; did it smell like fresh mango? Well, I wouldn't say it smelled exactly like "fresh" mango, but it did have the perfect smell of mango, which definitely did not smell like essence. The smell was fruity and pretty refreshing.
So, here I end my review and I know that I might have sounded like I am advertising for Nestlé Japan's mango Kit Kat flavor, but that's how much I loved this chocolate and I can't wait to buy it again when I can!
Frequently Asked Questions (FAQs):
Is Mango Kit Kat Worth It?
Well, for those of you who like the natural flavor of mango, I would definitely recommend trying out this super yummy flavor of Kit Kat. The flavor of the mango is not too much or too less, it is just perfect and that's what makes this flavor really unique.
If you're a mango lover and of course like chocolates as well, then go ahead and give this new mango Kit Kat flavor a try and I'm pretty sure you'll like it!
Where Can You Buy Mango Kit Kat In Japan?
Most often you can simply run into a department store, convenience store or small shop at the gas station, bus stop, train terminal, or airport and I'm sure you can find yourself a pack of mango Kit Kats there.
Well, in case it isn't available at these local stores, then there is a possibility that it is out of stock since the mango Kit Kat is a limited edition because it is a seasonal flavor, so maybe then you could look for it online various sites.
Here are some of the online shopping sites you could use to buy mango Kit Kat:
Nestlé Japan
You could simply log into the official website of Nestlé Japan, wherein you could have more chances of finding a pack of the mango Kit Kat bars and get them delivered to your home.
Yahoo Store Japan
The Yahoo Store is another convenient online store to shop at. You can Google search "Yahoo Shopping Japan" and use the first link to get to the store.
Rakuten Japan
Rakuten is another popular online shopping website in Japan. It's a digital marketplace and you can check out their wide range of Kit Kat flavors and maybe get your mango Kit Kat there too.
Amazon Japan
You have to enter your Japanese forwarding address and then you can shop at the Amazon Japan website.
The Final Takeaway
The mango Kit Kat is a rare and unique flavor and is a seasonal edition of Kit Kat. Well, that's why you may not find it all-year round and you need to grab your pack as soon as you can.
If you're a mango lover, this Kit Kat is one you'll enjoy for sure. So don't waste any time, go to the nearest department store or try searching online and make sure to buy yourself a pack of these yummy mango Kit Kat bars!
Also Read: