Here are the best Japanese royce chocolate products for a yummy treat! Check it out!
I am a chocolate addict, quite literally. If you check my bag, you will find a pouch full of my favorite chocolates. Chocolates are my favorite things to munch on, any time of the day (or night). I have tried several brands of chocolates in my lifetime. I love trying out every variant that is available out there.
I found one of the best ones on my last trip to Japan. The country is known to produce some of the best variants of chocolates, and believe me, you will find some of the most unique ones here. The one that jolted my taste buds was Royce Chocolate.
Best Japanese Royce Chocolate Products — Quick Summary
Royce chocolates are known to be so soft that they melt in your mouth. The store of Royce chocolates is filled with colorful chocolate boxes that tempt you. The company is the most popular for its nama chocolate, which is a form of ganache that is made with melted cacao and fresh cream. It is then dusted with fine cocoa powder.
I have tried out all the variants and so, I have brought to you some of the best Japanese Royce Chocolate Products that you must definitely try out.
Top Japanese Royce Chocolate Products
Royce Nama Chocolate
Royce Nama chocolate is one of the most known and popular chocolates of Japan that is rich in texture and extremely flavorful in taste. I have tried this one and trust me this chocolate earned a fan instantly.
I do not like chocolates that stick in the teeth but the ones that melt perfectly in the mouth. This one does its job as the texture is smooth and it beats most of the other types too.
You will receive fresh and rich textured chocolate packed nicely in a leak-proof box to not make it messy. This Nama chocolate is made after mixing the raw Royce's chocolate with Hokkaido's milk, which when blended perfectly, increases its smoothness and creaminess.
To give it a normal chocolate-like texture, ganache combined with milk is also added which makes it more of a truffle-like chocolate. Other than that, you must not forget about the health benefits you have when you consume some amount of chocolate.
We all know that chocolates help in boosting up energy levels and make your brain work faster, but do you know there are other benefits too? Since chocolates contain high amounts of antioxidants, it helps in building up the immunity system to fight heart disease and cancer.
Pros:
Hokkaido's milk is a good source of Omega 3
Extremely creamy, smooth, and refreshing
Royce Potato Chip Chocolate
When I heard about this for the first time, it definitely sounded weird but when I tasted it, I was absolutely amazed. When I went to Japan, I came across this amazing combination of sweet and salty with a whole set of different ingredients.
Have you ever heard about this potato chip chocolate that is definitely a go-to option for all the chocolate lovers out there? When you try them for the first time, go for this yellow box that will escort you to the path of delicacy in the most unique way.
In this box, you get potato chips, perfectly salted and fried, and layered with Royce chocolate, which when eaten, gives an amazing taste of crispy and salty potatoes and the sweetness of chocolate. Enjoy this pack of salty and sweet potato chocolate chips and keep your taste high.
Pros:
Combination of salt and sweet makes you feel energetic
Sweetness helps in good blood flow
Saltiness helps boost metabolism.
Royce Bar Chocolate
Royce chocolate is another way of getting close to the heavenly taste of Japan's famous and popular chocolate of all time. This chocolate, a blend of Royce raw chocolate with Hokkaido's milk, is highly efficient for you as it helps in improving brain function instantly.
I have tried this chocolate in both its original form and other variants too. But trust me, this one is my favorite because of the amazing flavors I get to taste.
Royce bar chocolates are made with multiple dehydrated fruits such as mango, strawberry, cranberry, banana, and almond puff. There is also a nutty bar made with dried fruits, which is my most favorite one of all the time.
I would highly recommend you to try these as you will instantly fall in love with the sweet yet fruit and crunchy taste of this chocolate. In this package, you get three assorted flavors in six bars each packed nicely to keep the shape intact. These are super handy and delicious at the same time.
Pros:
Added fruits make the chocolate richer in fiber and nutrients
Royce Baton Cookies
If you ask me about my favorite cookies these days, then that is Royce Baton Cookies. Without any doubt, this is something that a coconut lover must try. If you haven't tried this, then you are surely missing out on one of the best snacks to have with a cup of tea or coffee.
These crunchy and crispy cookies are made in different flavors but the most popular one which you must try is the coconut flavor. One side is coated with Royce chocolate and another is the crispy and crunchy part that gives a blended taste of fresh coconut and sweet chocolate.
The golden crunch is something to be appreciated as it makes the cookie chewy and a perfect combination to have with tea and coffee. This product is worth the price because of its taste, texture and even it is pocket-friendly in nature.
Pros:
Coconut helps in lowering down the cholesterol level
Acts as an antioxidant which also helps in weight loss
Royce Pure Chocolate
If you are somebody who doesn't like extra ingredients in your chocolate then this one is for you. Royce chocolate made with the goodness of caramel milk and milky white tastes absolutely rich and creamy.
The moment I tried this chocolate, I was amazed by its texture. It melted instantly while filling my mouth with heavenly, creamy, and sweet chocolate. Regarding its packaging, it is perfect and can be a great gift for your loved ones.
Both the options are amazing and you can choose on the basis of how sweet you prefer. If you are more of a dark chocolate lover, then go for caramel milk as the cocoa content is lesser as compared to the milky white chocolate.
Pros:
Less cocoa content
Melts in the mouth
Great for gifting
Royce Chocolate Wafers
Experience having these chocolate wafers in hazel cream flavor. These are made with chocolate wafers and Royce chocolate with an additional layer of hazel cream to just make it taste absolutely delicious.
This famous Japanese chocolate is all you need to lighten up your mood and fill it with sweetness. This brand has used various different ways in making chocolates such as combining them with fruits, potato chips, flavored bars, etc.
Chocolate wafers is another way that is loved by all as it has come out to be a great snack of all time. Hazelnut cream is layered between crispy squares that are coated with chocolate. You get different flavor options to try such as strawberry being another famous one.
Pros:
Perfectly layered with hazel cream
Perfect snacking option
Crispy
Thrill For Your Taste Buds!
When I tried my first Royce chocolate, I knew I had found my new addiction. The wonderful texture and lip-smacking taste of these chocolates had me hooked right from the first bite.
As you saw from the chocolates I have listed out above, Royce chocolates are known for their exciting ranges and unique textures.
Royce Chocolates have expanded their product line to include several types and variants of chocolates, such as Bars, Baton cookies, Popcorn, and Potato Chip. With all of these types, you will never be short of chocolates to match your different moods.
If you are in Japan, you must definitely try out these chocolates. Believe me, you will not be disappointed at all.
Royce Nama Chocolate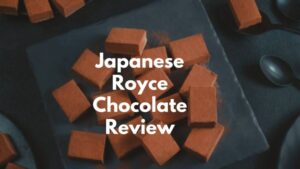 Check out the best Japanese royce chocolate products.
Product SKU: 00985875BVD12250
Product Brand: Royce
Product Currency: USD
Product Price: 35.00
Price Valid Until: 2021
Product In-Stock: InStock