We curated a list of Hako incense scents that will calm you and put you at ease right away with calming aromas!
After a long day of running errands, your mind, body, and soul call for some pampering to flush out all that pressure. What better way to relax other than dozing off at home with a lit scented candle that hypnotizes you into a world of contentment?
However, I'd recommend replacing scented candles with Hako incense scents which are basically Japanese incense papers that come in a miscellany of fragrances. They're lightweight, enchanting, and can act as a potpourri to instantly deodorize your surroundings.
If Hako incense scents have caught your attention then check out my review of the types of Hako Incense Scents below!
Check out this pack of 6 HAKO paper incense that includes: Spicy Jasmine, Elegance Citrus, Smokey Cinnamon, White Floral, Green Glass, and True Aqua
You can also get a pack of 5 HAKO paper incense that includes: Spicy Jasmine, Agerwood, Winter Cedar, Winter Farm Tree, and Winter Ginger.
Types Of Hako Incense Scents
Hako Incense Agarwood
Let me begin by stating that Hako incense scents are made out of washi paper and are designed into shapes of leaves that represent a particular season.
There are 8 scents that make up the original collection of Hako and Agarwood is one of them. Agarwood is a world-renowned fragrant and medicinal component used in perfumes and incense.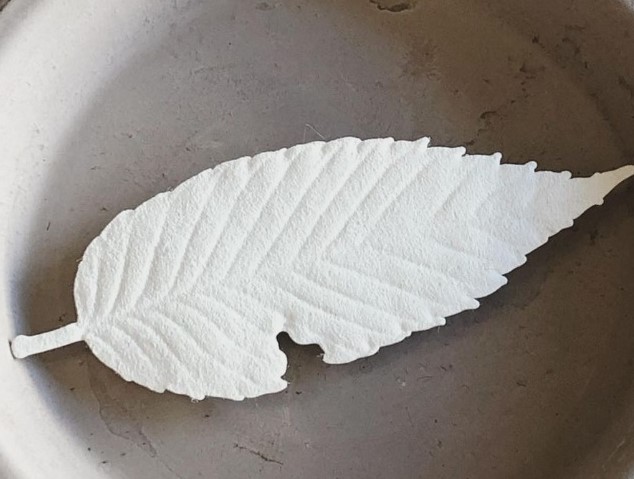 The Agarwood incense Hako leaf is white in color and bears the resemblance to zelkova leaves. After a few minutes of lighting up the agarwood incense paper, my entire room was deodorized and it smelled so lively.
The scent of the agarwood was profound that my room almost turned into a temple. The Hako incense leaf only lasted seven minutes but the agarwood fragrance lingered for approximately 2 days in my room.
Hako Incense Spicy Jasmine
The Spicy Jasmine scent is one of my top favorite scents from Hako Incense. This incense leaf has a slightly yellow shade and possesses the shape of zelkova leaves.
Jasmine is a universally recognized aroma and it's known as the queen of floral fragrances.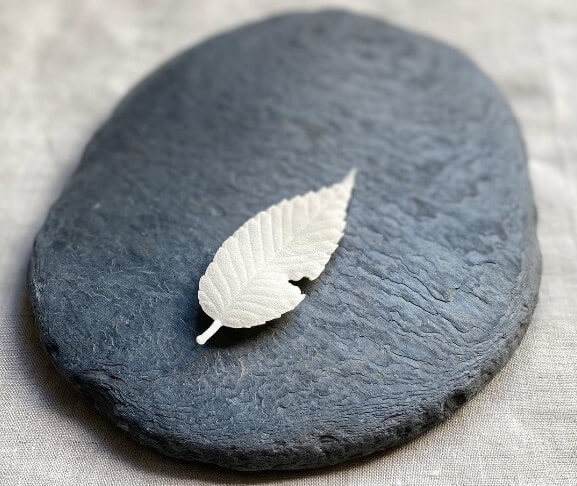 Floral scents like spicy jasmine are generally subtle and they can be very therapeutic. This incense leaf is developed from natural jasmine flowers and the fragrance is balanced to give off a sweet musky hint thus you won't find it overpowering.
If you're experiencing trouble sleeping then I highly recommend lighting up a leaf of the Hako Incense Spicy Jasmine when going to bed.
This is because the aroma of jasmine has proven to promote sleep and you'll wake up fresh and agile the next day.
My experience with the spicy jasmine scent from Hako Incense has always been full of positivity and poise hence I light the Hako Incense leaves regularly. 
Hako Incense Sandalwood
Here's another wood-scented Hako Incense leaf that is white colored and comes in the fragrance of sandalwood.
Sandalwood is a sacred medicinal plant that has been used for centuries as an incense and even as a lucrative skincare component.
I would choose the sandalwood-scented leaf from Hako Incense on any given day to be part of my daily relaxation routine.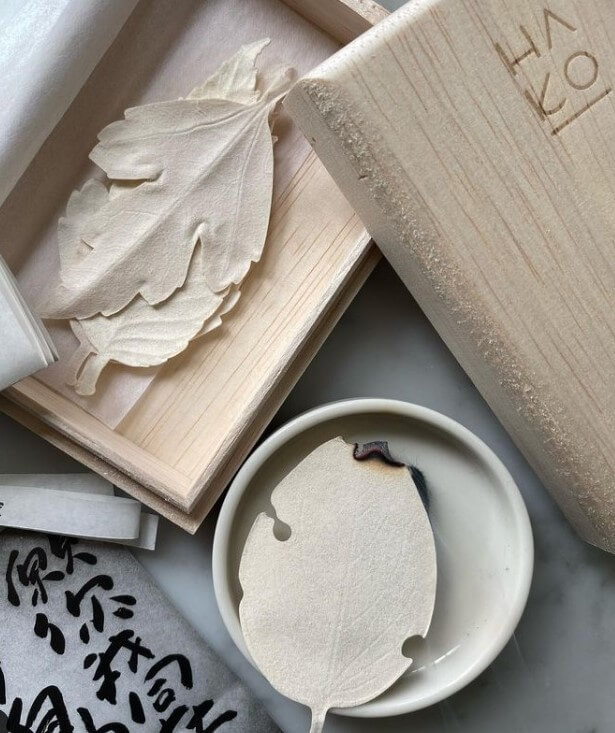 Sandalwood incense possesses a number of benefits for your nervous system. It calms your nerves, reduces anxiety and agitation, enhances sleep quality, and can instantly lower stress.
The Hako Incense Sandalwood leaves do just that and they promote an overall serene and musky atmosphere.
The sandalwood scent in the leaf is mellow and delicate and you'll automatically feel all that stress draining.
I must admit that after lighting a Hako Incense Sandalwood leaf, I generally feel spiritually elevated and it's bound to uplift your moods instantaneously 
Hako Incense Elegant Citrus
Citrus-scented incense is always the go-to for several people because there's something about citrus that makes you feel at ease.
The Hako Incense Elegant Citrus leaf possesses a light orange hue which is a direct indication of the citrusy aroma.
Upon lighting the Hako Incense Citrus Elegant leaf I couldn't perceive whether the citrus aroma was similar to oranges or lemons, but the fragrance was hands down exotic and mild.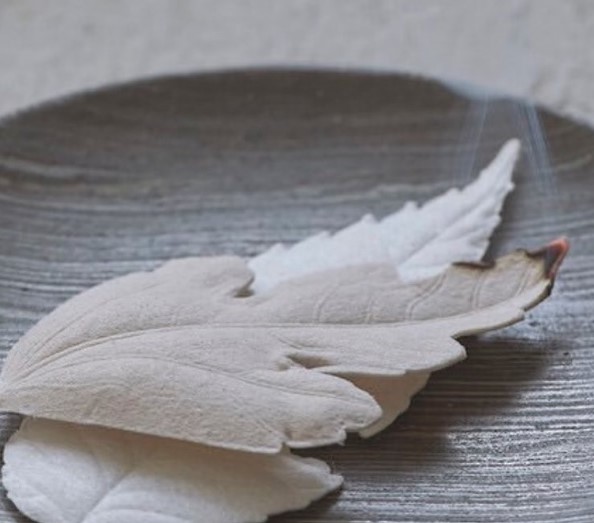 Citrus incense is a great mood changer as it's prone to reduce your stress hormones by boosting the release of serotonin which is the happy hormone. Another popular blessing of citrus incense is it contributes to a clear and focused mind thus making you attentive and active.
The Hako Incense Elegant Citrus leaves contain the perfect notes of citrus that deodorizes the atmosphere while making you feel cheerful and agile.
Since the aroma of citrus is all about enhancing alertness and concentration skills, I recommend using the Hako Incense Elegant Citrus during the daytime, especially if you're at work. 
Hako Incense White Floral
The White Floral scent from Hako Incense has always been an enigma to me because till now I can't figure out the flower/flowers that have been utilized to provide fragrance to this incense.
This incense leaf resembles the persimmon leaf and has a mild yellow shade. If you're not bothered about the flower content of this incense leaf but still enjoy floral incense then the Hako Incense White Floral leaf is ideal for you.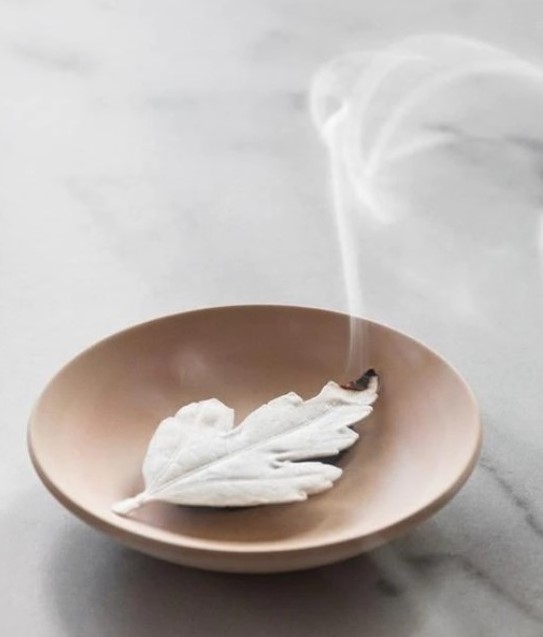 The aroma of the Hako Incese White Floral scented leaves has a feminine touch to it and it simply attracts you with its mesmerizing delicate odor. Floral incenses are the holy grail for spiritual healing and aromatherapy.
They promote tranquility, holiness, and serendipity. The essence of Hako Incense White Floral stimulates your spirits and nurtures your mental health by keeping anxiety, depression, and stress in check.
Lighting up a leaf of the Hako Incense White Floral either in the daytime or at night will make you feel cheerful and in solace. 
Hako Incense Smoky Cinnamon
The Smoky Cinnamon fragrance from Hako Incense is a persimmon leaf with a brown shade that resembles the natural color of the cinnamon bark.
This is the ideal incense for the fall season and if you adore cinnamon then this is going to be a delicacy for you.
The Hako Incense Smoky Cinnamon leaf possesses an earthy and burnt woody aroma with slight undertones of floral fragrances.
If you prefer to use this incense paper as a potpourri I'd be more than delighted because it smells elegant and rustic that way.
However, lighting up cinnamon incense has heaps of health benefits as it heals your body by treating colds, promoting blood circulation, and bringing down cramps and indigestion.
In addition to the health benefits, the Smoky Cinnamon incense from Hako also averts negative energy and evil away from your comfort space. If you ever feel sickly then ignite the Hako Incense Smoky Cinnamon leaf for quick healing. 
Hako Incense Green Grass
This has got to be my first time encountering grass-scented incense and I'm glad I did. The Hako Incense Green Grass leaf is white colored and has the structure of the zelkova leaves.
The only way I can express my experience with lighting up the Green Grass incense from Hako Incense is it felt similar to walking in the depths of a wet jungle.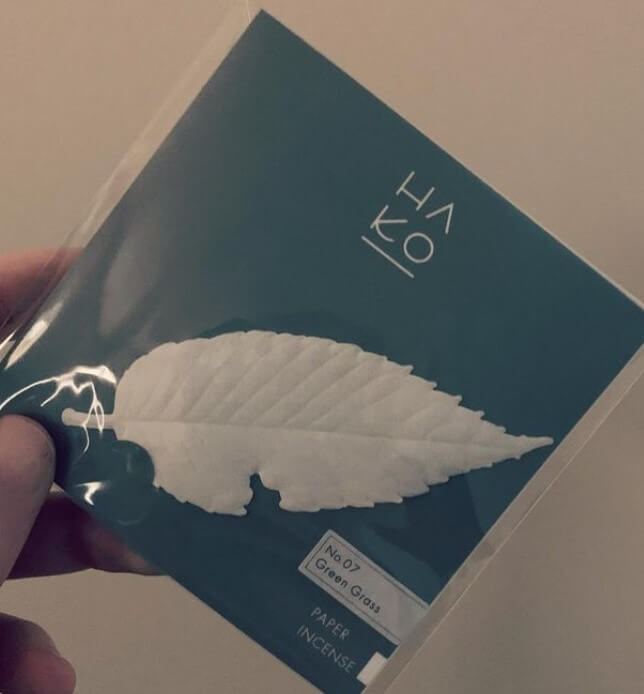 The earthy and mossy notes are so profound that you might wonder if you have a lawn inside your home.
I'm honestly dubious when it comes to recommending this incense but if you're an avid nature lover then you'll treasure the Hako Incense Green Grass because it reminds you of everything natural.
If left to act as a potpourri The Hako Incense Green Grass performs as an air freshener and wards away mosquitoes and other insects. 
Hako Incense True Aqua
Who would've thought there'll be aqua incense? Well, Hako Incense has the True Aqua incense as part of its original collection and this incense leaf is just plain white that doesn't give off any known fragrances.
However, when lit, the aroma of the Hako Incense True Aqua is similar to those of washed laundry.
This could be due to the content of fleur de sel which is a type of salt found on the surface of evaporated seawater.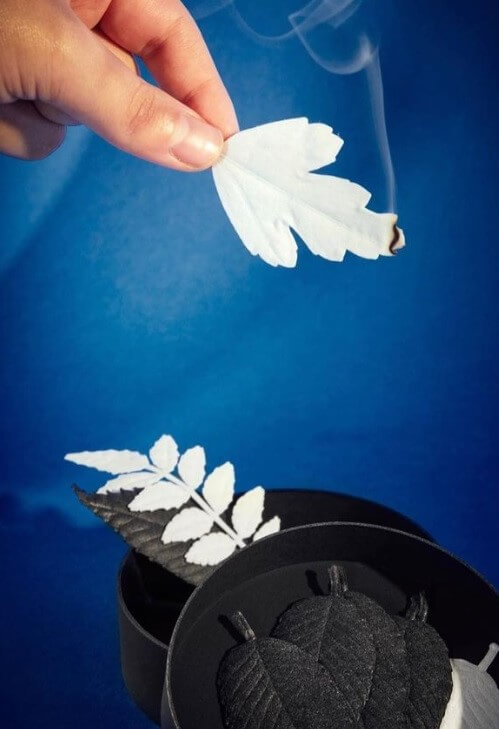 I couldn't figure out if this incense smelled more like water or salt but it does possess the notes of aqua as stated by its title and also has a few floral undertones.
Fleur de sel incense has been a recent sensation due to its oceany and mineral-rich odor. Despite its unconventional and dubious content, the aroma was quite refreshing and pristine. 
Hako Incense Green Tea
The Green Tea paper incense from Hako Incense is a seasonal item that's predominantly available during the spring season.
You can never go without noticing anything green tea in Japan and I was flabbergasted to come across green tea incense.
I was skeptical about how green tea incense was going to smell but the Hako Incense Green Tea was out of this world.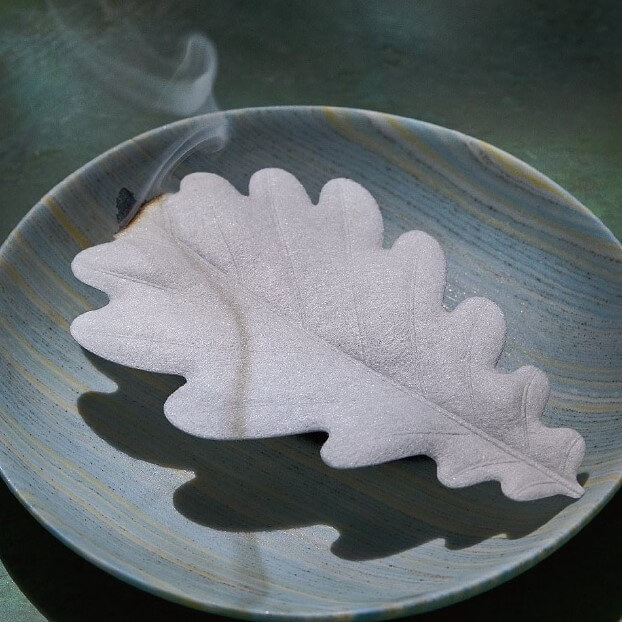 It had the subtle notes of pure green tea aroma that smells so fresh and exotic. It instantly deodorizes and cleanses the surroundings and wards away flies and mosquitoes thankfully.
I also picked up elegant undertones of cherry blossoms that perfectly complemented the aroma of green tea. The matcha green tea extract in the Hako Incense Green Tea creates the ideal atmosphere for a cold night.
Hako Incense Cedar
Hako Incense Cedar is a seasonal incense paper particularly developed for the winter season.
This is yet again another wood-based incense paper from Hako Incense that's crammed with medical benefits.
Cedarwood incense calms down and tranquilizes your nervous system by eliminating stress, depression, anxiety, and tension in order to improve sleep quality. It also boosts blood circulation and makes one feel energetic and enhances concentration skills.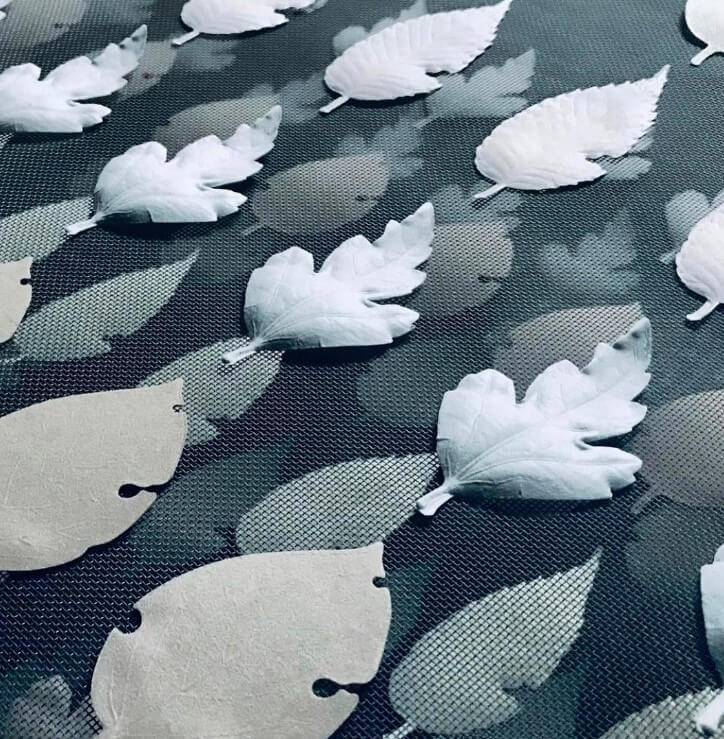 The Hako Incense Cedar when lit up gives off a musky and faint citrusy odor with notes of camphor.
The aroma is mild, therapeutic, and makes you feel instantly relieved. An intriguing fact about the Hako Incense Cedar is that it helps to keep mosquitoes and insects in check.
I would therefore say that Hako Incense Cedar is hands down one of the best medicinal and insect-repellant incense scents.
Also Read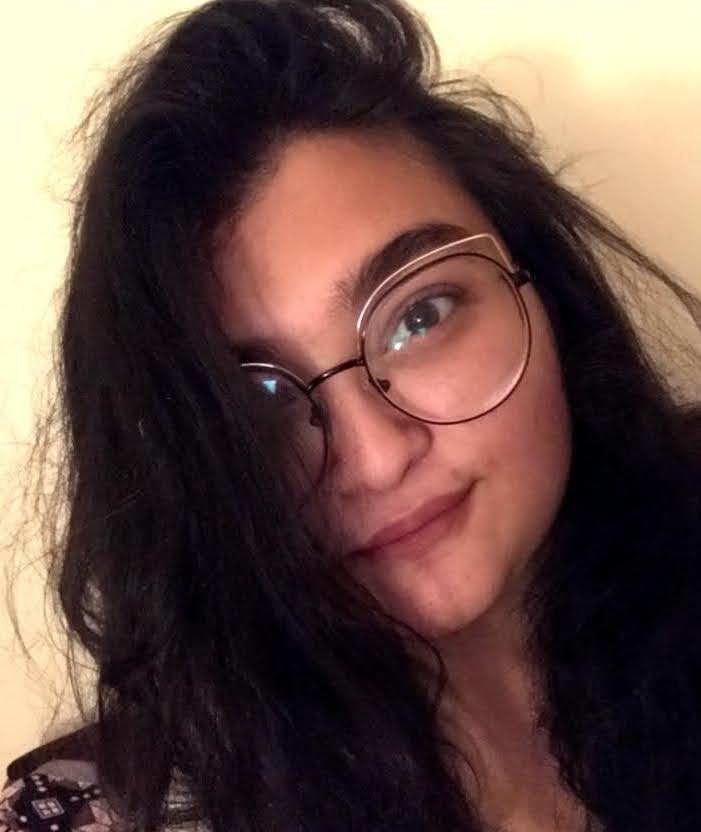 My writing focuses on the various aspects of Japanese lifestyle, from traditional tea ceremonies and flower arrangement to modern fashion trends and pop culture. Through my articles, I aim to share my passion for Japan and provide readers with a glimpse into the rich and diverse world of Japanese culture.
I believe that the key to understanding Japanese lifestyle is to appreciate the balance between tradition and innovation. While Japan has a rich cultural heritage that dates back centuries, it is also a country that is constantly evolving and embracing new ideas and technologies.
Whether you're interested in learning about the latest fashion trends in Tokyo, or want to explore the ancient art of calligraphy, my writing will take you on a journey through the many facets of Japanese lifestyle. So join me as we explore the beauty and complexity of this fascinating culture together!