From the stylish punk look to the innocent school girl avatar, there are so many best Japanese fashion trends that you can incorporate into your daily wardrobe. Some of our favorites are listed in this article.
Do all the clothes in your wardrobe seem outdated? And do you feel that none of the accessories you own can spruce them up? When things get stagnant, try these best Japanese fashion trends.
All you need is some inspiration to get back to your previous fashionable self. If you think you have exhausted all the fashion from the western world, tap into the east!
Top Japanese fashion trends: Quick Summary
Pink Denim
Mixed Plaids
Harajuku
Midi Skirts And Brogues
Net Socks
Chunky Shoes
Statement Jackets
Bold Hoodies
Statement Coats
Here in this article, we have put together some of the best Japanese fashion trends that are hot right now and all the essentials you will need to put together the look you desire.
You might have most articles right there with you, hiding in your closet. But, even if you don't have them, don't worry. We have also given you the links to buy some of those must-haves. So, dive right in!
Top Japanese fashion Trends
Faux and Patent Leather Jackets
The Japanese have a distinct style that swings from hot to cold. The first fashion trend on our list is straight from the streets of Tokyo: the combination of leather and fabric.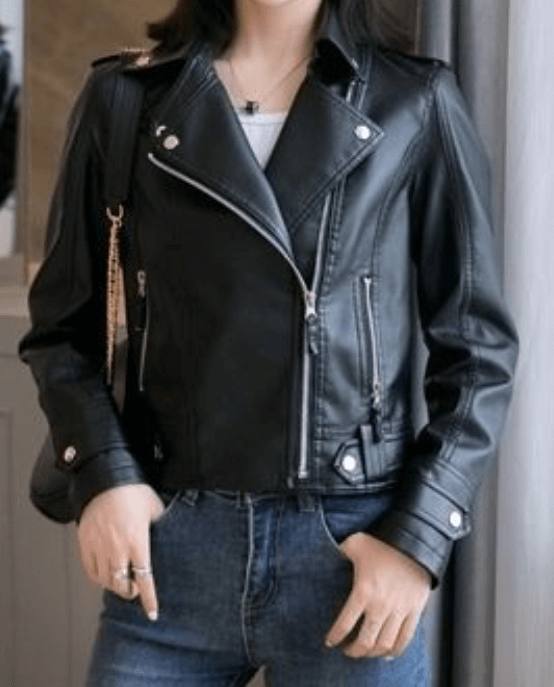 f you own a fitted leather jacket and are done pairing it with the usual tops and bottoms, try wearing it with a bright-colored tee for that pop of colour and some high-waisted wide trousers.
That's another piece that seems to be a favourite with the girls in Japan these days: wide-legged pants. Now, don't we all love a pair of those trousers that flow so beautifully plus keep us comfortable all day long?
Choose the pants in a flowy crepe to add a bit of romance to an otherwise bold look. While the pants keep you cool, the leather jacket manages to heat things a notch, for sure.
Finish the look with leather shoes in a contrasting color and you are all set to make heads turn!
Go simple yet chic with this black leather jacket:
Denim Trench Coats and Jean Jackets
There was a time many decades ago when denim was in. That "worker" look with both men and women dressed in all denim slowly faded away over the years. Well, lucky us, the look seems to be quite the rage in Japan.
You, of course, don't have to go shopping for dungarees or overalls, thankfully. All you need are a few key pieces to layer and you can achieve that cool look. Fish out that denim jacket you stashed away a few years ago, thinking you would never be able to wear it again.
Oh, also that denim shirt or top, if you have one. Pair these with some wide-legged denim pants and you are almost done, ready to rock the streets! If that is too much blue for you, keep the rest of your look simple with a pair of contrasting shoes and a matching bag.
Try finding denim is not just the typical blue. Bright colors like pink are really in vogue in Tokyo street fashion. They add a lovely pop of color to your wardrobes.
These wide-legged denim pants are certainly a good investment:
Kitty Silk Midi Skirts and Brogues
If you thought brogues were to be worn with jeans, think again. One of the top looks trending in Japan is the pairing of a skirt with chunky brogues. You could have any type of skirt, the sky's the limit.
Wear a nice skirt in any length, maybe one with flowers or one with stripes, it doesn't matter. If you are not really the kind to wear a lot of skirts, we think it's time you checked out some pretty skirts online and got yourself a few good ones.
We also love brogues as they give you that edgy look. While a skirt can come off as pleasant and delicate, the brogues even out that impression with their rugged appearance.
Overall, these two opposites definitely do go well together and make the wearer look really interesting!
We love these skirts:
Funky Net socks
From the days of wearing long socks, we went to days where we wore ankle socks that were barely visible over our shoes. Japan has broken this trend and gone back to the good old days of wearing socks, but… with a twist!
First of all, if you want your socks to be visible, make sure they are funky enough. They must be one of the prominent pieces in your look (Yes, we said "one of the prominent pieces" because Japanese trends hugely involve putting many bold signature pieces together).
Get a few pairs of brightly colored socks to contrast your outfits as well as your shoes. Also, have some patterns or some funky embroidery on them otherwise there wouldn't be much to show them off.
Socks in all lengths are in style now, right from a couple of inches above the ankle to all the way up to your knee. So wear those socks just to show them off!
Layered shirts – Japanese street fashion
Layering isn't just for the cold, it seems. The fashionable Japanese girls have found a way to make layering super sexy and stunning. The layers have to be contrasting though, to help you achieve that look.
Some ways to couple up these shirts would be to pair a printed shirt with a solid striped shirt. No plain colours here, always go for prints, stripes and checks.
The trick is to wear them in such a way that both shirts are visible and don't forget to give off that edgy, "too cool for life" attitude!
It's time to tap into your boyfriend's closet for that loose-fitting floral shirt. Or, you can pick up one of these:
Camouflage Pants
Another trending fashion in Japan is camouflage pants. These again take away that feminine vibe and give women that raw, rugged look. This can be very sexy when teamed with a fitted tank top or even a crop top.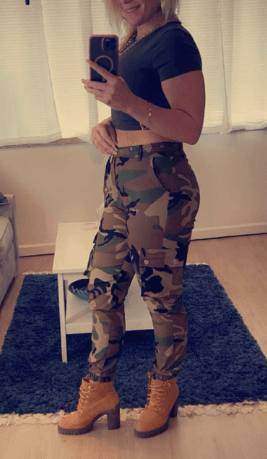 While a lot of Japanese women stick to looking feminine with a raw edge, this look completely is the opposite. Keep those Camo pants loose and wear them with a pair of chunky boots to complete that hot look.
Obviously, this is one hell of a comfortable outfit as well.
Keep them loose, colourful and stylish:
Bold Hoodie
Hoodies have always been our favorite comfort wear. While some might think of hoodies as indoor, sloppy wear, the Japs have managed to turn this into something really cool as well as sexy.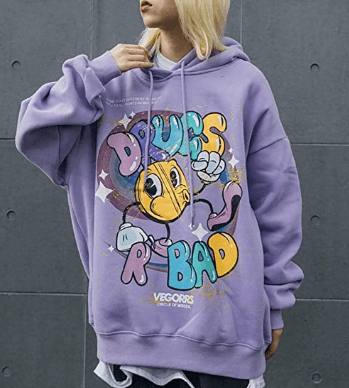 Get yourself a bold hoodie, either in a single colour or something printed, it doesn't matter. Wear it with a bold bottom, like a mini skirt or even those camo pants. To complete the look, bring in your bold attitude and paint the town red!
Chunky shoes
A noticeable trend amongst Japanese women is the love for chunky, bulky shoes. Be it boots or brogues, they bring it in heavy and solid. We see a lot of women wearing heavy work boots with medium length or midi skirts in floral prints, to give it a balance between masculinity and femininity.
These boots are also worn with loose trousers or wide-legged jumpsuits tucked into them. The shoes can be a statement piece if they are embellished or can be a subtle addition to the outfit to add some oomph.
Here are some shoes and boots you can add to your collection to pair them with just about any outfit:
There are times when we are bored with the clothes available in our wardrobe and wonder how to spice them up. While our first instinct is to check out the European fashion trends and check out what's in style, we often forget to check out what's hot on the other side of the world.
Check out this additional information that will help you know more about Japanese fashion.
Mixing Plaids
One of the popular Japanese fashion trends is to mix multiple patterns of plaid. Say you have a shirt with gingham checks you can pair it with larger check pattern shirts.
From dresses and coats to oversized cardigans, there are several ways to incorporate plaids in your Japan-inspired style. This trend isn't just evident in Japanese street fashion, a lot of Japanese fashion designers have also used this trend in several international fashion weeks.
Harajuku Style
One of the more popular trends in not just Tokyo but all of Japan is the Harajuku. Simply put, it's a mix of all the popular subcultures and street fashion cultures in Japan.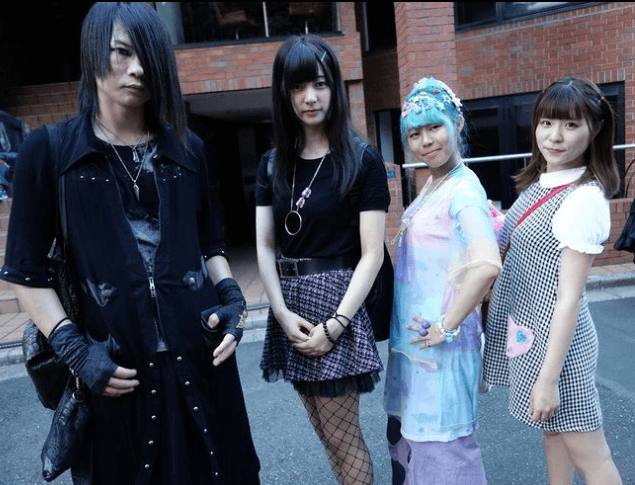 Harajuku incidentally, is also the name of a popular neighborhood in Japan where this style originates.
It is a combination of several subcultures like the Lolita, Gothic style, punk rock style, fairy style and more.
Cozy Coatigans
A cross between a coat and a cardigan, this trend was once associated with a prudish, uptight look as seen in older women. These coatigans are made from thick yarns and are basically full-length sweaters.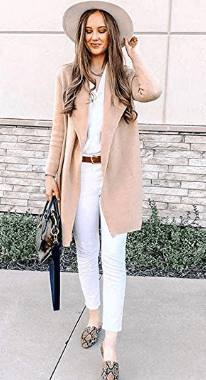 Costigan's have made it back in style, however, and the youth are styling them over contrasting blouses, patterned couture, and some dark lipstick if you're into that.
Some statement jewelry and/or some asymmetrical design to go with your coatigan will instantly elevate your look from comfy elegant to modern, chic elegant.
Pop & Block
Rooted in the 'color wheel' concept, Pop & Block is all about mixing and matching rainbow hues. In the wheel, colours lie next to each other based on natural shade fluidity, so it acts as the best reference while starting out with this trend. 
Another thumb rule that works for most people is to avoid stark contrasts and to stick to shades with similar intensity levels. For example, pink and orange is a classic Pop & Block duo that you must have seen, but when you pair pink with a parrot green, that might not work out so well. 
Another tip to pull off bold shades is by sticking to simple shapes. Pick up your classic pants, or pencil skirts, and pair them with a shade on the opposite side of the colors spectrum. 
When it comes to material, resorting to pairings with different textures and finesse might be a bad idea. Stick to single-material paintings for an assured balanced finish.
Matrix Monochrome
Here's the thing, monochrome never went out of style. We have seen it through denim on denim, little black dresses, and the classic black and white pairing of clothes. In 2021, however, monochrome is being reinterpreted to accommodate bright colours, eccentric patterns, and asymmetrical designs to spark visual intrigue. 
But the fact remains thus, there's a little something for everyone when it comes to Monochrome – be it the classic layered look or a textured colour blocking one.
The shades that are in trend right now, are believed to be the entire range of nude shades from light brown to beige and dirty white. Picking up a colour that you know has always worked for you would be the best way to go about it. Alternatively, black never goes out of style or season.
Top Japanese Fashion Trends: FAQ
What are some Japanese fashion trends?
Some popular Japanese fashion trends include lolita, decora, gyaru, and Visual Kei. Lolita fashion is inspired by Victorian-era clothing and often features frilly dresses and skirts. Decora style is all about layering lots of colorful items and accessories. Gyaru fashion is sexy and dramatic, with fluffy hair and dark makeup. Visual Kei encompasses a wide range of styles, but often includes outlandish costumes and heavy makeup.
What theme was most common in Japanese fashion?
The Kawaii culture, which has taken the world by storm, also immensely influences Japanese fashion. One such example is 'Sweet Lolita', which is a childlike style of dressing, and is considered to be the most common fashion theme in the country. Sweet Lolita finds its inspiration in baby animals, fairy tales, animated figures, and ultimately, innocence.
What kind of clothing do the Japanese wear every day?
There is not one clothing apparel that is consistently worn by everyone like every other country but something that is a signature style among the Japanese is the Kimono which is an important part of their culture. You could say the Kimono is the most common piece of clothing that the Japanese wear. 
What is the most popular fashion in Japan?
Gyaru is probably the most popular Japanese fashion trend that has been around for a very long time which is when school girls wear super short skirts and high knee socks.
It has now become an identity for Japanese girls and has formed a signature style for the country. We have got to admit it is super appealing and makes us want to adopt it too. 
What should you not wear in Japan?
Japan having a separate culture has fashion trends of its own too. There are certain things that you need to steer clear of when it comes to dressing. So here are some of the DON'T WEAR in Japan. 
In Japan, showing shoulders is considered inappropriate so we would suggest you stay away from tank tops. While you don't get into problems for the same it would just make you uncomfortable with the staring. 
Wearing tops that are showy are also considered inappropriate and would make others uncomfortable. Although it is totally fine in other countries, Japanese culture considers it inappropriate.
Wearing clothes according to the climate
The summers are extremely hot in Japan so make sure you have appropriate clothes that are not very uncomfortable. While we understand that this might be a complex statement and rule, this is the exact situation you will encounter!
Japan is a country that has created and owned so many styles over the years and they are hugely inspirational. What we love more is the fact that they can be easily put together with very few articles, some of which you might already own in your wardrobe!
True, it might seem like there are too many bold pieces put together, but that style can really bring out who you really are. So you don't have to wait any longer. Go through our article a few times and review your wardrobe again.
Invest in some signature pieces from the links we have given you. Experiment with some exciting new looks, maybe create your own unique looks, and start snapping some pics for your Insta!