Wondering are Japanese dentists good? Here's a guide to Japanese dentists. Check it out!
I am not a very big fan of dentists; in fact, going to the dentist is a very daunting task. No matter which country you live in, I am pretty sure that an appointment with your dentist looks like the most challenging task ever.
If you live in Japan or if you need to visit a dentist for a dental checkup or an emergency treatment in Japan, I have brought to you a very informative and good guide to tell you are Japanese dentists are good. In this guide, you will also know the process that you will have to face if you are visiting a dentist in Japan.
Are Japanese Dentists Good?
Getting your teeth checked at least once every six months is extremely important. You have to do this even if you are very nervous about going to the dentist. The first thing that you need to do is do some research on your part regarding all the Dental Clinics that are available and reputable.
Japan alone has more than 65000 dental clinics, which shows just how much the Japanese give importance to the teeth. No matter which city or town of Japan you are in, you are sure to find at least one dental clinic in the area.
Dental clinics in Japan are usually quite small with only one or two main dentists. To help them there are a few dental nurses and hygienists. They help the main dentist by conducting dental and oral cleaning. This process only takes about 30 minutes.
Researching For Dentists in Japan
For research, you can ask your Japanese friends, neighbors, or colleagues who have been living in that area for quite some time. They will be able to give you a good recommendation.
I will highly advise that you take a local person's recommendation because there are not many dentists available who are of the best quality. If you are not sure where to go on who to ask, you can always check out the list of English-speaking dentists in the area where you are.
The list is often available online and is provided by the prefectures, cities, and municipalities. If you are a tourist and are living in a hotel you can ask for your recommendations from somebody at the hotel.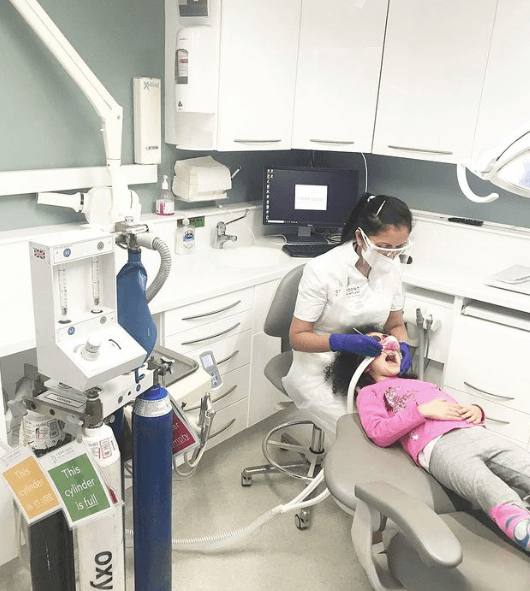 You will most probably be able to find an English-speaking dentist but if you don't, I would recommend that you take along with you somebody who can speak Japanese. Or if that is not an option for you, you can always prepare in advance.
Learn some basic Japanese phrases so that you can at least explain your problem to the dentist. Learning Japanese phrases is extremely helpful if you are going to get help for some problem and not just for a regular checkup.
Also, you do not have to worry about going to a Japanese-speaking dentist because most dentists are familiar with medical expressions in English. If you still do not feel very confident you can just write them down and use Google Translate or other Japanese apps to help you communicate and converse with your dentist.
Getting an Appointment in Dental Clinic in Japan
When you finally find a dentist, check if an appointment is necessary. If it is, make sure to call in advance. You will also find that there are some dentists who do not need an appointment for regular checkups. Getting an appointment for a dental checkup is also quite easy.
On the day of your appointment, make sure that you arrive at least a few minutes ahead of the appointment. Japan is a very punctual country, and so it is believed to be quite courteous to be exactly on time.
Also, during busy periods, there is a high chance that your appointment will be canceled if you are late. When you arrive at the clinic, the receptionist will notify you of your arrival. If you are a resident of Japan you will be asked for your insurance card.
If you are a tourist in Japan, you will have to pay upfront.
First Time Visit to Japanese Dental Clinic
If you have never been to a dentist before, you will be given complete information to help you out. On your first visit, you will also be given a form to fill it in. If you are visiting an English-speaking dentist, there is a chance that you will be given forms in the English version.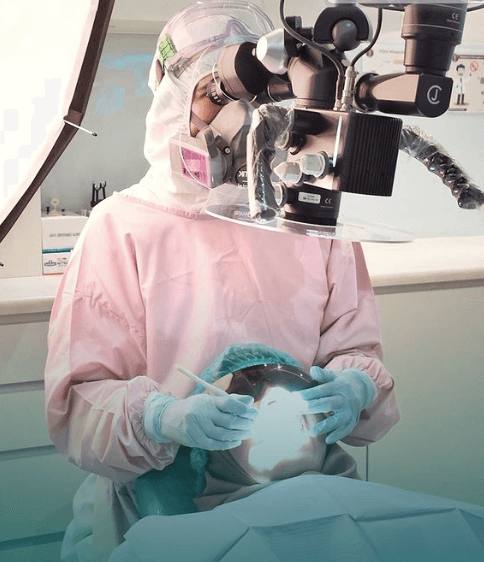 You have to fill in your personal details such as name, date of birth, address, and contact details. There are also other questions that are specific to your dental health and problems; you will have to give information about any pain or procedures you may have had in the past or any allergies that may get triggered.
Once the form is completed you have to give it to the receptionist who will call you when your dentist is ready to see you.
Rooms in Japanese dental clinics
The dental clinics in Japan have open-plan rooms. This means that you will find about 3 to 4 dentists in a room with each of them being separated by room dividers or curtains.
Dental Procedure in Japan
The dental procedure in Japan is the same as anywhere else in the world. You have to lie in the seat, and the dentist will adjust the height of the chair.
Another thing I love about dental clinics in Japan is that there are several little amenities that make you feel very nice and cozy. You may be offered a lab blanket if it is cold, a small box if you have glasses or accessories that you might want to put away, or a water cooler.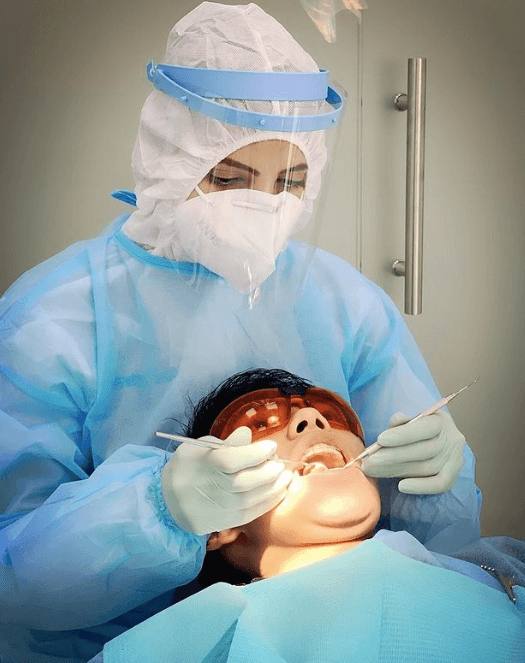 Yet another thing that I absolutely love about dental clinics in Japan is the way they move forward with the procedure. And this is a difference you will instantly notice.
While you are being treated, the dentist will place a small towel on your face. The towel will only have an opening for your mouth. So while your dentist is working on your teeth, the rest of your face will be covered up.
There are several reasons why I absolutely love this. First, there is no intense light shining on the face. I hate the light shining bright on my eyes; I have also had cases where I had to lie down in the dentist's room with sunglasses.
This towel also lets you close your eyes and relax while the dentist is working on what you have a problem with. I also like this method a lot because it makes the whole procedure a little less awkward.
Anesthesia
The Japanese dentists also do not easily administer anesthetics unless they believe that it is absolutely necessary. If they believe that anesthesia is required for your root canal, teeth removal, or other painful treatment, the dentist will ensure that they are giving you local anesthesia and not general anesthesia.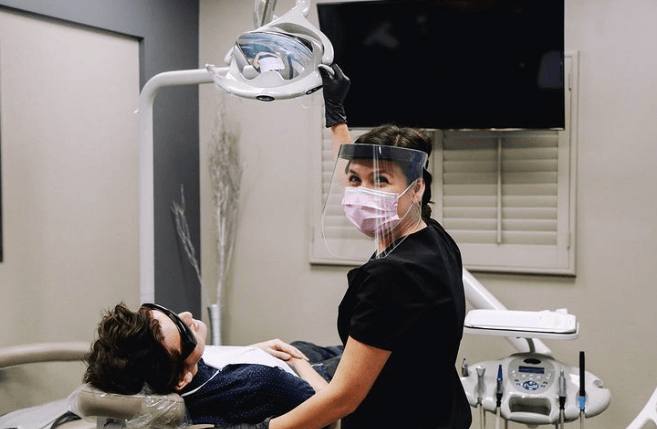 Once your treatment is complete, simply head back to the Reception area and have a seat. You will be returned the dentist card that you can use to keep track of any future appointments. You also need to make your payment here.
Tips for dental hygiene in Japan
Always try to look for a reputable and recommended dentist or dental clinic if you are going for surgery such as gum treatment for gingivitis or a root canal. For such procedures, avoid going to small clinics that you see everywhere in Japan.
The pain that you feel on your teeth needs to subside within a few treatments. If this does not happen, always go and get yourself checked by an ENT specialist because there might not be any dental problem at all.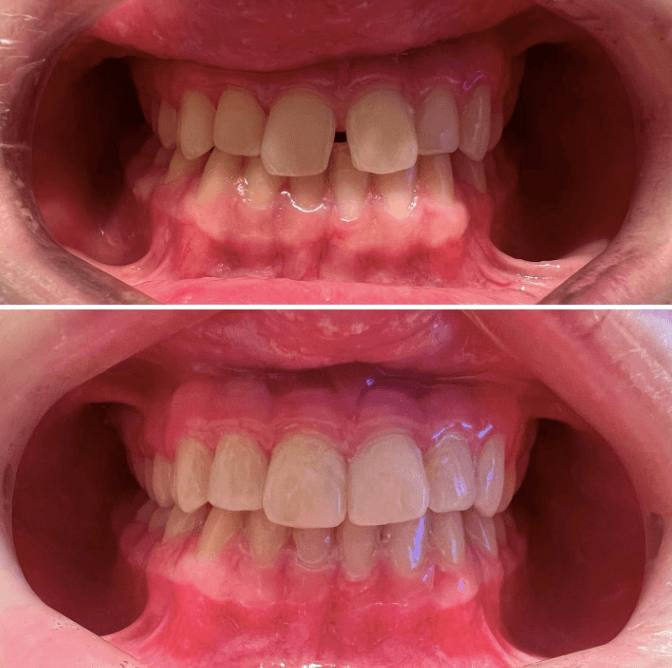 Another point about the dental procedure in Japan is that it is done in short spurts. For example, if your treatment is extremely long, it will be broken down into three or four different treatments of about 30 minutes each. So, instead of having a single long session, Japanese dentists prefer to break it down.
When choosing your toothpaste, make sure to look out for fluoride. In Japan, you can buy toothpaste in any supermarket, convenience store, or drugstore. Japanese toothpaste that is readily available generally does not contain fluoride. Fluoride is an ingredient that is known to prevent cavities.
Dentistry in Japan: FAQs
How often do Japanese visit a dentist?
As per the data from research, it was seen that most Japanese prefer going for regular checkups to the dentist at least three times a year. This being said, it is advisable that you visit your dentist at least once every six months if not more. This ensures that your dental health is always up-to-date.
How much does it cost to see a doctor in Japan?
If you have insurance, the total cost for a dental visit could be around 5000 Yen. Your first consultation at any dental clinic or Hospital maybe around 3000 to 4000 Yen.
Is Dentistry in Japan good?
Yes, Japanese Dentistry is one of the best in the world. In fact, Tokyo has been named the best city by the American Academy of Cosmetic Dentistry. Japanese dentists are highly skilled and well trained. Dental facilities in Japan are extremely affordable and accessible. There are multilingual dental clinics as well.
What is dental care like in Japan?
Japan introduced universal health insurance in 1961 where all the health care and dental facilities and treatments can be covered at a lower cost anywhere in the country. However, aesthetics aren't covered in this insurance.
Are dentists cheap in Japan?
Dentists are extremely affordable in Japan due to the health insurance that covers basic dental care. Root canal only costs about 10,000 yen which is just about $85.
Is dentist free in Japan?
Treatment with dentists is not free in Japan but the cost is certainly low because of the health insurance that covers basic dental care. The fee is the same throughout the country but you'll have to be a Japanese citizen to enjoy the insurance benefits.
Ready for your dental appointment in Japan?
Visiting a dental clinic can be a very daunting task. This is something not many of us feel very under confident in, including me. However, the dentists in Japan will make you feel extremely comfortable whenever you go for an appointment. They always make sure that the utmost priority is given to your dental health.
The procedures are also quite straightforward and almost similar to what happens in any other country. The amenities provided in several of these clinics also work as a bonus. So, if you are in Japan, do not hesitate to see a dentist.
Also Read: